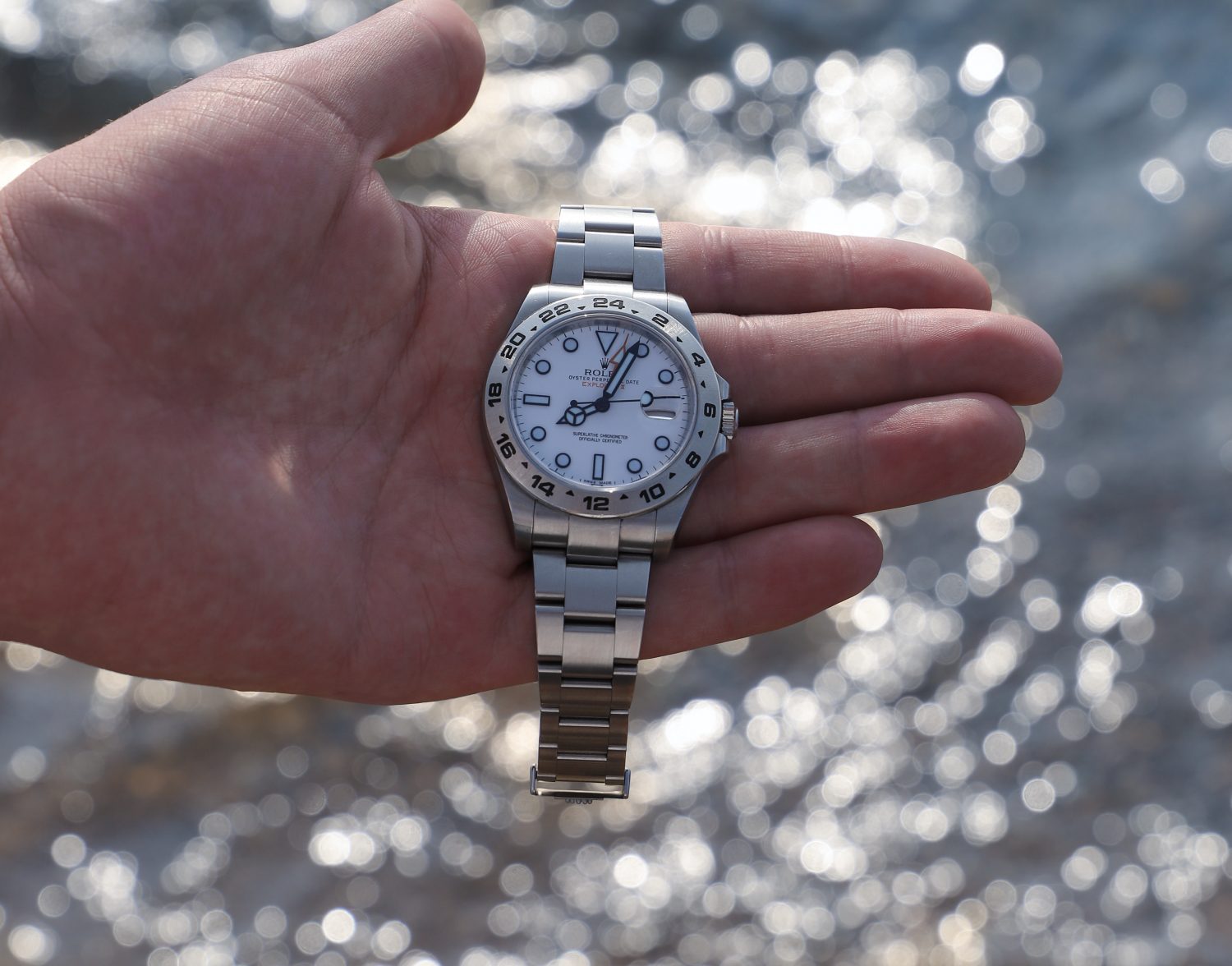 Top 12 Best Ultrasonic Cleaners (For Your Watch)
Ultrasonic jewelry cleaners, also known as ultrasonic watch cleaners (depending on the purpose you use them for) are the best and most effective cleaning tools for your watch. But the fact is that ultrasonic cleaners do not only work for watches, but also a wide array of other products. So if you are reading this and are not looking to clean your watch, this guide also applies to you.
Over time, your watch will accumulate a lot of dirt and grime. Primarily, this includes sweat, dead skin, hair, and fat from your skin, but it also includes dust and other types of dirt. A nice watch+ dirt is not a combination we like to see together. And there are many reasons for this.
First off, if you don't clean your watch, dirt will accumulate and built up – in particular on the metal bracelet. Not only is this really nasty (and the truth is, we have seen a lot of nasty watches over the years which have never been cleaned. As an example, look at the one below:
When your watch is dirty, it loses its original luster and shine. This is obviously not something you want to happen with your watch. You want it to look as good as possible.
Furthermore, having a dirty watch is unhygienic. When you don't clean your watch, dirt, bacteria, and other grime build up on your watch. In a way, your watch is an extension of your hand. Just imagine not washing your hands for a few weeks.
But maybe most important is that when you have a lot of dirt and grime on your watch, you speed up the aging process, in particular on the metal bracelet. Dirt can lead to rust and tarnishing, but it will also lead to premature wear in the bracelet as it first finds its way between the links, screws, and pins, and work like sandpaper by increasing the friction between the links and other moving parts such as the clasp. As a result, the moving parts will be worn out much faster compared to when you are cleaning it. With that said, it is very important that you clean your watch on a regular basis in order to keep its luster, but also to keep it in good condition for as long as possible and minimize aging and wear.
The main accumulator of dirt on your watch is your metal band. This has a lot of creaks and places where dirt will stay and then accumulate over time if you don't clean it. 
If nothing else, rinsing your watch with water helps remove dirt. You can also scrub it with a brush. This will remove dirt and prevent build-up. The catch is that using this method, it can be difficult to access all places and remove all the dirt that has accumulated. As such, the single most effective way to thoroughly clean your watch is by using an ultrasonic cleaner.
This is the ultimate way to clean your watch, and also the method that watchmakers, jewelers, and professionals use. Not only is it extremely easy, but it is also very effective. Having an ultrasonic jewelry cleaner thus means having access to a professional cleaning tool from the convenience of your home. It ensures that the watch you are going to clean truly gets clean down to the core and its smallest, most hidden areas.
What is an ultrasonic cleaner?
An ultrasonic jewelry cleaner is a tool for cleaning your watch using ultrasound (usually from 20–40 kHz) to agitate a fluid in order to clean an item.
The ultrasonic cleaner creates ultrasound waves, and the vibrations cause cavitation, where tiny bubbles form and burst. When the tiny bubbles burst, they create a pressure that "knocks" off the dirt from the watch. This movement of the water helps remove and dissolve the dirt, leaving your item clean.
Is it safe to put a watch in an ultrasonic cleaner?
It is not advised to place your whole watch inside an ultrasonic cleaner. If you are going to clean your watch, it is therefore advised that you remove the bracelet and only clean this using the ultrasonic cleaner. The case of the watch can in turn be cleaned using a soft brush. Whilst it is possible to put many watches in an ultrasonic jewelry cleaner, it is not advised.
It is, however, a different story if the watch and movement are completely disassembled. In that case, ultrasonic cleaners are the tools that watchmakers use when servicing a watch. After disassembly, the watch parts are cleaned in an ultrasonic jewelry cleaner, before they are assembled again.
The issue with putting your whole watch in an ultrasonic cleaner, even if it is water-proof is that the vibrations and effect of the ultrasonic cleaner can cause damage to the movement but also cause premature wear on things like the rubber gaskets that are meant to keep the watch protected against water. The ultrasonic waves that are used in a cleaner are not good for the movement.
How to clean your watch in an ultrasonic cleaner
Cleaning your watch in an ultrasonic cleaner is easy and very straightforward. If you want to clean your bracelet, begin by removing the bracelet from the case. To increase the efficiency of the cleaning, open the clasp so that all areas are exposed. Fill the ultrasonic cleaner container with water (lukewarm or warm). If you want, you can add soap for a better effect.
Now, place the bracelet inside the container and close the lid. If you want to clean a disassembled watch, add those parts to the container as well. In the settings, you can choose for how long you want the program to run. For watch bracelets, it is generally enough with a few minutes, but you can start by running a program of a few minutes, and then inspect the bracelet when it is done. If you are satisfied with the result, rinse it, and wipe it off. If there is still dirt left, clean it for a few more minutes.
As an Amazon Associate, we may earn from qualifying purchases, at no extra cost to you.
Best ultrasonic jewelry cleaners for watches
Below, we have listed some of the best and most popular watch ultrasonic cleaners.
---
This ultrasonic cleaner is rather powerful and generates 42,000 Hz of ultrasonic energy waves, creating millions of microscopic cleansing bubbles that clean your watch bracelet. It has a touch control panel which makes it very easy to operate. To use it, you select the desired time, and then the display counts down until the program is done. When the program is done, it automatically stops. It features a stainless steel chamber with a capacity of 600 ml. It has a digital count down timer with the times 90, 180, 280, 380, & 480 seconds.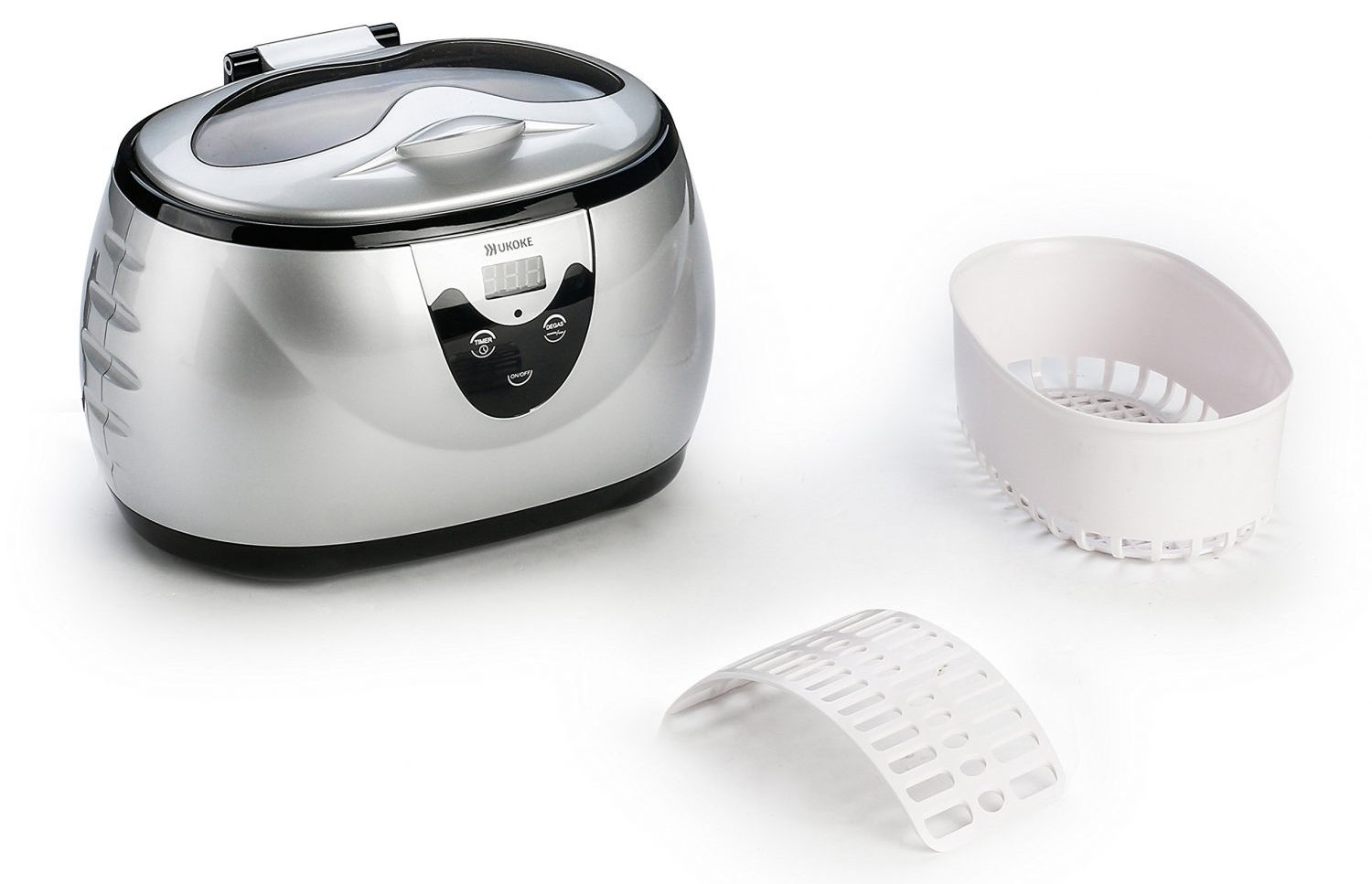 ---
This ultrasonic cleaner has 42KHZ (42khx) and cleans using cavitation bubbles induced by 42000 HZ ultrasound vibration. It comes with a removable basket and auto shut-off when the program is done. The container takes 600ML. The removable cleaning basket makes it easier to clean small objects.
It features five-time cycles which can be chosen using the settings. The programs are the 80s, 280s, 380s, 480s, 90s), the default cleaning time is 180s.
Compared to many other ultrasonic cleaners, this one is quite silent.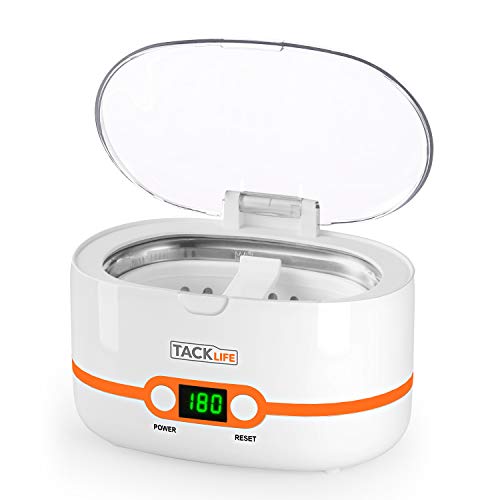 ---
This ultrasonic watch cleaner has 42000Hz ultrasound waves. This one has only one timing setting and one button, which some may find as a downside. It is set to five minutes, so you can turn it off whenever you feel like it may be ready, even before the 5 minutes have run out.

---
This ultrasonic cleaner has 5 pre-set cleaning cycles that you can use depending on how dirty the item is and what you are cleaning.
It is quite small and easy to store. The cleaner has an easy-to-read digital display and an automatic shut-off feature, which turns it off once the time of the desired program has run out.
The cleaner generates 42,000 Hz of ultrasonic sound waves. The cleaning cycles include 90, 180, 300, 480 & 600 seconds. The chamber has a capacity of 600 ml. It includes a Watch Holder, Spindle with Spacer Ring, and Basket.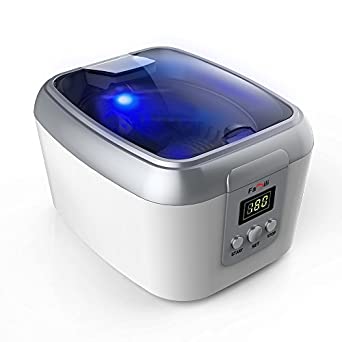 ---
This is one of the more professional and serious ultrasonic cleaners. It is large, but it does the job really well. It has a strong cleaning power with 6 industrial-grade ultrasonic transducers (6×60 W=360W). If you want the best and most professional ultrasonic jewelry cleaner, this is definitely a great option.
The tank is extra thick and has a whopping 15L volume. The integrated cleaning basket is great for keeping your items in place.
This ultrasonic cleaner has user-friendly settings. It also features dual fuse protection to prevent burn-out. It also comes with a 1-year warranty.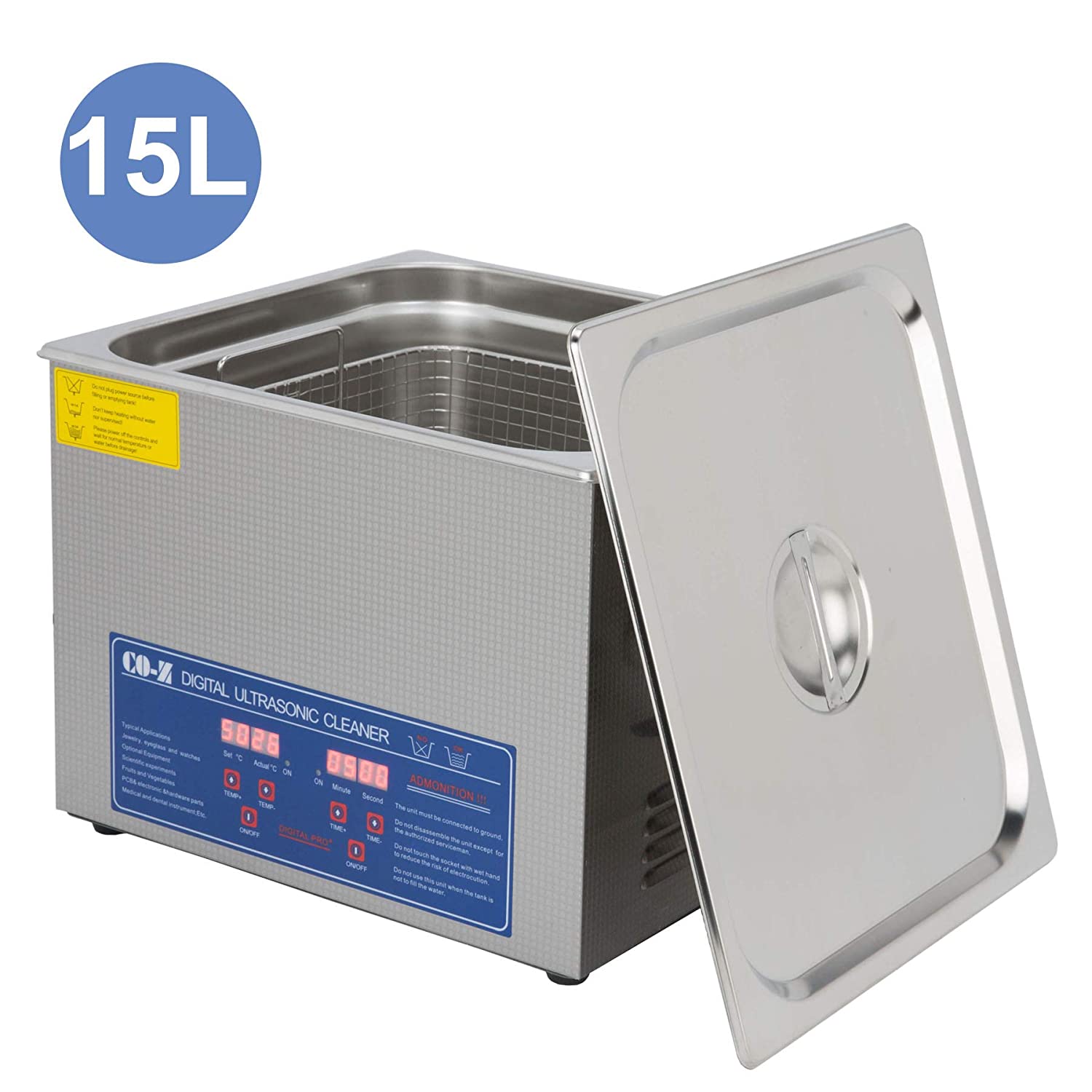 ---
The ionic P4820-WSB Commercial Ultrasonic cleaner is 110V and is equipped with an industrial-grade ultrasonic stack transducer. This is two times stronger and more durable compared to wafer transducers. The heater is preset at 149F/65C. Its cooling fan helps for longer operation.  It is equipped with an overheat protector which prevents it from being overheating after being overused. It is one of the more silent options on the market and also comes with 5 international safety certifications including GS for Germany which is one of the toughest safety standards.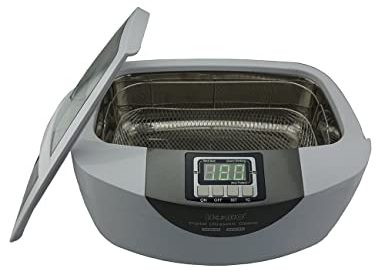 ---
This is a variant of the above-mentioned ultrasonic cleaner. The iSonic P4810 Commercial Ultrasonic Cleaner is a 110V cleaner equipped with a powerful ultrasonic stack transducer. This cleaner has a 1 to 30-minute timer with a quick set button. It also has an advanced Degas function for removing the air bubble after pouring in freshwater, as well as a Cooling fan that keeps it from overheating.

---
The Fosmon Professional ultrasonic cleaner generates 42,000 Hz of ultrasonic waves. It has an 18 preset cycle timer which allows you to choose from 18 preset cycle times on the ultrasonic cleaner. The times range from 90 seconds to 30 minutes. It features 3 buttons with a display. The tank holds 600ml of water.
What is most impressive about this ultrasonic cleaner is that it comes with a lifetime warranty.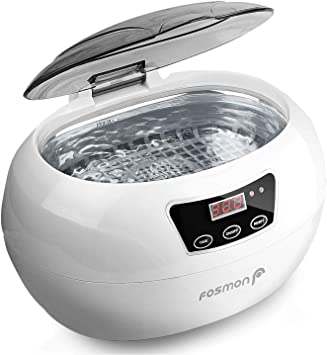 ---
This Ultrasonic jewelry cleaning kit includes an ultrasonic cleaner as well as a cleaning concentrate solution that is non-toxic and biodegradable. The cleaning concentrate will make the cleaning even more effective.
The ultrasonic cleaner has push-button controls, a digital display, an automatic shut-off, as well as a clear viewing window that allows you to see the item whilst being cleaned.
It features five cleaning cycles and operates at 60Hz, with a 6L basket. It comes with a watch/bracelet holder, ring holder, and cleaning concentrate solution.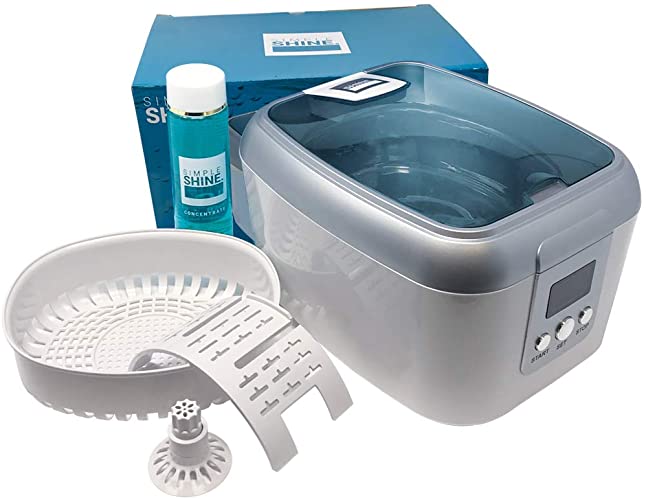 ---
DK SONIC Ultrasonic Cleaner
If you want a robust and capable ultrasonic watch cleaner, this heavy-duty ultrasonic cleaner is a great choice. It has a capacity of 2-30 liters depending on which version you choose. It has several different settings which allow you to adjust it according to your needs. It also has a built-in heater with adjustable temperature which enables you to heat the water for better efficiency.
It operates at 28KHz and 40KHz. The different modes are easily adjusted with the buttons and the screen gives a good view of the current modes and programs. If you want a powerful machine, this is the one to choose as it has industrial strengthened transducers which strengthen the ultrasonic power.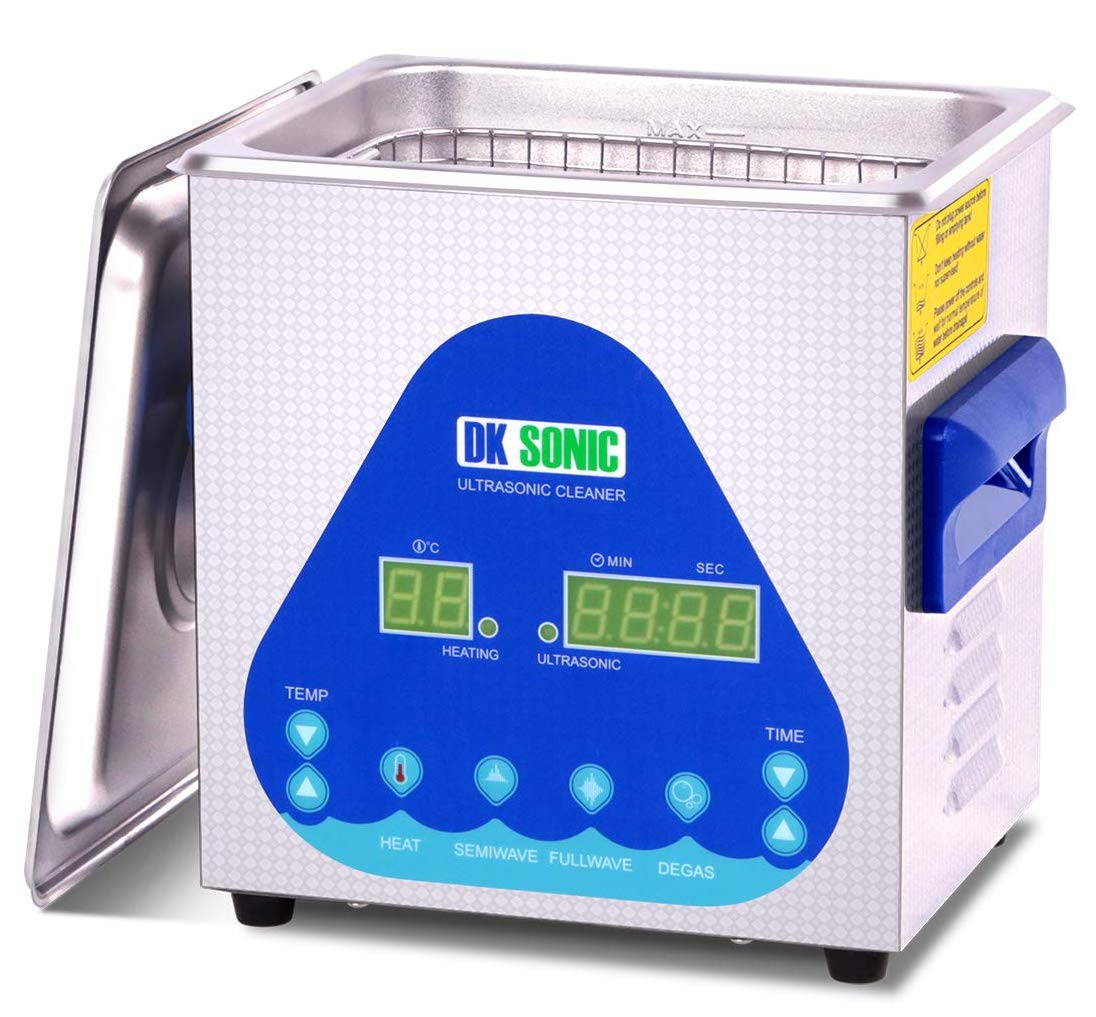 ---
Anbull 6.5L Professional Ultrasonic Cleaner
The Anbull ultrasonic cleaner has a cleaning power of 180W and a Heating power of 200W. It is designed with a capacity of 6.5L. With its heating system, you have a temperature setting range of 68℉-176℉. Of course, you also have a program time setting function where you can set the time from 1 – 30 minutes.
The ultrasonic cleaner has a large digital timer and temperature display for good and easy control. With its powerful efficiency, it can handle even the toughest dirt.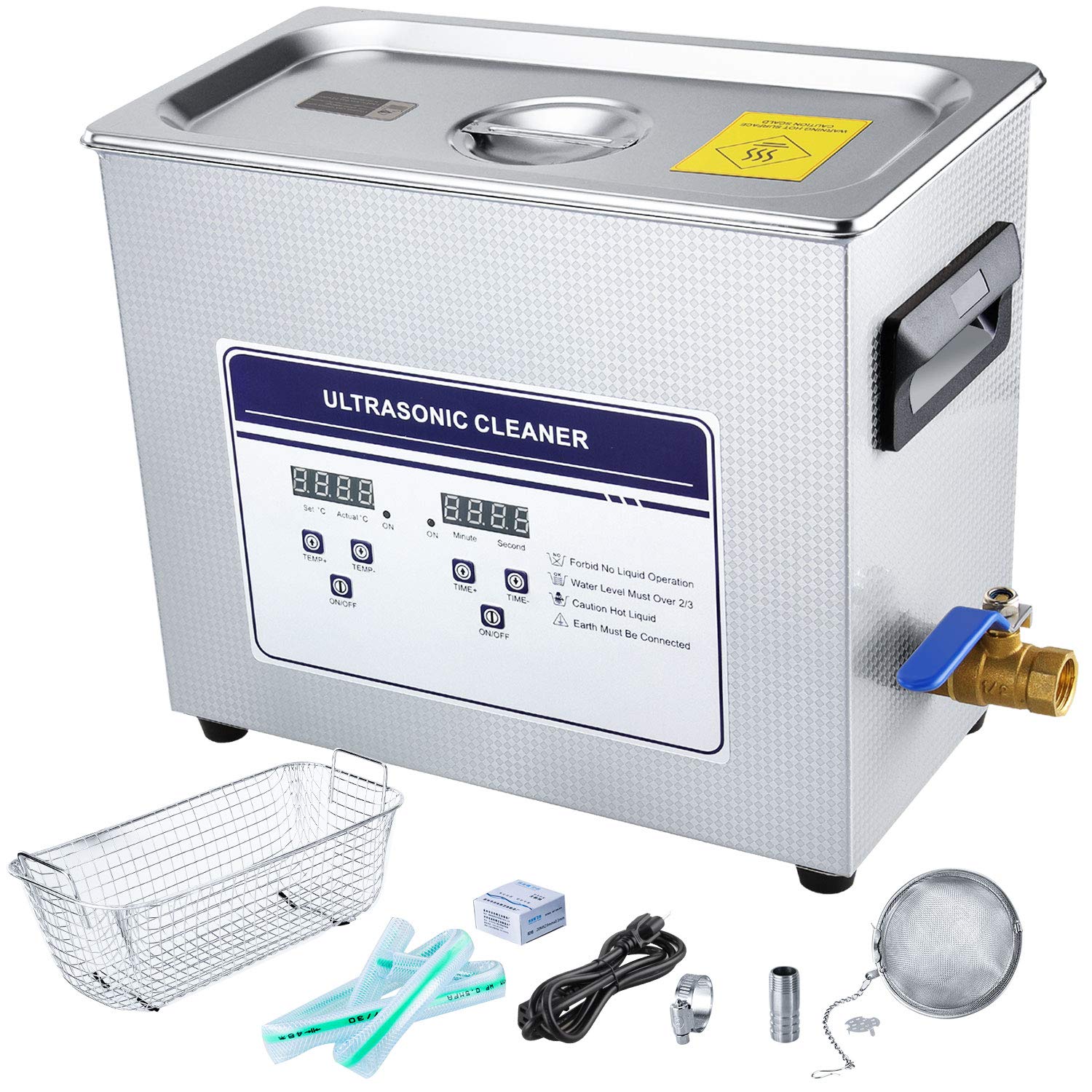 ---
ONEZILI Ultrasonic Cleaner 6L
This robust ultrasonic cleaner has a large capacity of 6 liters for handling all of your cleaning needs, especially if you frequently clean objects.
It has a cleaning frequency of 40KHz which gives it enough power to remove tough stains and dirt.  It also has a built-in heating function from 0-80℃ which helps the efficiency of cleaning and loosing up oil and grime.
Through the digital controller, you can set the modes from 0-99 minutes.

---
What fluid goes in an ultrasonic cleaner?
Although you can use regular water in an ultrasonic (and most people do) the best is to use deionised water. This will improve the result since deonised water is a natural solvent that doesn't contain impurities and salt that regular water does. Regular water may leave stains from this type of impurities on the watch after it has been washed.
But regardless of what fluid you use, it's still always advised to rinse the object afterwards to get rid of dirt and other things that will affect its luster.
Is ultrasonic cleaning safe for diamonds?
It is generally not advised to use an ultrasonic cleaner for diamonds. Whilst, for the most part, it won't be an issue, it can subject the diamond to a risk as the ultrasonic cleaning may increase its internal flaws. This is particularly true for diamonds with a lot of inclusions.
Some colored gemstones are recommended in particular to not have in an ultrasonic cleaner. It is especially important to not put emerals in ultrasonic cleaners as this gemstone is oiled and often has inclusions. It is therefore best to clean most gemstones with a brush and soapy water.
How should you leave jewelry and watches in ultrasonic cleaner?
The time you need to have your ultrasonic cleaner activated mainly depends on how dirty the item. In general, objects that aren't very dirty will get a good result after just one or two minutes. But extremely dirty objects may need to be in the washer for 10 to 20 minutes. You can pause the ultrasonic cleaner mid-way and evaluate the result.
Will an ultrasonic cleaner remove rust?
If you have rust on your watch, an ultrasonic can to some extent remove rust depending on how severe the rust is. By using an additional cleaning detergent solution, the cleaning of rust can become even more effective.
Does ultrasonic cleaning damage metal?
In general no. If your watch is made in stainlesss steel (which is the most common metal type for watches), ultrasonic cleaning will not cause damage to the metal.
However, if you have a softer material like aluminium, brass, or other soft materials, it may cause damage. In addition, using the ultrasonic cleaning for a subtantially longer time than you need can also cause potential potential damage to most materials even though it is uncommon. In addition, aluminium reacts with acidic and base cleaners which is why it is important to use a neutral cleaning solution in this case.
Can you use dish soap in an ultrasonic cleaner?
Yes! As a matter of fact, dish soap is the most commonly used cleaning detergent when using an ultrasonic cleaner. Most people have it close at hand and it helps make the cleaning mroe effective by loosening up oil and dirt.