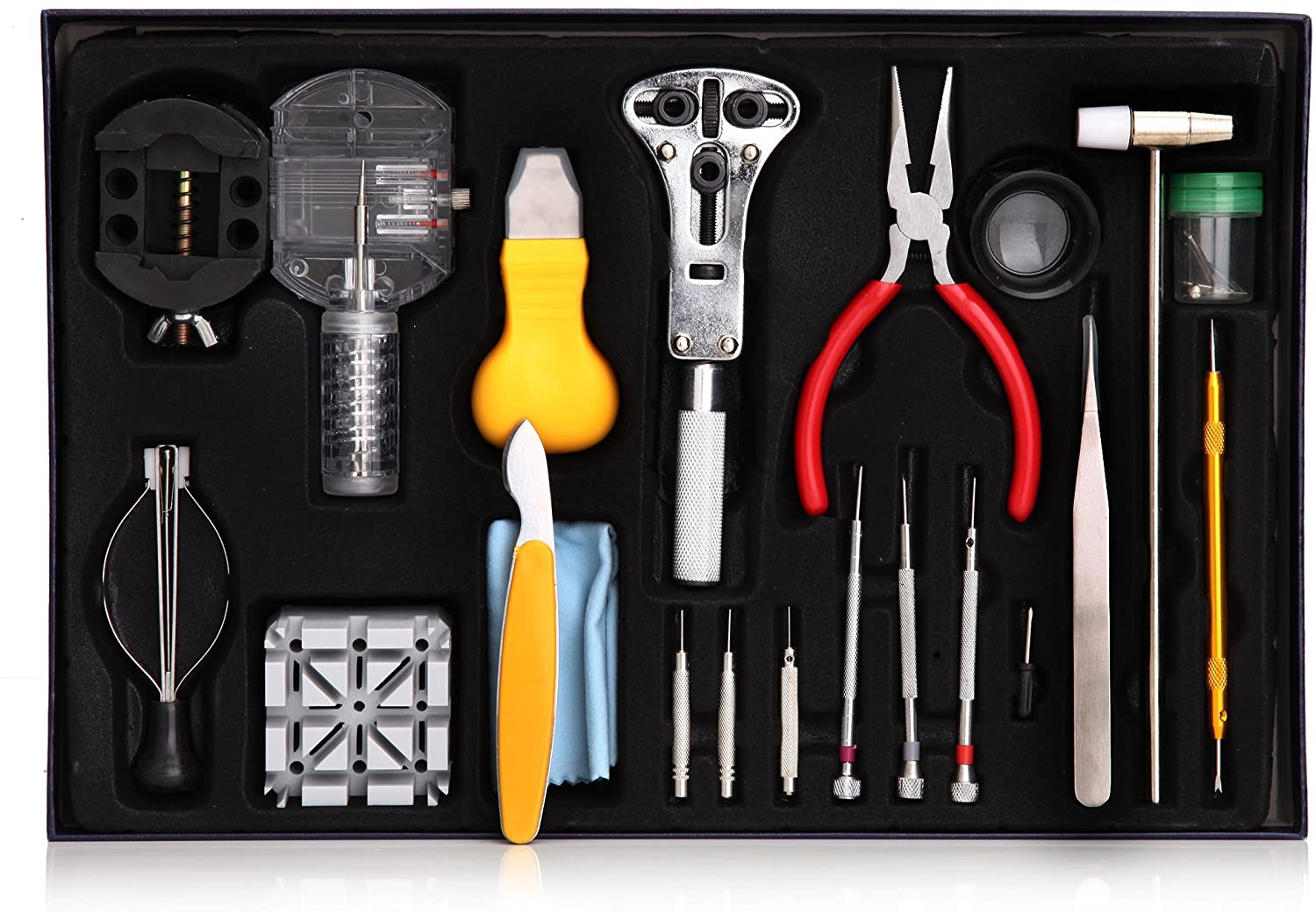 Top 4 Best Watch Battery Replacement Kits
If you have a quartz watch, it means that it is powered by a battery. An automatic watch, however, is powered via a rotor that rotates when you wear it on your wrist, and thus winds the mainspring to provide it with energy. A manual mechanical watch is powered by winding the crown and in that way generating energy to the mainspring.
Since quartz watches are powered by batteries, it means that they will eventually run out of energy and need to be replaced. Generally, a watch battery lasts for 1-3 years. Fortunately, changing the battery on a watch is not a difficult thing. You can either take it to a watchmaker and have them do it quickly, or you can do it yourself at home.
But for changing the battery on your watch, it is important that you have the right tools for the job. Without the right tools, you may risk either not being able to do the job at all, or even worse, may accidentally slip or damage the watch.
To help you, we list some great watch battery replacement kits so you can gear up with all the different tools you may need to change the battery of your quartz watch.
The first step to changing the battery of your watch is to remove the case back so that you can access the movement and thus remove and replace the battery. Different watches have different case backs, and therefore, you may need different tools for the job. Watches normally have either a screw-down case back or a pop-down casebook.
A screw-down case back needs to be unscrewed to be removed. A pop-down case back is removed by popping it off by using a case back knife.
Replacing the battery of your quartz watch
The fact is that changing and replacing the battery of your quartz watch is a very simple and straightforward process. You open the back of the watch, remove the old battery and replace it with a new one, then close the back again.
However, the trickiest part of doing this is removing the case back. Different watches have different case back designs, where some are screwed, others are pushed down, and others are screwed down with separate screws. But with the right tools and accessories for the job, you will be able to replace the battery of your watch in no time. In this article, we will look closer at the most popular Watch battery replacement kits on the market.
Best watch battery replacement kits
As an Amazon Associate, we may earn from qualifying purchases, at no extra cost to you.
---
Watch Battery Replacement Tool Kit, Watch Back Case Remover, and Watch Opener
This watch battery replacement tool kit come with a watch back opener, a watch holder, 2 watch back removers, 2 screwdrivers. It is specially made to include all of the tools you may need to change a watch battery.
It also includes a watch case holder tool with 4 adjustable plastic pins for holding the watch and minimizing the risk of slipping and scratching.
The kit comes with a case back wrench with adjustable tempered tips that can be adjusted from 0.5 inches to 2.2 inches. This is to be used for watches with a screw-down case back.
Furthermore, the kit comes with a watch case opener knife for pop-down case backs which you used by placing the blade under the case back and prying the back off
Furthermore, it includes 2 screwdrivers so that you can unscrew the battery-fixing screw.
Overall, this is a simple and easy-to-use tool kit to help you replace the battery, but keep in mind that because it is on the cheaper side, the tools will not be the highest quality and do not offer the same precision as more higher-end tool kits. With that said, it may not be ideal to use for expensive watches where you want to minimize the risk at all costs. Therefore, it may or may not be worth investing in better tools.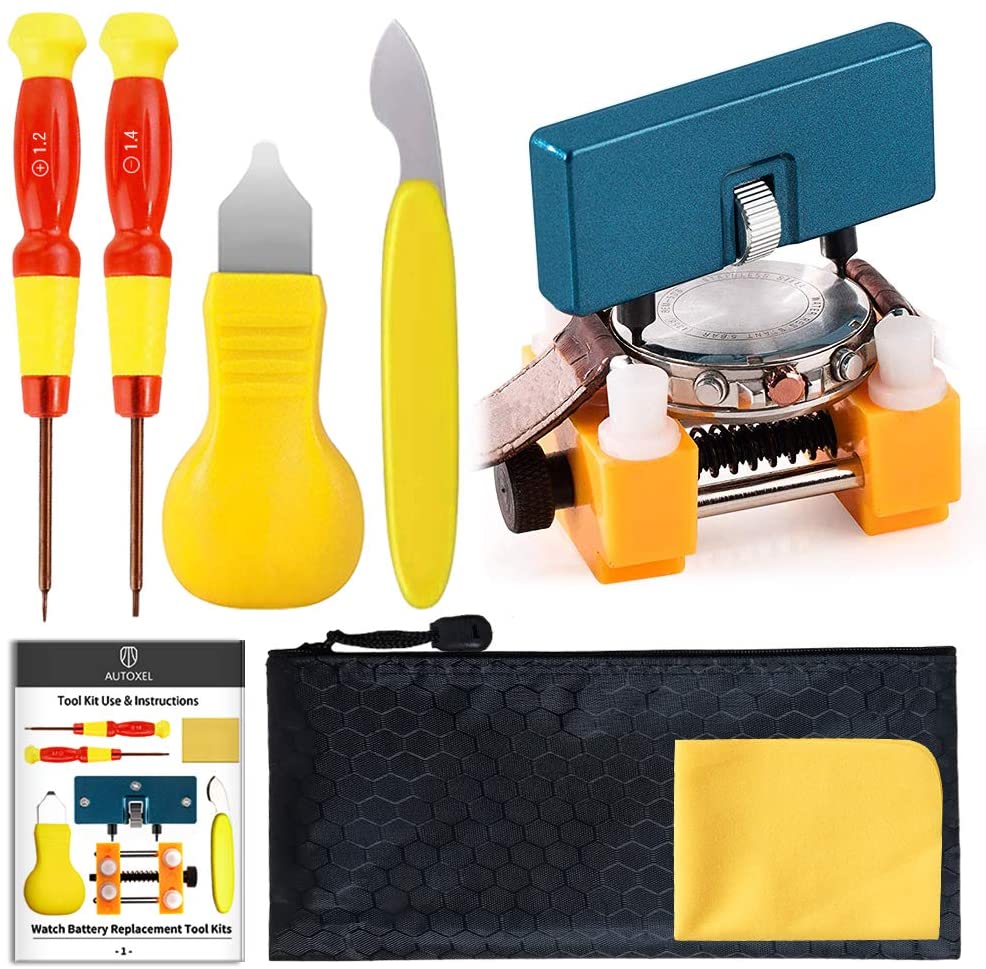 ---
155Pcs Professional Practical Wrist Watch Repair Tools Kit Set Watchmaker
This is a complete watch repair tool kit that includes a wide array of tools. With that said, it does not only include tools for replacing the battery but also tools for a number of other purposes and tasks as well.
It comes with an extra-large case watch case opener wrench which will allow you to open most waterproof watch case backs. The kit also includes a case back knife so you can open pop-down case backs as well-
Overall, this is a great tool kit to have in your possession for any common repair or task that may need to be done to your watch.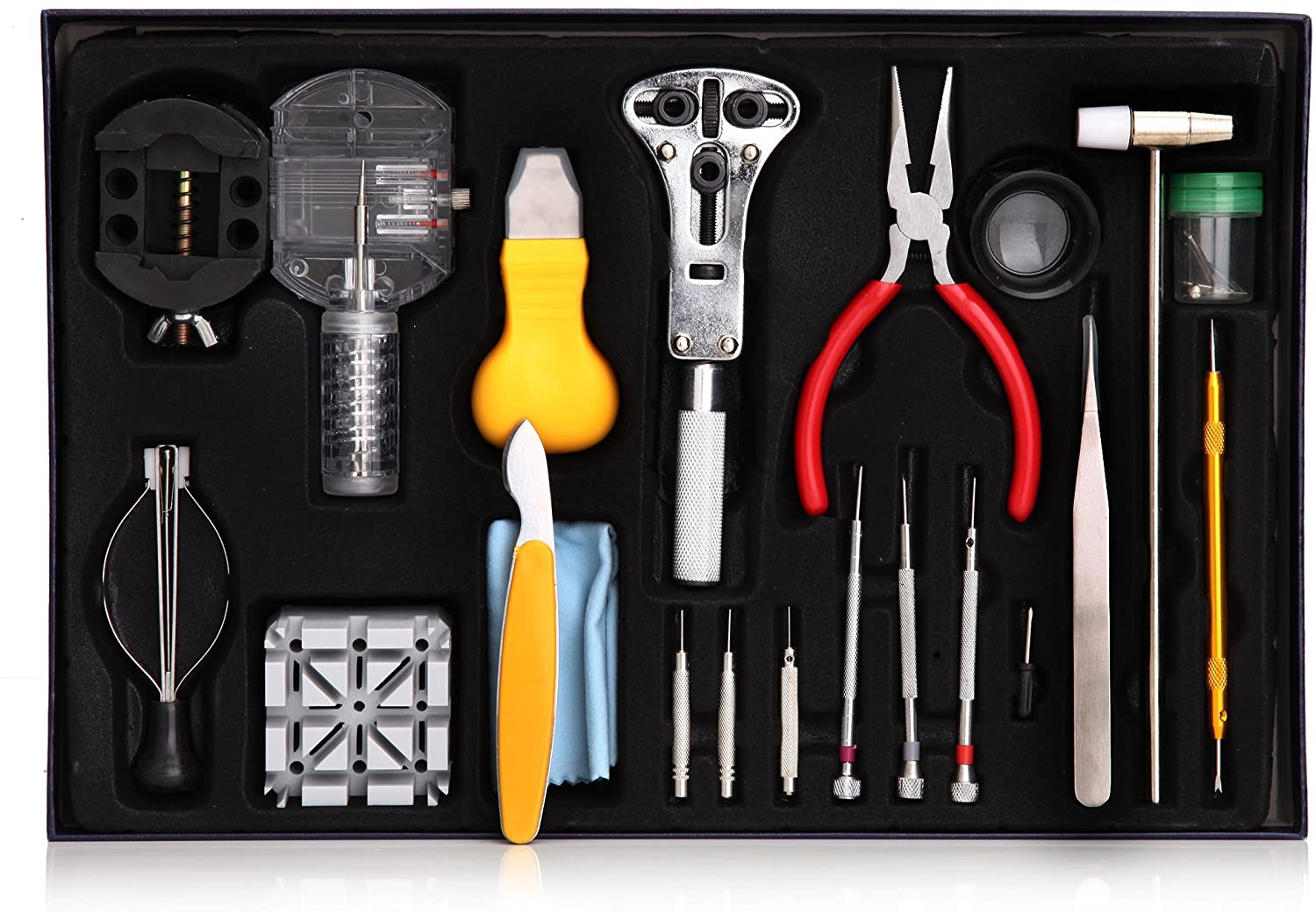 ---
Optima 55-044 Portable Watch Repair and Battery Replacement Kit
This is one of the more premium tool kits for repairing watches and more importantly replacing the battery. The kit comes delivered in a durable zippered carry case.
It includes a wide array of tools to do a wide array of tasks. It includes five screwdrivers, sizes 1.00mm, 1.20mm, 1.60mm, 1.80mm and one Philips, two pin pushers sizes 0.80mm and 1.00mm, a brass hammer with metal handle, a spring bar remover, a case opener, screw-type link remover with extra tips, a plastic block to hold bracelets in place.
The tool kit is of higher quality than the most basic ones, but it is not the most qualitative (nor expensive) on the market. But with al of the tools included, it is enough to get the job done.
Since it has both a wrench and a case back knife, you can open both types of case backs.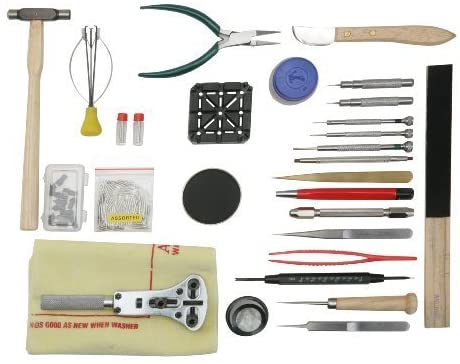 ---
Optima Watch Repair and Battery Replacement Kit
The Optima watch repair and battery replacement kit are specially made for replacing watch batteries and includes all of the tools you may need.
Furthermore, with the tools, you can also perform other tasks such as changing crystals, changing watch bands, removing links, etc.
The kit includes a watch crystal press, watch analyzer and battery checker, JAXA type watch opener, case opener for waterproof watches, case opener for Rolex Oyster type watches, plier to align watch lens, set of precision screwdrivers, handy link remover to shorten metal watch bands, set of 2 pliers and cutters, watch back knife to snap open cases, tool to remove and replace watch bands, watch battery tweezer, kit with an anvil to drive out metal pins, tool to check battery size, as well as the book "Watch Battery Replacement Guide."
We think this is the ultimate tool kit to change batteries for your watch with tools that have high quality and offer great precision.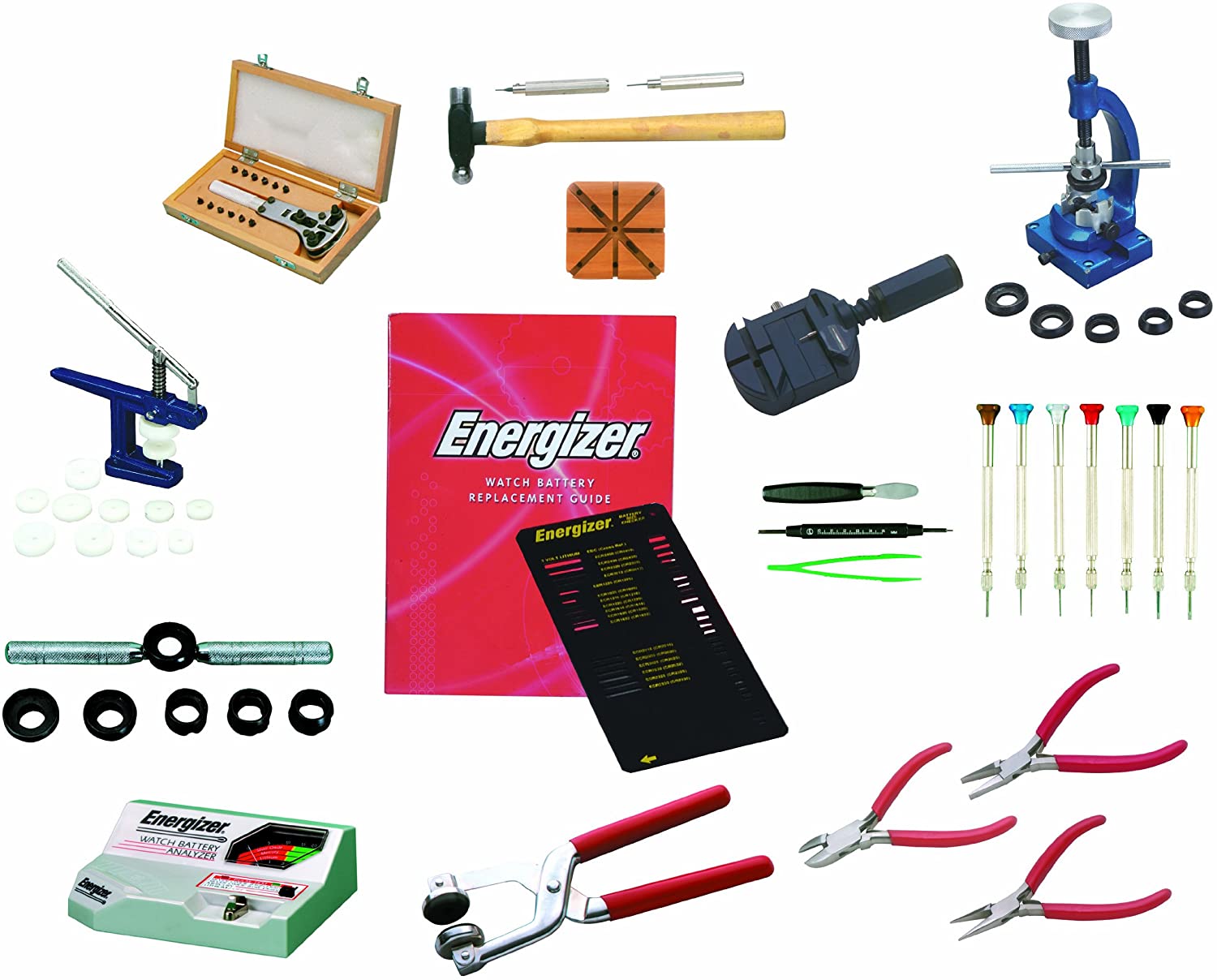 ---
Fitepro watch battery replacement kit
This battery replacement kit has a bit more to offer than most other kits on the market. In addition to the standard and most important tools, you also have an addition of a selection of different batteries in different sizes so you won't have to go around looking for the battery that fits your watches. With this set, you always have the proper batteries for your watch.
The kit consists of 342 pieces and is presented in a carrying case for easy storage and transportation. It includes antistatic rubber fingertips covers and 3 sets of batteries. In addition, you, of course, have all the crucial tools such as case back openers, screwdrivers, watch holder, and spring bar tool.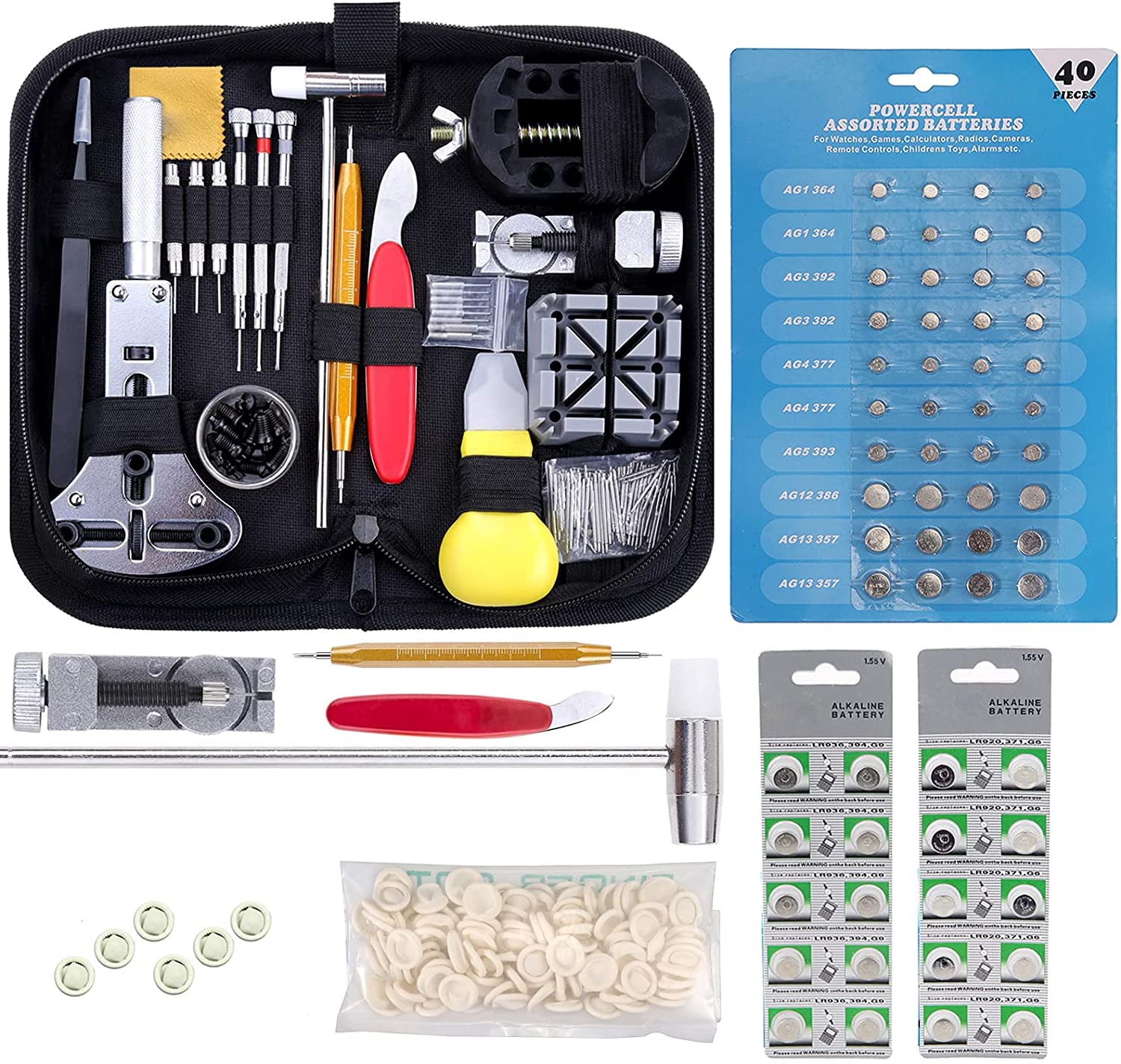 ---