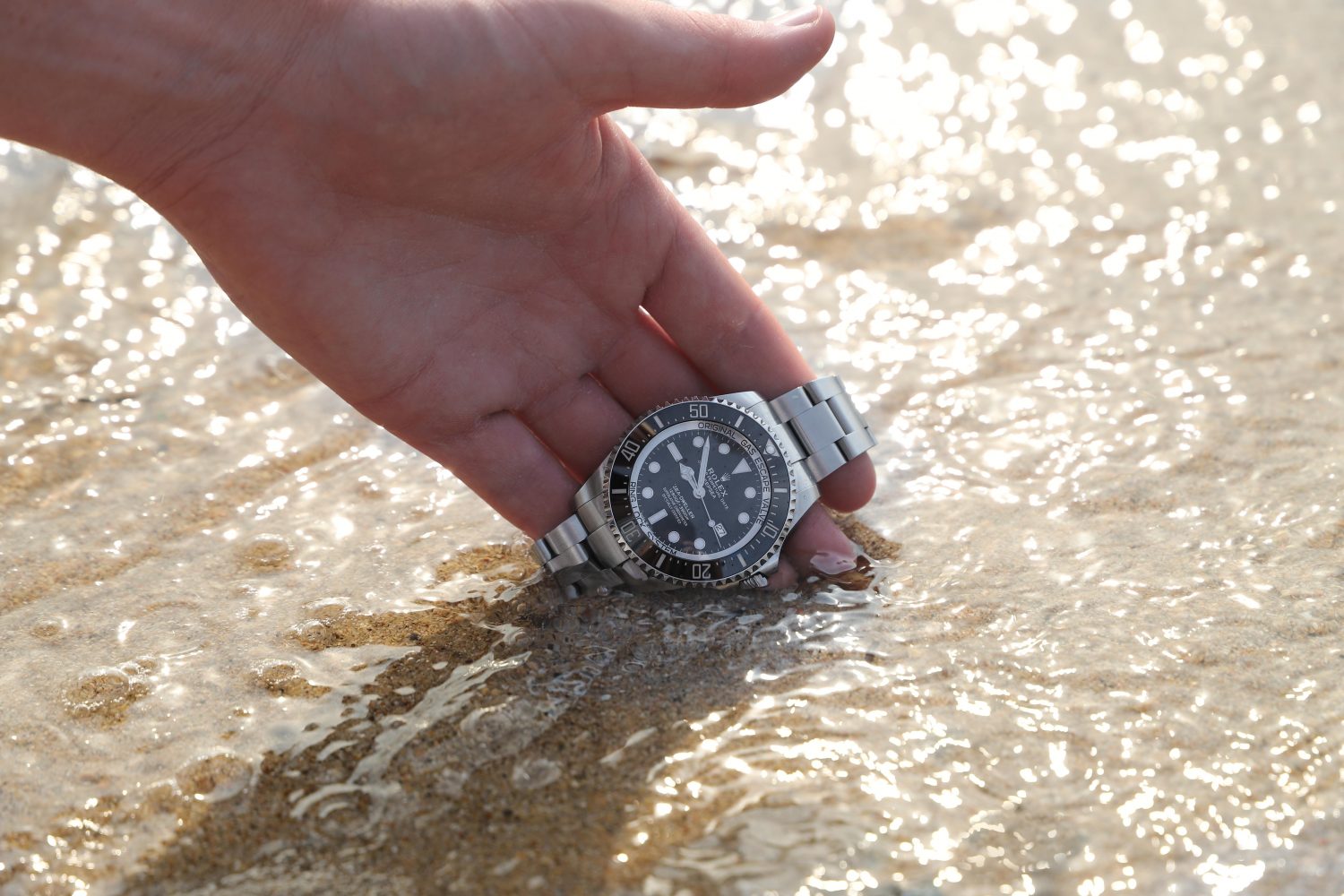 Best Watch Waterproof Testers
Many watches are built to be waterproof (nowadays called water-resistant – and more on that later). The least water resistance watches can usually handle splashes from water, for example when washing your hands, but not much more than that. The most serious dive watches, on the other hand, can resist water pressure down to hundreds of meters.
Water-resistance in watches is a rather interesting topic. On one hand, dive watches were originally developed for professional divers as crucial tools to help them keep track of how long they had been underwater, and in turn, keeping track of how much oxygen was left in the oxygen tank. On the other hand, one of the greatest enemies of watches – mechanical or quartz, is water. If water leaks into the movement, it will be detrimental to the watch's function. In most cases, it will cause it to stop. If not immediately, after some time, since the water inside the watch causes the moving parts to rust, leading to a very expensive service to have it restored.
With that said, if you are going to be in contact with water with your watch, it is crucial that you ensure that it is waterproof.
Different watch manufacturers have different recommendations on service intervals. And with service also comes pressure-test. However, the industry is quite agreeing on this topic that, if you are going to go swimming and diving with your watch, it is advised that you have it pressure-tested. It is often also recommended that you have it pressure-serviced as well. A pressure service means replacing the gaskets of the watch and pressure-testing it to ensure there is no leakage, just to be sure before you plunge into the water.
Most watches will remain waterproof for years without you having to do anything but it is always better to be safe than sorry as the cost of having it pressure tested and pressure-serviced costs a fraction of having to repair a movement after it has leaked water (and potentially started to rust).
The greatest compromise of a watch's water resistance is its gaskets. Gaskets are placed everywhere on the watch where different parts meet, and where water can leak in. Most commonly, this includes the cashback, the crystal, and the crown.
How to use a watch waterproof tester
Before you go diving or swimming – or get your watch in contact with water in any way, for that matter, it is advised that you have it pressure tested.
You can go to a watchmaker and have them help you with this, or you can buy your own watch waterproof tester. Having access to a waterproof tester may be a great idea because you never actually know when and if the seals of the watch will fail. For example, you may have your watch tested by a watchmaker and it turns out to be all ok, but then a month after, you go swimming, and the watch proves not to be waterproof anymore and starts leaking. With that said, a watch waterproof tester may be a well-worth investment.
The way a watch waterproof tester works is that you put the watch into a pressure chamber – initially held above the water. You put pressure inside the chamber and are able to see if the seals leak. This will be shown in the form that air will find its way inside the watch. When you have confirmed the watch is waterproof above the water, you can immerse it. If no bubbles escape from the case, the watch is air-tight.
Do have in mind, though, that there is a risk that the crystal can blow out inside the chamber if the pressure is too high.
Below, we list some of the best and most popular watch waterproof testers. Due to the niche nature of watch pressure-testing, there is not a huge variety on the market.
Best watch waterproof testers
As an Amazon Associate, we may earn from qualifying purchases, at no extra cost to you.
---
Mophorn 6 ATM 10 Bar Watch Waterproof Tester
This watch waterproof tester can be adjusted up to 6 ATMs and 2 watches can be tested at the same time. Thanks to the transparent container, you will easily be able to see if the watch leaks, and in that case, where there is a leakage.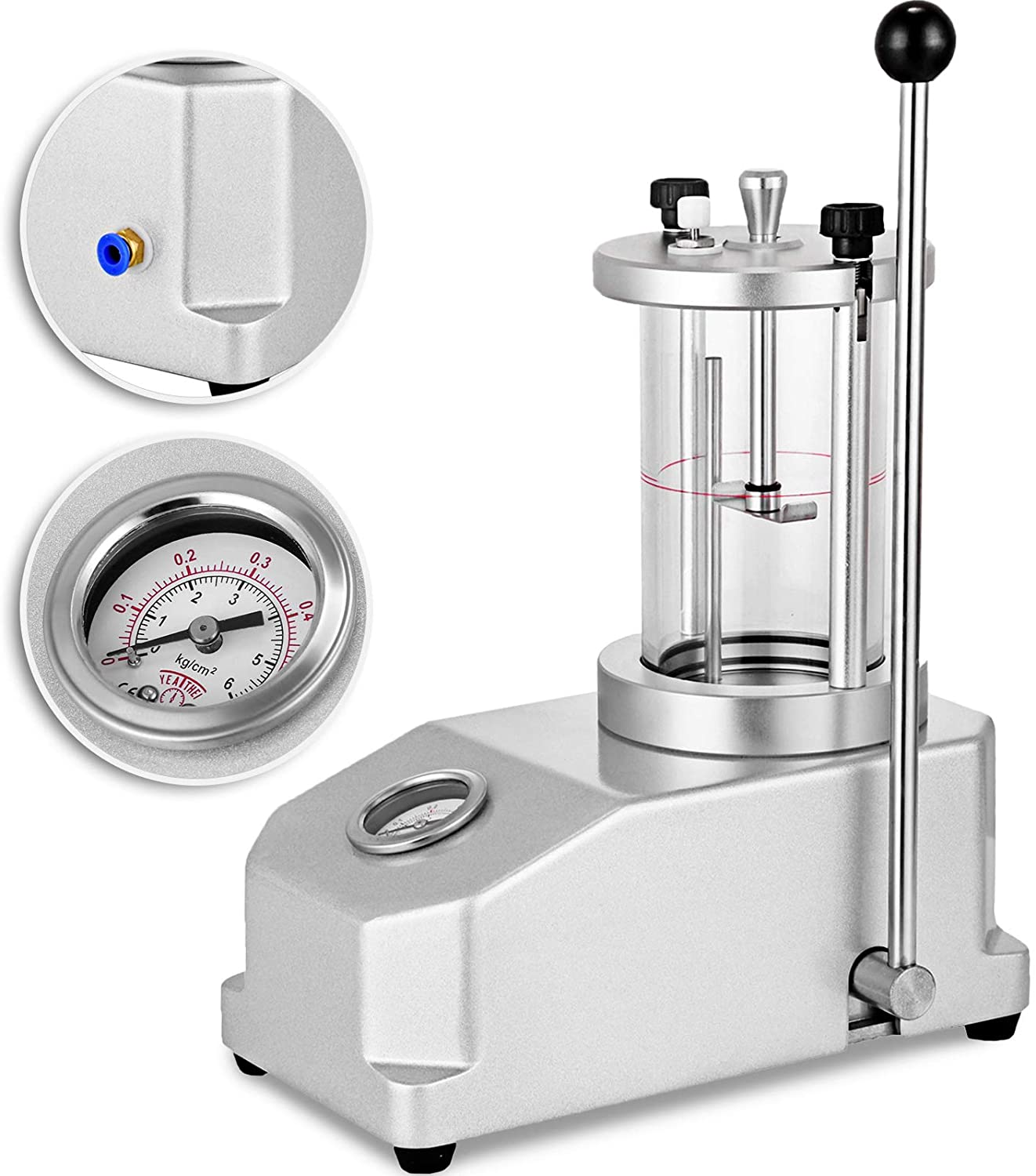 ---
Bergeon 5555/98 Waterproof Tester
This one is a bit on the expensive side, but it is made by Bergeon – the most well-respected manufacturer of watchmaking tools, parts, and instruments. You can be sure that you are getting a qualitative and effective waterproof tested for your watch. It has a chamber diameter of 64mm, a pressure capacity of 0-3 ATM, and leaks are revealed by bubble stream.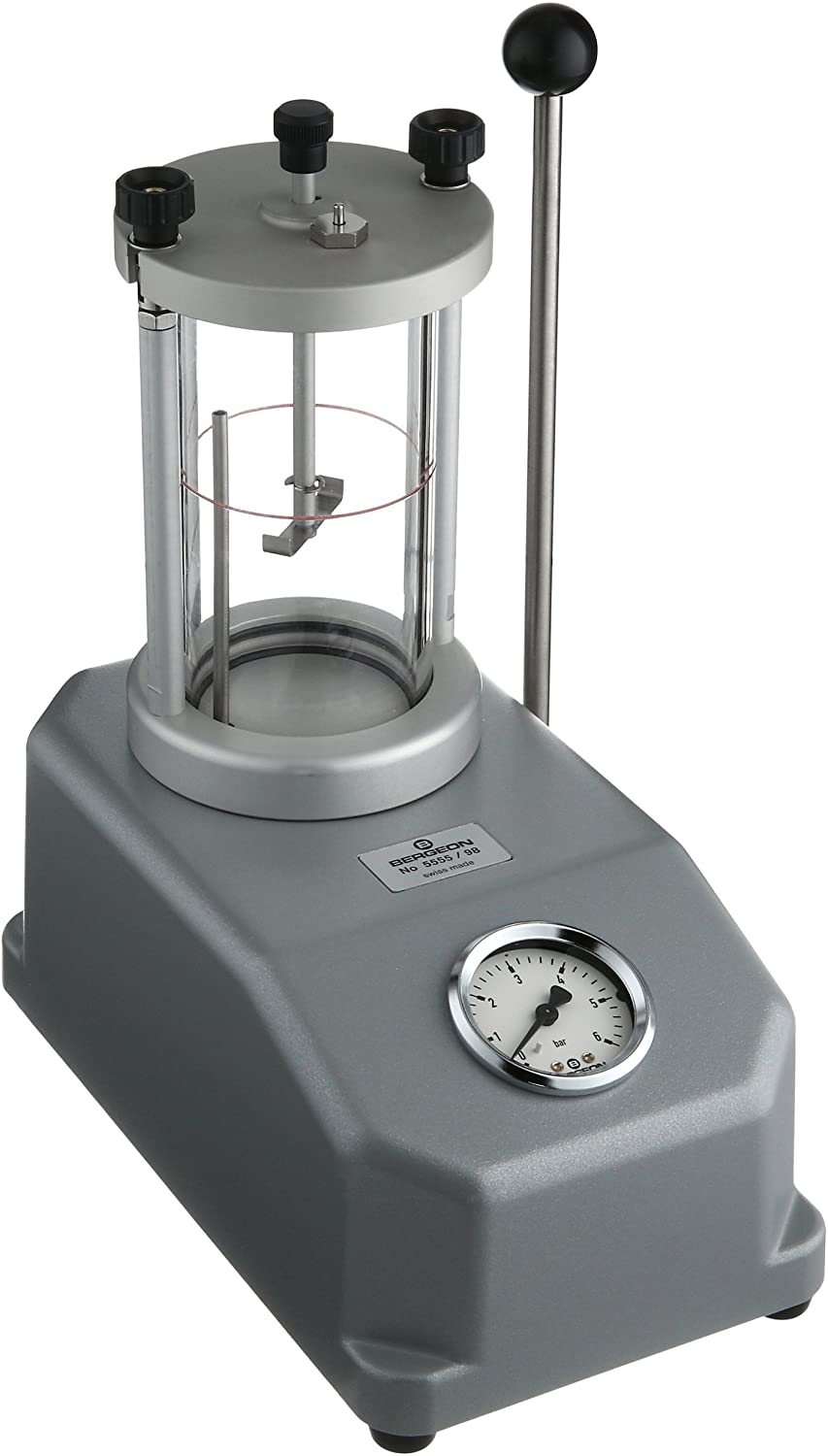 ---
Watch Waterproof Test Tool
This watch waterproof test tool allows you to test two watches at the same time which can be convenient if you are a watchmaker by profession, as a hobby, or simply have a large watch collection. The transparent case allows you to see which part of the case is not waterproof. If you see bubbles after being immersed in water, the watch is not perfectly sealed. It functions using the air pressure test principle, which allows you to test the water resistance of the watch at 6 atmospheres.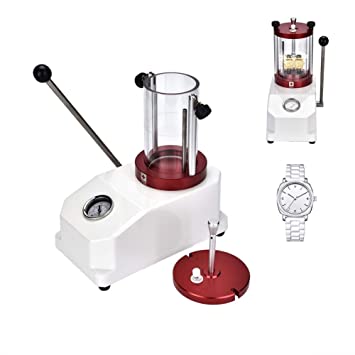 ---
*Use a watch waterproof tester at your own risk. We cannot be held responsible for any accidents or damages caused to the watch.
How much does it cost to pressure test a watch?
You can have your watch pressure tested by most professional watchmakers if you do not wish to do it yourself. Usually, the price is somewhere between $40 and $100. Note that this is only for a test and nothing else. Shall you need to pressure service it and replace its gaskets, there will be an additional cost for this.
How do you use a waterproof watch tester?
Watch the video below where you can learn how to use a waterproof watch tester step-by-step.
Do watches need pressure testing?
Yes, it is advised that you pressure test your watch at least once a year. A lot of people also recommend that if you are often in contact with water, you should replace the gaskets on the watch once a year. To have a waterproof watch tester at home is the best and most convenient as it allows you to test your watch's water resistance every time before you, for example, go swimming or diving. If you don't have a waterproof tester at home, it is not as convenient to always have to go to the watchmaker every time, and the result is that you don't test it as frequently. Whilst there are generally no issues if you replace the gaskets and test the watch once a year, it could impose a greater risk that the watch leaks. And as you know, water and moisture can be detrimental for a watch, and most likely, the movement will break and need repairing if it leaks.
With this said, buying a waterproof watch tester is usually a well-worthy investment.