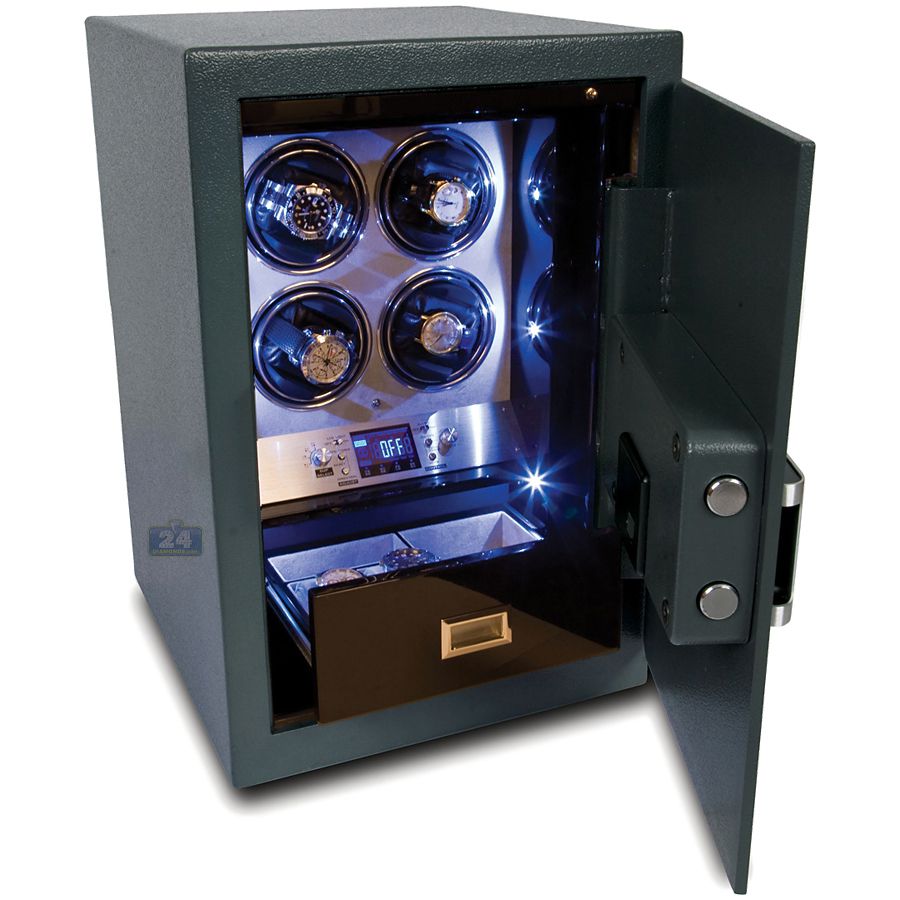 Top 10 Best watch safes (For all Budgets)
Luxury objects tend to be expensive, for natural reasons. As a matter of fact, expensive is almost a requirement for an item to be considered luxurious.
So of course, you want to protect the things you own. When it comes to watches, the best way to protect them is with a safe. Regardless if you have very expensive watches or more affordable timepieces, it is a good idea to keep them protected with a safe.
Having a safe prevents the wrong people – invited or not – from being tempted to steal your watches. Most watches can be replaced, but that is not the case for all. A valued heirloom, a commemorative watch, or a super rare vintage timepiece are all irreplaceable – regardless of their monetary value.
With that said, having a safe will bring you peace of mind that your beloved watches are safe and secure. Below, we'll take a look at the best and most popular safes for watches, and further on, we'll also dig into everything you need to know before buying one.
Best watch safes for all budgets
As an Amazon Associate, we may earn from qualifying purchases, at no extra cost to you.
Below, we list the best watch safes for all budgets, of a wide range of sizes and designs.
---
7700 Flat Electronic Wall Safe .83 CF
This is an electronic wall safe and an option if you are looking for a safe that can be mounted inside a wall. The wall mounting makes it easier to conceal and can be fitted into a vacation home, office, or regular home. Not only is it safe and protective, but it can also be hidden, for example behind a painting, picture, or inside a closet.
With this safe, you have two options to open – either with a code or key. It is constructed with 1/8″ thick solid steel to resist outside force and protect your watches. It comes with pre-drilled holes inside the safe with fixing bolts that allow for anchoring.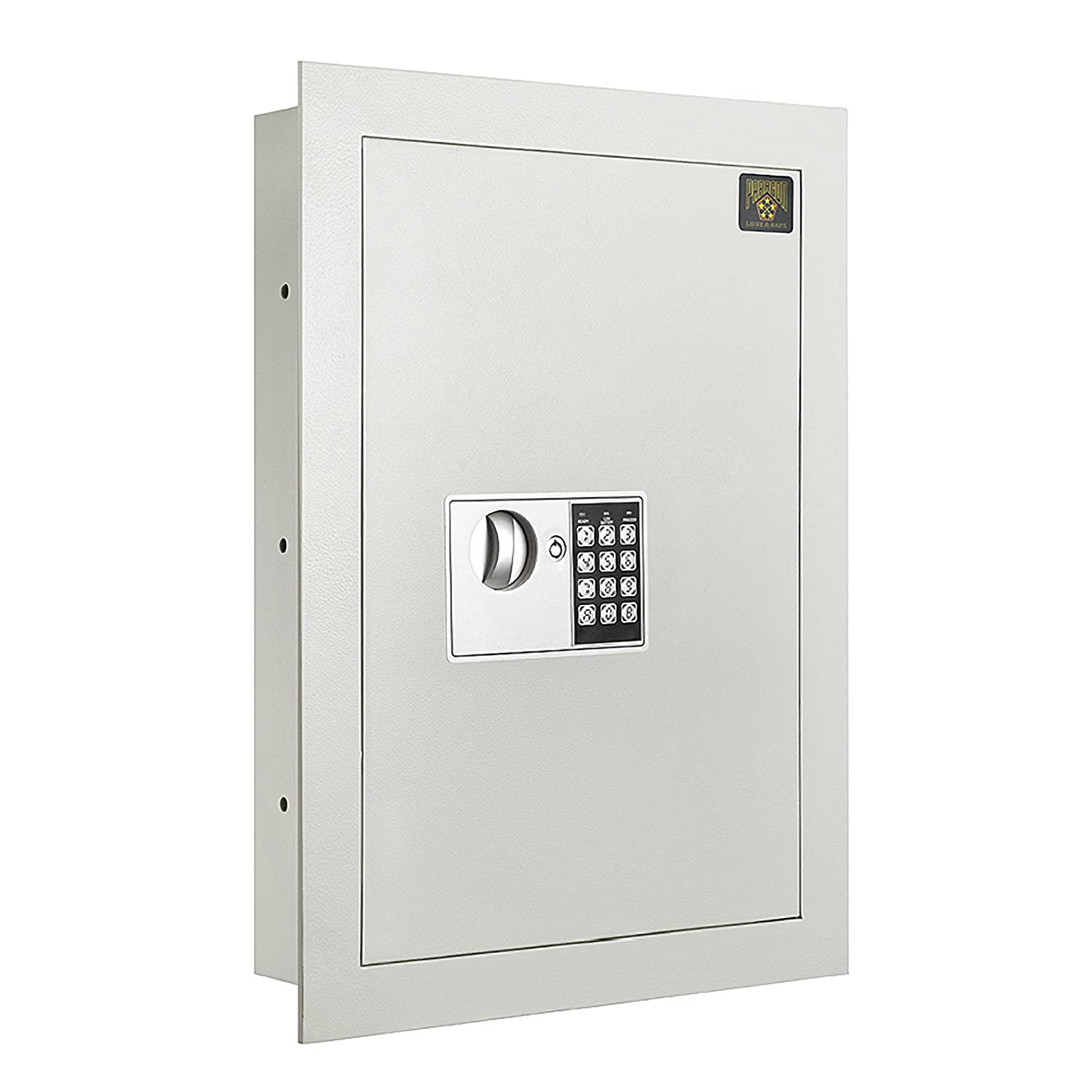 ---
Cheopz Safe Watch Winder Box for 12 Automatic Watches
This Cheopz safe is the ultimate safe for any watch enthusiast. It is not a standard safe but also has a built-in watch winder so you can keep your automatic watches running inside the safe. This safe removes the need of having a winder and safe separately or placing your winder inside a safe. The winder has room for 12 watches.
To keep them safe, it is made of solid steel with an explosion-proof window. The window is made in 18mm explosion-proof glass, which is great as it enables you to see the timepieces inside, but with no safety concerns.
The winder is operated via an LCD touch-screen display on the door.
The winder includes mounting Expansion Bolt( M6*80mm) x 2pcs.
Unlike most watch safes, this one actually looks quite nice which means you can have it displayed in your home if you want. For further safety, the safe has an intelligent detector alarm system that triggers when security is being breached. You can set the alarm sensitivity level between 1-5 and turn it on or off.
To prevent outside force, the door has dual door locking bolts & pry-resistant hinge bar and two 1-inch steel locking bolts, and a pry-resistant hinge bar to provide multi-protection against any attacks.
It is possible to mount the safe to the wall or floor with pre-drilled holes in the safe, and steel bolts are included.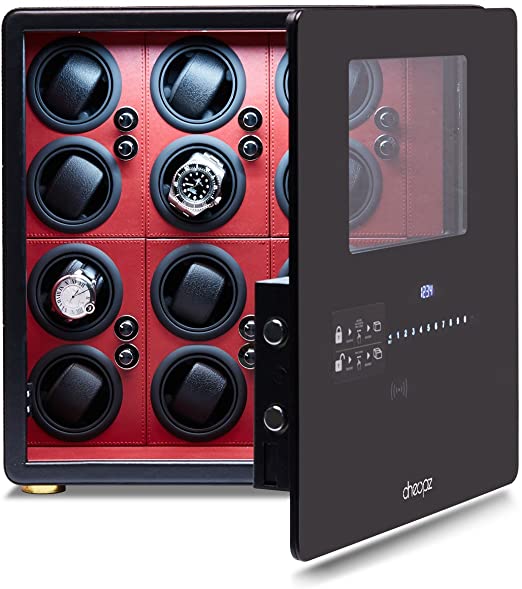 ---
AmazonBasics Fire Resistant Box Safe
This Amazon Basics safe is made by Amazon and will keep your watches and valuables safe. But apart from that, the safe is rather basic. It is a 2.1-cubic-foot fire-resistant safe that protects against theft and fire. According to Amazon, it complies with the modified UL 72 Standard for Safety Tests for Fire Resistance of Record Protection Equipment. This means resisting for 20 minutes at 1200 degrees Fahrenheit.
It has a 14-gauge heavy-duty steel body construction and is built with 5 large 0.75-inch bolts and 14-gauge steel body construction for security.
The safe has an electronic keypad with which you can easily open the safe, but it also includes a backup key for emergency use.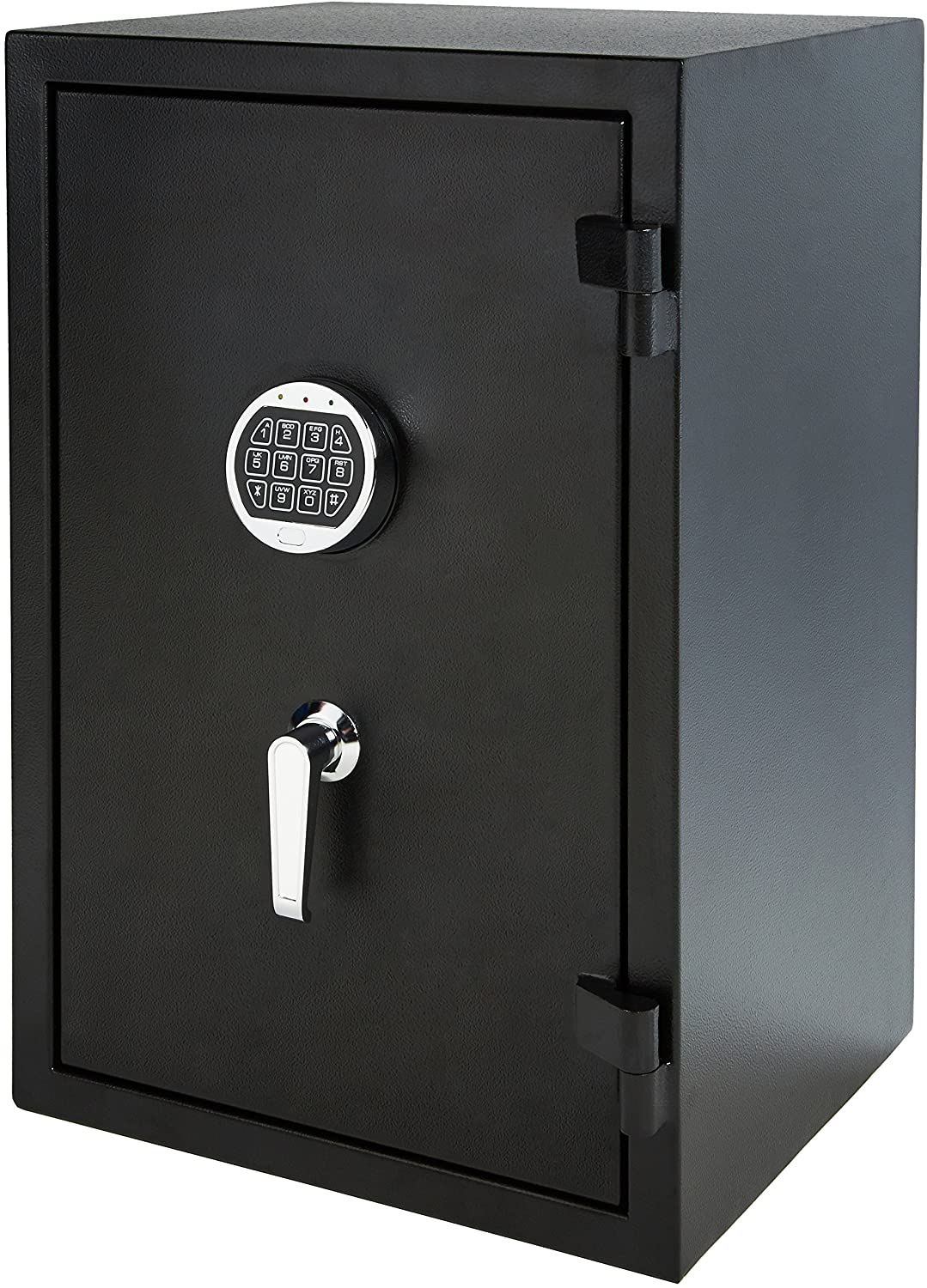 ---
Ablea Electronic Digital Fingerprint Security Safe
The Ablea Electronic digital fingerprint safe is opened as the name suggests, with artificial intelligence and fingerprint recognition. It can store up to 30 fingerprints, but also comes with 1 spare key. The screen also has a date display function.
The best part about this safe is that the outer frame is made of wood which makes it a nice interior detail if you want to keep it displayed and not hidden in your home. At the same time, the inner cabinet is made in all steel and with a thickened door panel and sheet metal craft, to keep your valuables protected and safe.
The locking mechanism has an automatic error code vibration alarm, so if the code is entered incorrectly3 consecutive times, or if the safe is subjected to external force, it will alarm. Lastly, it has a thickened anti-drill solid door panel with a laser-integrated cutting micro-door seam which makes it highly secure.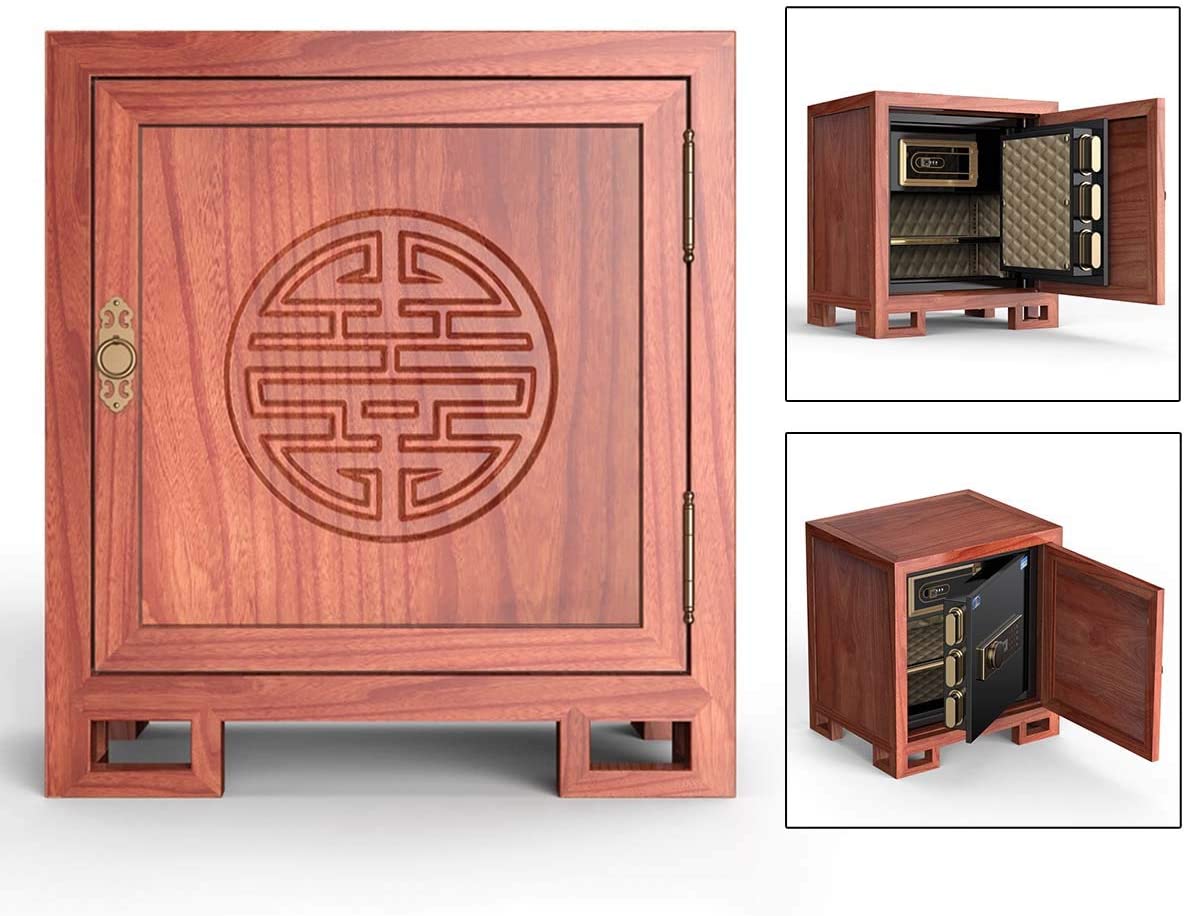 ---
Password Safe Household Small Safe Office
This safe is a good alternative for your watches. It has high-quality movable door bolts and tamper-resistant hidden hinges. It can be opened with a password, and after three wrong passwords, it will automatically alert for an additional level of safety. The door is 6mm thick to provide optimum safety.
The electronic password unlock and key system allows you to open the safe with a code or with a set of two spare keys which is included.
---
In-Wall Safe Deposit Box Home Safe Office Fingerprint
This in-wall safe deposit box is one of the smaller safes on this list but is still built to provide great safety. It is made of solid steel and has 6mm thick steel doors.
It has double protection with an electronic password+key. The hidden keyholes make it difficult to find the opening for those that shouldn't have access.
Thanks to its convenient size, it can fit in many places. It can also be wall-mounted or stored inside a cabinet.
It is also made to be built into the wall so you can keep it hidden.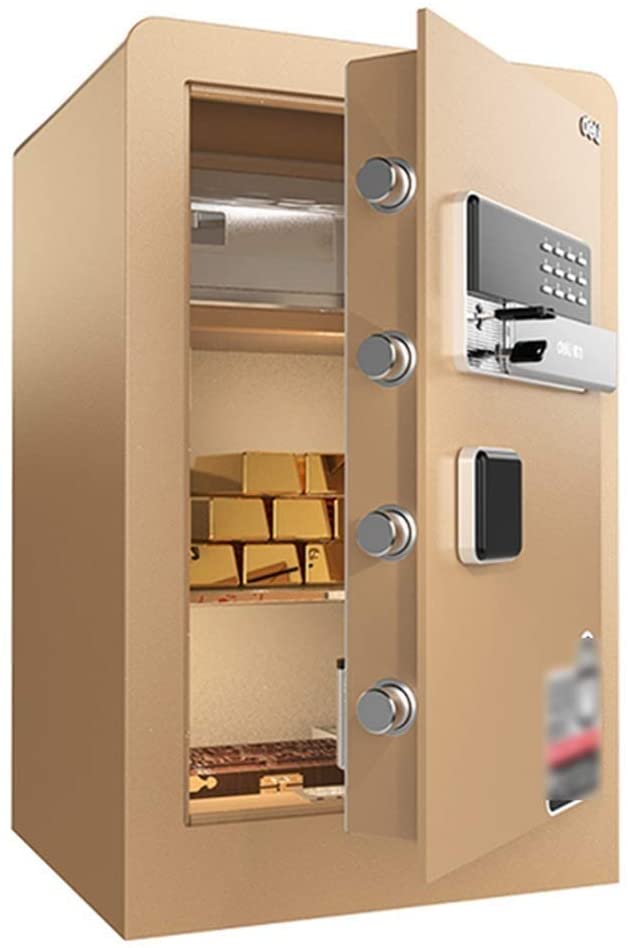 ---
Safe with Medium Fingerprint
This safe has a solid door panel with a 32MM diamond lock bolt with a solid core diamond lock bolt made of alloy steel. Thanks to this, safety is greatly improved. It is equipped with a digital screen for opening, and when the wrong password fingerprint is entered more than 3 times, or the cabinet is strongly shaken and subject to an outside force, high decibels will be issued to deter any thieves.
The storage box is made of 5 layers of high-quality cold-rolled low-carbon alloy steel.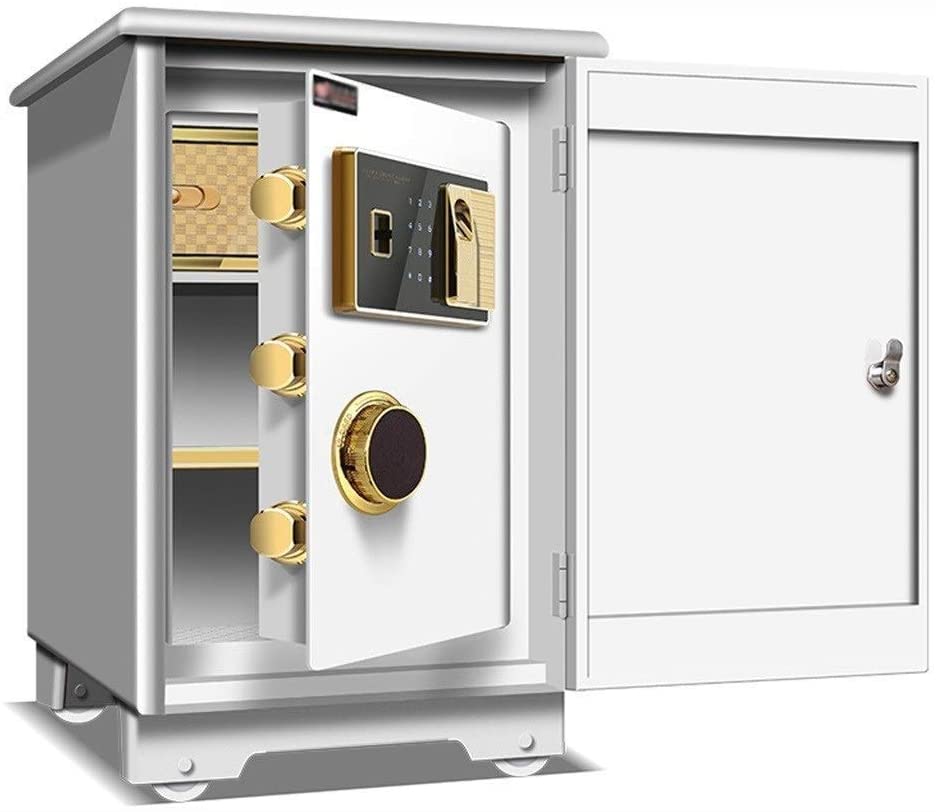 ---
Rapport London Securita Safe
Rapport is a well-known and reputable manufacturer of watch-related accessories, mainly watch winders and watch cases.
Rapport London has incorporated this expertise into a watch safe and presents a safe made especially for storing watches. The safe incorporates a quad watch winder and combines this with the security from the safe. We love these types of safes as they bring the best of both worlds for watch enthusiasts.
Thanks to the winder, you can keep your automatic watches running, whilst keeping them safe.
The safe has an electronic combination lock and the interior watch winder has an LCD control panel with which you set the winder settings.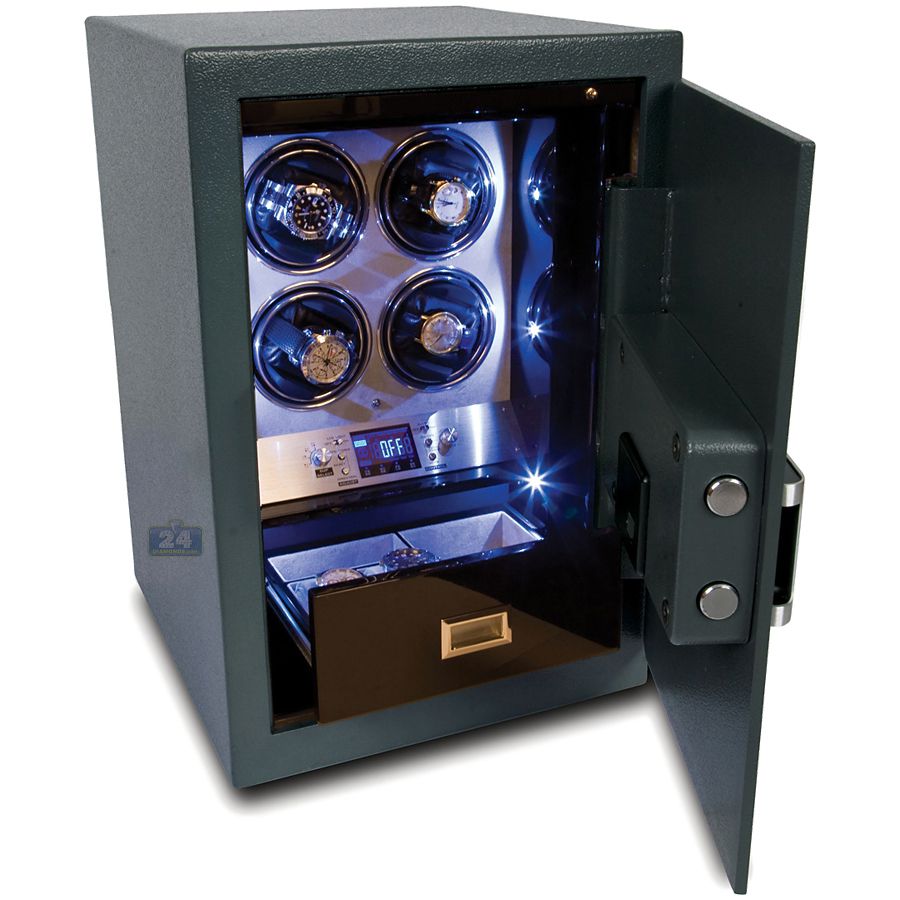 ---
SentrySafe EF4738E Fireproof Waterproof Safe
SentrySafe is a well-known manufacturer of high-quality safes. This particular safe is fireproof and ELT Verified to endure 1/2 hour at 1400°F to protect your valuables not only from theft but from fire. In addition, it is also waterproof and verified for 72 hours of protection in water up to 12 inches. Of course, it won't be an issue if your collection consists of durable dive watches, but it is still an important feature for many other watches or valuables you may keep in your safe.
The safe allows you to set your own digital combination. For better safety, it has five locking bolts and four deadbolts. The safe is also made in solid steel construction with bolt-down hardware, and a thicker door.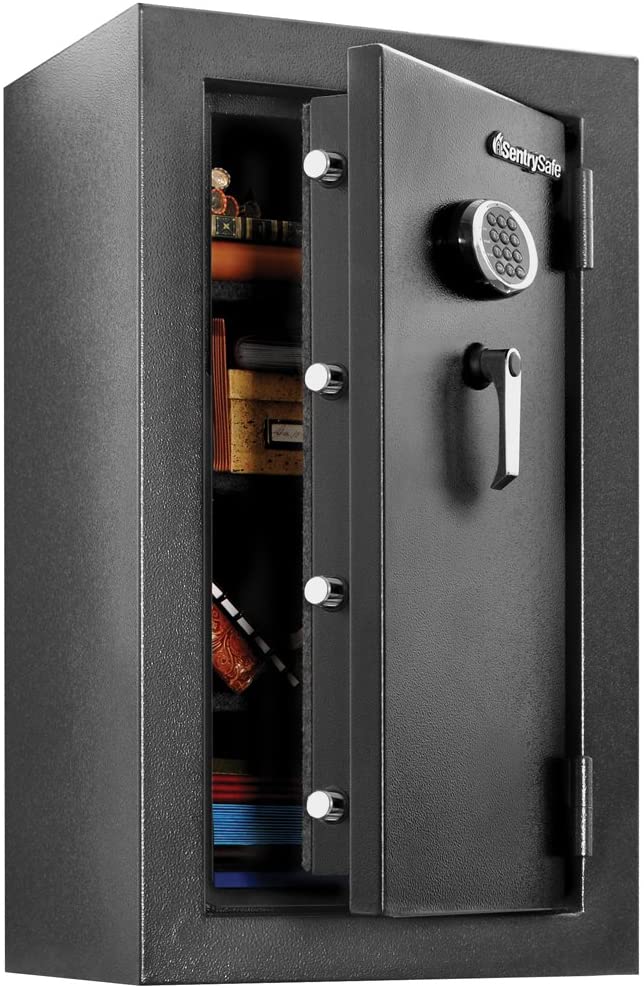 ---
SentrySafe SFW205GQC Fireproof Safe
Another safe from SentrySafe is the SFW205gqc. This is a fireproof safe classified to endure 1 hour at 1700°F and keep interior temperatures safe during this period. It is also verified for 24 hours of protection in water up to 8 inches deep.
Like the other safe, it allows you to set your own digital combination but also has a secondary locking key for strong security.
The digital combination is set with a 1-8 digit code. A great feature is the secondary locking key gives you the ability to disable the primary lock, even if other people know the combination or access code.
The door is equipped with six live-locking bolts and steel construction with a pry-resistant hinge bar. For better organization, it has a drawer and file organizer.
For better accessibility, it has an interior light, which is uncommon for safes.
The safe has also been drop-tested, so if the floor beneath burns through, the safe can handle a 15 ft. drop.

---
Top best watch safes – Watch safe buyer's guide
There are countless watch safes on the market. Large, small, expensive, cheap, and everything in between. Finding a safe can be really overwhelming with so much to choose from. Which should you choose?
Below, we have listed some great watch safes for all budgets, but before we go into detail about them, let's look at the most important factors you should consider when choosing a watch safe.
Size
There are watch safes of all types of sizes. From a small safety deposit box to enormous safes taller than yourself. With this said, you need to consider how big your safe needs to be, and perhaps, where you are going to place it so you know how big it can be. Reverse-engineer the decision-making process by asking yourself where you'll place it and take it from there. You can also think about what you need to fit into it as it will help you the size you need.
In general, the larger a safe is, the more safety it tends to offer. This isn't necessarily always the case as it also depends on the manufacturer and quality, but generally speaking, it is true. The size is not only relevant for where you will be placing it, but also for what you will store inside. If you have a lot of watches and perhaps other valuables, you naturally need a big safe. If you only have a few watches, the safe doesn't need to be that big for that reason, but perhaps for the reason of safety.
Weight
A watch safe weighs a lot. Both because it needs to be robust, but also because it makes it more difficult to remove and move. The "issue" with a heavy watch safe is of course that it can be a challenge to install and move it. A common watch safe can weigh between 200 and 800 kilos, so it's safe to say it's not an easy task moving it. Consider how heavy your watch safe can be. Both from a standpoint of where you can place it, but also from a standpoint of moving it. Also, a tip is to not choose a small and portable-sized safe, because at worst, they may not do the job of keeping your watches safe, as they could be carried away. The heavier the safe, the safer it is, but at the same time, it becomes less practical. But after all, a safe is not meant to be practical. Therefore, find your limit in terms of weight and what you consider reasonable.
Style/design
The style and design of your safe are something that is definitely worth considering. This depends on how and where you will use your safe. Some people only want their safe to keep their watches protected and nothing else. If that is the case, you may place your watch safe in a closet or in your basement where you aren't going to see it.
On the contrary, others want their safe to be a part of their interior design, and in these instances, the design and look of the safe are very important. Not only should you keep the security of your watches in mind, but also the design so that it looks great with your overall house styling. Buying a watch safe that is meant to also be an interior detail can be a good idea because otherwise, your watch safe will just be in the way. Making it an interior detail will give it two benefits – it will look great, but it will also serve a purpose.
Naturally, a styled and designed watch safe will be more expensive than those that are generic and which have not been made to be beautiful. So consider if you are prepared to pay the extra cost for that.
Cost
An important factor to consider when looking for a watch safe is the cost. A safe is generally not cheap, and if you want a higher-end safe that is both larger and more beautiful, it can cost you upwards of tens of thousands of dollars. There are even watch safes for millions of dollars, but those are not what we will focus on here.
If you have an idea of your budget, you will quite quickly get an understanding of what your budget has room for in terms of size.
Inside
Since you are going to store watches inside your safe, you need to consider the inside as well. There are many safes specially made for watches, which thus have soft linings and watch holders inside. The most expensive ones also have built-in winders, but with these, you enter territory where the safe itself costs far more than most people's watches (but if this is something for you, we would be more than happy to guide you).
Otherwise, most watch safes will just have a few shelves on which you can place your items. Depending on how large your safe is, you may be able to put in a watch winder. The most common is that people have their watches in a case or box which gives a good overview and easy access but also keeps them protected.
Functions and lock
Another feature you will want to consider is its functions and locking mechanism. In general, there are mechanical locks, digital locks, or both. These can be summarized in the following way:
Mechanical locks – opened with a key
Digital locks: often opened with a pin code, your fingerprint, or both
Combination locks: This is perhaps the most classic type of lock where you rotate a knob to enter your code
Multiple function locks: Some safes offer a combination of several different types of locking functions, for example, a pin-code and a key, or pin code or fingerprint or a code
Each of these offers both pros and cons. The most basic and most common is that you use a key to open the safe. This is practical and simple, and you won't have to worry about running out of battery. But at the same time, you need to store the key in a safe and hidden spot.
The pin code and fingerprint locks are very practical since you don't have to keep track of a key and they allow for simple and quick access. At the same time, they're electronic so they're reliant on energy.
When it comes to functions, there are tons of different features that can be found in safes. Some safes are equipped with alarms that alert when someone moves or aggressively shakes the safe. This can be a good additional safety measure to have in a safe to deter any potential thieves and attract attention.
Furthermore, another common function is built-in light. This is a handy feature that makes it easier to see the items inside – in particular, if you have the safe in a dark area.
Water and fireproof
Another feature of some safes is that they can be either water or fireproof (or both). This can be a really valuable property of a safe as it ensures that your precious watches are kept safe even in the case of a fire. Not all safes are water and fireproof, so if this is important to you, you need to do your research. You can read our guide to waterproof safes here and fireproof safes here.
Built-in watch winder
Just because you're storing your watches inside doesn't mean that you need a watch winder, however, it can be a really practical function to have. With a built-in watch winder, you can ensure your watches are kept safe, but also ready to go whenever you want to wear them. The downside is that there are not a lot of safes with built-in watch winders on the market (unless you want to pay tens of thousands of dollars for one). The best alternative is the Cheopz Safe Watch Winder Box for 12 watches.
This alternative is practical if you have a lot of watches (or few watches) that you want to store, and frequently rotate the watches you wear. However, if you just have one or two, a more practical (and affordable) solution could be to buy a compact watch winder and put it inside a regular safe. You can see our list of the best watch winders here.
---
What is a watch safe?
A watch safe doesn't necessarily have to be a safe with built-in watch winders as mentioned. It's no secret that excessively winding your watches when you actually don't plan to wear them is unnecessary as it causes wear to your watches. With this in mind, if you have a large collection and just want to keep them safe, it may actually be better to buy a regular safe in which you can store your timepieces.
However, if you, for example, have one or two watches that you wear on a regular basis and want to also keep them safe when not in use, it can be a good idea.
Otherwise, many watch owners instead choose to buy a watch box or case depending on how large their collection is and put the box inside a safe. This allows them to take out their watches all at once and get simple and convenient access to them.
Should I bolt my safe to the floor?
Yes, you should always bolt your safe to the floor (or the wall depending on the preconditions of where you store it). This is especially true if you have a safe with a low weight that is easy to move. A lot of safes come with pre-drilled holes and the necessary accessories like screws to do this as well. Not only dos bolting your safe down prevent accidents if the safe falls over, but it also prevents anyone from moving it.