10 Best fireproof safes [List & Guide]
Safes are almost a must in any home to keep your valuables safe and protected. Whether that be watches, documents, keys, passports, electronics, or anything in between, a safe can be a great solution.
But as you have probably already noticed, there are tons of different safes out there, all with different designs, sizes, purposes, and quality.
Naturally, the type of safe you should be looking for depends on your needs and what you plan to store inside. One type of safe that many people opt for is fireproof safes. At the same time, a lot of people also make the mistake of not choosing a fireproof safe.
Apart from keeping your valuables protected from people who should not access them, they are also built to withstand high temperatures in the event of a fire to prevent your valuables from being destroyed.
When looking at fireproof safes, there are of course different quality and performance. The most important part that you need to have in consideration apart from their design, size, and purpose, is their quality. And in general, the price also reflects the quality. For example, an affordable fireproof safe may indeed be fireproof, but the time by which it can withstand fire and high temperatures may be considerably lower than its more expensive counterparts.
In this article, we are listing the best and most popular fireproof safes. Further on, we will also go through the most important parts and factors you need to consider in order to choose the best fireproof safe for your needs.
Best fireproof safes
As an Amazon Associate, we may earn from qualifying purchases, at no extra cost to you.
Below, we have listed the best and most popular fireproof safes in all kinds of different sizes, prices, and needs. In the list, there is a fireproof safe for everyone, regardless of needs, but what they all have in common is that they are built to be fireproof, for longer, or for short periods.
---
Sentry 3-Cubic Feet Fire Safe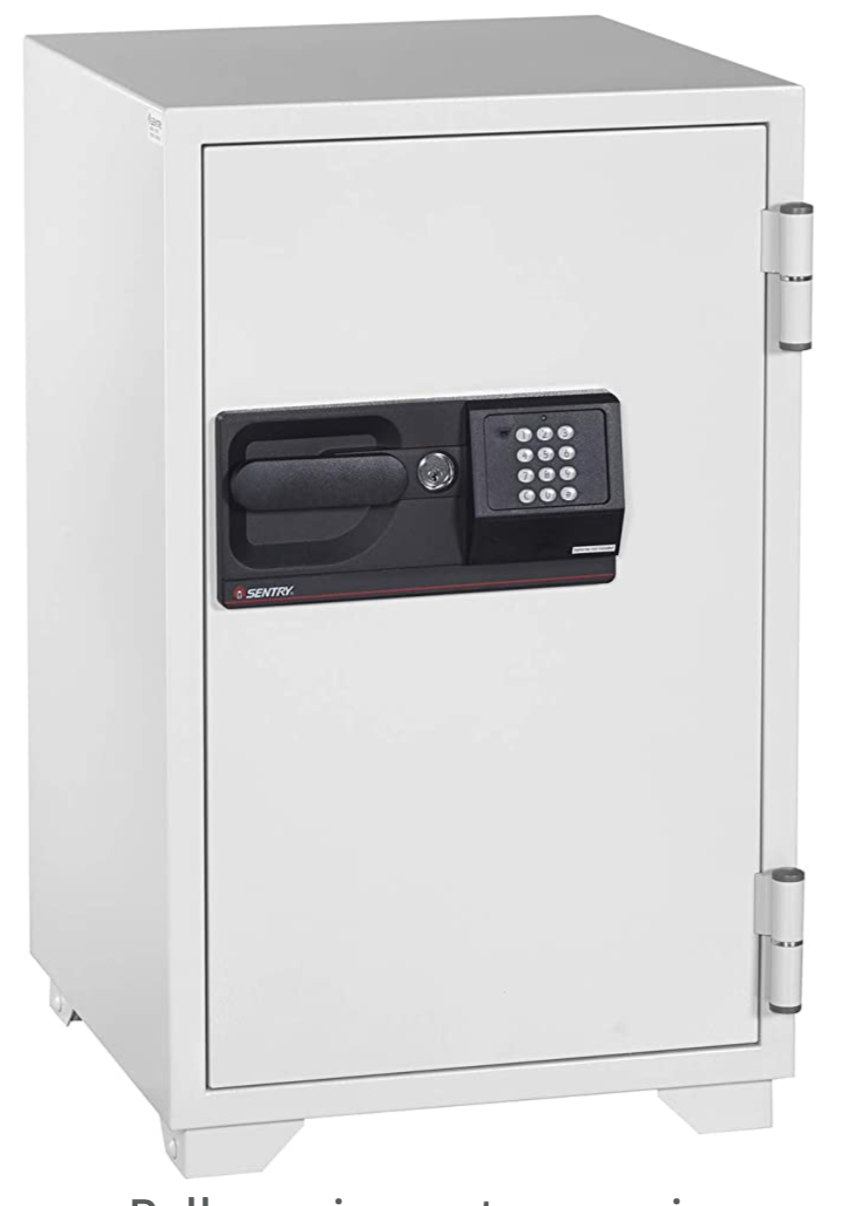 This Sentry safe is a bit on the large side of safes and is 30 cubic feet. This is a great alternative if you need to store larger items such as firearms or other, larger valuables.
The safe is equipped with an electronic lock with a key lock. It has five live-locking bolts and three deadbolts for ultimate safety. The interior is presented with a locking drawer and multi-position shelf for easy storage and access to your belongings.
For convenience, the safe also has built-in wheels, making it easier to move around. With this said, this is a popular option for a safe in offices and for businesses, but can also work for home use.
The safe is, of course, also fire-safe.
---
SentrySafe EF3428E Fire Chest safe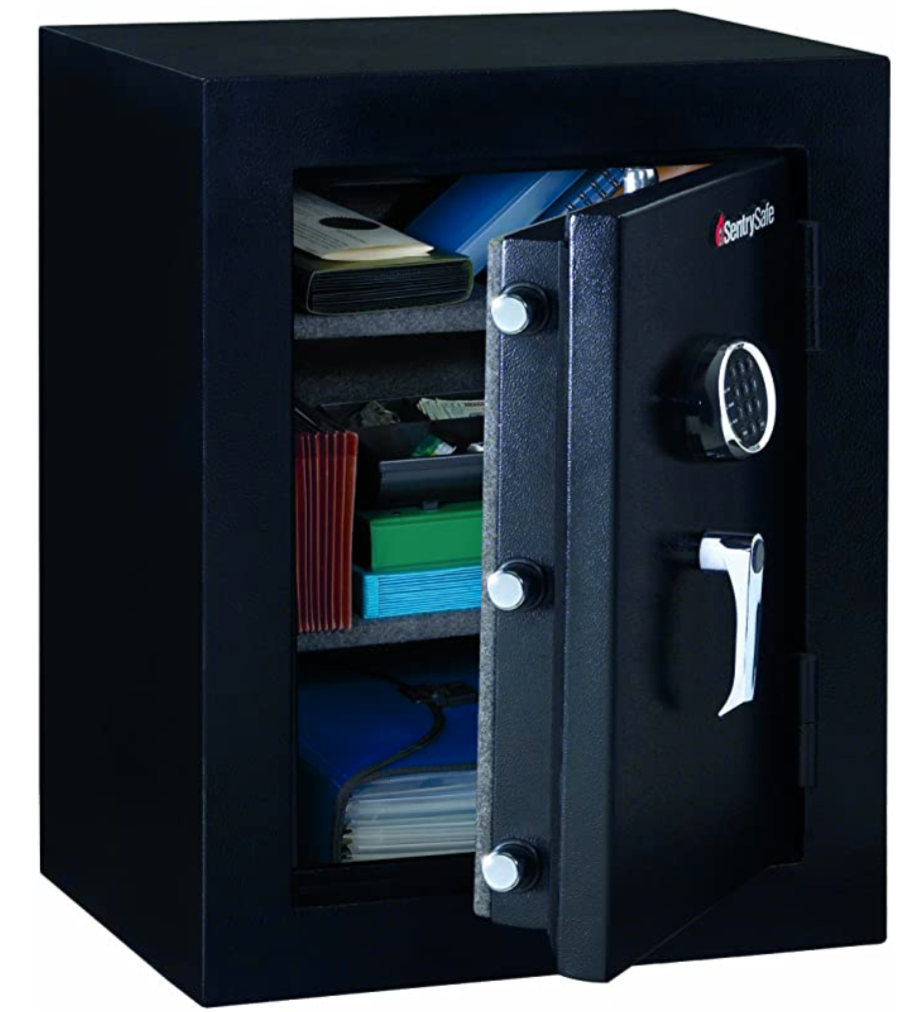 This Sentrysafe is one of the most popular options from the brand as it offers excellent safety whilst being compact and convenient.
It is equipped with a programmable electronic lock with override keys that enables you to choose your combination. For ultimate safety, it has seven oversized bolts and a thick door to protect it from forced entry.
For its fireproof properties, it has been built with steel-case fire insulation to make it more resistant to fires.
Outer-Width – 21 3/4″
Outer-Depth – 19″
Outer-Height – 27 3/4″
---
BARSKA AX13494 Biometric Fireproof Safe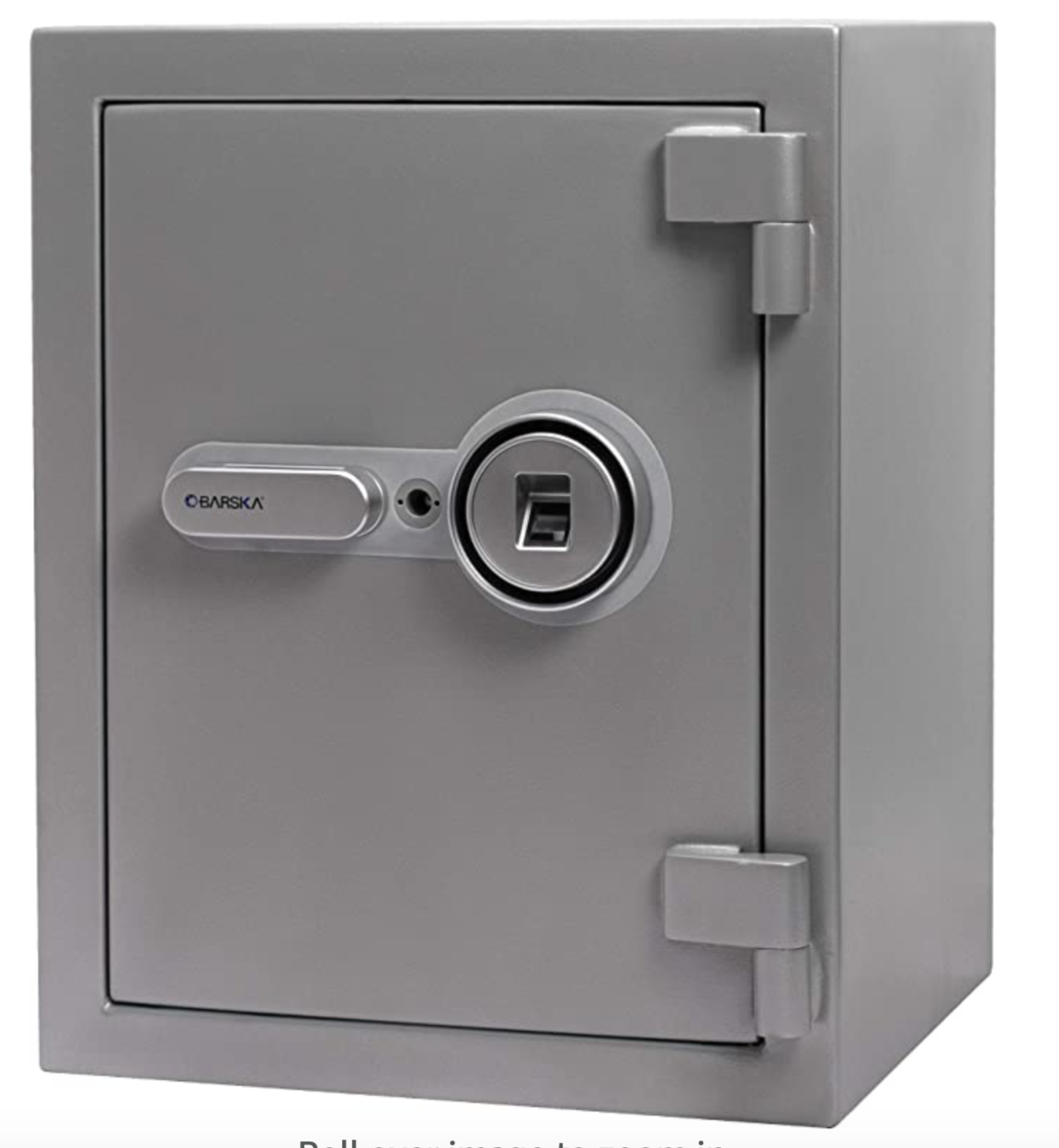 The Barska is built to be extremely tough and durable both against forced entry but also against fire. It is fireproof for up to 30 minutes at 1, 200 Degree F which brings additional peace of mind.
The safe is built with advanced fingerprint technology that can store up to 100 users and allow for easy access, both in homes and in offices. Since it is electronic, it also offers a low battery warning and has sound on/off options. The fingerprint technology saves time as you don't need to use a key or enter a password. Simply use your fingerprint.
For ultimate robustness, it has solid steel walls and 2 built-in pry-resistant steel locking bar bolts. For additional safety, it can be mounted with included hardware. Inside, it has a protective carpeted interior to prevent damage to your items and also has a net pocket on the door back for easier organization.
If you want to mount it, it has pre-drilled mounting holes for additional safety.
Exterior Dimensions: 13.78″ x 15.35″ x 19.69″
Interior Dimensions: 12″ x 13.5″ x 17″
---
SentrySafe Fire Safe Extra Large Combination Safe SF123CS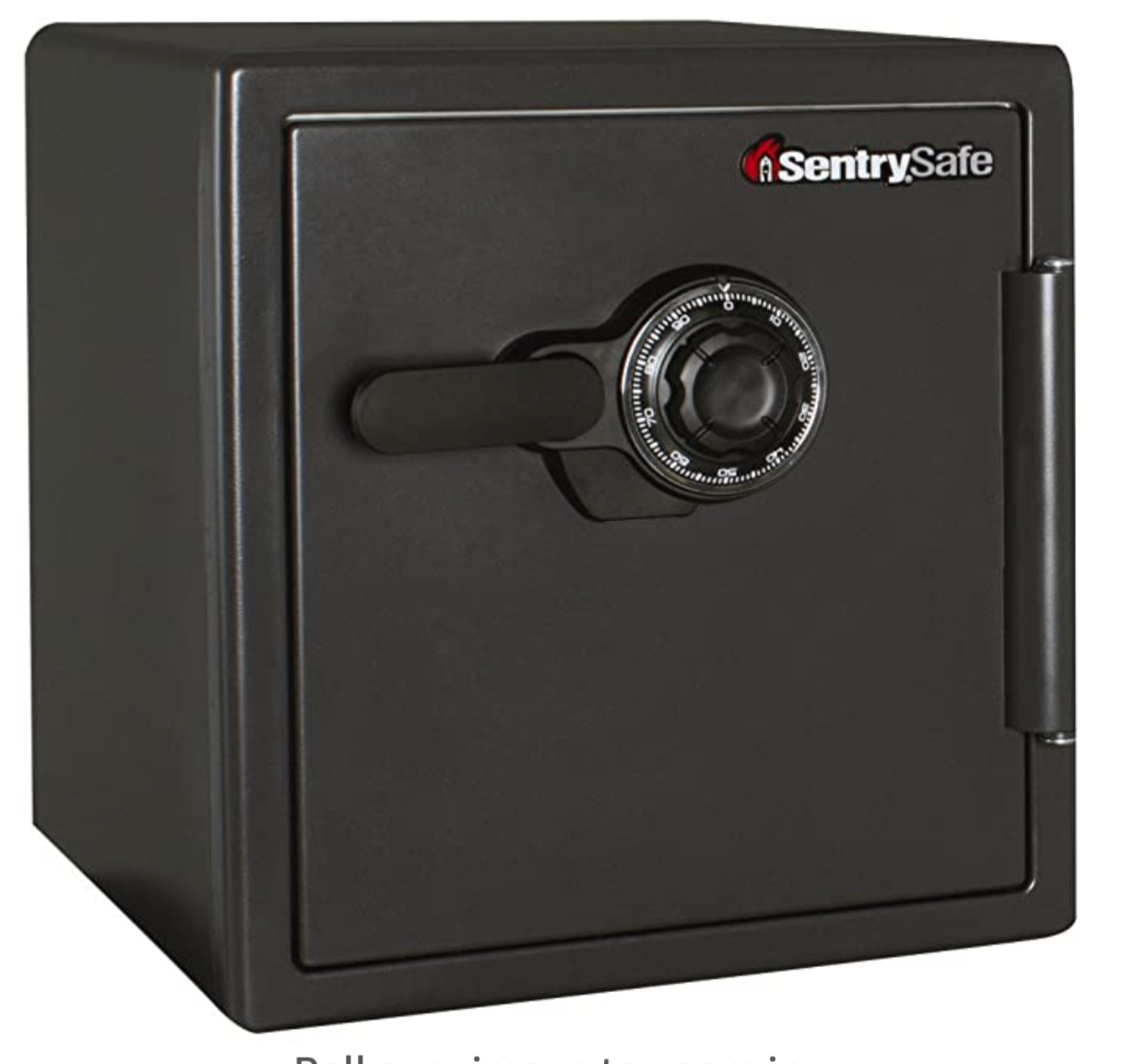 SentrySafe is one of the most popular options for safes on the market, and equally so the SF123CS.
This is a small and compact safe that offers optimum security and robustness. In addition, it offers advanced fire protection and is UL classified for fire endurance. It is fireproof for up to 1 hour at 1700º to keep your valuables protected from fire damage. Furthermore, the safe can withstand a 15-foot drop during a fire and still remain closed. What is also amazing is that in the event of a fire, SentrySafe will replace your fire-resistant safe free of charge.
To prevent forced entry, it has five live-locking bolts, a solid steel construction, as well as a pry-resistant hinge.
Despite being compact, it has a spacious interior with a multi-position shelf as well as a door pocket with a key rack.
Interior: 13.8 in. H x 12.6 in. W x 11.9 in. D, exterior: 17.8 in. H x 16.3 in. W x 19.3 in.
---
SentrySafe Waterproof Fire-Resistant Chest with Digital Lock CHW30300

This SentrySafe is both waterproof and fire-resistant. It has a convenient box design for easy storage and is made to keep important documents and other valuables protected from fire. Keep in mind that whilst it is robust and built to prevent people from accessing your valuables, it is not as robust as a classic safe. Therefore, its primary use is for protecting valuables against fires.
This safe box is UL classified and built to withstand 1/2 hour at 1550°F. The safe can also handle water submersion for up to 72 hours which is great in the case of flooding or when extinguishing a fire.
It is programmed with a digital lock for personalization and easy access.
Despite being relatively small, it has a spacious interior with a built-in strap for better organization. It is large enough to hold an A4 size paper flat.
This one is a great choice if you want to keep your valuables protected against fire or flooding, but if you want something more secure, you may want to opt for a larger and more robust safe.
Dimensions: 7.6 in. H x 16.5 in. W x 14.8 in.
---
AEGIS Fireproof Safe Electronic Security Box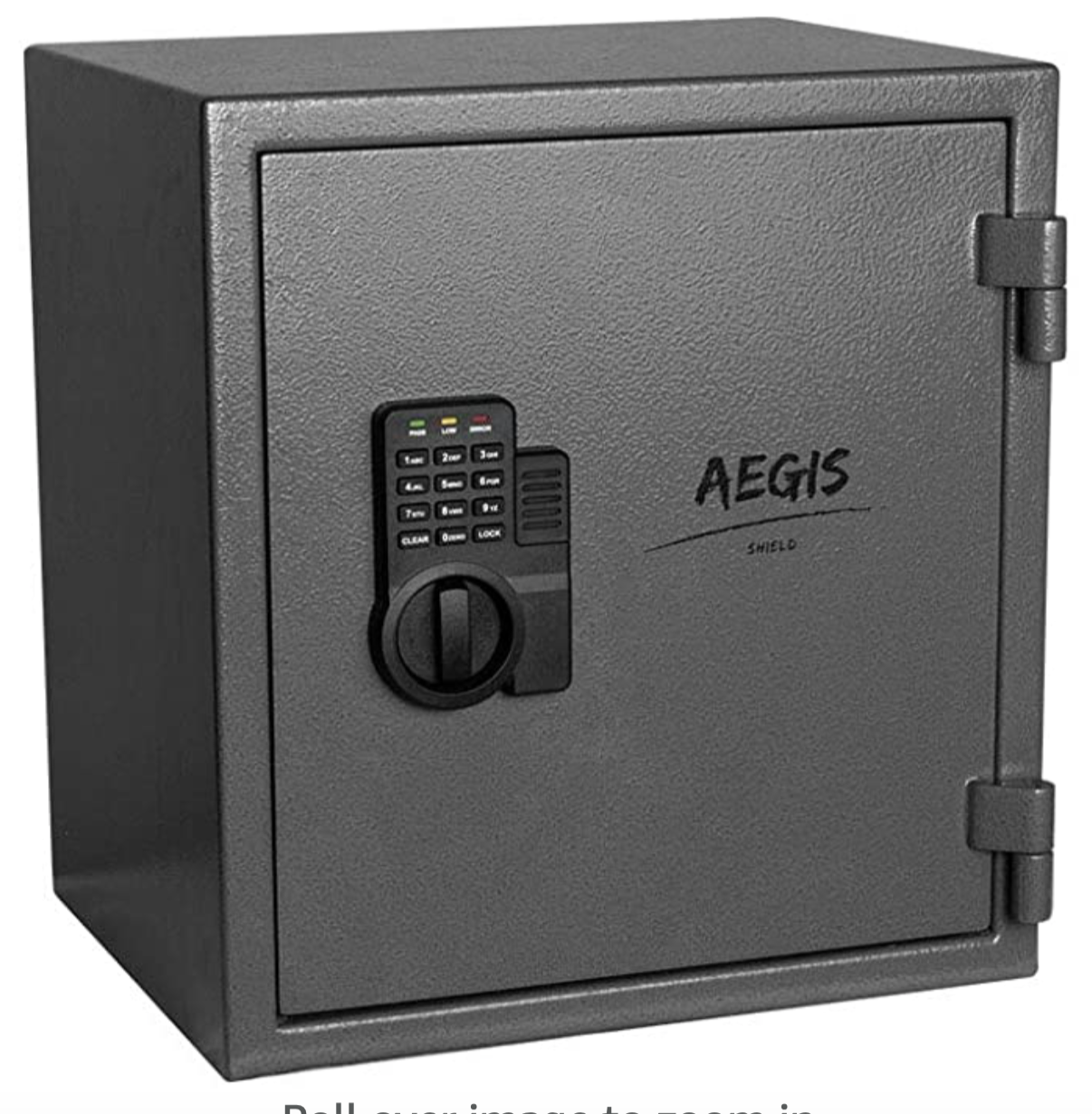 The Aegis safe is a popular choice for those looking for a fireproof safe. It is built to resist both outside forces as well as fire.
The safe has reinforced steel construction and a stain-resistant powder coat. It is fire resistant for 30 minutes at 1400°F. The safe is built with five locking bolts and a pry-resistant steel door. It also has heavy-duty pry-resistant hinges for optimum protection against outside forces. The live-locking bolts are 0.86 inches.
For convenience, it has an electronic lock with quick set-up and easy operation. It also has a backup key for emergency use, if you have forgotten the code.
The inside is presented with a large capacity with removable shelves for personalization and a storage room according to your needs. For keeping your valuables protected, the inside is wrapped in a soft cloth.
If you want to mount it, the safe has pre-drilled holes.
---
Honeywell Safes & Door Locks Hotel-Style Safe Digital Lock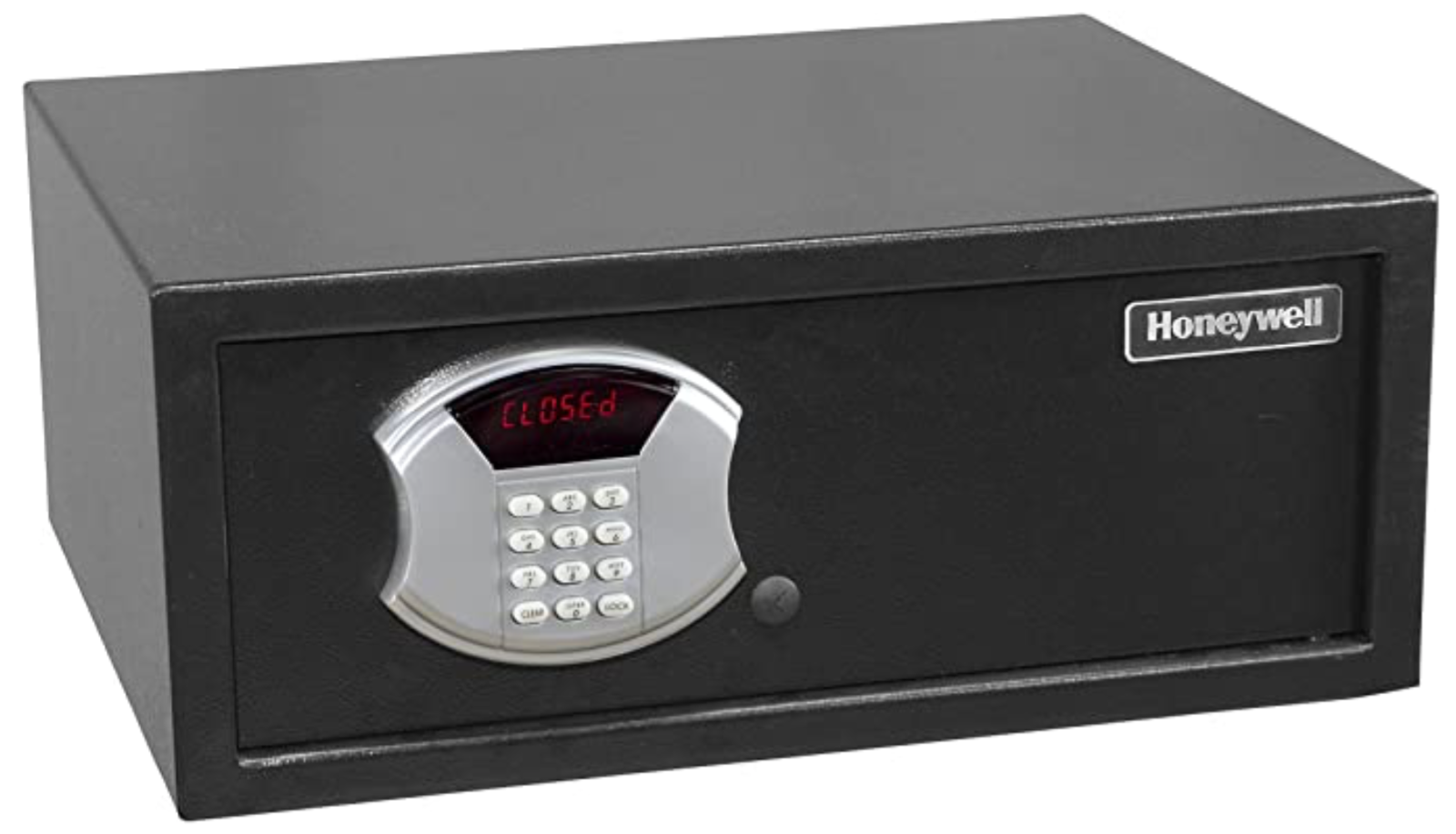 If you only want something small and convenient but also want to keep your valuables protected from outside forces as well as fire, this is a great option.
With its compact size, it is built to store small items such as documents, passports, money, jewelry, etc. For additional safety, it can be bolted down, for example inside of a cabinet.
The safe comes with a personalized digital lock and 2 motorized steel locking bolts for improved security. The concealed hinges and recessed door prevents prying.
The inside of this safe has a cloth cover to prevent damage to your valuables.
If you just have smaller items, this safe is a great option. Plus, it is also built to withstand fire for shorter periods of time.
Exterior dimensions: 8.1 in H x 19.5 in W x 15.7
---
SentrySafe CHW20221 Fireproof and Waterproof Box

The SentrySafe CHW20221 is a fireproof and waterproof box built for optimum security, primarily against fire and water.
It is waterproof for up to 72 hours of submersion and fireproofs for up to 1/2 hour at 1550˚F (843˚C).
Its small and compact size makes it convenient for most homes for storing smaller objects such as documents, passports, money, and jewelry. It is a great option if you don't want to invest in a huge safe. It can hold an A4-size paper, making it excellent for storing documents. It also has an in-lid organizer which makes it easier to organize documents and small items. Something that people particularly appreciate about this is that it is portable and easy to carry with you, for example in an emergency situation.
The safe has a tubular key lock to prevent the lid from opening in the event of a fire.
Exterior: 15.4 inch W x 14.3 inch D x 6.6 inch H; Interior: 12.8 inch W x 8.5 inch D x 4.4 inch.
---
Security Safe Lock Box, Fireproof and Waterproof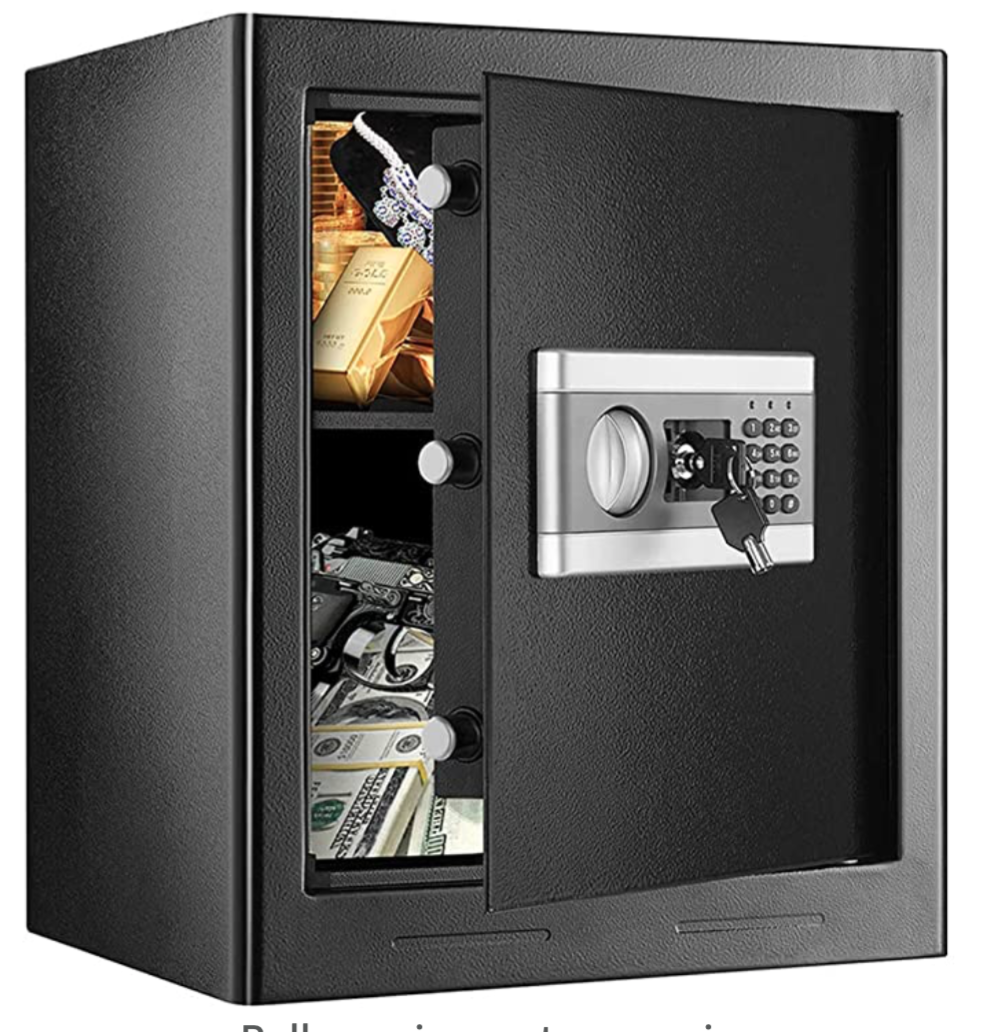 This safe is a large and robust safe built for both protecting against fire and water but also against outside for.
¨
It is presented with two unlocking methods, either the key or the passport. The safe also has an alarm system that alerts and makes the safe vibrate violently if the password is incorrectly entered 3 times.
The safe has sections for the interior for good storage capabilities of both large and small items.
---
SentrySafe SFW123GDC Fireproof and Waterproof Safe Digital Keypad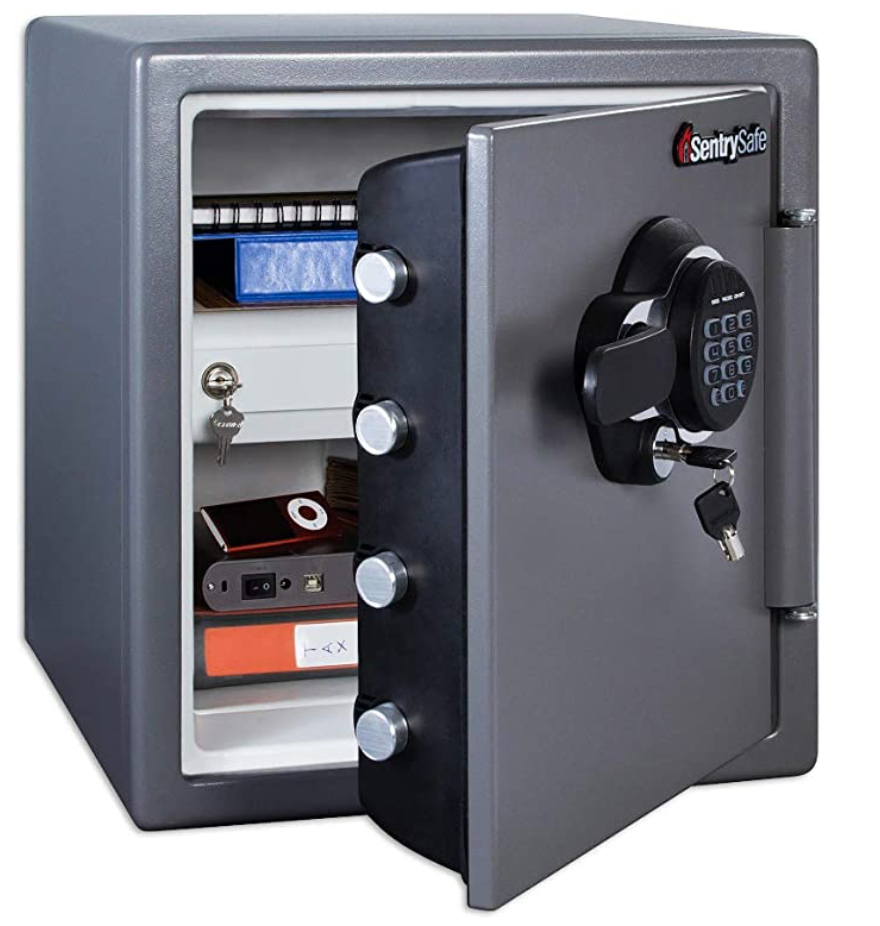 Last but not least, we have the SentrySafe SFW123GDC.
This is a UL-classified fireproof safe built to endure 1 hour at 1700°F whilst keeping the interior temperature safe for valuable documents and items.
Furthermore, it is built to withstand a 15-foot fall and still remains closed.
The safe is also waterproof and verified for up to 24 hours of water up to 8 inches.
With this safe, you have the ability to set your own digital combination but also have a secondary locking key.
For ultimate resistance, it has four live-locking bolts, steel construction, and a pry-resistant hinge bar. For convenience, you also have interior light and bolt-down hardware.
Exterior: 16.3 in. W x 19.3 in. D x 17.8 in. Interior: 12.6 in. W x 11.9 in. D x 13.8 in.


Fireproof safe – buyer's guide
---
Consider the size
The size is naturally an important factor that you want to take into consideration when buying a safe. Where will you store it? Answering this question alone will tell you how big a safe you are able to have.
In addition to this, you want to ask yourself what you plan to store inside it. If you plan on storing large items, then naturally, you will need a bigger safe. If you are only going to store all items, it may be enough to opt for a smaller safe. In general, larger safes are also more robust and safer against attempted break-ins than smaller ones, although there are of course many exceptions to this rule. Whilst we are looking at fireproof safes specifically, it is important to bear in mind that they are, after all, still primarily intended to protect your items against thieves.
Furthermore, the size also relates to the question of portability:
Portability
A safe can either be bolted down or portable. There are fireproof safety boxes that are small, and compact, and even come with a handle to make them easy to carry. This may be very convenient in the case of fire since you are able to carry the safe and your precious belongings with you. Safes that are bolted down are naturally not meant to be moved, but they offer exceptional safety against any break-in attempts. In addition, if you have a portable safe but are not at home when the fire starts, then it won't make a difference since you're not there to take it out.
Consider its fireproof capacity
If you plan on buying a fireproof safe, you obviously want it to be fireproof. But keep in mind that different safes have different fireproof performances. Some safes are fireproof for a longer period of time than others. Therefore think about your needs, but also keep in mind that it may be worth investing in a safe that can withstand fire for a longer period of time. Some fireproof safes can only withstand a few minutes of fire, and this requires fast extinguishing in the case of a fire. A more robust safe may be fireproof for hours, giving more margin for keeping your items protected.
Look at the performance, specifications, and tests that have been carried out to ensure the safe's fireproof properties.
Consider its purpose and interior
Different fireproof safes are made for different purposes. For example, a gun safe is specifically made for guns, and may therefore be presented with an interior to hold firearms. But if you do not plan to use your safe for firearms, you will have no use for this type of interior. With that said, consider the type of items you will store in your safe and then choose a safe accordingly.
If you plan on storing jewelry or watches, for example, you want an interior that has room and appropriate storage for these types of items. And if you plan on storing documents, you want to find a fireproof safe that can store this appropriately.
Locking mechanism
The locking mechanism is also something that you should consider. Safes are usually either digital or mechanical. This means that they are opened either with a pin code or your fingerprint, or a manual key. Many digital safes, however, often also have a backup key.
The primary issue with electronic safes is that they rely on batteries for opening them. And the batteries can run out of power when you need to open them one day.
Keys are practical for safes, but it also means you need to keep them hidden in a good place.
---
Fire Proof Rating
Since you're looking for a safe that is fireproof, you of course want it to back up what it states in case of a fire. Otherwise, it would completely pointless. A great way to ensure that the safe is in fact fireproof is to check if it has an independently certified fireproof rating.
You want the safe to actually have been tested for performance in a real fire situation. There are several certifications that relate to safes, but many manufacturers use UL.com which is an independent certifier. The fireproof ratings they use are:
High: 1 hour at 1700 degrees Fahrenheit
Medium: 30 minutes at 1550 degrees Fahrenheit
Low: 20 minutes at 1200 degrees Fahrenheit
The "high" rating is obviously the best, and if you need a safe that is highly fire-resistant, this is the certification you should look for.
What are Fireproof Safes Made of?
Fireproof safes are, like most other safes, usually made of stainless steel. But in addition to this, fireproof safes usually have additional layers to help improve their resistance against heat and fire. Fireproof safes are usually built with an outer metal layer that is fire resistant as well as middle layers. The middle layer is often made of some kind of composite materials that have good properties against fire, for example, cement or gypsum.
Are fireproof safes really fireproof?
No safe is technically completely fireproof. The more correct term would be fire-resistant. No safe will be able to withstand fire for endless hours. As you can see above, different safes are usually specified to withstand fire for a certain amount of time. But the idea here is to make the safe withstand the fire during the time it takes to notice the fire and put it out. The time most fireproof safes are actually fireproof is usually enough for the time it takes until the fire is put out.
In general, it is not advised to store papers, cash, or any other papers that can easily catch fire in safes that have a fireproof rating of at least 1 hour. If you really want to be sure that all your precious belongings are protected, 1 hour is the recommended specification. But it all depends on where and how you intend to store it.
All fireproof safes will eventually fail in the case of a fire – it just depends on how long it is subject to fire and the surrounding temperature. You can however be sure that you will need to replace the safe after it has been subject to a fire.
Is a fireproof safe worth it?
Yes, most certainly! A safe is great for keeping your precious belongings safe and secure, but most safes will not keep your precious belongings protected in the case of a fire. This is why a fireproof safe gives additional reassurance not only against burglars but also against fire. Whilst fires are relatively speaking rare, they can occur, and if they do, it can mean that all your precious belongings literally go up in smoke. Therefore, buying a fireproof safe gives you additional peace of mind.
How long can a safe last in a fire?
As you have seen, it depends on the safe. Different safes have different specified times that they can withstand fire, and to what temperatures. Most safes are rated to last about 30 minutes at 1,550 °F/850 Celcius, but there are those that can withstand fire longer and shorter. Some safes are built to withstand higher temperatures for as long as several hours. With that said, look at the specifications of the safe and its fire-resistant performance, and then consider what performance you need to have in your own safe.