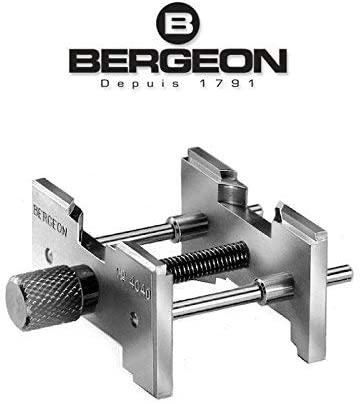 Top 10 Best Watch Movement Holders
When working on watches, either professionally or as a hobby, having the right tools for the job is crucial. Without the proper tools, you may have a hard time executing the task, or even worse, may damage the watch.
If you are working on a watch movement, one such piece of equipment you need is a watch movement holder. It is said that generally, the quality is reflected in the price, and this is certainly the case when it comes to movement holders. We have spoken with many people who work on watch movements – both professionally and as a hobby, and they all agree that whilst many movement holders look very similar, there is a big difference between watch holders and watch holders.
Things to consider when choosing movement holder
The primary issue with the cheaper alternatives is that they don't hold the movement as well as the more qualitative alternatives. And after all, this is the single most important feature in order to keep the movement sturdy and prevent slipping and potentially damaging the movement. Yes, if you are only working on a cheap movement for fun and to learn, the cheap alternatives will do the job, but knowing the risk of the holders potentially not doing the job properly, it is advised that you don't satisfy with the lower-end holders, in particular, if you have a nice, high-end movement. What you win on one end, you may lose on the other.
The perhaps most important factor to consider is the size of the movement holder. Not all movement holders have the same size, and therefore, you may need multiple holders. Regardless, it is important that you choose the correct size to fit the movements that you are going to work on.
To help you, we list some of the best watch movement holders. For those who only work on movements for fun, we have included some cheaper alternatives as well, so don't worry. In this list, we have also included a few watch holders, not specifically for holding movements because sometimes, you don't need to disassemble the whole movement and can therefore work on the movement by simply opening the case back. In these cases, it will be more convenient with a watch holder rather than having to remove the movement.
Best watch movement holders
---
When it comes to watch accessories and tools, Bergeon is one of the best in the game. Their tools are made in Switzerland, and equally so this movement holder.
As you would expect from all of their products, it is of high quality and offers great precision. A lot of people argue that this is one of the best holders out there. It is an extensible and reversible movement holder for movements from 8 3/4"' to 19'''. It is adjusted via the screw in order to allow for a perfect fit and sturdy hold. It is chromium-plated and sanded.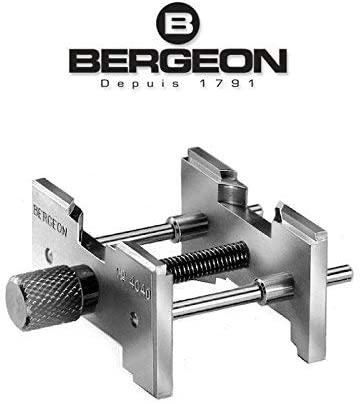 ---
Horotec is another well-known Swiss manufacturer of watch tools and accessories. This holder is specially made for Rolex movements, in particular the 3035 and 3135, so if you plan on working on a Rolex movement, this is one of the best options.

---
This is another movement holder from Bergeon. Unlike the other, it is not made of metal, but instead of synthetic material. Some people prefer this seeing the material is softer and may reduce the risk of damaging or scratching the movement.
It can hold movements that are 3 3/4"' to 11"' and can be adjusted using the screw for a perfect fit and sturdy hold.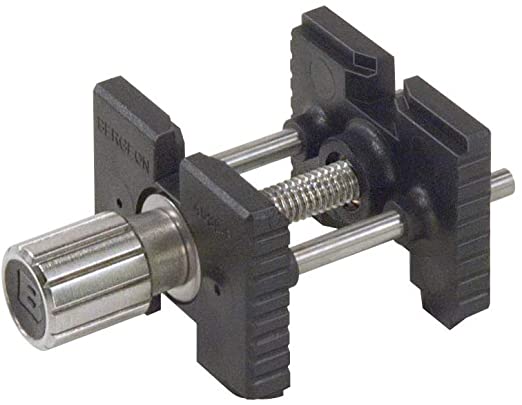 ---
This Bergeon watch movement holder is movement-specific and specially made for ETA and Sellita movements. More specifically the ETA 7750 – 7758 / SW500 Base -ETA-775X. It will work for other movements as well but has been specially developed for a perfect fit for these movements.
The holder is made of anodized aluminum with hardened steel support screws with polished tips.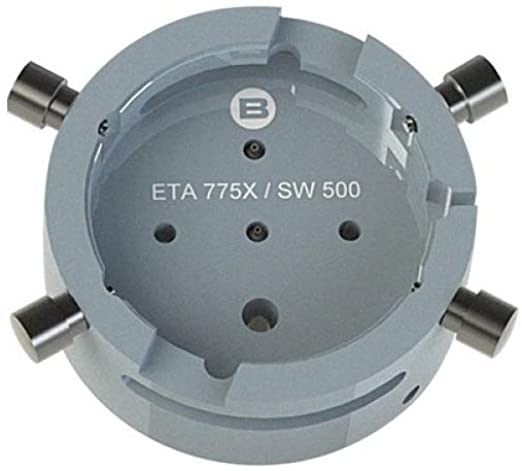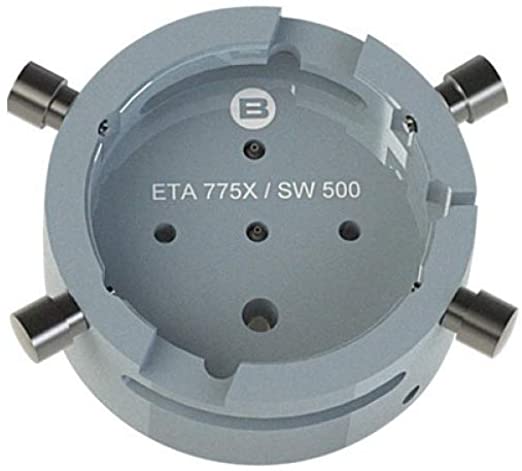 ---
Bergeon 55-057 Movement Holder Bergeon Vices Watch Repair Kit
Another watch movement holder is the Bergeon 55-057. This holder has 4 adjustable, slip-resistant plastic jaws to keep it in place and prevent slipping.
The holder is built so that it can hold watches without having to remove the bracelet.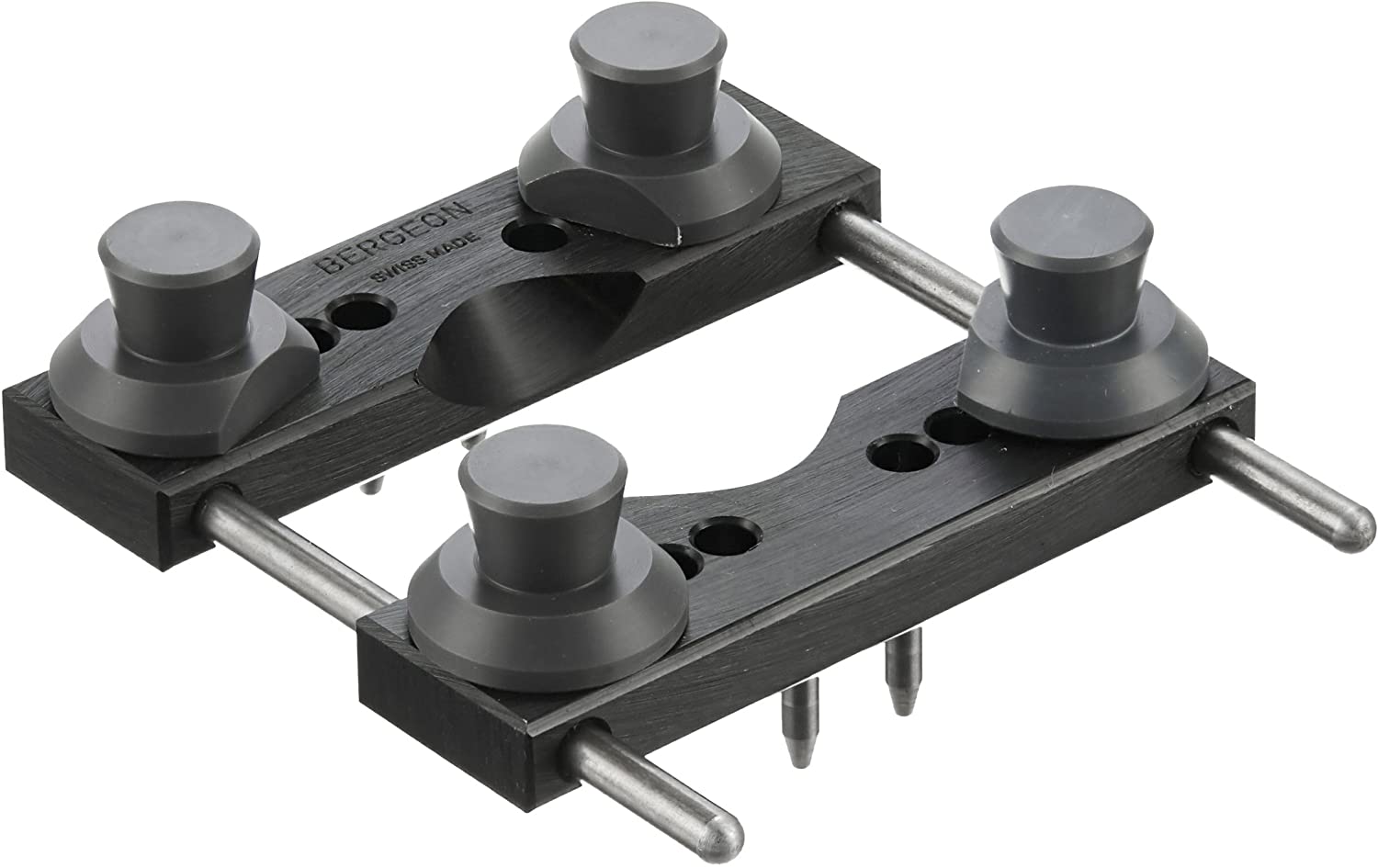 ---
Jewelry Adviser Watches Watch Movement Holder with Four Pins
This is one of the cheaper alternatives when it comes to watch movement holders. With that said, it will do the job, but it is important when using it that you are careful in order not to slip.
The holder has four pins to keep it in place which are made of plastic to prevent any scratches.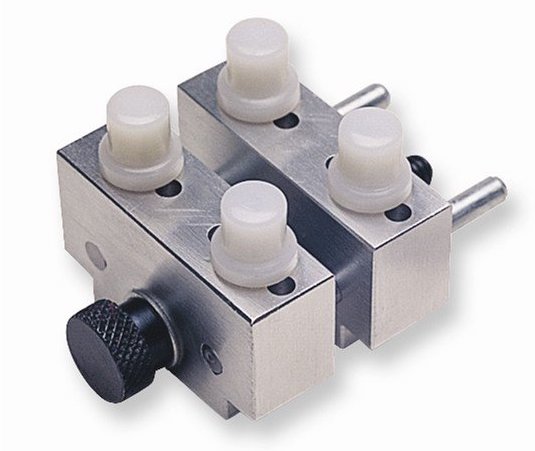 ---
Lastly, this is a movement holder made of duroplast which is a durable plastic. It has a sturdy design to keep the movement in place. It is specially made for the caliber ETA 7750 – 7770 but can work for other movements as well.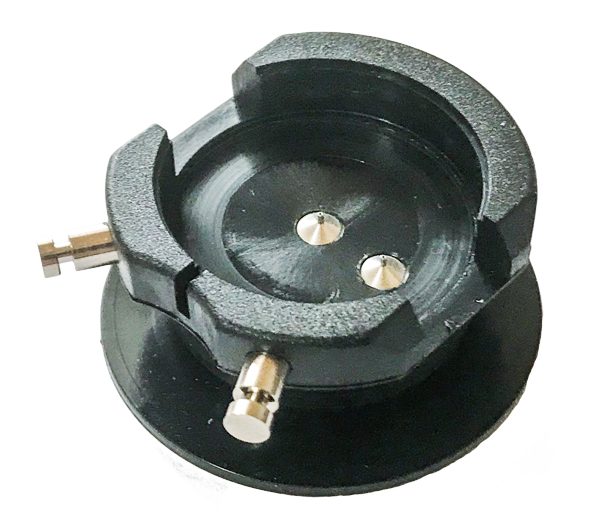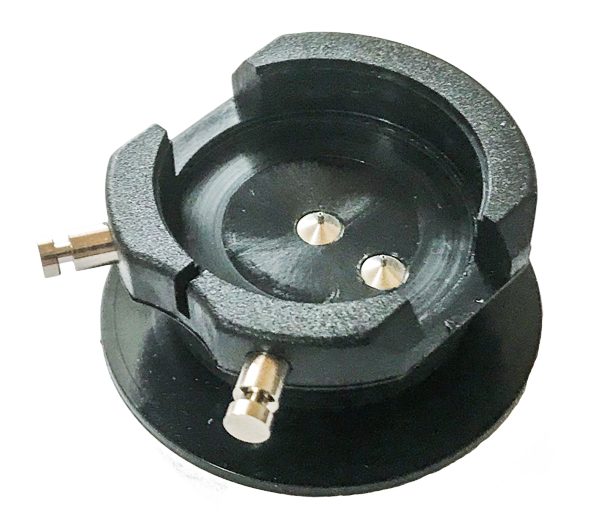 ---
Jewelers Tools Movement Holder clamp
This is one of the cheapest alternatives. Don't exactly expect wonders, but it will do the job. This is good if you are only starting out and don't want to go for the higher-end alternatives just yet.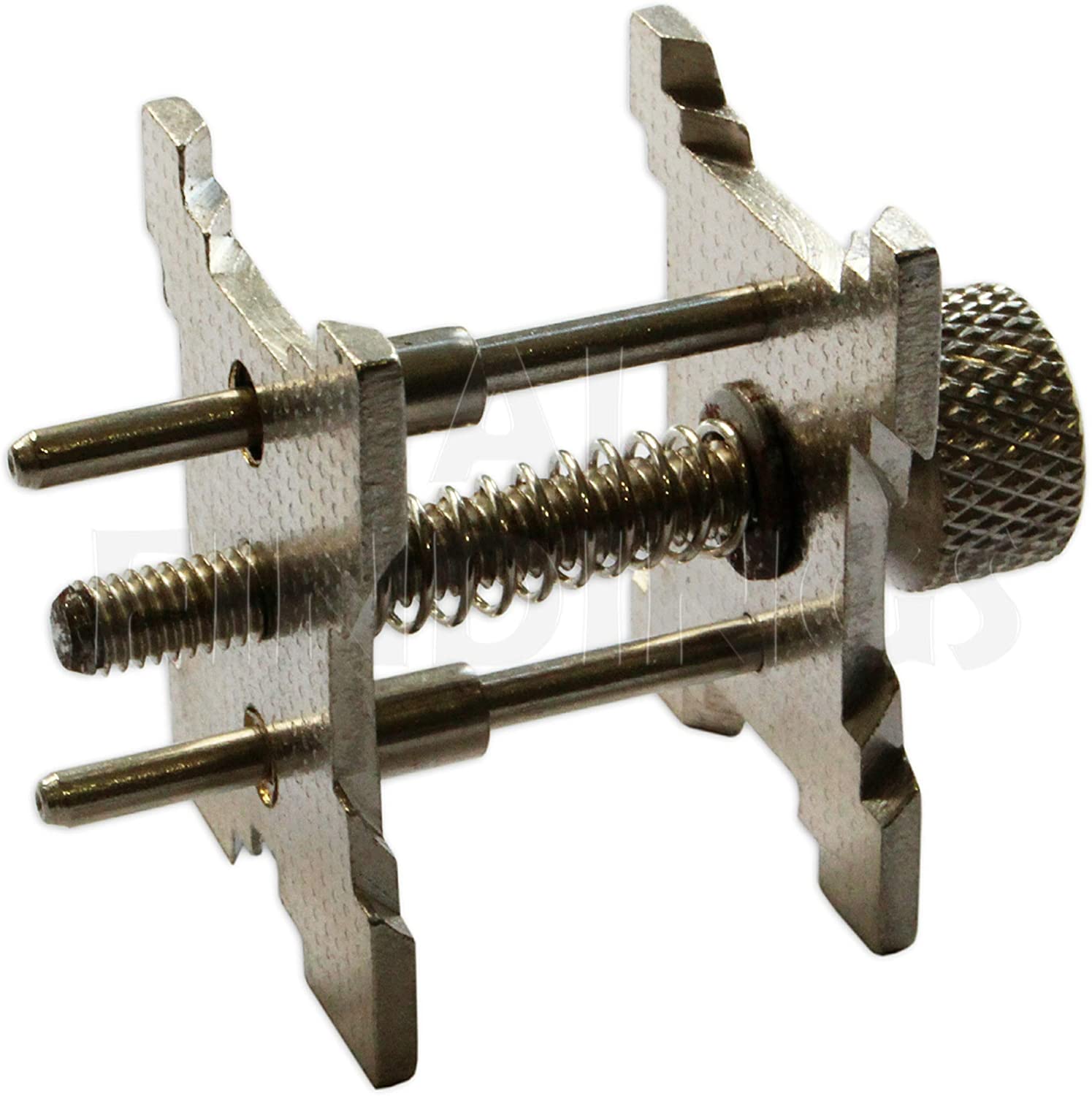 ---
Bergeon 4039-P Movement Holder
The Bergeon 4039-P is an extensible and reversible synthethic movement holder for 3 3/4"'-11"' Ø external 12-30 mm. It can easily be adjusted according to the size of the movement you are working on. The holder part is made of plastic which we prefer since it ensures that you do not damage or scratch the movement.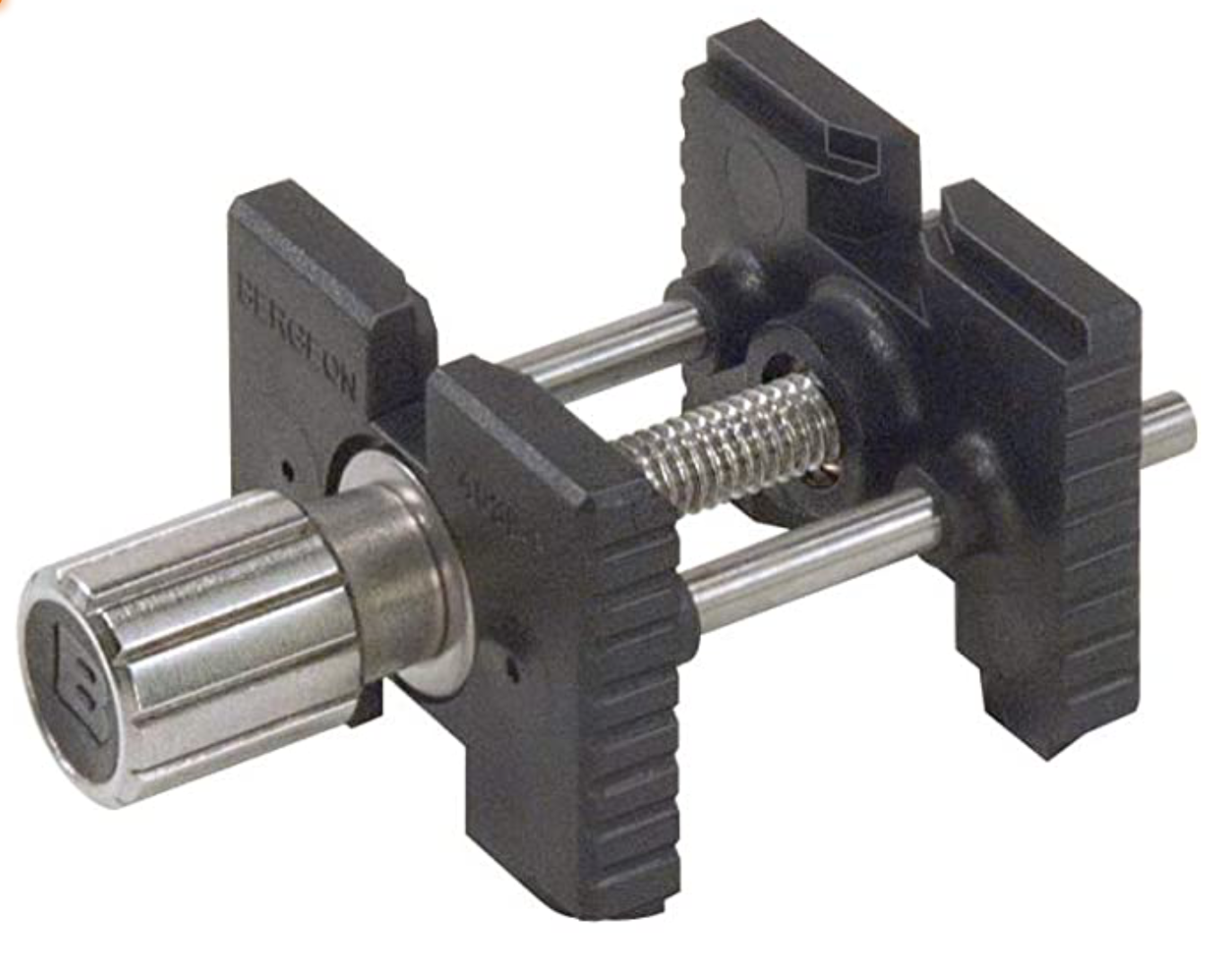 ---
Paylak TS-CH300 Metal Watch Repair Tool
The Paylak TS-CH300 is an extra-large watch case holder which is equipped with 4 adjustable pegs for adjusting it to the perfect size. This holder is specially designed for extra-large movements and can hold movements and cases up to 70 millimeters in diameter.
To prevent scratches or damage, it is made of plastic.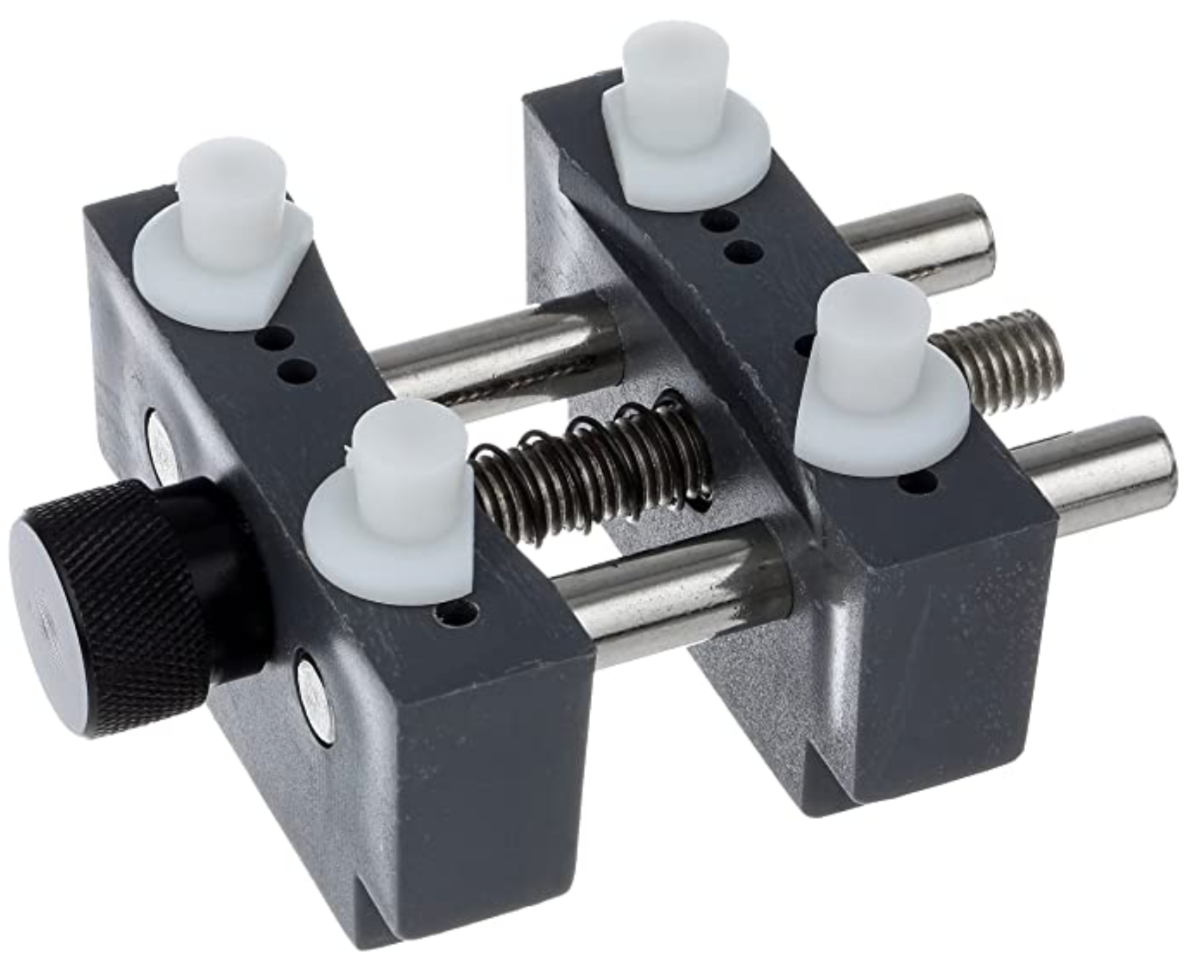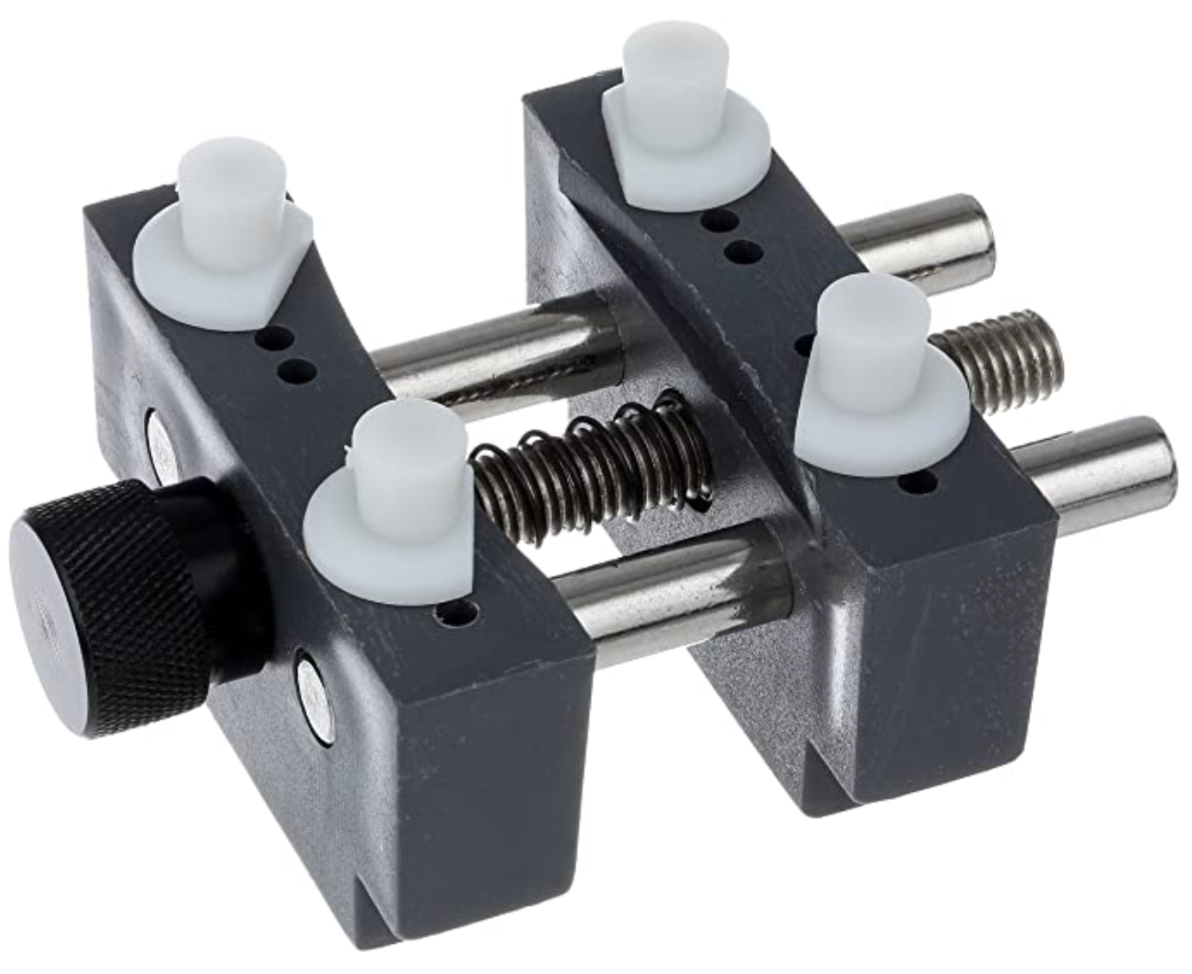 ---
Do you need a movement holder or watch holder?
First off, you should consider if you need a watch holder or a movement holder. Professional watchmakers and serious hobbyists should have both so they are ready to meet any challenge. But as mentioned, in some cases, you won't need to remove the movement from the case just to work on it, and in these cases, it is more convenient to use a watch holder instead.
Size
Many movement holders come in one size only and are not adjustable. This means that you will have to find a perfect size in order to work on a particular movement. With this in mind, you need to identify what size the movement you intend to work on is, and which movement holder supports that.
If you're going to work on different movements, it is usually a good idea to invest in multiple holders so that you always have the right holder for the job. Or, you can of course buy an adjustable movement holder that gives you more options and allows you to adjust it according to the size of the movement you are working on. This is of course much more practical than having many different holders that you need to change between. The adjustable movement holders are also practical because their sizes are generally large enough to work as pocket watch movement holders and to handle the large movements that are usually found in pocket watches.
Material
Movement holders are most commonly made in either metal or plastic. Both of these have their own set of benefits, but movement holders made of plastic tend to be more gentle against the movement since plastic doesn't really scratch metal. On the other hand, movement holders made of metal are more robust and more stable.
What is a watch movement holder?
A watch movement holder is exactly what it sounds like – a holder that is meant to hold the movement stable whilst working on it. For watchmakers servicing or working on movements, a movement holder is crucial to get a steady and stable object to work on and to avoid damaging the movement by simply placing it flat on a table.
Which is the best movement holder?
Arguably the best brands and makers of watch movement holders are Bergeon and Horotec. These brands specialize in watchmaking and watch-related accessories and as such, they have the required expertise and knowledge to build the most precise and qualitative products that are optimized for performance.