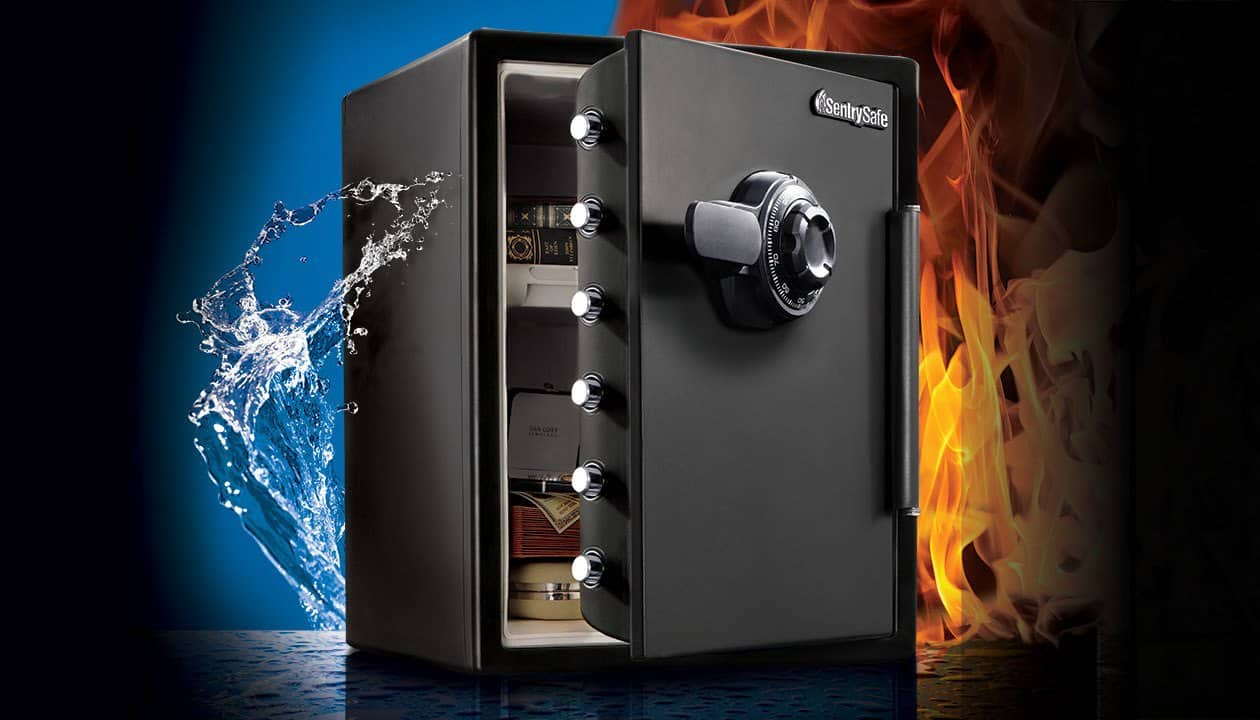 Top 10 Best Waterproof Safes [List & Guide]
A safe is a great way to keep your valuables and important documents safe and protected. Not only do safes protect your valuables from thieves and unwanted people, but some of them can also keep your belongings protected from water and fire as well.
A safe is a must-have for everyone in order to protect the items that are most important to you, whether that be your wallet, cash, cards, jewelry, electronics, firearms, or irreplaceable documents.
But what a lot of people don't think about is that there are additional risks to your valuables than just something stealing them or trying to break in. One of those potential risks is water. Water can have substantial damage to your valuables and therefore, you want to take the appropriate action to protect them.
The good news is that there are waterproof safes out there that can protect your belongings even in the case of flooding or water.
In this article, we will go through the most popular waterproof safes on the market. Further on, we'll also look at the most important things to take into consideration when buying a waterproof safe.
Best waterproof safes
As an Amazon Associate, we may earn from qualifying purchases, at no extra cost to you.
Below, we list the most popular waterproof safes for all purposes and needs. We will go through large safes and small safe boxes so you can find the one that is best for your needs.
---
ZHAS Safe Digital Password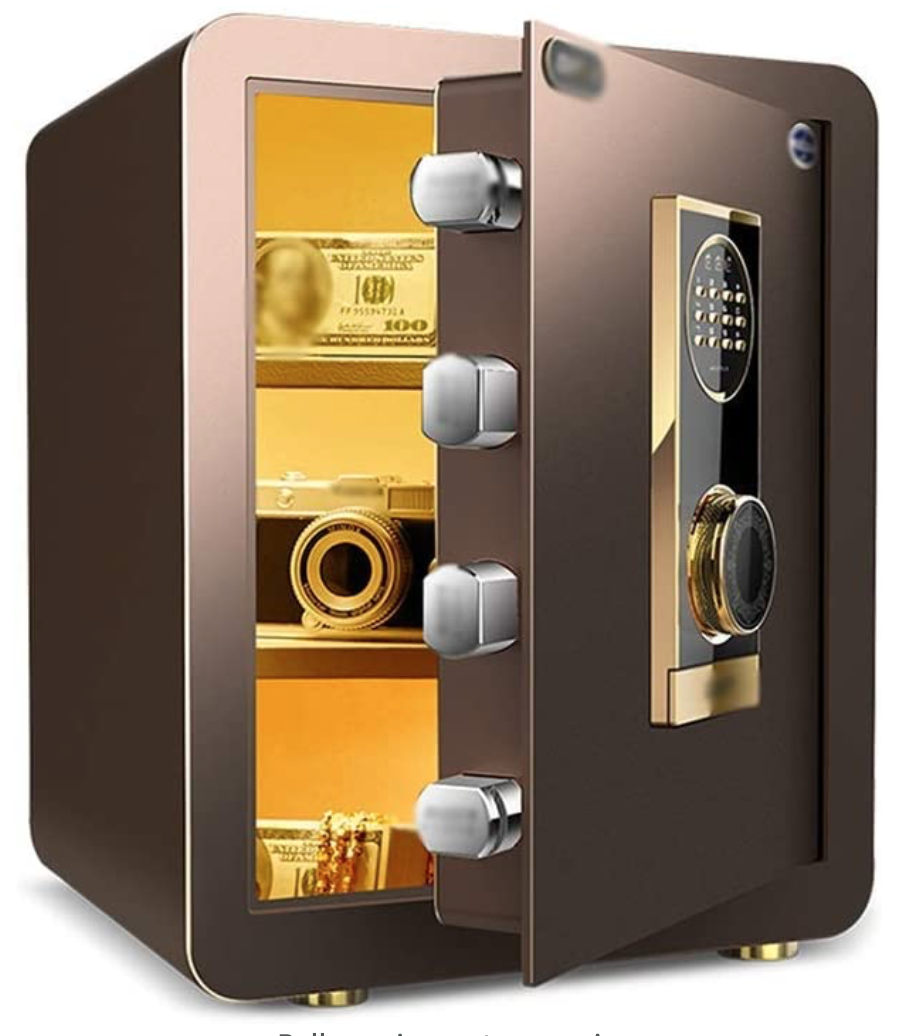 The Zhas safe is a robust and durable digital safe built with a solid steel structure with a thickness of approximately 2mm. The thickness of the door is 5mm. For resistance, it is equipped with 4 explosion-proof solid bolts. The weight is 23kg.
The digital lock has an alarm function that alerts if subject to violent vibrations or three incorrect inputs.
You can use the password to open and set the password to 4-8 digits. You can also use the key to open it.
The interior features soft leather upholstery to prevent scratches and damage to your valuables. It also has internal hooks which can be used for hanging small items, as well as built-in LED lights to make it easier to see the items inside.
This waterproof safe is also easy to install thanks to pre-drilled holes so you can securely fasten it for additional safety. The safe is of course also waterproof and also resistant to fire.
---
Safe Security Box with Digital Keypad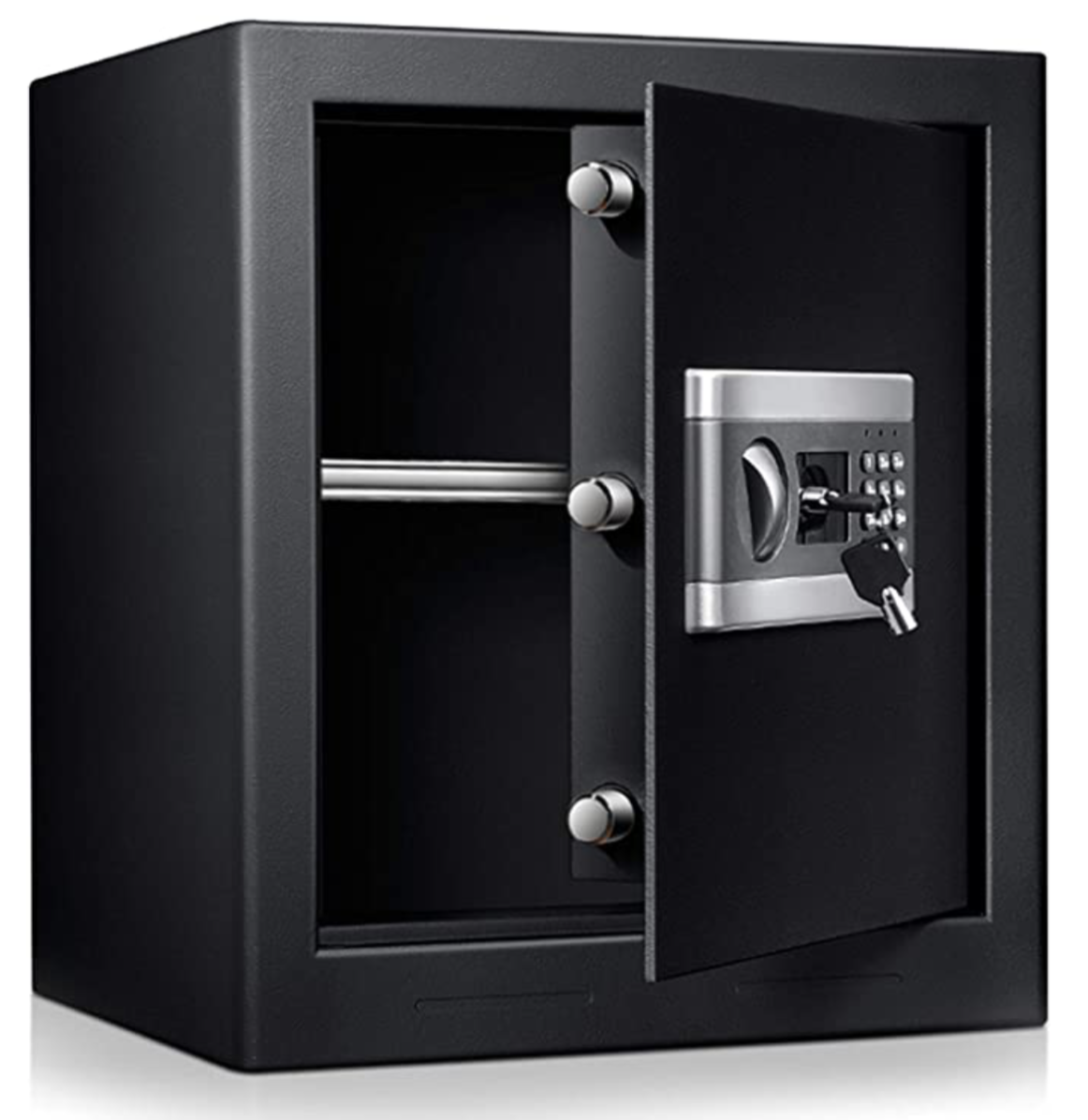 This robust safe security box has a triple solid lock core which consists of 20mm thick solid steel and has a thickened front door.
The safe is made of robust and durable materials which makes it fireproof and waterproof which can save important photos, documents, or other valuables even in the case of flooding or fire.
To open the safe, you can use the password or the master key. It also has an alarm system if the wrong password is entered, or if the safe is subject to great vibrations.
For additional safety, you can mount it with the 4 mounting bolts that are included.
---
Honeywell Safes & Door Locks – 2111 Water Resistant Security Safe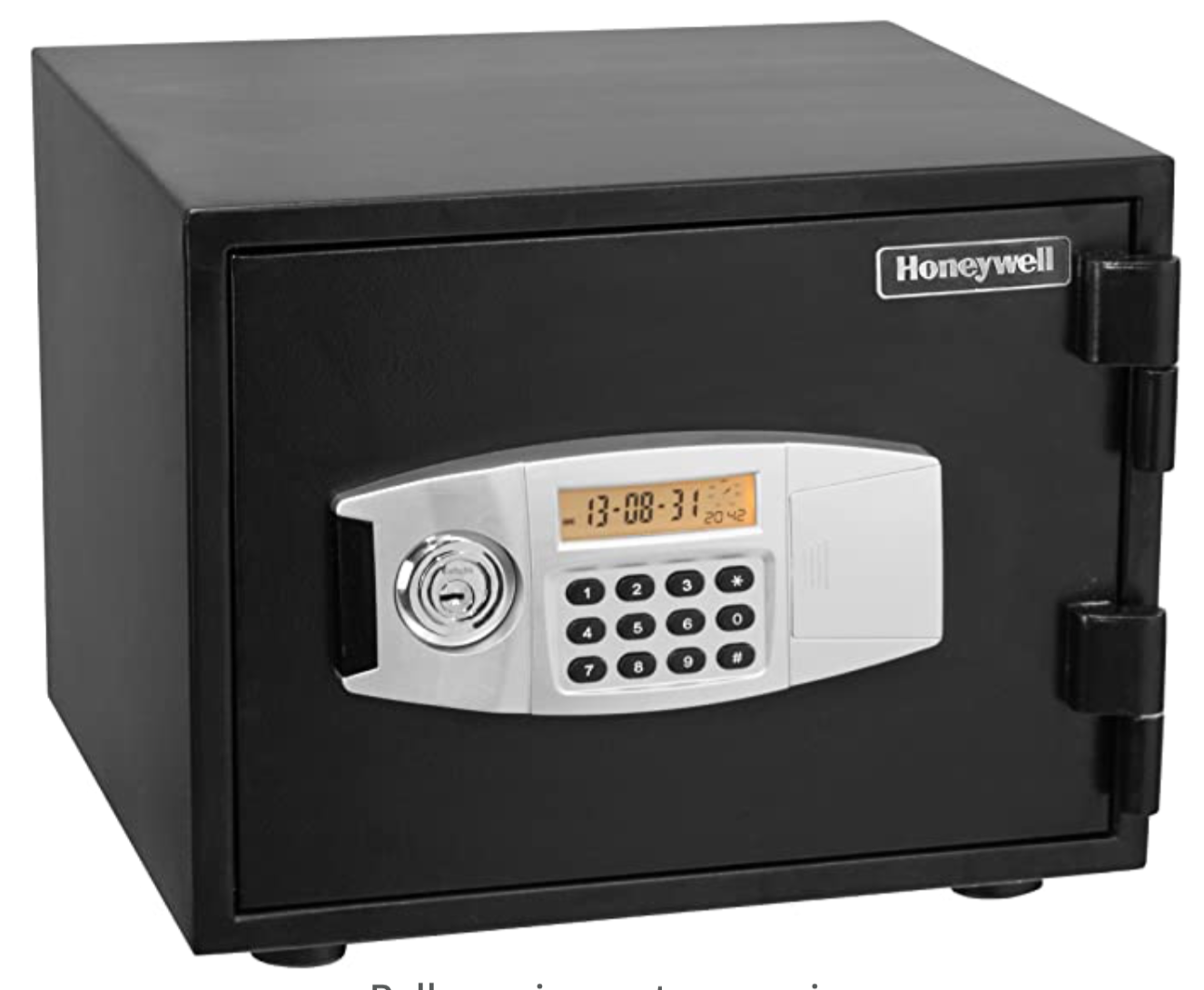 The Honeywell safe is a fireproof and waterproof safe which has a 1-hour fire rating of up to 1700°F or 927°C. It has a water-resistant door and cabinet and is built with a double steel wall construction.
The safe features a dual digital and key lock with an LCD display, and 2 solid steel live lock bolts. It is opened with a 4-number combination dial lock or programmable digital lock.
All in all, this is a robust and qualitative safe that will keep your valuables protected against fire, water, or outside force. At the same time, it has a relatively practical size that can fit in cabinets and similar places.
Exterior dimensions 12.7 in H x 15.6 in W x 14.8 in D.
---
Honeywell Safes & Door Locks 5207 Digital Dial Lock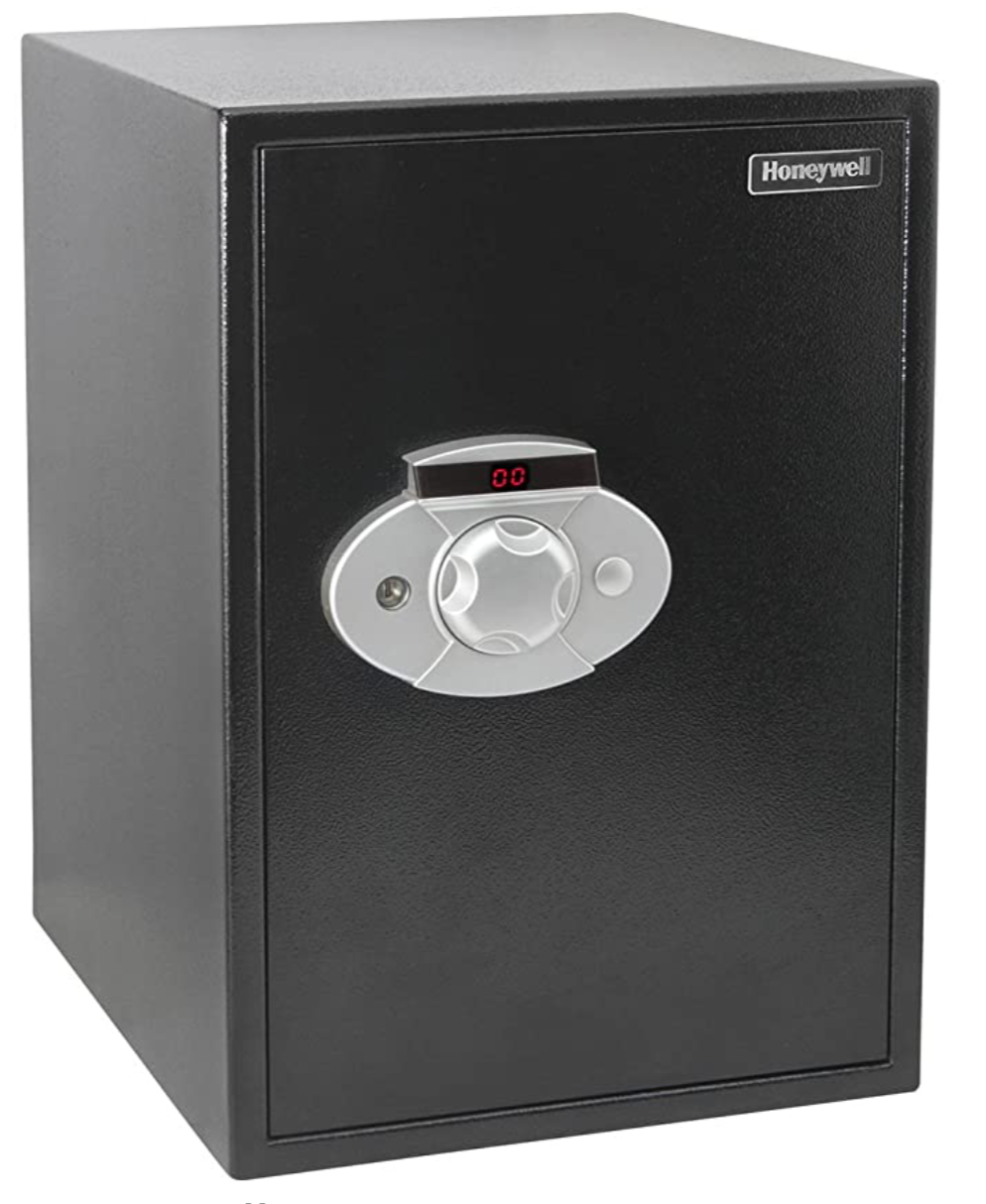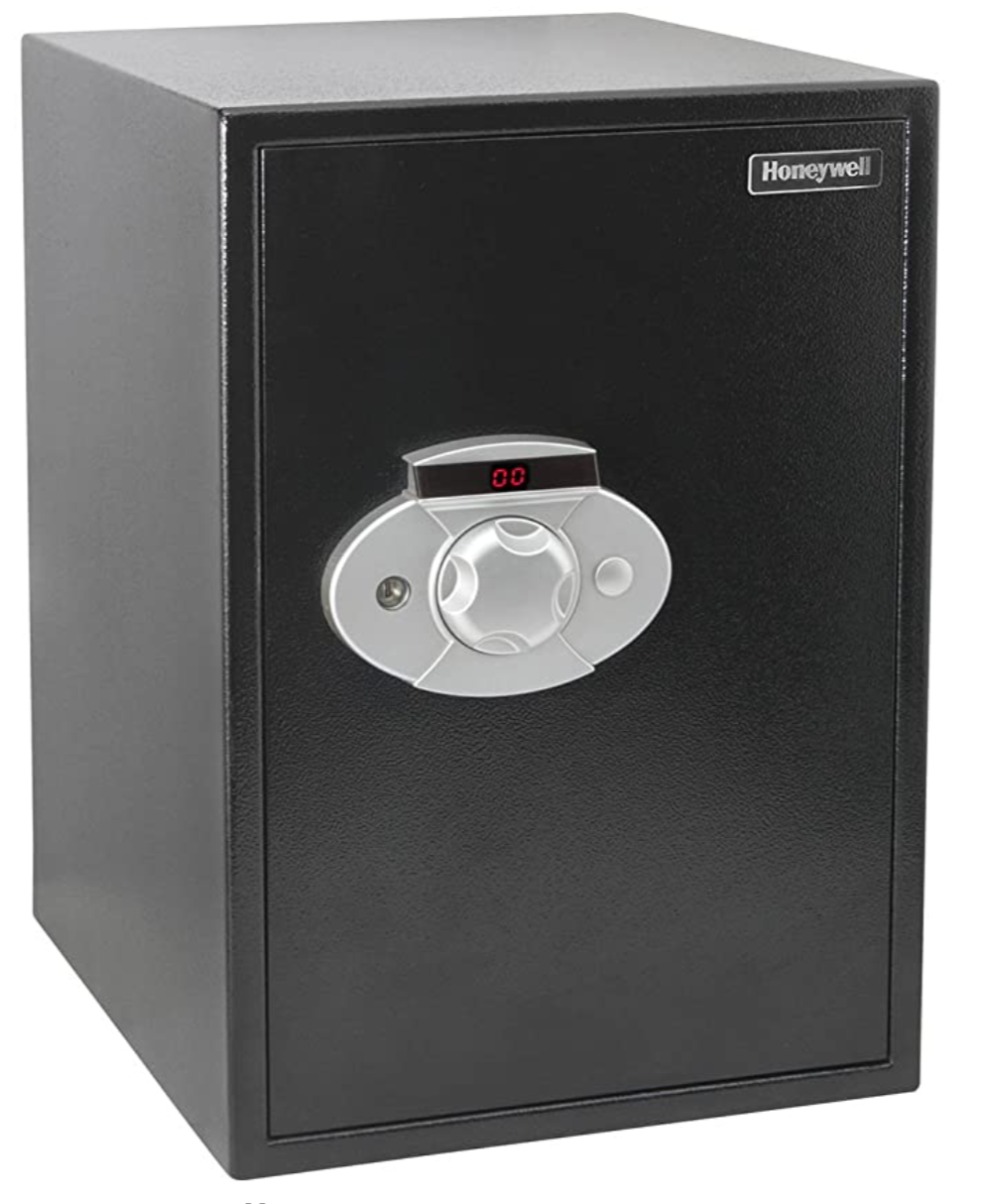 This is a safe with a 2. 7 cubic feet storage capacity and 5-number (2-digit) programmable digital lock codes, presented with an LED readout.
The safe is built with a scratch-resistant powder coat finish and a carpet floor interior to prevent your valuables from being scratched. The safe has two solid steel door bolts and pry-resistant concealed hinges as well as a recessed door all for added security.
The safe can withstand water in order to protect your valuables even if the safe is subject to water, but it's not the most water-resistant safe out there.
Exterior dimensions are 21. 7 in H x 15. 0 in W x 19. 1 in D.
---
Amazon Basics water Resistant Box Safe YB-66YLA-F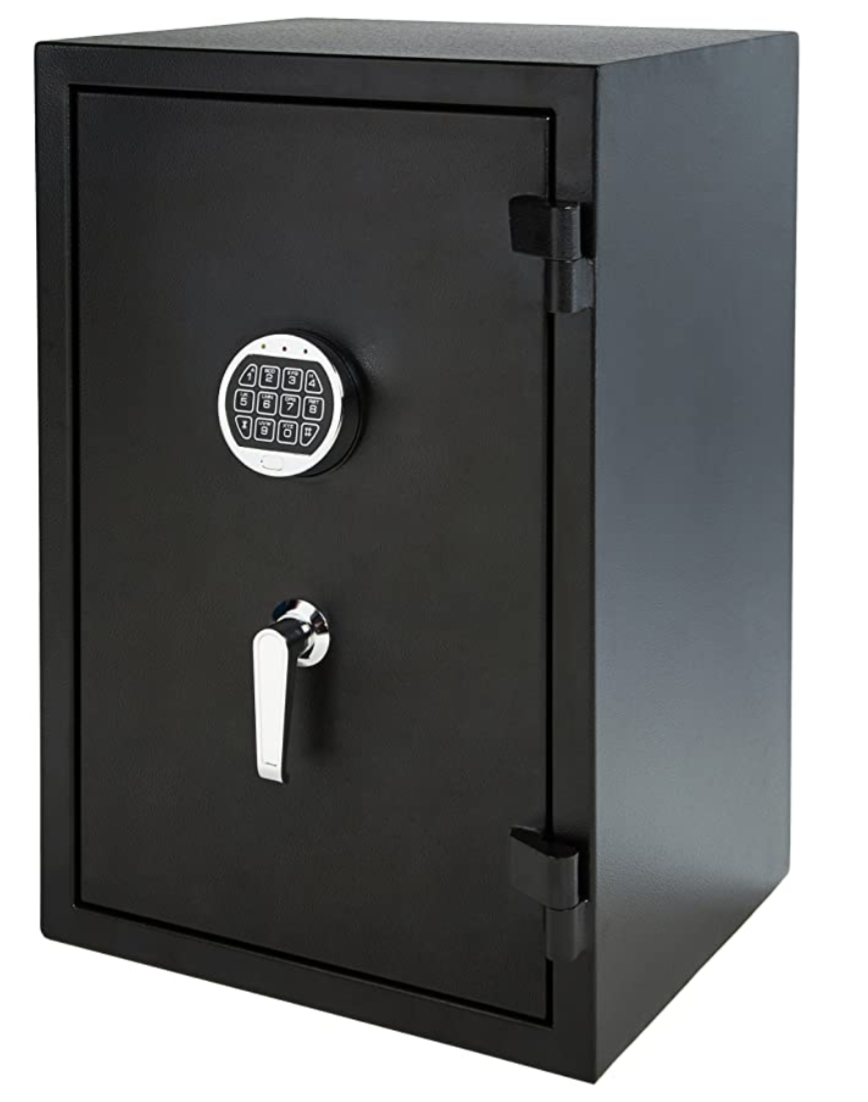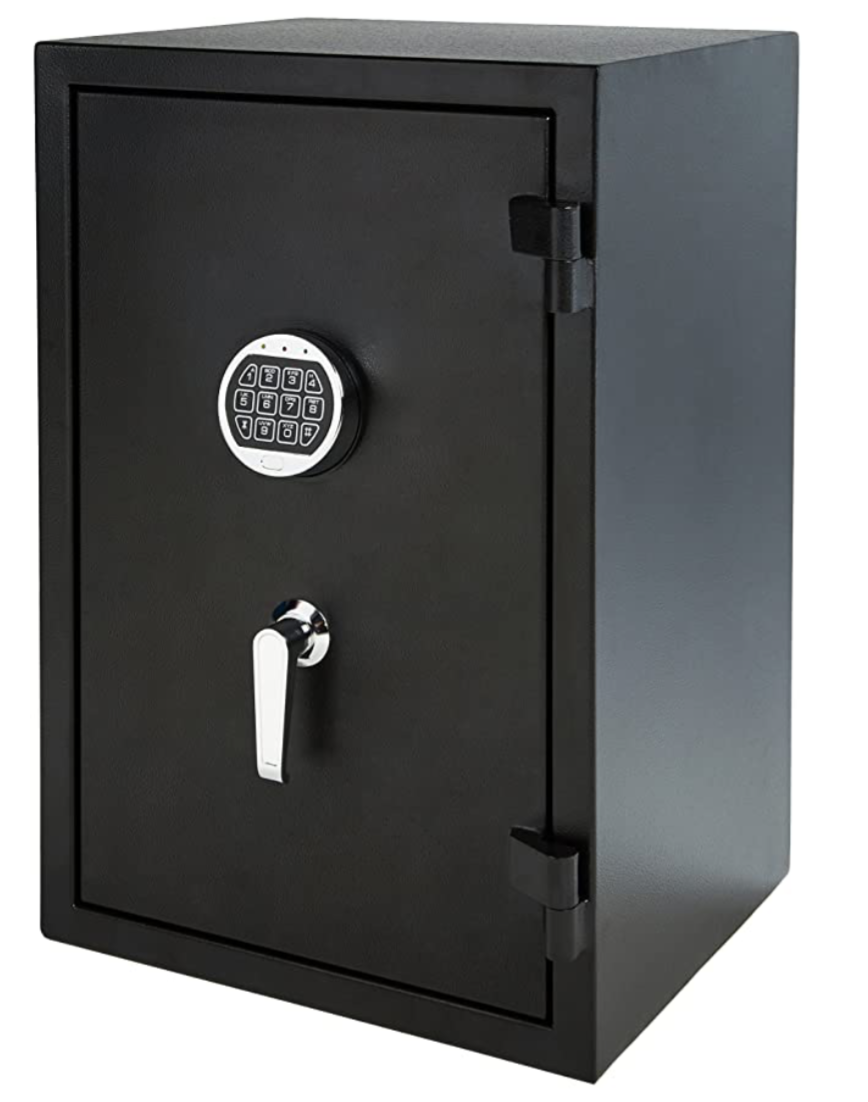 The Amazon Basics is a 2.1-cubic-foot fire-resistant and water-resistant safes that can be used for storing many different valuables such as important documents, and other valuables from theft and fire.
The safe complies with the modified UL 72 Standard for Safety Tests for Fire Resistance and can hold up to 20 minutes at 1200 degrees Fahrenheit. It is constructed with a durable 14-gauge heavy-duty steel body construction and 5 large 0.75-inch bolts for ultimate security.
The electronic keypad allows for easy access but it also has backup keys for emergency use.
The interior has adjustable shelves for the optimization of storage space according to your needs.
---
Cub Security Safe Lock Box Fireproof and Waterproof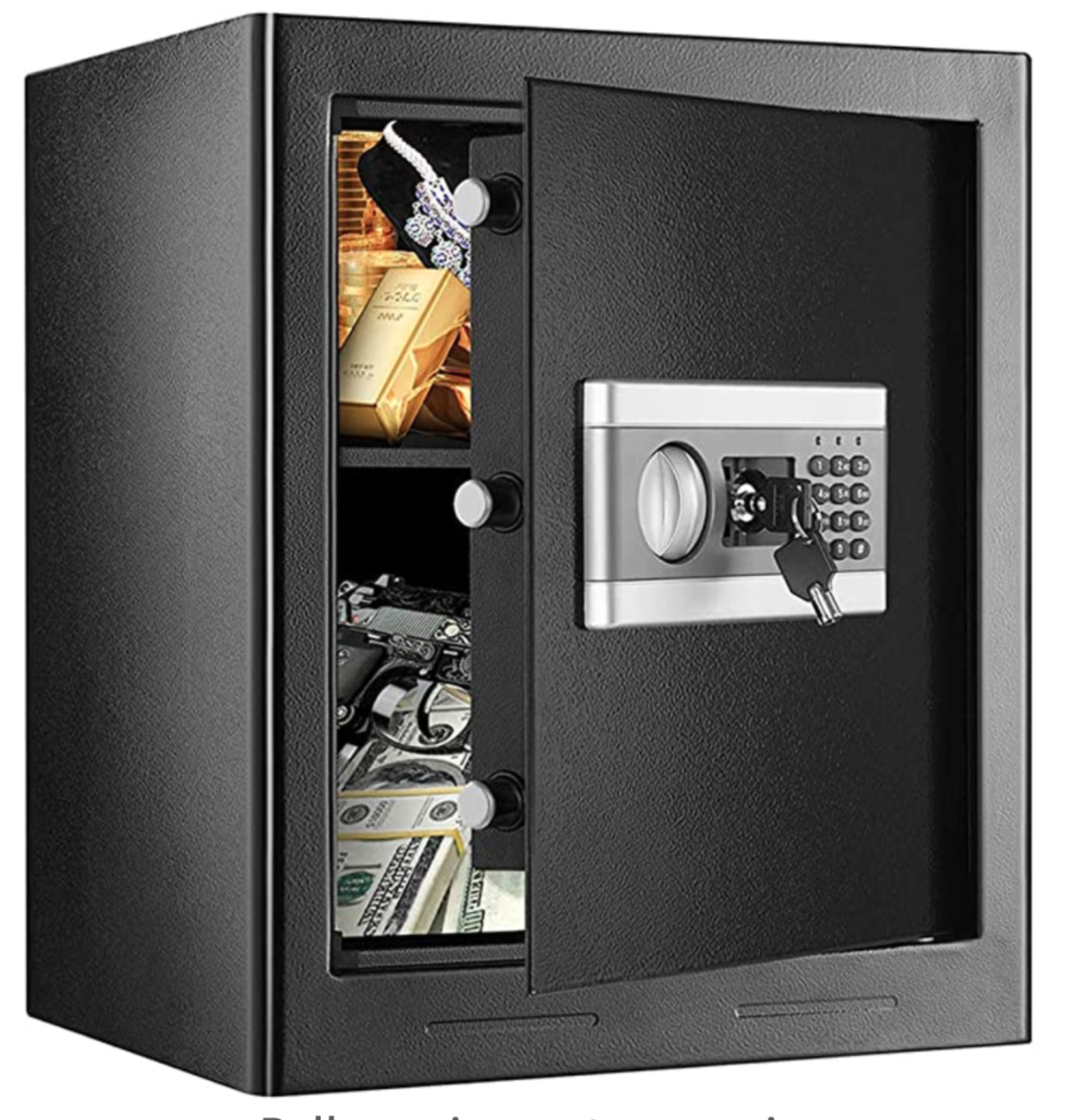 This fireproof and waterproof safe is built to withstand water, fire, and outside force.
It is constructed with a triple lock core which is composed of 20mm thick solid steel and a thickened front door. It is available in three different sizes so you can find the one that suits your needs the best. Depending on the size, it works well for different purposes.
The safe has two unlocking methods and can be opened either with the password or the hidden key.
It incorporates an alarm system that goes off after 3 incorrect entries of the code, or if the safe vibrates violently.
---
SentrySafe CHW20221 Fireproof and Waterproof Box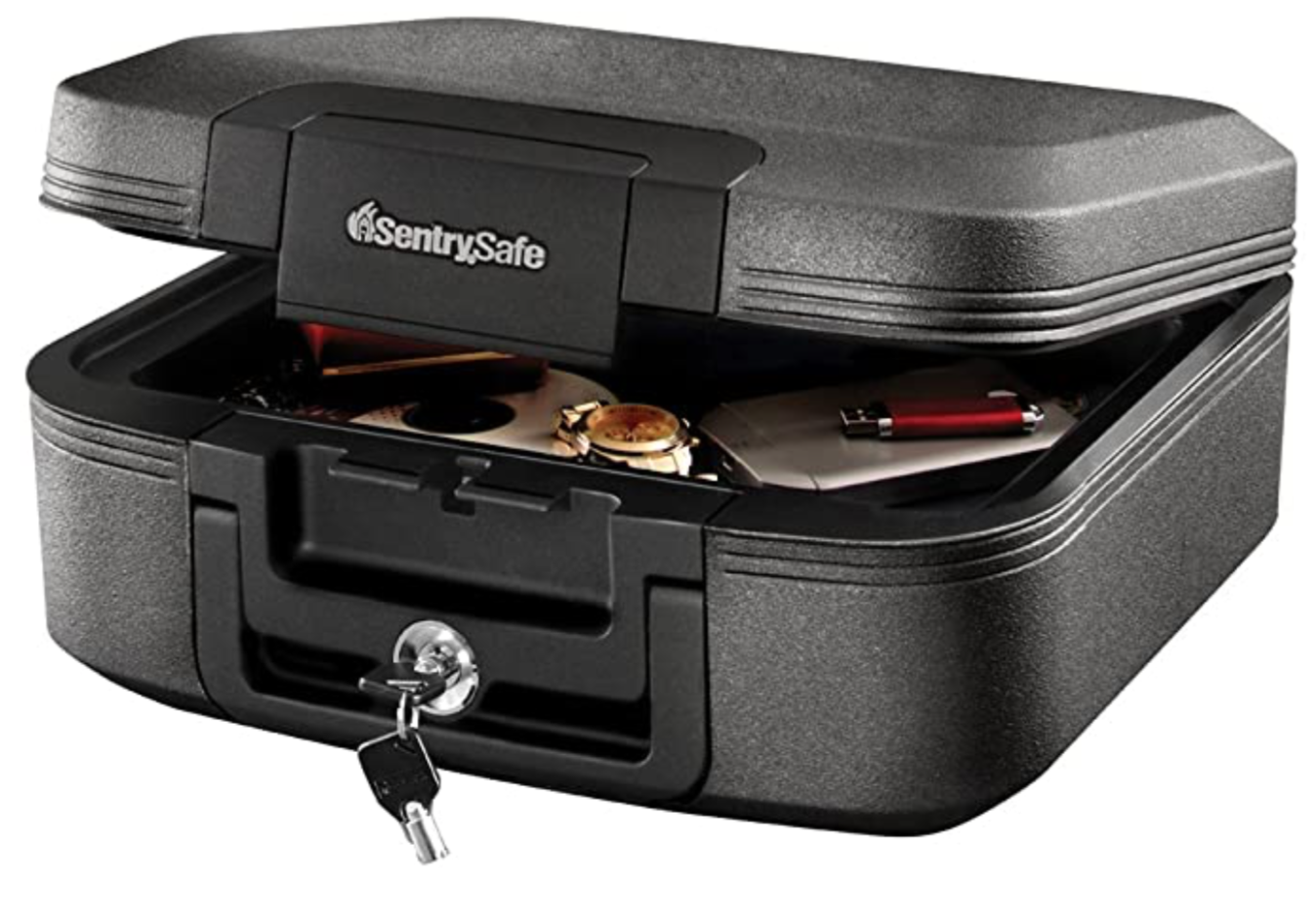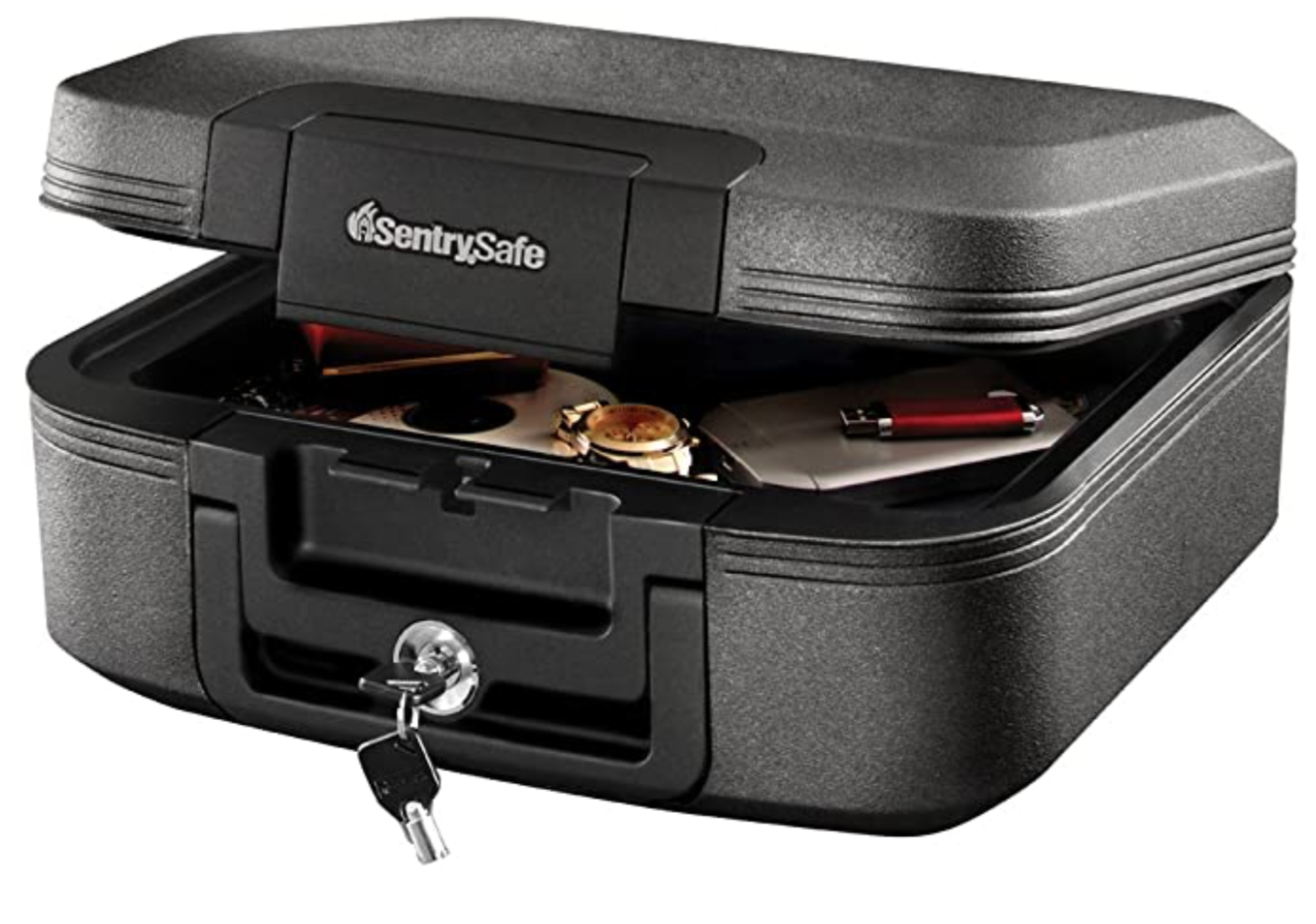 SentrySafe is one of the most popular brands on the market for safes and this one is presented as a convenient and practical safety box that can keep your items protected from fire and water, but also be practical for taking with you in case of an emergency.
With that said, because it is not as heavy as a regular safe and can be moved, it is not ideal if you want to prevent thieves, but if your main goal is to protect valuables from water or fire, this is a great choice.
The safety box is UL Classified to endure 1/2 hour at 1550° and verified for 72 hours of water submersion.
The box is opened with a tubular key lock for added security which also helps prevent the lid from opening. It is large enough to store A4-sized papers.
Exterior: 15.4 inch W x 14.3 inch D x 6.6 inch H; Interior: 12.8 inch W x 8.5 inch D x 4.4 inch H
---
ETE ETMATE Safe Security Box Digital Keypad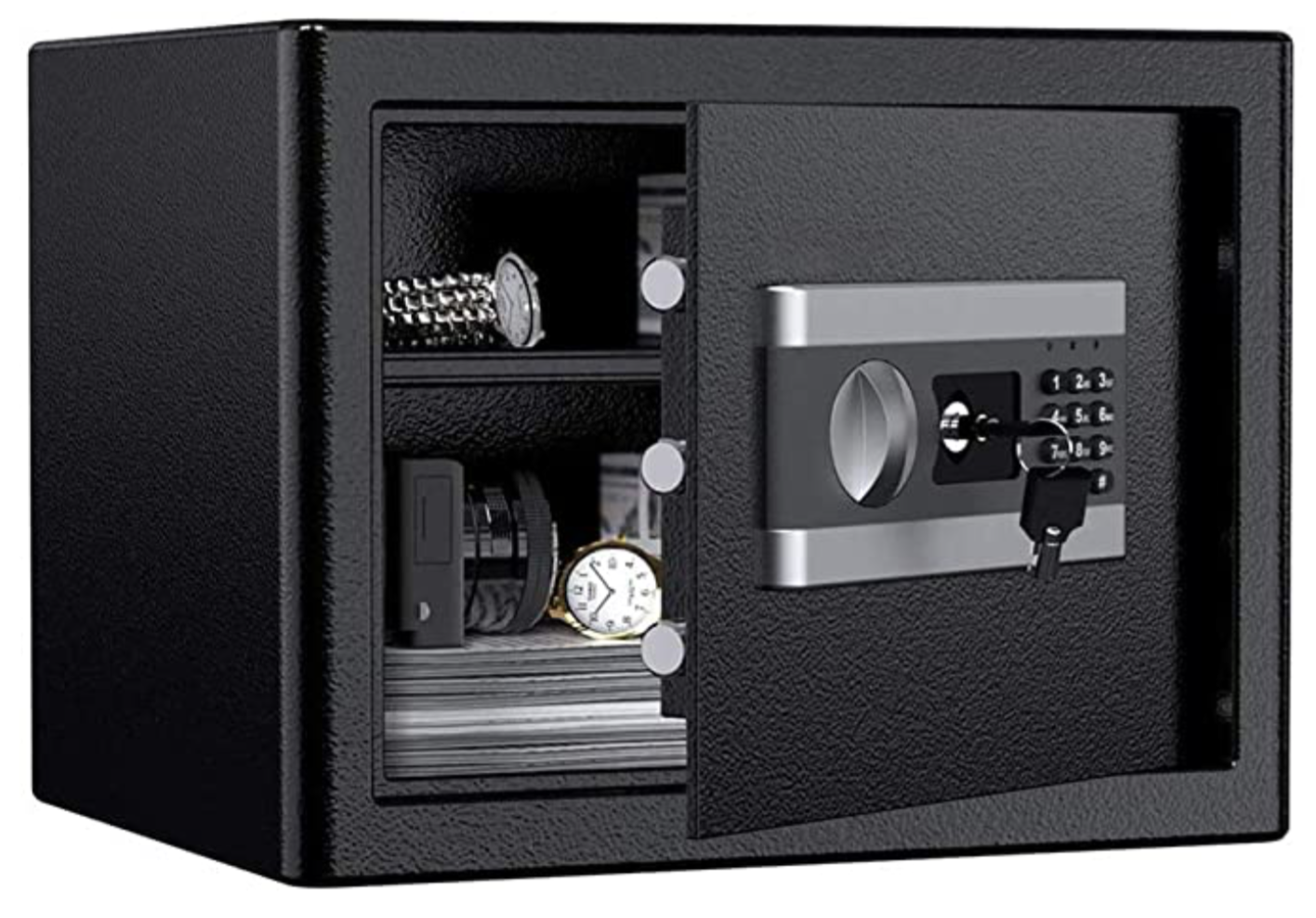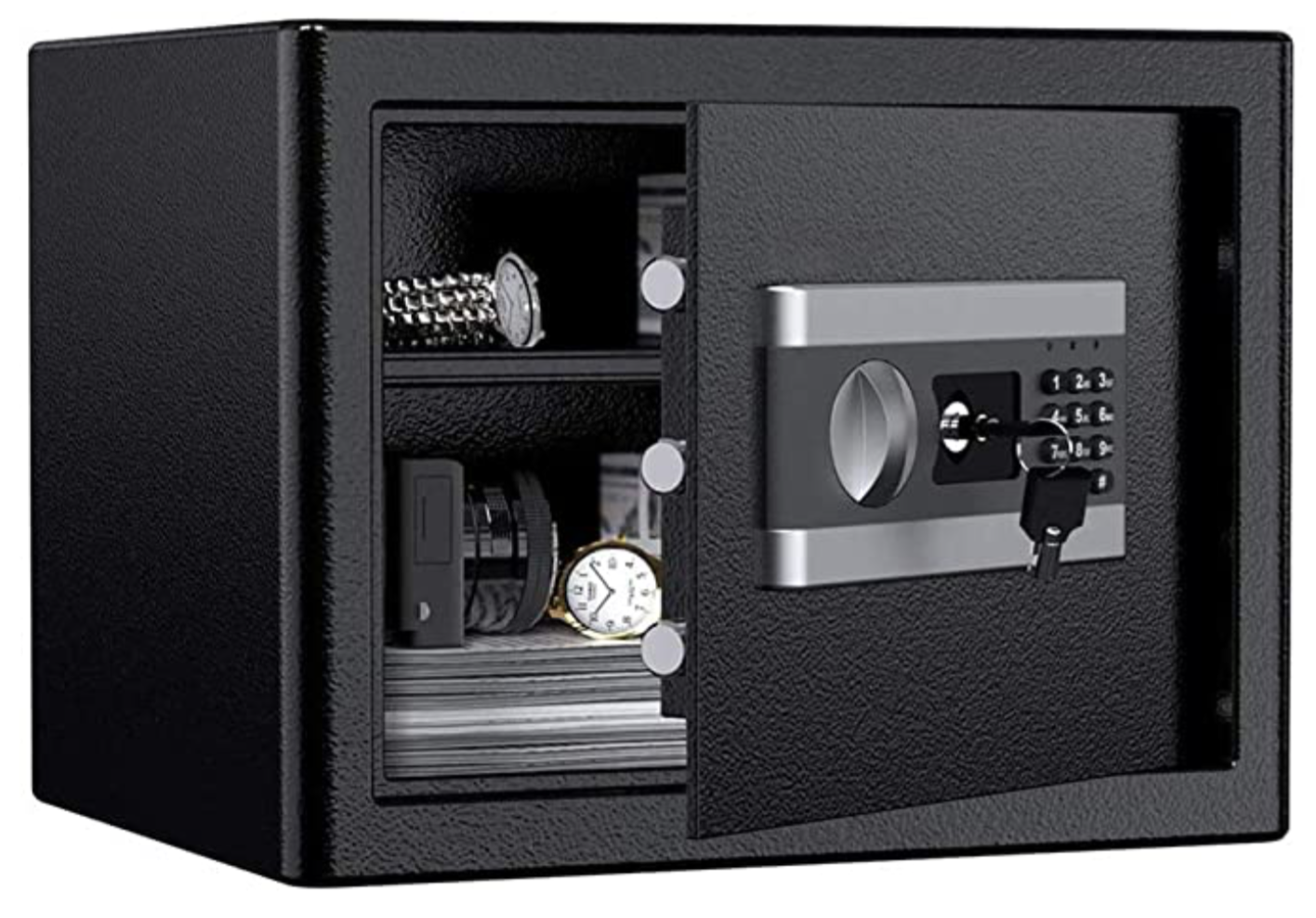 This hotel-style cabinet safe is built with a triple lock core and has 20mm thick solid steel and a thickened front door keeping it robust to withstand outside forces.
Like many others, it has two unlocking methods with either a password or a hidden key. The password is operated via the digital panel.
The safe is of course water and fireproof to keep your valuables protected even in these situations. The box comes with pre-drilled holes which makes it possible to mount them on the wall or floor. It comes with mounting bolts with which you mount it for additional security.
---
SentrySafe SFW123GDC Fireproof and Waterproof Safe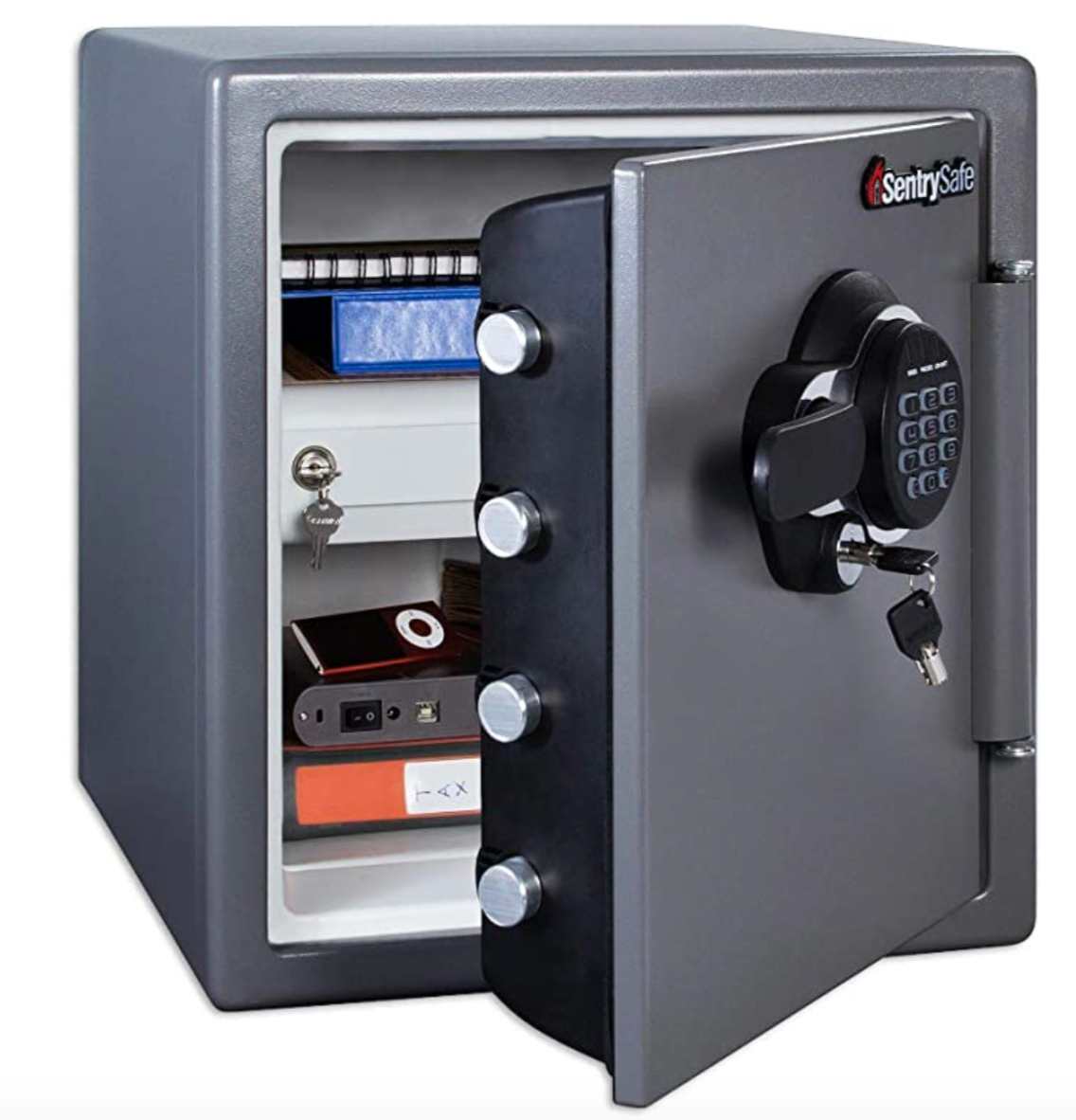 This SentrySafe is available in a number of different sizes to suit your needs.
It is Fireproof safe and UL is Classified to endure for 1 hour at 1700°F. It is also able to withstand a 15-foot fall during a fire yet still remain closed. The safe can be protected from water for 24 hours in water up to 8 inches deep, protecting your valuables from outside force, fire, and flooding, for peace of mind.
The safe allows you to set up your own digital combination and also comes with a secondary locking key. It is built with four live-locking bolts and has a solid steel construction with a pry-resistant hinge bar, interior light, and bolt-down hardware
Exterior: 16.3 in. W x 19.3 in. D x 17.8 in. Interior: 12.6 in. W x 11.9 in. D x 13.8 in. H; large 1.23 cubic foot
---
First Alert 2030F 0.39 Fire and Water Safe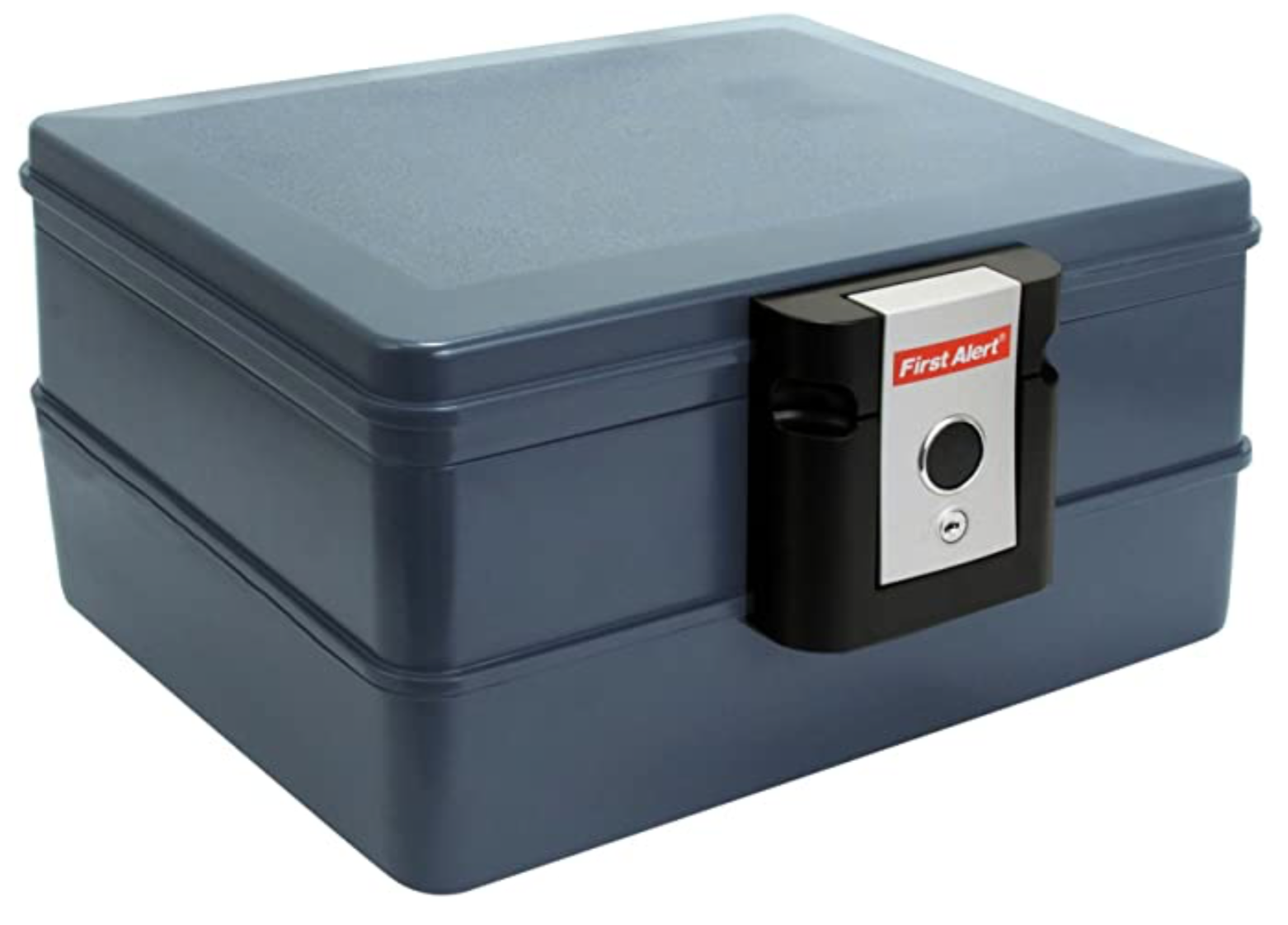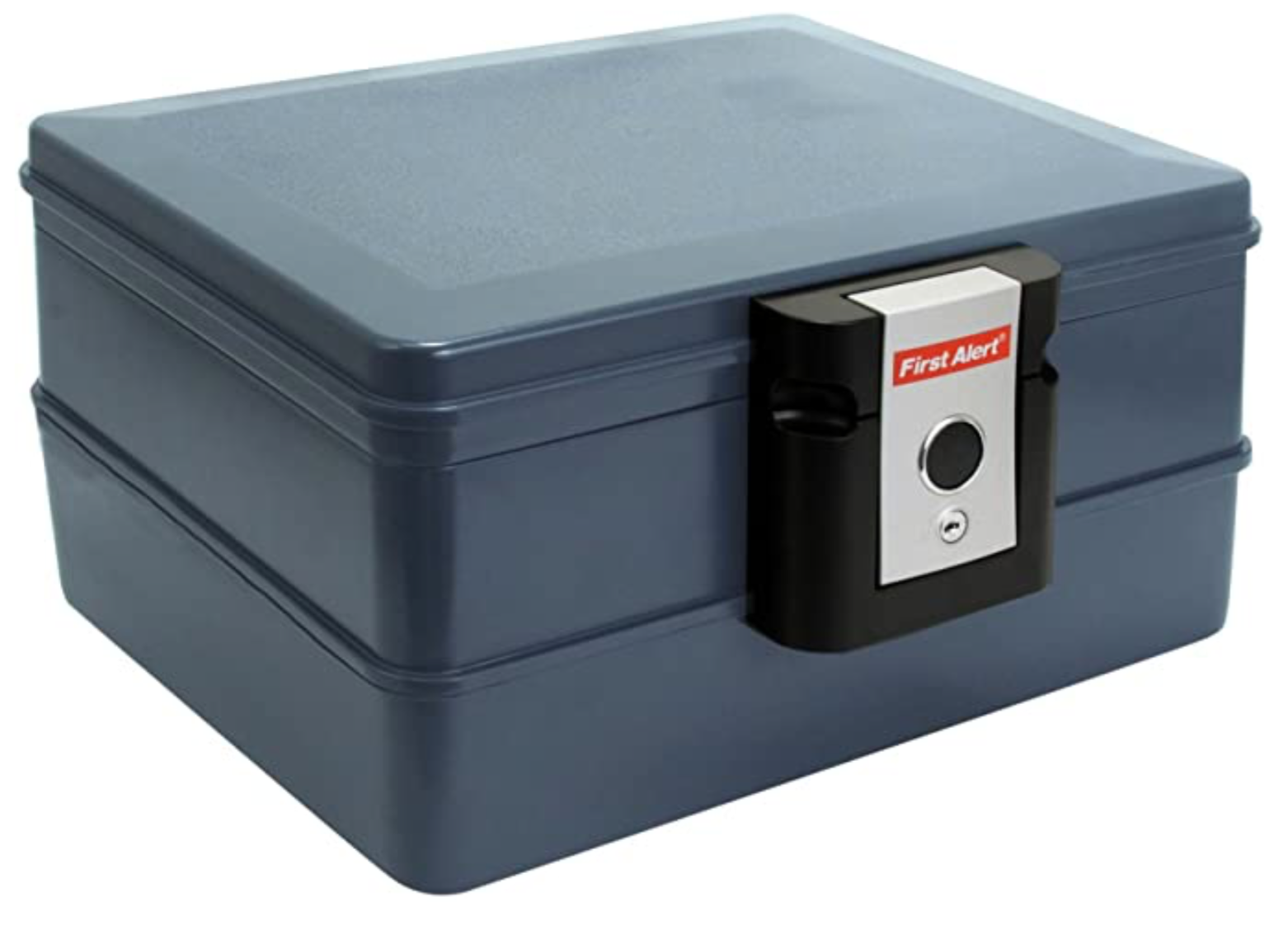 This convenient safety box is built as a small and practical safe to keep your valuables protected from fire and water, but since it is not a heavy and large safe, it is not the ultimate safe to protect against thieves. Again, it all depends on your needs, but if you want something convenient and small that can withstand water, this is a great option.
The safety box is built to withstand temperatures of 1,550 degrees F for up to 30 minutes. The waterproof seal also keeps the contents dry even when submerged. The box is large enough to fit letter-size documents and has a clamping-style latch and key lock. With that said it is most suitable for smaller objects such as documents, keys, wallets, etc.
Dimensions (H x W x D): 8.5 x 16 x 12.79 inches
---
What to think about when buying a waterproof safe
---
As you have seen above, there are a lot of different safes in all kinds of shapes, forms, and designs. With that said, it can be difficult to know which safe you should choose. There are a number of things that need to be taken into consideration when making your choice in order to find the best safe for your needs.
Why buy a waterproof safe?
The primary reason to buy a waterproof safe is to add an additional level of protection for your valuables. Most items should not be in contact with water as it can completely destroy them. Especially if it comes to things like valuable documents, electronics, or firearms. With that said, having a waterproof safe can bring peace of mind knowing that your items are protected from water as well.
In addition, the vast majority of waterproof safes are also fireproof. The reason for this is quite simple:
On most occasions when safes are subject to water is actually not if there is, for example, leakage or flooding, but rather if there is a fire. The most common way to put out a fire is with water, and therefore, a fireproof safe also needs to be waterproof. This is great news, knowing that your safe is probably both fire and waterproof.
But whether there is flooding or a fire that is extinguished, a waterproof safe can be great to have.
Waterproof safe – Size and purpose
When considering the safe to buy, a great place to start is the size and purpose. Starting will purpose should be able to tell you the size as well.
If you are only going to store small objects such as passports and keys, you don't necessarily need a huge safe, but rather can manage with a smaller safe box. At the same time, larger safes are generally more robust and resistant to break-ins, so this is something worth considering as well. Are you buying a safe solely for the purpose of being waterproof, or are you also buying it to prevent potential thieves from breaking in?
Also, think about where you plan to place the safe. How much room do you have for where you plan to store it? Naturally, a large safe requires more space and may not be ideal for all homes.
Then we also have the purpose. Different safes are designed with different interiors to store different items. A firearms safes course has different storage capabilities than those made for cash and jewelry. Therefore, think about the items you plan to store, and then choose a safe that meets your needs.
Furthermore, a lot of people buy a waterproof safety box because they want to be able to protect their belongings, for example, when going on a boat. In this situation, a safety box that you can carry with you may be the most suitable option. Whilst keeping your items locked and safe, it will also protect your belongings from water.
Electronic or mechanical waterproof safe?
There are both electronic and mechanical safes on the market. This means that you either use a key to open or open with a pin code, or in some cases, your fingerprint.
The great news is that many safes are now equipped with box a digital and a mechanical lock so you can choose, or use a key when it has run out of battery or when you have forgotten the code.
Safes that combine electronic and mechanical tend to be quite popular as they offer a greater alternative for opening.
Waterproof
Last but not least, different safes have different performances when it comes to water. Some safes are only " splashproof" and can handle water for shorter periods of time, but others can withstand deep water for hours. This is something that is important to take into consideration depending on where you plan to place it and how big the potential risk of water is
When do you need a waterproof safe?
There are many good reasons why you would want a waterproof safe. I would say that you need a waterproof safe all the time, but there are some situations when it is more important. One such occasion is when you are storing items that are particularly sensitive to water. Some items can handle water better than others and so in some instances, it won't be as important.
Another time when a water-resistant safe is important is when you are storing the safe in places where there is a great risk, or at least potential risk, that it may be subject to water. This brings us to the next point.
Where will you store your waterproof safe?
Where you will store your safe obviously has a great effect on how important it really is to have a waterproof safe. Some of the places where the risk of it being subject to water are:
Places where flooding can occur
Places where sprinklers are installed
When stored in a boat
When stored in other places where water is common
Waterproof rating
As you have seen above, different safes have different water-resistant ratings. Therefore, it is important to think about your water-resistant needs when buying a safe. Some can be fully submerged for a couple of hours, others are just able to withstand water splashes or low levels of water. In many instances, the greatest risk is a sprinkler system and perhaps high-powered hoses from the fire department in the case of a fire, and in these situations, you won't have to look for a safe that can be fully submerged.
Therefore, think about the potential risks that the safe will be subject to and then choose a safe accordingly.
Are safes waterproof?
In general, safes are not waterproof. Most of the safes on the market are not waterproof and therefore, it is important to actively look for those that are if this is an important criteria for you.
At the same time, nothing is ever completely waterproof, so technically, water resistance would be the best terminology to use. Any safe, waterproof or not, will eventually start to leak. This is why it is important to take appropriate actions shall your safe ever be subject to water.
---