Top 11 Best single watch winders
Watch winders come in all kinds of different shapes and forms. They are available in safe designs to keep your watches locked in and protected whilst being wound, as previously discussed in this article, they can be large to store lots of watches, and they can also be small and compact to store fewer watches.
In this article, we are looking closer at single watch winders. As the name suggests, these are watch winders designed to hold a single watch. And there are many reasons why you may want to opt for a single watch winder.
First and foremost, if you only use one watch, a single watch winder may be all you need. Or, if you rotate two watches, you only need to keep one watch on the winder whilst you are wearing the other.
The benefits of a watch winder are many, however.
The primary benefit of a watch winder is that it prevents automatic watches from stopping. The watch winder rotates in order to allow the rotor inside the watch to rotate and generate energy for the movement. This keeps the watch charged with energy, preventing it from stopping. What this means in practice is that your watch is always ready to go whenever you need it, without first having to wind it, set the time, date, and other functions, in order to wear it.
In addition, a single watch winder usually works as a nice interior detail that not only complements your home in a nice way but also presents and showcases your watch beautifully.
Does a watch winder damage your watch?
Before we dig in, a common question we receive is whether a watch winder damages your watch. The short answer to this is not really. But there's more to it than that.
First and foremost, not all winders are made equal. This particularly relates to the motor of the winder. A good winder has a high-quality motor that uses just the right amount of turns per day in order to keep the watch wound without overwinding it. When your watch is fully wound, there is no reason to reason to continue winding it, and this will only cause unnecessary wear to your movement.
Furthermore, the reason we say "not really" is that an automatic is a mechanical piece of craftsmanship that contains hundreds of small and delicate parts. When the rotor rotates, it causes friction and the parts to move.
Now, this isn't negative per se since an automatic watch is built to be used, but just like when you use a car's engine more frequently, it will cause more natural wear to the movement and overall require more maintenance. At the same time, if an automatic movement stops and isn't used, it can cause the oils to run dry and thus have even greater negative effects on the movement. With that said, during a watch winder can actually be positive for your movement.
As an Amazon Associate, we may earn from qualifying purchases, at no extra cost to you.
Best single watch winders
Below, we list the best and most popular single watch winders. These are small, compact, and practical watch winders with room for 1 timepiece. Further on, we'll also look closer at everything you need to think about to find the perfect winder for your needs and preferences.
---
Barrington Automatic Watch Winder for 1 Watch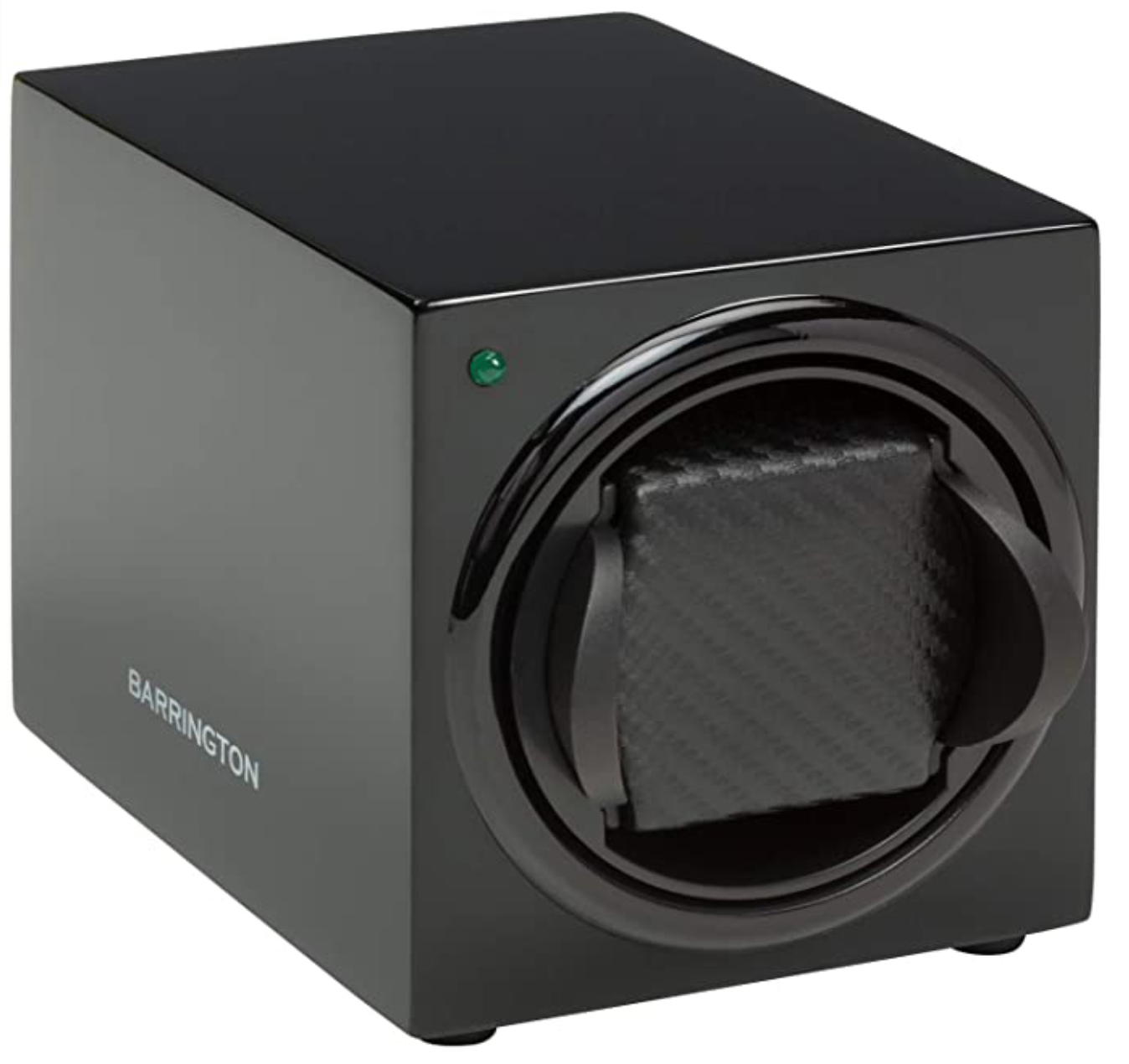 The Barrington watch winder is one of the most popular single watch winders on the market, and for good reasons.
First and foremost, it has a modern, sleek, and elegant design that blends into a modern home nicely. It is also available in a number of different colors and finishes which makes it easier to find the perfect one for your home and taste.
It is also a stackable winder which makes it possible to stack multiple winders on each other, shall your watch collection grow. When staking them, the Barrington 'Jump' feature allows multiple winders to be connected together via a connecting cable and powered from one AC power source for convenience.
The winder is powered by a great motor that is optimized in order to prevent overwinding and be gentle to the movement. The winder can be powered by an AC or with two AA batteries, so you can choose which suits the best for you. The motor is a Silent Japanese Mabuchi motor that doesn't give much noise, which can otherwise be an issue with some watch winders, in particular, the most affordable ones.
The motor has 5 x turns per day settings and multi-rotation options. This makes it possible to adjust the winding according to the watch and your needs. It also has intermittent rotation cycles.
---
Single Watch Winder for Automatic Watches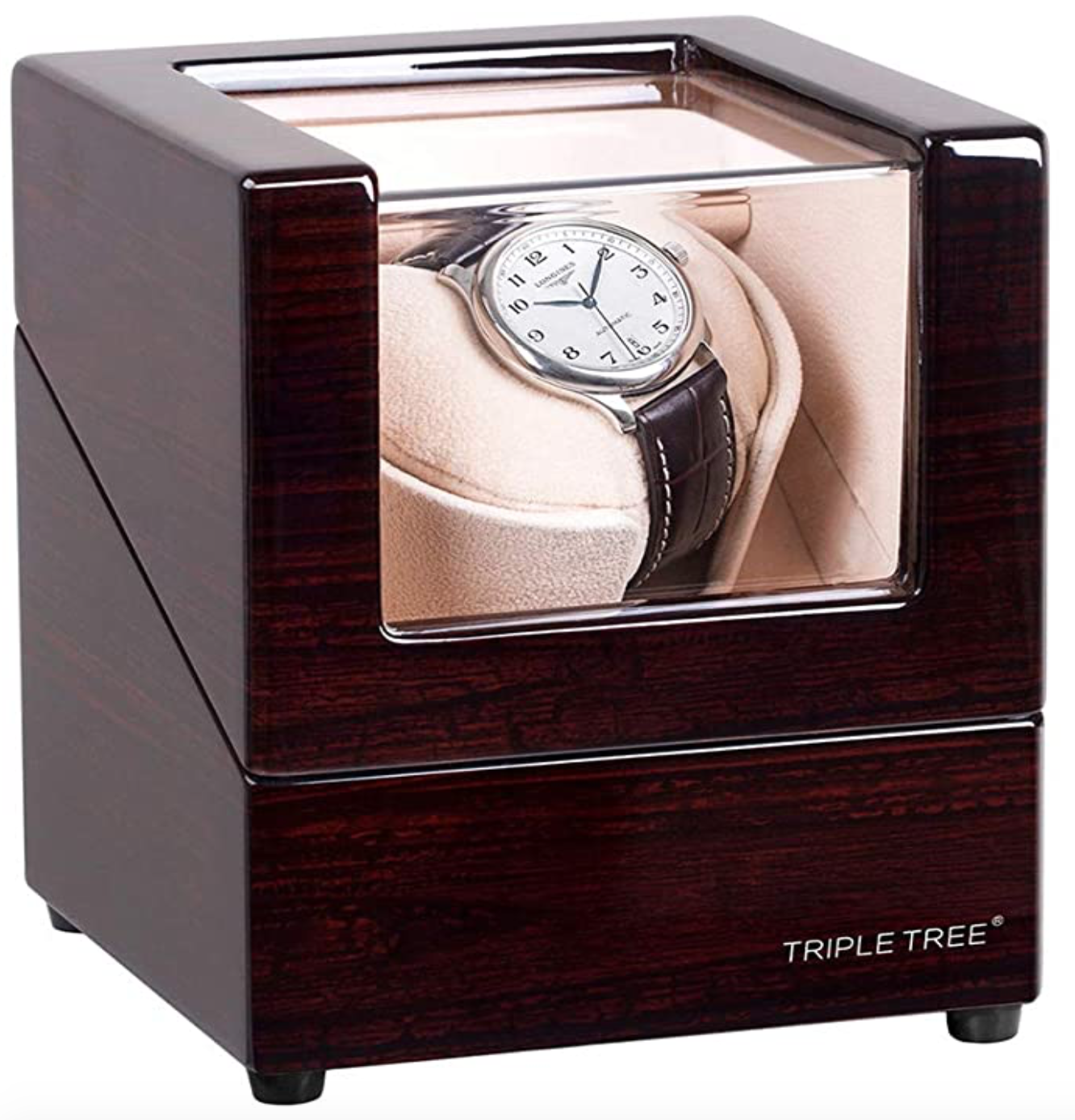 Next up, we have this stylish Single Tree watch winder which is a great alternative if you're looking for something more affordable. Most people opt for the luxurious wooden finish, but it is also available with a leather finish.
The benefit of this winder is its elegant design that blends into any home perfectly. It also has a large acrylic glass window which allows you to see the watch inside very well. The cover also protects the watch against dust, which isn't the case for watch winders that do not have a cover.
The winder is powered by a silent Japanese motor which is long-lasting. It is equipped with 4 rotation modes with forwarding and backward rotations. It is suitable for almost all watches with its adjustable pillow. It is powered by a 100-240v AC Adapter. Whilst it isn't the most advanced winding motor, this is overall a great single watch winder for the price, which also looks great.
---
Cheopz Single Watch Winder Box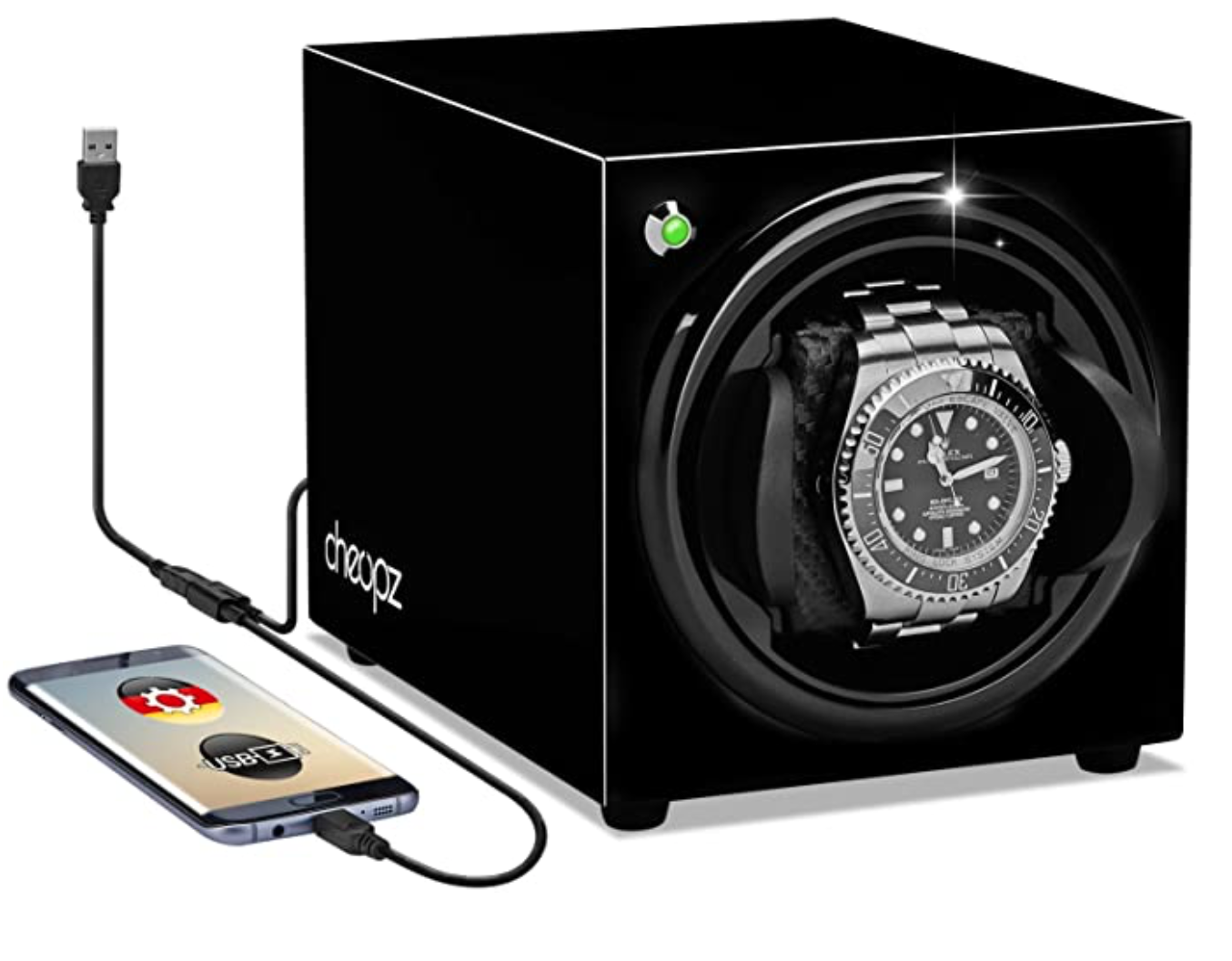 The Cheopz watch winder is a popular choice amongst those who are looking for a single watch winder. It has a classic, sleek, and elegant design, but is also extremely functional.
It is powered by ultra-silent German technology motors which are gear-driven, making them more durable, silent, and high equality. It is built to avoid magnetization and disturbing noises. The motor incorporates different technology, with settings for 5 TPD (650/750/850/1000/1950) & 3 rotation directions (clockwise, counterclockwise and bi-directional). It also has settings to choose from according to the watch with a 2h active phase & a 12h resting phase.
The LED indicator on the front shows the winder status.
It is powered by a USB V2.0 cable or 2 AA batteries. The fact that you can choose how you want to power it gives you more freedom in where you can place it.
To finish off its design, it has a wooden design with a black high-gloss lacquer exterior and carbon fiber faux leather interior. The interior has an adjustable holder.
---
Versa Elite Single Watch Winder in Cherrywood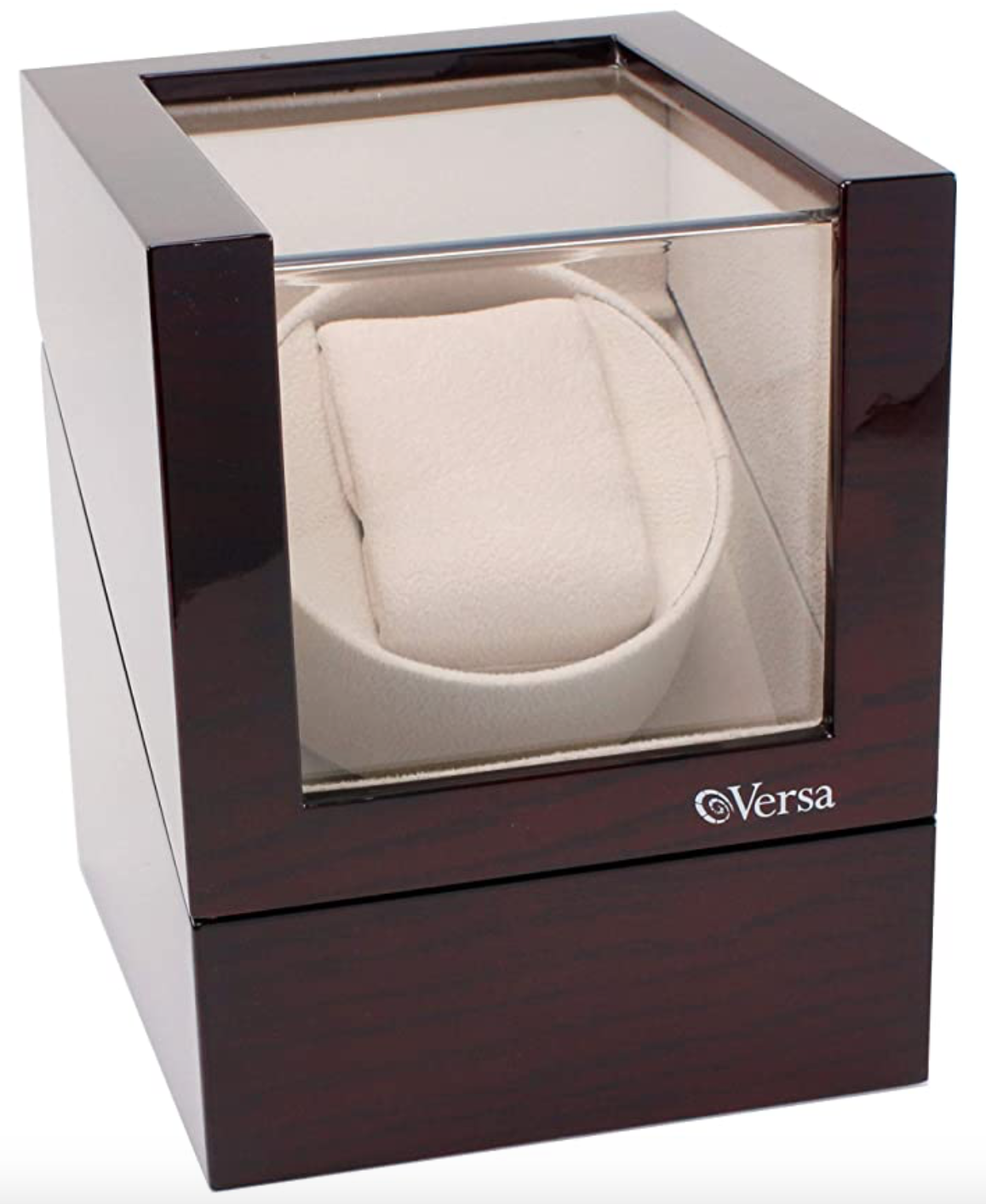 The Versa Elite single watch winder is made in cherrywood and has a classic yet luxurious design. The front also has a clear display which allows you to see the watch inside.
The motor has different settings for turns per day (650-950-1250-1850) and can rotate clockwise, Counter-Clockwise, or Both. It is powered by a Japanese Mabuchi motor with good performance and not a lot of noise. The interior has lots of room for oversized watches and features a spring-action pillow.
This type of winder is really nice as it works as a beautiful display of your watch even when you are not using the winder. In addition, the cover also keeps the watch protected from dust.
---
WOLF 456002 Viceroy Single Watch Winder

Wolf is one of the most famous and popular brands and manufacturers of watch winders on the market, known for their stylish and high-quality products.
The Wolf 456002 is presented with a luxurious leather finish and a stylish and compact design. It opens in the front and has a screen through which you can view the watch.
The motor can be set between 300 and 1200 TPD (Turns Per Day) and in different directions (Clockwise, Counter Clockwise, and Bi-directional). You can also delay the program start from 6 hours to 72 hours.
This single watch winder can be run on AC power or D-Cell/Lithium batteries.
If you want a small, convenient, stylish, and high-quality single watch winder, the WOLF 456002 is definitely a great choice.
---
Wolf 270302 Heritage Collection 2.1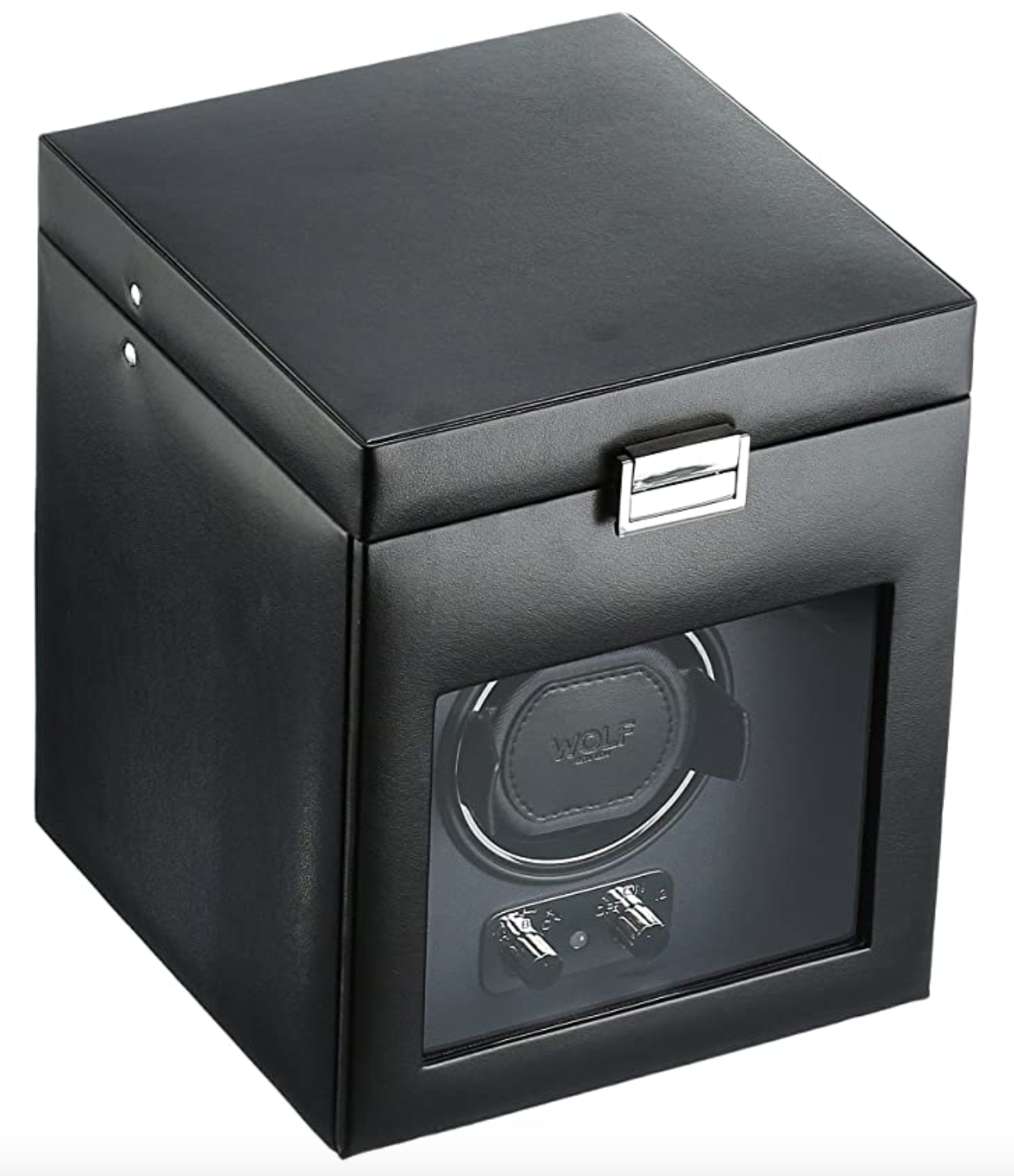 The Wolf 270302 from the Heritage Collection is designed as a cube which makes it compact and convenient and is finished in an elegant design. It has a glass front which enables you to see the watch inside. The winder has an elegant and refined design, finished in smooth vegan leather.
The winder has additional 2-piece storage at the top for even greater convenience.
It is powered by a patented motor that counts the precise number of rotations. It is pre-programmed to 900 turns per day and can rotate Clockwise, Anticlockwise and Bi-directional. The winder is designed to wind your watch on an intermittent basis, with pause and sleep phases to prevent overwinding your watch. It can be powered either by batteries or via a universal power adaptor.
---
Heiden Monaco Single Watch Winder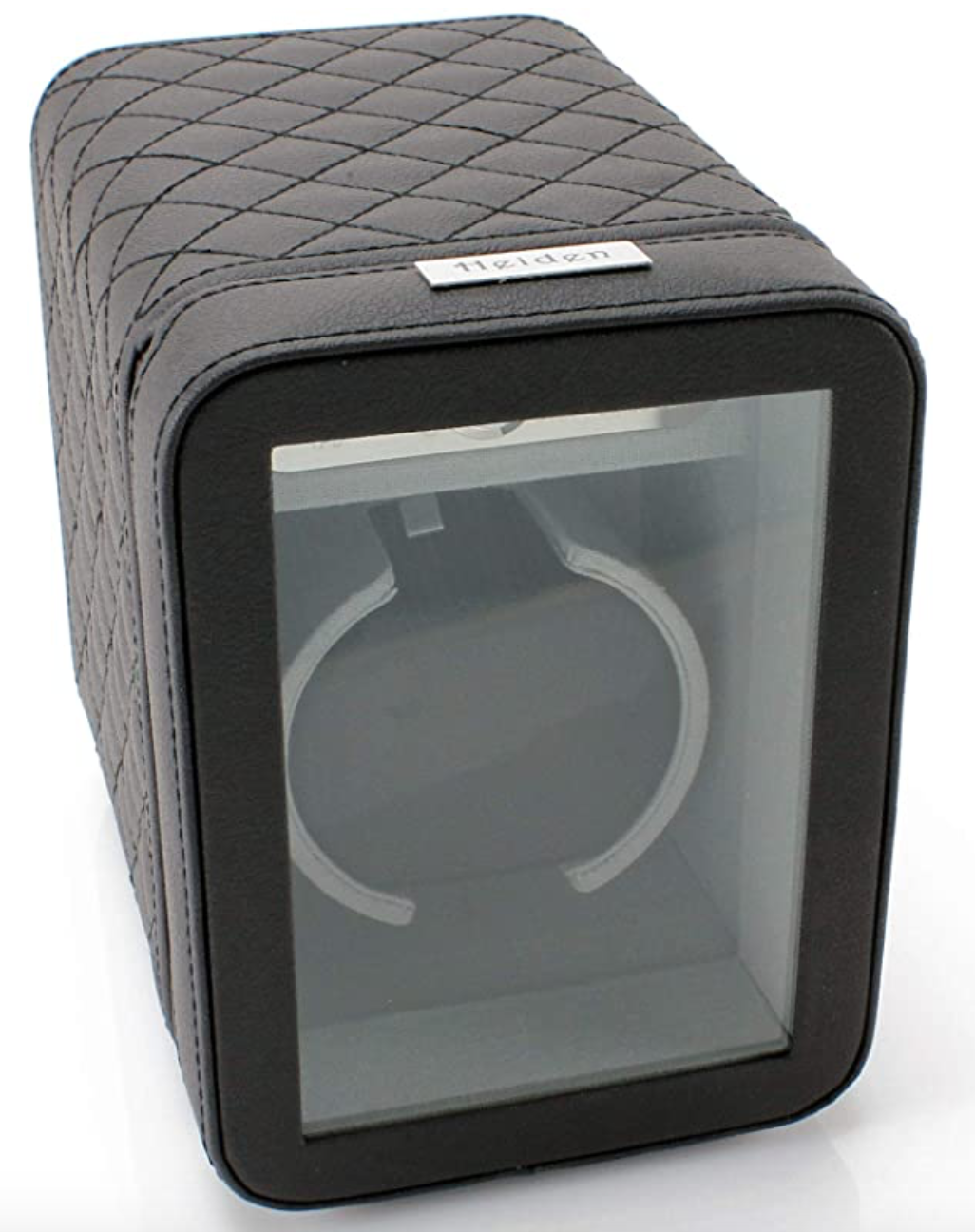 The Heiden Monaco watch winder is a luxurious and high-quality single watch winder with a beautiful design. First and foremost, it has a cube-like, shape and compact design and is finished with cross-stitched leather.
The interior has a soft gray linen interior with a soft watch pillow. The inside has lots of room to hold large watches. It has a large glass at the front for good visibility and display of your watch.
It is powered by a Japanese Motor and Gear design. The motor is extremely silent and has zero magnification. It has multiple settings with 4 Turns Per Day settings (650-950-1250-1850) as well as 3 Direction settings (Clockwise, Counter Clockwise, and Both). This results in a total of 12 different settings. It has resting modes which means it will rotate for about 1 minute and then rest for a longer time. This is to prevent overwinding of the watch.
It is powered either by 2 x D size batteries or via included AC adapter (110-240V)
---
Wolf 457056 Roadster Single Watch Winder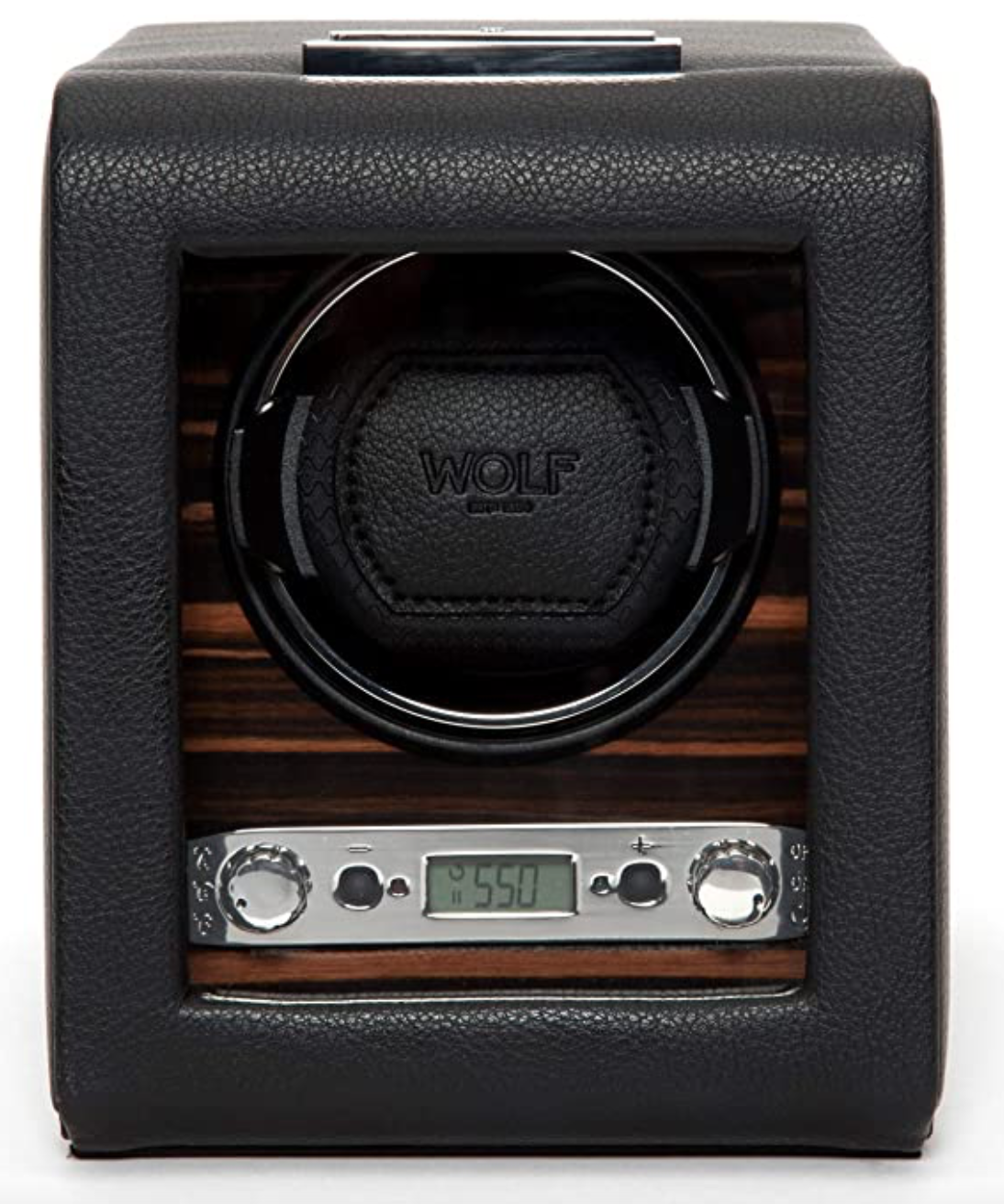 This is one of Wolf's most premium single watch winders which has a great finish and a very luxurious design. Of course, it offers everything you would expect from Wolf products, but in addition to this, it uses more premium materials and greater attention to detail.
First off, it has an Ebony Macassar wood veneer faceplate which is inspired by the wood veneer dashboards of luxury cars. This is in turn complemented by a supple black pebble leather body and polished chrome fittings. The safe has a key closure. The front has glass through which you can see the watch, and with the wooden trim, the display of your watch will look better than ever.
It is powered by Wolf's patented innovation motor which counts the precise number of rotations. It is fully controllable from 300 to 1200 turns per day and rotates Clockwise, Anticlockwise, and bi-directional. To prevent overwinding, it has a delayed start program. All of this is presented via the backlit LCD screen.
It is powered by either battery or a Universal Power adaptor.
---
Cub Single Automatic Watch Winder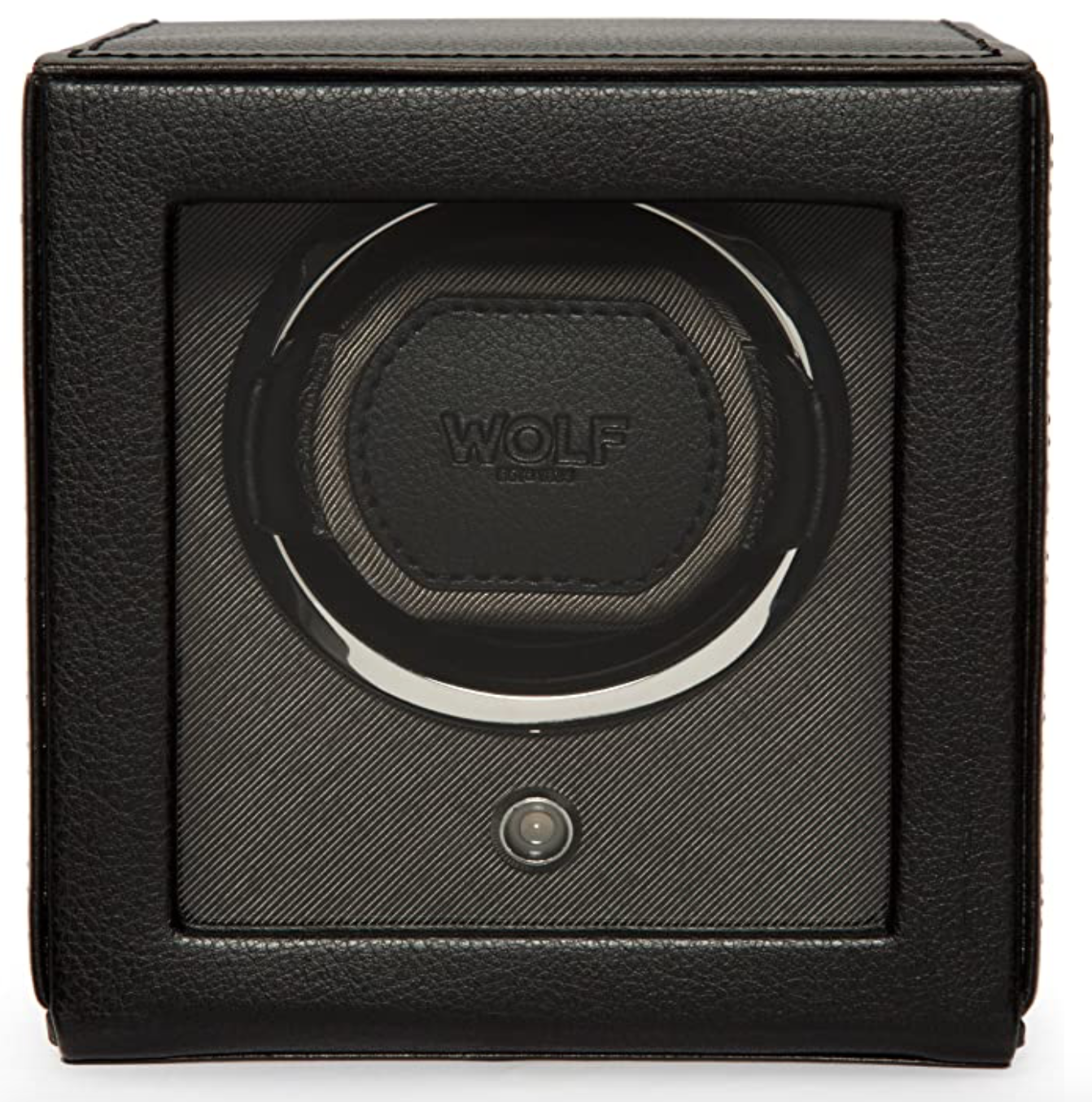 Another great winder from Wolf is the Cub single automatic which is designed to be small and practical, yet functional and beautiful.
It has a compact design which makes it easy to find a good place for it in your home, and with its elegant design, you'll certainly not want to hide this.
The winder has a glass cover and is finished in pebble faux black leather, lined with matching grosgrain satin
When it comes to the motor, you can always expect high quality and great performance from Wolf winders. The motor counts the precise number of rotations and is pre-programmed to 900 turns per day. Bi-directional setting. It rotates bi-directionally and has intermittent rotation with pause and sleep phases to prevent overwinding.
The winder is powered by two AA batteries and can also run on AC power.
---
Boxy Watch Winder for Automatic Watch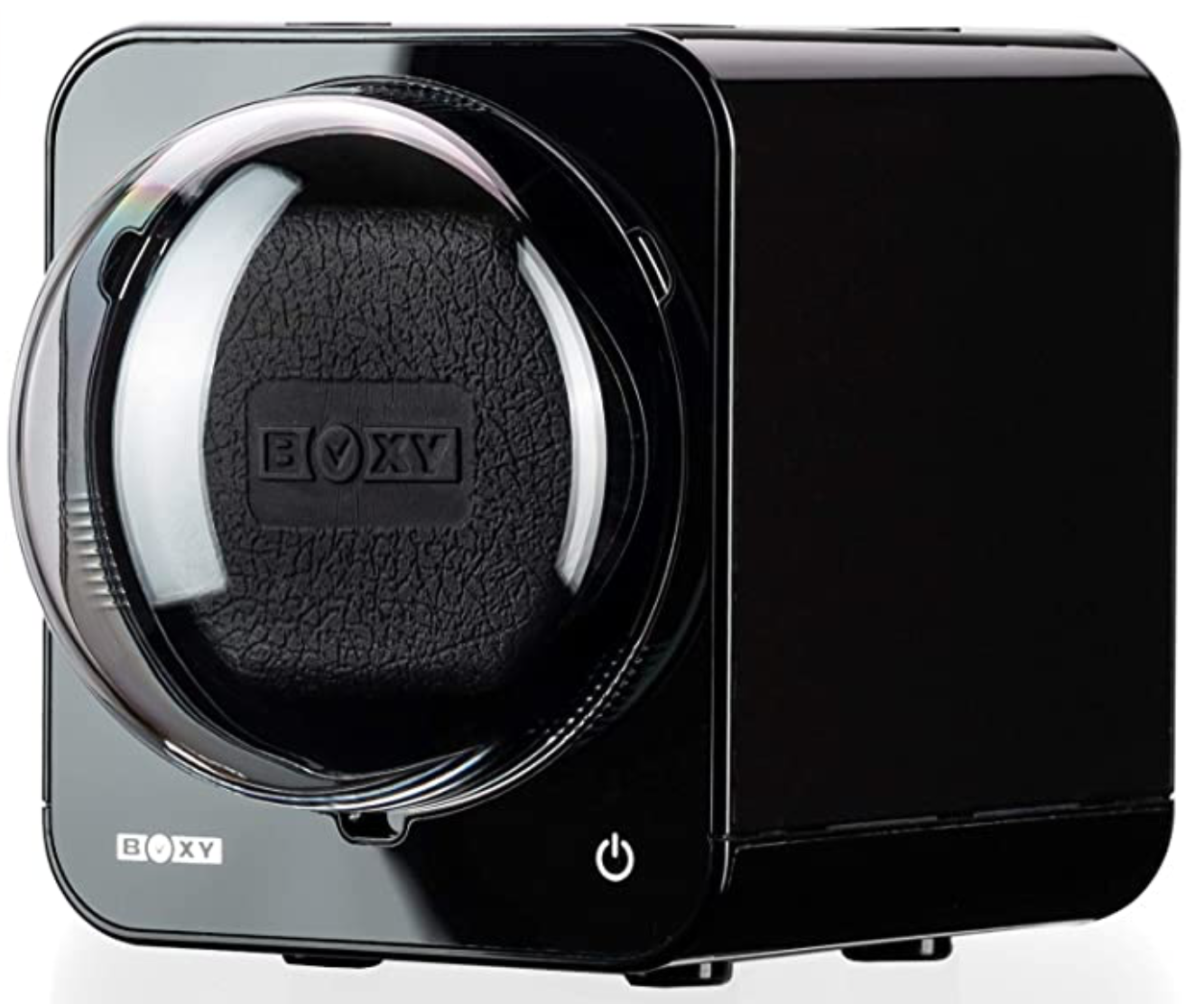 This cool and modern single watch winder has a design that stands out from most others due to its domed cover. It is also available in a large selection of colors so you can find one that suits your home and taste.
The winder has a very compact design that doesn't take up a lot of space which is convenient. The winder has a soft polyurethane watch holder and is designed to fit all kinds of different watches and sizes.
The winder has a stackable design which makes it possible to stack multiple winders and power them only with an AC adapter for convenience.
The motor has 45 available winding programs with the ability to set the number of Turns-Per-Day from 650 to 3600 TPD. When the winder stops, it stops at 12 o'clock for a better presentation of your watch. The motor counts every turn for perfect accuracy.
---
Mineesi Watch Winder

Last but not least, we have the Mineesi watch winder for a single automatic watch. It has an elegant and stylish design with a large crystal on top for good visibility of your watch.
The winder is powered by a Japanese Mabuchi silent motor and has 5 rotation modes. It can rotate clockwise, counterclockwise, and bi-directional. The winder has been designed in order to prevent overwinding. It is also made to be anti-magnetic.
It has two different power modes and can be powered either by 2 AA batteries or via an AC adapter.
---
Benefits of single watch winders
There are many reasons why you may want to opt for a single watch winder rather than a watch winder for multiple watches. The first and most obvious is the fact that they are more compact and practical. A single watch winder can fit virtually anywhere, whether that be your nightstand, a table, on top of your drawer, or in your home. On the contrary, a watch winder with multiple slots and room for multiple watches will take up a lot more space and will be more difficult to store.
Furthermore, single watch winders are, in general, more affordable than those with multiple slots for watches. With that said, if you don't have more than one or two watches or simply don't need to wind multiple watches at the same time, there's no reason to buy a winder for multiple watches. If you only have one watch in your collection, or perhaps two that you switch between, there's really no point in paying for a large winder with room for 8 watches. It's better to choose one that suits your needs, plus, you'll likely save money whilst doing so.
Because of their generally small size, it is easier to travel with them. If you want to bring your watch winder with you when traveling, this would be possible, as opposed to a large winder for multiple watches.
Also, because of their neat size, they can be designed in a more interesting way. Whilst a large winder almost always is in the shape of a rectangular box, single watch winders can have much more interesting designs which is also a bonus.
Why use a watch winder?
The simple and shortest explanation is that it keeps your automatic watch wound and prevents it from stopping when it is not in use. The power reserve of an automatic watch is only so long, so if you take it off for some time without keeping it in a watch winder, you will have to wind it and set the time when it is time to wear it again. This is particularly convenient when you have two watches – one that you wear and one that rests in between. Using a watch winder ensures that it is ready whenever you want to change.
In addition, a single watch winder can also work as an interior decoration for your home. Whilst large watch winders can look good as well, they are very large, making it more difficult to keep them openly presented in the home as decoration. A single watch winder, on the other hand, can be placed in a lot of different places.
Buying a single watch winder – buyer's guide
With so many single watch winders to choose from, it can feel overwhelming and difficult to make a pick. The most important considerations are:
Style and design
People are more prone to placing their single watch winder in a visible spot in the home due to its compact size. With that said, you want the watch winder to be stylish and fit into your home nicely. With that said, consider the style of the watch winder, or more correctly, which style of watch winder would complement your home the best. Is it an elegant wooden watch winder? A watch winder with leather trim etc? There are lots to choose from, so you should definitely be able to find one that blends into your home nicely.
Motor quality
The single most important factor when buying a single watch winder is actually not the design but rather the quality and performance of the motor. As mentioned, watch winders will, in general, not damage your watch, however, cheap watch winders are more prone to do so due to things like limited motor performance, magnetism, and overwinding.
With this said, it is important that you choose a single watch winder with plenty of settings so that you can set it according to the needs of your watch and prevent overwinding which can ultimately damage your watch.
Overall quality
Motor quality is the single most important aspect but it is not the only aspect. It is generally advised to buy a watch winder from a reputable, well-known brand and manufacturer of watch winders that is known for making high-quality and long-lasting products. This ensures that you get a watch winder that will last for a long time and continue to perform as it should for many years to come.