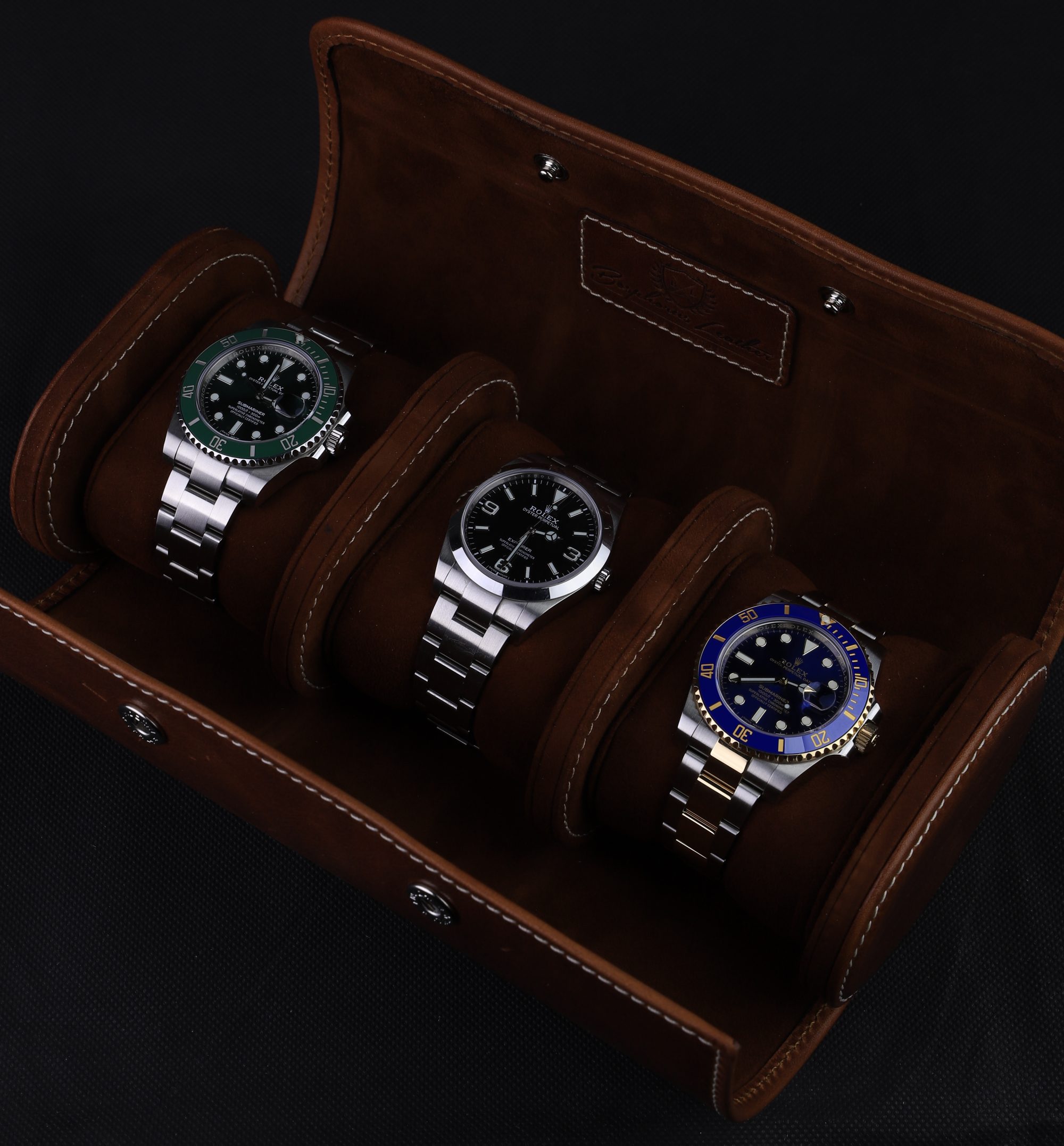 Top 6 Best Watch Rolls for Travel
Watch rolls may be the best and most effective way to travel with your watches. They are small, compact, and generally a really nice detail to your collection of accessories. Watch rolls store your watches safe and secure, and can easily fit in most bags and suitcases.
Watch rolls are called rolls because they have a circular shape. Another type of watch roll is a flat piece of leather or other fabric in which you place your watches and then roll it together. These types of watch rolls are great, but they are generally not substantially padded which means they allow you to travel with your watches easily and compactly, but may not provide the necessary protection.
When it comes to the type of watch rolls we are talking about, it's important to note that not all of them are created equal. The primary issue with certain watch rolls is that they don't have protection between each watch, which means they may hit or scuff against each other as you are traveling. This can easily be solved by placing a "bridge" or "separator" between them so they don't rub against each other. There is a lot to choose from when it comes to watch rolls, so to help you, we have created this list of the best watch rolls.
Best watch rolls
---
BILLSTONE Traveller Watch Roll for 3 Watches
This watch roll from Billstone is made in an elegant genuine robust Nappa leather  that keeps the watches well protected and creates a hard shell on the outside of the watch. It has a padded soft velvet lining on the inside to protect the watches stored inside and protect them from scratches. The hard case creates good protection for your watches when placed inside a suitcase.
It is made so you can remove each watch cushion inside to easily organize and store the watches. It has room for up to 3 watches. On the outside, the watch roll has an elastic strap to keep your watches secure.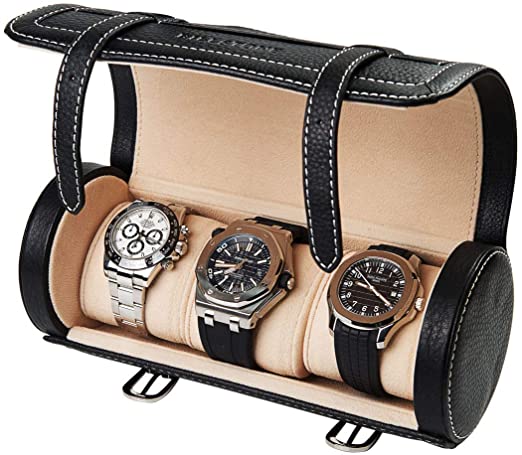 WOLF 462504 Navigator Triple Watch Roll
Wolf is a well-known and respected brand when it comes to watch winders and accessories. It is made in a luxurious leather calfskin which both looks great and provides good protection for the watches inside. The watch roll is suitable for three watches.
Inside, the case has a Union Jack lining.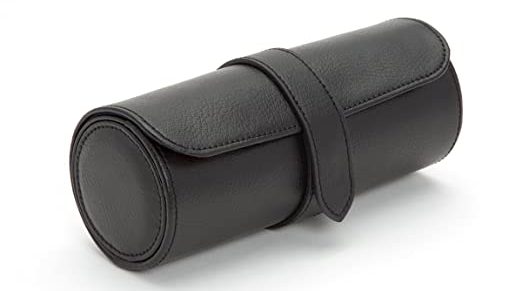 WOLF Watch Storage Case
This is another good looking and practical watch case from Wolf that is suitable for three watches. It is made in top grain leather with chrome and bold accents. The smooth brown leather with ultra-suede lining provides great protection for your watches. This makes this travel case suitable for being stored inside your suitcase when traveling.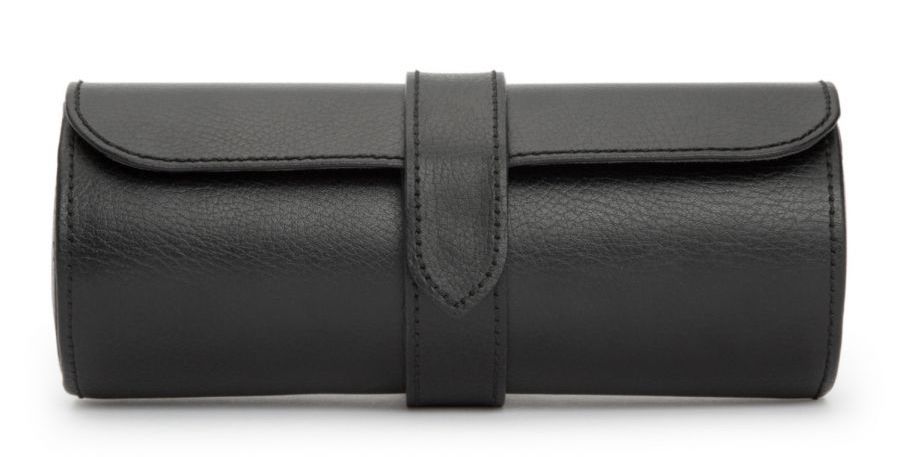 SWISS REIMAGINED Genuine Leather Portable Watch Roll Case Travel Organizer
Genuine portable watch roll travel case made by the reputable brand Swiss Reimagined. It has a felt Lined Cocoon For Your Watches to keep them well protected. It is made to hold all types of watches of all types of sizes. The roll is made in nice calf leather and opened by unfastening the buckle strap and then closed by bringing the flap over the top and fastening the strap.
The cushioned felt roll can be removed in order to wrap your watch around it. With the closed  flap, it provides good protection from outside forces.
This watch roll comes with a 12-month warranty.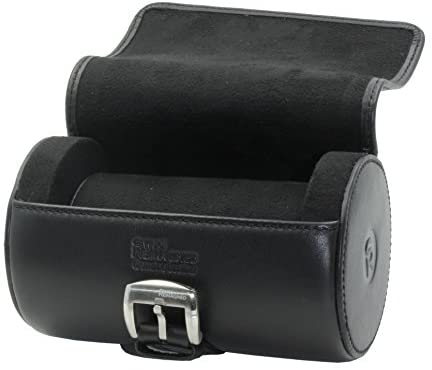 Carapaz Travel & Storage Watch Roll – for 4 Watches
This Carapaz travel & storage roll is made for 4 watches, which is more than the standard 2 or 3 slots that is common for watch rolls. This makes it a great travel companion if you are looking to bring with you more watches. The case has a stand function which is a nice feature for allowing the watch roll to stand on a flat surface. The stand function allows you to display the watches in the roll on a table in an upright position. It is made in a nice and qualitative navy blue full-grain leather.
The Carapaz watch travel case is one of the best watch travel cases on the market as it features a rail system which keeps the watches in place but also allows for easy access as it means you are able to remove individual watches from the roll. It features flexible cushions that can hold watches with a number of different bracelet sizes, between 6.3" and 8.2" The roll has a soft microfiber fabric inside and a 5-buttons closure to keep it shut.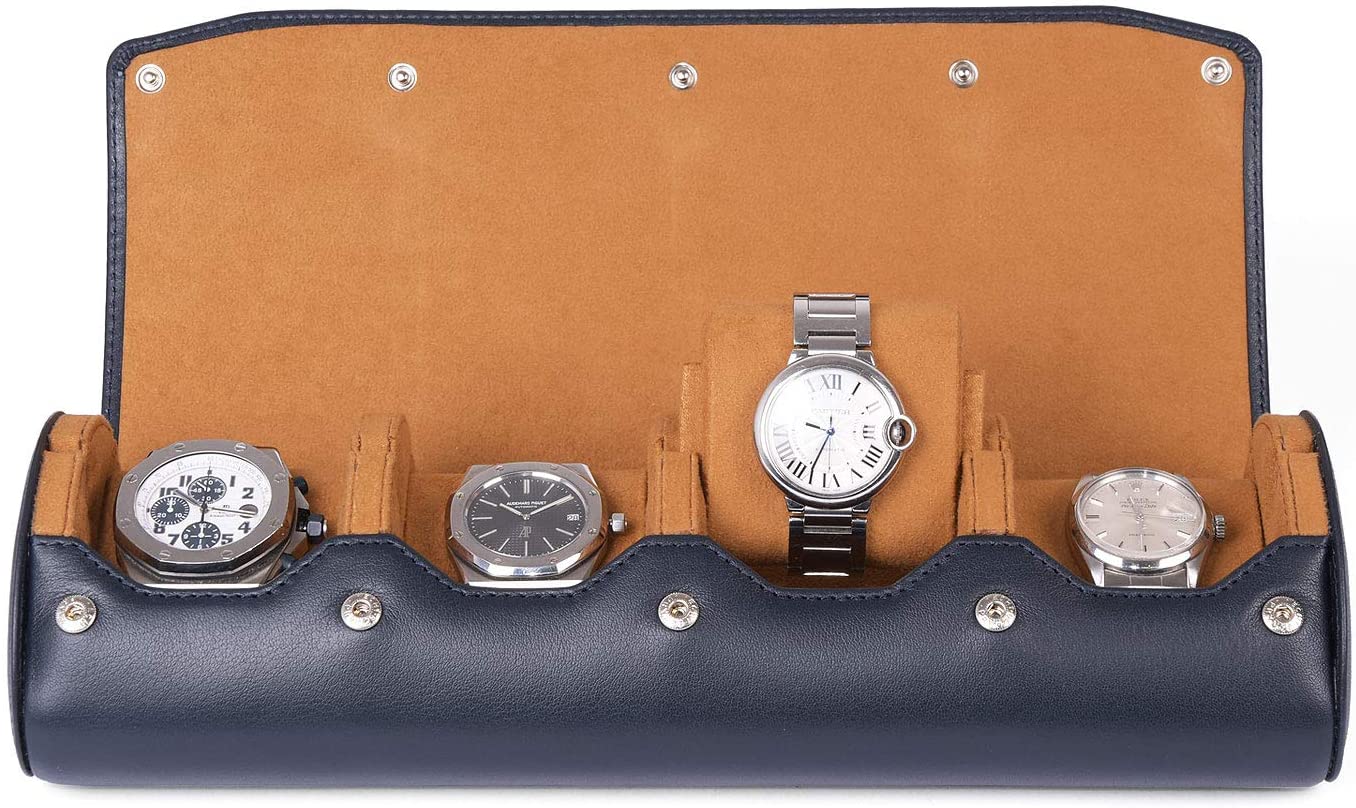 Royce Leather Executive Travel Watch Roll
The hardware of this leather travel watch roll is milled and the exterior is adorned in full genuine leather. The interior is appointed with authentic suede to keep the watches protected and safe from scratches inside.
It has hard outer protection to protect from outside force and is great for keeping it inside your suitcase. It is small and compact watch roll that can store two watches.