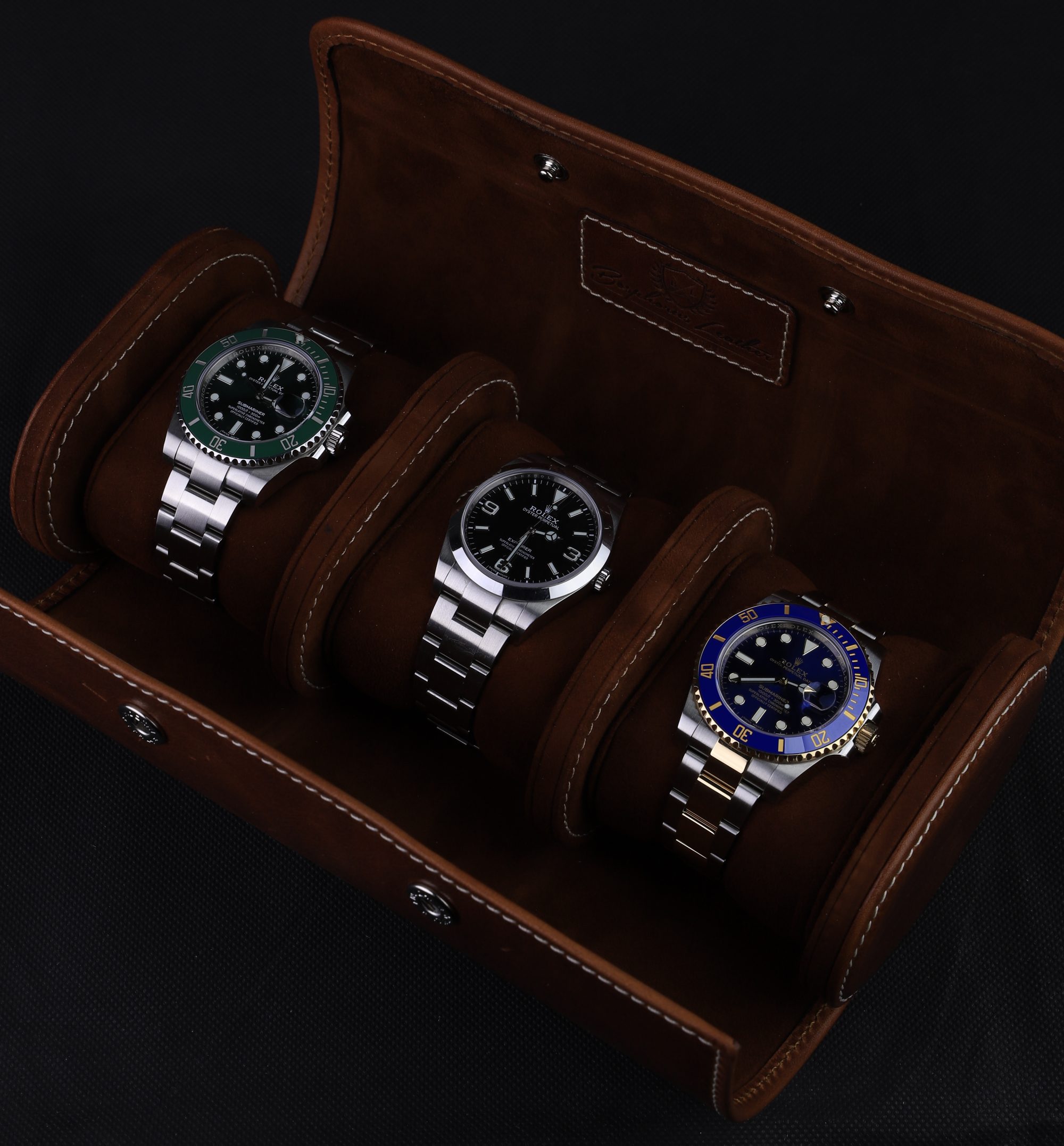 Top 11 Best Watch Rolls for Travel [List & Guide]
Watch rolls may be the best and most effective way to travel with your watches. They are small, compact, and generally a really nice detail to your collection of accessories. Watch rolls store your watches safely and securely, and can easily fit in most bags and suitcases.
Watch rolls are called rolls because they have a circular shape. Another type of watch roll is a flat piece of leather or other fabric in which you place your watches and then roll them together. These types of watch rolls are great, but they do not generally have great protection and padding. In practice, this means they allow you to travel with your watches easily and compactly, but may not provide the necessary protection to keep your watches safe.
Choosing a watch roll
When it comes to the type of watch rolls we are talking about, it's important to note that not all of them are created equal. The primary issue with certain watch rolls is that they don't have protection between each watch, which means they may hit or scuff against each other as you are traveling. This can easily be solved by placing a "bridge" or "separator" between them so they don't rub against each other. There is a lot to choose from when it comes to watch rolls, so to help you, we have created this list of the best watch rolls.
Further on in the article, we'll also look at the most important things to consider when buying a watch roll so you can find the best one for your needs.
Best watch rolls
As an Amazon Associate, we may earn from qualifying purchases, at no extra cost to you.
---
Billstone Traveller Watch Roll for 3 Watches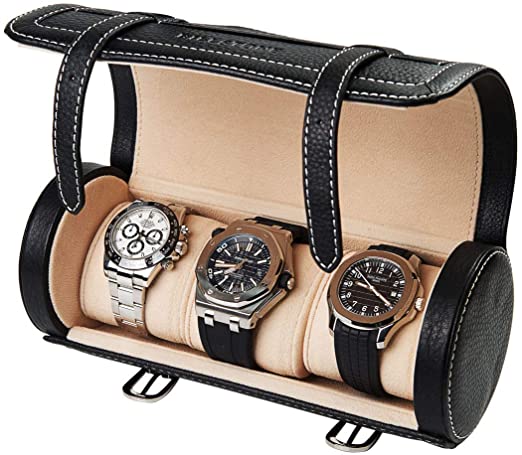 This watch roll from Billstone is made in elegant genuine robust Nappa leather that keeps the watches well protected and creates a hard shell on the outside of the watch. It has a padded soft velvet lining on the inside to protect the watches stored inside and protect them from scratches. The hard case creates good protection for your watches when placed inside a suitcase.
It is made so you can remove each watch cushion inside to easily organize and store the watches. It has room for up to 3 watches. On the outside, the watch roll has an elastic strap to keep your watches secure.
---
WOLF 462504 Navigator Triple Watch Roll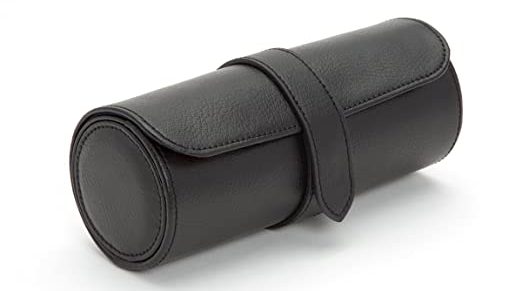 Wolf is a well-known and respected brand when it comes to watch winders and accessories. It is made in a luxurious leather calfskin which both looks great and provides good protection for the watches inside. The watch roll is suitable for three watches. Inside, the case has a Union Jack lining and the exterior is finished in leather.
---
WOLF Watch Storage Case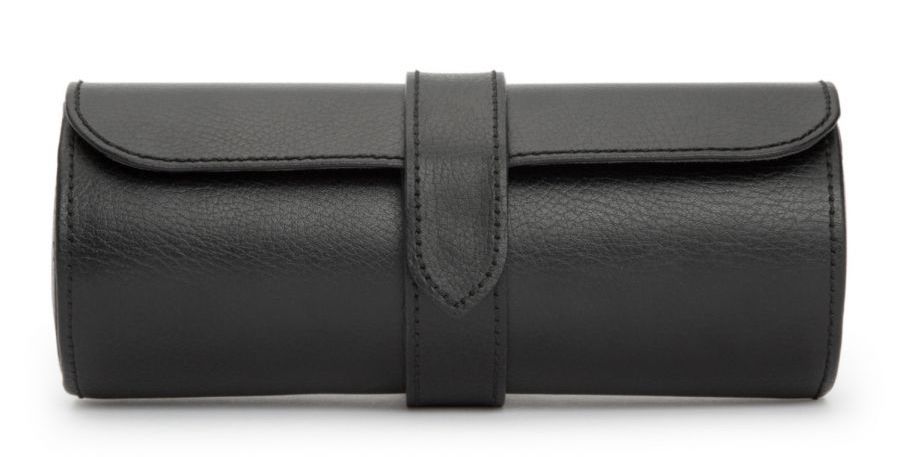 This is another good-looking and practical watch case from Wolf that is suitable for three watches. It is made in top-grain leather with chrome and bold accents. The smooth brown leather with ultra-suede lining provides great protection for your watches. This makes this travel case suitable for being stored inside your suitcase when traveling.
---
Swiss Reimagined Genuine Leather Portable Watch Roll Case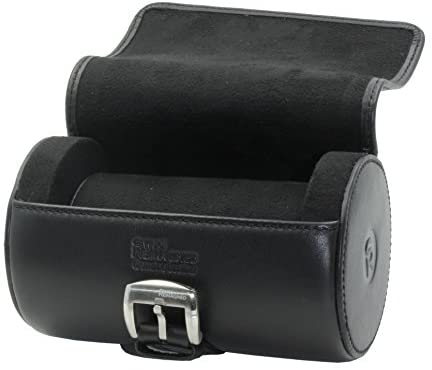 Genuine portable watch roll travel case made by the reputable brand Swiss Reimagined. It has a felt Lined Cocoon For Your Watches to keep them well protected. It is made to hold all types of watches of all types of sizes. The roll is made in nice calf leather and opened by unfastening the buckle strap and then closed by bringing the flap over the top and fastening the strap.
The cushioned felt roll can be removed in order to wrap your watch around it. With the closed flap, it provides good protection from outside forces. This watch roll comes with a 12-month warranty.
---
Carapaz Travel & Storage Watch Roll – for 4 Watches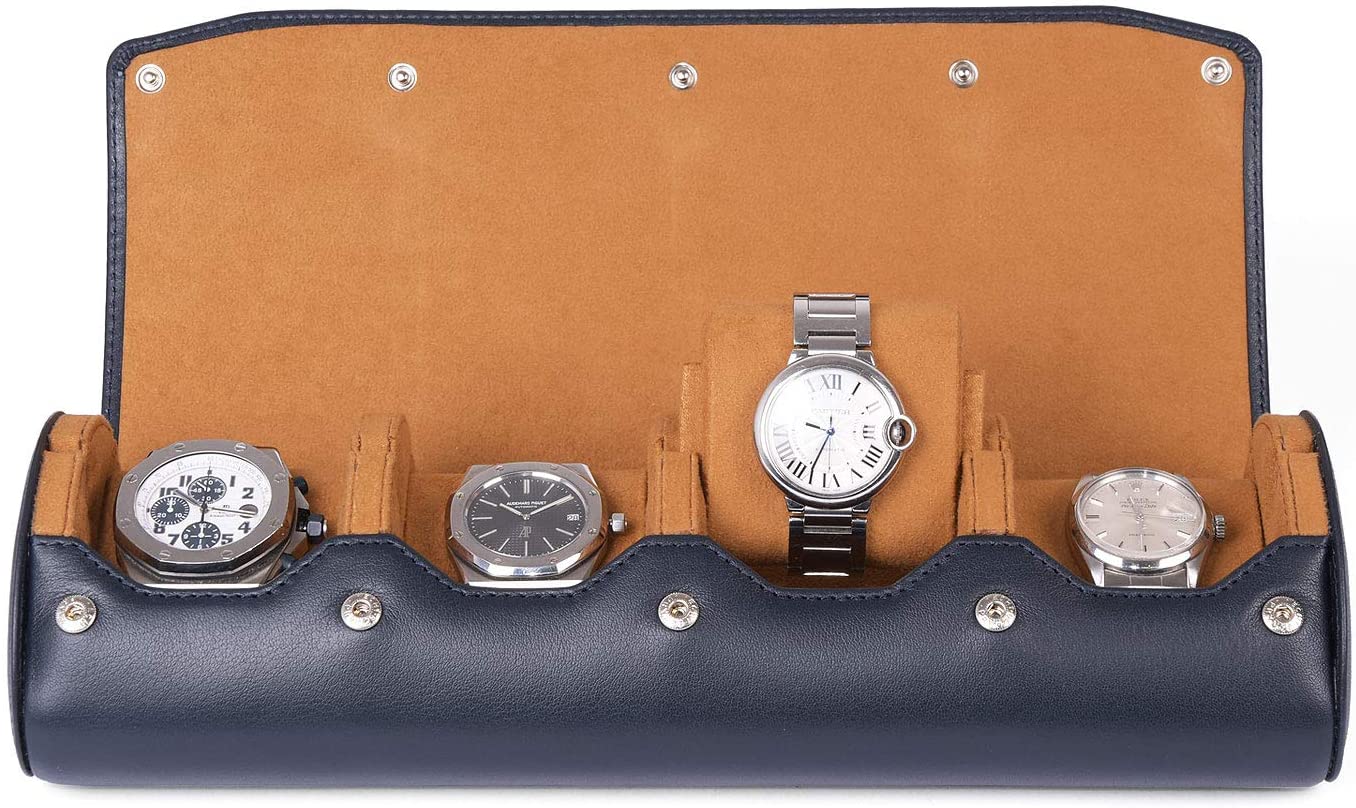 This Carapaz travel & storage roll is made for 4 watches, which is more than the standard 2 or 3 slots that are common for watch rolls. This makes it a great travel companion if you are looking to bring with you more watches. The case has a stand function which is a nice feature for allowing the watch roll to stand on a flat surface. The stand function allows you to display the watches in the roll on a table in an upright position. It is made in a nice and qualitative navy blue full-grain leather.
The Carapaz watch travel case is one of the best watch travel cases on the market as it features a rail system that keeps the watches in place but also allows for easy access as it means you are able to remove individual watches from the roll. It features flexible cushions that can hold watches with a number of different bracelet sizes, between 6.3" and 8.2" The roll has a soft microfiber fabric inside and a 5-buttons closure to keep it shut.
---
Royce Leather Executive Travel Watch Roll
The hardware of this leather travel watch roll is milled and the exterior is adorned in full genuine leather. The interior is appointed with authentic suede to keep the watches protected and safe from scratches inside.
It has hard outer protection to protect from outside force and is great for keeping it inside your suitcase. It is a small and compact watch roll that can store two watches.
---
Diplomat 31-443 Black Leather Watch Travel Roll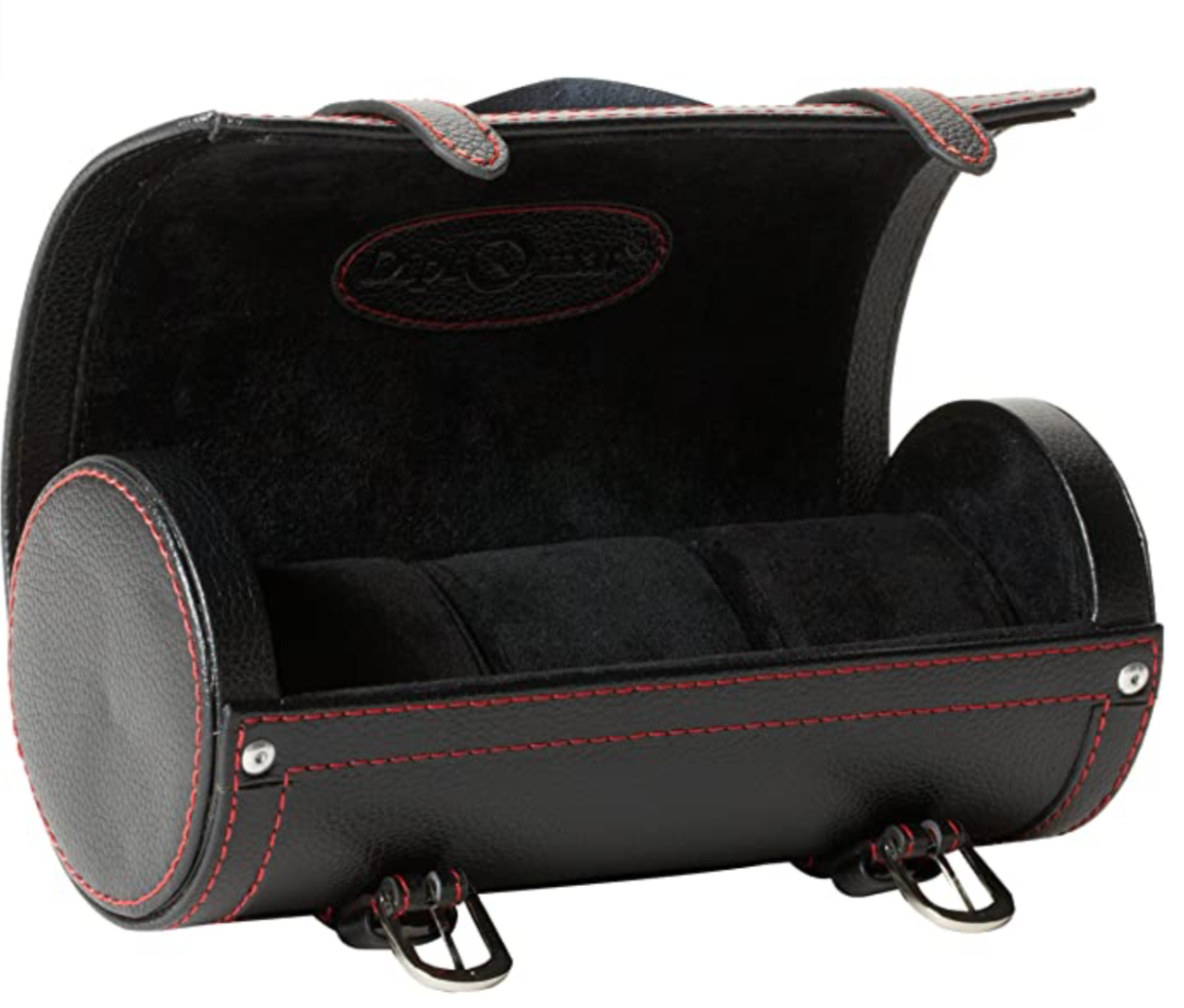 The Diplomat 31-443 is a stylish leather watch travel case that can store up to three watches. The exterior is made of rich black leather with stylish red stitching for a sportier look. The inside is lined with rich black leather and has soft black suede for the areas where the watches come in contact with the case. It is designed with two belt-style straps and buckles which keep your watches safe and protected and prevents them from opening up which is particularly important when traveling.
Diplomat is known for making high-quality, long-lasting products, and this watch roll is no exception.
---
Triple Tree Watch Roll for three watches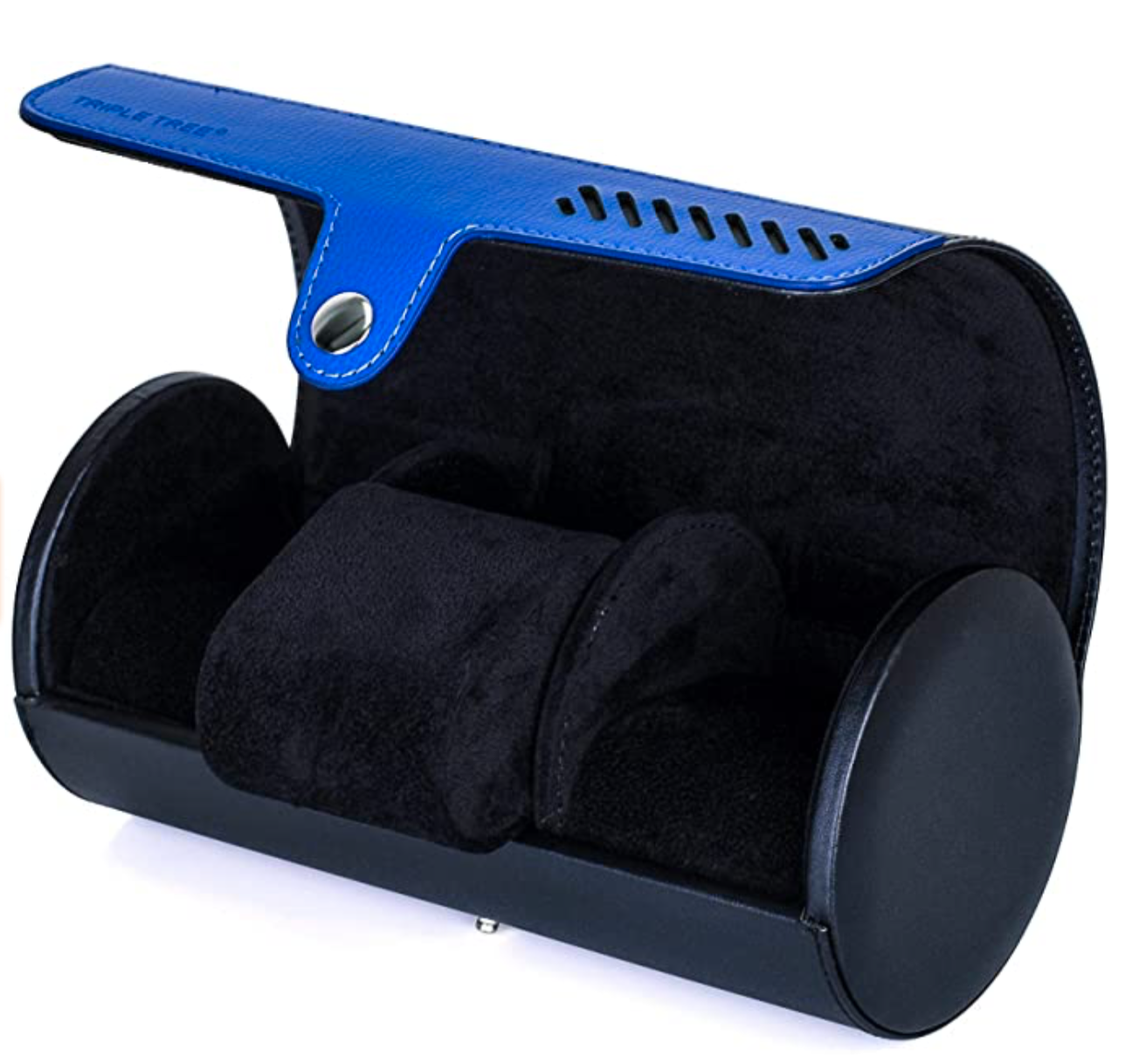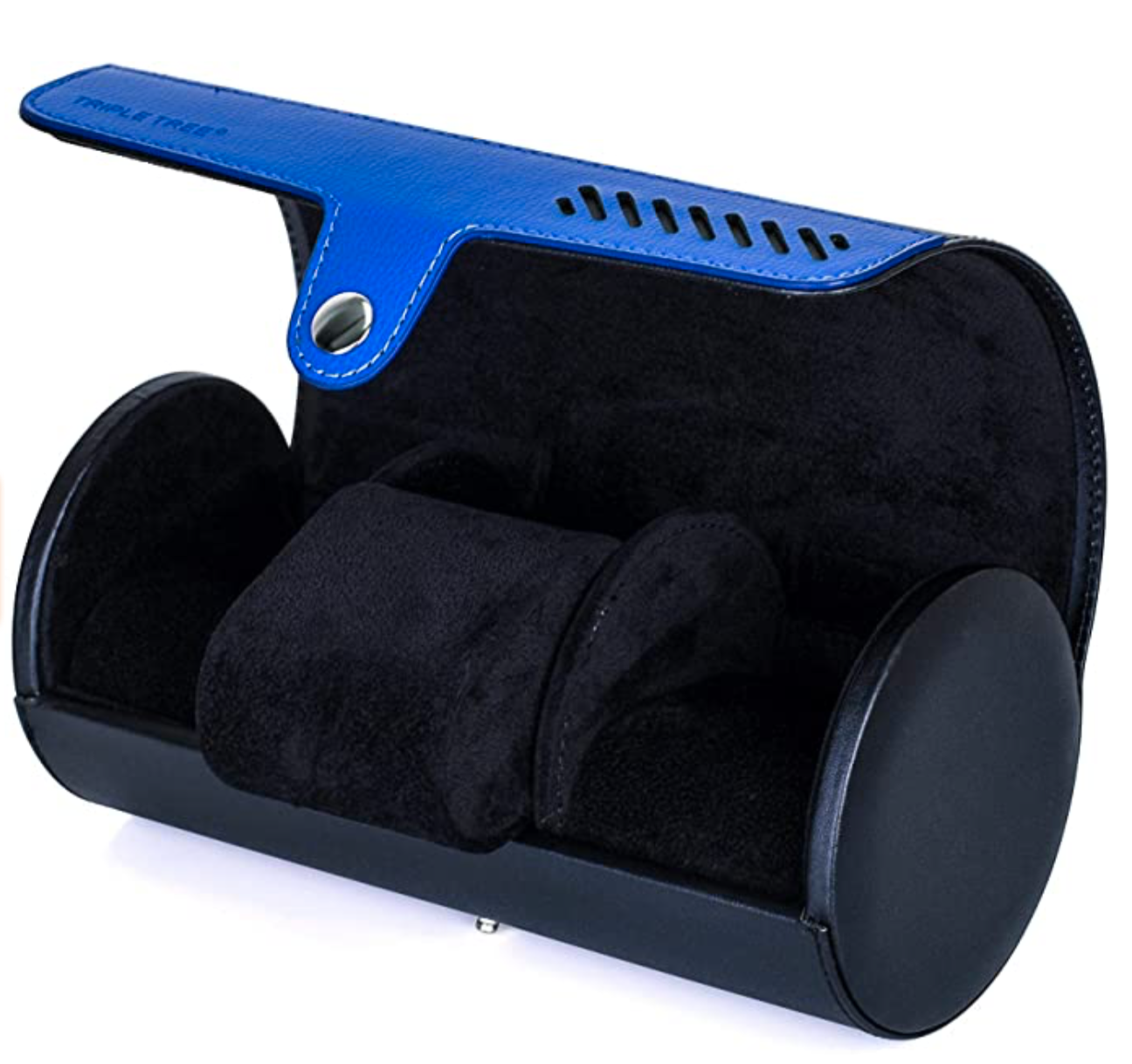 The Triple Tree watch travel case stands out from most other watch rolls on the market and has a slightly more interesting design with its blue leather accent. The watch roll can hold up to 3 watches and has three different slots which are great for keeping the watch from hitting or rubbing each other. The cushions are removable which allows for easier access to your watches. The cushions are made in a non-slip design with foam to hold the watches tightly in place and prevent them from sliding around.
The watch roll opens and closes with a snap button to keep the watches from falling out. The exterior is made of soft PU leather and the interior has a soft fabric to prevent the watches from scratching.
The case is constructed with a hard plastic shell underneath the PU leather to prevent the watches from being crushed, which is particularly important when traveling. It is also made with thicker core material to ensure good shock protection.
If you prefer a more traditional look, it is also available in brown.
---
Case Elegance Leather Travel Watch Case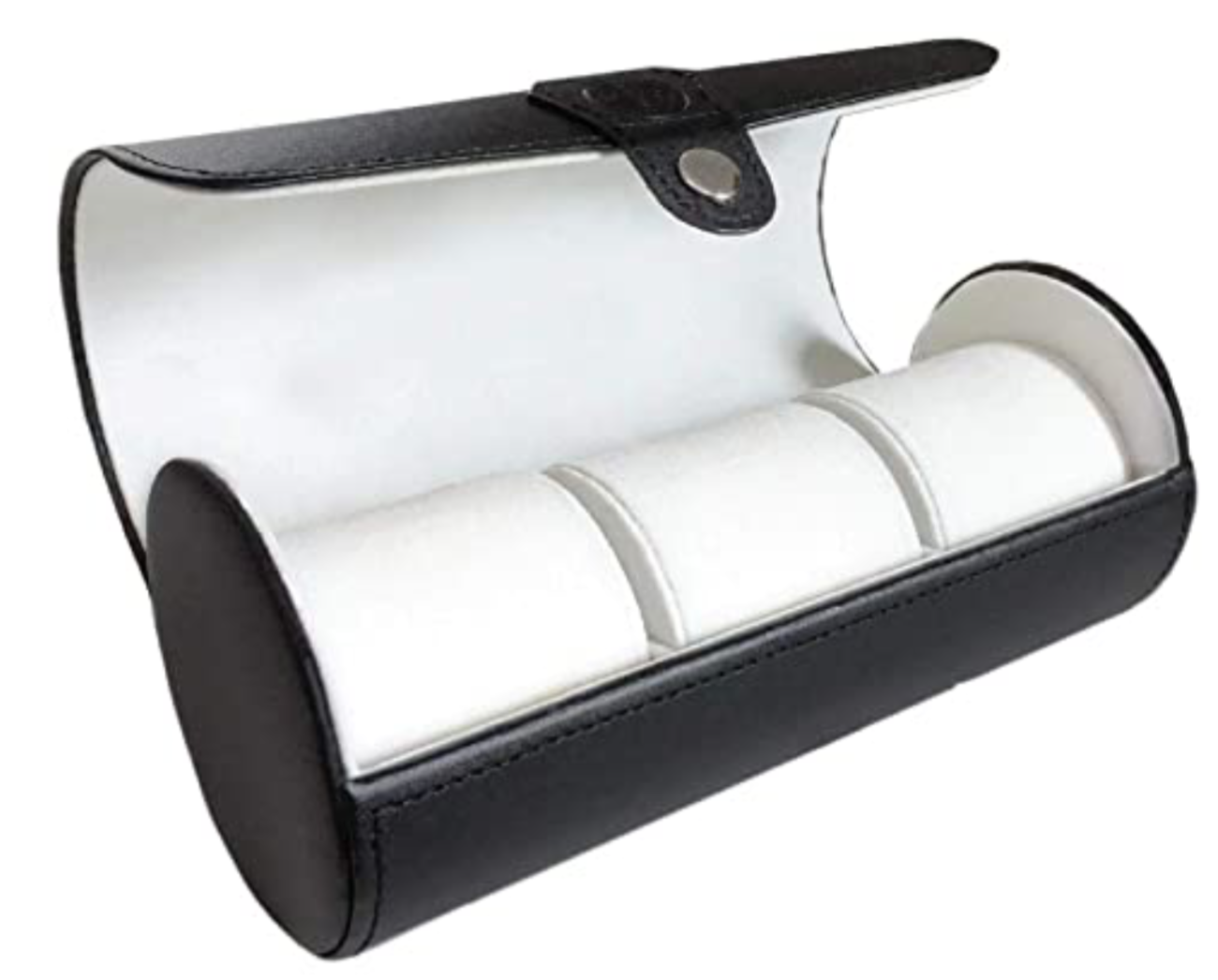 This is a more affordable watch travel case but with a classic design. It can hold up to three watches and has one for larger watches and one for smaller watches so you can fit watches in all sizes.
To prevent it from becoming crushed, the case is made from a solid plastic mold which also helps make it more shock-resistant. The watch roll also has dividers to prevent the watches from sliding around which, according to us, is very important in a watch roll. The travel case exterior is made of vegan leather and the interior is made in an ultra-soft fabric, just like the cushions.
---
Sovreig Watch Roll Genuine Leather
Last but not least, we have this Sovreign watch roll. It can hold up to three watches and has all of the design features that you may want in a watch roll. It is made with a genuine leather exterior for a long-lasting and beautiful look. The interior is made of soft suede to protect against scuffs or scratches. It is also designed with a flat base to prevent rolling.
It is equipped with removable pillows and studs to keep the pillows in position. The cushions also have dividers to prevent the watches from damaging each other.
---
Rapport HydePark Double Watch Roll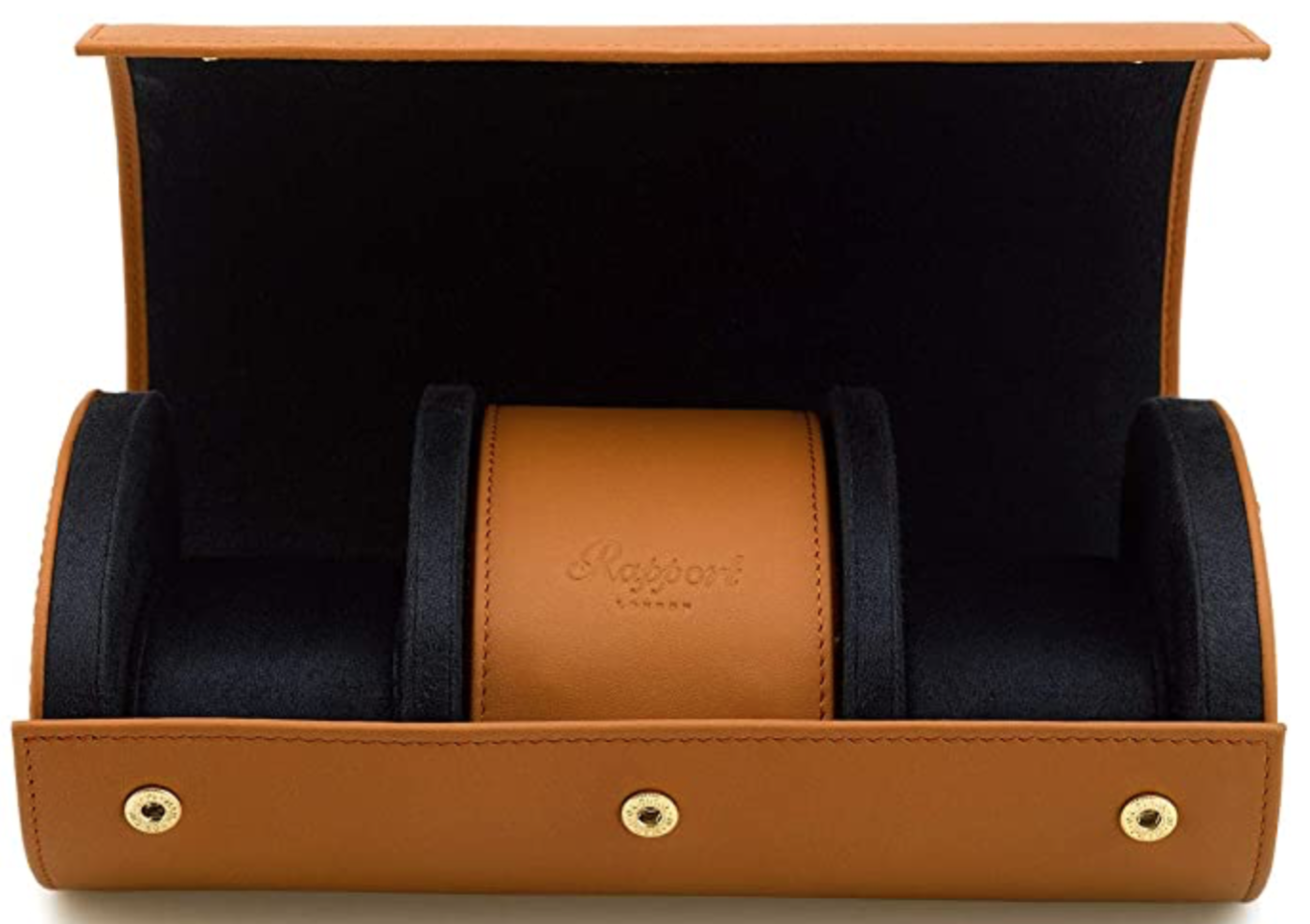 For those who want ultimate luxury and a premium, high-quality watch roll, look no further than the Rapport HydePark. Rapport is well-known for making high-quality, long-lasting products in premium materials, and this one is no exception. It is available either in tan leather or navy blue leather and is hand-stitched in a fine-grain leather construction and can store 2-3 watches. What makes this one stand out from the others is the fact that the center slot is actually a removable travel watch roll. This is a great feature because, for the times when you only need to travel with one watch, you can simply remove the travel roll and bring it with you. The inside has a suede lining to keep the watches protected.
Naturally, this watch roll costs more than most of the others with a price of around 400 dollars, but you get a premium, carefully thought-out watch roll made by hand and in luxurious materials.
---
Watch rolls buyer's guide
With so many different watch rolls on the market, here are some of the most important things to consider to find the perfect one for your needs.
Material
First and foremost, you want to consider the material in which your watch roll is made. There are an endless number of watch rolls on the market in all kinds of different materials. The most common material used is leather, but other materials used are synthetic, fabric, and so on. There are several reasons why leather is the most popular for watch rolls, including it gives a luxurious impression, is high-quality, and is long-lasting.
The exterior material is important for three main reasons:
Look, feel, and design
Quality and longevity
Protection
Some materials are more durable and long-lasting than others. Some materials also provide greater protection for your watches. The most common is of course leather but there are plenty of other materials to choose from if you prefer.
Construction
The construction of your watch roll is another factor you want to take into consideration. This primarily relates to the closing function as well as the way the cushions are integrated into the roll. Watch rolls normally use either a buckle, snap button, or zipper, but can also use magnets or velcro. All of them have their own sets of benefits, but the reason that you often see snap buttons is that they are the most convenient. Obviously, you want to be careful with magnets, and buckles take some time to open and close.
When it comes to the cushions, you usually find "snap-buttons", rail systems, or nothing, where the cushions are held in place by solely the construction of the case. Our preference leans towards the railing system as it allows for quick and easy access, whilst also holding them in place, but this is a new and innovative technology that most watch roll manufacturers have not yet started to implement.
Size and watch slots
When it comes to the number of watch slots, the size naturally correlates with the number of slots it has. The most common is 2 or 3 slots but there are watch rolls with both one slot and 5 slots. For more than 5, it is usually more convenient to just use a watch box or watch case as the watch roll gets so long. If you need to store more than 5 watches, you should therefore look at a different alternative. A single watch roll is practical if you're traveling and just want to bring one additional watch with you. These rolls are small, compact, and practical to travel with.
Interior material
The interior material is yet another factor that you should consider. This is important because this is the material that your watches are in contact with consistently when they are stored in the watch travel case. Therefore, you need to ensure that the interior material is soft and does not scratch or cause damage to your watches. The best materials here are suede or velvet. It is not ideal to have watch rolls that use materials such as leather. Furthermore, you'll also want to stay away from watch rolls with metal inside that can come in contact with your watch.
Color
Watch rolls are available in many different colors, so it can be good to decide which color you would prefer. The most classic is black or tan leather, but you can find blue, green, and any other colors as well.
How will you use it?
Worth mentioning is that watch rolls are not just made for traveling. A lot of people simply use them as a place for storing their watches and keeping them gathered in one place. Furthermore, if you have a watch safe, a watch roll can be a great compliment in which you can store them so that you get easy access to the watches and also keep them protected at the same time.