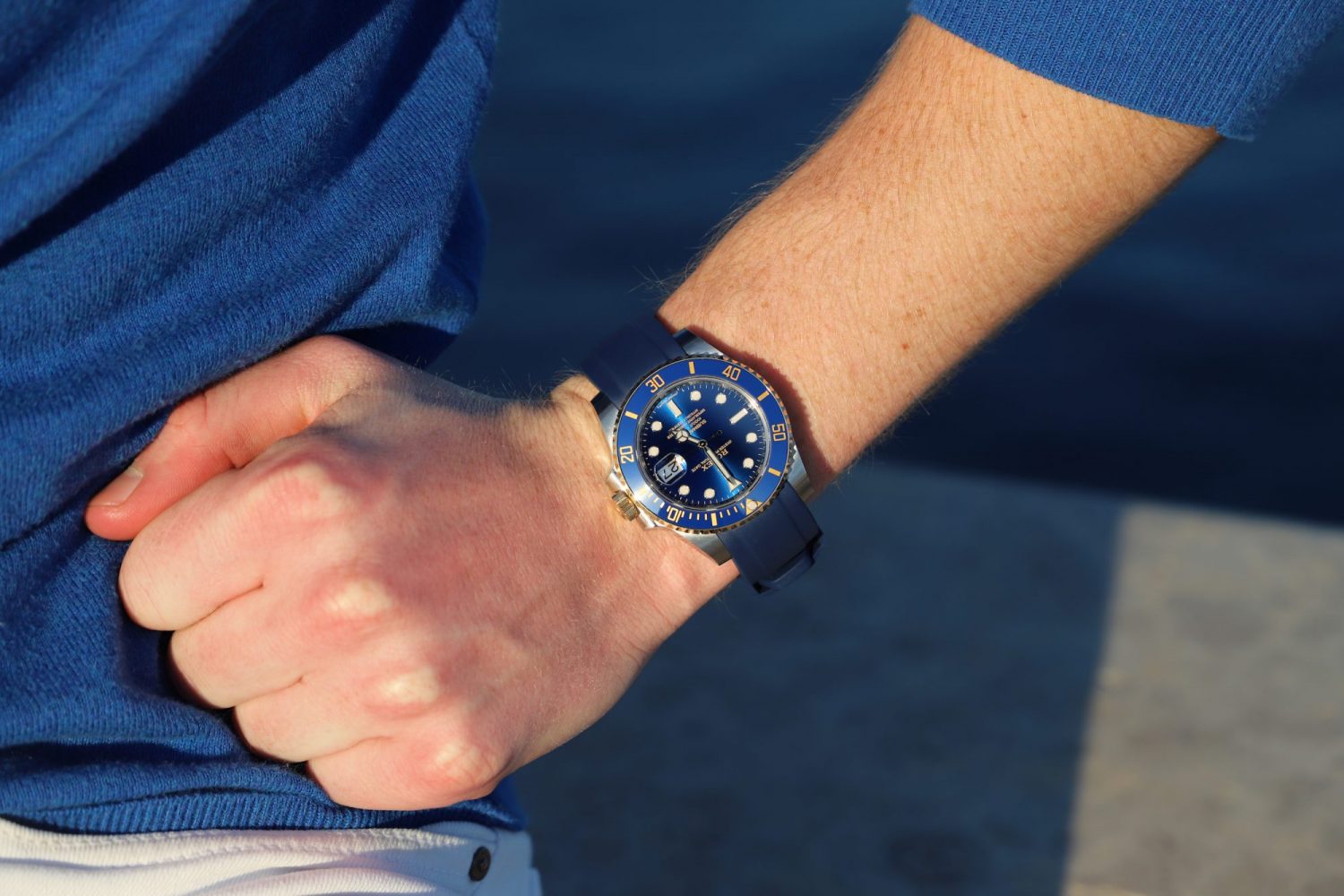 Rolex Submariner Ceramic Rubber Strap: Complete Guide
Are you looking for a Rolex Submariner Ceramic Rubber Strap?
Over the years, rubber straps for watches have become increasingly popular.
In fact, over the years, straps for watches as a whole as increased in popularity.
They come in all shapes and forms, NATO-straps, person straps, rubber straps, mesh bands, and so on. Today, there's a whole industry of watch bracelets and straps that you can choose from. And the increased demand for and interest in watch straps has to do with the fact that buying extra straps for your watch has several benefits, but most importantly, it allows you to give your watch a new personality, and in many cases change its look completely. That is totally true for the Rolex Submariner rubber strap.
Rubber straps are a band type that has become very popular, and apart from the fact that they look great, they also have several more technical advantages.
A watch that has become very popular to use a rubber strap on is the Rolex Submariner ceramic.
Rolex Submariner ceramic rubber straps have become extremely popular among Submariner owners, and in this article, we're discussing the benefits they have, how you can use them, as well as look closer at some great alternatives you can buy for your own Rolex Submariner ceramic.
We are proud to be an official Everest Bands retailer, and thus able to provide our customers with the best rubber straps on the market for Rolex watches.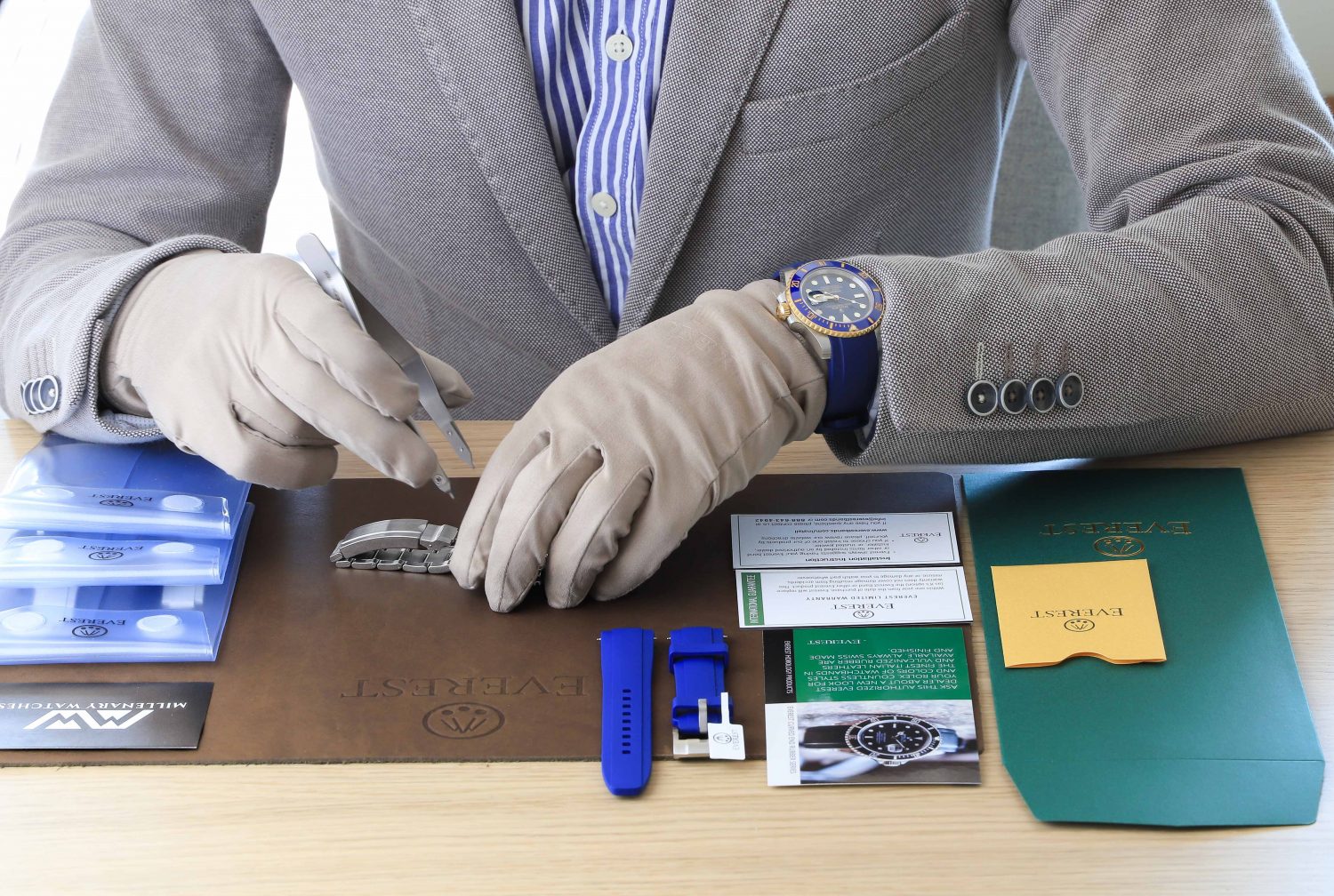 Benefits of having a Rolex Submariner ceramic rubber strap
As mentioned, Rolex Submariner ceramic rubber straps have plenty of benefits. The first is of course that they look extremely good. A Rolex Submariner Submariner ceramic is a true diver's watch. Built to handle 300 meters of water, used by professional divers, and originally developed for them, the Submariner is a watch that naturally has a bold and sporty personality. And what strap is better for a serious dive watch than a rubber strap?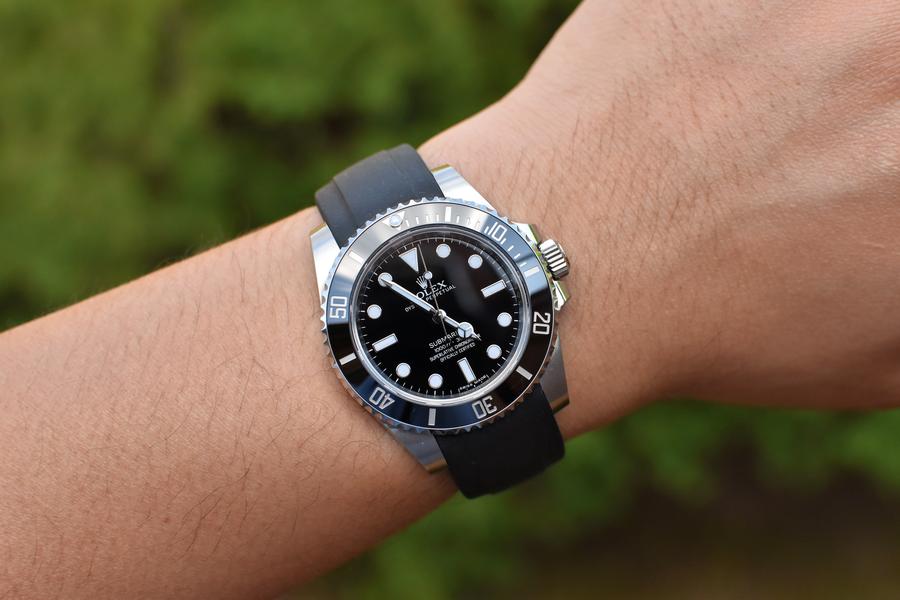 The Rolex Submariner is as made to be worn on a rubber strap, and since Rolex does not offer any rubber strap for the model, you simply have to look at other, externally produced rubber straps. One of which is Everest bands, which arguably makes the best rubber straps for the Submariner. Both in terms of tech, quality, and comfort.
So, if you want to give your Submariner a new look and a sporty appearance, a rubber strap for it is definitely the way to go, because there's barely any Rolex watch that looks as good on a rubber strap than it.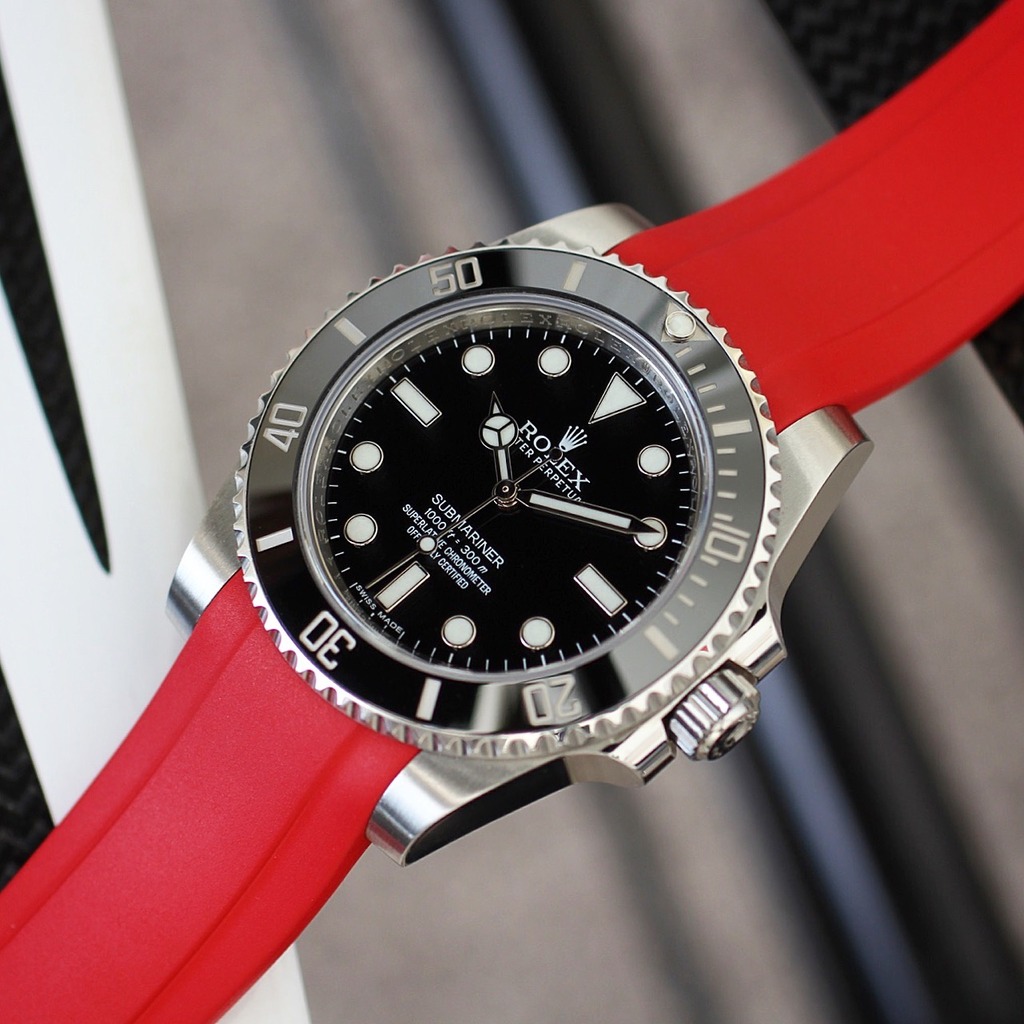 Prevents scratches on your bracelet
A watch naturally tends to accumulate scratches when wearing it. And the most exposed area of the watch is the bracelet – in particular the clasp. And if you're a person who like to avoid scratches on your Rolex watch and bracelet, a rubber strap is a great solution to keep your bracelet in excellent condition, yet still have your Rolex Submariner Ceramic look as good as always.
Now, if you don't care about scratches a lot, but still want a nice rubber strap to give your watch a new life, you have deployment rubber straps which means that you attach your clasp to rubber parts to get a rubber strap with a really great looking (and technically awesome) Rolex clasp.
Comfort
Rubber straps are extremely comfortable.
While Rolex makes an amazing Oyster bracelet for the Submariner ceramic, steel is always steel, and is obviously hard.
Rubber, on the other hand, is quite soft, and thus sifts against your wrist very comfortably.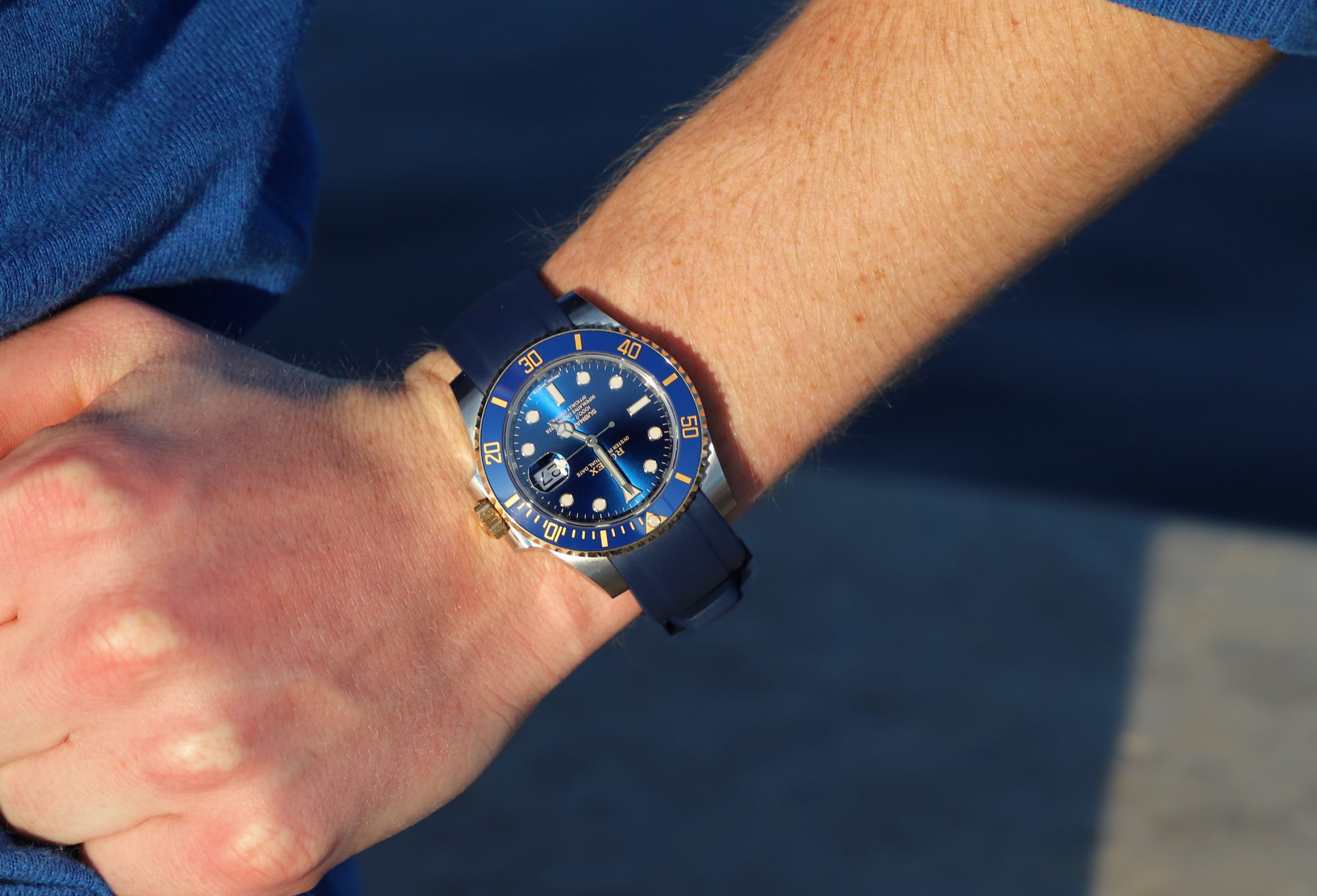 Also, because the Oyster bracelet is robust, you're removing quite a bit of weight from your watch when putting it on a rubber strap instead.
Durability
Rubber straps for your Rolex Submariner ceramic are highly durable. Rubber can handle virtually anything, from cold temperatures to rough environments. Your rubber strap will not let you down, just like your Submariner.
Also, while rubber straps are quite sporty in nature, they work surprisingly well for most occasions, especially on the Submariner ceramic. In fact, you'd be surprised at how well a Submariner on a black rubber strap, for example, goes with a suit.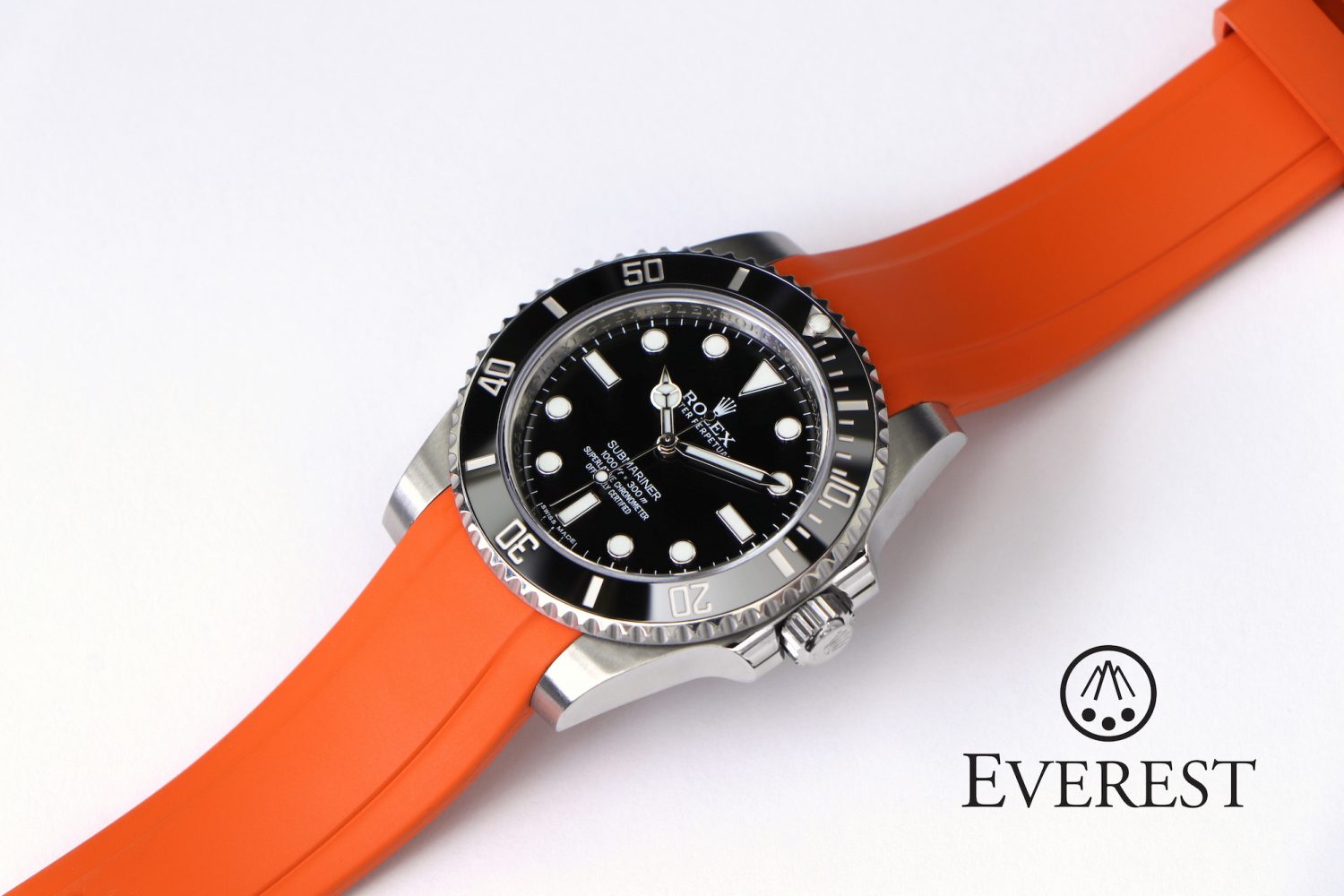 Mix and match
A benefit of changing straps on your watch is of course that it gives you the ability to mix, match, and change your watch strap depending on what occasion you're using it for, and what clothes you are wearing. As mentioned, changing straps on your Rolex Submariner truly gives it a completely new character, and by changing between different colors, you can make sure that you will never get tired of your watch
There are a large number of colors out there for you to explore!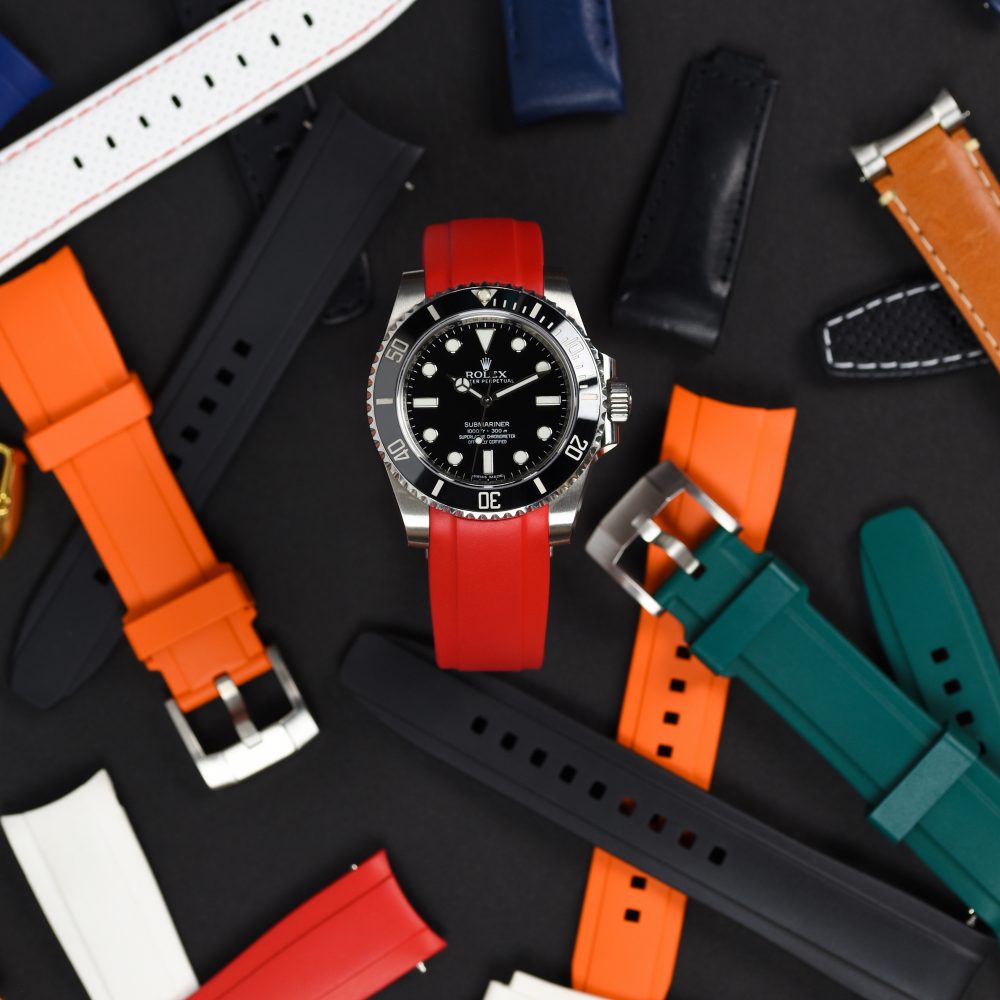 Rolex Submariner rubber strap
We are proud to be an official retailer of Everest bands, so let's have a look at what makes these rubber straps so immensely popular and so very useful.
Precision fit to your Rolex model
The Everest rubber straps offer a perfect fit for your Rolex Submariner ceramic. the curved end meets the case of the watch flawlessly and makes it look as if the Submariner was meant to be on a rubber strap. The straps are perfectly integrated into the case and lugs, ensuring a perfect fit with no rattle.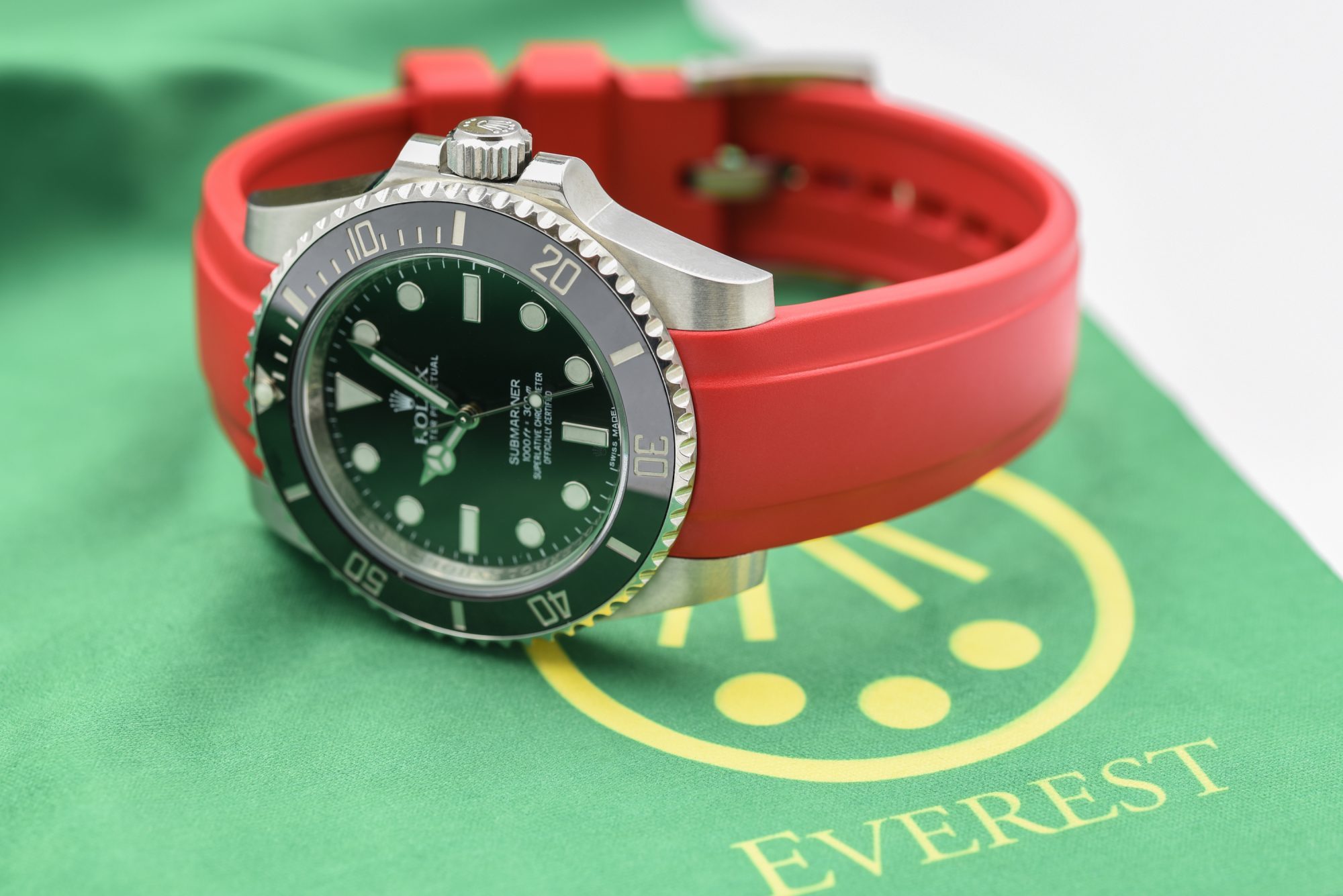 The Rolex Submariner is made in Switzerland, so it makes sense that the watch straps that you use for it also are. Everest does not compromise on the quality of their straps, and just like the Swiss are known for their high-precision watches, they apply these techniques to making flawless rubber watch straps.
UV, Dust, Water, and Chemical resistant. Made of the highest quality rubber in the world. Durable and supple vulcanized Swiss rubber
The high-quality rubber used for the Everest rubber straps ensures that not only are they extremely comfortable to wear, but they also last for a very long time. The straps also offer great resistance to excessive heat and cold, stretching, tearing, dirt and dust, abrasion, chemicals, staining, and more.
All of this protects the straps from losing their "shine" and great look over time.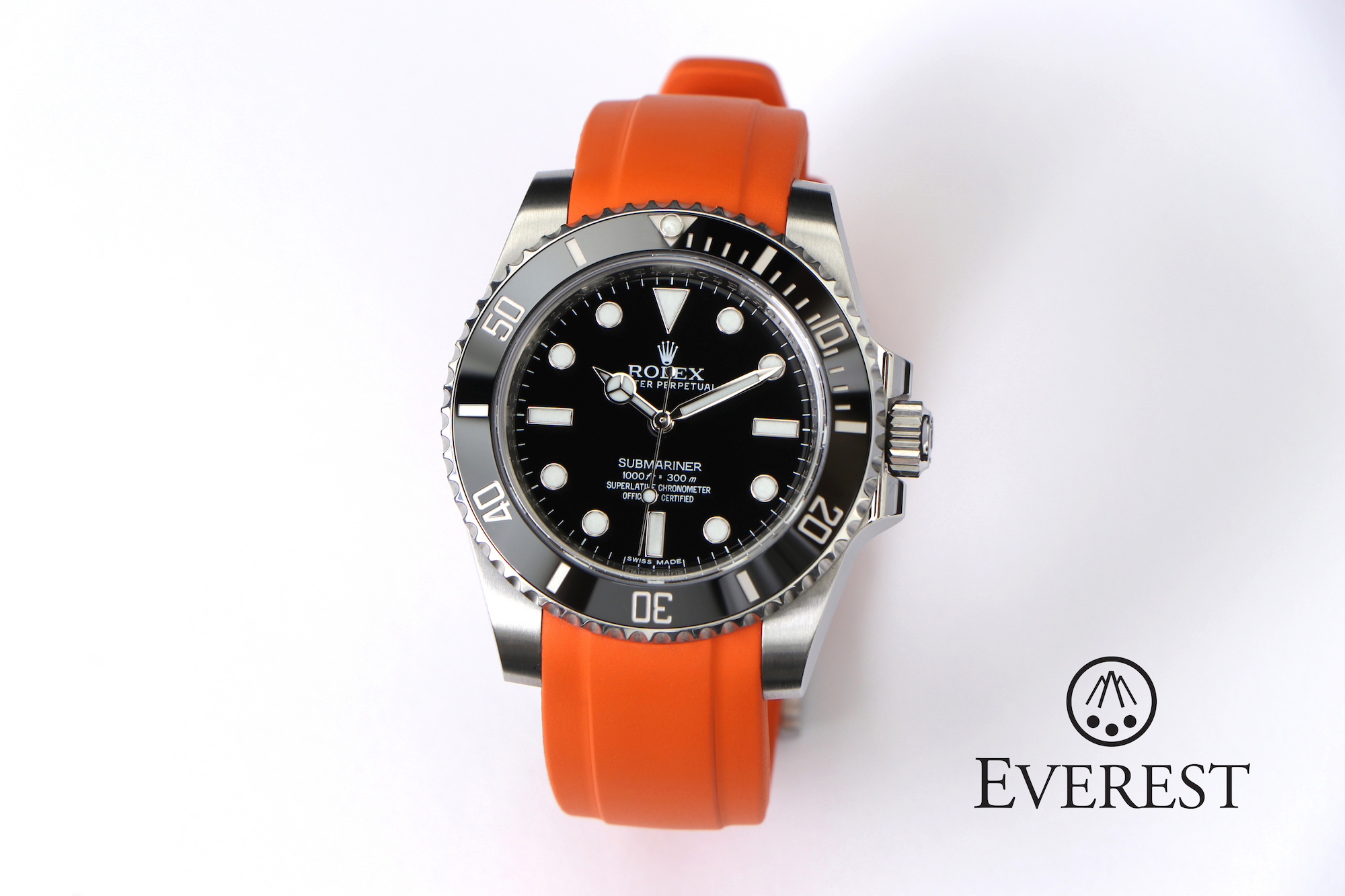 Strap Length – 80mm x 120mm (Standard)
When using an Everest tangle buckle rubber strap, you have a strap that fits more or less any wrist, without the need of removing links. You can effortlessly and easily adjust the size.
The result of all of these points is a Rolex Submariner ceramic rubber strap that is ready to take on any challenge and to be worn on any occasion.
(And other Rolex rubber straps from Everest Bands)