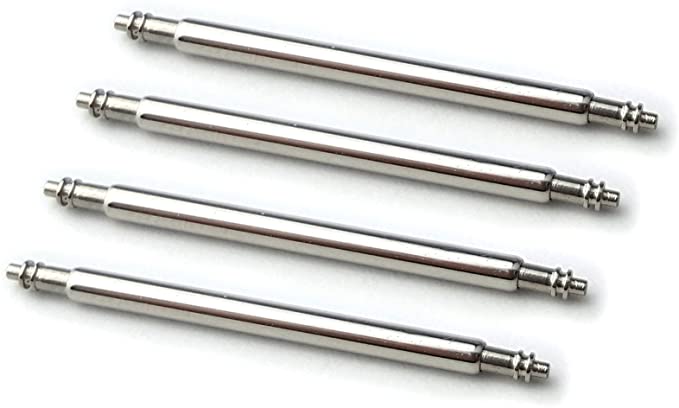 6 Best Spring Bars Replacements For Your Watch
The spring bars are the crucial safety link between you and your watch. Most watches are equipped with spring bars, and these are the safety point that keeps your bracelet or strap attached to the watch. If the spring bar fails or breaks, your watch will fall off your watch, potentially breaking it or losing it forever.
With that said, the spring bars are small but crucial parts of your watch. This makes it extremely important to have high-quality spring bars, but also to check them regularly, and change them if necessary in order to save yourself from a potentially very expensive mistake.
To help you, we have therefore listed some great spring bars and spring bar sets. But before we go into those, let's look closer at spring bars and what sets them apart. The last thing you want to compromise with is the spring bars for your watch.
What are spring bars?
A spring bar is a small bar with springs inside that is attached to the lug of your watch. The spring bars are used to hold a strap or bracelet in place and attached to the watch. Since a bracelet or strap is attached from two sides, a watch will be equipped with two spring bars – one on each side.
The spring bar has a spring inside so that you can compress the spring inside to make the length shorter, allowing you to attach it to the lug, and as the spring is then released, it is locked into place. To remove the spring bars, you should ideally use a dedicated tool to do it properly. Some spring bars are more difficult than others to access and remove, but for some spring bars, it is possible to remove with, for example, a toothpick, although it is advised that you have proper tools when doing it.
Spring bar sizes
Note that different watches require different spring bar sizes. This includes both the thickness but also in width. A larger watch will generally have wider lugs, and thus need wider spring bars. It will only work to have the correct size spring bars for your watch, so firstly, you need to identify the lug size of your watch.
Usually,  a simple Google search will reveal what spring bar size you need. Search for "Your model+lug size" or "Your model + Lug width". You can technically also measure the distance between the inside of your lugs, but a Google search should do the job and give you an accurate answer.
Usually, watches have a lug width from 18 to 24mm, but they can be both smaller and larger.
Best spring bars for watches
Below, we list some high-quality spring bars. Even if you are not in need of spring bars at the moment, it is advised to keep some spring bars just in case. Since these are relatively cheap, it's not a huge investment. A tip is to buy a spring bar set that includes a large number of spring bars of different sizes. This is great to have on-hand since it will mean you always have access to a wide array of spring bars that should fit any watch you may need spring bars for. This is why we will primarily recommend complete spring bar sets.
---
This spring bar kit includes 36 spring bars in a wide array of 18 different sizes. The set includes spring bars of the following sizes:
Different sizes (mm): 8, 9, 10, 11, 12, 13, 14, 15, 16, 17, 18, 19, 20, 21, 22, 23, 24, 25
There are 20 spring bars per size.
The wide array of spring bars means you will likely have just what you need for most watches.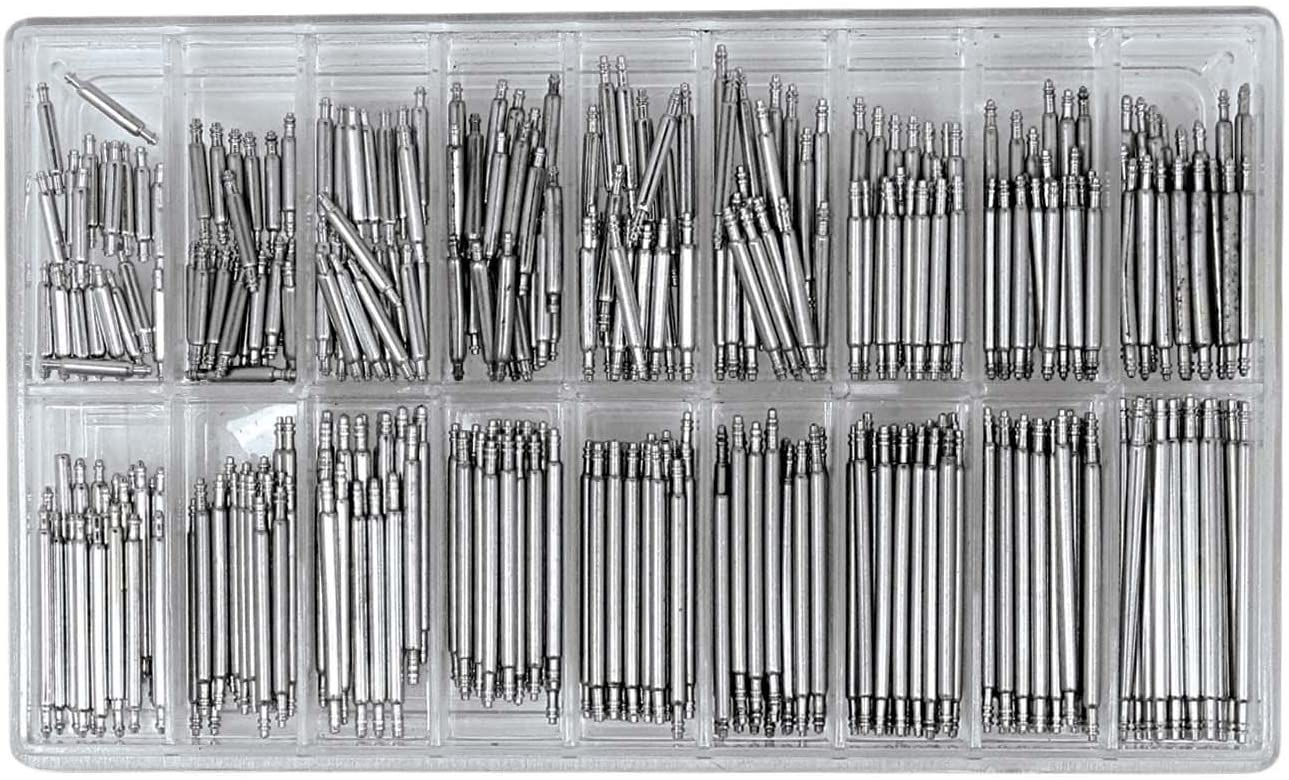 ---
This is another spring bar set with a large number of spring bars (300) and a wide array of sizes (18). The sizes include:
8mm 9mm 10mm 11mm 12mm 13mm 14mm 15mm 16mm 17mm 18mm 19mm 20mm 21mm 22mm 23mm 24mm 25mm 26mm 28mm. Each size includes 20 spring bars. The spring bars are made of stainless steel and have a double flange, allowing for better grip when removing and inserting them.
The set also includes a small spring bar remover tool, making it great value for money.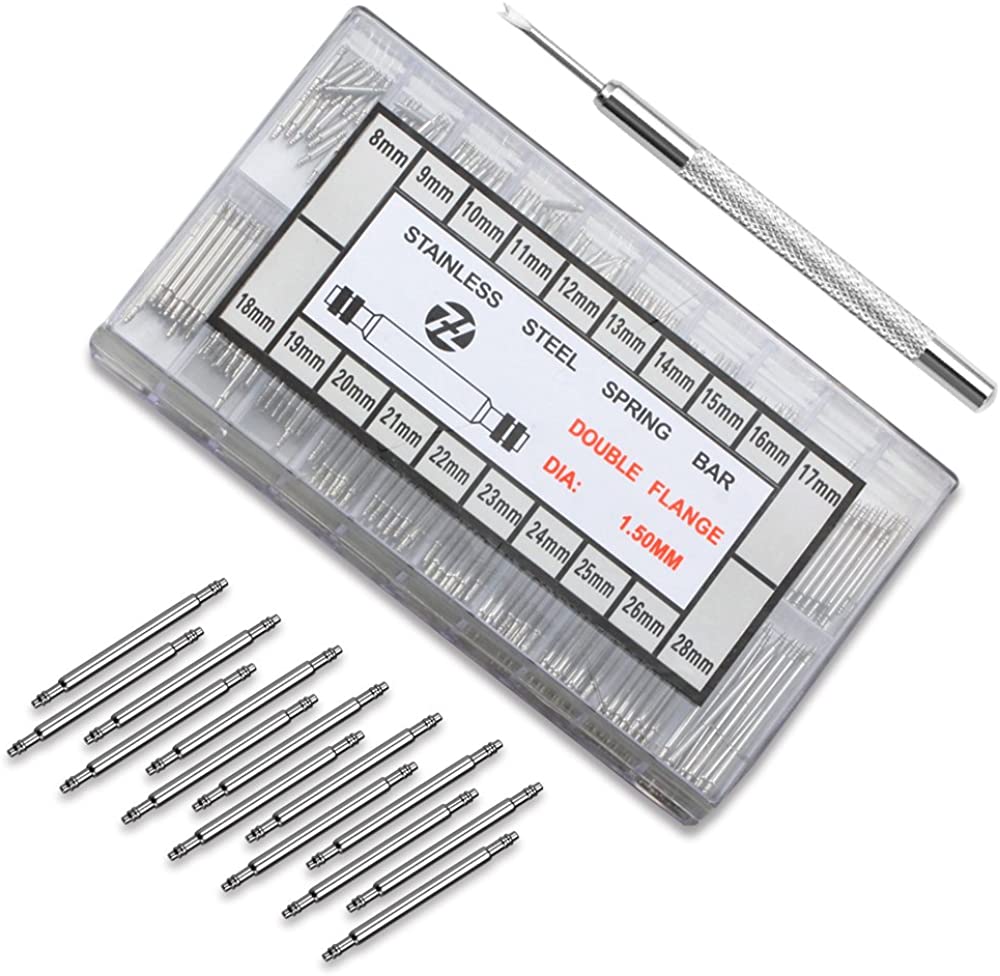 ---
This spring bar set includes 1 X Spring Bar Tool, 6 Extra Tips, 72PCS Watch Pins, and 1 Tweezer. This is really all you need to change and replace spring bars. Perhaps the ultimate spring bar set that offers great value for money. The several tips for the spring bar tool make it easy to remove and change spring bar depending on the type of watch you have.
A review states "Extremely good value here! Tools in the kit are of extremely high quality. Spring bar tool its self is nice and comes packaged with additional tips. Included ESD compliant tweezers are a nice addition. The included assortment of spring bars seem to be of pretty nice quality," and we definitely agree.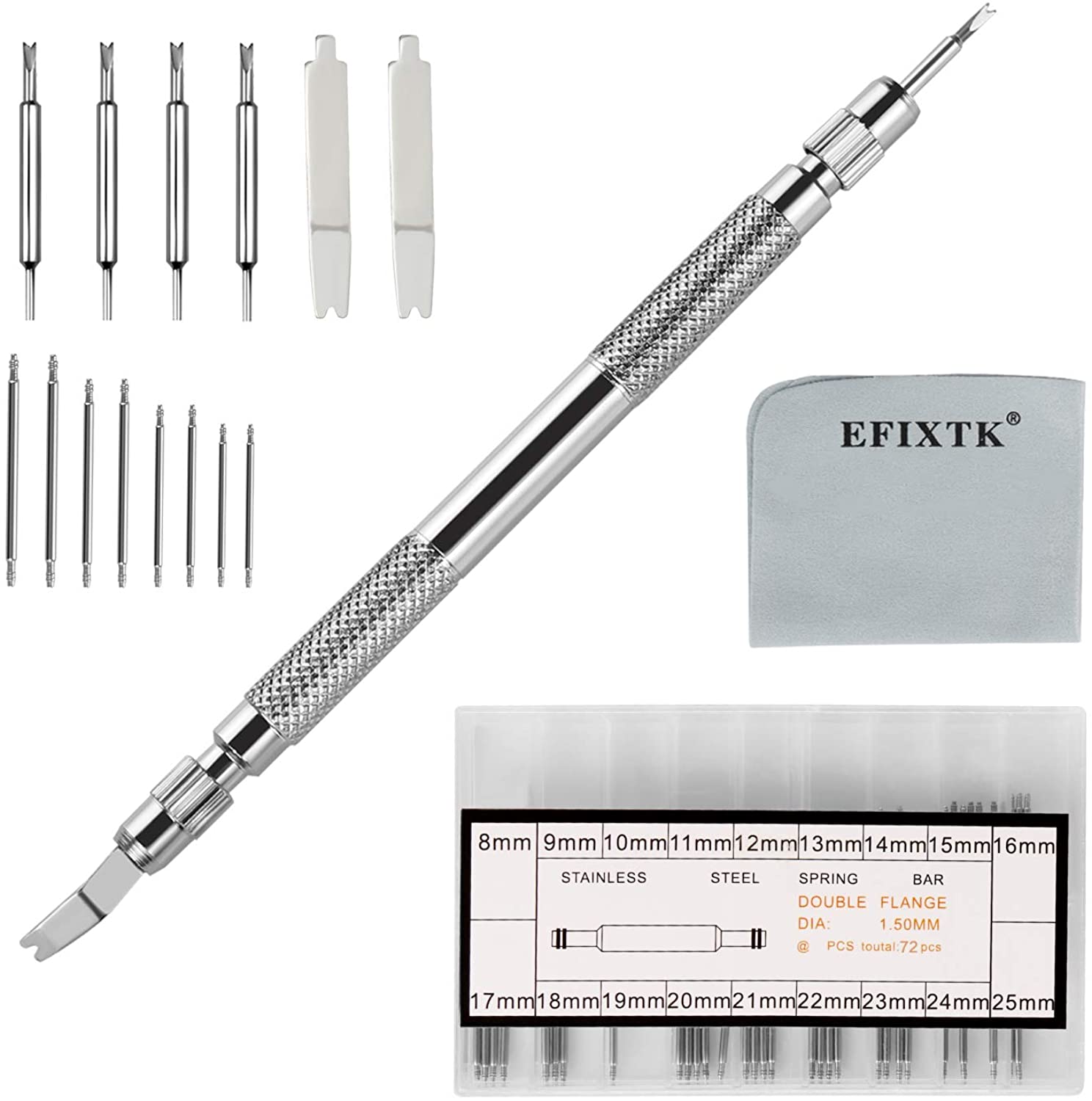 ---
This is definitely one of the better quality spring bars you can buy. The spring bars are much more solid and robust than many others, which is a great idea if you want to be completely sure about the quality and longevity of your spring bars.
The set includes 4 spring bars, and you can choose between 16, 18, 20, 22mm spring bars. They have a double flange – a "Double shoulder design", which allows for a better grip for removing and inserting the spring bars. This spring bar set is definitely one of our top recommendations.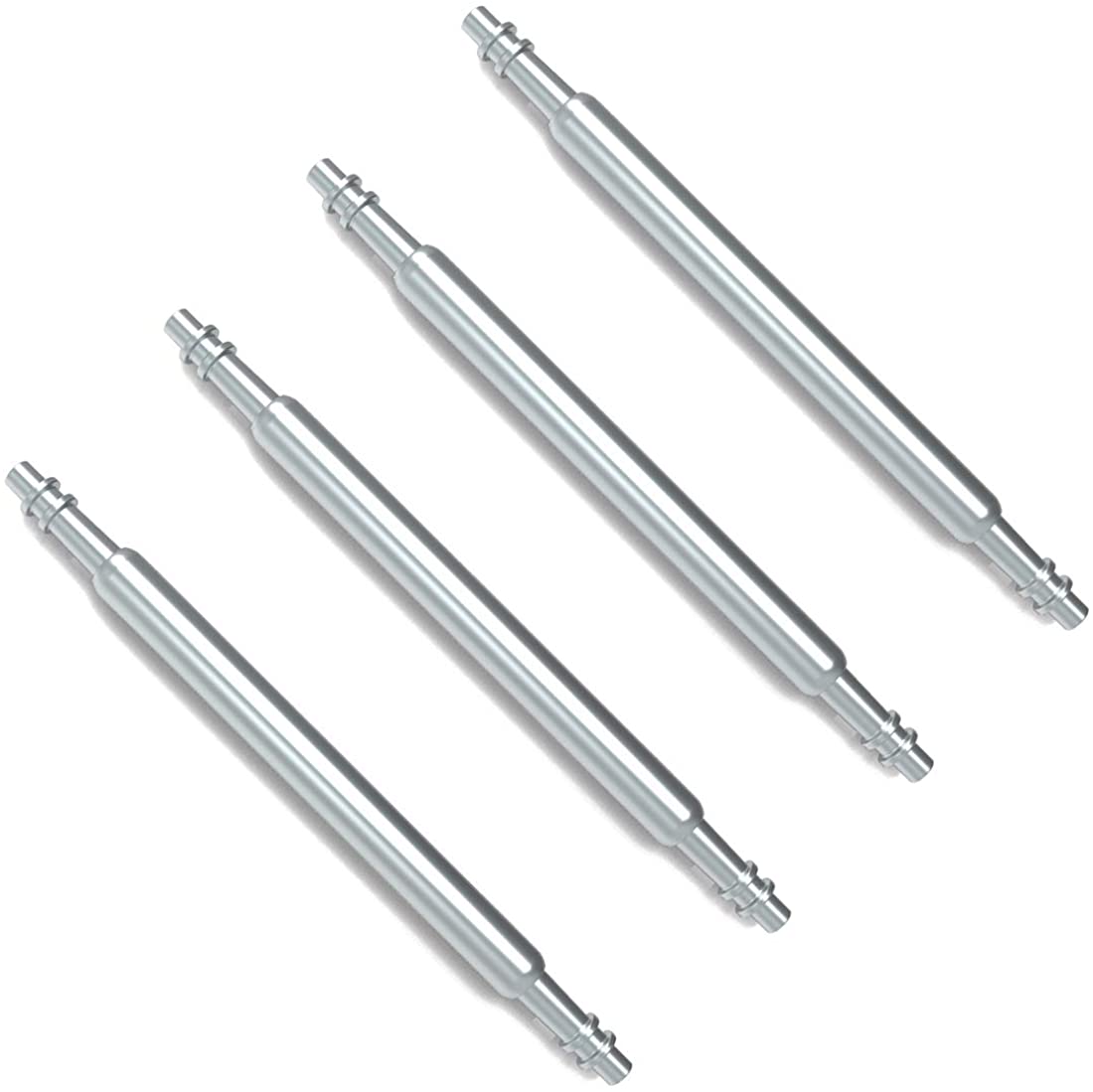 ---
This is another set of spring bars that we definitely recommend. The reason is that they are sturdy, reliable, and of high quality. They have a thickness of 1.8mm and are available in a large number of sizes so you should be able to find a set that fits your watch. The set includes a packet of 4 spring bars. The spring bars are available in the following sizes: 32, 30, 28, 26, 24, 22, 20, 19, 18, 16, 14, 12, 10, and more.
The spring bars have double Flanged which allows for easy access and easy installation.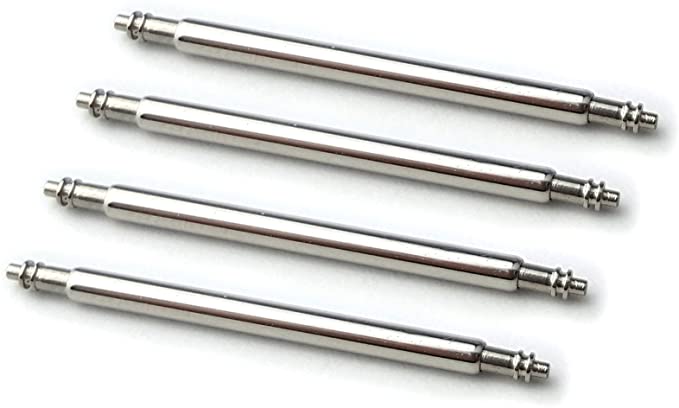 ---
The last set of spring bars we recommend is Barton watch bands spring bars. These spring bars are also of high quality and have a diameter of 1.8mm, making them sturdy and non-flimsy. The spring bars come in a set of four and are available in the following sizes: 18, 19, 20, 21, 22, 23, 24mm.
The spring bars have double shoulders at each end which allow for easy grip and easy insertion or removal.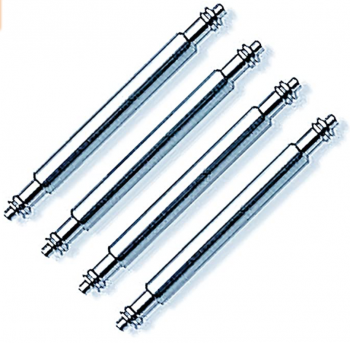 ---