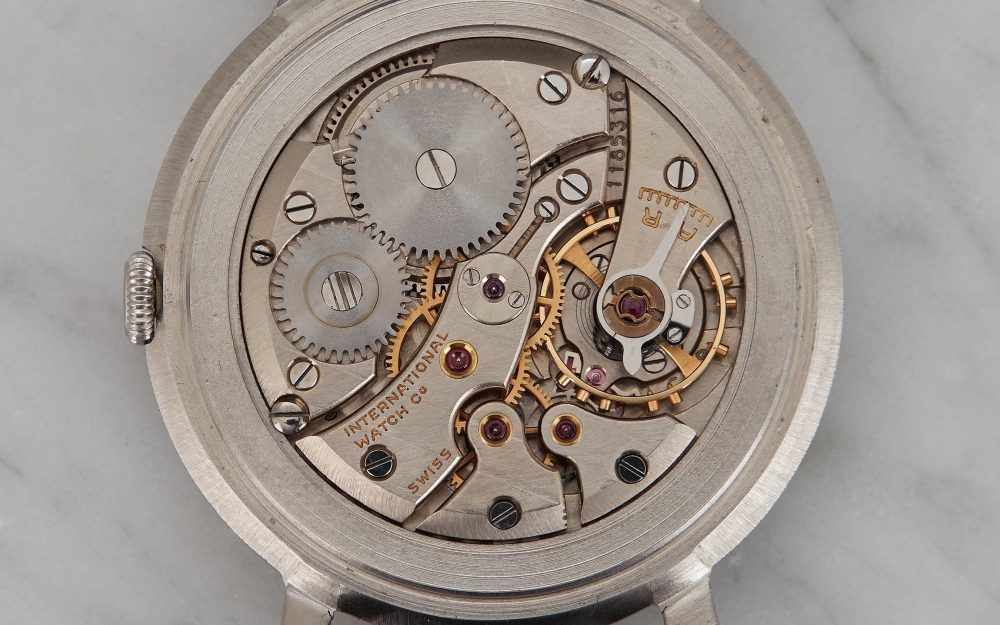 Top 10 Best Watch case Back Opener Tools (How to Open Watch case back Guide)
The vast majority of watches are equipped with case backs. The case back covers the movement, which is the beating heart of the watch.
Types of watch case back openers
There are many different case back openers you can use to open the case back of your watch, and different watches also use different types of case backs, meaning you need different tools to open them. Some watches are equipped with screw-down case backs (which tends to be the most common, and others have pop-in, or snap-back case backs, which are popped against the case. The screw-down case backs tend to be the most common simply because they are superior in terms of function.
Snap back case backs VS screw-down case backs
Screw-down case backs are considered superior to snap-back case backs due to the fact that they sit more securely against the case and provide greater protection against dust or water. Since snap-back case backs are essentially just popped on, their ability to provide a 100% seal is not something you can rely on in most cases.
The snap-back case back construction was more common back in the day and can be found on most older/vintage watches. With that said if you have a vintage watch, chances are that it has a snap-on case back. Also, if you have a watch with a smooth case back without any notches, ridges, etc. it is likely a pop-off case back.
With that said, you will need different types of case back openers for different watches. Sometimes, they are distinguished as watch case back openers and watch openers/case back knives.
When you remove a "pop-off/pry-off" case back, you use a "knife" with which you can pry to remove the back. When doing this, be careful to not scratch and damage the case of the watch when forcing it open.
A case back opener can come in handy in many different instances. Maybe most importantly when you want to check the condition of a movement, but also when you want to simply admire it, service it, regulate it, change the battery, or simply inspect it. Therefore, a watch case back opener is something every watch enthusiast and collector should have in their collection of tools and accessories.
Best case back openers
Below, we have listed some of the most popular watch case back openers for both types of case backs, meaning screw-down case backs and snap-on case backs.
Not all case back openers are created equally. Higher quality case back openers tend to have a higher quality and last longer, but most importantly, they usually offer the best precision. With a case back knife, you want the case back to have the best possible precision to avoid damaging the case back. And with a screw-down case back, you want to make sure that the tool has a perfect fit which makes it easy to remove it.
---
Watch Back Case Remover and Watch Opener
This kit includes a watch case back opener, a watch holder, 2 watch case back removers, and 2 screwdrivers. This makes it a great tool for any and all tools you may need for removing the case back, as well as replacing the battery.
The watch holder helps keep the watch in place and can be adjusted according to the size of the watch. Whilst it is possible to remove the back without a holder, it minimizes the risk of slipping and scratching or damaging the watch.
The case back opener has adjustable tempered tips which can be adjusted from 0.5 inches to 2.2 inches to fit most watches. The case-back knife is easily used by placing the blade under the case and prying it off.
Lastly, with the help of the screwdriver, you can easily replace the battery, in case you have a quartz watch.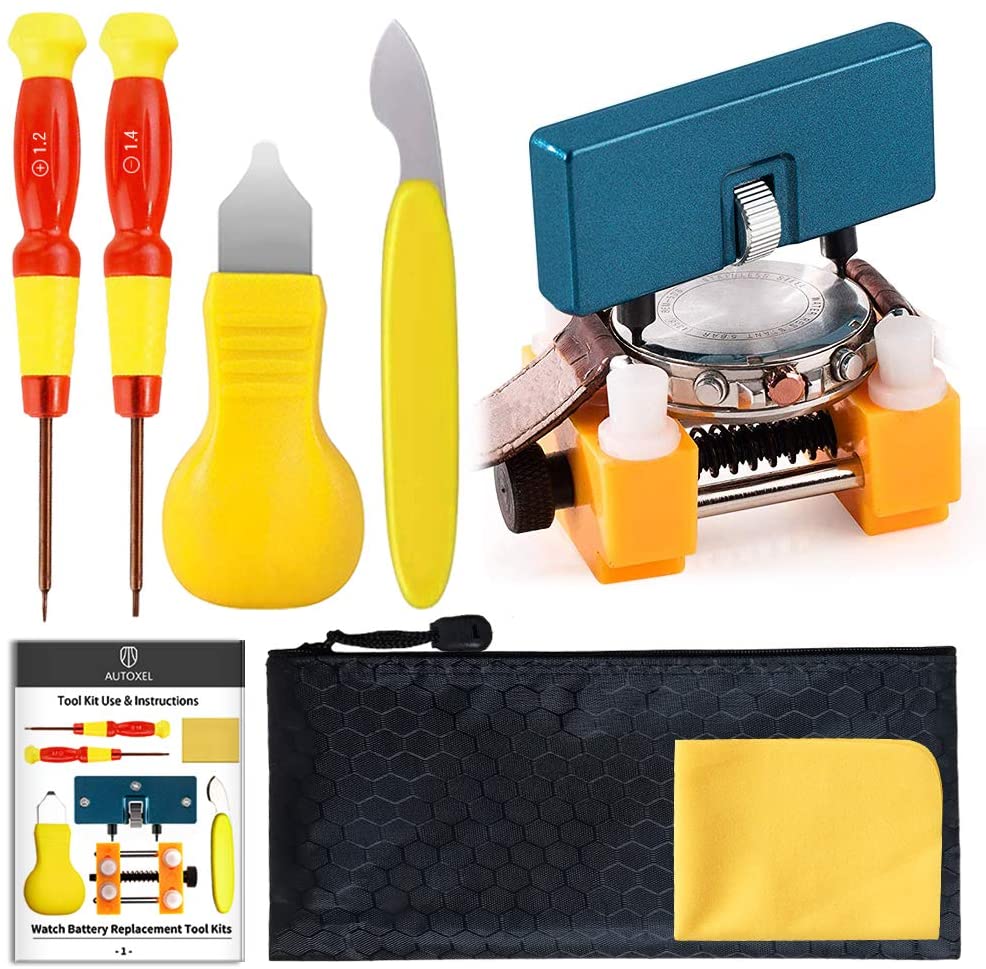 ---
Vruping Watch Back Cover Case Opener
This Vruping watch case back opener is a kit of battery replacement tools. But it can of course also be used for mechanical watches.
The kit includes two opening tools that you use by placing them under the case back and prying it off. The tools are made of steel and have shafts made of plastic. They are easy to use and very straightforward. Note that these tools work for prying the case back off and not for case backs that are screwed down against the middle case.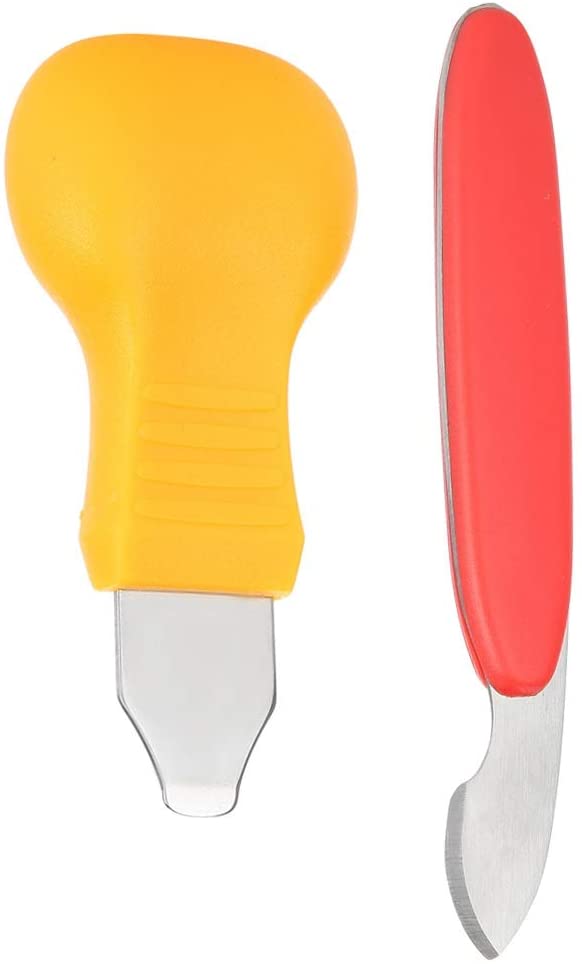 ---
Bergeon is one of the foremost watch tool brands in the world, and their products are made in the home of fine watches – Switzerland. Furthermore, their tools are used by professional watchmakers all around the world.
This case back opener set includes four sets of different types of chucks, which are made of high-quality steel to allow for a solid grip when removing the case back. The tools are easy to use and can be adjusted for watches of different sizes. The chucks will work on polygonal, slotted, hole, and grooved case backs.
This is a great universal tool that helps you open most screw-down case backs.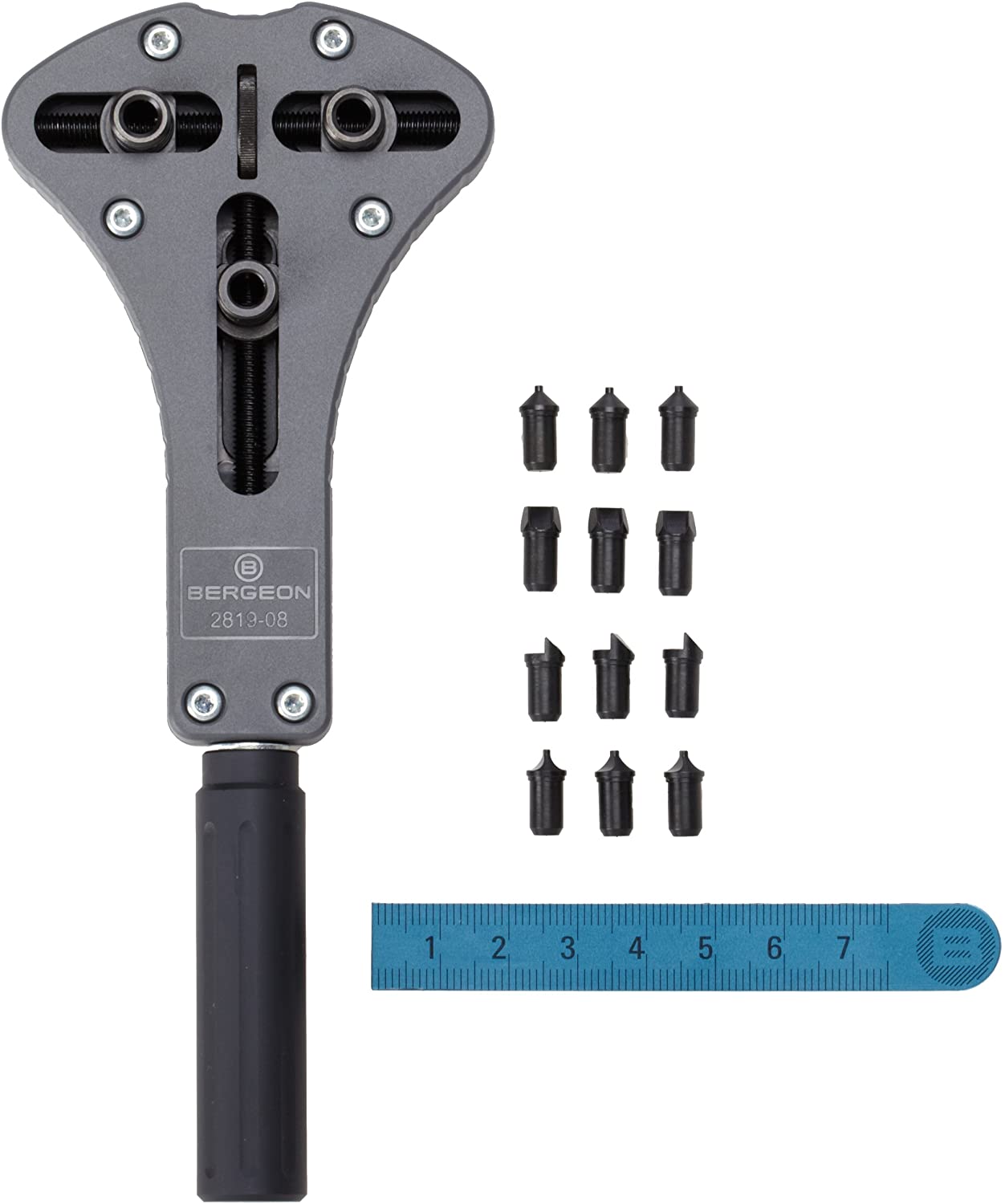 ---
This tool from Zeiger is a high-quality case opener for different sizes of watches. The tool is multifunctional thanks to the extensible range of tips, which range from 15mm- 55mm. Overall, it is very similar to the Bergeon tool mentioned above but is considerably more affordable. This will of course be reflected in the build quality as well.
But whether you want to go for a more affordable or more expensive alternative is completely up to you and what purpose you will use it for. The tool includes 1 three-pin case opener with 18 pins. They come delivered in a handy and practical storage box. This type of tool is great as it allows you to easily open case-backs without damaging them.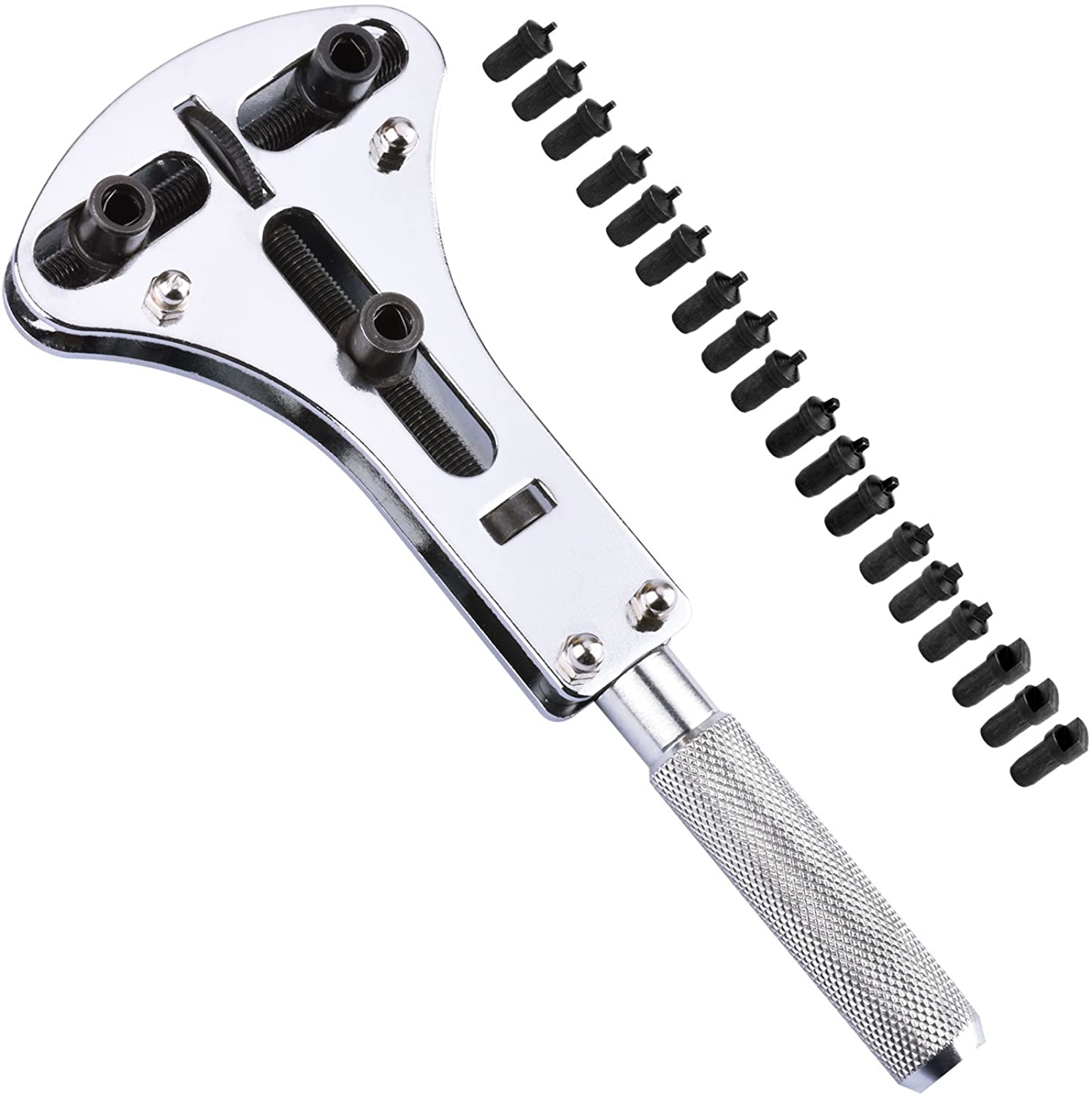 ---
This is another helpful and practical tool from Bergeon that makes it easy to open screw-down case backs. It is shaped like a regular rubber ball but will give a grip against a case back and help unscrew it. Due to its simple construction, it is affordable as well. This is one of our favorite case back openers for screw-down cases as it is so easy to use. The rubber ball will not leave marks on the watch. It is Ø 67 mm.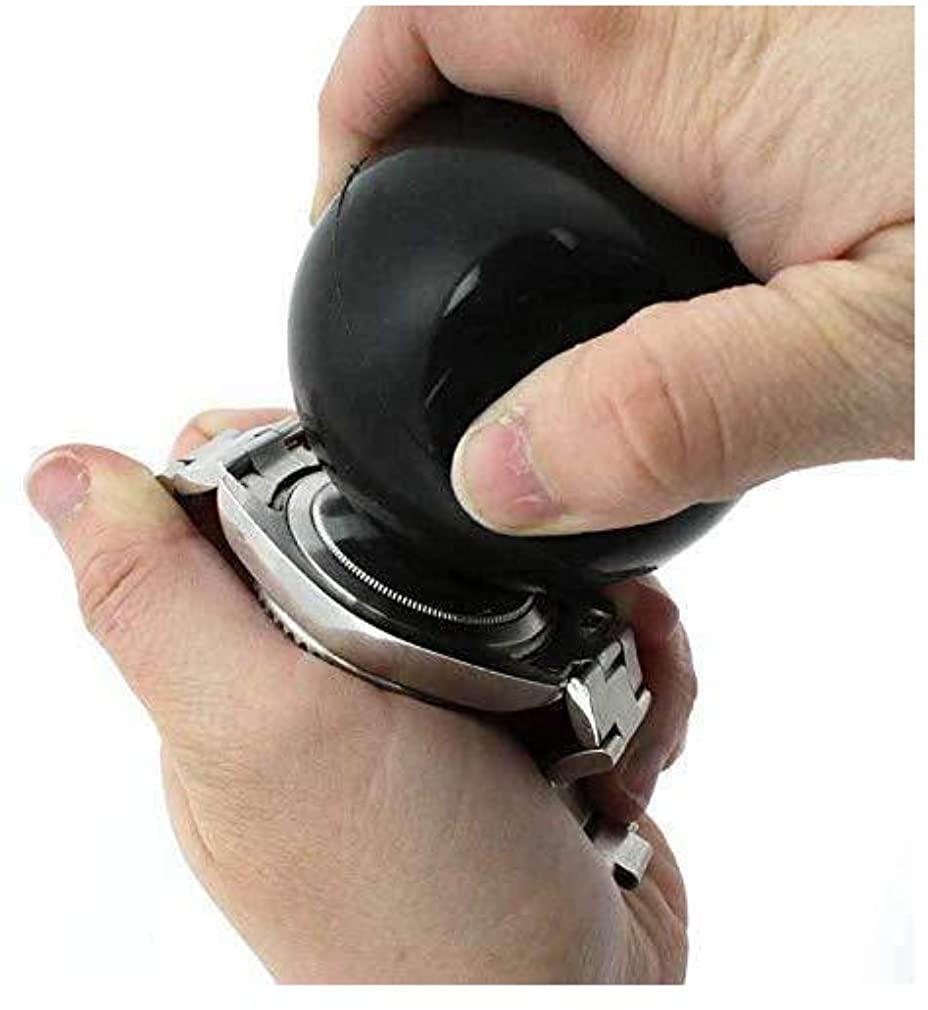 ---
Another great tool from Bergeon is the 7403 watchmaker case back opener. At its core, this is a Victorinox Swiss army knife, which makes it super easy and convenient to carry with you. Apart from the regular tools you may need in a Swiss army knife, it includes a case back opener knife tool that allows you to pop up the case back. This makes it a great all-around tool, which also happens to include a case back opener.
This is a convenient tool that we can really recommend!

---
This is a simple and straightforward case back opener from Bergeon which features a single blade and allows you to pry open a case back easily.
This simple tool doesn't need much introduction, but for non-screw-down case backs, it will do the job and do it well.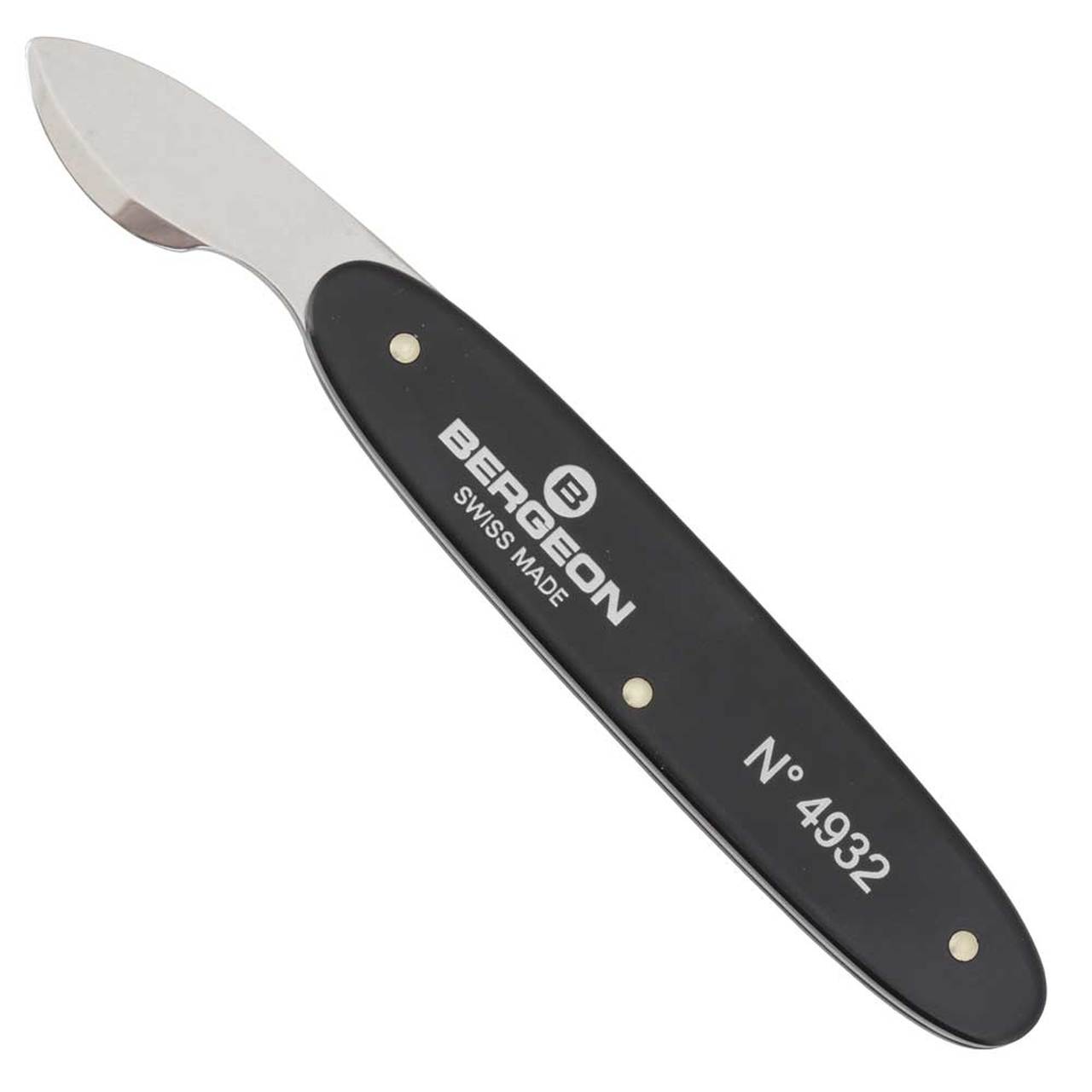 ---
This great tool kit includes 5pcs watch case back openers of 2 types and 8 pieces of spring bars. The wide array of case back openers makes it easy to pry open most non-screw-down case backs. This is a great set if you are going to handle an array of different watches and need to be prepared for different case backs and designs.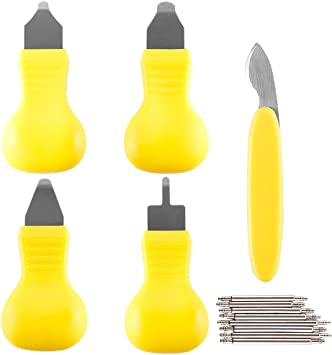 ---
LYECUN Adjustable case back wrench Case Opener
This is a handy case back opener for screw-down case backs that come in a small and portable size. Its size is easily adjustable with your thumb via the adjustment wheel so that it can be used for most case backs regardless of their size.
The tool has an adjustable jaw distance from 14 mm to 56 mm.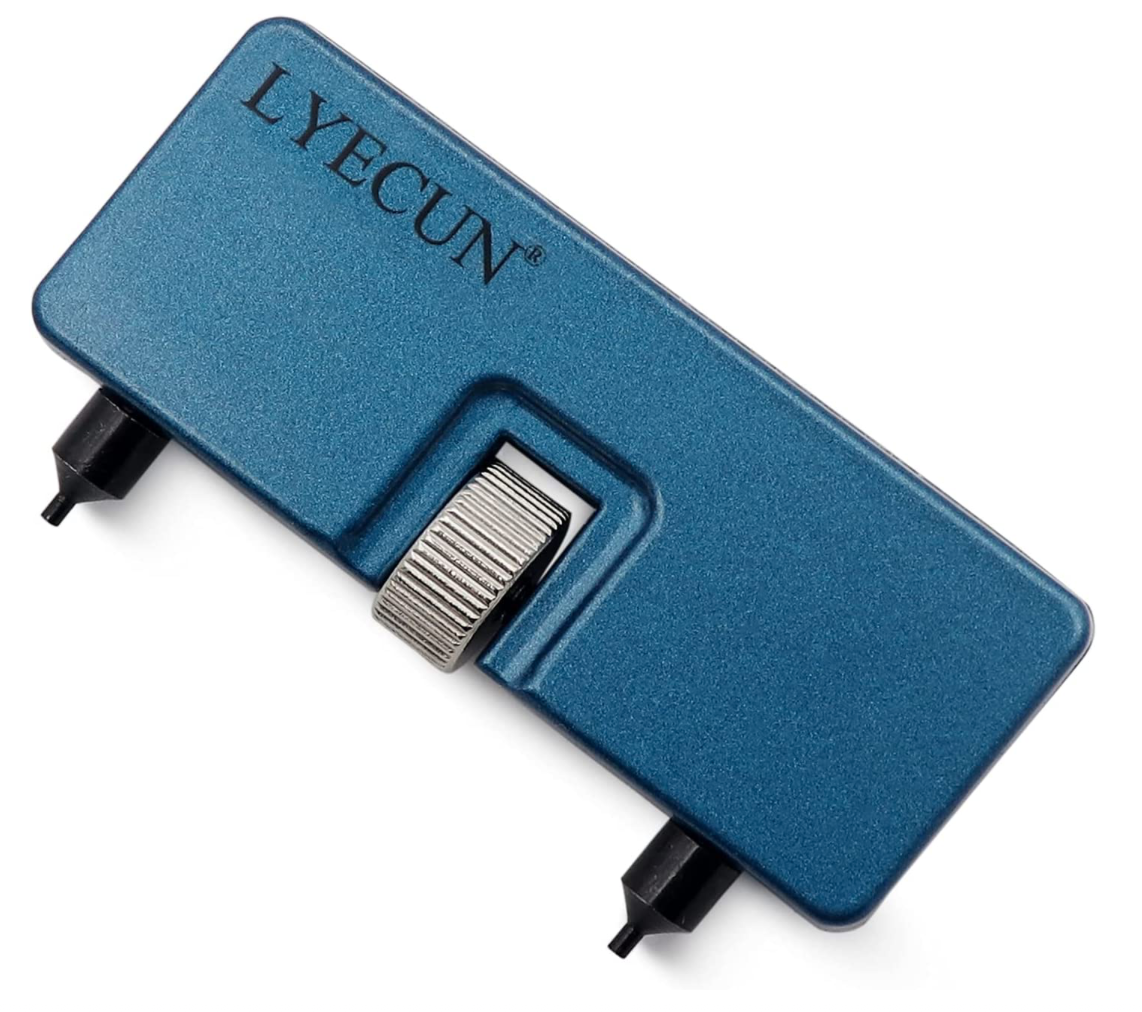 ---
VEVOR Bench Watch Opener
This is one of the most premium/advanced/qualitative options on the market. Whilst it is priced higher than all of the others at around 150 USD, it offers considerably greater precision and ease of use. This bench watch opener is designed specifically for screw case backs and is a suitable option for watchmakers, hobby watchmakers, or watch enthusiasts.
It has a robust bench design and comes with 2 pairs of vice blocks to make sure the watch is held in place at the lugs with a size range from 6mm to 22mm. It is naturally used for both opening and closing case backs.
To make sure it is suitable for any watch type, it comes with s six grooved dies and adapter, one adjustable case holder, and other accessories for different case back needs.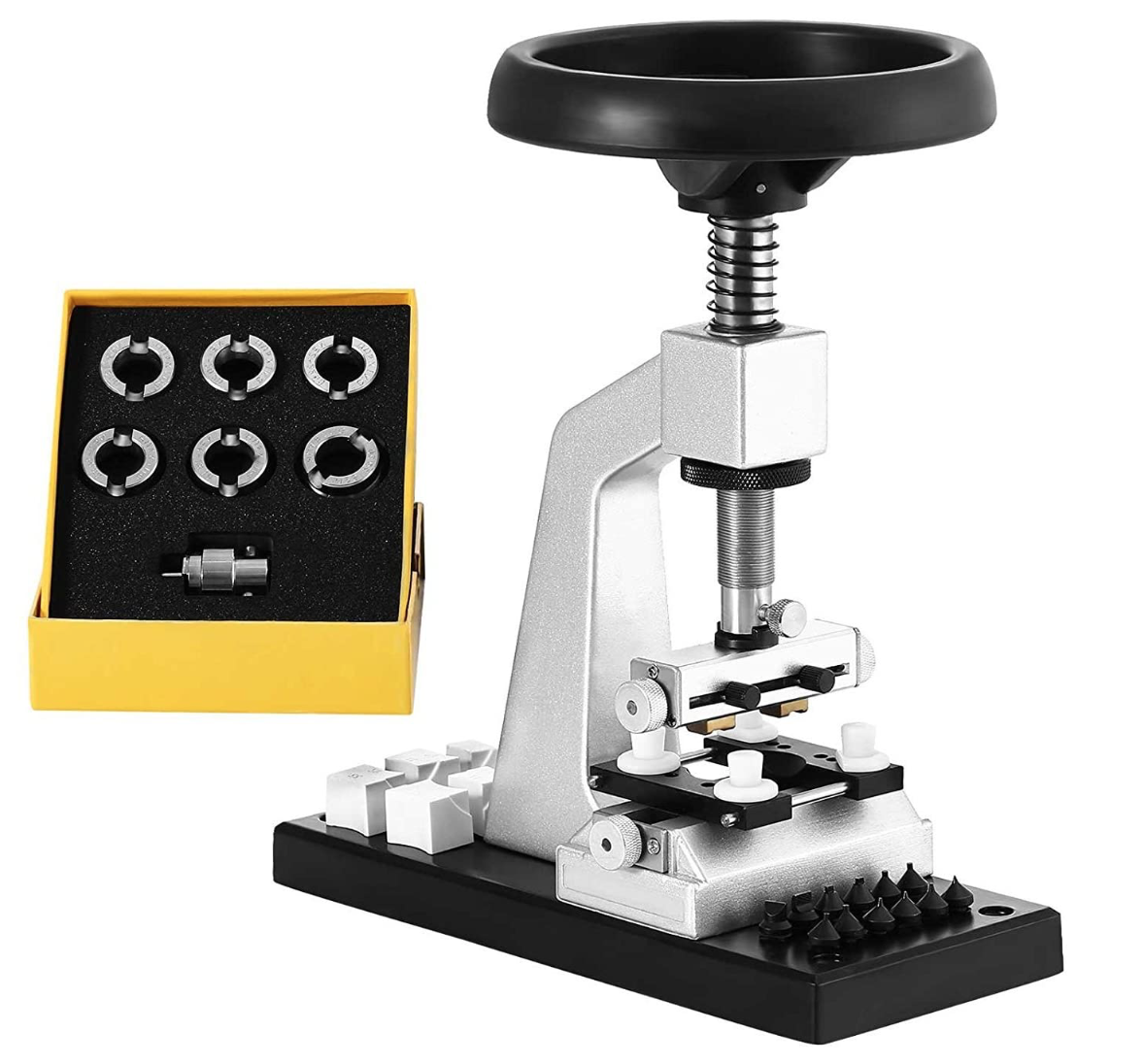 ---
Consider the water-resistance
Something that is important to keep in mind is that when you open a watch case back on a watch that is water-resistant, you may compromise its water resistance. For example, a screw-down case back normally has a rubber gasket to ensure the watch is water-tight, but if you unscrew the back, the gasket may become damaged and not provide the protection against water that it is meant to provide. This is particularly true if you have an older watch since the rubber gasket will deteriorate over time. When you then remove the case back, it may break or simply be nothing more than gunk that needs to be replaced.
Therefore, when you open the case back on a water-resistant watch, it is advised that you also have it pressure tested. If you have a waterproof tester for watches at home, you can use that. Otherwise, it is best to take it to a watchmaker before you jump into the water with it.
How to remove a watch case back
Below, we share two step-by-step video guides on how to remove the case back on a watch with either type of case backs. But before we do that, it's worth mentioning that you may need to remove the bracelet before removing the back. This is particularly true if you have a metal bracelet. This is to allow easier access to the back and prevent the bracelet from getting in the way. If you have a leather strap, it's usually not an issue since the strap is attached from each individual end.
In addition, it can also be useful to have a watch case holder to make the job more stable and to avoid slipping and scratching the watch.
How to open a snap back watch case back
Opening a snap-off case back on a watch is easy and straightforward with the right tool. Refer to this video below to remove the back easily and correctly:
---
How to remove a screw-down case back
If your case back has ridges, notches, or isn't smooth, it is probably a screw-down case back. Refer to this video to remove a screw-down case back correctly.
---
How tight should you screw a screw-down case back?
When you reattach your screw-down case back and screw it down, you will want to screw until you have to apply significant force to keep screwing. Naturally, you want to be careful towards the end to not be too aggressive, but you'll notice quite easily when the back doesn't screw anymore without applying significant force.
---