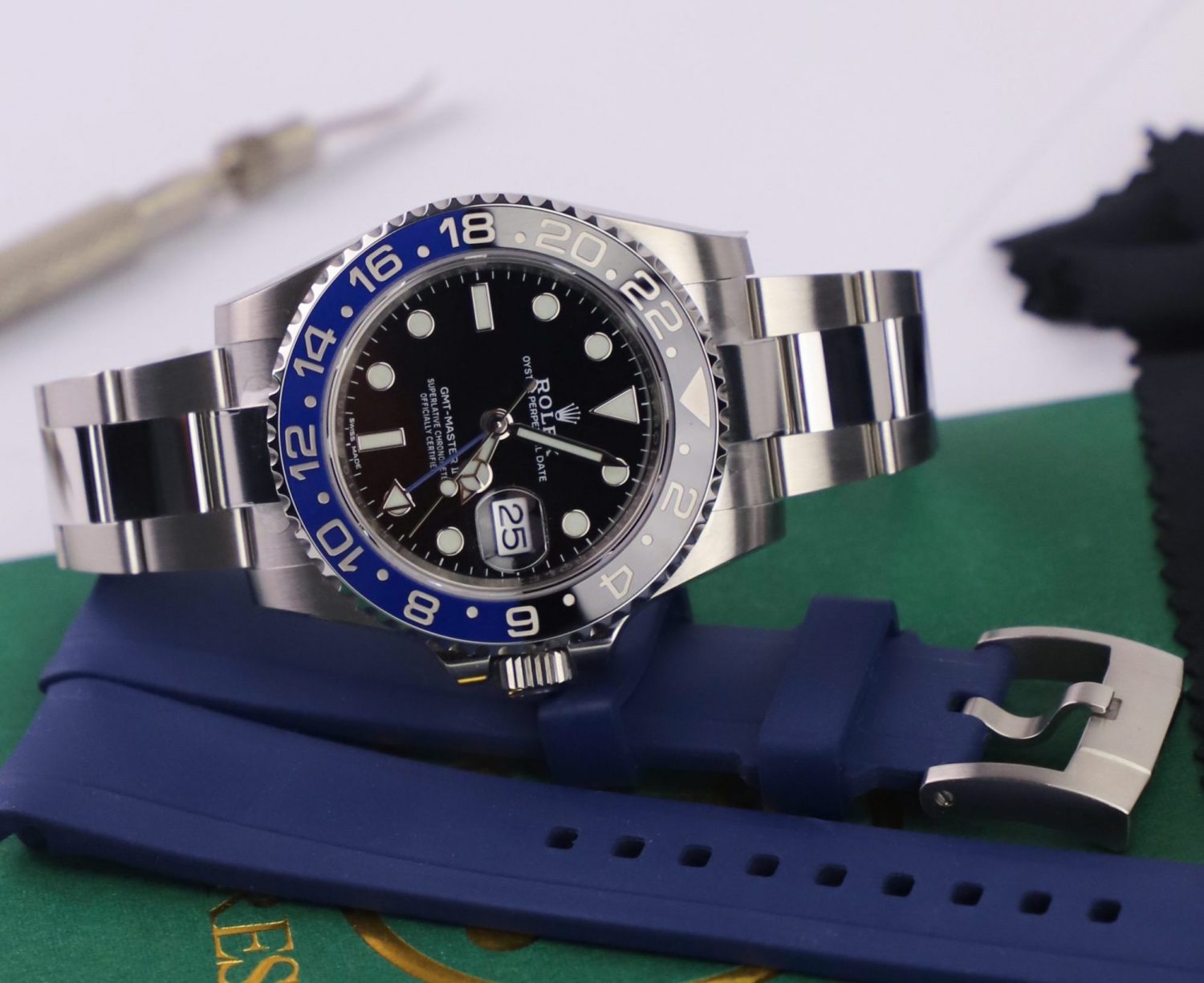 9 Top Best Watch Screwdriver Kits
One of the most important tools you need as a watchmaker, or as someone who just wants to work on their watch, is screwdrivers. Screwdrivers are needed for many tasks when working on a watch, for example, removing bracelet links, removing the case back, disassembling the movement, and much more.
But when working on a watch, just any screwdrivers won't do the job.
The issue with a lot of screwdrivers that they are often low quality, which can cause the tips to wear out or even break. This is especially due to the fact that watch screws are generally very small, and thus requires very small-tipped screwdrivers. This in turn further increases the importance of high-quality screwdrivers which are built to last.
Using poor quality screwdrivers will ultimately mean that you get a worse grip on the screw. To keep them in place, watch screws are often also screwed in extremely hard. And low-quality screwdrivers plus tough screws are not a great combination. At worst, you may wear out the screw head, making it more or less impossible to get any grip. Or, it can cause you to slip and scratch the watch. With that said, when looking for a watch screwdriver kit, it is advised to opt for the more qualitative ones on the market.
Since you often need a number of different-sized screwdrivers for the various screws, it is often easier to buy a whole screwdriver kit instead of getting them separately. To help you find the right tools for the job, we have created a list of some of theist watch screwdriver kits.
Best watch screwdriver kits
---
This is a professional watch screwdriver set which includes 10 different screwdrivers of the most common sizes you may need for your watch. The sizes are focused on watch brands, watch straps, pins, accessories, and movements. Two of the ten are Phillips screwdrivers and the other 8 are flat-Head Screwdrivers.
The screwdrivers have a hefty feel to them, which tend to be a sign of quality in the context of screwdrivers. They are made of stainless steel and have a gripping surface. The tools measure 3 5/8 inches, which converts to about 9 cm in length.
This watch screwdriver kit includes:
8 flat-head screwdrivers in sizes 0.6mm, 0.8mm, 1.0mm, 1.2mm, 1.4mm, 1.6mm.
2 Phillips screwdrivers in sizes 1.4mm and 1.6mm..
This watch screwdriver kit comes with a lifetime guarantee which is not very common for screwdrivers.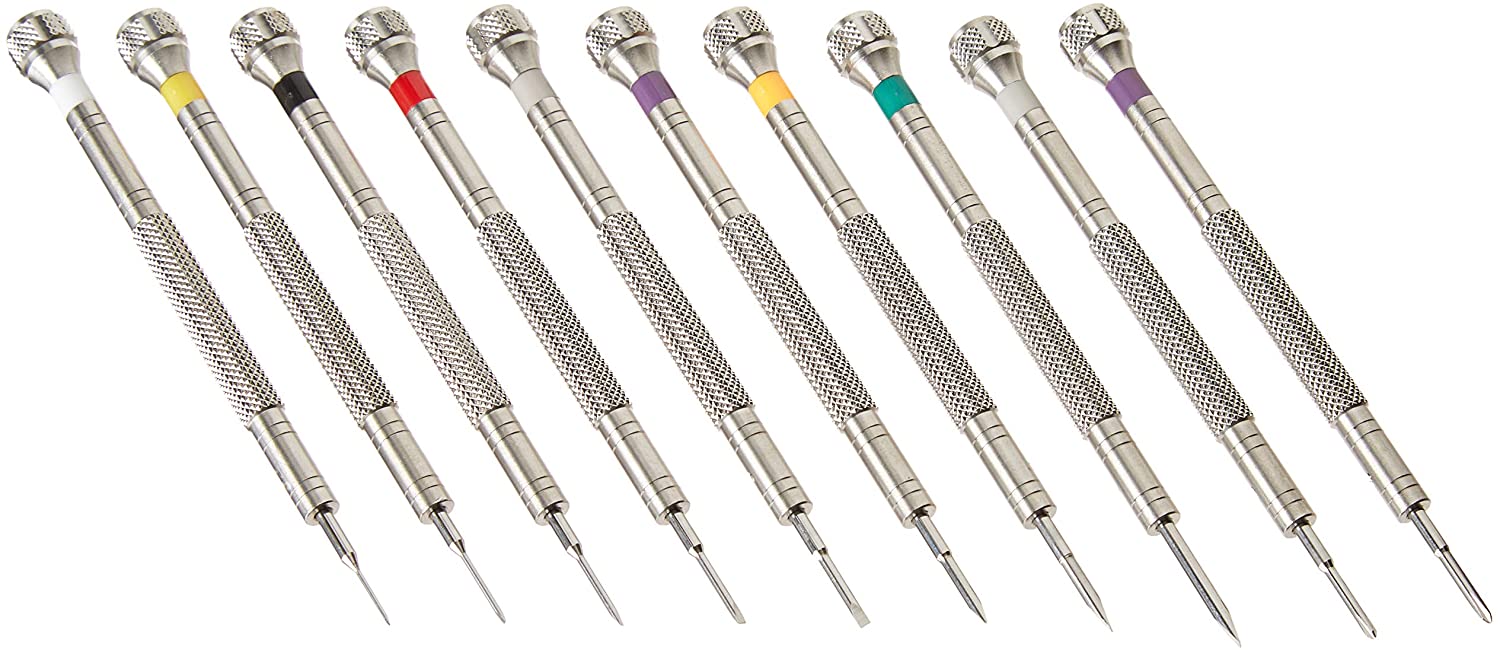 This micro precision jewelry screwdriver set includes 5 standard flat head screwdrivers with swivel head. The screwdrivers are very straightforward and easy to use. They are certainly not the most sophisticated screwdrivers, but they are qualitative enough and get the job done. The caps are color-coded to help you identify the different sizes. The blades are rustproof.
This screwdriver set comes with a 2-Year Warranty.
This watch screwdriver kit includes:
5 screwdrivers in sizes 0.80 mm, 1.00 mm, 1.20 mm, 1.40 mm & 1.60 mm
5 spare blades for each screwdriver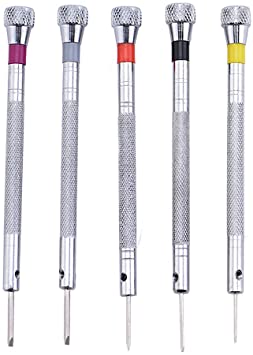 The Optima 55-640 includes 9 screwdrivers set in a convenient travel box. The set includes screwdrivers of the most common sizes you may need when working on a watch. The blades of the screwdrivers are made of nickel-chrome molybdenum alloy steel that have great performance and long-lasting durability. This prevents them from losing their sharpness and deforming, which ultimately will make it more difficult to use on screws. The handles are color-coded to help distinguish the sizes easier.
The grip handles on them are knurled which minimizes slipping. Another feature that is helpful when screeding small screws is swivel heads, as they allow you to manipulate them with one hand only. 
This watch screwdriver kit includes:
9 screwdrivers in the sizes: 0.5, 0.6, 0.8, 1.0, 1.2, 1.4, 1.6, 2.0, 2.5
Box

This 32-in-1 screwdriver kit contains, as the name suggests 31 tools. It is a 32 piece screwdriver kit that includes screwdrivers and a magnetic screwdriver headset. The screwdriver head includes a magnet and can be tightened during maintenance.
The screwdriver is made of chrome-plated steel with chrome-plated coating, which makes it corrosion-resistant. The grip of the fastener is great, which is really important when working in order to prevent slipping.
Now, the topic of magnets close to watches is a sensitive subject. Watches should not be subject to magnetism, and there is in fact a magnet in this tool. As the magnet is small and doesn't touch the actual watch, it should be no problem, but it is still good to be careful, and use it with care and thought.
This watch screwdriver kit includes:
32 screwdrivers

 

Screwdriver headset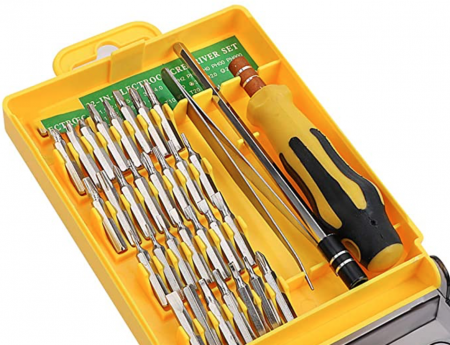 This 10 piece screwdriver kit for watch repair includes ten different flat head screwdrivers of the sizes 0.6mm、0.8mm、1.0mm、1.2mm、1.4mm、1.6mm、1.8mm, 2.0mm. It also includes 2 crossheads of the sizes 1.4mm and 1.6mm. Mainly, flathead screwdrivers are needed for watches, but sometimes, crossheads may be needed, so it's great to have them as a backup just in case.
The blades are made of H.S.S, and each size has a high torque barrel and spare blades.
This watch screwdriver kit includes:
10 flat-head screwdrivers of the following sizes: 0.6mm、0.8mm、1.0mm、1.2mm、1.4mm、1.6mm、1.8mm、2.0mm
2 cross head:1.4mm、1.6mm
Spare blades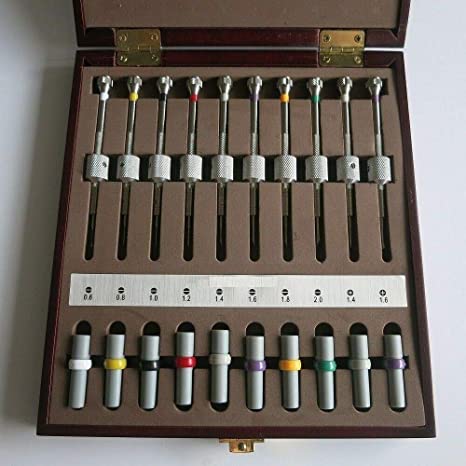 This is a premium and high-quality watch screwdriver set that comes delivered in a convenient wooden box.
The screwdrivers are made of tool steel and are made in Europe. It includes a set of 9 color-coded screwdrivers with 18 spare blades and 2 extra set-screws.
The sizes of the screwdrivers range from 0.60 to 3.00 millimeters.
This watch screwdriver kit includes:
9 screwdrivers
18 spare blades
2 extra set-screws
Delivered in a wooden box

Bergeon is the ultimate brand for watch tools. It is the brand of choice for many professional watchmakers, and they also manufacture tools for many official service centers for an array of different watch brands.
This set is one of the highest quality screwdriver sets you can buy, and one we definitely recommend. The screwdrivers are made with great precision and high quality, just like you expect from all products from Bergeon. They are made in hardened stainless steel, and the heads are swivel heads, which allows it to rotate without having to adjust your hand. Also, the tools are color-coded for a good overview of the various sizes. 
The 9 screwdrivers have ergonomic handles for better grip and come in the most common sizes. Furthermore, spare blades are included. Included in the set is a rotating stand that displays the screwdrivers nicely, gives easy access, keeps them organizes, and gives a great overview of the tools. This is really helpful when working on a watch, and not something that most screwdriver sets have.
It is made in Switzerland and includes a 1-year warranty.
This watch screwdriver kit includes:
9 flat screwdrivers. Featuring ergonomic handles.
The screwdrivers are in the following sizes: 0.5, 0.6, 0.8, 1.0, 1.2, 1.4, 1.6, 2.0, 2.5mm
Spare blades
Rotating stand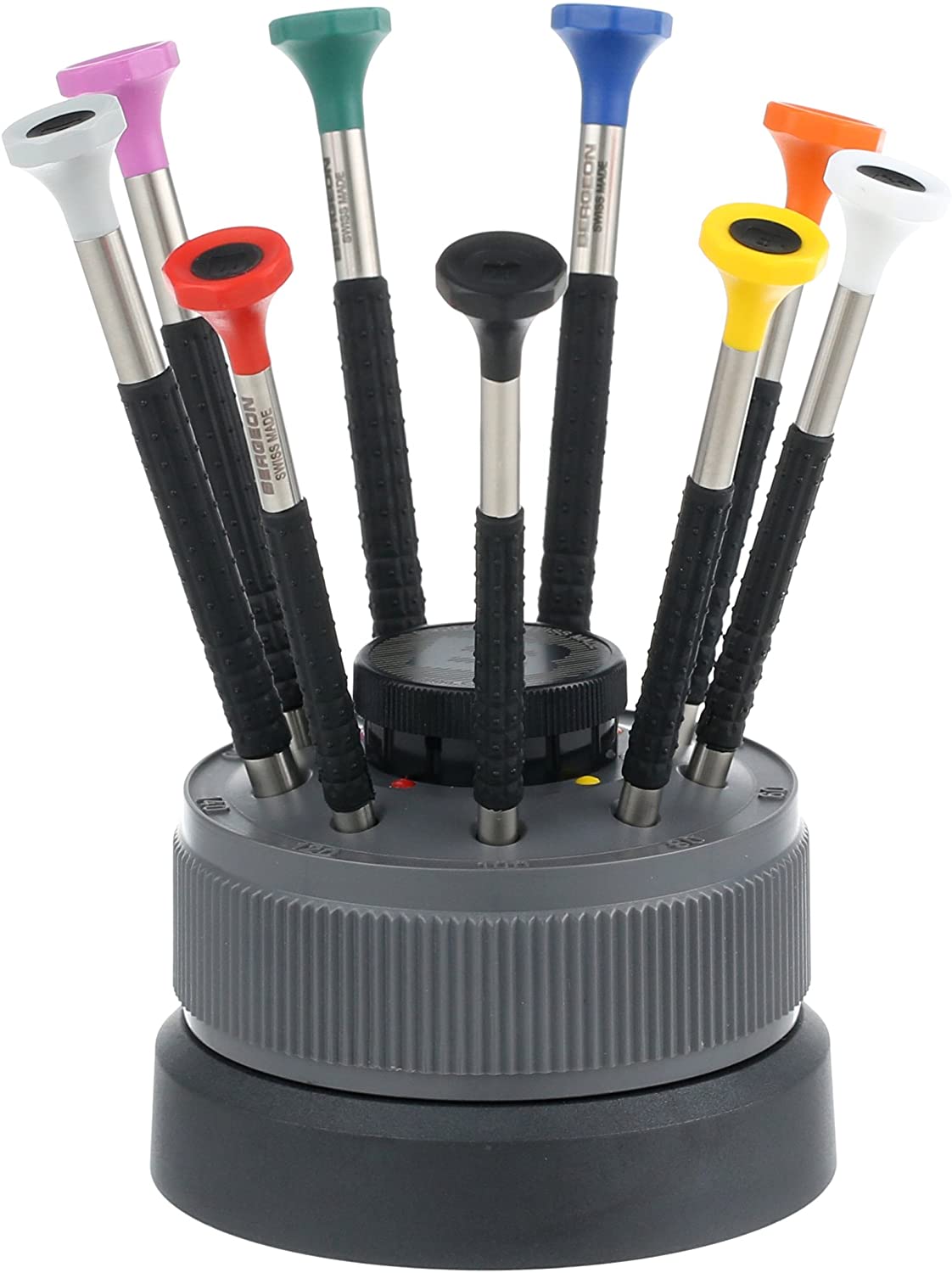 This is another watch screwdriver set from Bergeon.
It includes 9 stainless steel screwdrivers which are color-coded and feature knurled shafts for better grip. It is very similar to the set above but has some differences. One difference includes that the grip is made in full stainless steel instead of having a rubber grip. It comes delivered with a rotating stand with storage which allows for easy access and a good overview of the tools. Included are also replacement blades in each size. Furthermore, the shafts have swivel heads so you can operate the screwing with one hand.
This product is Swiss made.
This watch screwdriver kit includes:
Rotating stand
9 stainless steel screwdrivers in the sizes 0.50, 0.60, 0.80, 1.00, 1.20, 1.40, 1.60, 2.00, 2.50mm
Replacement blade in each size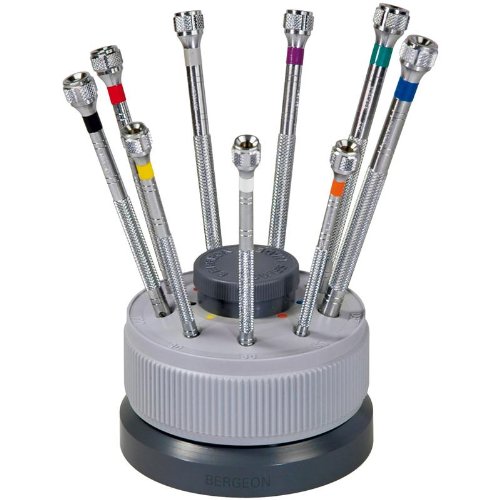 This is a small and convenient set that includes 6 screwdrivers. It includes 2 pieces of Phillips screwdriver sizes and 4 pieces flathead sizes.
It comes delivered in a plastic storage case which keeps them organizes and in place and is great for traveling.
The screwdrivers are made of chrome vanadium steel material as well as hardened carbon steel shafts with black oxide finish. This makes the screwdrivers durable and corrosion-resistant.
This watch screwdriver kit includes:
2 Phillips screwdrivers
4 flathead sizes 1.4mm, 2.0mm, 2.4mm, 3.0mm
Plastic storage case