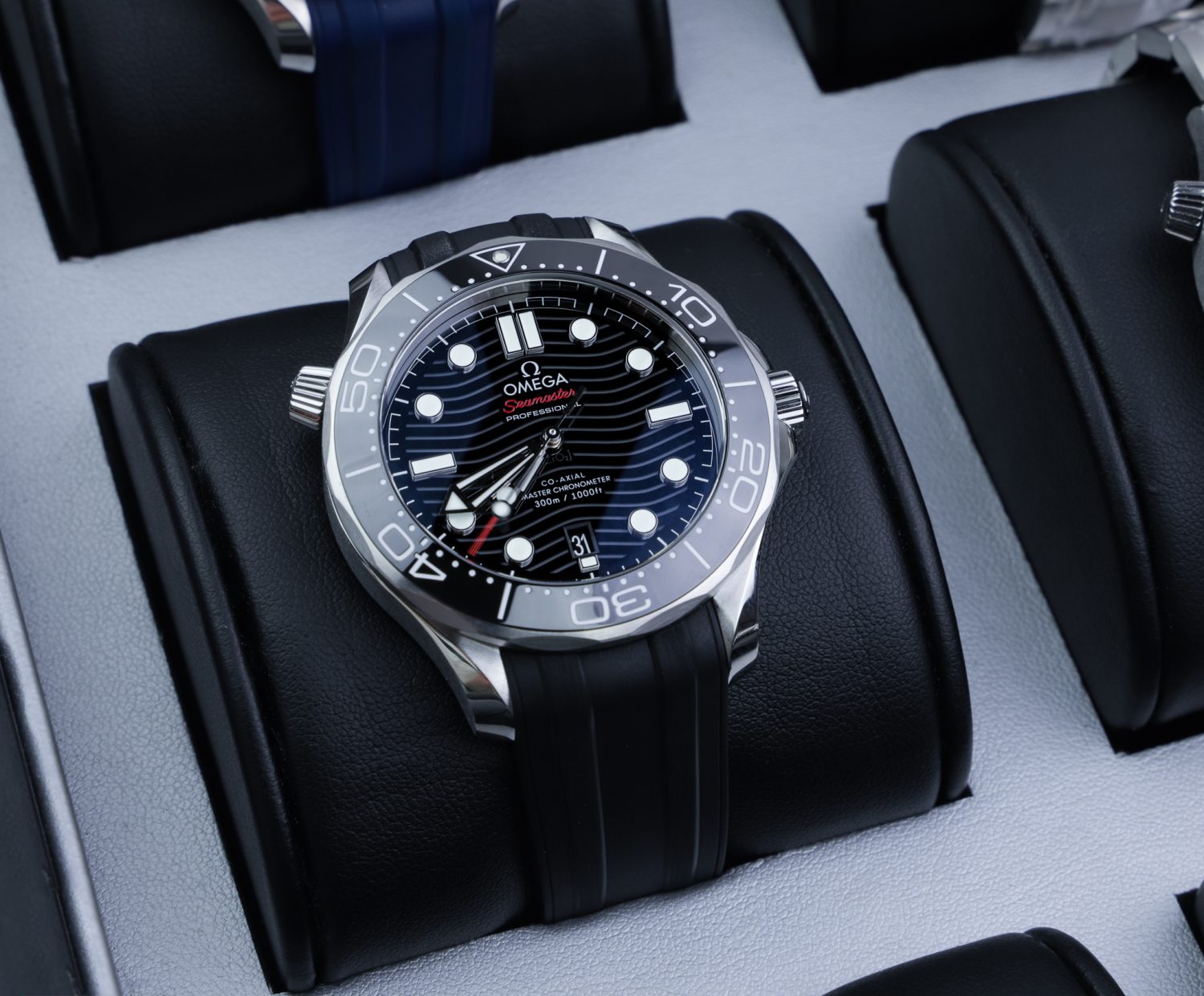 Top 19 Best Watch Boxes & Cases
When you own a watch, you want somewhere to place it when you are not wearing it. This is especially important when you have a collection of multiple watches. Your watches are beautiful pieces of craftsmanship, and they do not deserve to be thrown on the kitchen counter, or on a table. They deserve to be stored nicely and comfortably. This is obviously also important for protecting your watches against scratches and damages.
And, if possible, they also deserve to be displayed, so you can appreciate them even when you are not wearing them. And of course, as your collection grows, it gets even more important to keep them gathered in one place, so you can get a good overview of them, but also avoid misplacing them. This is why every watch owner and watch collector should have a watch box. Regardless if you own 2 or 20 watches.
In this article, we won't focus on watch winders. Watch winders are both functional in the way that they wind your watches when you are not wearing them, but they can also work as a great way to store your watches as well. But if you are looking for a watch winder, we recommend you read our guide to the best watch winders.
This article will focus on the best watch boxes which are not winders.
There are countless watch boxes and cases on the market. And with so much to choose from, how do you pick one? Towards the end of the article, we will present a buyer's guide for watch boxes and cases
---
"An elegant watch box is a great way to store and protect your timepieces while adding a beautiful decorative accent to your home decor."
---
Top best watch boxes
Below, we have listed some of our favorite watch storage boxes. We have listed both affordable, as well as more expensive alternatives. Furthermore, there are watch boxes of different materials, designs, and a number of watch slots on this list. All to help you find a great watch case that you will love.
---
WOLF Heritage Jewelry Armoire 280802
WOLF is a well-known and respected brand when it comes to watch accessories. Why? Because they make high-quality products of course. Wilf is a British company founded in 1834 and is famous for its luxury leather goods.
This watch box is made to store both jewelry and watches in a number of different compartments. To keep your watches and jewelry protected, it has an ultra-suede lining. This watch storage box has a whopping 37 jewelry compartments, 59 ring tools, 136 earring holes, 4 watch compartments, 7 necklace holders, as well as a travel case. If you need a case that can store all your jewelry in one place this is the one to choose.
It comes with a 1-year manufacturer warranty.
---
Caddy Bay Collection Vintage Wood Watch Display Storage Case Chest
This watch storage chest is a clean, simple, and straightforward way to store your watches. It has room for 10 watches, which is enough for most people. It has a relatively high quality, is finished in wood, and has a glass viewing display top. Other, lower-end watch boxes tend to often not use real glass, so that is a plus for this product.
Also, if you want, you can turn it into a jewelry box by removing the pillows. But that's not why we are here, is it? The pillows are squeezable and soft which allows you to fit both large and small watches. In particular small watches, without stretching the band, which can otherwise be an issue with some watch boxes.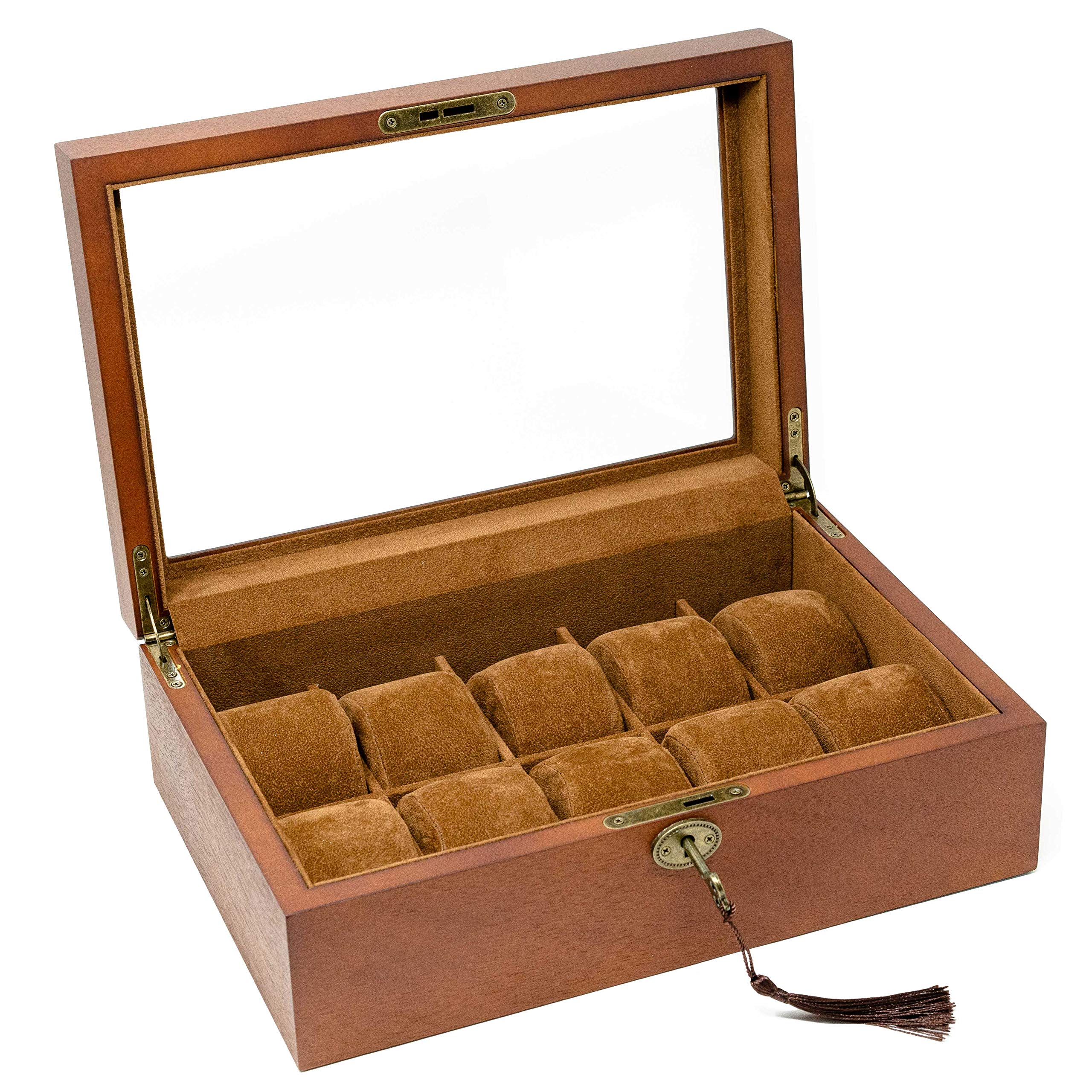 ---
Windsor 10 Piece Watch Box by Wolf
This is another great product from WOLF. Expect high-quality and lovely materials from Wolf, and that is exactly what this box delivers. It is a mid-century-inspired watch box with room for 10 watches. It has chrome-finished hardware and a locking glass cover. The case features a purple textured silk lining
It comes with a 1-year manufacturer warranty.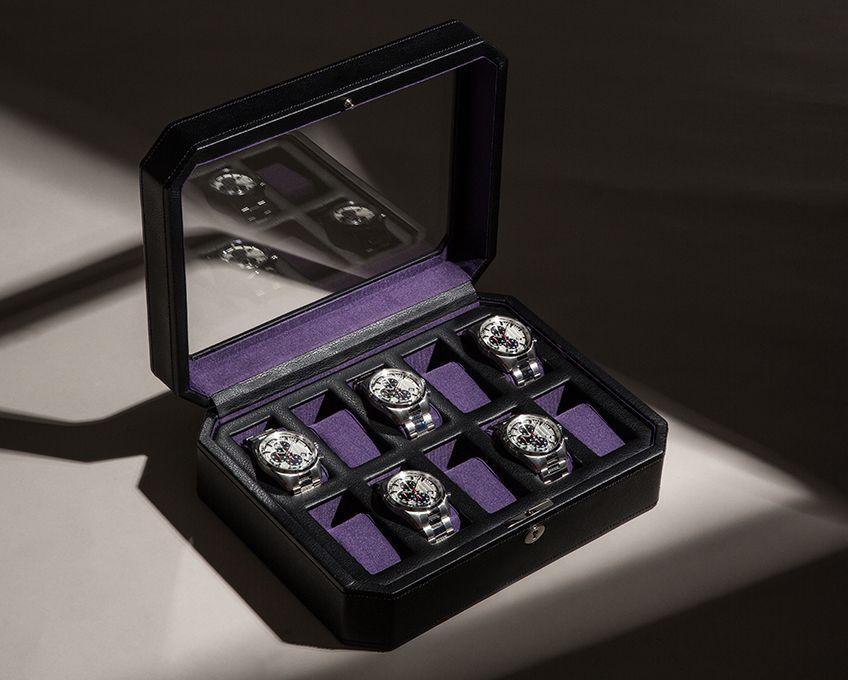 ---
Caddy Bay Collection Carbon Fiber Pattern
This is a serious watch box for the most devoted watch collector. It has room for up to 20 watches and uses removable cushions which also enables the storing of jewelry such as cufflinks, rings, etc. Each compartment also has high clearance and can fit larger watches up to 52mm.
The box is made in a durable carbon fiber pattern fabric which looks great and makes it a perfect accent to your home decor. The cushions are soft and squeezable which means they can hold most watches, regardless of their bracelet size.
In addition, it is equipped with a glass top which allows you to view the watches placed on the first level. Another bonus is that the bottom level is made as a drawer, which enables easy access. It also has a matching lock to lock. Of course, it is not meant to keep your watches safe like a safe, but it can keep unwanted family members' fingers away. For the price, we think this watch box is great value for money.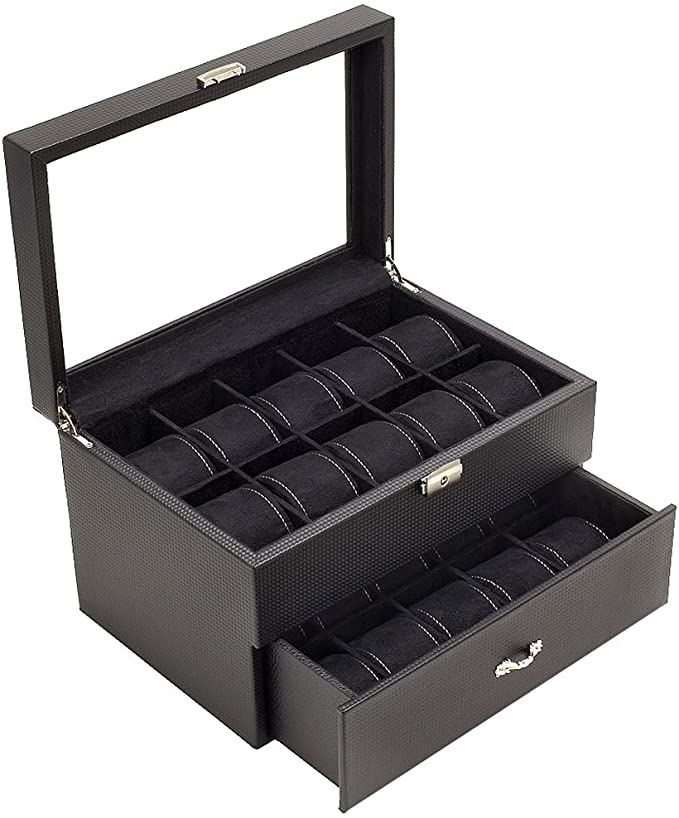 ---
Glenor Co Watch Box for 24 Slot
The Glenor co Watch box has 24 large compartments for watches, and each slot contains a watch cushion. The large space in each compartment enables storing of even larger watches.
We like this box due to the easy access it offers but also because it looks rather nice with its large glass window at the top which creates a nice presentation, as well as its steel elements contrasted against the carbon fiber design exterior with stitchless corners.
All in all, we think you get great value for money with this watch box.

---
Watch Box Organizer Pillow Case – 24
This is one of the more affordable alternatives. This means that it isn't made in premium materials or will look flawless for many years to come. But still, it may be a good alternative for you, and here's why.
The case has slots for 24 watches (!), which is more than most people need. Also, for the number of watches that it can store, it is very compact.
It is made in PU leather, and overall, you will feel that this is a bit on the lower end, but if you are just looking for a place to store your watches, it does the job.

---
Watch box with Drawer
This watch box is made of quality wood and has a double-layer design with a drawer that allows for easy access. The top layer has 10 watch slots with removable velvet pillows. The bottom layer has a jewelry tray with a place for other jewelry. If you are looking for a watch case that can also hold your other jewelry and accessories, this one will do the job.
It is a product on the premium side, so the price is higher, but this is also reflected in the product. The wood case gives it a really nice look, and whilst it doesn't have a glass top (which can be both a plus and a minus), it will look good inside your home. The dimensions are: 30×21.7x13cm(12x9x5inch).
Lastly, the watch box has a soft velvet interior that keeps your watches protected and free from scratches.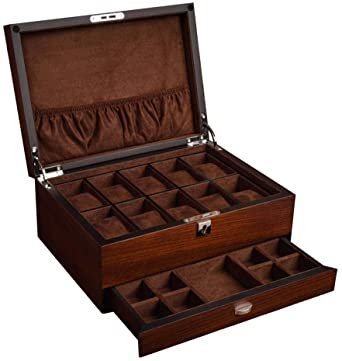 ---
MILFORD Watch Case – Cascade – 8 Watch Slots
The Milford watch case has room for 8 watches. It has wood construction with metal hinges and a glass window made of actual glass (remember, real glass is a way to filter the lower-end watch boxes from the higher-end boxes). And this watch box is indeed premium. Its construction is solid and it doesn't feel low quality in any way. The wood has a matte finish. The watch slots are wide enough to fit up to 50mm watches, and the interior is made in luxurious velvet that prevents scratches.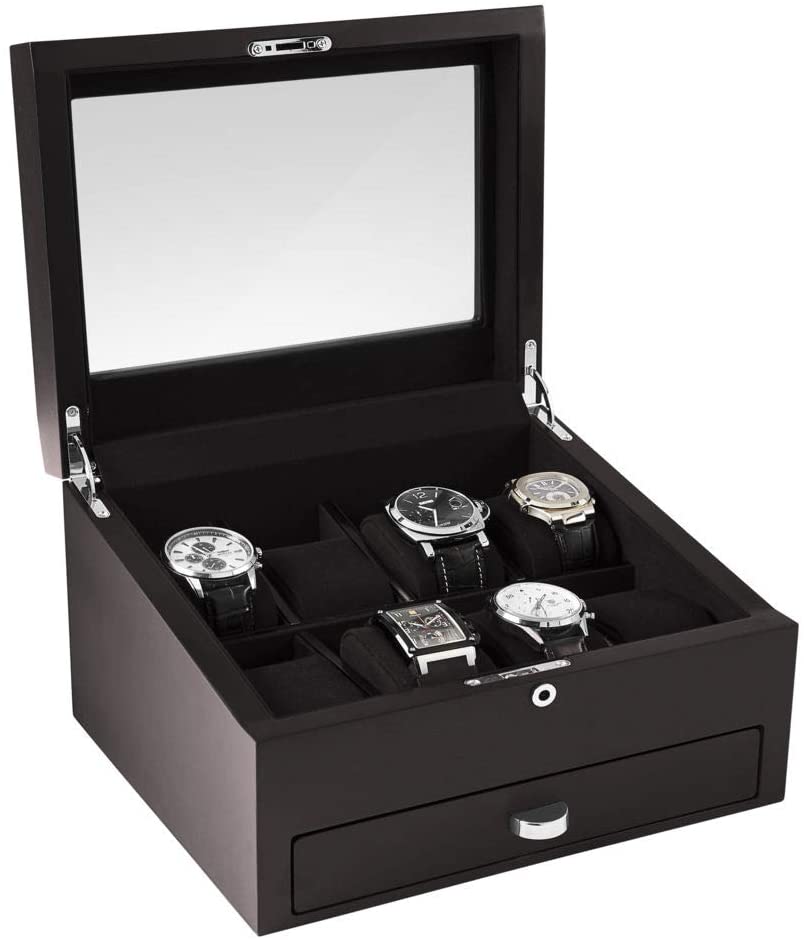 ---
Solid Wood Watch Storage Box
This drawer-style watch box has two levels of compartments meant to store both watches and other jewelry. It is made of solid wood and looks quite nice.
The box is actually quite straightforward and does the job and does it well.
It is not only practical but also a nice touch to your interior – wherever you choose to place it.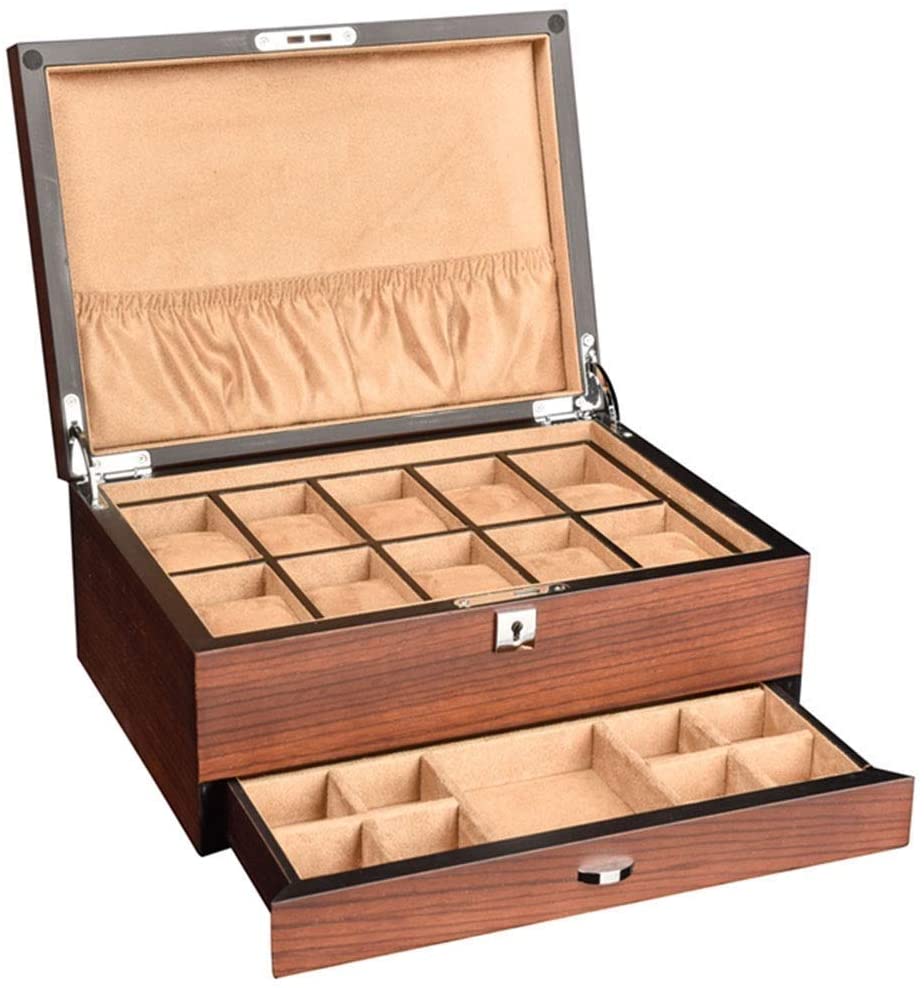 ---
CJVJKN Multifunctional Wooden Jewelry and watch Box
This stylish watch storage box is made of MDF material, which is safe and environmentally friendly. It has a soft bead lining inside which keeps the watches safe and protected. The box is easy to carry and is designed to also store jewelry such as necklaces and bracelets apart from watches. The case, when closed, will keep your watches and jewelry protected from dust. The glass at the top allows you to see the first line of watches inside, and the drawer allows you to easily access the watches and jewelry at the bottom level.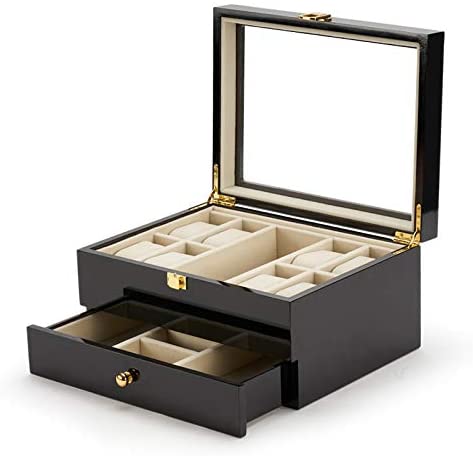 ---
BVCBD TRE Rosewood Rosewood watch box
This is a product we love as it combines the best parts from the watch box above but has something which was missing, which is a glass top.
It is made in Rosewood/flannel and has a clean and modern design. It has a drawer with two levels, where the top level is meant to store your watches.
It includes 8 watch pillows, but the box can hold more watches, depending on how you want to place them.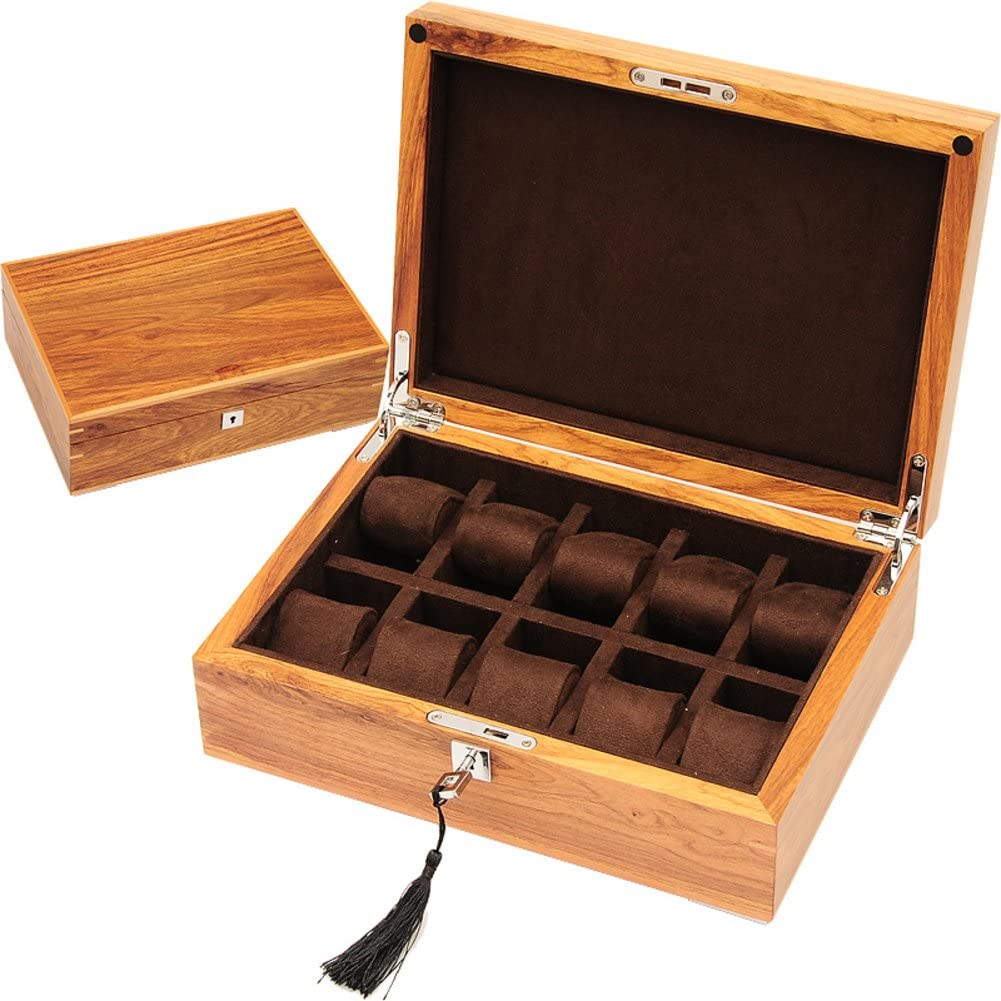 ---
Modalo Lacquered Wood Watch Box for 8 Watches
Modalo is a well-known manufacturer of watch winders and watch cases, and they are known for their high-quality products. Of course, the price of their products is higher, but it is probably well worth it.
There is no rattle or feeling of low quality, which can be the case for low-end watch boxes. This one has room for 8 watches and is also suitable for larger watches. The exterior is handcrafted in solid wood, contrasted by a multi-layer high-gloss carbon. We like this watch case because of its unique and sleek design. Via the glass at the top, you can see the watches inside. The modern design of this watch box makes it a really nice interior touch as well.
The interior is made in a high-quality beige velour interior. It also comes with a protective cover display with a key. The top is easy to open and enables easy access.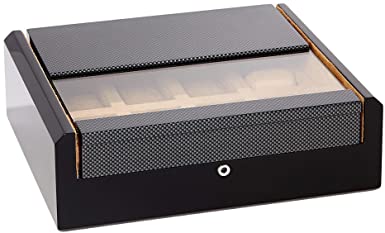 ---
Bello Collezioni – Florentino watch & jewelry box
The Bello Collezioni watch and jewelry box is, as the name suggests, made to hold both jewelry and watches.
This is a premium and high-priced watch box, priced at over 15000 USD. But the high price is certainly reflected in the quality. If you want to invest in high quality and really premium watch box, this is a good alternative.
It is made in Ebony wood, which contributes to the high price, but also gives it a quality appeal.
Its interior layout is made slightly different from most other watch cases, as it doesn't have watch pillows. Instead, it has a circular-shaped" pole" that hangs in the air. It is not the watch box that will hold the most watches, but if you want a premium watch box for a few of your watches, this is a really luxurious alternative. The inside is lined with ultra suede.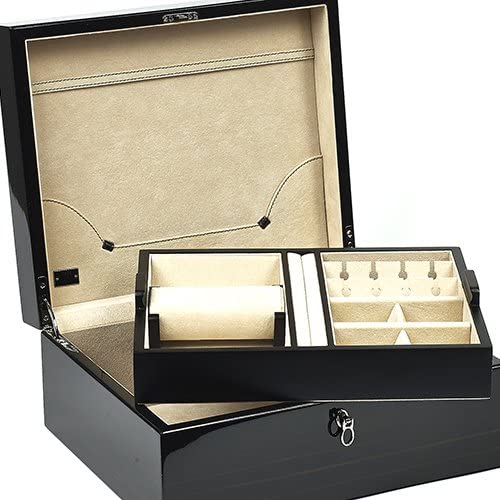 ---
Modern Wooden Watch Box 6 slots
We love this sleek watch box with the storage capability of 6 watches. It has a really nice design that should fit into your home decor and be a nice interior detail.
Its top is made of real glass, and it is decorated with a stylish brushed stainless steel top. It's quite affordable, too, which makes it great value for money.
The interior has a clean white plush texture that protects your watches. The watch pillows fit most watches. The box is made in elegant solid wood. The lid opens and closes, and is held in place via a secure magnetic enclosure.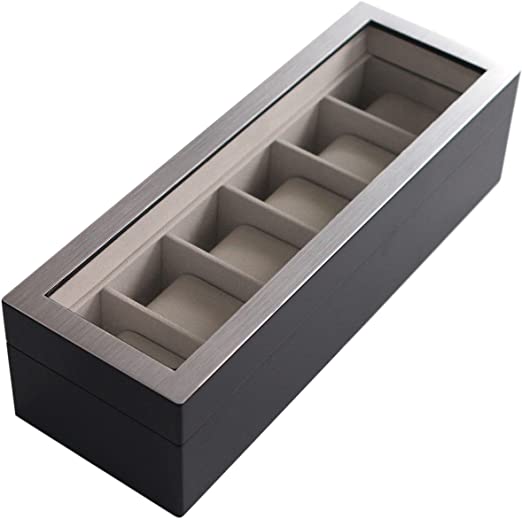 ---
Bello Collezioni – Via Luciano Luxury Briarwood 10 Watch Box
For those who value quality and attention to detail, this is a great choice. And in many ways, you may say that your luxury watches deserve a luxury watch box. This watch box is hand-made in precious wood which gives a stunning and luxurious appearance. The woods used are briarwood, root & elm. And unlike many other watch boxes on the market, this is real wood. Not some plastic low-quality.
To protect your watches from scratches, it has an ultra-suede lining. This is a box that radiates luxury in every single aspect and detail, and this makes it so much more than just a box. It makes it a stunning interior detail in your home. It also has a built-in lock and key.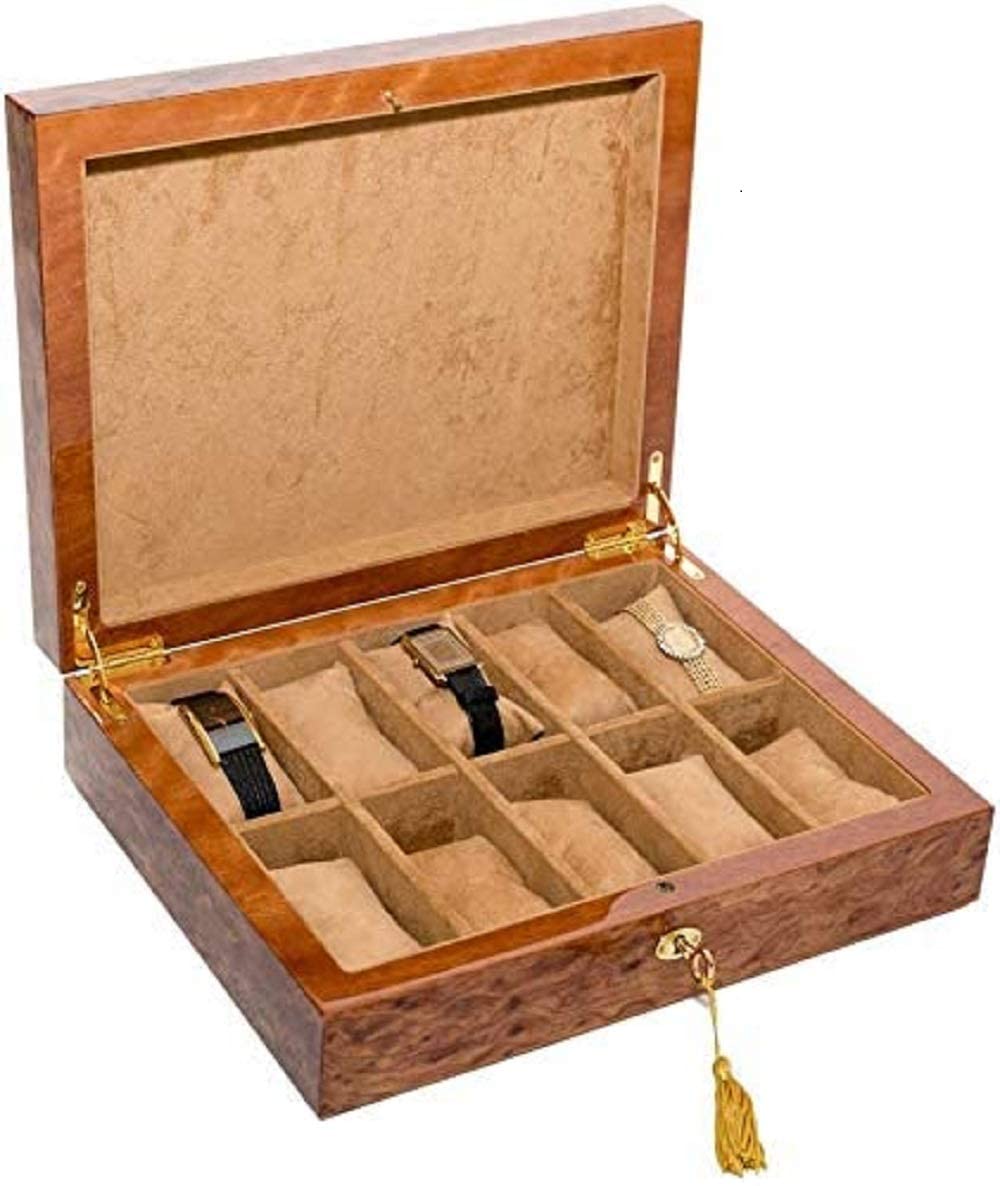 ---
Rothwell

Watch Box with Valet Drawer 12 Slot
This is a compact, elegant, and luxurious leather watch box with a drawer for the picky watch collector who only satisfies with the best. It is presented with 12 large compartments with cushions that can hold watches up to 60mm. On the bottom level, it has a slide-out drawer which is practical for storing other objects than watches such as watch straps, cufflinks, rings, sunglasses, etc. In other words, this watch box solves all your accessory storage needs.
The box is made with a wooden frame and is wrapped in high-quality PU leather. The inside has a soft and supple crimson red microsuede fabric.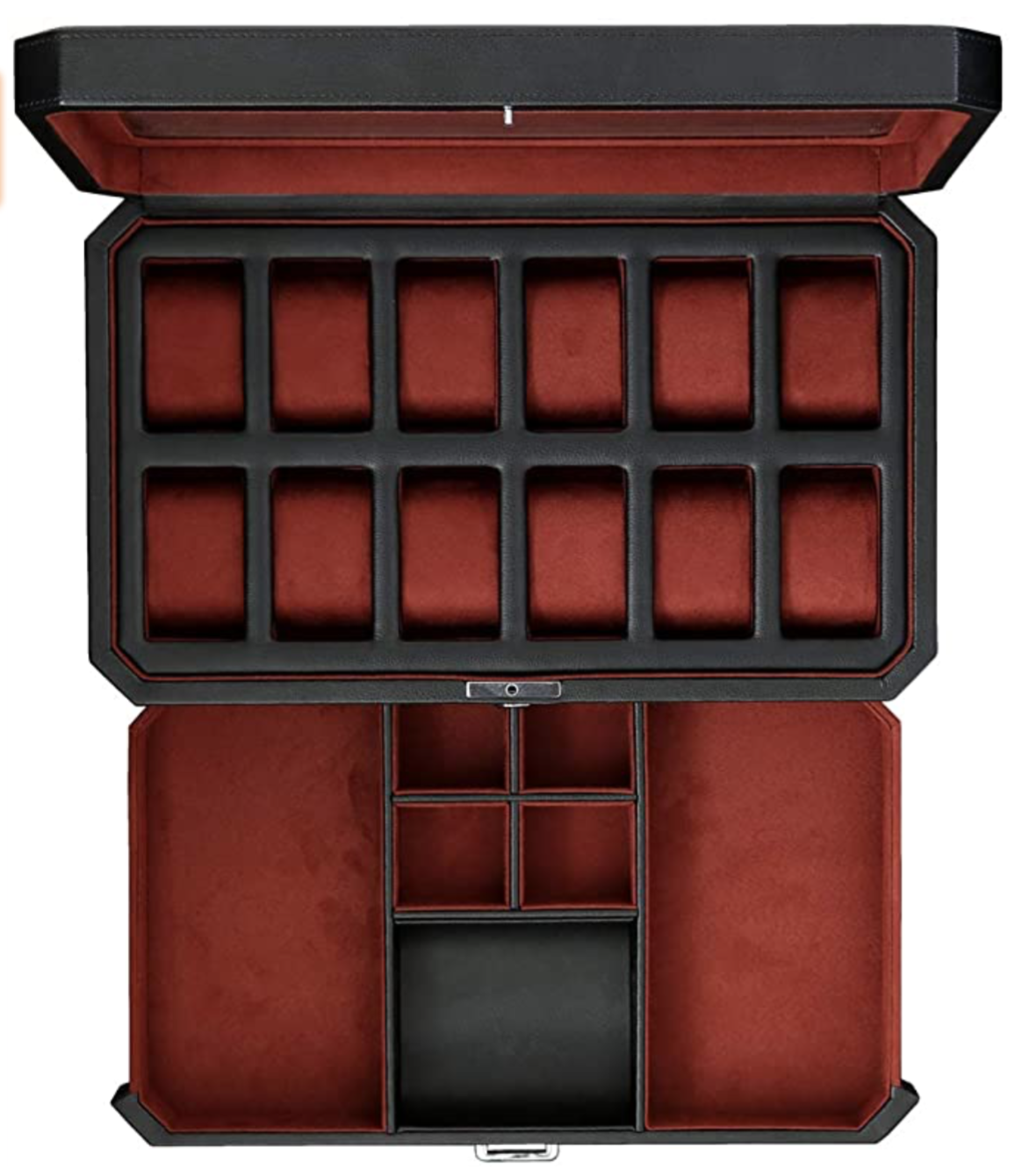 ---
Tawbury 8 Watch Case with Drawer
The Tawbury watch box has a practical drawer design as well as an elegant look with high-quality materials. It has a brown leather exterior and is built to great quality and with beautiful attention to detail. The box has a plush gray velvet interior to provide great protection for the watches.
On the bottom level, it has a drawer where you can store additional accessories.

---
Rothwell 12 Slot Leather Watch Box for Men
Rothwell 12-slot leather watch box in a compact and sleek design. The box has 12 large compartments which makes it suitable for people with a large watch collection. It can hold watches with a size of up to 60mm. Thanks to its compact size, it can also be used when traveling.
It is made in high-quality PU leather and the interior has an elegant grey microsuede fabric.

---
Decorebay Executive Wooden Watch Box
This stylish Decorebay watch box features 15 large watch compartments with cushions that can hold watches up to 60mm. The box is divided into 2 different sections with the watch boxes on the top and a drawer at the bottom. The drawer is made to hold additional accessories such as jewelry, sunglasses, cufflinks, etc. It is constructed with a luxurious wood finish and has a soft leather interior.
The top has a large glass window on the top which gives a good view of the watches inside.

---
Watch Boxes & Cases buyer's guide
---
How many slots do you need?
This is the single most important question you need to ask yourself. Watch boxes are available with slots for one watch, and they are available with slots for tens of watches. With that said, how many slots do you need in a watch storage box? If you have a large collection, you naturally need a larger watch box and case as opposed to if you only have a few watches.
Where will you keep your watch box?
Another important question to ask yourself is where you plan to store your box. If your purpose is to simply keep your watches stored in one place, and have the box inside a safe, then the box won't be visible for the most part. In other words, it won't be a part of your home interior. Hence the need for a design that fits into your home isn't that important. Also, you may even consider a watch box that doesn't have transparent glass that allows you to see the watches inside, as it is going to be in your safe anyways.
If you are going to store your watch box in a safe, it may be more important to find a watch box that is slim and small in size. In other cases, the size of the watch box may not matter as much.
On the contrary, some people have their watch box proudly displayed on a table or a bureau, and in these cases, the design, color, and size may be of utmost importance. With that said, you need to pay close attention to how it fits into your home.
Furthermore, others may want to be able to travel with their watches in a practical and effective way, and in this case, you may want to opt for a watch box that offers good protection and is easy to travel with. Ideally, you should look for a watch travel case. You can read more about watch travel cases here.
Quality and budget
The price almost always reflects the quality. But at the same time, there are other factors that also affect the price of a watch box, including its size, number of slots, and materials used. The watch cases with many slots, made of premium materials, and high quality will naturally be the most expensive. The cheapest alternatives will often have plastic glass at the front, perhaps feature faux leather, and ultimately wear out faster. On the other hand, premium alternatives may be handmade in premium leather, which makes it only look better over time. Whether you want to compromise with quality and premium materials in order to get a cheaper alternative is completely up to you.
The material
Watch boxes are available in essentially any type of material you can think of. The materials used will also depend on the price of the box. The most premium and exclusive watch boxes tend to use premium materials such as genuine leather, real wood, and glass. More affordable alternatives often use PU leather, plastic, and acrylic glass. Naturally, your budget will affect which materials you can afford to some extent, but it's still good to consider the materials you want in a watch box as it will help you narrow down the alternatives.
In addition to the material choice, you also want to consider the color. The good news is that watch boxes are available in an endless selection of colors, so you can be sure to find one that suits your taste and preferences the best.
---
Why buy a watch box?
There are many important reasons why you may want to buy a watch box – and why a lot of people who have a collection of multiple watches do. The primary reasons for buying a watch box include:
Keeping the watches stored and gathered in one place
Protecting the watches from dust and moist
Not having to put the watches on items and places that may scratch or damage the watch such as on a countertop
Easier traveling
Keeping the watches organized