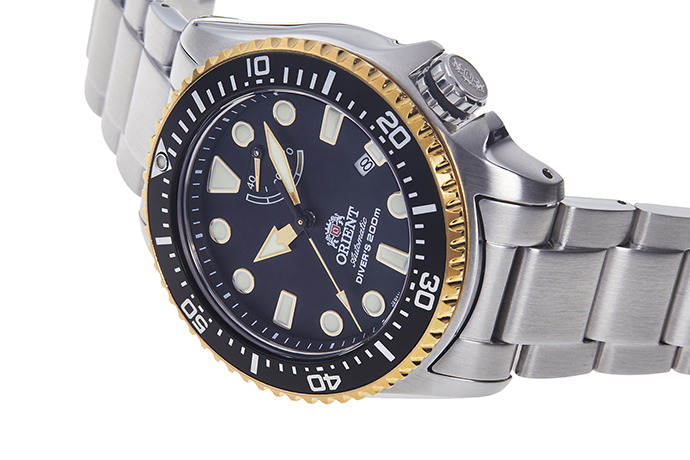 Orient Neptune Watch Review [Complete Guide]
Dive watches are perhaps the most popular type of watch design today. They are iconic and greatly appreciated for their versatility. Whilst they are technically sports watches, many dive watches are also surprisingly versatile.
But there is a huge difference between dive watches on the market. Some only carry design traits and inspiration from dive-watch designs, but others are full-on dive watches with serious water resistance and are built as true dive watches.
Some of the most important design features in dive watches include a unidirectional rotating bezel, large markers for good legibility, a sporty case, and a large crown.
In this article, we are looking closer at a highly popular affordable dive watch that doesn't only have a dive-watch-inspired design, but also the performance to back it up.
Worth noting is that the Orient Neptune was previously known as Triton. But for some reason, Orient decided to change the name to Neptune. This may cause some confusion, but what you need to know is that the Orient Triton and Orient Neptune is the same model. But since Neptune is the new official name, that is what we will refer to it as.
It's also worth knowing that the Orient Neptune is available in a few different designs, versions, and iterations. At their core, they are all the same, but there are some differences in terms of dial colors, metal choices, and bezel colors. But this article will focus on the model range as a whole.
Orient Neptune Watch Review
As an Amazon Associate, we may earn from qualifying purchases, at no extra cost to you.
The Orient Neptune is built as a true dive watch with a true dive watch performance. It has a tough, robust, and sporty design, but interestingly enough, Orient has still managed to make the design rather versatile, meaning it is also suitable for everyday wear.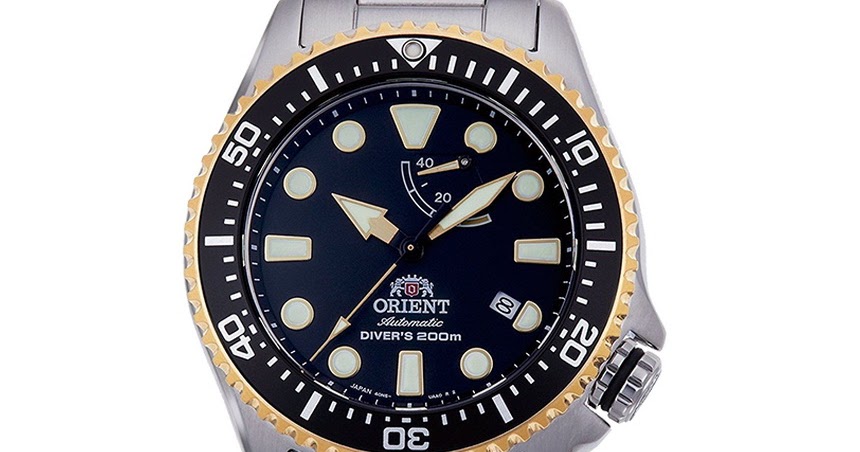 Whether you are looking for a tough dive watch for your next diving adventure, or want a versatile yet sporty timepiece for everyday wear, the Orient Neptune is a watch that is worth looking closer at.
This watch offers everything we have come to love and appreciate from Orient, including great attention to detail, nice finishing, and robust movement. All at an affordable price.
Without further ado, let's look closer at what the Orient Neptune is all about.
Orient Neptune case
The Orient Neptune is presented with a stainless steel case. When it comes to the case design, there are no real surprises here. It is sporty, tough, and robust. It also has a nice combination of polished sides and a brushed upper side. What stands out the most may be the crown which is positioned at 4 o'clock and protected by crown guards which protrude from the case. Naturally, the crown is a screw-down, but the benefit of the crown position is that it improves comfort and prevents the crown from digging into the wrist, which can be the case with watches that have the crown at the normal 3 o'clock position.
The case measures 43.4mm in diameter, has a lug-to-lug of 51mm, and a thickness of 13.6mm. With that said, it is a relatively big watch, but it is by no means surprisingly huge for a dive watch. It should work well for most men with average-sized wrists. It's also worth pointing out that this watch wears much smaller than what its measurements state on paper. It's also not very tall, which helps it sit relatively slim on the wrist, for a sporty watch.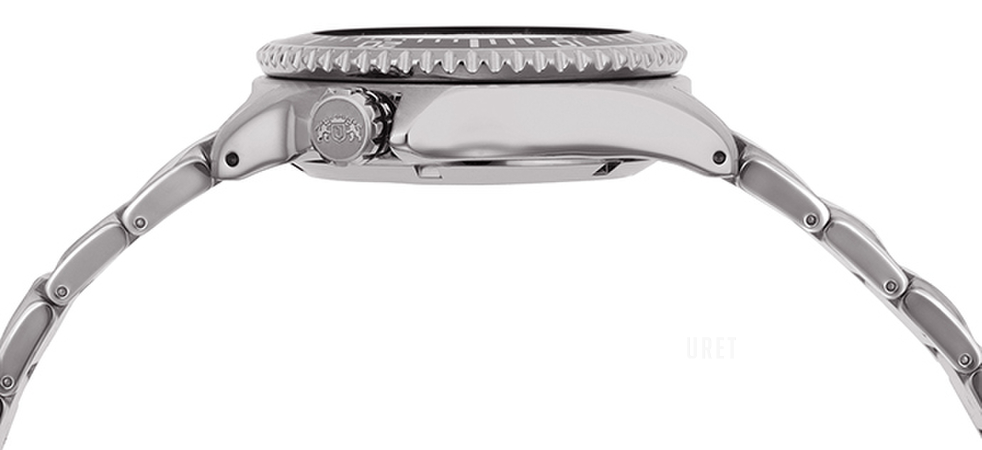 Perhaps the most important aspect is the fact that it has a water resistance of 200m/660 feet. This brings into the territory of being a serious dive watch, meaning it is suitable for both swimming and diving. Whether you are actually planning on going diving with your Neptune or not, it can still be comforting to know that it is able to handle it shall the situation need to arise.
As a dive watch should, it is also equipped with a unidirectional bezel with a 60-minute graduation scale. The bezel has sharp knurled edges which help improve the grip when operating it, and the bezel has an aluminum insert. It rotates with 120 clicks, and at 12 o'clock, it also has a luminous pip that helps you read the elapsed time in low-lit conditions. On top of the case sits an anti-reflective coated sapphire crystal.
All in all, this case is more or less exactly what you expect from a sporty dive watch.
Dial
The dial offers more or less everything you can expect from a dive watch, but what stands out on the Orient Neptune is its power reserve indicator which is incorporated into the dial.
Depending on the version you choose, you either get a black or blue dial, but regardless, they have great emphasis on legibility with large applied hour markers with Luminova and large, broad hands with applied luminescence as well. Both the hands and hour markers have metal frames which enhance the elegance and attention of this watch. The minutes hand is sword-shaped and the hour hand has a broad and thick arrow which provides excellent contrast. The lume on this watch is also great and glows strong for a few hours so this is a good thing. But it would certainly not hurt if the lime glowed for an even longer period of time.
Positioned at 4 o'clock, it has a date window discreetly integrated which is perhaps not crucial when diving, but keep in mind that most people will wear the Orient Neptune as an everyday watch.
Right at 12 o'clock, it has a power reserve indicator with a red-frame hand and markers from 10 to 40 hours to indicate how many hours of power reserve is left. The power reserve indicator is slightly recessed on the dial as well which adds some depth and makes the watch more interesting to look at. The power reserve function is something that can actually be truly useful and that can come in handy.
Right above 6 o'clock, we find printing with the Orient logo/crest and the text "automatic" and the depth rating "200m" right beneath it. Whilst this text takes up a bit of space on the dial, it creates a balance to the power reserve.
Around the very outer edge of the dial, we have a slightly sloped chapter ring/rehaut. The rehaut has an almost vertical angle which means it doesn't take up a lot of space on the dial but contributes to giving the watch more depth. It also keeps the dial from looking too big on the wrist.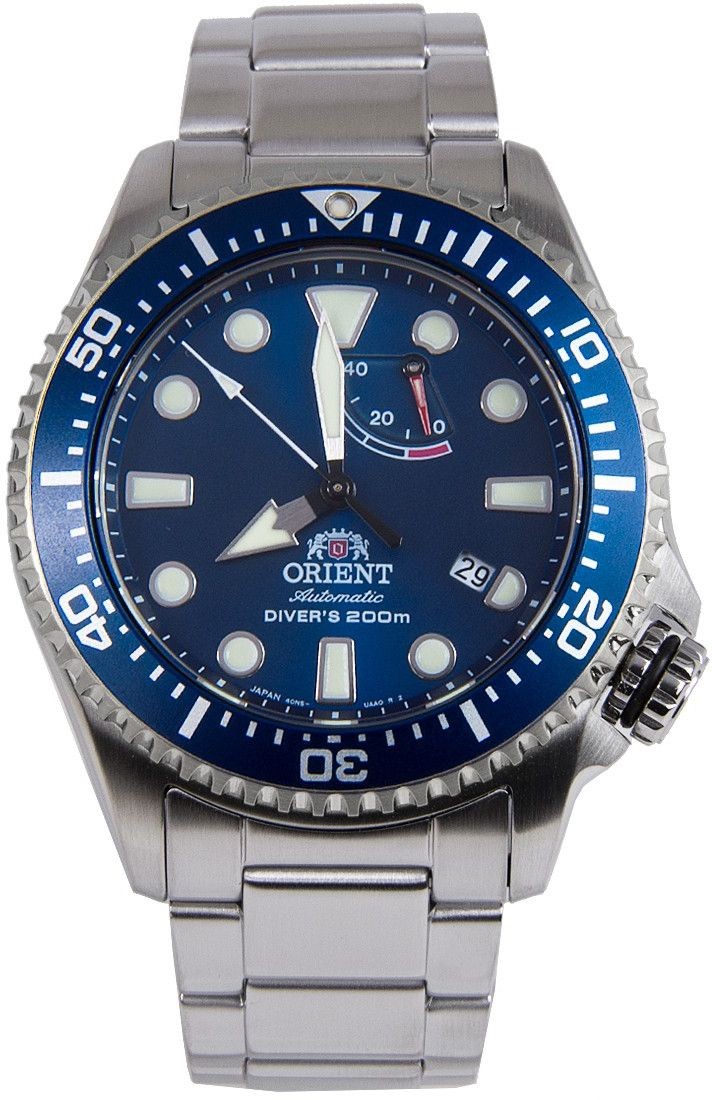 Movement
The Orient Neptune is powered by the in-house Orient caliber 40N5A. As we have come to expect from Orient watches, this movement is robust, reliable, and durable which is very appropriate for a sporty dive watch.
The Neptune uses the same in-house movement that you can find in Orient's in the Pro Saturation Diver. In other words, it is an extremely tough and robust movement. This is also partly thanks to its case design, which according to Orient, has its own shock-resistant case structure.
The movement has a power reserve of approximately 40 hours which is more or less standard for automatic watches in this price range.
Bracelet
The case is equipped with drilled lugs, and this is a great thing as it makes it easier to change and remove straps and bracelets to give it a new look and style. This is particularly important for many people since the bracelet isn't the best out there. Whilst the three-link stainless steel bracelet with a satin finish has a nice design, it does not have the best build quality.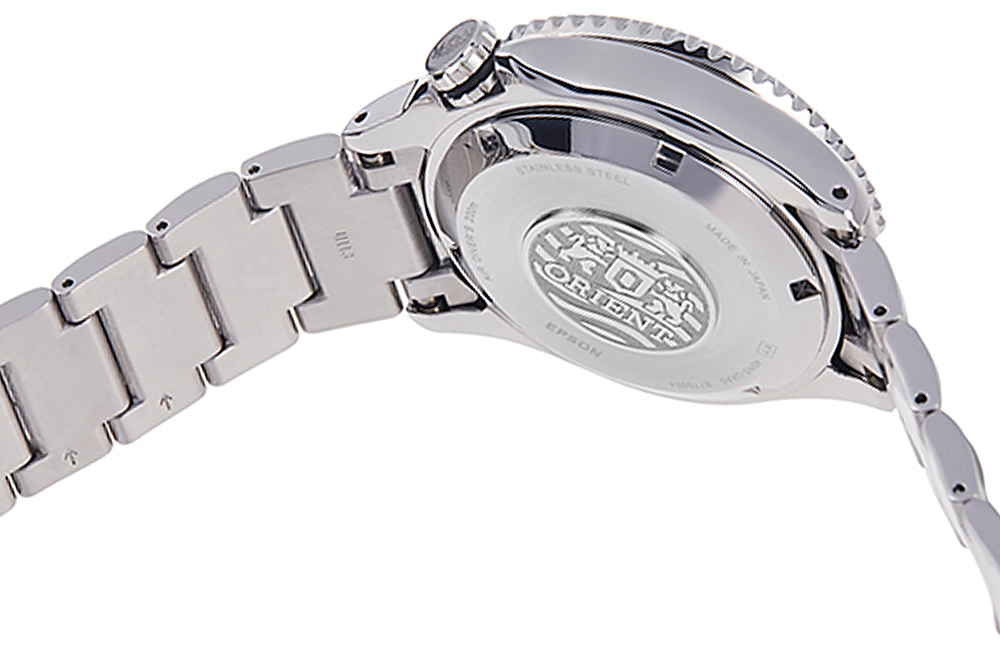 Firstly, the bracelet uses pins and collars which not only gives a cheaper impression than screws but also make it quite difficult to adjust and size. In addition, the bracelet has a stamped clasp and is not solid. This really affects the overall feel of the bracelet and makes it feel much more rattly.
All of this may make you want to change the bracelet for something different, but as said, the design and looks are good, but it's the finishing and quality that can definitely be improved. This is the only thing we can complain about when it comes to this watch, really. At the same time, affordable watches are notoriously known for having bracelets that feel a bit cheap, so it doesn't exactly come as a surprise.
Orient Neptune models
Orient Neptune reference EL0001B00A – all-black model
Orient Neptune EL0002L00A –

all blue model
Orient Neptune EL0003B00A – all-black model with yellow gold accents
Specifications
Case: 316L Stainless steel
Movement: Orient caliber 40N5A automatic
Crystal: Sapphire with anti-reflective coating
Water resistance: 200m/660 feet
Diameter: 43.4mm
Thickness: 13.6mm
Lug-to-lug: 51mm
Lug width: 22mm
Power-reserve: approx 40 hours
Conclusion
All in all, the Orient Neptune is a great value proposition for a dive watch from Orient. This watch offers exceptional value for money, as we have come to expect from all of Orient's watches, and for its price, it has great attention to detail, finishing, and build quality.
If you're looking for a stylish, durable, and robust dive watch for everyday wear, the Orient Neptune is definitely a great alternative. In fact, we would go so far as to say that there are few automatic dive watches in this price range that are as great of a value as the Neptune.
The Orient Neptune is available to order on Amazon.