Top 18 Best Wall Clocks [Guide & List]
Wall clocks are a must-have in any home or office. A wall clock has one main purpose which is to allow you to easily tell the time by looking at it. But a wall clock will also be placed visibly for everyone to see, and with that said, it is natural that you want to find a good wall clock that serves the purpose best.
A wall clock can be simple and only ensure that you know the time when you need it, but it can also work as a beautiful interior decoration if you want. It all depends on your needs, wants, and purpose.
Below, we have compiled a list of some of the most popular wall clocks on the market that have received good reviews and are appreciated by those who own them. We have included wall clocks in many different kinds of designs, shapes, and forms. Affordable and luxurious in a wide price range, so you should be able to find one that you like.
Top Best Wall Clocks for all Needs and Budgets
As an Amazon Associate, we may earn from qualifying purchases, at no extra cost to you.
---
Seiko Round Classic wood Wall Clock
Seiko is one of the most famous watch brands in the world. But Seiko does not only make wristwatches but also wall clocks and other clocks. This simple yet elegant wall clock is a perfect example of that.
It is 12 inches and has a round wood frame with a light brown finish. The legibility is great thanks to its white background with black hands and black numerals. This is a perfect wall clock if you want something simple yet elegant that is also a stylish addition to your home decor.
Specifications
Dimensions: 11.57 X 0 X 2.04
Wood frame with light finish
Battery-powered (1 AA)
Made by Seiko

---
Seiko Wall Clock Chime and Strike Radio Pas RQ205B
This beautiful Seiko wall clock is not your standard round clock, but also a beautiful interior decor for any home. It has a classic, vintage-inspired design and is finished in dark wood.
It has beautiful gold accents including a gold pendulum at the bottom which you can see through the decorated glass. The actual clock is big and has a white background with black hands and black numerals for optimum legibility.
It incorporates chime and strike functions as well as radio wave control. If you want to invest in a more premium wall clock that adds to your home's decor, this is definitely a great choice. It is also manufactured by Seiko, so you can expect long-lasting quality.
Specifications
Manufactured by Seiko, one of the most famous watch brands in the world
Crafted in wood
Elegant and luxurious design
Chime and strike function

---
Seiko Traditional Schoolhouse Light Oak Chime & Pendelum
This is another highly popular pendulum wall clock from Seiko. It has a classic and luxurious oak wood construction with a traditional clock at the top. The pendulum hangs from the watch and can be seen through the glass. The pendulum has a brass finish.
It has a large white face with black hands for good contrast. Around the clock are black Roman numerals.
It has a classic and timeless schoolhouse design that looks refined and sophisticated and around the clock is an octagon-shaped frame.
As an additional feature, it has Westminster/Whittington quarter-hour and hourly chime strikes with volume control and a nighttime chime silencer.
Specifications
Battery-powered by a 1 C battery (included)
Dimensions: 21.25 X 12.75 X 3.75 (cm)
Metal pendulum
Chimes with quarter-hour and hourly chimes.
Volume control and chime silencer
Westminster/Whittington quarter-hour and hourly chime strikes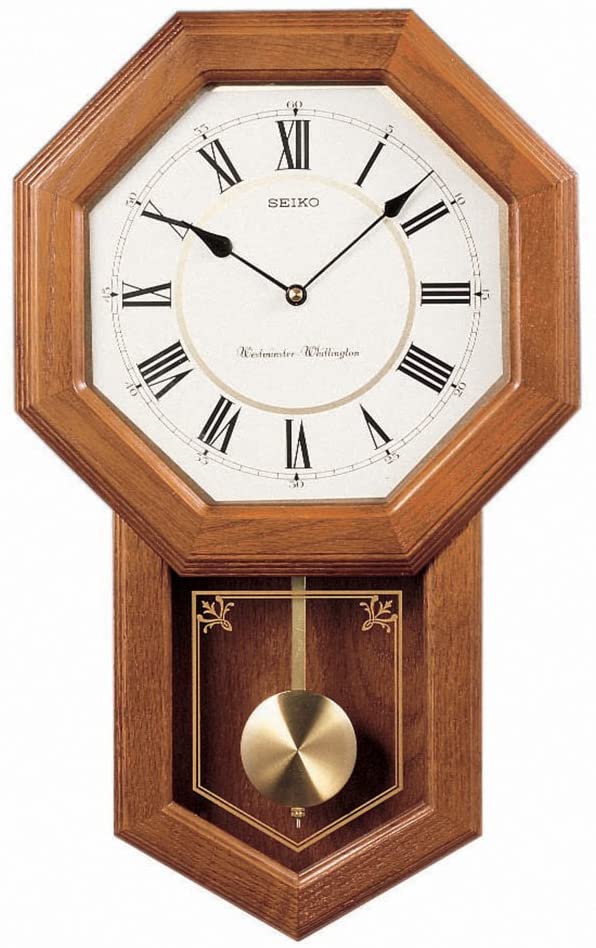 ---
Bernhard Products Black Wall Clock
This Bernhard wall clock is simple in its purest form. It has a simple and basic design that focuses on legibility. It has a white face with black hands and a red seconds hand. The numerals are large and printed in black.
The clock is 12 inches and has a black round plastic frame around it and a glass front. It is powered by a precise quartz movement powered by one AA battery.
It is a simple and classic wall clock that does the job and is suitable for a wide area of usage areas.
Specifications
12 inches
Quartz movement, 1 "AA" battery powered
Sweeping seconds
Plastic case and glass front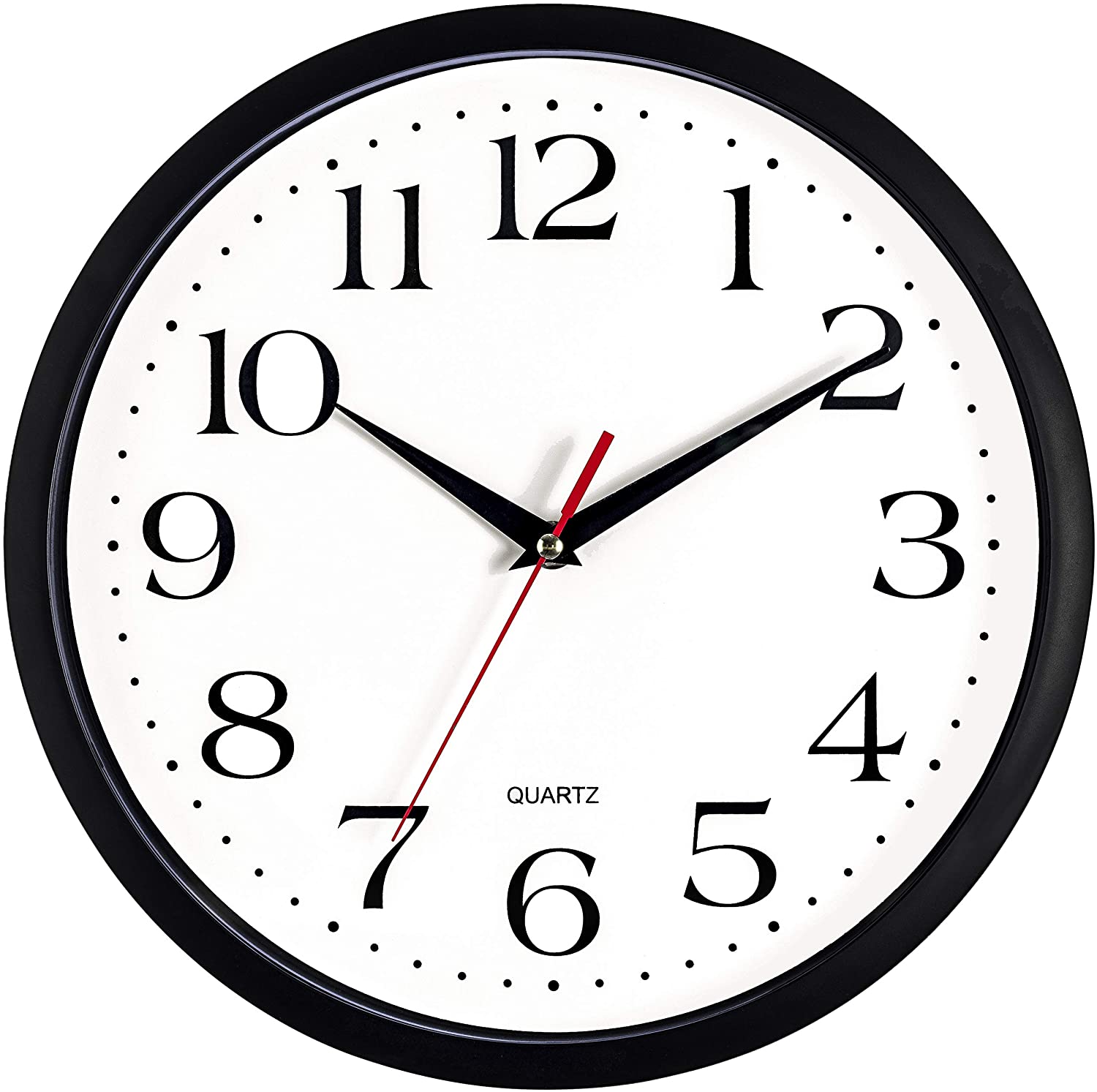 ---
MEIDI Mickey Mouse Wall Clock
This is a fun and interesting wall clock with a twist. It is extremely popular, and it is easy to see why with its distinct Mickey Mouse head silhouette made in plastic.
The clock is obviously made primarily for kids and children's rooms but it may be suitable for many different places. It depends on your needs. Another nice feature of this clock is that it has a 3D design. The hands are leaf-shaped and mostly white for contrast against the black background. The hands are made of metal.
Specifications
Dimensions: 13.4 x 11.2 in./34 x 28.5 cm
Quartz movement powered by 1 AA battery
Fun design
Made in plastic and hands in metal
---
TopOne Wall Clock
This is one of the most classic wall clocks out there. It has a white background, large black numerals, and rectangular black hands. The clock has a modern and clean metal frame around it.
This clock will do the job very well whilst remaining rather discreet in your home without standing out too much. It is about 30cm/12 inches and is powered by a quartz movement with low energy consumption. For hanging, it has 1 hook included and a nail slot in the back for easy installation.
Specifications
Diameter: 12 inches – 30cm/12-inch frame.
Thickness: 0.98 Inches
Quartz movement with low energy consumption
Modern metal frame
Silent and precise movement
Modern, sleek, and simple design

---
Junghans Max Bill Modern Wall Clock
This is a design wall clock by Junghans with a very modern appearance. It is perfect for modern homes that emphasize designer items. Whilst it has a very simple and clean design, it is still very evident that it has great attention to detail and is carefully thought out.
The clock has a thin frame around it, a big white face, and rectangular thin hands. The hour markers extend far into the dial. The hands are convex which allows them to reflect light beautifully.
This is true simplicity in its most beautiful form with an uncluttered design. It uses a standard AA alkaline battery with a specified power reserve of 2 years.
Specifications
Elegant and modern design
Manufactured by Junghans
AA battery powered
---
Seiko Sweep Radio Clock Twin KS266S wall clock
This is a simple and clean Seiko wall clock that emphasizes legibility. It has a white background with large black numerals and black hands. It is a radio wave clock which is suitable for offices and similar places. It will also work great in your home if you want something discreet and functional.
Specifications
Manufactured by the world-known watch brand Seiko
Radio wave clock
Dimensions: 1.89 x 16.57 x 16.57 inches

---
Seiko Chime and Strike Radio Clock Twin -Pas RX211B
This beautiful wall clock takes the classic and traditional design traits from pendulum clocks and incorporates that into a more compact format. It has a square shape with a wooden frame and beautiful gold accents.
What makes this clock stand out is its applied numerals with discreet gold frames and black center for legibility. It has a white face with elegantly designed hands.
The clock features chime and strike and is also a radio clock. In other words, it offers technically practical functions in an elegant and luxurious finish.
Specifications
Manufactured by Seiko
Wooden frame
Chime and strike
Radio clock

---
Seiko Radio Wall Clock Solar SF501B
This is a Seiko wall clock with a very interesting modern design. It is perfect if you are looking for a modern design clock that stands out from the ordinary and blends into your modern home perfectly. It uses radio wave technology as well as Seiko's solar technology. This means that it is powered by solar and ambient light which not a lot of clocks do. This is both a practical and interesting function.
The legibility is great with its large black numerals and modern-looking black hands. The recessed center where the solar panels are placed also provides depth to the clock and makes it more interesting
Specifications
Manufactured by Seiko
Modern design
Wooden frame
Radio wave technology
Solar powered

---
Grandfather Clock Chime with pendulum
This beautiful grandfather wall clock is a traditional pendulum wall clock that goes back to the roots of traditional wall clocks. With that said, it does not only work as a clock for keeping track of time but also works as a beautiful interior decoration.
This is a high-quality premium wall pendulum clock that radiates elegance and luxury. It is made in high-quality hand-carved basswood and has a polished finish. The pendulum is connected to the click and the whole construction can be seen through the glass at the frost. Every hour, the clock chimes.
Just like traditional clocks, it is manually winding and will work for 29 days to 31 days when fully wound.
Specifications
Mirror material: glass
Dial material: metal
Mechanical movement with manual winder
Size (cm): 74*30*16
Made in solid basswood – hand carved
Chime every hour
Power reserve of approximately 29 days to 31 days

---
Modern metal wall clock
This is a wall clock with a modern and very interesting design. It consists of a round metal frame made of copper rods. The hands are made in walnut wood. It is powered by a carbon AA5 zinc battery.
This is a perfect clock if you want something with a unique design and a nice design which stands out from the ordinary. It's safe to say that this is a lot different from the traditional pendulum clocks.
Specifications
Dimensions: 60cm, 80cm, 100cm
Made in walnut wood and rod copper
Quartz movement by one carbon AA5 zinc battery

---
Hermle Oxford Walnut Wall Clock
This beautiful Hermle pendulum wall clock has a classic design and is made of walnut wood. The wood is contrasted by gold accents, including the pendulum. The clock is mechanical and manually wound with keys. The clock has a classic design with a white face, black Roman numerals, and large hands. It is equipped with an hour-strike function chime which has a beautiful sound.
Specifications
Pendulum wall clock
Finished in walnut wood
Hour strike function
Dimensions: 11.42 x 25.2 x 6.1 inches

---
Seiko outdoor rainproof Wall Clock KH411S
This outdoor clock from Seiko is, as you can expect, very durable. It is rainproof and therefore suitable outside or in demanding conditions such as in bathrooms or around indoor swimming pools.
It focuses on functionality with its white background and large black numerals with large black hands for optimum legibility. It has a simple and clean design with a discreet metal frame around it. If you need a long-lasting and durable wall clock, this is definitely one of the best options out there.
Specifications
Made by Seiko
Rainproof
Durable
Sleek design with excellent legibility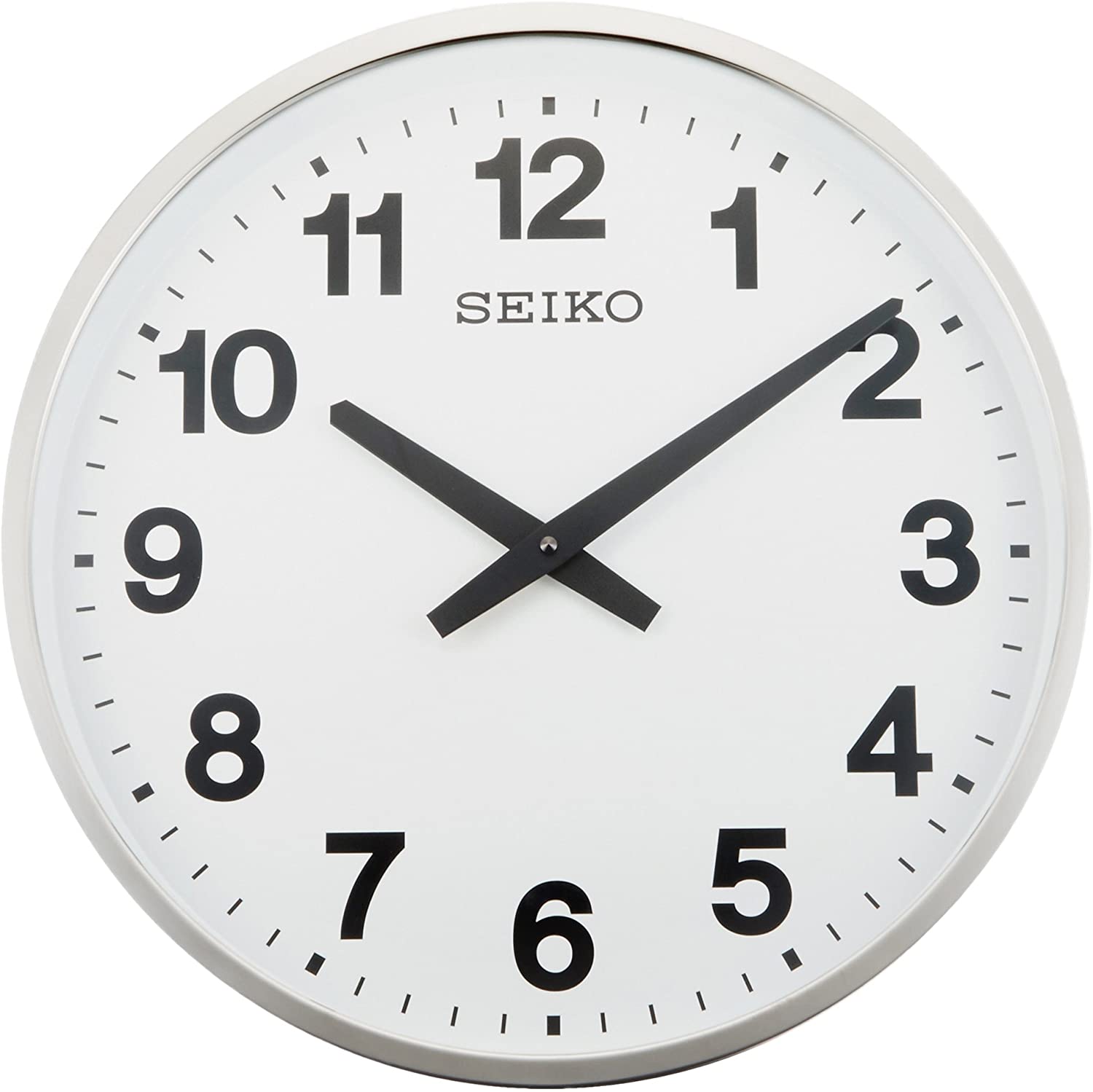 ---
Rosendahl Arne Jacobsen Wall Clock
This minimalistic and modern Rosendahl Arne Jacobsen wall clock is equipped with curved glass at the front and white background with large black Roman numerals. The hands are also black.
Together with the background and numerals, the hands provide excellent legibility. Thanks to its distinct look, it gets a very modern and refined design that is suitable for stylish and beautifully decorated homes with a focus on modern and clean lines.
Specifications
Diameter: 48cm
Modern and elegant design
Curved glass at the front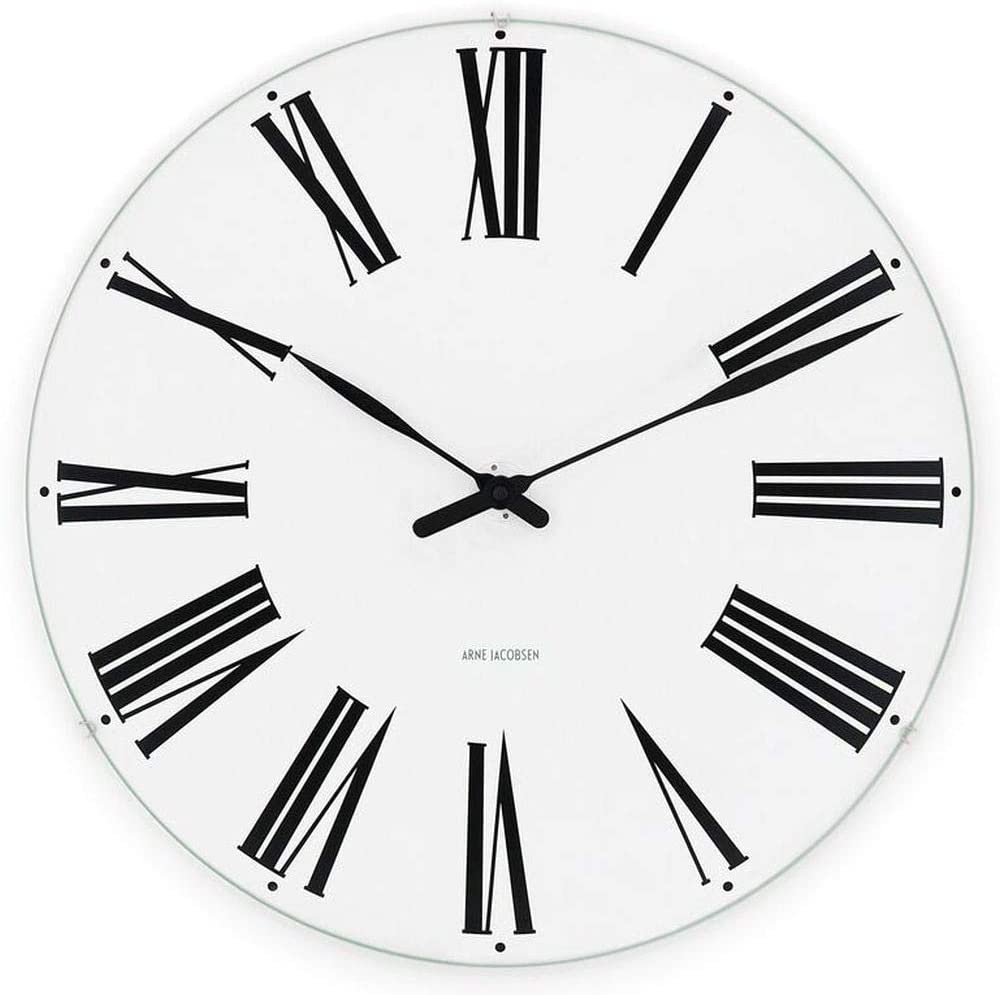 ---
Modern & Minimalistic wall clock
A simple, classy, and modern wall clock with a minimalistic yet beautiful design. It stands out from most wall clocks thanks to its gray face instead of white. The hands are made of metal which adds to its modern appearance.
It is powered by one AA5 zinc-carbon battery and is energy-efficient. If you want something different from the classic white face clocks, this is a great alternative. However, if you do want a minimalistic and classic wall clock with a modern appearance, it is also available in white.
Specifications
Dial made in metal
Movement: battery-powered
Mirror material in glass
Size: 12 inches
Clock made in metal
Diameter: 32cm
Thickness: 5.6cm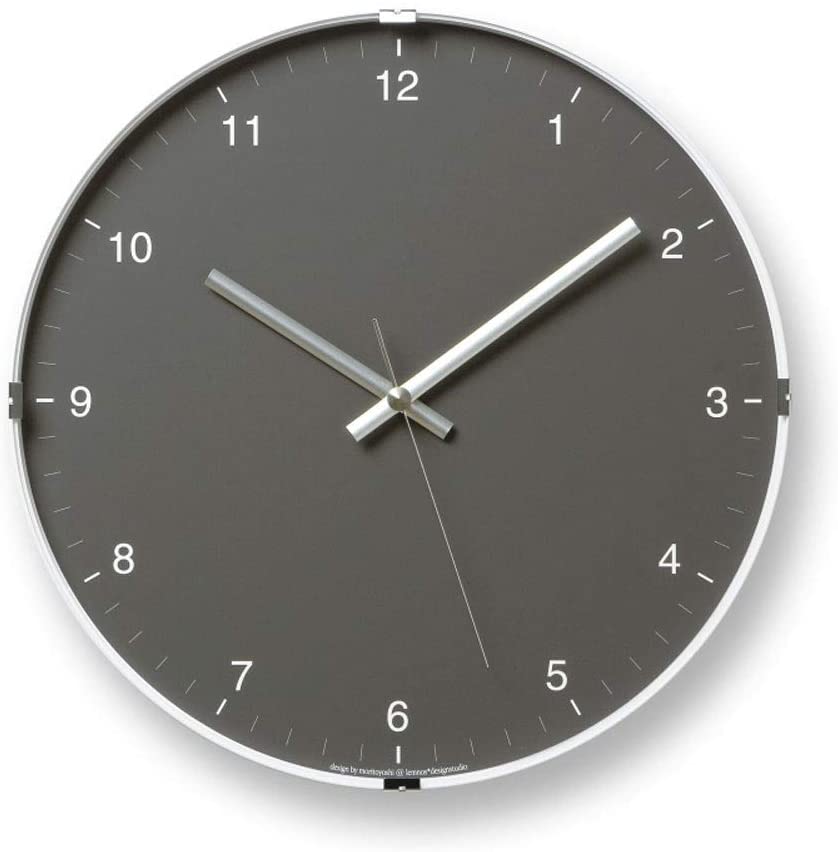 ---
Howard Miller 620-234 David Wall Clock
A Howard Miller classic pendulum wall clock made in Windsor cherry wood and has beautiful brass accents. The brass pendulum can be seen through the glass at the front which adds to its luxurious and elegant appearance. It is equipped with a swan neck pediment and turned finial. This clock has lots of interesting details and beautiful lines which makes it look classy and suitable for homes with great attention to detail.
It has an ivory dial with a polished brass bezel. The clock is keywound and German-made. The chime movement plays 1/4, 1/2, and 3/4, with full chime and strike on the hour.
Specifications
Polished brass-finished pendulum
German-made
Key-wound
Chime movement that plays 1/4, 1/2, and 3/4 chimes with full chime and strike on the hour
Finished in Windsor Cherry
Ivory dial

---
Pendulum wooden classic exclusive wall clock
This is a wall clock that stands out from the ordinary in many ways. What first catches the attention is of course its striking design with incredible attention to detail. Both the incredible small decorations but also its use of materials. This truly is a work of art.
Firstly, it has a wood frame construction which is contrasted by beautiful gold on its face. It is equipped with music ringing time which plays music and motion every hour. The clock has 16 music ringtones and it allows you to adjust the volume
The clock also has light-sensing control which means it can automatically stop the music ringing function at night. It has accurate timekeeping thanks to its precise quartz movement.
If you want a wall clock out of the ordinary which looks extremely luxurious and classy, this is definitely an option worth considering.
Specifications
Wood construction
Mirror material: glass
Movement: quartz, battery-powered
material: wood
Dimensions: 45*10*56 cm
Music and motion every hour with 16 music ringtones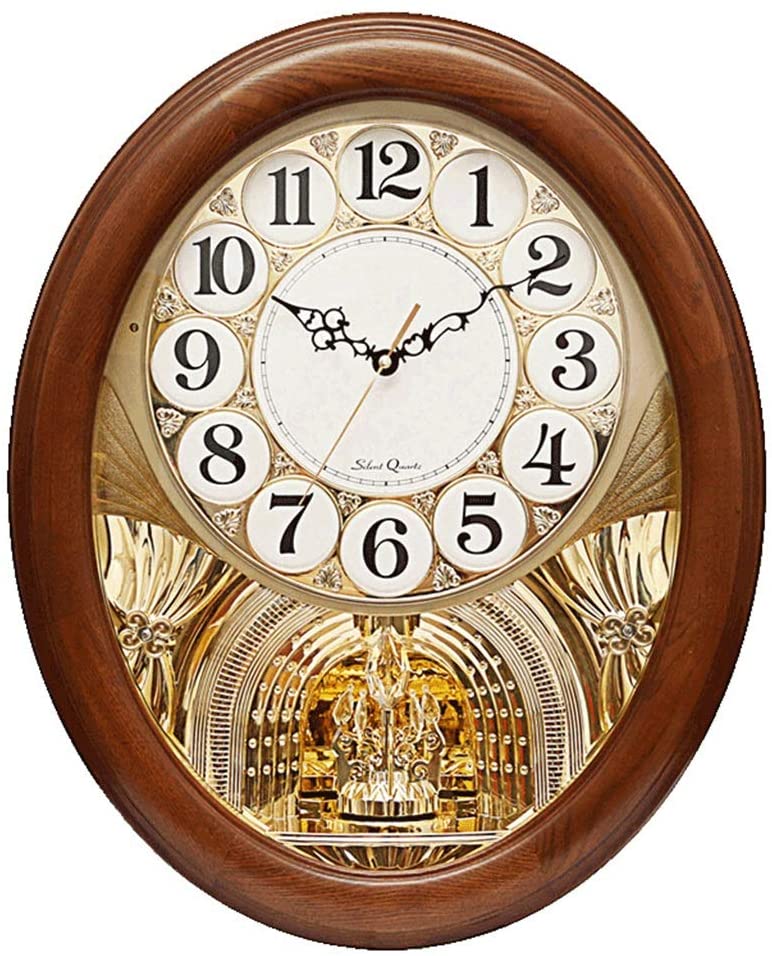 ---
Which wall clocks should you choose? – Buyer's guide to wall clocks
All wall clocks have one primary task – to display the time.
But today, there is an endless number of wall clocks to choose from. Most do only what they were originally meant to do, but some manufacturers have incorporated new and interesting functions in them such as date and day displays.
The history of wall clocks goes back to their original form which is large wall clocks with pendulums. These also work as interior decor and were an important must-have in many homes back in the day. These are still very popular today, but most wall clocks today are smaller and more compact and are instead powered by batteries. Both are wall clocks, but they are very different in execution.
Most wall clocks are analog, meaning that they show the time with the help of watch hands – one for the hour, one for the minutes, and some also one for the seconds.
With that said, there are tons of options out there, and this can make the decision a bit tricky. But there are a few questions
Where will you put the wall clock? This will affect what type of style you will choose
Which style do you want? The wall clock should fit into the place where it is mounted. Do you have a traditional or modern home?
Do you want an analog or digital wall clock?
Do you want a small or a big wall clock?
Do you want a discreet wall clock that only does the job or do you want it to also work as a nice interior decor?
Style and design
When choosing a wall clock, one of the most important things you need to consider is the style of your home, and then also the style of the clock. You want to look for a wall clock that pairs with your home perfectly and complements your home in a nice way. A wall clock is normally not just a means of telling the time, but you should also regard it as an interior decoration to your home.
With that said, if you have a home with a classic style and old, vintage furniture, it probably isn't ideal to buy an ultra-modern and minimalistic wall clock. In this case, it will probably be more appropriate to opt for an elegant and classic pendulum wall clock.
With this said, always consider the design of the wall clock and how well it blends into your home.
Analog or digital?
Both analog and digital wall clocks come in all shapes and forms. However, an analog clock normally does not have as many functions as features as digital clocks, although there are digital clocks that do not have any additional functions than timekeeping also.
Digital clocks normally present the time using an LCD screen, unlike analog which indicates the time with regular clock hands. In addition, digital wall clocks can have additional functions and features such as the day and date. In addition, they can include things like temperature, humidity, and much more.
With these questions answered, you should have defined what exactly you are looking for which can make it easier to find the perfect one for you. Some digital wall clocks are also atomic. With an atomic clock, you never have to adjust the time. Atomic clocks use radio frequencies to automatically set the time according to the atomic clock.
Battery life
Most wall clocks, whether digital or analog run on AA batteries. The exception is of course those that are fully mechanical or those that you plug into the wall. The battery life is generally not an issue since most wall clocks can run for years without having to change the batteries, but it can still be good to know that different models have different battery life. Obviously, you want a good battery life for convenience's sake, so it can be good to have a look at what the manufacturer says about this.
Accuracy
Accuracy is another important feature in a wall clock or any clock for that matter. If it's not accurate, it won't help you much, and it may cause you to be late. The most accurate wall clocks are obviously atomic clocks. But different brands and different manufacturers have different accuracy. In general, the higher the quality, the better the accuracy. This isn't always true, but it's generally one of the things you pay for when you invest in a more premium alternative.
Do you want a ticking or silent?
Some wall clocks can tick very loudly which can become frustrating and annoying over time. Digital watches obviously do not give away any sound, but some analog quartz wall clocks can tick very loudly. In addition, pendulum watches can also be quite loud in some cases.
Some people enjoy the ticking sound of a clock, but if that's not you, you want to look for a silent wall clock, and potentially opt for a digital clock.
Do you need to buy a wall clock?
You don't need to buy a wall clock, but it is a nice addition to a home or office. Apart from the fact that it is a piece of decoration, and just like any decoration, you don't have to buy them, they're also practical. With a wall clock, you have convenient access to the time by simply looking up at the clock. In many cases, it is the fastest and easiest way to know what time it is.
Where should a clock be placed?
This depends on the configuration of your home but in general, a wall clock is best placed between eye and chest level or above eye level for the most convenience.
If you have an oversized clock, it is advised that you hang it on the wall near furniture to make it blend in seamlessly and accentuate the home.