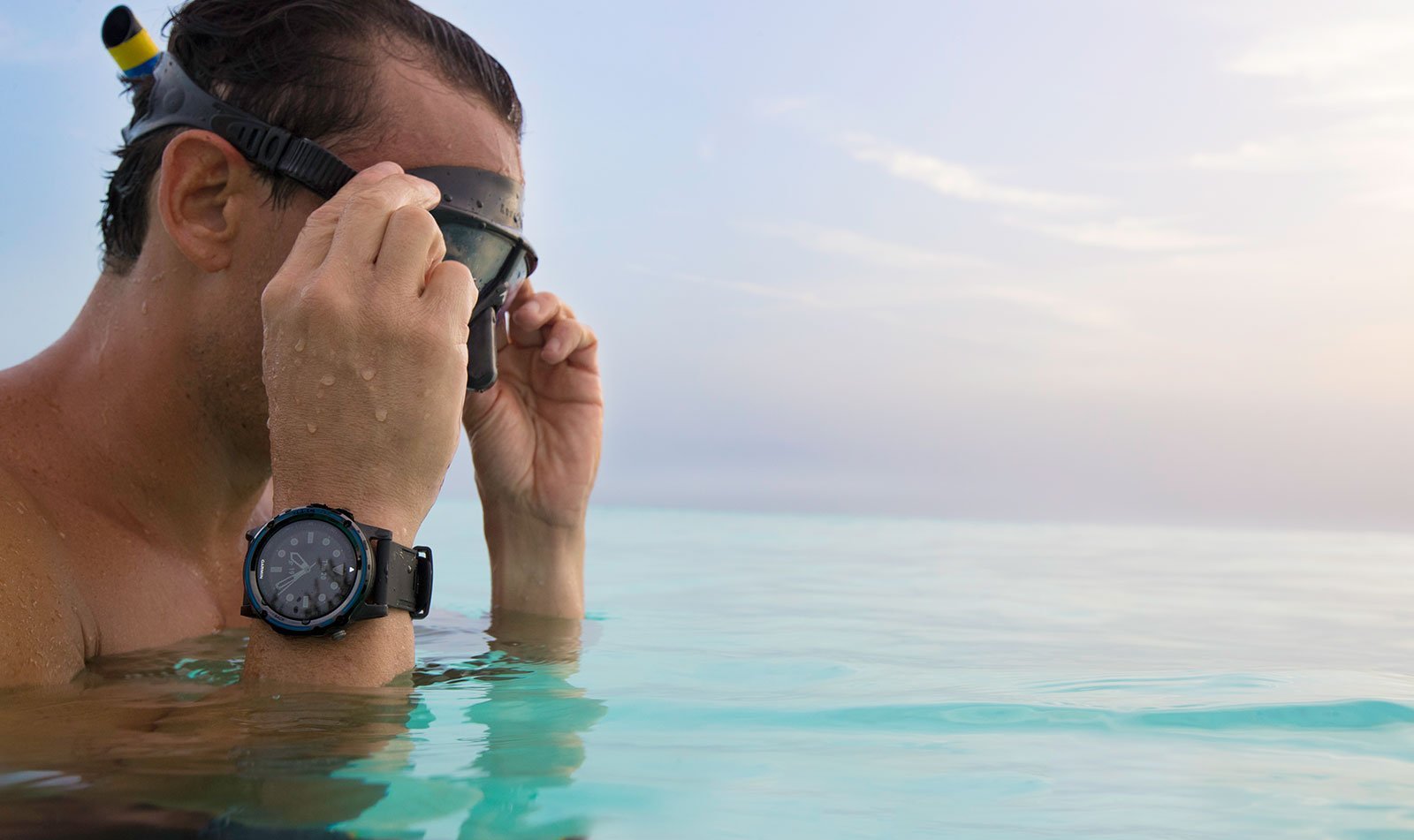 Top 10 Best Watches For Swimming [List & Guide]
Swimming is a popular sport and can be done for a number of different reasons.
Many people have swimming as their hobby as it offers a good combination of exercise with fun. Swimming is a great way to keep in shape, and if you don't like running or weightlifting, it is a good alternative.
Swimming really is for everyone, and you are the one who decides your ambition and pace. You can simply swim a few laps for fun, or you can strive to continuously improve your times. It's easy to see why swimming is such a popular sport around the world. Not only is it a fun activity, but it is also good for your mind, staying in shape, training, and much more.
Swimming doesn't require a lot of accessories or tools, but a watch is something that is both commonly used, and also rather convenient for swimmers. And like with all sports, it is important to have the right equipment.
If you are considering buying a watch for swimming, a swimming watch, there are a number of things you want to take into consideration before you decide which to go for. There are many different swim watches on the market, so deciding on one can actually be a bit overwhelming and confusing.
To help you with just that, we have created a list of some of the most popular and best-rated swimming watches on the market. Further on, we'll also look at the most important things you want to look for and consider when buying a swimming watch so that you can find the one that is perfect for your needs.
Different people have different needs, so naturally, the watch they opt for will vary. A diver's watch, for example, is a regular watch that is water-proof and which can measure elapsed time underwater up to 60 minutes. These can be used when swimming thanks to their water resistance, but they are not made according to the needs of swimmers.
Swim watches, on the other hand, are digital watches that are packed with various functions that may come in handy for swimmers, where the distinct features are, of course, functions related to swimming, such as fitness tracking functions, as well as lap counting and information about your swimming performance.
Best watches for swimming
As an Amazon Associate, we may earn from qualifying purchases, at no extra cost to you.
---
TomTom Spark Cardio Heart Rate Monitor

This TomTom digital watch is made for sports activities including swimming. This of course means that it has a lot of different functions that can be useful when exercising.
The watch features a GPS function and has a Bluetooth music player so you can work out with music. This may not be useful when swimming but definitely is when doing other types of exercise. It enables you to activate audio feedback during your workout.
Of course, as a dive watch should be, it is water-resistant which means you can take it swimming. It also has a heart rate monitor. In addition to this, it is packed with a bunch of additional features that enable you to measure time, distance, speed, calories burned, made, and your sleep.
The watch has a long-lasting battery and is rechargeable with a USDB charging cable. The battery can perform activity tracking for up to 3 weeks and GPS tracking for up to 11 hours.
Specifications
Bluetooth music player
GPS function
Heart rate monitor
Activity tracker – measures distance, speed, pace, sleep, and calories burned
---
Samsung Galaxy Fit 2 Fitness Tracking Smart Band


The Samsung Galaxy fit is an advanced and highly popular fitness watch for many different types of fitness activities, including swimming. It has a sleek and modern design and sits comfortably on the wrist. It has a water resistance of 50 meters and works for swimming, but is not suitable for scuba diving.
The watch automatically starts tracking when you start moving, for example, run or walk. In addition to this, it provides data about calories burned, daily steps, water intake, and sleep patterns.
The battery is also quite good and can last up to 15 days on a single charge. For convenience, it also gives you the ability to get notifications and incoming calls or texts.
The watch is durable, but certainly not the most durable out there considering its water resistance but also because Samsung recommends that you avoid excessive and sudden temperature changes.
Specifications
Up to 15 days battery from one charge
Lightweight
Get notifications directly to the watch
Track burned calories, water intake, sleep patterns, daily steps
Send preset replies
Water-resistant to 50 meters
---
SUUNTO Spartan Trainer Wrist HR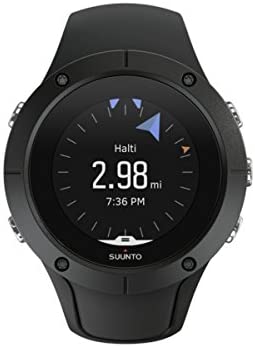 The Suunto Spartan trainer is a popular sports watch for an active life. It is equipped with a GPS tracking function which enables it to measure speed, pace, and distance. It is also built for a large number of different sports such as swimming, running, cycling, and more. It can measure heart rate
In training mode, it has a battery life of up to 10 hours.
The watch is durable and robust and has a black silicone strap for comfort and durability. As sports watches should, it is built to last.
In terms of functions, it has a lot to offer for sporting activities, such as counting burns calories, steps, and much, much more. It has 8+ different sport modes pre-installed.
Specifications
Battery life of up to 10 hours in training mode
GPS tracking of speed, distance, pace
Heart rate monitor
Burned calories counter
Step counter
Sleep monitor
---
Garmin 010-01746-00 Forerunner

The Garmin Forerunner 010-01746-00 is a GPS sports watch that is popular amongst swimmers.
It has a GPS function and a durable design. It can measure heart rate, and for fishing, you'll be happy to hear that it has a built-in barometer; altimeter, and electronic compass, allowing you to keep track of your location as well as the weather. It can evaluate your current training status to see your performance IN order to help you improve but also to understand if you are over or under-training.
The settings of the watch enable you to easily enter different sporting models, for example for swimming, running, hiking, etc, so you can get the functions you need for swimming in a heartbeat.
Specifications
Smartphone comptability
Lightweight
Barometer
Altimeter
Electronic compass
Suitable for many different sports including swimming
---
Swimovate PoolMate2 Swim Sports Watch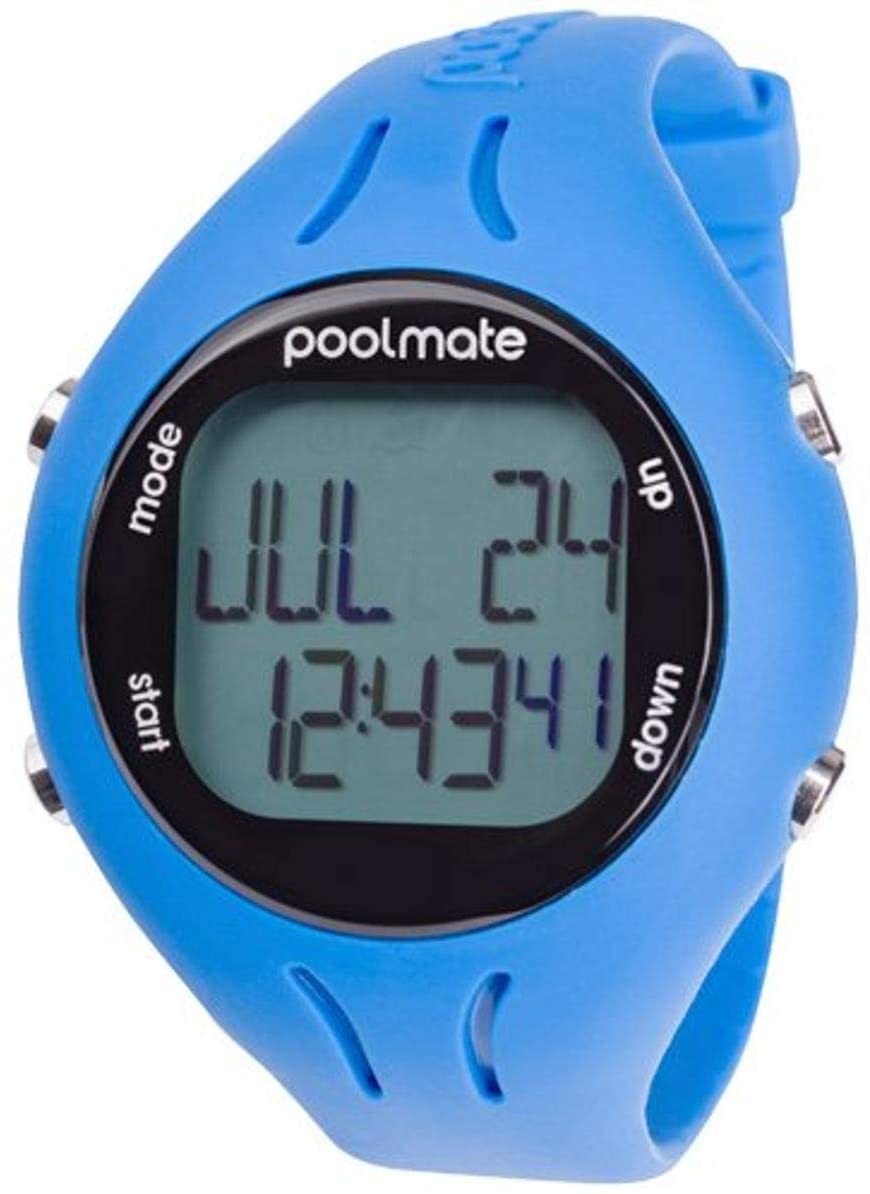 The Swimovate Poolmate 2 is a watch that, as the name suggests, is made for swimming.
In terms of functions, it has everything you may need, including the ability to count laps, strokes, speed, rest time, distance, and calories burned.
When swimming in open water and not a pool, it can count strokes, distance, speed, efficiency, duration, sets, rest time, and Calories. This data can be stored, up to 50 sessions so you can track your performance.
The watch has a water resistance of 50 meters, a 24-hour clock, and an alarm.
With that said, this is a great watch that has a lot to offer, and in addition to this, it is also one of the cheapest swim watches on the market. The watch is also greatly accurate when it comes to measuring strokes and laps.
The battery life is 2 years which is great.
Specifications
Counts laps, speed, rest time, distance, burned calories, strokes, efficiency, duration
Water-resistant to 50M
One of the most affordable swimming watch for counting laps
Accurate swim counting
Good battery life, 2 years according to specifications
---
Fitbit Versa 2 Health and Fitness Smart Watch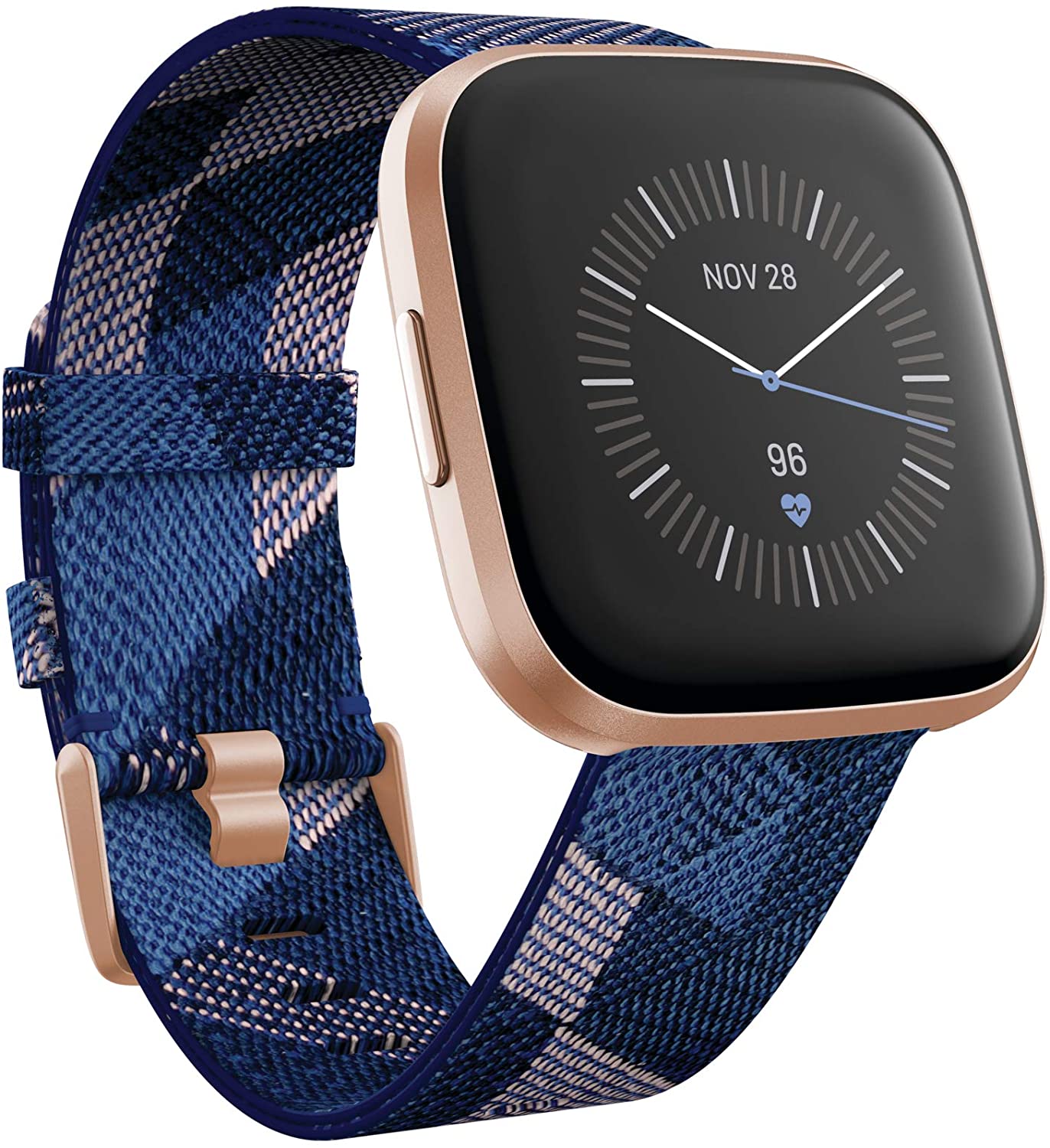 The Fitbit Versa 2 is a durable sports watch packed with various functions for keeping track of your fitness.
For convenience, it has Amazon Alexa built-in, which can provide lots of valuable information such as news, and weather, as well as set timers and alarms. With this watch, you can also do things such as control your smart home devices and much more, solely with your voice.
The watch can of course measure your heart rate which helps keep track of your sleep patterns, restlessness, and sleep quality. In addition, it measures steps, distance, calories burned, hourly activity, active minutes, and much more. The watch has a battery life of about 6 days.
The smartwatch function enables it to take calls, and text when your phone is nearby. You can also send quick replies and voice replies on android only
Specifications
Check weather
Timers and alarms
Control smart devices in your home
Keep track of heart rate
Measures sleep patterns
Count calories burned, hourly activity, steps
6 days of battery life
App notifications
Quick replies
Calendar
---
Timex Ironman Classic 30 Mid-Size Watch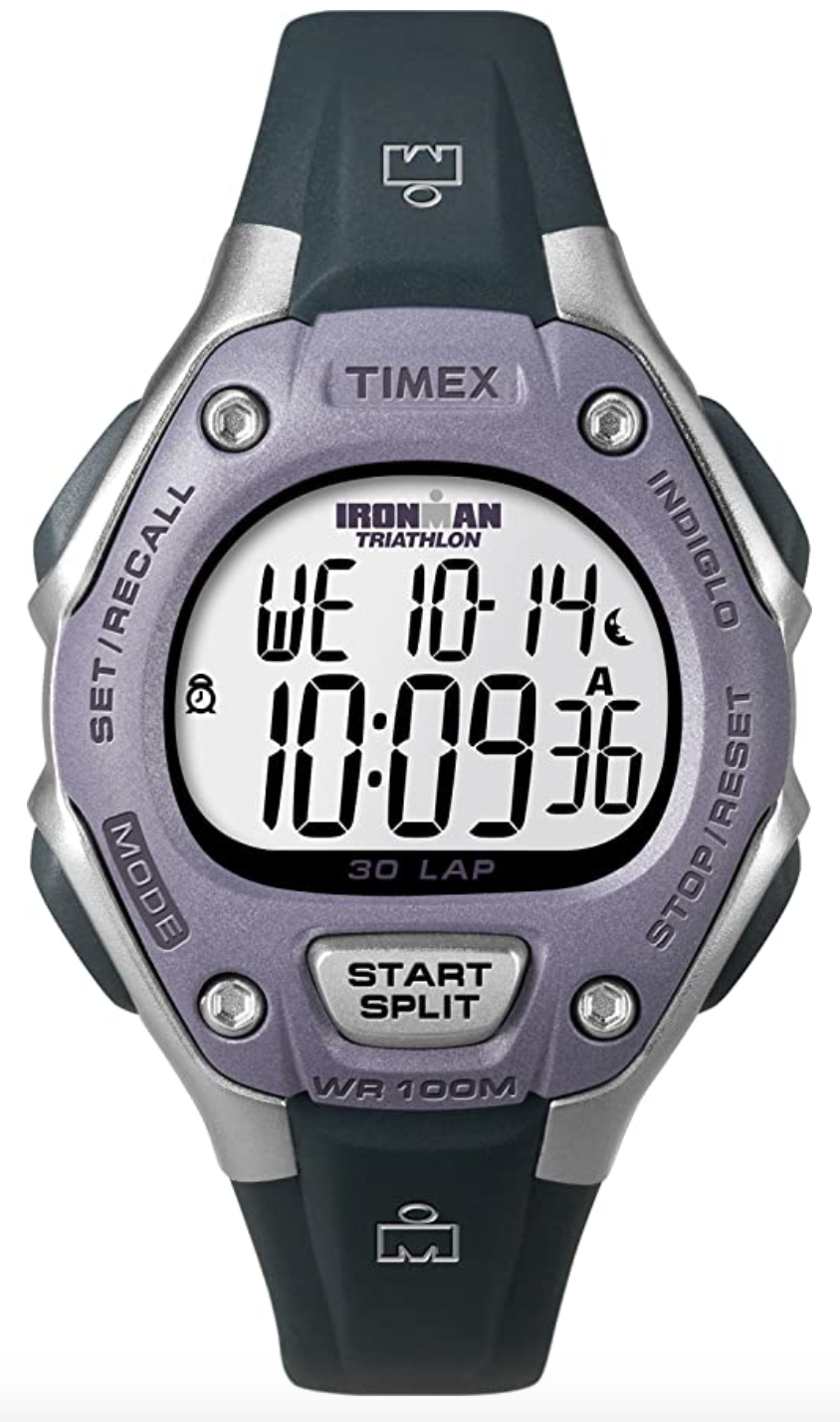 The Timex Ironman is water-resistant to 100m/330 feet and is suitable for swimming and snorkeling. It is presented on a durable resin strap.
Like all smartwatches, it is packed with useful functions such as a 100-hour chronograph with 30-lap memory; a 24-hour countdown timer. It has 3 daily, weekday, or weekend alarms; 24-hour military time mode; 2 time zones; day, as well as date & month calendar.
For improved legibility, it has an Indiglo light-up watch dial.
The watch has a recall of laps & total time. It can measure interval workout sessions and the number of intervals times per day.
Specifications
30 lap memory recall
24-hour countdown timer
Daily, weekday, or weekend alarms
2 time zones
Day, date, month
Water resistance: 100m/330 feet
99 lap counter
Interval workout sessions
100-hour chronograph
---
Swimovate Poolmate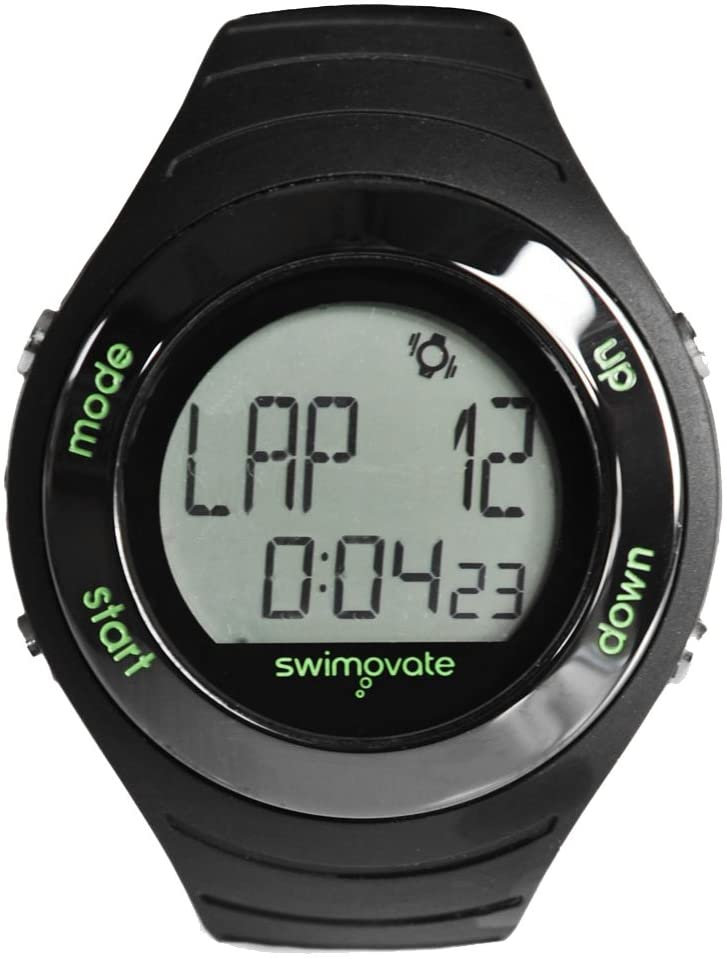 The Swimovate Poolmade is made to automatically count laps, strokes per lap, speed, calories, and distance in yards or meters.
It is equipped with a vibrating buzz pool alarm for laps, distance, or time, which is very useful when doing intervals and needing to know the status without having to look at the watch. The alerts are customizable.
You can connect the watch to a download clip which is sold separately in order to upload your data to a PC or Mac for graphical analysis. This gives you a deeper understanding of your progress and performance.
The watch has an impressive battery life of about 2 years.
Specifications
Counts laps, strokes per lap, calories, distance, speed
Buzzing pool alarm for laps, distance, or time
Up to 2 years of battery life
Dual time zone, day, date, daily alarm
---
Fitbit Versa 2 Health and Fitness Smartwatch
The Fitbit Versa 2 is another great watch for swimming that is packed with various functions.
It incorporates Amazon Alexa which works with voice commands so that you can conveniently get lots of valuable information such as news, check the weather, set times, and alarms. This makes it possible to continuously check the weather status when you are fishing. The smartwatch function also makes it possible to take calls and see smartphone app notifications when your phone is nearby.
The watch also offers the ability to control your smart home devices and much more through the sound of your voice. It can also measure heart rate, and thereby also sleeping cycles, and restlessness to understand your sleep quality.
Fitness, it tracks a lot of different things such as steps, distance, calories burned, hourly activity, active minutes, and floors climbed.
Specifications
Amazon Alexa built-in
Weather information
Timers and alarms
Control smart home devices
Heart rate measuring
Sleep tracking
App controller
Steps, distance, hourly activities, burned calories tracker
Get smartphone notifications
---
Garmin vívoactive 3 Music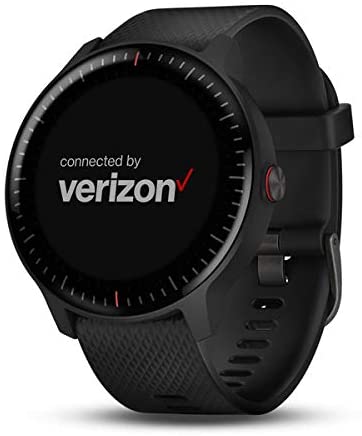 Last but not least, we have the Garmin vívoactive which is a fitness GPS smartwatch made for an active life.
It incorporates safety features such as incident detection during select activities and assistance. This makes it possible for the watch to send your real-time location to emergency contacts.
It makes it possible to download songs to your watch from anywhere and sync from select music services. The Verizon connection enables the watch to send and receive text messages from your wrist
Most important, in this case, is the fact that it features more than 15 preloaded sports apps in order to provide valuable information, such as when swimming. It also measures heart rate.
Specifications
GPS built-in
Send and receive text messages
Preloaded sports apps
Incident detection and emergency alarm
Garmin pay contactless
Heart rate monitor
Automatically records swim intervals and lengths
---
Swim Watches buyer's guide – Watches for swimming
First and foremost, it is important to define what you need in a swim watch, and this is ultimately predicated on how you are going to use it. When you have defined these things, it will be a lot easier for you to know what you are looking for.
Do you want a simple water-resistant watch that you can wear when swimming in order to know the time, or do you need a much more advanced timepiece that gives you information about swimming performance, health, and more
Lap counting/length tracking
The first function you want to consider is the function that is distinctive for swimming watches, which is slap counting. The lap counting function in a watch measures how many lengths you have swum. This is of course only to be used when swimming in a pool. This is a valuable function for swimmers that allows you to get data about how much you have swum so that you can compare your performance over time. This is particularly important since it is easy to forget how many lengths you have swum.
Lap data can also provide information about your time and performance for each lap. This is great to know since it allows you to know which lap was the fastest, helping you to improve.
Additional swimming functions
Additional swimming functions that can be convenient to have in a watch for swimming are:
Split timer
Stroke detection
Time
When it comes to stroke detection, some swimming watches can analyze your technique, such as stroke rate so you can improve your technique.
GPS
GPS in a swimming watch is important when you are doing open water swimming. This will help you keep track of your position and ensure that you're not swimming too far away or in areas where you shouldn't be. This is particularly important, for example, to avoid areas, where boats are going as this, can impose a huge safety risk for swimmers who are not spotted by boats.
Connectivity
Some watches have the ability to connect with various apps. This makes it possible to share and store your performance which can be fun in order to discuss and interact with other people.
The functions vary a lot between different watches when it comes to connectivity. But regardless, the ability to store your performance and get detailed tracking is something that can be really great for improvement and also see how you have improved and professed as a swimmer.
Apple obviously offers exceptional connectivity with your phone, and so do some other watches as well. If you want to be able to track your data easily and conveniently, look for a swim watch that has a dedicated app or phone connectivity capabilities.
Water resistance
Water resistance is obviously a crucial part of a watch for swimming.
Since your watch will be in contact for long periods of time, you need to make sure that it has the proper water resistance to manage it.
Depending on how you swim, and whether you will also go deep diving, etc, you need to consider the depth rating. A water resistance of 100m/10atm/330 feet is considered suitable for swimming but not diving. It is also the lowest recommended depth rating that a dive watch should have.
Watches with a water resistance of 200m are considered suitable for swimming and diving. Also, have in mind that a watch with a water resistance of, for example, 50 meters, doesn't mean that you can take it 50 meters beneath the surface. It simply refers to the pressure it can handle when it is static. But as you know, the watch is not static when swimming.
Durability
Durability and build quality is also something that you should keep in mind. Swimming is a sport that can be harsh and rough, and therefore, you want to make sure that you get a watch that can hold up against harsh conditions and last for a long time.
In addition to this, it is also worth considering whether or not you will use the watch outside the pool. Will you also use this watch when running, exercising, or doing gym training?
Most swimming watches are made in durable and long-lasting rubber or resin which is resistant to water, but not all of them.
Swim watch VS dive watch
Naturally, a dive watch and a swim watch are not the same. A dive watch is, as its name suggests, made for diving, whilst a swimming watch is made for – you guessed it – swimming. Usually in a pool.
The key difference is that dive watches are built to be water-resistant down to at least 200m. When you are swimming in a pool, on the other hand, you don't really have to worry about the depth since it is only a few meters.
Technically, a swimming watch could be any type of watch that has a water resistance that is good enough for at least swimming with. But a lot of swimmers are looking for more advanced watches that can do more than just tell the time. When a lot of people look for swimming watches, they look for watches that include functions and features that can be useful and practical for timing and measuring various key data about their swimming performance.
Therefore, when most people think about a swim watch, they think about a watch that can, amongst other things, calculate things like lap times, number of laps, and so on. Having said that, a swim watch is so much more than just a means of telling the time. Because after all, how important is it to keep track of what time it is when swimming? Not very. A swim watch is therefore primarily meant as a tool.
Simple or advanced?
As you have seen in the list above, swimming watches come in all kinds of different shapes and forms. Some are far more advanced than others. A great starting point is asking yourself what functions you need in a swim watch and then choosing accordingly.
This will help you decide how advanced your watch really needs to be. Because the fact is that many swimming watches are not solely made for swimming, but often as advanced outdoor watches that can be used for outdoor life and everything that comes with it. Some of the watches in this list, on the other hand, are solely used for swimming, meaning they will exclusively have swimming functions.
Can you swim with a 100m water resist watch?
Yes! To be on the safe side, it is good if a watch is water-resistant to at least 100m if you plan to go swimming with it. But watches that are resistant to 50m are technically also suitable for swimming, although there is a greater level of security if you have a watch with 100m.
How do you count swim laps on Apple Watch?
It's easy to use your Apple watch to count swim laps. All Apple Watch Series 2 or later can be used for swimming and tracking your swim data.
Here are Apple's instructions:
Open the Workout app.
Scroll to Pool Swim or Open Water Swim. Use Pool Swim for laps in a pool and Open Water Swim for swimming in places like a lake or ocean.
Tap to start the workout or tap the more button
to set a calorie, distance, or time goal.
For Pool Swim, turn the Digital Crown to set the pool length. This helps your Apple Watch accurately measure your laps and distance. Then tap Start.
Wait for the three-second countdown. To skip the countdown, tap the screen.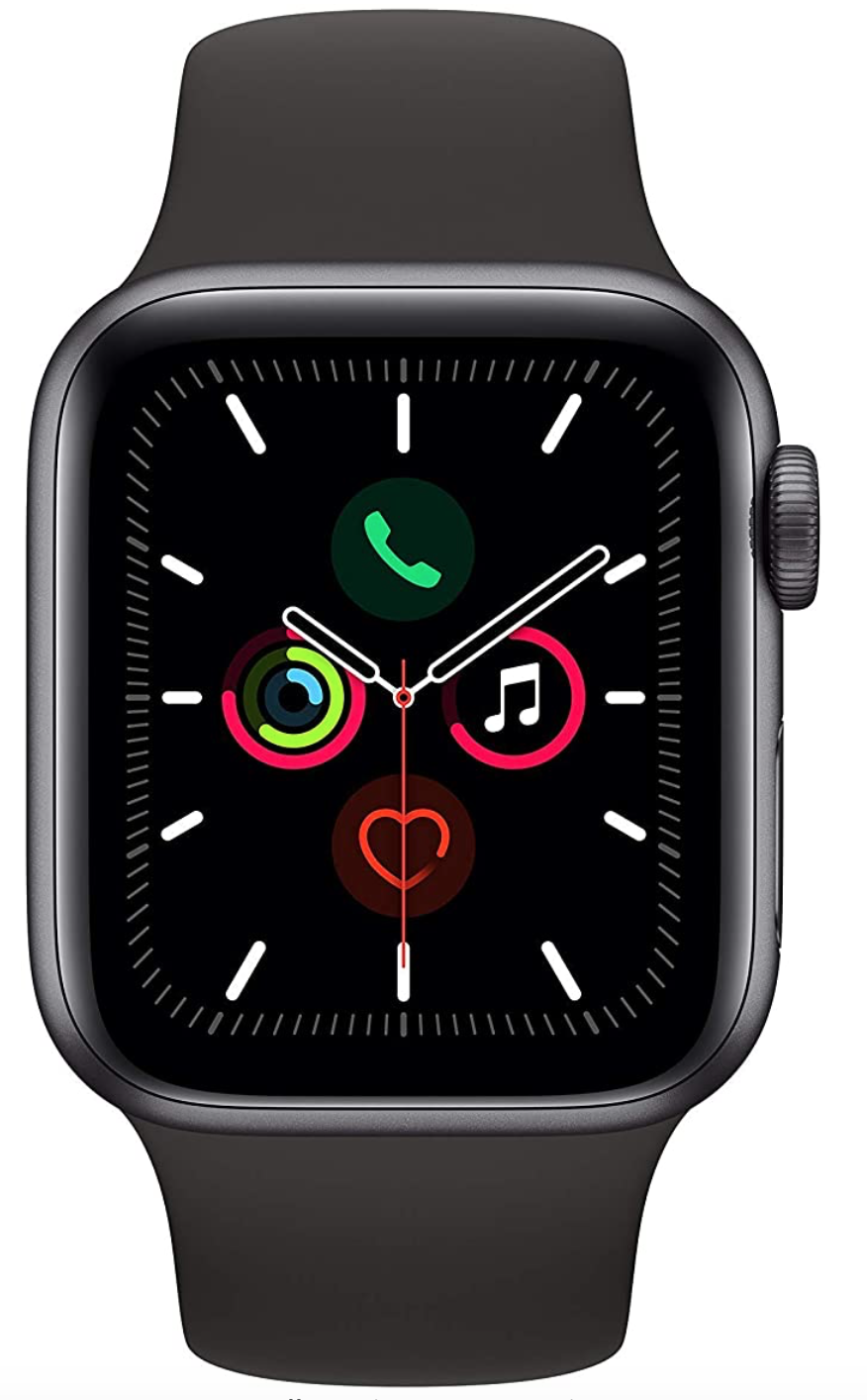 Note that when you start your swimming workout on the apple watch, the screen automatically locks to prevent accidental taps from water droplets. This is indicated via a drop symbol on the screen. In order to use your watch, you need to unlock the screen. You do this by first pausing your workout by pressing the Digital Crown and the side button at the same time. After this, you turn the Digital Crown.
Whilst inside swim mode, you can track your progress by looking at the screen.
On your iPhone, inside the activity tap, you can view splits and sets. Simply open up your iPhone, open the activity app and go to the workouts tap. After this, tap the workout that you want to view.
The pool swim workout will track your splits and auto sets and the Open Water Swim workout tracks splits. The splits are calculated by total workout time divided by distance.
---
Best open-water swim watches
Some watches are more suitable than others when it comes to open water swims since swimming in a pool and swimming in the ocean is not the same thing and require different functions.
Some of the best open-water swim watches are: