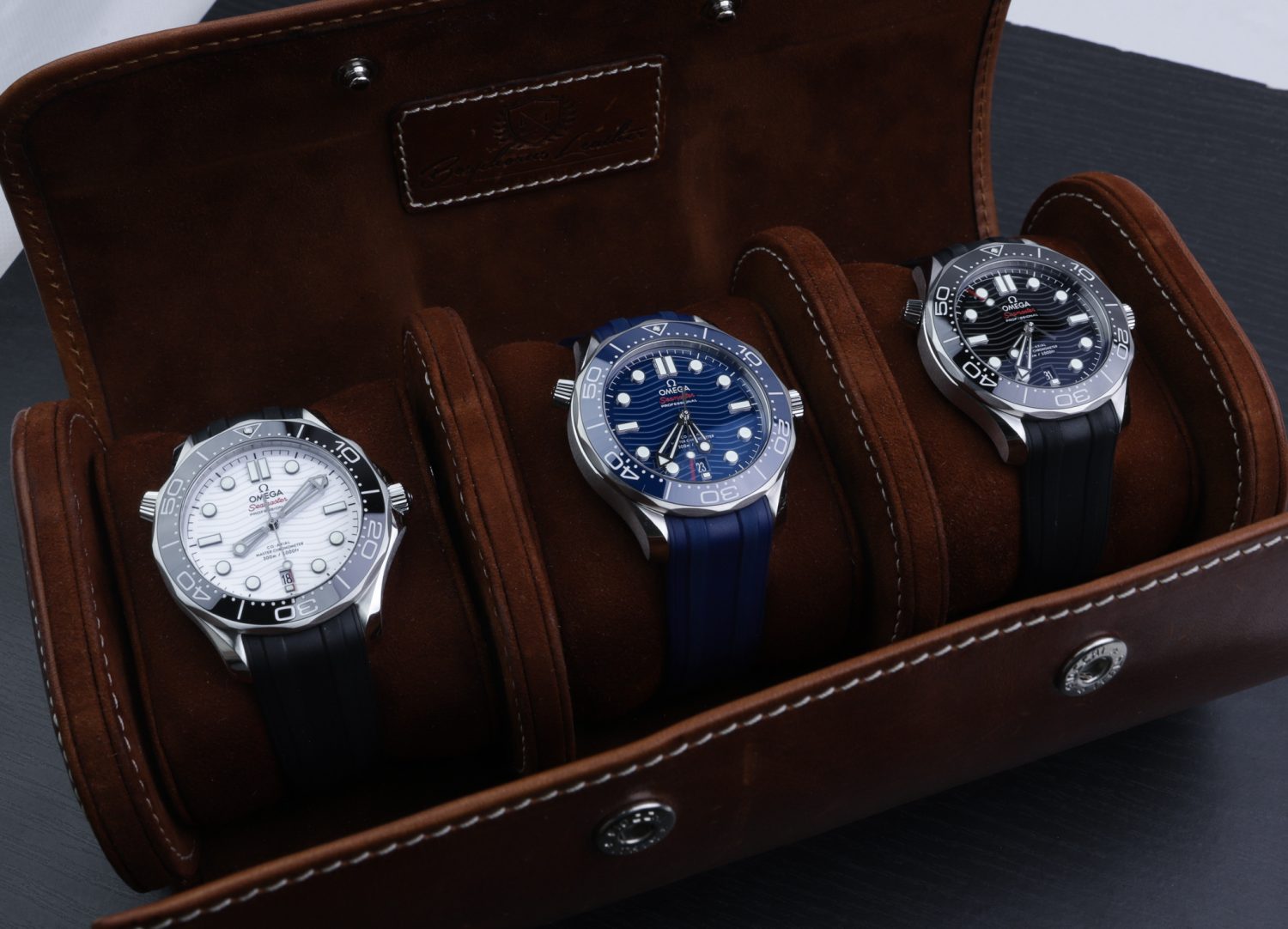 Top 14 Best Watch Travel Cases
There are watch travel cases in all types, shapes, and forms. Most commonly, they have room for one watch only but watch travel cases are available with a number of different slots.
A watch travel case can come in handy both when you are traveling, but also when storing your watches. Watch travel cases are usually small and compact but protect well. Regardless if you are traveling and want to keep your watches safe, or if you need a good place to put your watches, a travel case can be a good complement to your collection.
Some of the factors to consider when buying a watch travel case are the following:
Number of watches
When buying a watch travel case, think about how many watches you want to be able to store. Travel cases are available in a wide array of sizes, from one watch to five or more. A single-watch travel case tends to be the most popular alternative, but if you need to store multiple watches, you will need something bigger.
If you are going to opt for a travel case that can store multiple watches, my advice is to get one where the watches are separated from each other inside. The issue with some travel cases is that the watch slots inside are not separated, which can cause them to scratch and damage each other.
Material
Another factor to consider for your travel case is the material from which it is made of. The cheaper options are usually made in a hard fabric, whereas the more premium travel cases are often made in premium leather. Material is important because of looks, but also for durability. Naturally, a hard case will offer a greater level of protection compared to one that is made of leather or soft fabric.
Shape
Watch travel cases come in many different shapes. One of the most common is the single-watch travel case which often has a circular or square shape. But another common shape is the watch roll, which is slightly oval or circular.
Design
The design is another important aspect that you want to consider in your watch travel case. This does not only have to do with looks but also with functionality. For example, if you are traveling and are going to bring multiple watches, it may be a good idea to choose a briefcase that stores and protects the watches in a good way. In the same way, if you're just going away for the weekend and bringing two watches, a watch travel case may be more convenient. With that said, think about if you want a watch roll, a briefcase, or perhaps a storage box. All of these serve a purpose.
As an Amazon Associate, we may earn from qualifying purchases, at no extra cost to you.
Best watch travel cases
Below, we list some of the best watch travel cases to make storing and traveling with your watches easier and safer. If you are traveling and bringing watches, a travel case will make sure to keep them safe.
---
SWISS REIMAGINED Genuine Leather
Swiss Reimagined is a well-known and well-respected manufacturer of watch tools and accessories. With ash said, this watch travel case is high quality and keeps your watch well-protected. It has a Felt-Lined Cocoon in order to keep the watch protected and scratch-free. It can hold a wide array of watches with different bracelets and sizes.
In our opinion, it also looks quite nice and has a high-quality feel to it. The case is made in calf leather and both feel and look nice. It comes with a 12-month warranty. The flap is tightened and can be fastened to keep the watch protected and prevent it from falling out.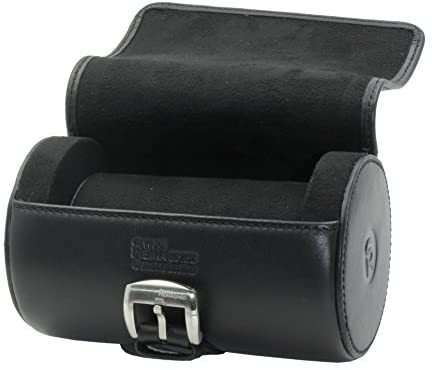 ---
Oirlv Luxury Leather Watch Storage Box
The Oirlv luxury leather watch travel case is made of leather and has a premium feel and quality.
It is handmade with and has a soft felted interior and velvet watch pillow which keeps your watch nicely protected. It also provides a robust construction from the outside so the case won't get squashed. This one-watch travel case is great if you only need to travel with one watch. It's rather small and convenient but is well-built to keep the watch protected at all times. The velvet watch pillows keep the watches in place and well-protected. It is also finished in brown leather which makes it not only a practical accessory but a good-looking one as well.

---
WOLF 462504 Navigator Triple Watch Roll
WOLF is a well-known quality maker of watch accessories. This includes their triple watch roll as well. With room for three watches, this one is great if you are looking for a travel case that can store more than one. As you would expect, it has a high-quality construction and is finished in nice materials, including a black pebble leather exterior and Union Jack lining.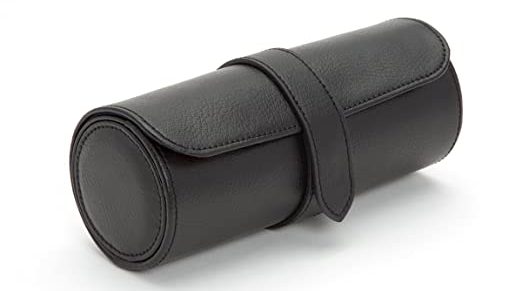 ---
10 Watch Briefcase Black Carbon Fiber
This is less of a watch box and briefcase rather than a travel case, however, if you are going to transport a lot of watches, this may be an appropriate choice.
This watch briefcase has room for 10 watches. It is made in a beautiful carbon fiber pattern in black color.
The construction is padded foam on the inside lid to provide protection, as well as a Zippered briefcase design. For storing 10 watches, it is actually quite compact and convenient.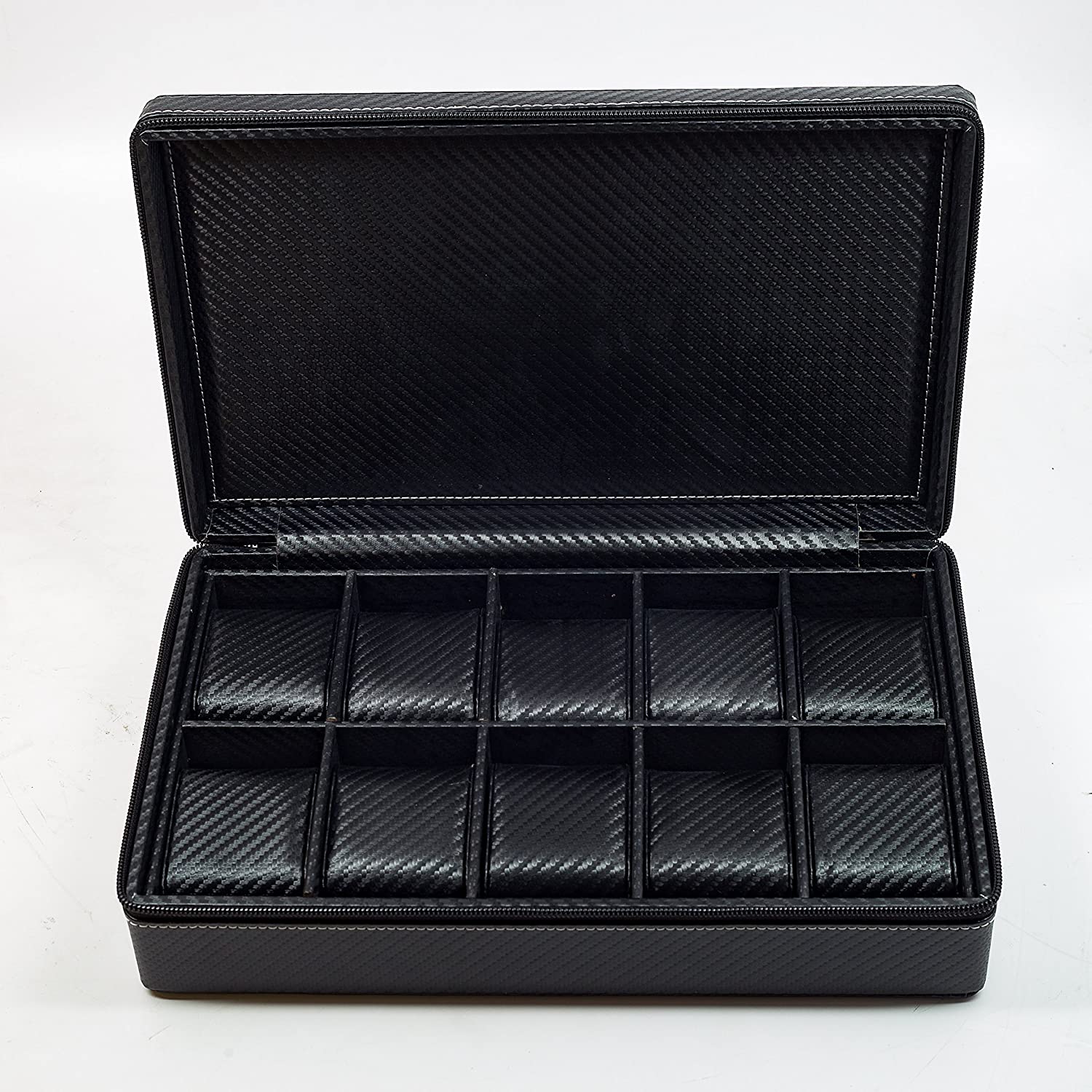 ---
ModernGen 6 Slot Watch Box Travel
This watch travel case/briefcase is the ultimate way to keep your watches safe during travels. The issue is that it is big and not so practical, but what it does is keep the watches inside well-protected.
The case is 100% waterproof, dustproof, and impact resistant. It is made of molded plastic and sealed with an airtight and watertight gasket. It has 6 large compartments for storing your watches, and each cushion can hold both small and large watches. Whilst it is big, it is relatively easy to carry thanks to its handle.
Inner Dimension: 10 x 7.28 x 3.26 inches
Outer Dimension: 11.02 x 9.05 x 3.85 inches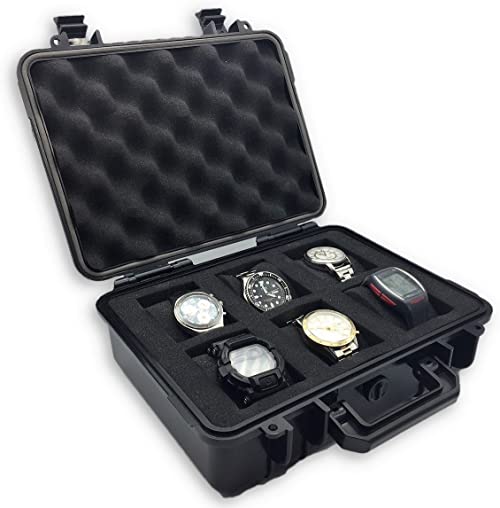 ---
Tech Swiss Watch Case Aluminum Briefcase
This watch travel case is more on the heavy and large side, but it does its job of keeping their watches protected well. It is a heavy-duty watch briefcase with a handle, made of aluminum. With its briefcase design, it is both discreet and practical. It has a textured Exterior and a layer of foam in the lid for Additional Support. It can hold up to 18 timepieces, and it has soft removable cushions which can fit both large and small bracelets.
Case Dimension: 14.5″L x 12″ W x 4″H Compartment Size: 3.25″ L x 2.25″W x 3.75″H
To keep the watches safe, it has a velvet black interior and a secure double frontal lock. This is a great alternative if you have a large collection and want to see them well-protected. If you only have a few watches, it's probably a good idea to opt for something smaller.
---
Decorebay Rich Man Roll Style Travel
The Decorebay travel case roll can hold up to 3 watches. It has a snap closure to keep them in place and has an inner felt lining to prevent scratches.
The watch pillows are removable and can hold a wide array of bracelet sizes (which is not something all cases can do).
Its convenient shape and size make it easy to carry and pack when traveling. A detail we love is the red velvet-lined interior which not only is practical but also looks great. The exterior leather is also nice with its textured finish. Something we do not like about this travel case, however, is that it only consists of one roll, with no protection barriers, which can make the watches hit each other when traveling.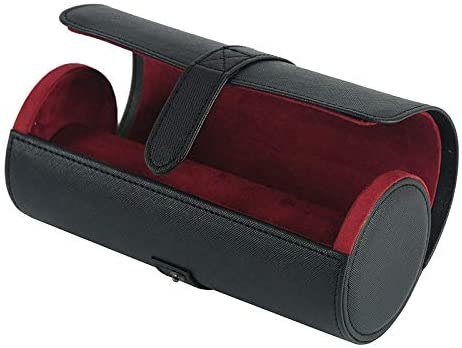 ---
WATCHPOD Double Watch Travel Case Storage
The Watchpod double watch travel case storage holds 2 watches and keeps them well protected.
This is definitely one of the smartest and simple watch travel cases on the market. It's small, it's convenient, and it stores two watches like a travel case, but separately to avoid scuffing.
The inside of the case is designed to hold a watch snugly fit to prevent any movement. The case is a hardshell case that keeps it from bending in. Furthermore, it has a soft lycra exterior and felt interior lining. The zipper keeps them in place, but also allows for easy access. In our opinion, the size of this case makes it a really great travel companion.
The Watchpod travel case comes with a one-year warranty.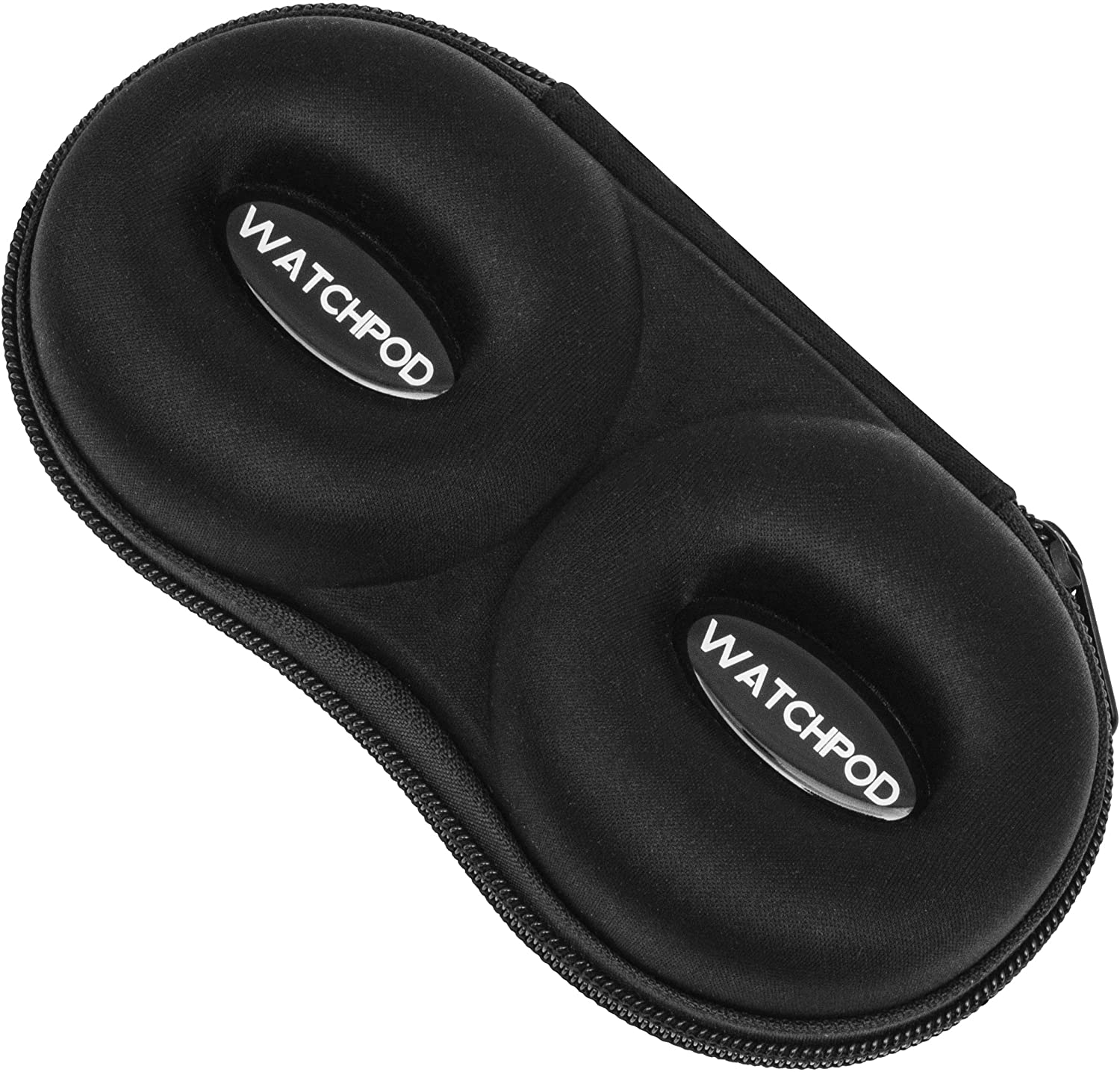 ---
Cheopz Travel Watch Case Single Storage Box
The Cheopz watch travel case is a single storage box for one watch. It is compact, sleek, and simple, but most importantly, keeps your watch well-protected thanks to the hard shell and soft interior.
The hard shell is made in 6mm Ballistic 1680 Denier Nylon and the inside is made of black soft plush velvet. Due to its small size, it is easy to carry and can be placed in a bag, backpack, etc. As a bonus, it includes a microfiber polishing cloth.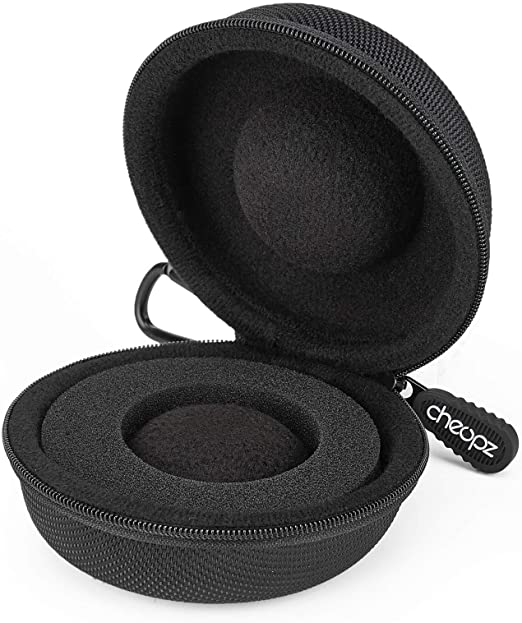 ---
CASEBUDi Triple Watch Travel Case
Casebudi is a triple-watch travel case that can store up to three watches. It is not the most beautiful travel case, but it offers extremely good
Protection due to the Ballistic Nylon Exterior which is non-scuffing, robust, and durable. And after all, that is the most important aspect of a travel case. Especially if you actually use it when traveling and not just as a place to store your watches.
It has a thicker core material made of eco-friendly EVA that, according to the manufacturer is over 50% thicker than other brands.
The case is equipped with foam watch holders to keep each watch separate and protected.
The case comes with a 1-year warranty.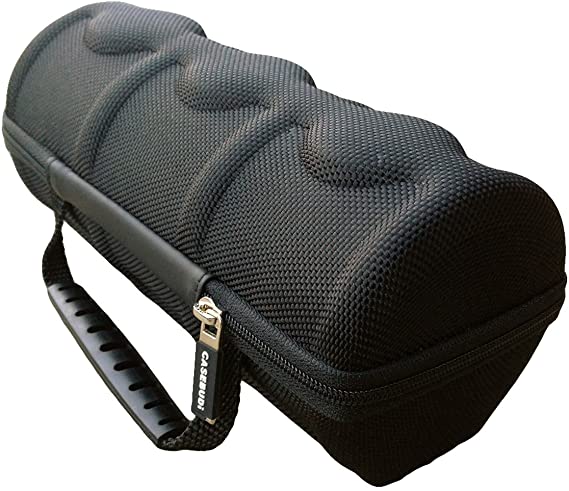 ---
Watch Travel Case Single Watch Box
This watch travel case has room for one watch and offers great protection for your watch thanks to its hard case. This is a small, convenient, and protective watch travel case that is perfect for transporting your watch.
For protection, it has a cushioned interior. The deep-conceived center ensures that your watch is held in place.
---
Case Club 28 Watch Pre-Cut Waterproof Travel Case
This robust and durable watch travel case is built like a briefcase to provide excellent protection. With room for up to 28 watches, it is the ultimate choice for the avid watch collector. With its hard outer shell, it is virtually indestructible and keeps your watches safe during transportation and traveling. It is also practical for storing your watches, for example in a safe. The non-abrasive polyurethane foam protects your watches and will not scratch your watches.
For additional safety, it is also pad-lockable.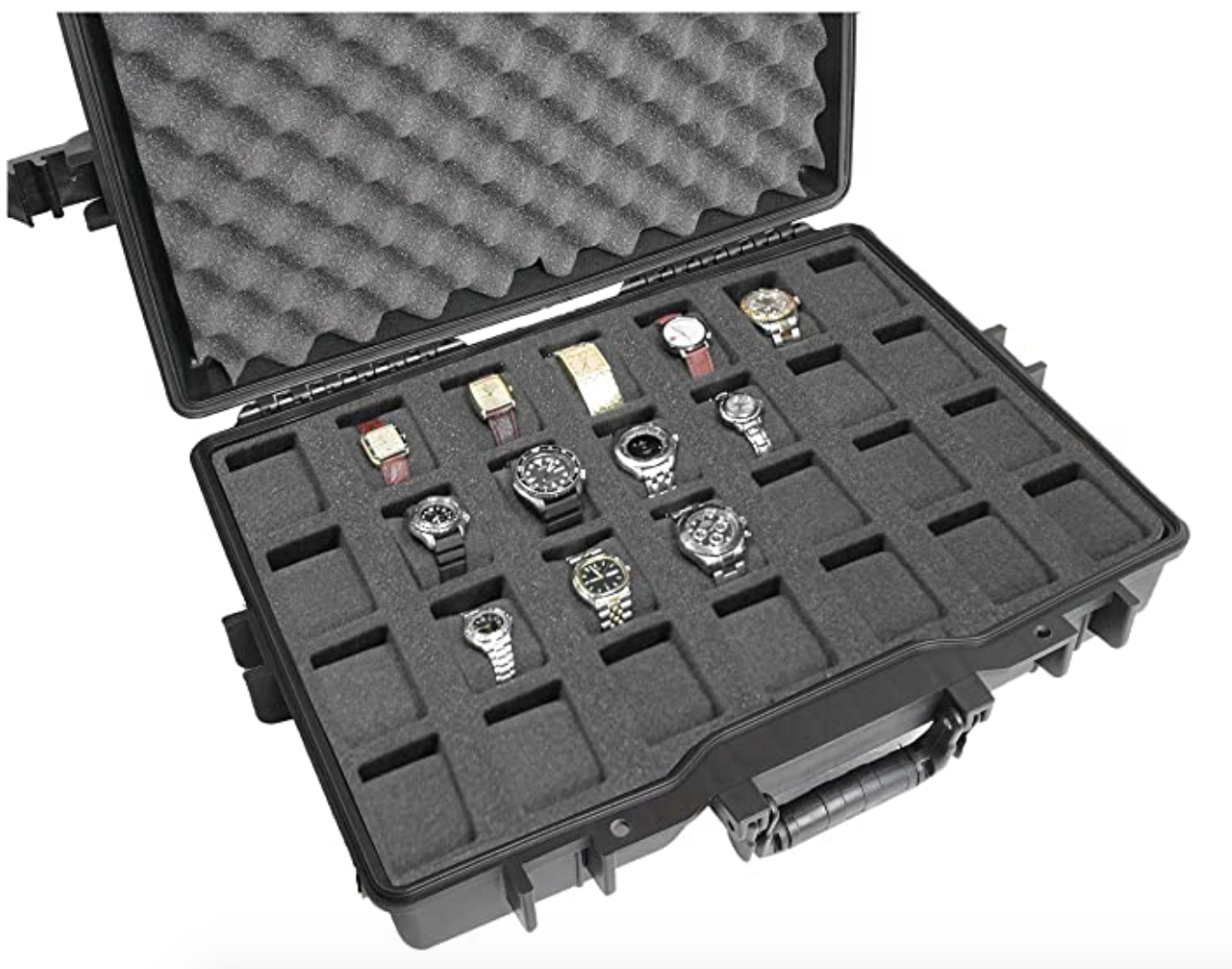 ---
MC-CASES Watch Travel Case for up to 14 Watches – Waterproof
This robust watch travel briefcase offers exceptional protective capabilities and storage possibilities. It has a convenient briefcase design which makes it easy to bring with you when traveling and can store up to fourteen watches. The case is waterproof and dustproof and can handle tough environments. It can handle water and is also washable.
For additional safety, it is also lockable with a padlock. The interior has soft non-abrasive polyurethane which keeps your watches safe from shocks and will not scratch them.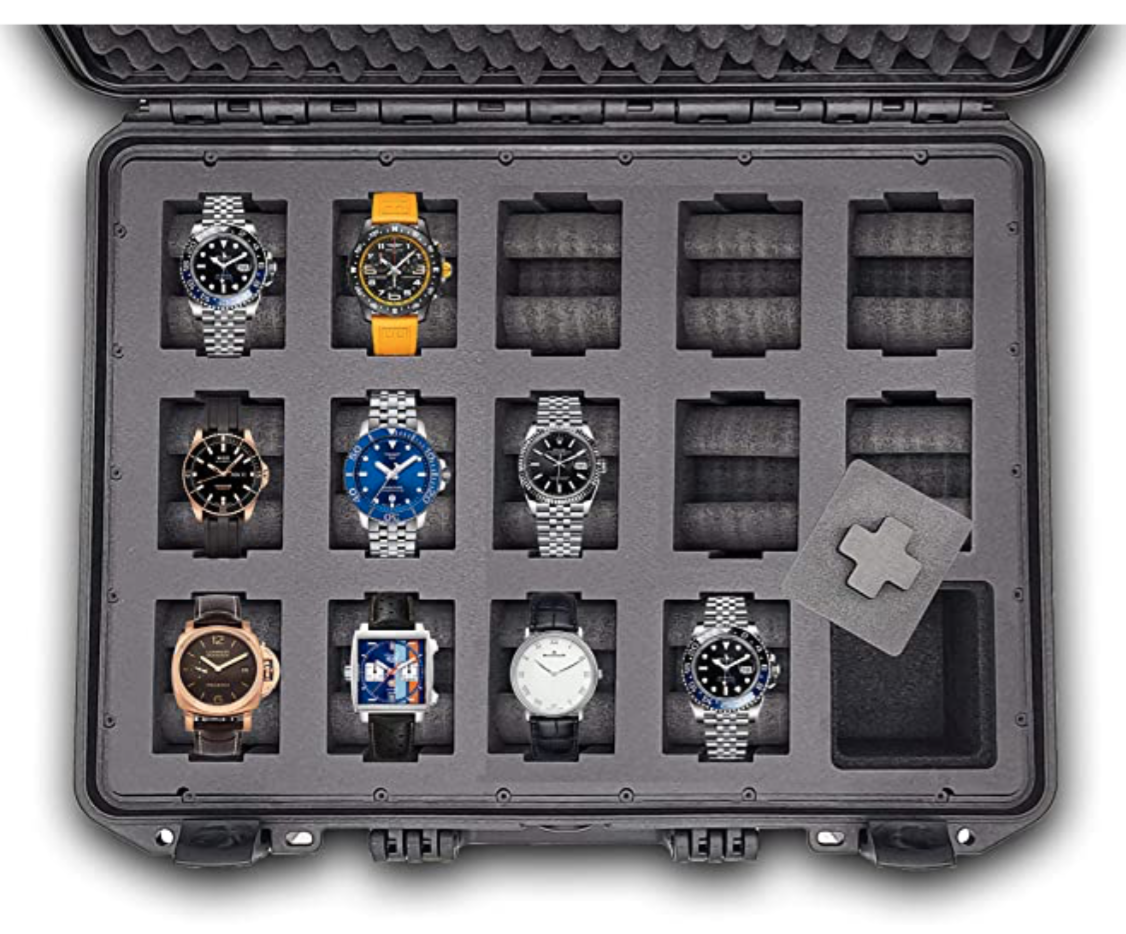 ---
Diplomat 31-469 Black Leather Travel Case
This small and compact watch travel case is an easy way to bring up to 8 watches when traveling. It has a smooth black leather exterior with red stitching and an ultra-soft black suede interior. It opens and closed with a zipper for safety and to hold the watches in place. You also have a leather flap on the inside which protects the watches from each other.
Thanks to its compact size, it can easily be used in a bag. The frame is hard which helps protect the watches from being crushed.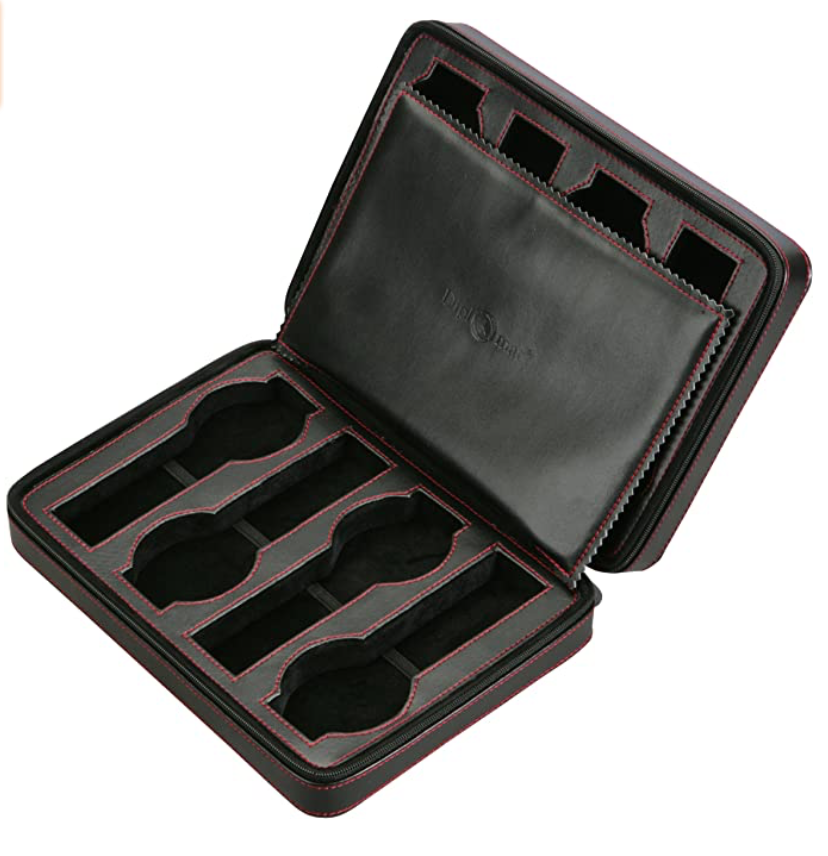 ---