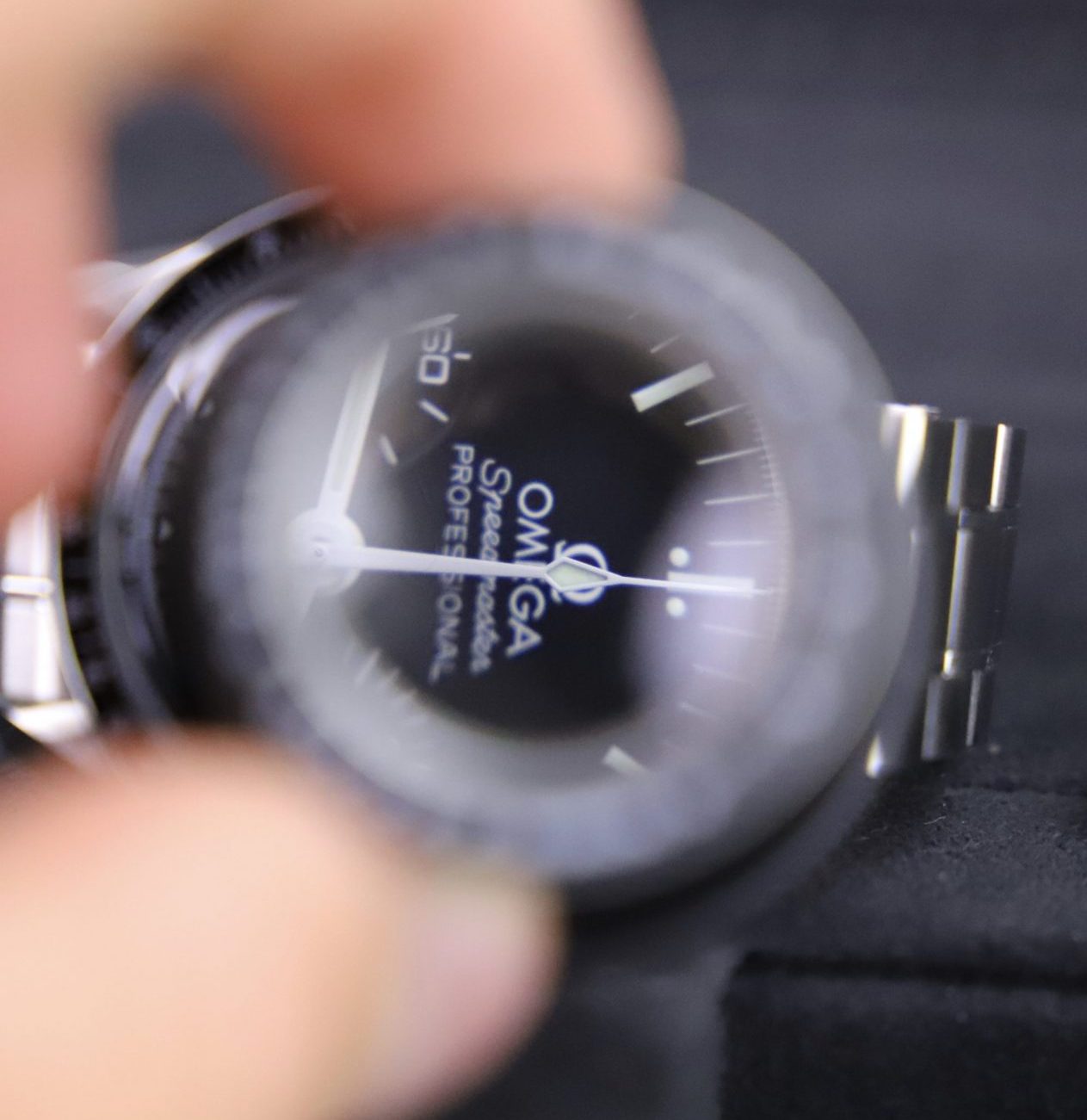 15 Best Watch Loupe Guide & List
A watch loupe is an accessory that all watch enthusiasts should have in their possession. The benefit of a loupe is that they are usually quite small, which enables you to bring them with you at any time. A watch loupe can come in handy when you are inspecting a watch, as it allows you to see a watch and all its intricate details up close.
With the help of a loupe, you can inspect a watch's true condition and details, which you may otherwise not see.
With that said, a loupe is something that you simply must have. But with so many on the market to choose from, which should you have? In this guide, we list some of the best watch loupes. They are often also referred to as a "watchmaker's loupe".
What is a watch loupe?
A watch loupe may or may not be different from a regular loupe. This means a small magnification device is used to see small details more closely. As per the definition, loupes, unlike magnifying glasses, do not have an attached handle.
Because they do not feature a handle, it makes them more compact and easy to carry. The single most important thing you want to pay attention to when buying a loupe (apart from the quality), is the magnification. The higher the magnification, the closer you will be able to see all the intricate details of a watch. Loupes are really important in the watch and jewelry industry (amongst many other industries) where you need to see small things up close. It is only with a loupe that you are able to see the tiniest (but perhaps most important) details like how gemstones are set if a watch dial has any damages or blemishes, or perhaps imperfections in gemstones.
There are many different variants of a watch loupe. The most basic is a simple circular loupe, equipped with a magnification glass. The most advanced also include LED lights to make it easier to see small details. They come both foldable and non-foldable.
What makes a watch loupe good and why you need one
The primary reason you need a loupe is that it allows you to inspect small intricate details difficult to see with the naked eye. This may include getting a better understanding of any damage or patina of the watch, and the movement's condition, but it also allows you to view and appreciate the great level of detail and craftsmanship that has gone into making your watch.
With so many different loupes on the market, what should you consider when buying one? There are loupes with different magnification but also different designs and tech.
A key difference between loupes is handheld vs non-hand-held. You have probably seen that watchmakers have their loupe attached to the eye which gives them free hands to work on the watch. If you are a watch collector and watch enthusiast who will only use the loupe to inspect a watch, a hand-held loupe will work perfectly. Furthermore, for several loupes, it is also possible to buy a holder afterward which enables you to fix it to your eye, shall you wish to do so.
Another specification that can be confusing is the X magnifications that different loupes have. The most common is a 10X magnification, but loupes can also be found with 20x, 30x,40x, or even higher magnification. Naturally, the higher the magnification, the more it will be able to magnify and give a closer look. The catch is that just like with a camera – when the magnification level is increased, the field of view and depth-of-field are reduced.
Whilst it can be interesting to see a watch extremely close up, it is generally not necessary with very high magnification. These are primarily used for inspecting inclusions in gemstones. The issue with a loupe that has a high magnification is that it requires more light in order to give a detailed and clear view. With that said, there are loupes with built-in lights that can compensate for this, but it will be more convenient to choose a loupe with a lower magnification, depending on how and where you plan to use it.
When it comes to loupe magnification specifications, you will also find that different loupes may have a double lens or even triple lens. What does this mean? Generally, the cheaper loupes only use one lens. Double and triple means that it uses either two or three lenses. A double lens loupe improves the chromatic color but due to the nature of combining two lenses, it will only give a clear view in the center of the focus point. A triplet loupe, however, solves this issue by giving a perfect focal point in the whole field of view. With that said, a triplet lens is what you should opt for if you want the best performance.
Best watch loupes
As an Amazon Associate, we may earn from qualifying purchases, at no extra cost to you.
---
Bergeon is the king of watch tools. Bergeon makes some of the best watch tools in the industry and is used by a lot of professional watchmakers. With that said, we would expect their loupe to be one of the best in the industry as well.
Bergeon makes several different loupes (more on that later), and this is the most professional they offer. The loupe has a magnification of 15x, which is generally more than most loupes magnify.
The loupe has a double lens eyeglass, and the lenses are removable.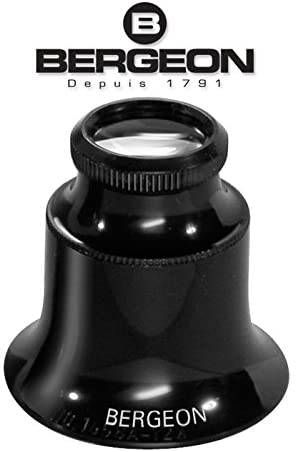 ---
Another watch loupe magnifier from Bergeon is the 2611-TN. Like all their products, it is made in Switzerland and is high quality. It is ergonomically shaped and lightweight. The additional viewing port gives air circulation which makes it more pleasant to use. This is done to prevent tarnishing or fogging on the lens. Furthermore, this loupe is equipped with a screw cap for easy replacement or cleaning the lens. It offers a magnification of 6.7X, which of course isn't the best in the industry, but in many cases, it may very well be enough if you don't need to see a watch extremely up close.
Specifications:
Thickness: 1.5
Magnification: 6.7 x
Lens diameter: 25 mm
Loupe Height: 33 mm
Weight: 10 g

---
Bausch & Lomb is another well-known loupe manufacturer. This loupe has a lightweight glass lens magnifier and is manufactured for headband attachment, which is great for watchmakers. It comes with a protective storage pouch which allows you to easily and safely transport it and carry it with you.
The loupe magnifies to 10x. The design is quite basic, so if you are looking for a simple and straightforward loupe to get the job done, this could be a good choice.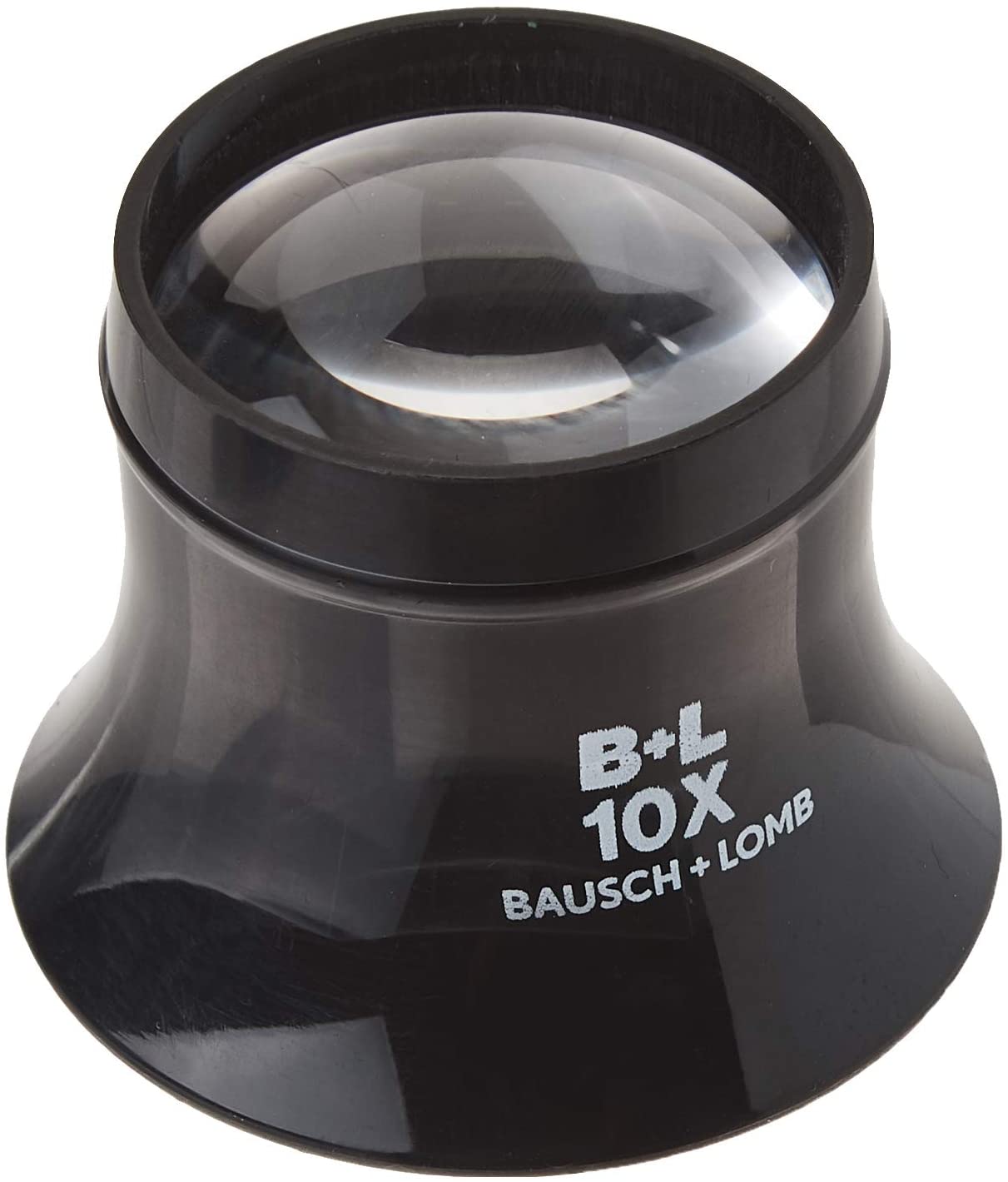 ---
The Jarlink loupe is a more serious watch loupe. It magnifies either 30x or 60X, depending on the lens you use. With that said, it comes with two different lenses, which is great as it allows you to switch between them as appropriate and depending on what you are inspecting.
Furthermore, it is equipped with lights on the sides which you can easily turn on. The bright LED light shines a light on the object you are inspecting and gives you a clearer view, even in dark environments. The lights also help improve clarity.
It is durable and lightweight, made of aluminum, and features plastic housing, small and lightweight. Come with a handy little fabric bag in the package to keep the loupe magnifier safe and dust-free. It comes with a portable design that can easily be folded to fit into your pocket or bag in a safe and protected way when you are not using it.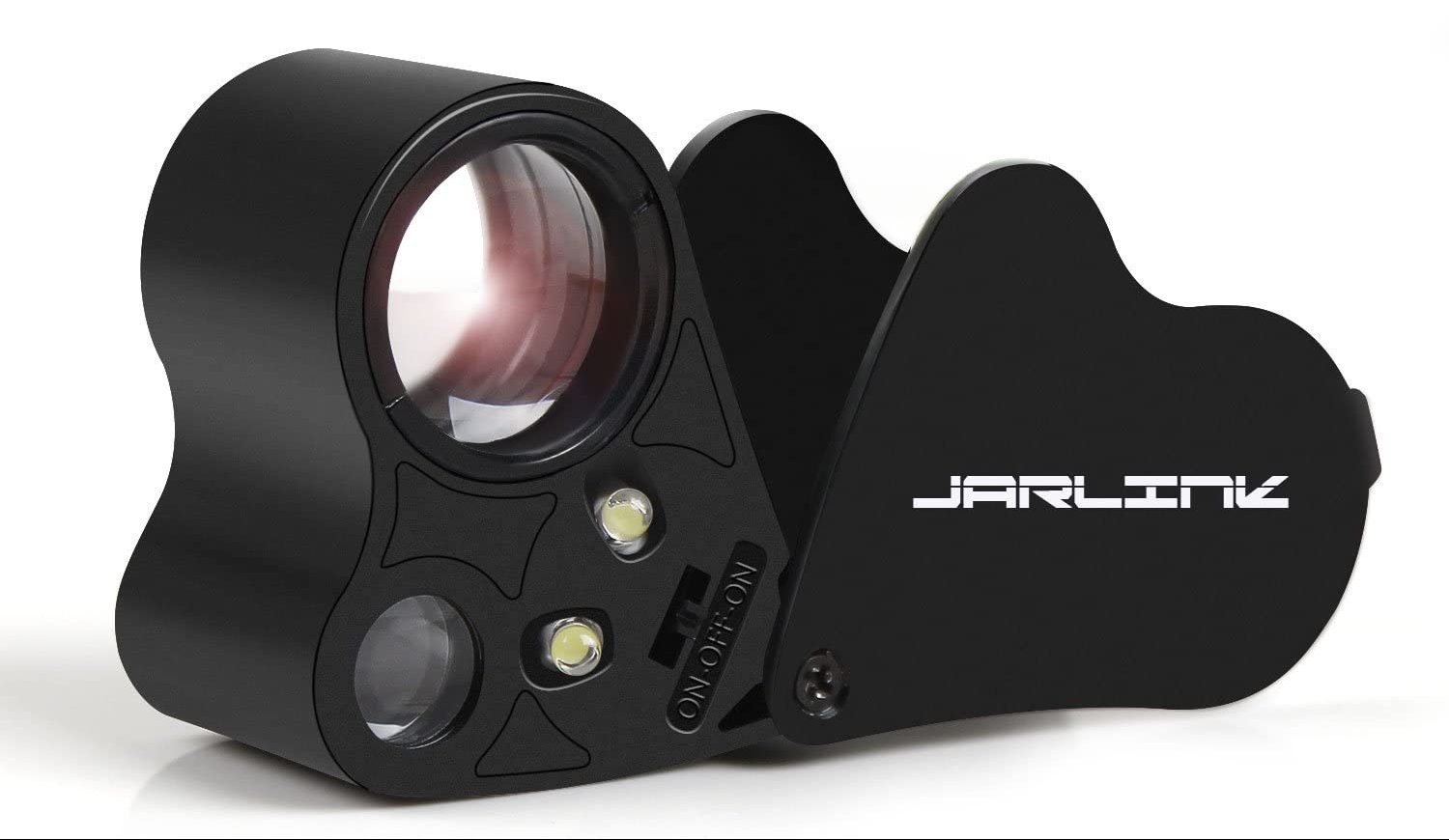 ---
The BelOMO 10x loupe magnifies 10x and uses 3 lenses schema. The large 21mm Achromatic Triplet Lens catches lots of light which improves the clarity and sharpness. The loupe offers a 17mm viewing area which makes it very easy and straightforward to use. Its optical quality glass lenses make its clarity and sharpness perfect. It is widely used by professionals.
As the name suggests, it uses three different lenses made of different types of optical glass. These are in turn bonded together with the purpose of straightening out the light that comes into the front of the loupe. Furthermore, the lenses are achromatic, color-correcting, and anti-reflective.
The loupe is assembled with screws instead of rivets, which also allows for adjustment

---
This loupe offers 10x magnification and has a 6 LED Light and UV light built-in. It is also equipped with a 21mm triplet lens to enable achromatically and alphabetically corrected viewing. The light is easily switched on with a switch – one for UV and one for LED. It is made of a metal case.

---
Swiss Reimagined is a popular portable and easy-to-use loupe. It is lightweight and robust, made from aluminum. For watchmakers, in particular, it is quite comfortable to use against the eye.
Thanks to the 4x magnification sapphire glass which is held in place by a screw, it allows you to adjust the magnification, which is a nice feature.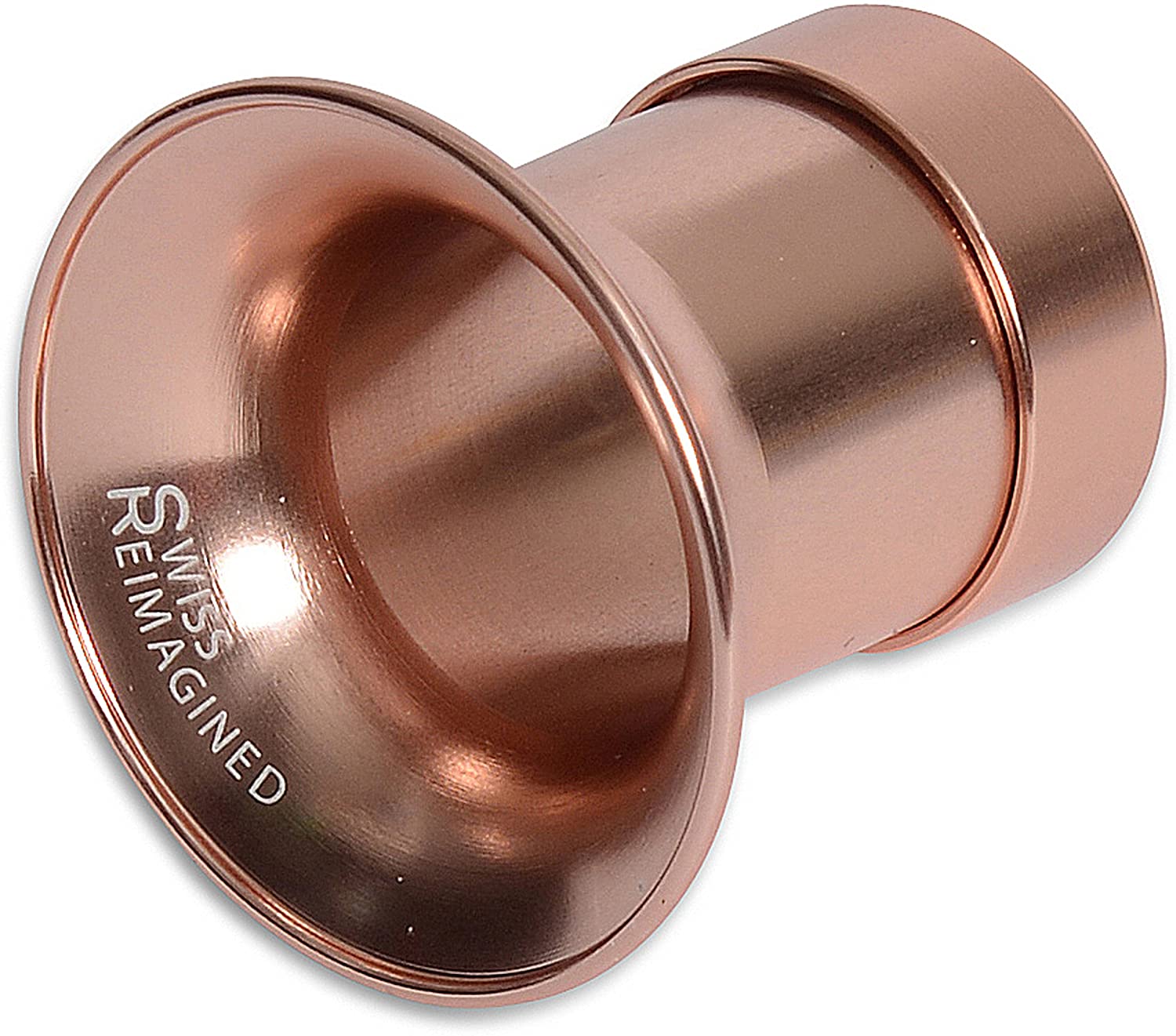 ---
The 10x illuminated loupe is exactly what it sounds like. A loupe that offers a 10X magnification and has built-in lights. It has a field view of 25mm and features 8 LED lights built-in. It comes delivered with a synthetic leather case which makes it easy to carry around.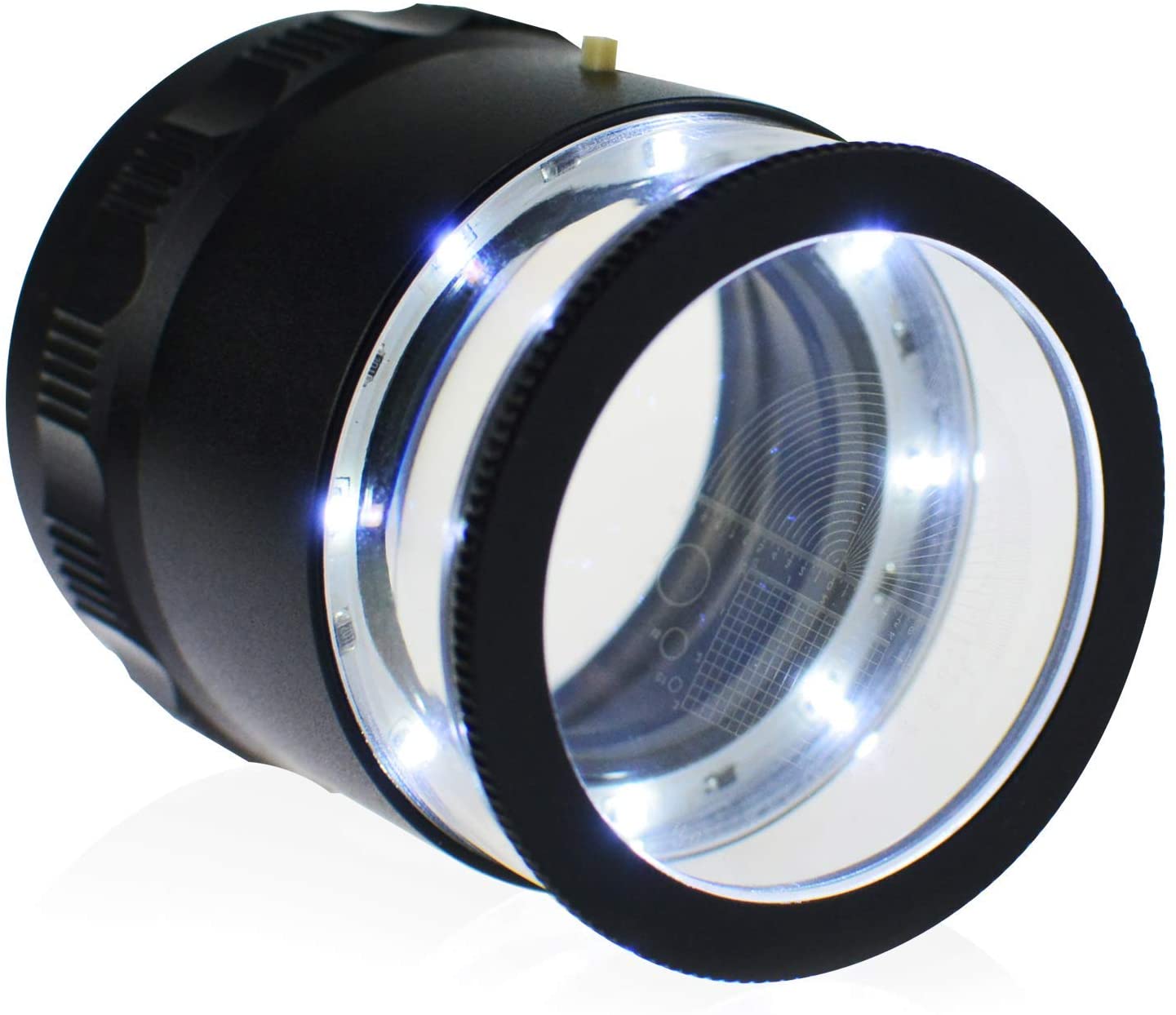 ---
The Formline loupe is a pocket-size, portable, and durable loupe that is easy and great to bring with you. It has built-in led lights that help you view an item regardless of the light. To use it, simply unfold and flip the magnifier's LED.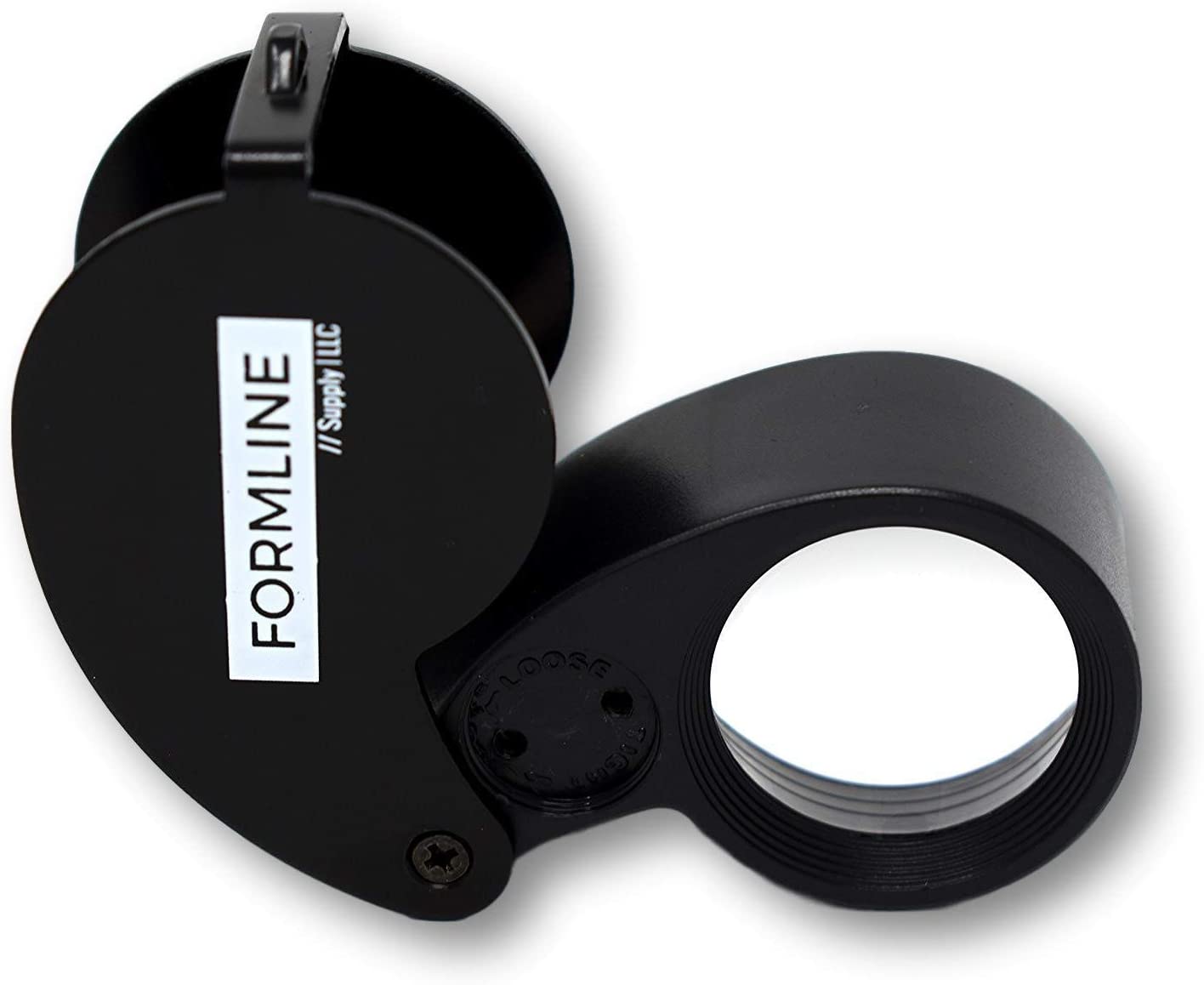 ---
This is another loupe from Bausch & Lomb, and like all their products, it is high-quality and well-built. This magnifier has three separate glass lenses bonded together which allows for sharper and more distinct magnified viewing. The swing plate both protects the lens when it is not in use but also serves as a handle which makes it ergonomic and easy to use. A protective storage pouch is included for easy transportation and travel. It has a focal distance of 2.0 cm.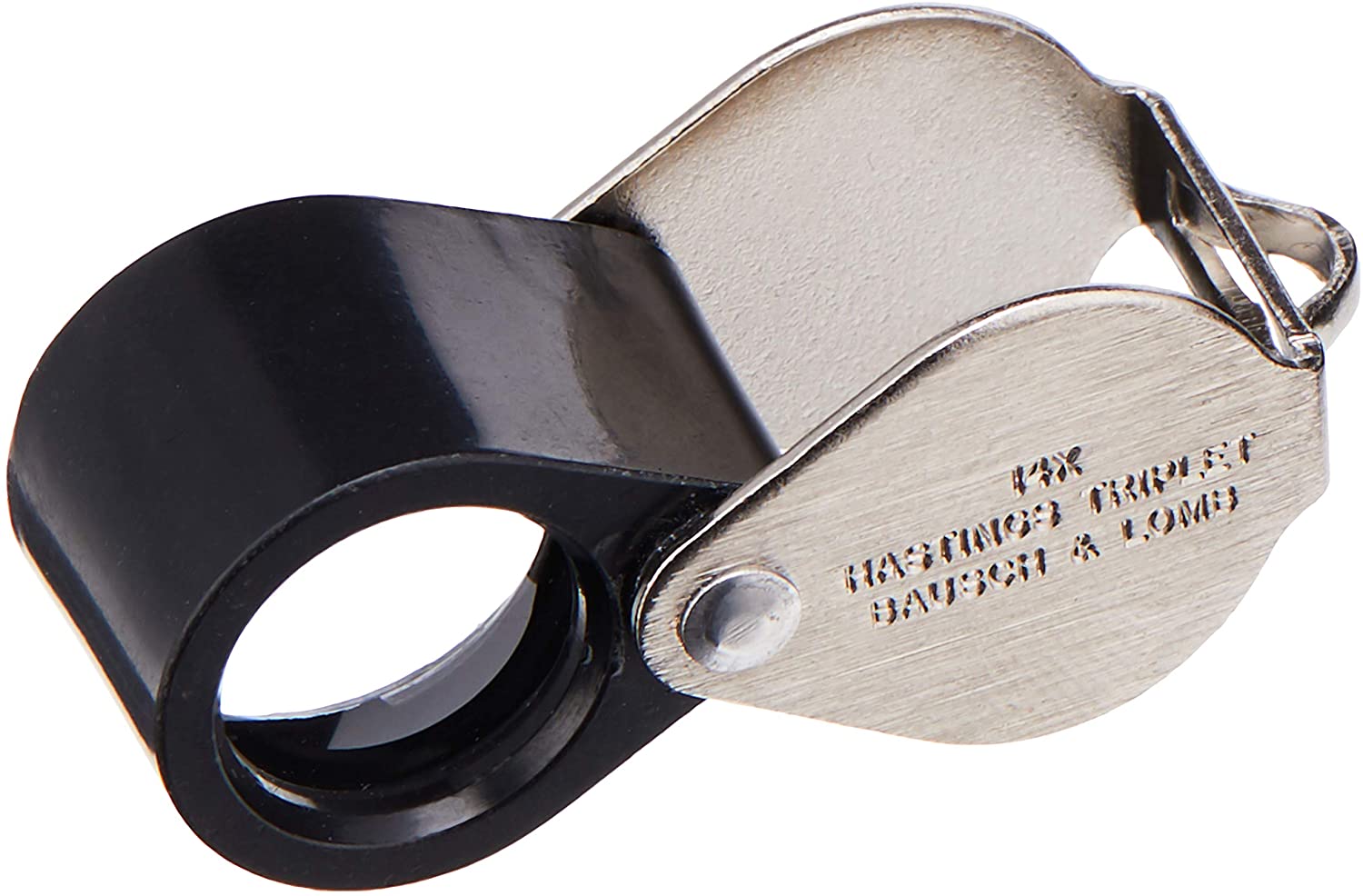 ---
EnTech loupe is a foldable and small magnifying glass which makes it a great travel loupe, or simply to carry in your pocket. It also comes with a protective case which helps keep it protected. It features a dial option lens and two bright LED lights for clear and easy viewing in any condition. It comes with two different lenses (30x and 60x magnification, which is always a bonus when it comes to loupes).
It has an aluminum alloy shell cover as well as environmental plastic and acrylic glass lenses.

---
The BronaGrand 30x loupe magnifies to 30x which is generally more than enough for most purposes. It is made of a zinc alloy glass holder and has 2 pieces of high-quality optical glass lenses. It is also lightweight and easy to carry with a size of about 40*30mm/1.57*1.18inch. The optical lens has a diameter of approximately 36mm/1.42 inches.

---
Nikon 10x Jewelry Triplet Loupe
If you want a high-quality, extremely advanced loupe that offers exceptional performance, this Nikon watch loupe is a great choice. It has an effective diameter 13mm lens, a 25mm focal length, and 10 times magnification. It is designed with a three-bonding optical glass lens material. Unlike many of the cheaper alternatives, it has great sharpness in the view that it provides.
The loupe has a small and compact design and can slide back into its original "base" case to protect it when traveling or keeping it in the pocket.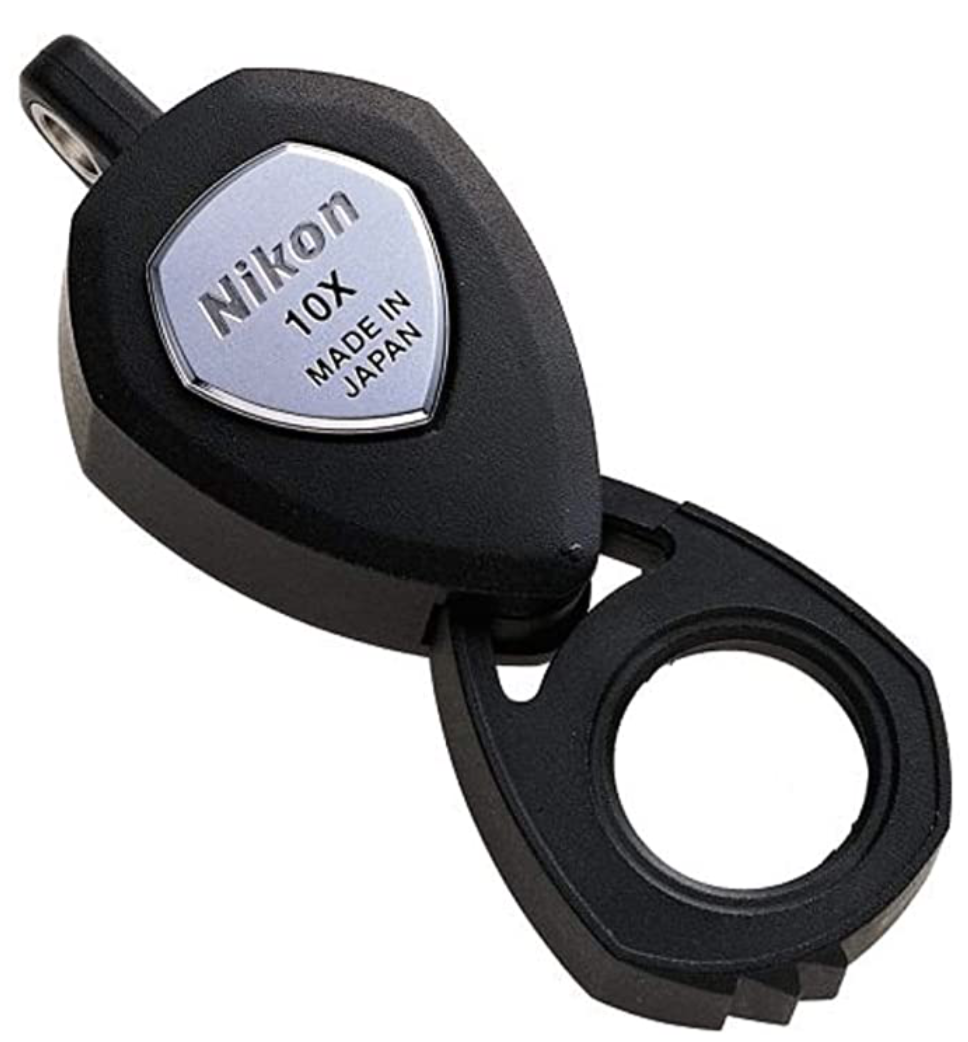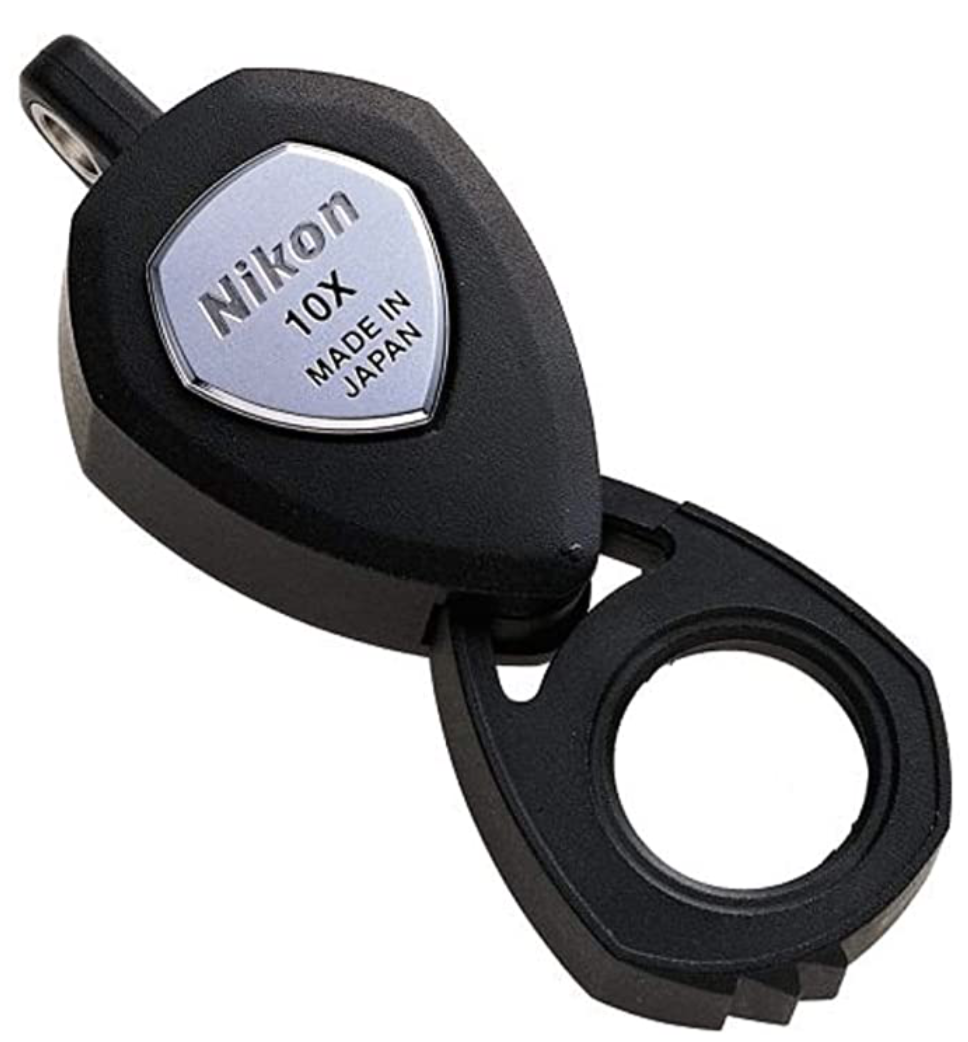 ---
30X Optics Loupe Magnifier
If you want to get really close and look at your watch in close detail, this loupe offers a 30X magnification. It deserves a spot on this list due to its great sharpness and clarity, allowing you to see even the smallest details.
The loupe is designed in a small and compact size which makes it very practical to bring with you.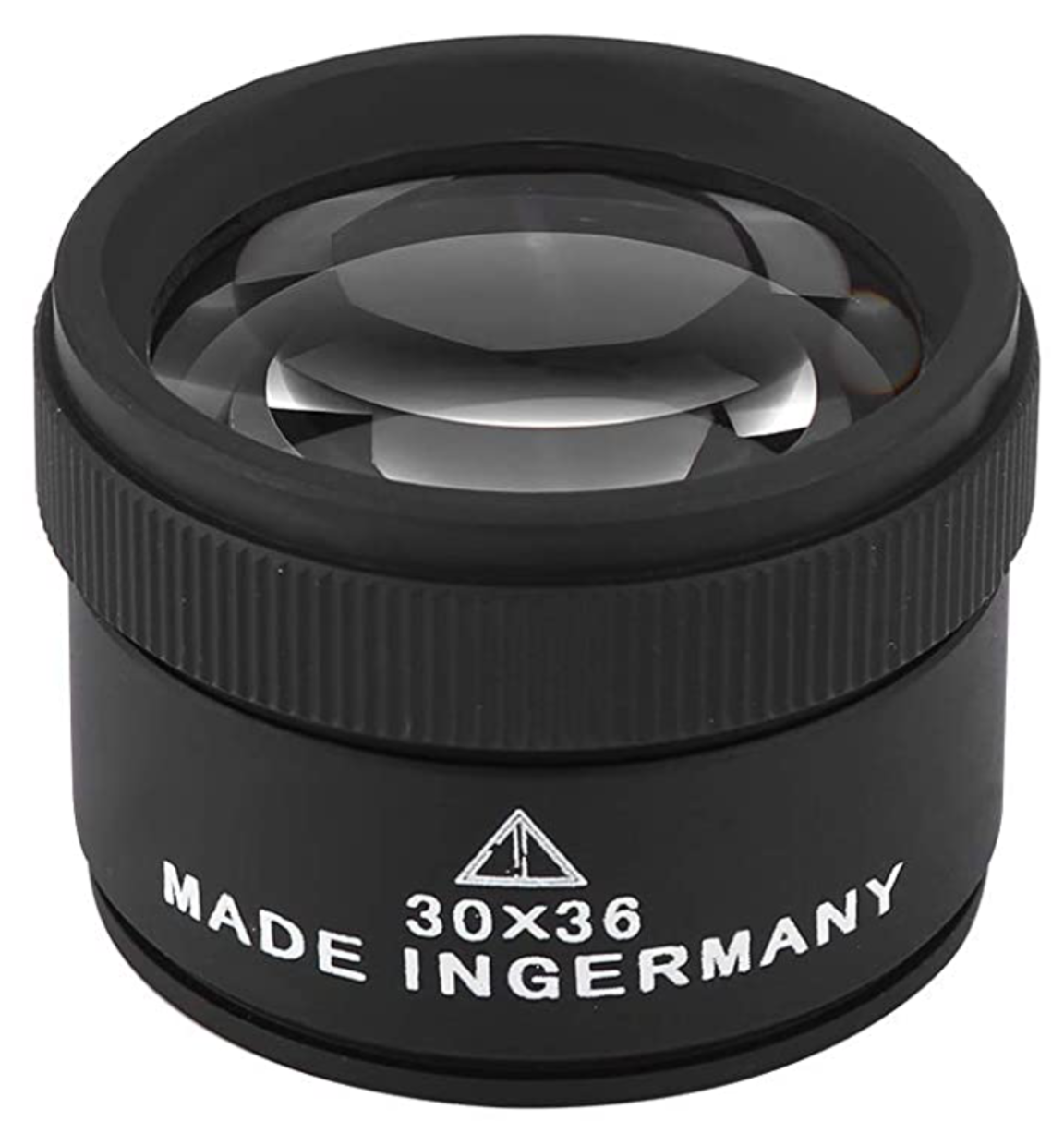 ---
30X Mini Foldable Jeweler Magnifier
This loupe has a 30X magnification and a small and compact design. It has 6 built-in LED and UV light which also helps provide great visibility in low-lit conditions. It is made with a 21mm triplet lens which helps make it achromatically and alphabetically correct. It also has a folding design which makes it easy to transport.

---
Watch loupe buyer's guide
What should you think about when buying a loupe? Well, there are actually a few things you need to take into consideration to find the perfect loupe for your needs. Let's have a look.
Magnification
The magnification is naturally the most important part of a loupe. This is pretty straightforward, a loupe that magnifies 2x allows you to see the details twice as closely. The higher the magnification, the greater the zoom, and the easier it will be for you to see even the tiniest details in great detail. Which magnification you should choose in your loupe ultimately depends on what you intend to use it for.
The more basic and versatile loupes that are meant as "all-around loupes" often have a magnification of around 10X. This will allow you to see an object closer and more in detail, but you'll struggle to see the tiniest and most intricate details, for example on a watch dial. With that said, if you're looking for a loupe that will give you the best view of tiny objects, and allow you to see tiny details, you should look for the highest magnification possible. In this case, 30X and up is a good choice.
The number of lenses
As discussed earlier, different loupes use different numbers of lenses. Some use double lenses, other loupes use triple.
The cheaper loupes will normally only use one lens. The benefit of having multiple lenses in a loupe is that it helps improve the chromatic color. The catch of a double lens is that when combining lenses, the clear view will be more limited to the center of the focus. This is solved by a triple loupe where the third lens corrects the focus point issue and enables a focus point in the whole field of view.
If you need the best possible loupe, you should always opt for a triple-lens. However, if you don't want to spend too much money on it and just need something that gets the job done, single-lens loupes will be more affordable.
Built-in lights
There are not a ton of features to speak about when talking about loupes, but one of the features you can see in some loupes is a light. As you can imagine, having a built-in light in your loupe can be convenient on many occasions, of course especially when you use it in low-lit conditions and do not have access to good lighting. However, if you only use the loupe in your workshop, for example, where you have good lighting, this feature won't really be that important.
Design and shape
As you have seen, different loupes use different designs and have different shapes. Each, of course, serves a purpose and usage area, so this is why it is good to consider your own needs. Some loupes have a design that folds the loupe part into a "holder" in order to keep it protected. This type of design is great, for example, if you plan to travel with your loupe and perhaps keep it in your pocket frequently. In these cases, it is not convenient to have a large and clumsy loupe.
If you are a watchmaker, it probably makes more sense to buy a traditional watchmaker's loupe that you can attach to your forehead for easy access whenever you need it whilst working on watches.
A watch loupe and a jeweler's loupe are essentially identical. The true watchmaker's loupe is one that watchmakers can attach to their forehead, but unless you're a watchmaker, any other loupe will do just fine since it is not crucial for you to have your hands free.
What is the highest magnification loupe?
The higher end of the spectrum when it comes to loupes is 30x and upwards. Naturally, there are loupes that are 100x but in these cases, you enter microscope territory. In addition, too high of magnification is not really useful for watchmakers or jewelers as it will simply be too high magnification.
If you want the highest magnification loupe for watches, you can look for 30x or 60x magnification.