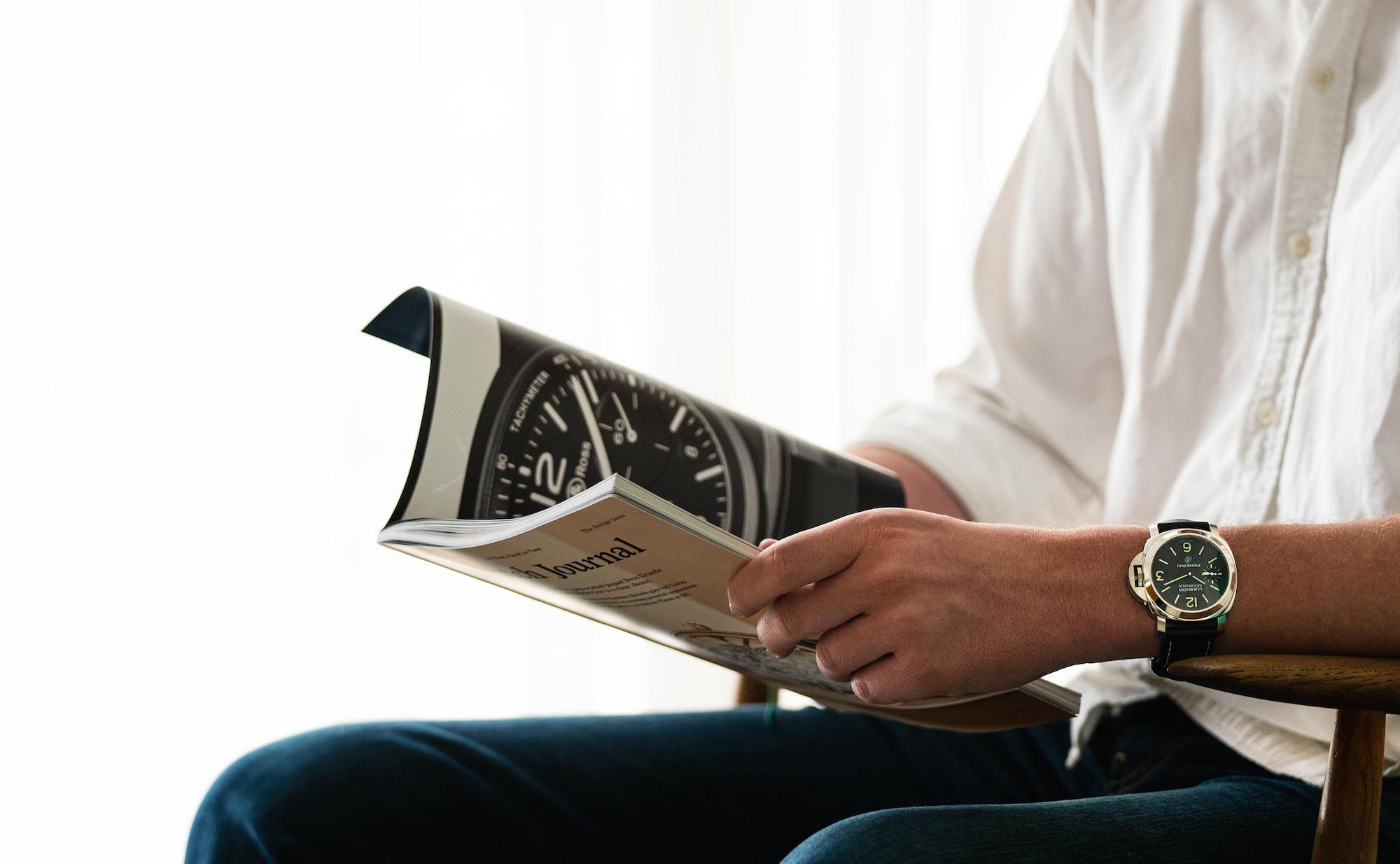 Top 12 Best Watch Books Every Watch Lover Needs
The world of watches is extremely wide. There are countless watch manufacturers, models, versions, iterations, functions, and technology. From affordable quartz watches to highly collectible vintage watches that are so rare that only a few pieces are known to exist. The world of watches covers a lot, and there is a plethora of information about these small but very special pieces of craftsmanship.
If you are looking to immerse yourself in the world of watches, you have to start somewhere. If you follow our Journal, you are able to learn more about models, innovations, technology, and vintage design features. But if you are looking to take your education further, and want to immerse yourself more, books are a great source of information (or inspiration, for that matter).
Watches can be explored in all eternity with all of the information and everything that can be written about them. You may only scratch on the surface of the most famous brands and most common model collections, or you may dig deeper and find interesting quirks, details, and small differences that make all the difference in the world for collectors and the collectability of these watches.
With that said, there are many books out there that focus on watches in one way or another. Some are dedicated completely to specific models and cover this exhaustively, and others get to the bottom of the history of watches.
To help you find the best books about watches, we have created a list of our favorite watch books that all watch lovers should read.
Best watch books by Millenary Watches
Full disclosure, we will begin by including the books that we at Millenary Watches have written and then go on to have a look at books written by other authors. We hope that you will enjoy the books that we have created.
---
74 watches – A Photobook of Iconic Luxury Watches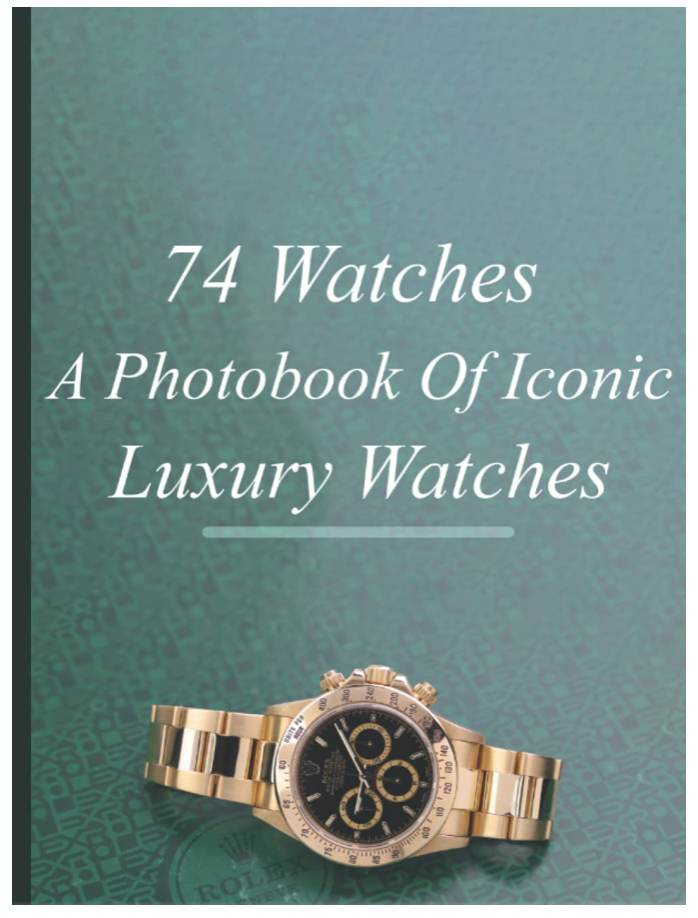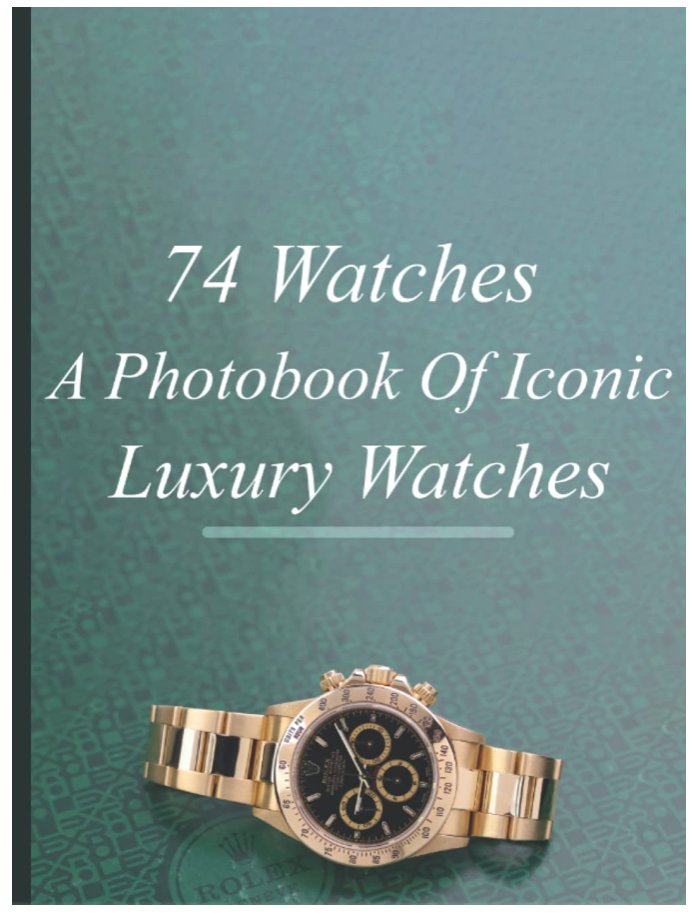 This book is primarily intended as a photo book of stunning luxury watches. For context and more details, each timepiece is complemented with a short description explaining the background and technical details of the timepiece. The book presents 74 luxury watches from iconic luxury brands including Patek Philippe, Audemars Piguet, Rolex, Omega, and many more. For the times when you don't want to read too much text but instead immerse yourself in the beautiful creations in the luxury watch market, this is a suitable option. Perfect as a stylish coffee table book and when you just want to flip through pages.
---
Rolex Watches – The Ultimate Guide: An extensive Rolex guide for the devoted enthusiast and novice collector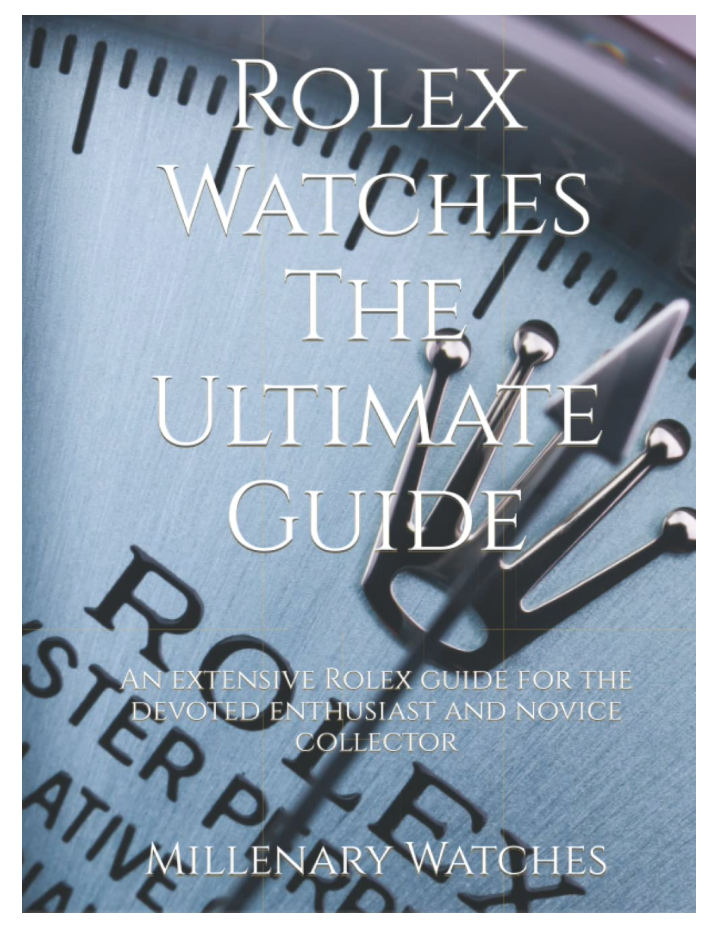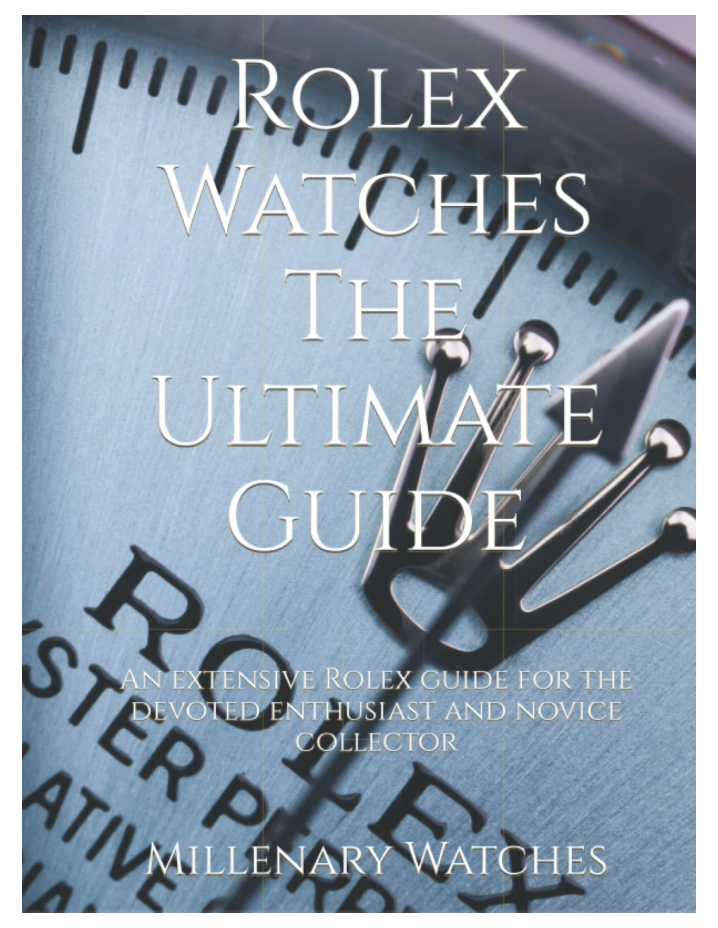 This is our most expensive book to date and it is devoted to one of the most iconic and recognized luxury watch brands in the world, Rolex. The watch goes into detail about the history of Rolex and everything there is to know about the brand. It reviews Rolex from its early years up until modern times. Moreover, it goes through each and every single Rolex model, production years, as well as technical innovations and inventions by the Rolex brand.
It works as an inspiring photobook with plenty of high-quality images, combined with detailed and rich information about everything from rare dials, bracelets, clasp codes, production years, and much more. It really is an extensive guide for anyone who wants to widen their knowledge about this iconic company. Whether you are a devoted enthusiast or a novice collector, we are sure that you will learn something new.
---
64 Amazing Rolex Watches: An overview of iconic and stunning Rolex creations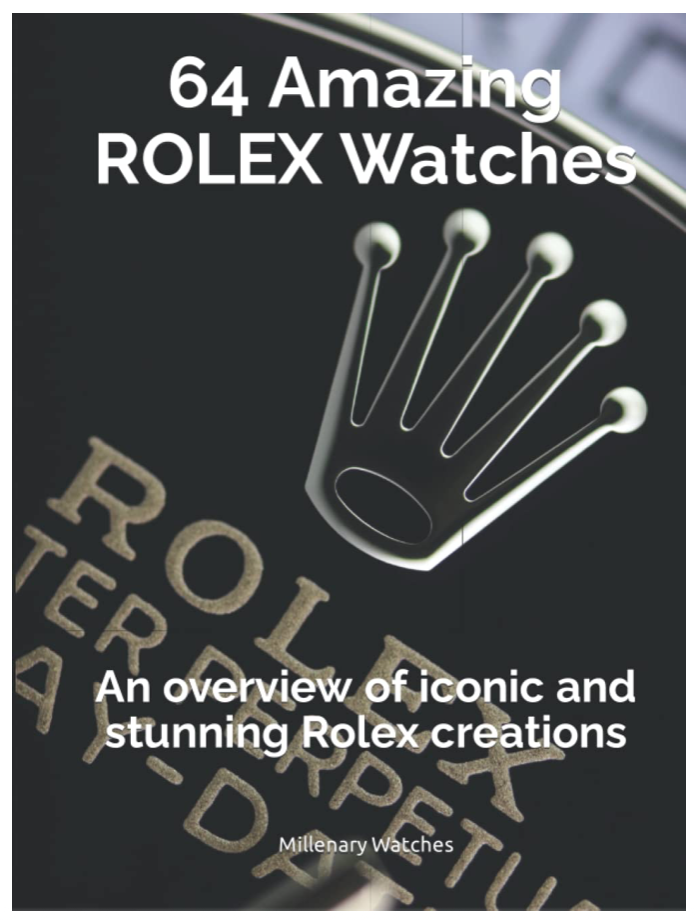 This is a photobook dedicated to the stunning creations by Rolex. The book presents 64 different Rolex watches from different eras and in different designs, styles, and for different purposes. The book contains some of the most common and classic Rolex watches, but also rare and uncommonly seen creations by Rolex. Each model is complemented by a description that provides context and information about the model. This book is suitable as a coffee table book or when you want to flip through pages and discover the amazing creations by Rolex.
---
Tudor Heritage Black Bay 79220 – The Ult

i

mate Collector's Guide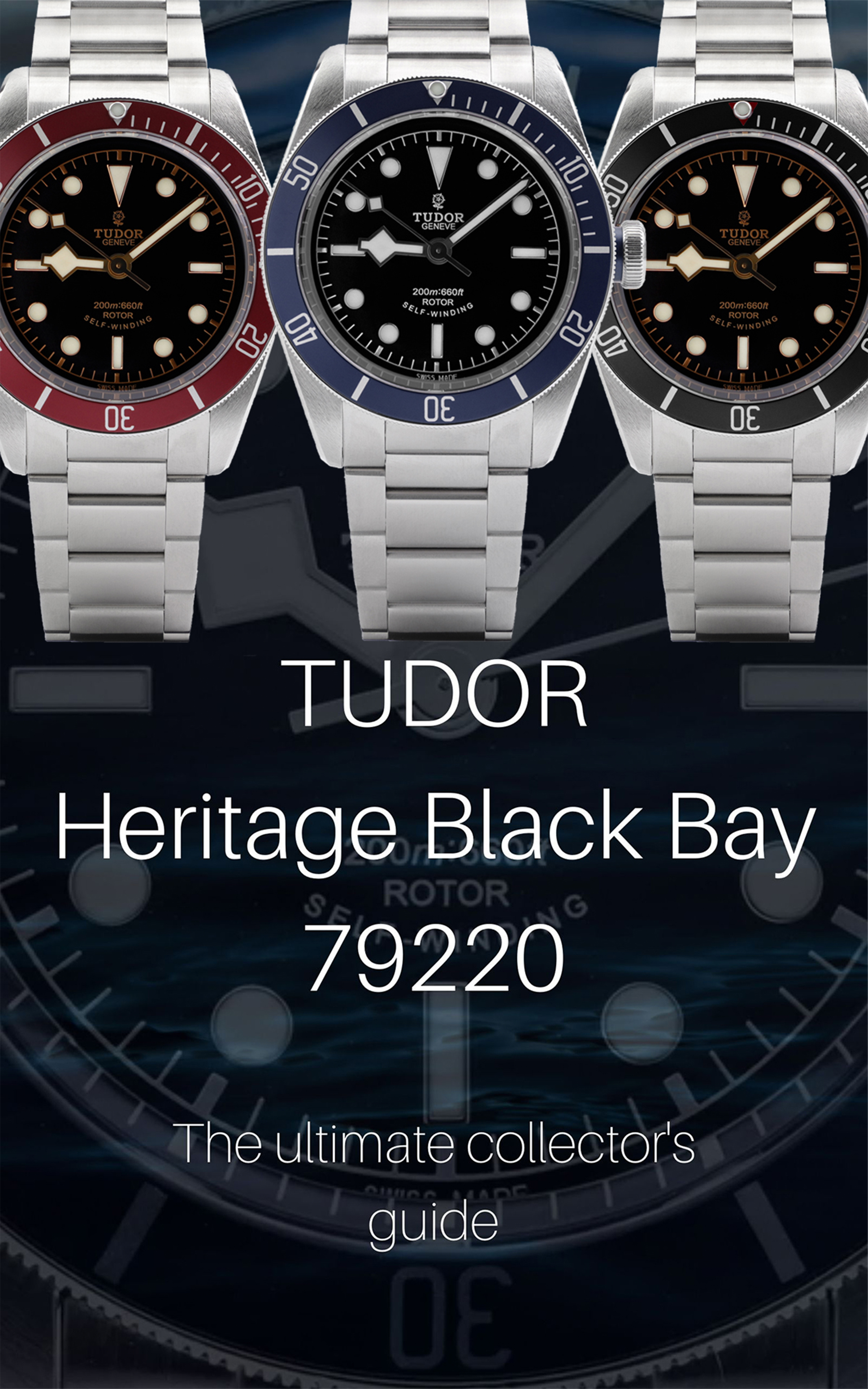 We are proud to say that this is the most extensive book ever written about the Tudor Heritage Black Bay reference 79220. This model is not just any Tudor model. It's the model that helped put Tudor back on the map after having been absent from most markets for a long time. Prior to the launch of the 79220, Tudor struggled to find its identity. But in 2012, Tudor released the Heritage Black Bay 79220 and received tons of praise and appreciation.
Since then, Tudor has continued to build on the Black Bay and inherently, this original model became the start of a new era in Tudor's history. This book celebrates the importance of the 79220 and is the most extensive and in-depth book ever written about this historically important timepiece. Shortly summarized, it contains everything there is to know about this model, from production years to part numbers, to specifications, production differences, and much more. Considering the historical importance of this model, this book is a must-have for every Tudor enthusiast.
---
Best watch books
---
Rolex Encyclopedia
As the title suggests, this is the most exhaustive and complete guide to Rolex. A must-read for a Rolex lover.
It is the most complete guide to vintage and modern Rolex watches and includes every Rolex produced from 1905 until today.
This encyclopedia comes in a slipcase that includes 3 separate books. The book really goes in-depth and covers everything you need to know about Rolex watches (and a ton of things you probably didn't know about the brand, its history, and its watches.
A bonus is that the book looks great and will be a nice decoration to your book shelf or coffee table.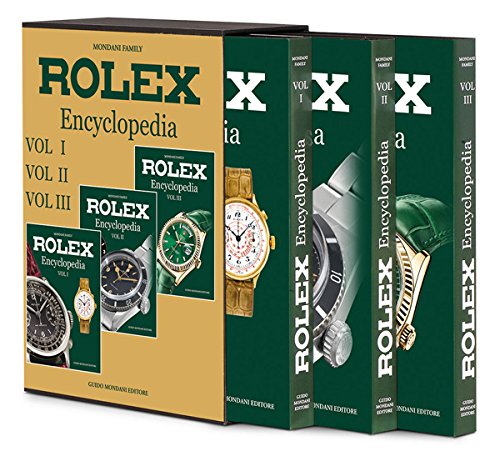 ---
Steel Rolex Acciaio
This book is written by Guido Mondani Editore, one of the most respected and knowledgeable individuals about Rolex watches.
It is a 280-page book packed with information and focused on steel Rolex watches – both modern and vintage models. This book is an updated version that provides technical details, history, descriptions, fantastic images, as well as updated prices of Rolexes in stainless steel.
The book discusses the complete Rolex Oyster collection, pop-on case back Rolex watches, chronographs, the most complicated Rolex watches, military Rolex watches, and much more. It covers the Submariner, Cosmograph, GMT-Master and Turn-O-Graphs, and many more. It also
The book also discusses more uncommon and less-discussed topics where information on the web is rather limited, such as personalized dials, vintage dial variations and patina, rare dials, and much more.
This book is truly a must-read for every Rolex lover and someone who wants to dig deep into the history and watches of Rolex.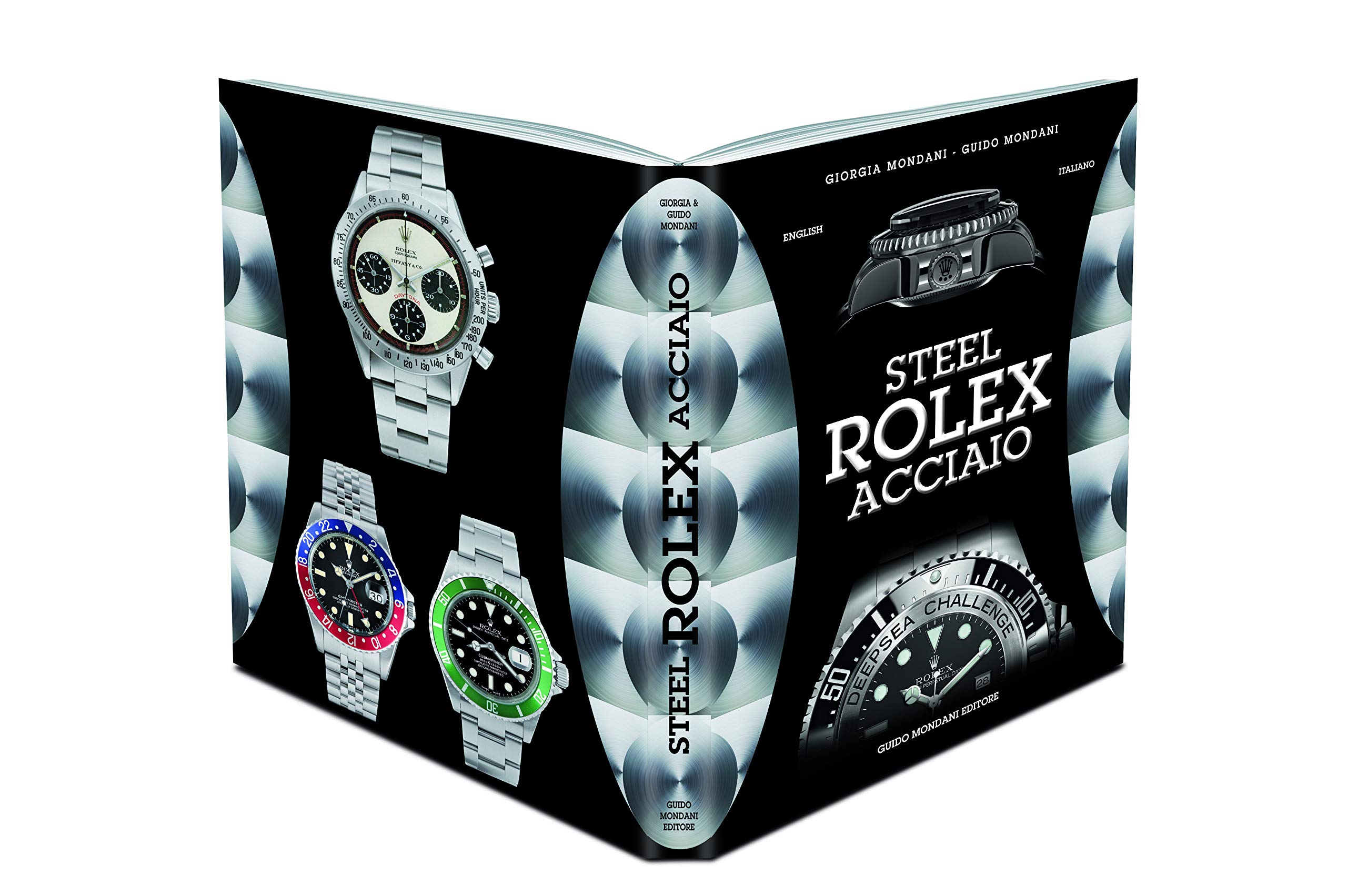 ---
A Man & His Watch: Iconic Watches and Stories from the Men Who Wore Them
This is one of the most popular books about watches.
The New York Times Style Magazine writes:
"I've paged through stacks of books on the history of watches. . . . But I hadn't come across a book that actually moved me until I picked up A Man and His Watch. The volume is filled with heartfelt stories."
As the title reveals, this book talks about iconic watches and stories about men who wear them.
It demonstrates that a watch is not only a means of telling the time but an important part of a man's identity. It shows that a watch can have a deeper meaning and highlights what can make watches so special.
The book talks about many important and legendary men who have worn truly special timepieces, which have become even more special due to their history. This includes individuals such as Paul Newman and his Rolex Daytona, Franklin Roosevelt who wore a gold Tiffany watch, JFK and his Omega worn to his presidential inauguration, Ralph Lauren's watch purchased from Andy Warhol's personal collection, and much, much more.
Not only are these watches special in their own right, but it is the stories about the men who wear them, and how the watches came into their possession that show the bond between a man and his watch.
Matthew Hranek, who is a watch collector and NYC men's style fixture is the author of this book and has conducted interviews to dive into the stories about special watches worn by historic and legendary men, to tell the stories of these watches. The book goes into detail and tells the story about 76 watches, complemented with photos of each timepiece.
As described, "The watches become more than just timepieces and status symbols; they represent historical moments, pioneering achievements, heirlooms, family mementos, gifts of affection, and lifelong friendships."

---
The Watch Book Rolex: New, Extended Edition
The Watch Book Rolex is written by wristwatch expert Gisbert L. Brunner and goes in-depth about Rolex watches.
The book was originally published in 2017 but has now been updated and revised – going even more in-depth about Rolex's latest highly-coveted designs. The book is 250 pages, 32 of which are from the first version.
The book goes in-depth into Rolex's early history and then moves to touch upon modern Rolex watches as well. It talks about Explorer, Submariner, GMT, and much more. The book is an illustrated guide to Rolex watches, packed with many inspirational and stunning photographs. It digs deep down into Rolex's history and to-many never-seen models, and talks about their historical importance, collectability, and unique traits that make them so special.
The book also looks great and is a nice touch to any coffee table. Simply a must-read for a Rolex lover.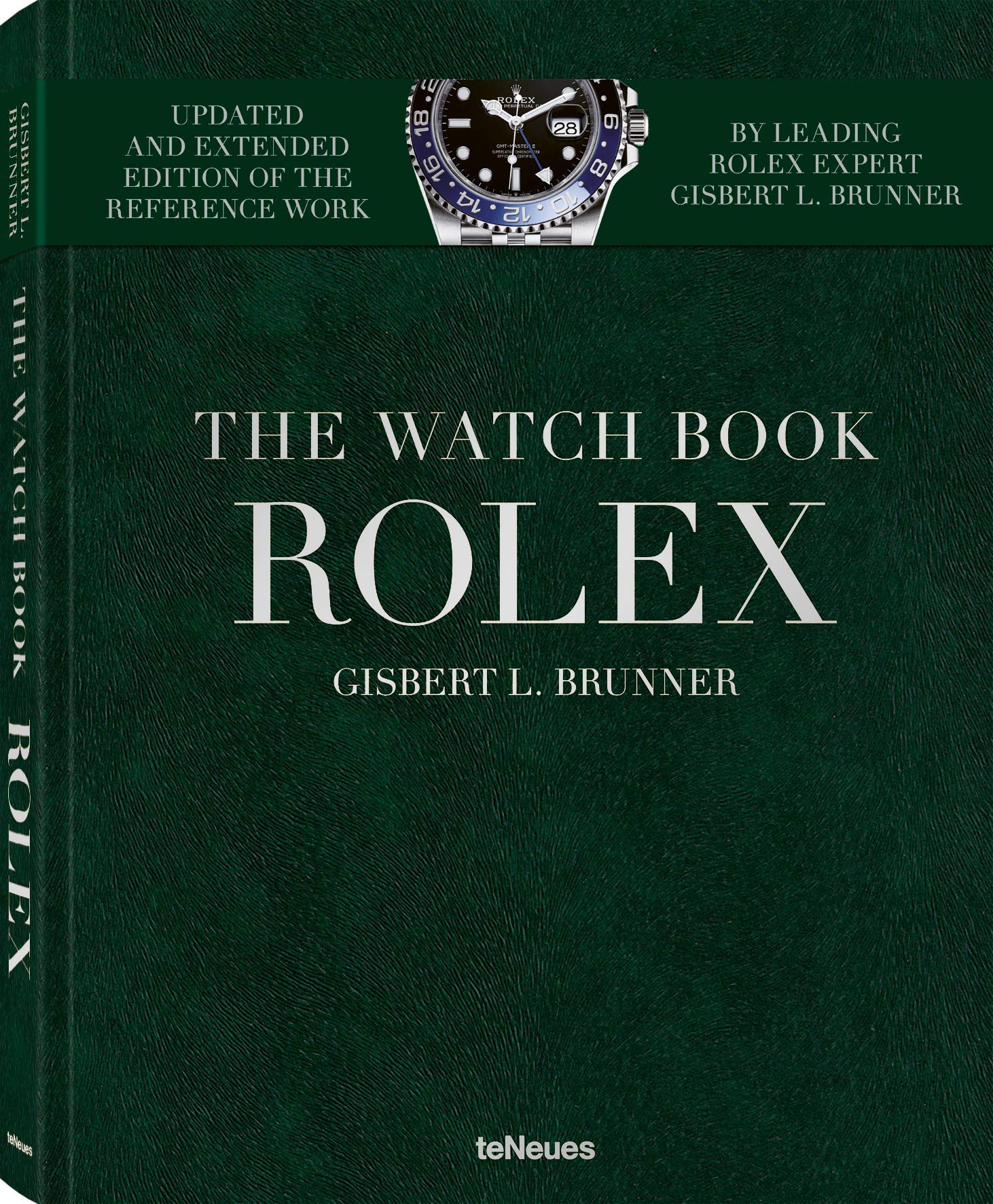 ---
The Watch Book (Lifestyle)
The watch book is not focused on one particular brand.
This book focuses on highlighting the beauty of timepieces and demonstrates that they are so much more than just a means of telling the time. The book shows the value we place on timepieces, and highlights the impressive blend of precise mechanics, craftsmanship, fine materials, and innovation.
In the book, you will be able to read about the world's best timepieces and what makes them special. It goes into detail about 18 of the top watch manufacturers, including brands like Patek Philippe, Rolex, and Cartier. You will be able to learn about these brands' development from their earliest days right up to the latest innovations and current models, and most importantly what makes them so extremely well-respected and prestigious – including the innovations and developments that help them get to where they are today.
The book is written by the same author as the book mentioned above, but this is the first vol.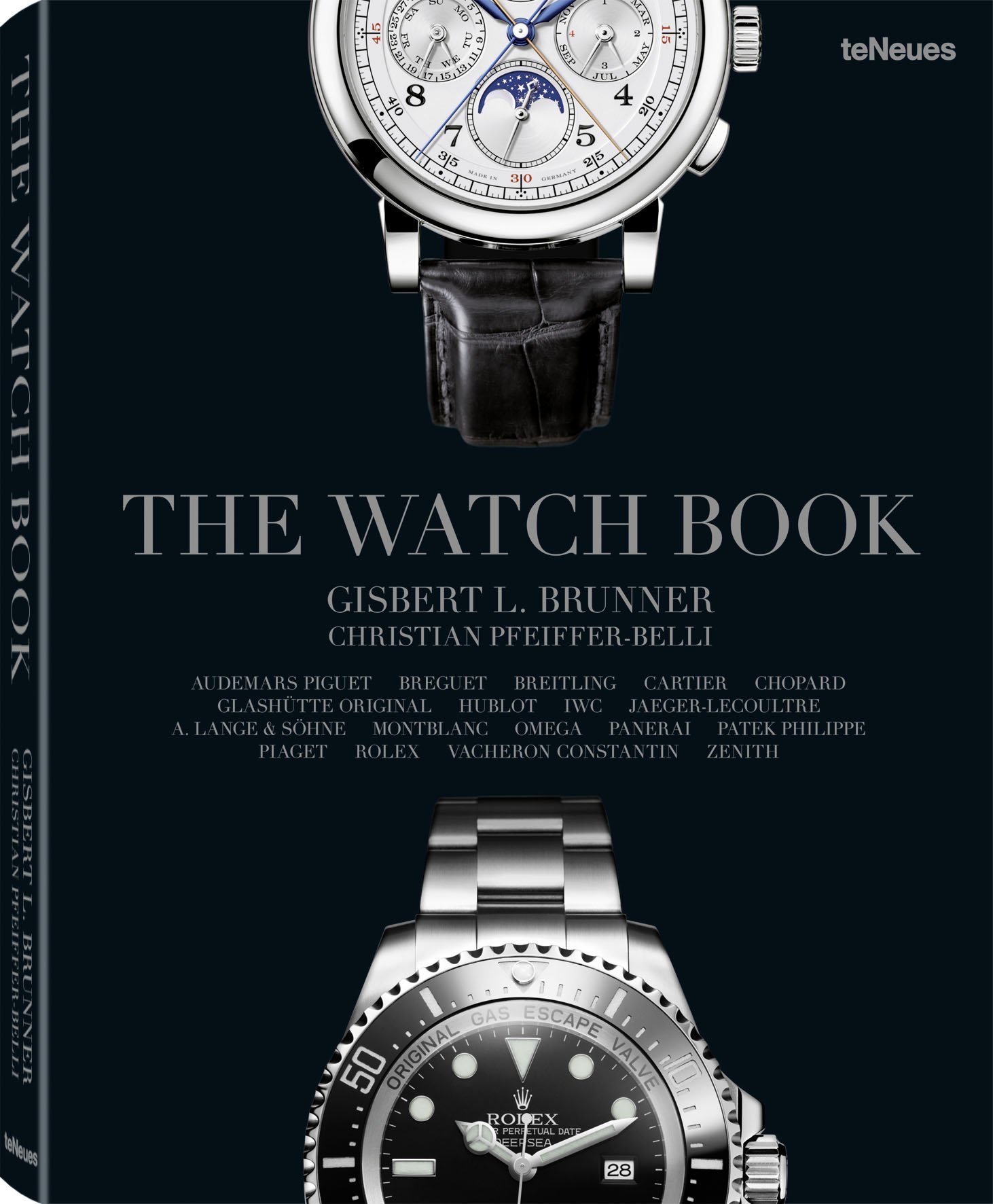 ---
The Wristwatch Handbook: A Comprehensive Guide to Mechanical Wristwatches
The wristwatch handbook is, as the title reveals, a comprehensive guide to mechanical wristwatches. It includes 470 stunning and inspiring color photographs, but is more importantly an extensive reference work for the novice or the seasoned watch enthusiast to give a greater understanding about wristwatches.
The book includes timepieces from over 90 watch brands.
This book highlights the interesting topic of wristwatches as a means of telling the time – and the contrast of the technology of the 21st century where smartphones and computers actually tell the time much more accurately than a wristwatch. But despite this, wristwatches have "seen a boom in the development, production, and appreciation of all things horological."
Wristwatches today are an interesting contrast as they are not necessarily rational anymore. Wristwatches are not only used for telling the time. Originally, the wristwatch had one purpose and one purpose only – to tell the time. Today, that has changed, and the book highlights this. A watch can be an investment, a piece of art and artisanal mastery, a fashion accessory, or a status symbol.
The book is divided into two categories. The first section goes into detail about mechanical movements. The second chapter goes further to explain the complications and functions of a watch movement. This book is therefore a great choice for someone who wants to learn more about mechanical watches and their inner workings.
The book explains all of the different features of a mechanical movement, and highlife just the level of complexity that goes into a mechanical movement, such as power reserve, escapement, and much more.
It also teaches you about mechanical complications such as the regatta timer, pulsometer, chronograph, and more. This is a must-read for someone who wants an extensive and in-depth lesson on how a mechanical watch works. It is when you fully understand how it works that you are fully able to appreciate fine craftsmanship.
The watch doesn't focus on particular brands, but rather the functions and movements, and therefore, it covers 90 different brands.

---
The Watch Book: Compendium (Lifestyle)
This compendium includes vol 1 and vol 2 in one set. The books are also available to buy separately, but if you really want to immerse yourself, you need to read both. Both books to buy separately can be found higher up on this list.
With that said, featuring both volumes, it is an extensive source of information about all things wristwatches.
It is a truly extensive book about watches, written by the watch expert and historian Gisbert L. Brunner. It presents almost 1,000 high-quality color photographs and presents the latest watch innovations and the most prestigious and important watch manufacturers. The book features photographs of more than 40 watch brands, including the most prestigious such as Patek Philippe, Rolex, and Cartier, but also watches from the "affordable luxury"
In these books, you can read about the unique features and quirks of timepieces and learn about the remarkable breakthroughs and exclusive technical developments that have contributed to the history of watches.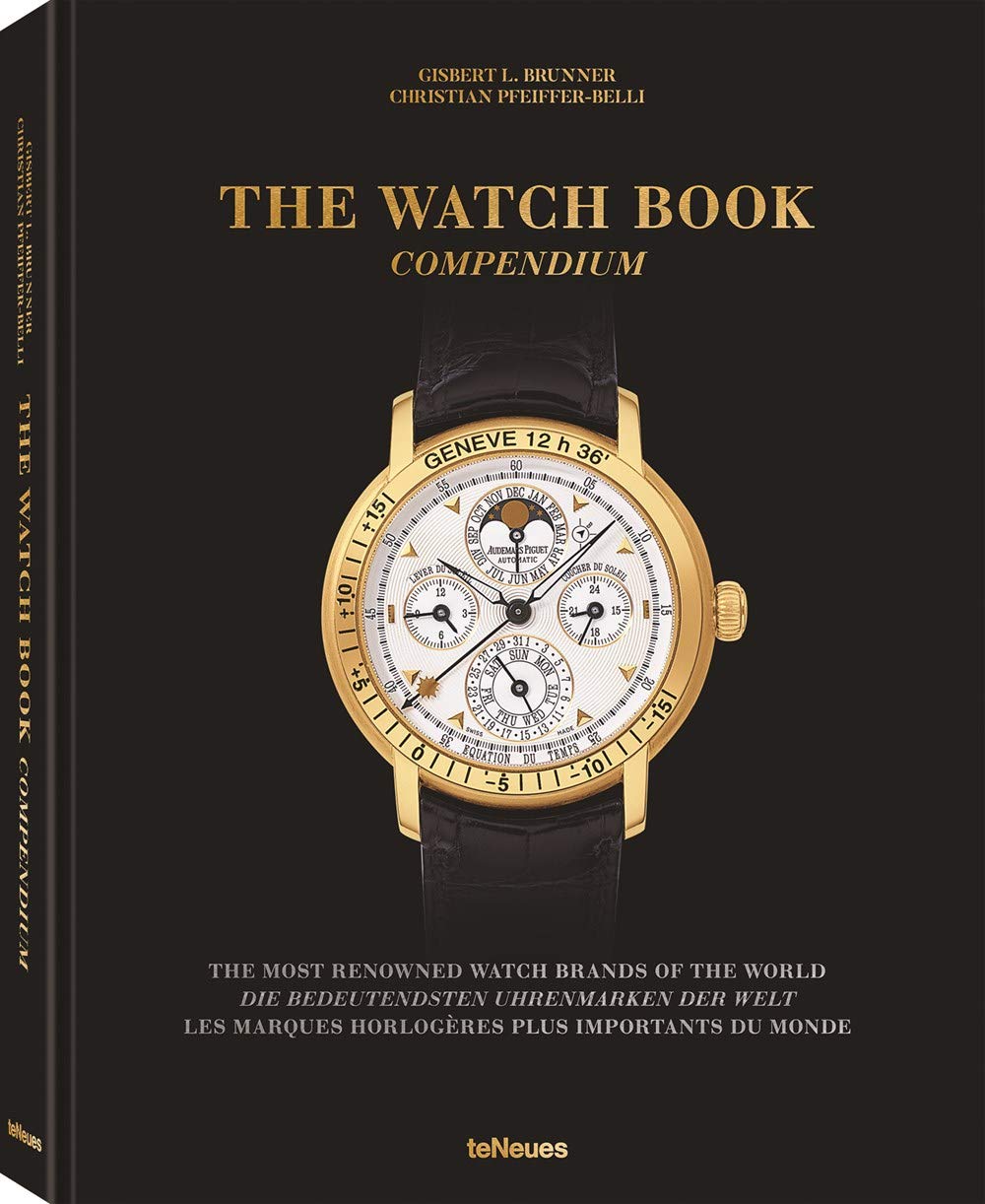 ---
A Moon Watch Story: The Extraordinary Destiny of the Omega Speedmaster
This is one of the most popular books about the Speedmaster and a must-read for every Speedmaster fan.
This is an extensive guide to the Omega Speedmaster and everything you need to know about it. It takes you through the history of the Speedmaster from the beginning in 1957, and the evolution of it – including the models up until today.
Reading this, you'll understand just how legendary the Speedmaster truly is, and how it has come to establish itself as one of the most legendary watches in the world.