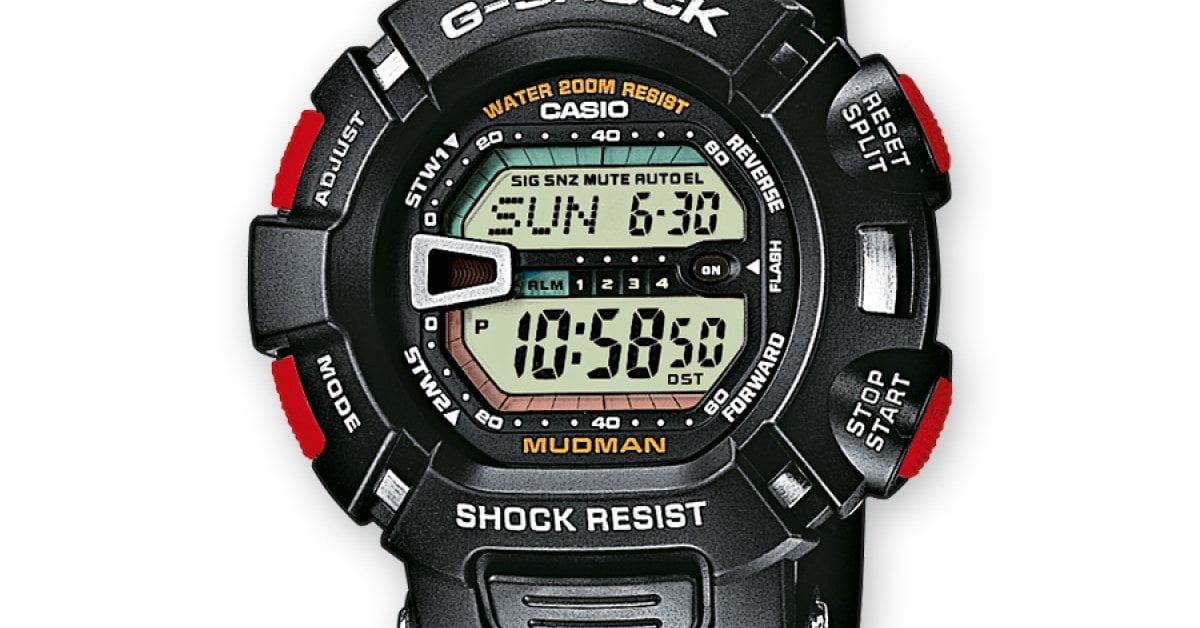 Casio G-Shock Mudman G9000 Review & Complete Guide
This watch is as tough as the name suggests it is. In addition, there are few watches that are as well-known and popular as the Casio G-Shock. 
The Casio G-Shock collection is appreciated and loved all around the world. It is known for being extremely robust and durable, as well as able to handle most harsh conditions you may subject it to. And this is something that people love about this timepiece. It stands out from the crowd and it simply works. This is a watch that you won't have to think twice about when wearing, regardless if you're crawling through mud or going swimming.
Its performance is just as tough as its design suggests it to be. And lastly, these watches are packed with functions that may come in handy.
Because of the huge popularity of the G-Shock, Casio has released numerous different variations and iterations. One of those is the Casio G-Shock Mudman G9000, and this is the watch we are reviewing and looking closer at in this article.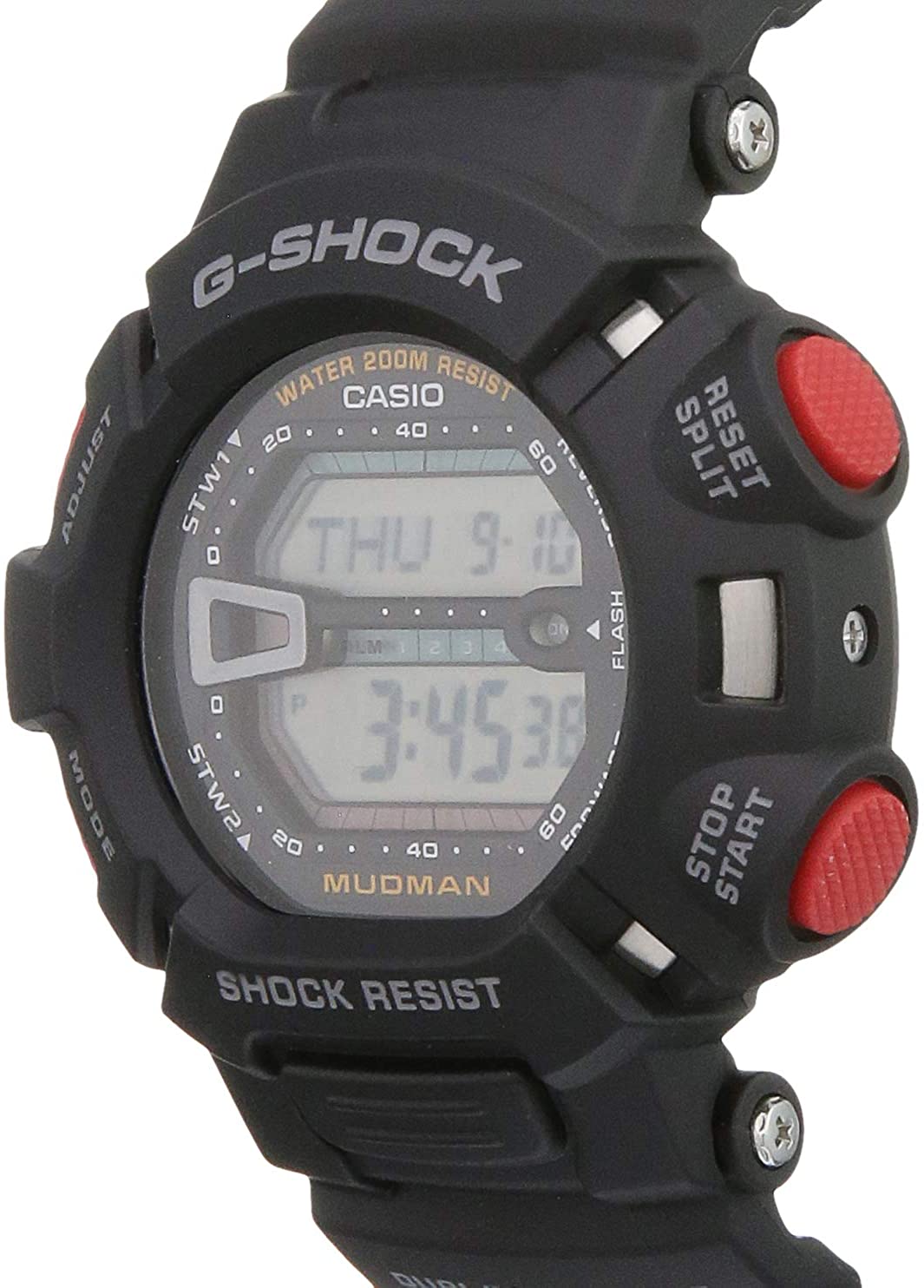 Casio G-Shock Mudman G9000 case
First thing first, the name Mudman reveals what this watch is all about. This is a seriously tough watch, and this means that it will withstand virtually any challenge and conditions you subject it to.
Like most G-Shocks, this watch features a black resin case with "cushions", "bumpers", and protection to make it resistant against outer force.
Not only does this give it a tool-like look, but it also increases its resistance against shocks, increases its anti-magnetic properties, and make it more scratch-resistant. Priced at less than 100 USD, there are few watches on the market that are as tough but at the same time also as affordable as the G9000.
Despite its very sporty design, it is a relatively stylish watch, too.
A sporty watch needs a good water resistance, and this watch offers a water resistance of 200m/660 feet. This means it will be able to handle virtually any water activity you bring it to.
The case has a thickness of 16.3mm, a diameter of 46mm, and a lug to lug of 52mm. With that said, it is, unsurprisingly, a rather big and bulky watch. This doesn't exactly come as a surprise considering the nature of it. But because of this, it is also most suitable for men with larger wrists and for those who enjoy a watch that has some wrist presence. The good news is that the watch does not wear as big as its dimensions suggest thanks to the integrated strap design.
Overall, the case is more rounded than the classic G-Shock shape that most people think about when they think about the Casio G-Shock.
On top of the case, it uses a mineral crystal. On each side of the case, it has two pushbuttons, where the pushers are red in order to easily distinguish them. Just above each pusher, on the bezel, it has text which tells us what exactly each pusher does. Something you may have noticed is that this watch does not have a crown, and this can be good to make it more durable. With that said, you use the four pushers to scroll through the different functions and settings. Remember, this is a fully digital watch and does not have an analog time display like certain other G-Shocks.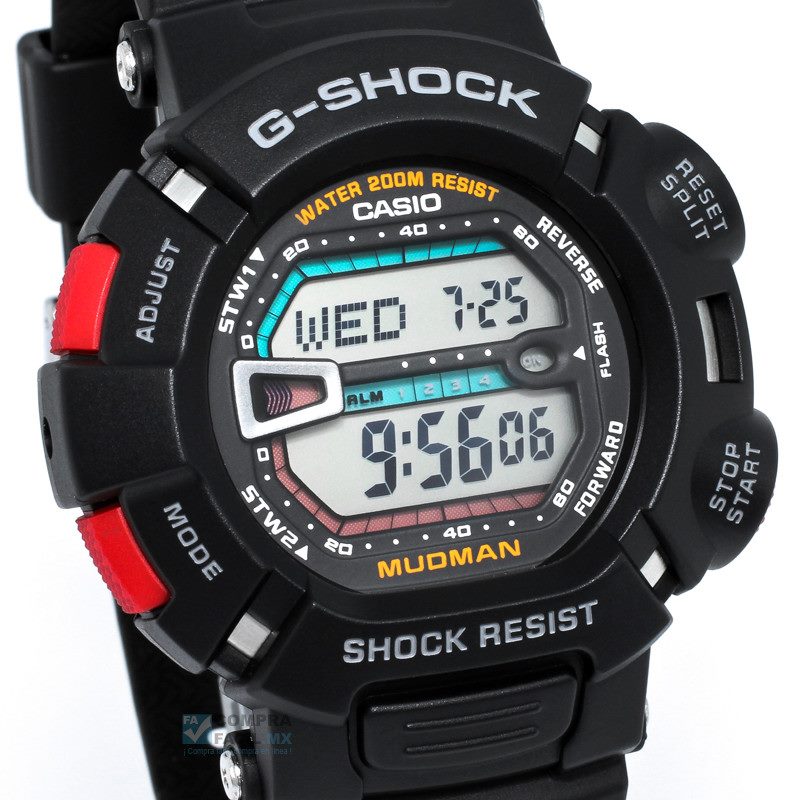 Casio G-Shock Mudman G9000 dial & functions
The watch features two digital screens which provide the information that it offers. For legibility in the dark, it has an Electro-luminescent backlight.
The watch has 5 alarms, 1 of which with snooze, hourly time signal, countdown timer, stopwatch to 1/100 second, flash alert, world time function with 48 cities and 29 time zones, full auto-calendar, time, and date.
The battery life is approximately 3 years. For improved battery life, it has daylight saving on/off.
 The accuracy of this watch is +- 15 seconds per month and, and with its hourly time signal, it helps you get the right time.
Mudman G9000 strap
The strap is presented with an integrated black resin strap with a steel buckle. The strap is actually rather good for this watch. It is resistant to water and will hold up very well against mud and dirt, and can easily be rinsed and cleaned if necessary.
With this strap, it actually wears very comfortably and hugs the wrist nicely to create a slim and seamless fit.
Specifications
Water resistance: 200m/660 feet
Shock-resistant, anti-magnetic, mud-resistant
Temperature resistance: -20C
Thickness: 16.3 mm
Diameter: 46.3mm
Lug to lug: 52mm
Weight: 56 grams
Accuracy: +/- 15 seconds per month
Battery life: 3 years
Electro-luminescent backlight
Functions: Auto calendar to the year 2099, Elapsed time, split time, first and second place, countdown timer (1 minute to 24 hours), 1/100-second stopwatch, countdown range: 24 hours, 5 multi-function alarms including 1 snooze alarm, 12/24-hour format,

 

Time display: Hour, minutes, seconds, pm, month, date, day
World timer: 29 time zones and 48 cities. City code display
Conclusion
There are good reasons why the G-Shock has become so immensely popular and appreciated all around the world.
The Casio G-Shock Mudman G9000 is a robust, durable, and tough timepiece that will hold up against virtually any situation you subject it to. In addition to its robust build quality, this watch is packed with useful functions that can come in handy.
If you are looking for an affordable and tough tool watch that is packed with functions, you really cannot go wrong with the Casio G-Shock Mudman G9000.