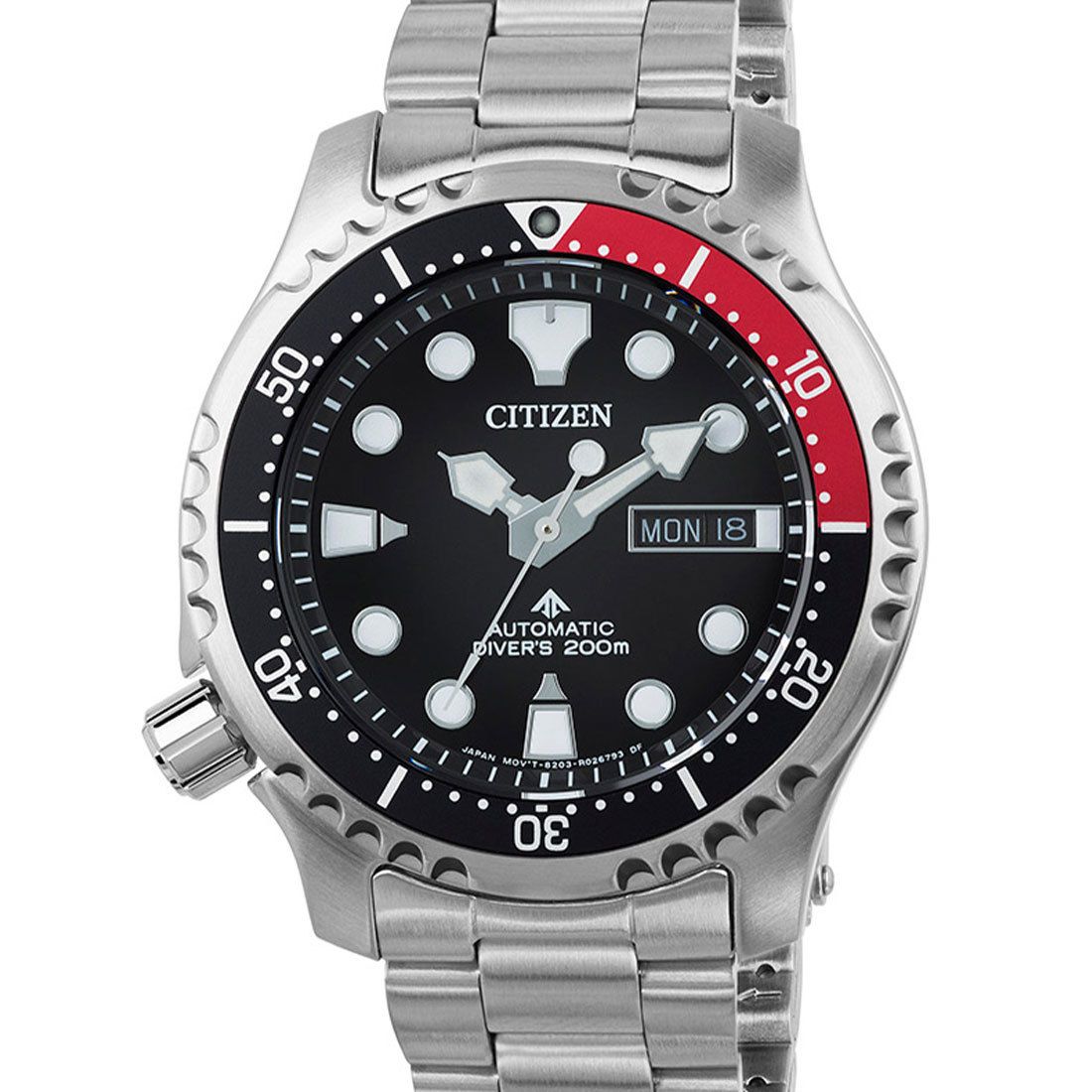 Citizen Promaster NY0085 Review & Complete Guide
The market for sporty, robust, and affordable dive watches is huge. There is just something special about dive watches that makes them so immensely popular. In particular for true watch enthusiasts. Maybe it is their history of once being used by professionals as true tools, maybe it is because their style appeals to people's taste, or maybe it is both.
But whilst there are many dive watches on the market, watch enthusiasts particularly favor automatic watches, and with that criteria, the available models become slightly less. However, with that said, this watch is automatic, which is course great news.
Safe to say that dive watches are and have been extremely popular for a long time. In fact, the Rolex Submariner is one of the most iconic and recognized watches in the world. But what if you don't want to spend thousands on a sports watch, that is anyways meant to handle harsh conditions, shocks, and bangs?
In that case, you'll be happy to learn that there are many affordable dive watch options on the market. One of them is from Citizen, which has a number of different dive watches in its collection. And one of those, in turn, is the Citizen Promaster NY0085, and this is the watch we are going to look closer at in this article to help you decide if it is really worth buying.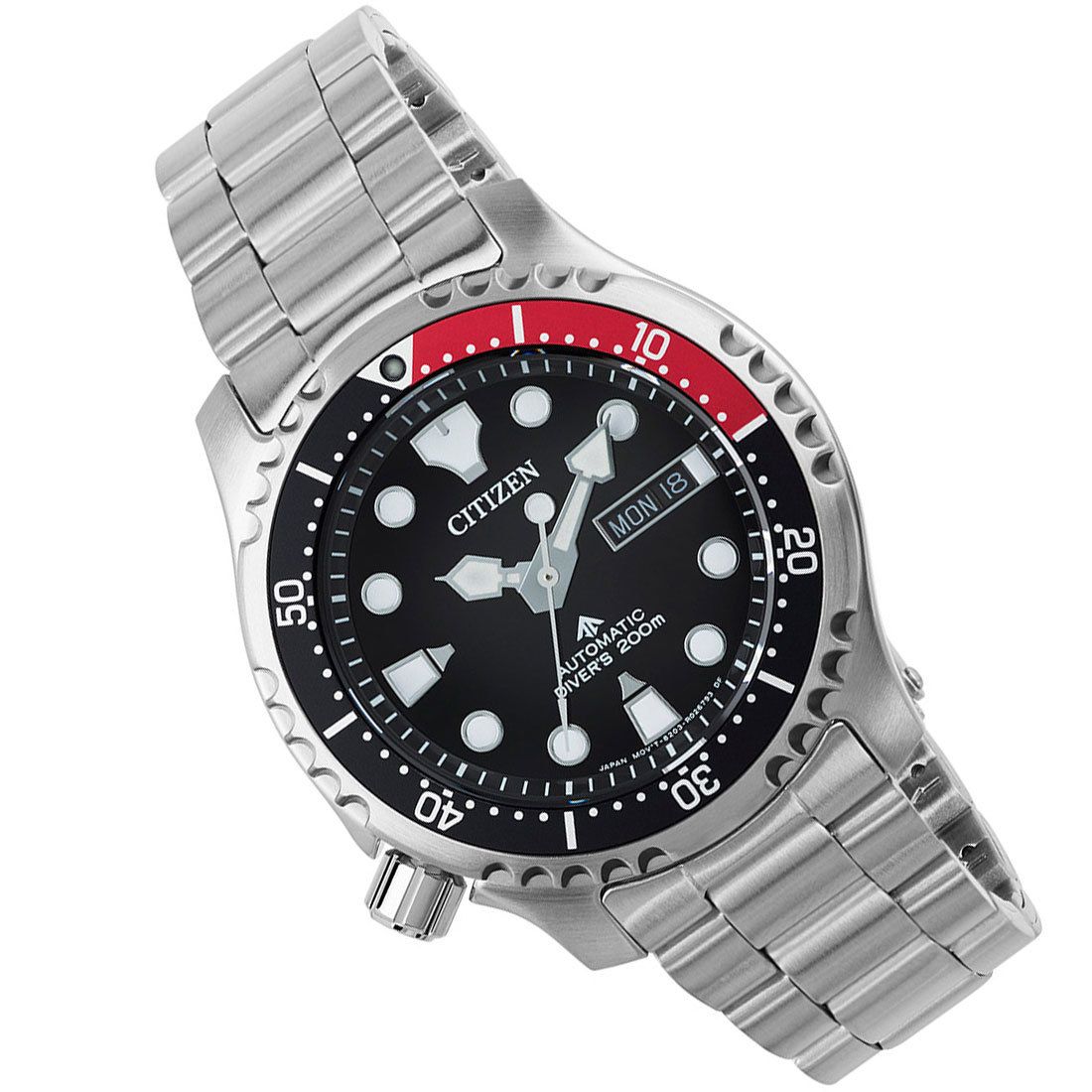 Citizen Promaster NY0085 Review
First thing first, Citizen has a number of different iterations of the Promaster, all of which starting with reference NY008. The watches are the same at their core but vary in terms of bezel, dial, and case color. With that said, if you come to the conclusion that you like this watch, but that the Citizen Promaster NY0085 specifically isn't your cup of tea, there are other iterations to choose from.
The Citizen Promaster NY0085 is, as its aesthetical reveal a sporty tool & dive watch.
The history of this watch design goes back to when the brand first released the NY004, which has gotten an almost iconic status in the dive watch world, partly due to its distinct design. In 2018, Citizen replaced this watch with the reference NY008. 
The watch is affordably priced, but despite this offers great value for money as it is well-built, solid, and has a good finish.
Without further ado, in this article, we are reviewing and looking closer at the Citizen Promaster NY0085.
Citizen Promaster NY0085 case
The watch is presented with a 42mm stainless steel case. The thickness measures in at 12mm.
For the price, the case is actually relatively well finished. The lugs are elegantly curved, with polished sides, which extend just slightly up to the edge of the lugs. The top of the lugs are satin finished in order to achieve that sporty, tool-like look.
Sitting on top of the case, we have a crystal glass. Whilst sapphire crystal is nice, it's definitely not something we expect in a watch in this price range. As a dive watch should it has good water-resistance. The minimum water-resistance for a watch to be classified as a dive watch and not just a dive-inspired watch is 200m/20ATM, and this is exactly what the NY0085 has. In addition, it is also ISO6425 certified.
As is a crucial feature of a dive watch, the NY0085 has a unidirectional rotating bezel with 60-minute graduation markers. The bezel has both smooth and serrated edges to help improve the grip when operating it. The bezel design is inspired by the pufferfish, which is an appropriate reference for a dive watch. As mentioned, the colors vary between them, but the NY0085-86E has a black aluminum insert on which the first 15 minutes are colored red for a touch of color the otherwise monochrome watch. The minutes markings are made in silver.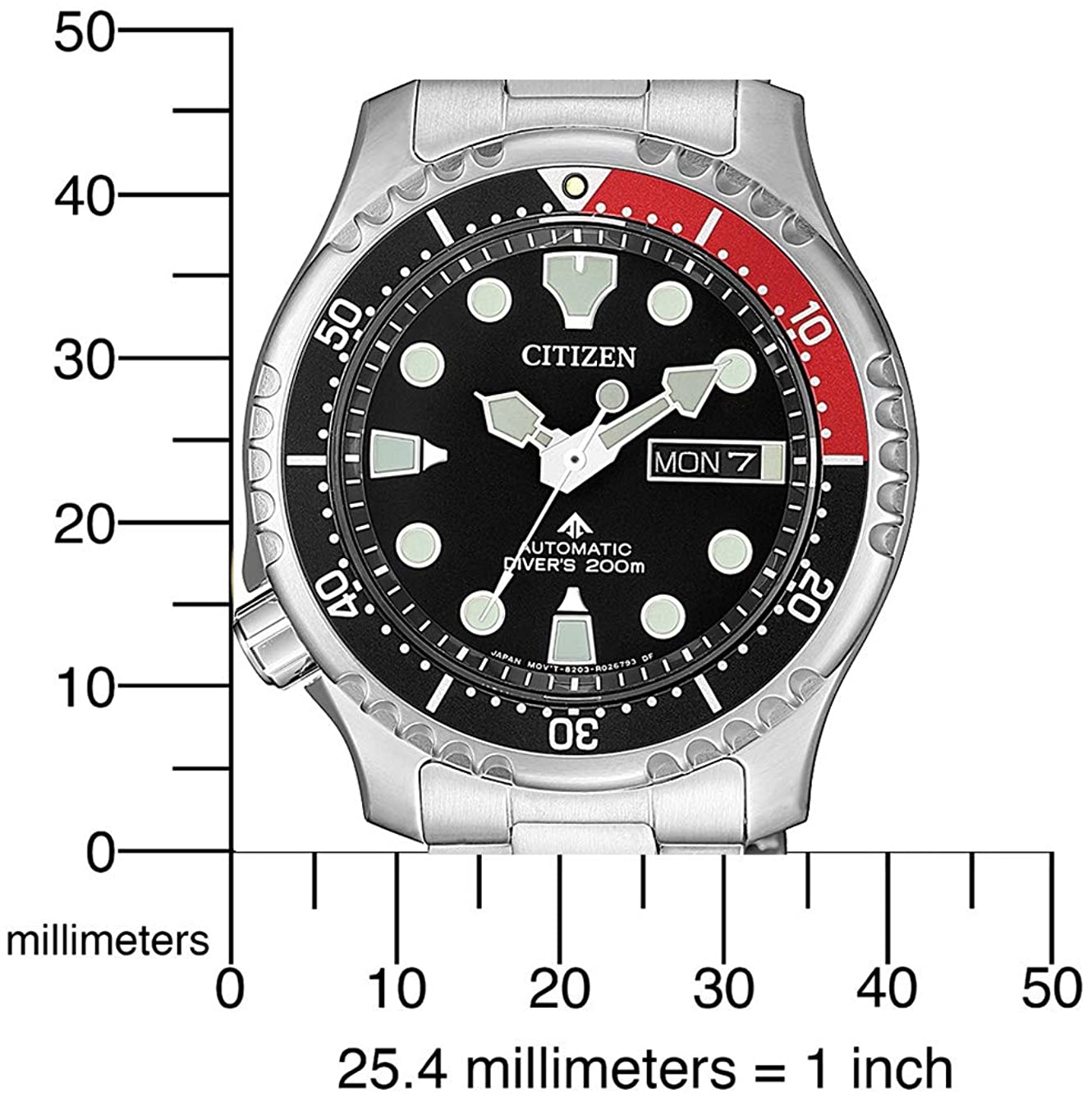 Positioned at the uncommon 8 o'clock position, we have the crown. This gives the watch a distinct and instantly-recognizable look, but it also has the benefit of preventing the crown from digging into your wrist when wearing it and thus improving its comfort. To ensure full water-resistance, the crown is a screw-down.
The watch will have a bit of a sporty presence on the wrist, but with a diameter of "only" 42mm, it is certainly not huge. This means it should work well on most mens' wrists.
Citizen Promaster NY0085 dial
Moving on to the dial, you'll quickly notice that the dial design of the NY0085 is just what you would expect in a dive watch. This means a black dial with large hands and hour markers, which means excellent legibility. After all, legibility is key in a dive watch.
Around the outer edge of the dial, we have a raised chapter ring on which the seconds markers are printed, which adds some depth and attention to detail to it.
The hour markers have polished metal frames around them and are applied onto the dial. They, in turn, have luminescent material applied to them.
The hands of the watch are big and broad with pointy tips. The minutes hand has an arrow tip, and the seconds markers have a luminous dot on the opposite end. The sharp edges and lines of the hands certainly add to the sporty look of this timepiece.
Positioned at 3 o'clock, we find a day and a date window with a metal frame around it. Considering most people will wear this watch for every day, the day and date indicator can be quite practical.
Citizen Promaster NY0085 movement
The watch is, as mentioned, automatic. Powering this watch is the Citizen Caliber 8203. This movement offers a power reserve of 40 hours and has a manual-winding function. It does not, however, have a hacking function. It beats with a frequency of 21600 BPH and features 21 jewels.
The first position of the crown sets the date in one direction and the weekday in the other. The second position of the crown allows you to set the time.
Interestingly enough, this movement has been in production since 1977. And whilst that may indicate it is outdated, it is more so an indication of the movement being a durable, long-lasting workhorse that can continue to tick for years, even decades.
Citizen Promaster NY0085 bracelet
The watch is presented on an Oyster-style three-link stainless steel bracelet with a safety clasp. The downside to many affordable watches is that the bracelet is the part that is compromised with the most, and to some extent, that is true here too. The good news is that the bracelet goes very well with the overall sporty design of this watch.
The bracelet has some rattle and doesn't feel 100% in terms of quality, but it does the job. Plus, if you want something else, you can simply change the bracelet for a NATO or rubber strap, which also looks great on this watch.
 Specifications
Diameter: 42mm
Thickness: 12mm
Crystal: Crystal glass
Water-resistance: 20 ATM/200M/660 feet
Movement: Citizen Caliber 8203, Automatic with manual winding function
Jewels: 21
Frequency: 21600 BPH
Conclusion
All in all, it's safe to say that the Citizen Promaster NY0085 is a watch that offers great value for money. This is a well-built, solid, and durable sports/dive watch with a proven workhorse automatic movement. The watch has a nice finish for the price and combines both brushed with polished elements.
With that said, if you are looking for a reliable and sporty automatic watch which doesn't just have the looks of a dive watch but also the performance, and at an affordable price, the Citizen Promaster NY0085 is definitely one to consider. It's also nice that it has a design that is distinct and unique in a world where dive watches tend to look quite similar to each other.
The Citizen Promaster NY0085 is available to order on Amazon.