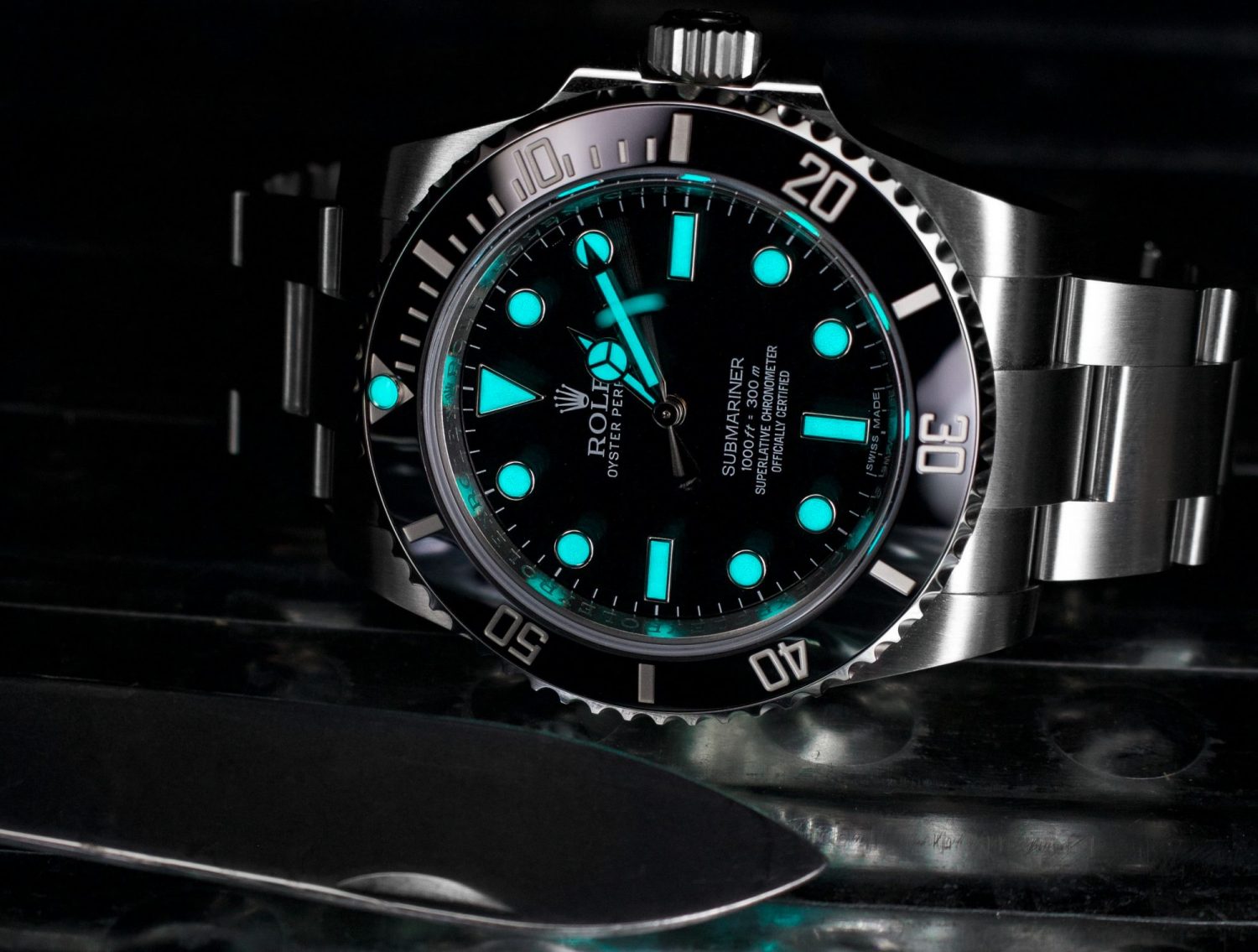 Complete Guide To Rolex Luminous Materials
A wristwatch needs to be read at all times. In the darkness, it can be difficult to tell the time, but Rolex solves this issue with luminous materials, applied to the hands and markers on their watches.
Over the course of its history, Rolex has used a number of different luminous materials. Some have proven to be outright deadly and dangerous, whereas others have not had the characteristics that Rolex is looking for in its luminous material.
In this article, we will look closer at Rolex lame and every material that the company has used throughout its history.
Rolex luminous materials
Rolex's first wristwatches did not have any lume on the hands or the dial. But in the early 1900s, the first luminous paint was used in some of Rolex's military pocket watches.
Rolex Radium
The first luminous material that Rolex used for its watches was radium. Radium is radioactive, yet was still widely used amongst watch manufacturers and within other industries. It proved to be very dangerous as radium can lead to cancer for workers. This did not only happen for the makers of Rolex's luminous dials but for other watch brands as well.
Rolex used Radium as its luminous material up until 1963. Around this time, the health effects of radium were raised, causing Rolex to look for alternatives. In fact, in the US, the Atomic Energy Commission questioned the GMT-Master 6542 with radium bezel and how radioactive it was. The AEC demanded that Rolex recalled all of the 605 GMT-Masters that the company had imported into the United States. Rolex recalled the watches and switched to aluminum bezels free of charge for the customer.s
The story of the radium girls who developed diseases caused by the radiation from radium is well-known and a huge tragedy in the watch manufacturing industry.
Rolex tritium
Due to the radioactive nature of radium, Rolex abandoned the material around 1963 and moved to tritium. Tritium is, like Radium also radioactive, but it has a much lower radiation as well as a shorter half-life. This makes tritium much less dangerous to work with. Tritium has a half-life of approximately 12.5 years. This is why it is normal that Older Rolex watches with tritium do not glow anymore.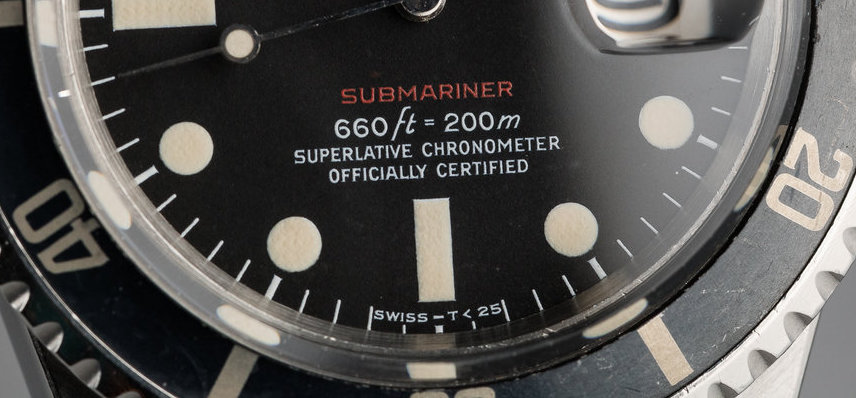 But tritium had a lot of flaws that Rolex didn't like. Due to the short half-life, the luminous material stopped glowing in the watches and showed signs of aging in the form of discoloration, which is more known as patina in the Rolex context.
Most Rolex watches using tritium have the marking "T Swiss T" or "SWISS -<25" at 6 o'clock to indicate it uses the radioactive material, as seen in the image above.
Rolex Luminova
Rolex introduced Luminova for its watches in 1998.
The company Nemoto & Co. Ltd invented the material in 1993 and patented it in 1955.
Luminova, unlike tritium, is not radioactive but rather photoluminescent. This makes it completely safe to work with. Furthermore, Luminova does not discolor over time. This was exactly what Rolex was looking for, in their pursuit of making watches that do not show signs of age, but rather continue to look just like new for decades to come. Luminova gives a green light.
Rolex Super Luminova
Rolex introduced Super Luminova for its watches in around 2000. As the name may suggest, Super Luminova is an improved version of Luminova
Superluminova was used by Rolex up until 2008 when Rolex introduced yet another luminous material for its watches – Chromalight.
Rolex Chromalight
Chromalight is the first luminous material that Rolex has used that is developed and patented by the company.
Chromalight shines in a blue color, which makes it easier to read the time in poor lighting.
According to Rolex, Chromalight starts glowing more quickly and glows longer than Super Luminova. There is speculation that Chromalight is more or less Rolex's rebranding of the Super-LumiNova type C9, but only Rolex knows the true answer to this.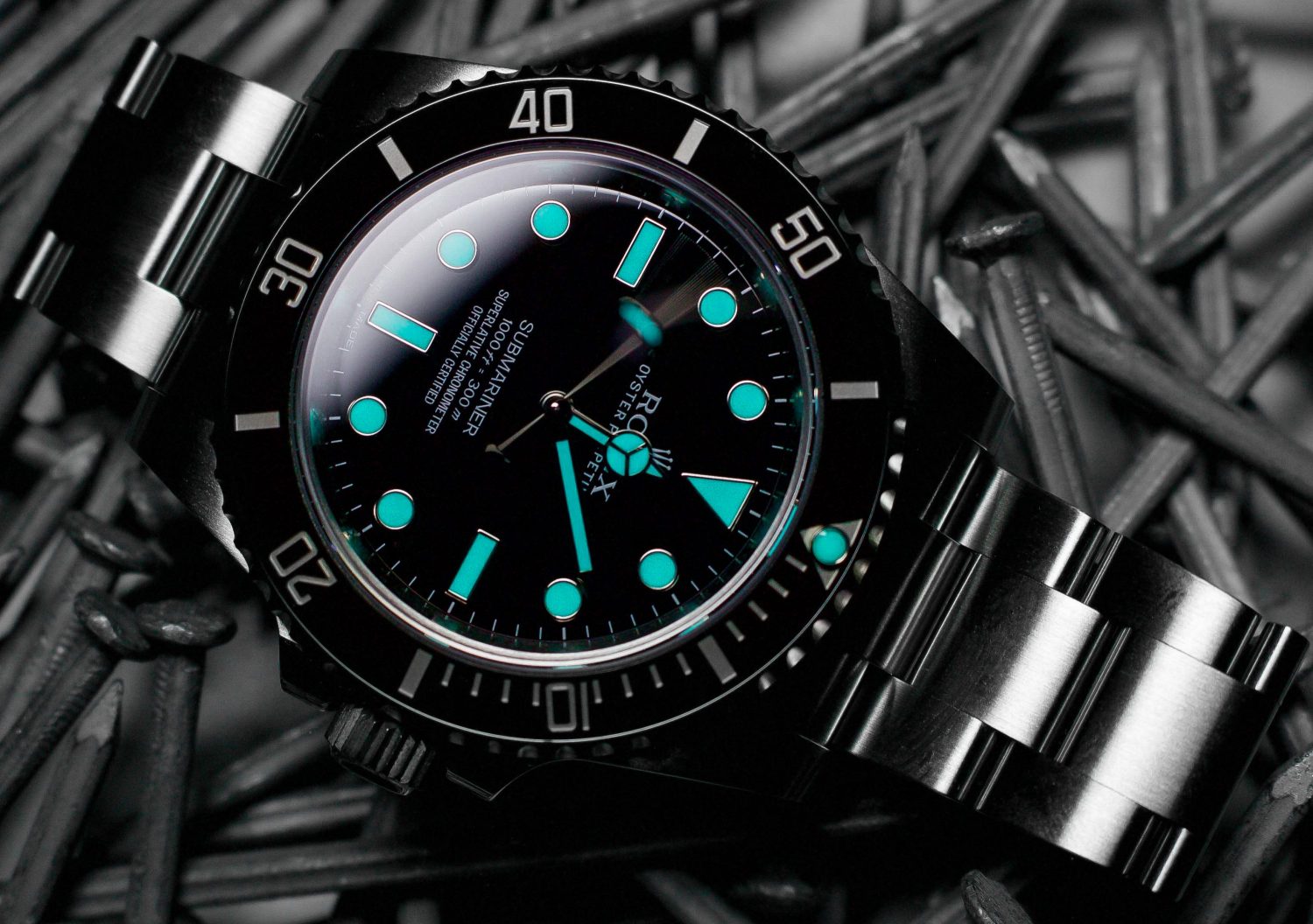 Rolex luminous materials
Unlike the radioactive luminous material Rolex has used, the non-radioactive materials use a photoluminescent material which means they glow after exposure to light. How bright they shine is primarily dependent on how much light they have been exposed to.
The radioactive materials, on the other hand, will glow regardless if they have been exposed to light or not.