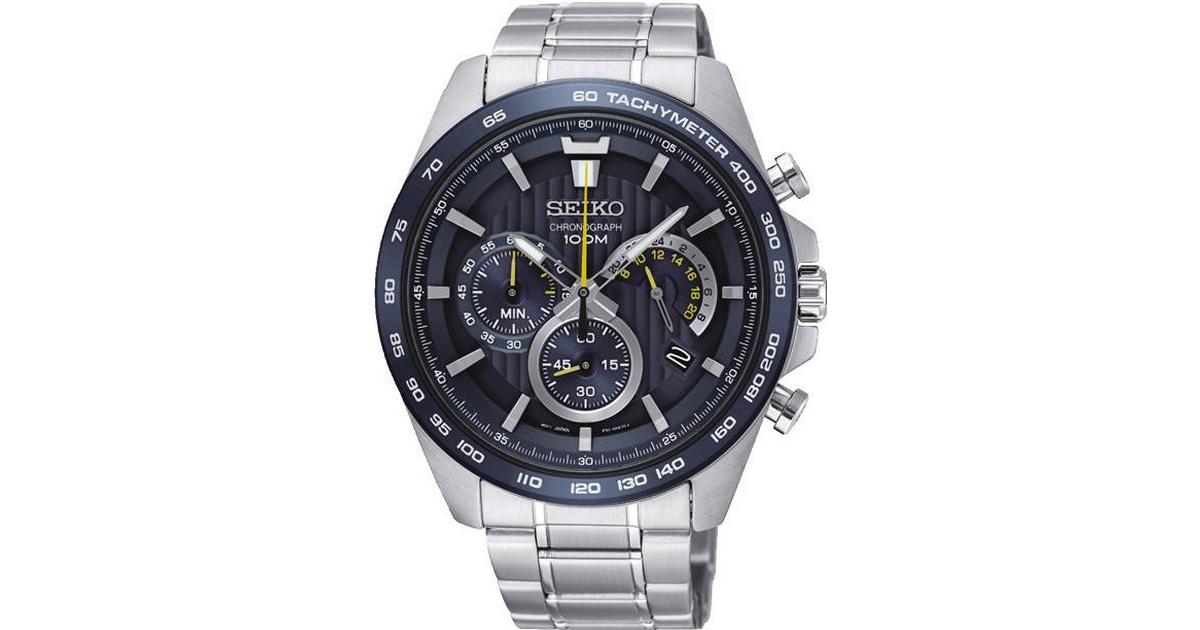 Seiko Chronograph SSB301P1 Review & Complete Guide
There are plenty of affordable watches on the market. But it's safe to say that Seiko is one of the most, if not the most, well-respected and well-known manufacturers of affordable watches out there.
Seiko's watches are known for offering exceptional value for money due to their high build quality, impressive finish, and durable movements, in relation to their prices.
If you are looking for an affordable, sporty, and well-built chronograph that works great for everyday wear, Seiko has a lot of suitable options. One of those is the Seiko Chronograph SSB301P1, and this is the watch we are going to look closer at in this article.
Seiko Chronograph SSB301P1 review
As an Amazon Associate, we may earn from qualifying purchases, at no extra cost to you.
The Seiko Chronograph SSB301P1 is a sporty and affordable chronograph from Seiko which offers great value for money. It has a timeless design with appealing design features which makes it perfect as a long-lasting everyday watch. At the same time, it has a lot going on so you won't have to worry about ever getting bored of it. This timepiece combines classic lines with modern design features, making it appealing and interesting.
Priced at around 200 USD, this watch certainly fits into the "affordable" category. And in addition to this, it offers all of the things we have come to expect from an affordable Seiko watch – and more.
The robust case gives a solid impression of sportiness, but this is in turn balanced out with blue elements, contrasted by yellow accents. It looks modern, but at the same time also timeless.
Without further ado, let's review and look closer at this timepiece and what it has to offer.
Seiko Chronograph SSB301P1 case
The watch is equipped with a stainless steel case with a diameter of 44mm and a thickness of 12mm. With that said, this watch will have a sporty presence on the wrist and is most suitable for men with medium to large wrists since it is, by no means, a small watch.
The case gives a solid and sporty impression with its satin-brushed lugs, but it also shows that Seiko has paid attention to the finishing, but contrasting this with polished sides.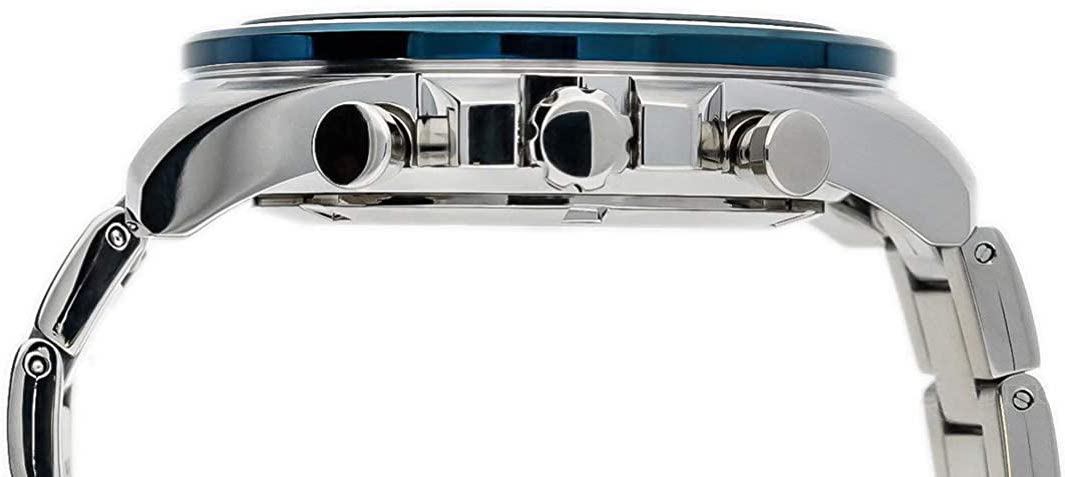 The crown is positioned at 3 o'clock and sits protected between crown guards. The crown is a push-pull and does therefore not offer the same guarantee against water as a screw-down. With that said, this watch has a water resistance of 100m/330 feet which makes it suitable for swimming and showering, just not deep diving. But seeing this is not a dive watch, this depth rating should be enough.
On each side of the crown guards, we have two pushers with which you operate the chronograph. These are not screw-down either.
The case is equipped with a fixed blue bezel on which a tachymeter scale is engraved/printed. Of course, the bezel works together with the chronograph hand to measure elapsed time. The bezel matches the blue theme of this watch very well.

SSB301P1 dial
The dial of the watch is appealing but also has a lot going on. This has to do with the number of different elements on the dial, but also the different levels they create. This dial has great depth thanks to the chapter ring, applied markers, and chronograph sub-dials.
Around the outer edge of the dial, it has a blue angled chapter ring on which the seconds markers are printed. The dial has applied metal hour markers, and the dial base has a lovely striped pattern.
The sub-dials are positioned at 3, 6, and 9 o'clock. At 4 o'clock, we also find a date window that can come in handy in your everyday life.
The hands are sword-shaped and skeletonized to ensure they do not block the view of the sub-dials, which is a really great thing. For improved legibility, the hands also have Lumibrite applied to them.
If you're wondering what the different sub-dials do, they display 60 seconds, 60 minutes, and 24 hours.
Because of the thin bezel that this watch has, most of the focus is put on the dial. The dial is blue but a few details such as the chronograph hand, sub-dial hands, and some of the printing, are made in yellow which is a nice contrast and appealing touch of color. The pattern on the dial reflects the light beautifully and makes it much more vibrant. This is a dial you'll likely never get bored of.
SSB301P1 movement
The watch is powered by the in-house quartz chronograph movement 8T63. Now, some watch enthusiasts may be scared away by the fact that this watch has a quartz movement, but there is no denying that, whilst less appealing from a technical standpoint, it is practical and useful. Quartz movements are far more accurate than mechanical movements, and for an everyday watch, it can be rather convenient.
In addition, maintenance of this movement is simple and affordable, and likely, you'll only need to replace the battery occasionally. Furthermore, quartz movements are insanely robust and can take a beating.
Bracelet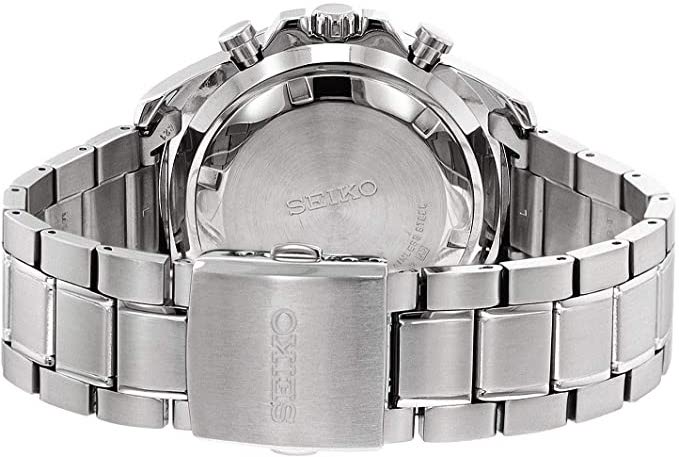 The watch is equipped with a stainless steel three-link Oyster-style bracelet with two polished metal stripes. The bracelet goes well together with the design of the watch and adds both a sporty look in addition to a sporty and robust feel to the wrist. The polished lines add elegance to this watch and balance out the sportiness by making it slightly more versatile.
The bracelet has a push-button deployment clasp to keep it locked on the wrist.
Note, however, that this watch has some room for improvement. As is often the case with affordable watches, the bracelet is the part of the watch that is compromised with the most. It has some rattle and doesn't feel completely solid. But it is what we can expect, and it does the job. Plus, if you don't like the bracelet, you can always swap it for a strap, which also gives it a new look.
Specifications
Diameter: 44mm
Thickness: 12mm
Water resistance: 100m/10atm/330 feet
Crystal: Hardlex
Chronograph: sub-dials displaying: 60 seconds, 60 minutes, and 24 hours
Movement: Quartz caliber 8T63
Clasp: Deployment
Conclusion
All in all, the Seiko Chronograph SSB301P1 is an interesting sporty chronograph that works great for everyday wear. It may not be the most suitable watch for formal occasions, but as a timepiece you wear every day and on casual occasions, this will work as a stylish and reliable timekeeping partner, whilst also looking really good.
After having looked at all of the different things that this watch has to offer, there's no denying that it also offers great value for money. In relation to its price, it is well-built, sturdy, robust, and long-lasting.
This watch really is a great addition to any man's collection.