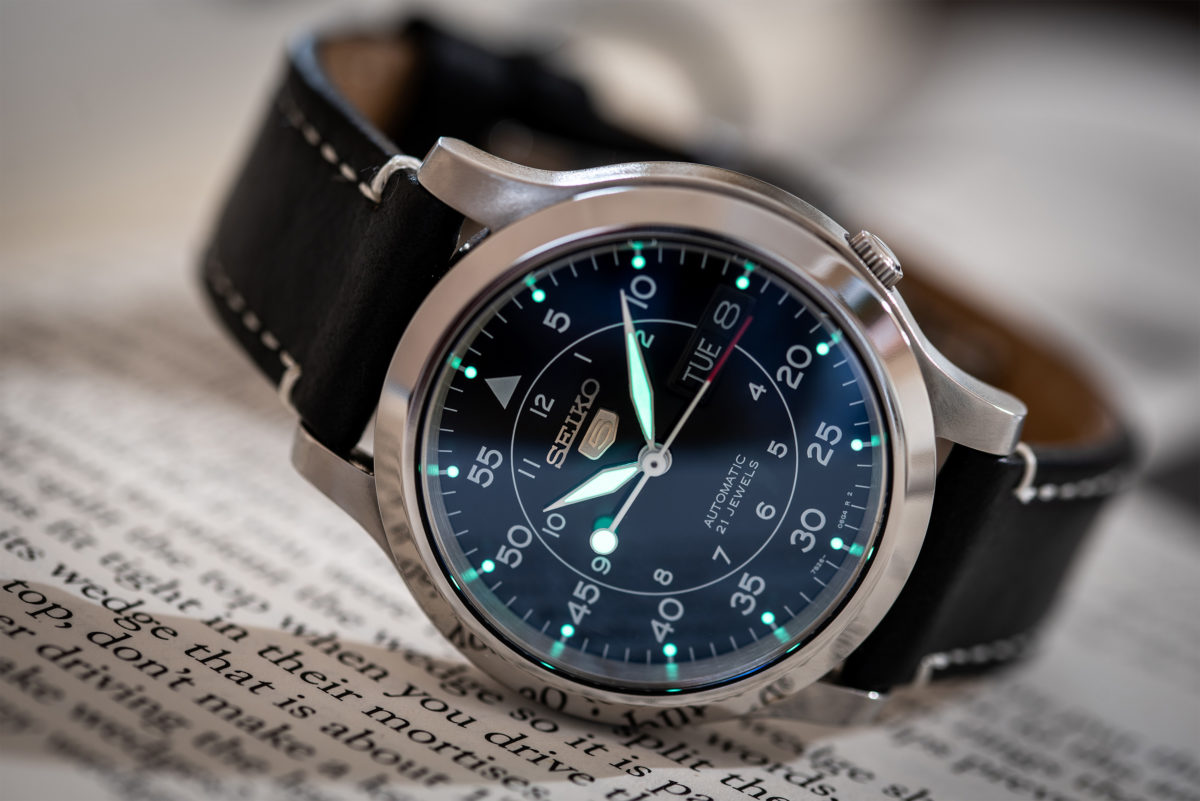 Photo: Watch Clicker
Seiko 5 SNK809 Review & Complete Guide
The Seiko 5 SNK809 is one of the most popular watches from Seiko. It is loved and appreciated by watch enthusiasts and regular watch-wearers alike. If you are looking for an affordable automatic mechanical watch, there are not many better alternatives than the SNK809.
For less than 100 USD, you get a high-quality, durable, long-lasting mechanical timepiece from one of the most well-known brands in the world. Sounds really attractive, doesn't it?
Millions of pieces of the Seiko 5 SNK809 automatic watch have been manufactured over the years, and it is easy to see why it is so popular. What's more, the watch has been in production for a long time, and it is also easy to understand why Seiko has been in no rush in discontinuing the model. After all, why change a winning concept?
For its price, the Seiko SNK809 is one of the best choices among automatic watches out there, but what is it that makes it so great? In this post, we are reviewing and looking closer at the watch.
Seiko 5 SNK809 Automatic watch review
As an Amazon Associate, we may earn from qualifying purchases, at no extra cost to you.
At its core, the SNK809 is very evidently a military-inspired field watch.
It is sleek, small, and easy to wear. It is not as bulky as a dive watch, nor as glamorous as a dress watch. With that said, it is the perfect everyday watch suitable for any occasion. Plus, it can take a beating and withstand harsh conditions.
The SNK809 is part of Seiko's "5" collection. All watches in this collection must meet 5 criteria:
It needs to be powered by an automatic movement, has water resistance, a day and date complication, a crown at 4 o'clock, and a durable case & strap.
The SNK809 meets all of those criteria and many more.
Seiko SNK809 dial
This Seiko 5 model is available in a number of different colors. This exact reference comes with a black sandblasted dial which provides it with a nice texture. This of course also helps prevent reflections and glare.
On the dial, there are printed Arabic numbers as well as two circles. On the outer circle, we have the minutes indicated and on the inner circle, the hours are indicated. On the outer part of the dial, we have dots placed on each 5-minute marking. These are luminous dots that improve the legibility of the watch in dark and low-lit conditions. The circles on the dial give a feeling of a pilot's watch, which obviously enhances the military feel and look of the watch.
Placed at 3 o'clock is a day and date window.
The dial is very clean, simple, and easy to read. At 12 o'clock, there is an applied Seiko 5 logo.
The watch is equipped with a diamond-shaped hour and minute hands which have applied luminous material on them. It is also equipped with a second hand with a red tip. On the opposite side of the second hand, there is a luminous dot so you can also keep track of the seconds in darkness.
The watch has good legibility against the matte black dial, which of course is an important thing.

Photo: Monochrome Watches
Seiko SNK809 case
The watch has a 37mm case with a thickness of 11 mm which makes it sit rather small and comfortably on the wrist. Due to its weight of 50 grams, you will almost at times forget that you are wearing it. The small size makes it popular amongst people with smaller wrists and people who have a preference for smaller watches.
The watch is placed at 4 o'clock instead of the traditional 3 o'clock. Not only is this an iconic trait of many Seiko 5s, but it is also quite practical. The crown is also slightly integrated into the case, and this together with its position prevents it from digging into your hand, which can be the case with watches that have large crowns.
The case has a satin finish on the top of the case and lugs and a polished underside. This contributes to the industrial, tool-like feel of the watch. After all, it is a military-inspired watch. The satin finish also helps fight off scratches and keeps the watch looking fresh and pristine. The matte finish thus contributes to its everyday tool-like design.
If you turn the watch, you will be able to see the movement through the see-through case back. This brings us to the next point.
The watch is equipped with a Hardlex crystal which is designed in-house by Seiko. At this price point, you cannot expect a sapphire crystal, and for the most part, the Hardlex crystal does the job very well and will not acquire scratches from daily wear unless you hit it against a hard object.
Plus, it offers better scratch resistance than regular mineral crystal, which is commonly used in this price range.
Seiko SNK809 Movement
The Seiko SNK809 is powered by an automatic mechanical movement with a rotor. This is Seiko's own 7S26 movement. It is sturdy, reliable, and long-lasting.
The see-through case back reminds you that you are wearing a mechanical watch, which of course is a loved and appreciated detail for any WIS.
Now, it is not the most beautiful movement nor decorated, but it is not supposed to be. Mind you this watch costs less than 100 dollars and cannot, and should not, be compared to a Patek Philippe.
The movement has an industrial and tool-like look and finish to it which of course goes well with the personality and ethos of this watch.
The movement is equipped with 21 jewels and beats at 21,600bph. It has a standard deviation of -20/ +40 seconds a day. Now, this isn't COSC accuracy, but again, remember the price. Furthermore, many owners have also reported much better accuracy.
And the most important part, in line with the watch's ethos, is that it is reliable and sturdy. It has a power reserve of about 40 hours.
To set the watch, you pull out the crown to position 2 and then turn it clockwise until the previous day's date appears. Then, rotate it anti-clockwise until the previous day of the week appears. When you have done this, pull the crown to the furthest position and turn it clockwise. This way, the date and day roll over to the next. Continue turning the crown until you have set the correct time and then push it back into place.
The watch has a water resistance of 30m. Note that this is at static pressure, which means you won't be able to take it diving down to 30 meters. The watch is built to handle splashes of water and submerging over short periods of time. Owners have reported going swimming with the watch without it leaking any water, but we would advise not to if you want to be on the safe side. The water resistance isn't the most impressive, but remember this is an everyday field watch and not a dive watch.
Seiko SNK809 strap
The SNK809 comes fitted on a black canvas strap that matches the dial very well.
According to many, the strap is the biggest letdown of this watch. The strap does the job but it is very basic. It has a lug width of 18mm. The good news is that you can easily change the strap to one that is higher quality and more comfortable.
The canvas strap has a satin finish buckle with metal loupes for the end which match the satin finish case.
Conclusion
The Seiko 5 SNK809 may be the best automatic watch on the market in this price range. It is a stylish, sleek, and well-respected timepiece that is long-lasting, durable, and comfortable to wear.
It is a popular entry-level timepiece for anyone who is looking to dive into the world of watches, but also a great beater and everyday watch for someone who needs a nice affordable mechanical timepiece that can take a beating and handle harsh conditions.
With this watch, it is important to keep the price in mind, and if you factor in this, it's easy to see why it offers great value for money compared to most other timepieces within this price range.
This watch is definitely worth buying, especially for novice watch collectors.
Seiko SNK809 specifications
Hardlex crystal
Jewels: 21
Frequency: 21,600bph
Accuracy: 20/ +40 seconds a day
Diameter: 37mm
Thickness: 11mm
Lug width: 18mm
Water resistance: 30m/100 feet
Case: stainless steel:
Movement: Seiko 7S26