Top 26 Best Affordable Watch Brands [List & Guide]
If you've been thinking about a new and affordable watch, you've probably been overwhelmed by the great number of choices there are. There are endless brands, and even more designs and models.
In this article, we will look closer at the best and most popular affordable watch brands on the market.
What is an affordable watch brand?
Since we are watch enthusiasts, we have primarily focused on watch brands that are specialized in making watches, and are known for making high-quality timepieces. There are plenty of cheap watch brands, but not as many affordable watch brands (notice the distinguishment?).
In general, brands that do not specialize in making watches (for example fashion brands) are not able to hold the same quality and standard. However, brands that have specialized in making watches for many decades will in general have better know-how and offer better value for money. And fashion brands may charge a lot more for their products solely because of the brand, even though their watches are basically the same as much more affordable alternatives.
As a beginner, it's easy to make that mistake.
With this said, when we are looking at affordable watches, the single most important question to ask is if they offer good value for money. A watch may be cheap, but if it's not qualitative, it's not good value. "Affordable" is also a rather loose term. To some, a watch for 2000 dollars may be affordable, but to others, a watch for no more than a few hundred dollars may be considered affordable. Because we discuss watch brands as a whole, there will naturally be more affordable and more expensive models from that brand. In this article, we'll focus on brands that have watches for less than 1000 dollars in their collection, but they may have both more expensive and more affordable watches as well.
In addition to this, there are of course a number of additional things you need to take into consideration such as the style of watch, size, purpose, and so on. But since we are focusing on watch brands and not watches, you'll be able to make that choice later. In the picture for each brand, we've presented a selection of timepieces from the brand so you can get a sense of each brand's style and design language.
In this article, we are focusing on highlighting the best affordable watch brands on the market, so you know which brands offer the best quality and value. Then, of course, each respective brands have plenty of different models to choose from in various styles.
Best affordable watch brands summarized:
Best affordable watch brands
As an Amazon Associate, we may earn from qualifying purchases, at no extra cost to you.
---
Casio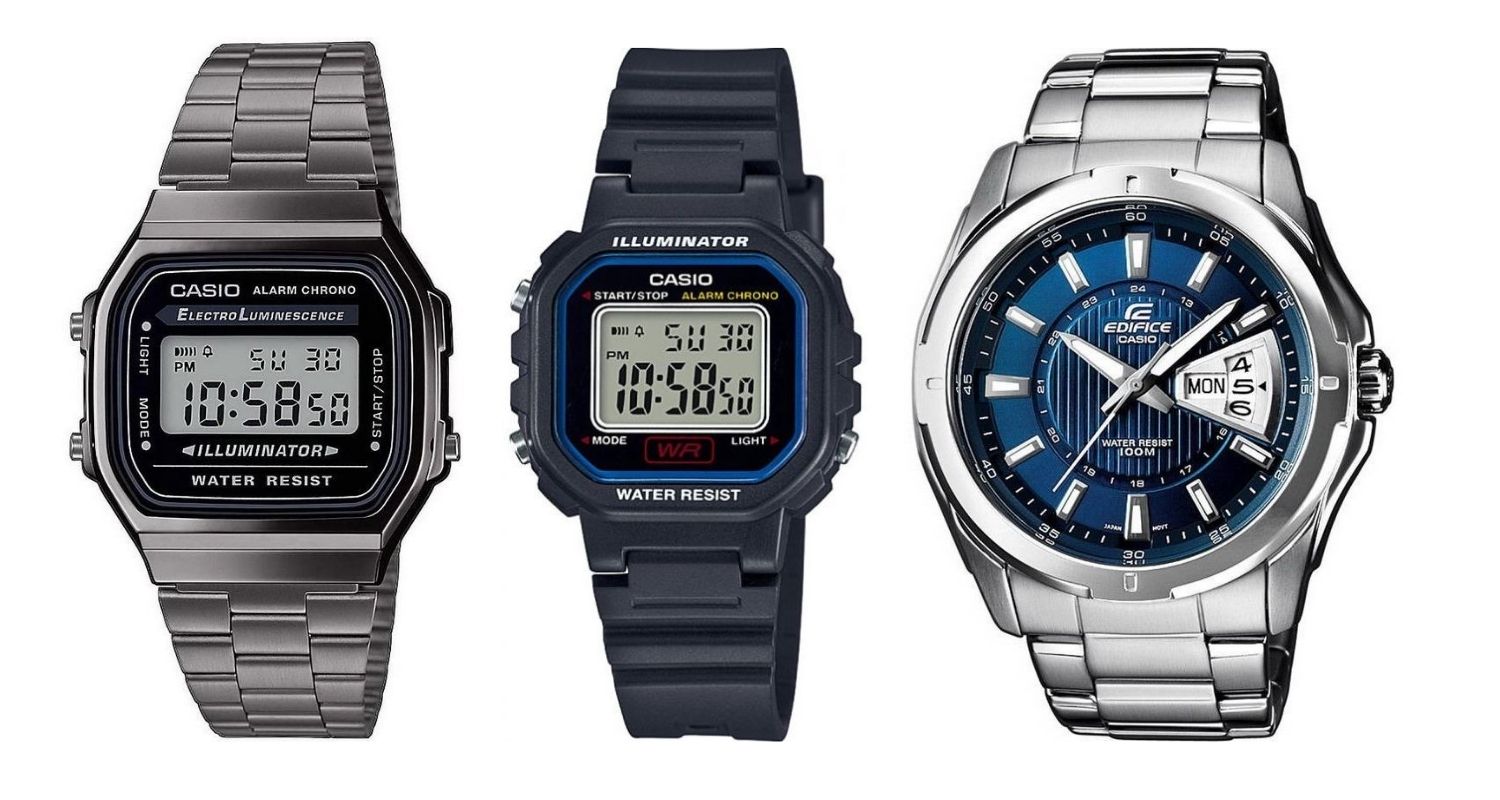 First up is Casio. Casio is a brand that doesn't need much introduction as it is known all around the world. Casio may not be a full-on watch brand, but they have used their expertise in technology and electronics, to make really good and affordable timepieces.
The company was founded in 1956 and is responsible for a large number of electronic innovations. It focuses on things like electronic musical instruments, calculators, and much more. Because Casio is primarily an electronics company, it specializes in and focuses on digital and analog quartz watches and not mechanical watches. If you're after affordable digital or analog quartz watches, Casio is, in my opinion, one of the best brands due to the fact that it is able to hold really low prices, whilst still maintaining high quality.
---
Seiko
Seiko is another Japanese brand that is specifically focused on wristwatches, although it also makes various other products as well.
Seiko is one of the most well-known watch brands in the world, and especially in the affordable watch market. It is available all around the world and makes a wide array of different watches for all kinds of tastes and preferences.
The company was founded in 1881 and is known for introducing the world's first quartz wristwatches. Although Seiko makes a lot of quartz and digital watches, the brand is particularly appreciated amongst watch enthusiasts for making high-quality mechanical watches like the Seiko 5 collection. As a matter of fact, Seiko is world-renowned when it comes to affordable mechanical watches, and is considered one of the best brands in the world when it comes to just that. With this said, if you want a high-quality mechanical watch at an affordable price, Seiko will be one of the best choices. 
The best part is that Seiko has such a wide collection of timepieces, and also lots of different model lines for every purpose. Dress watches, sports watches, dive watches, you name it, Seiko has it.
---
Orient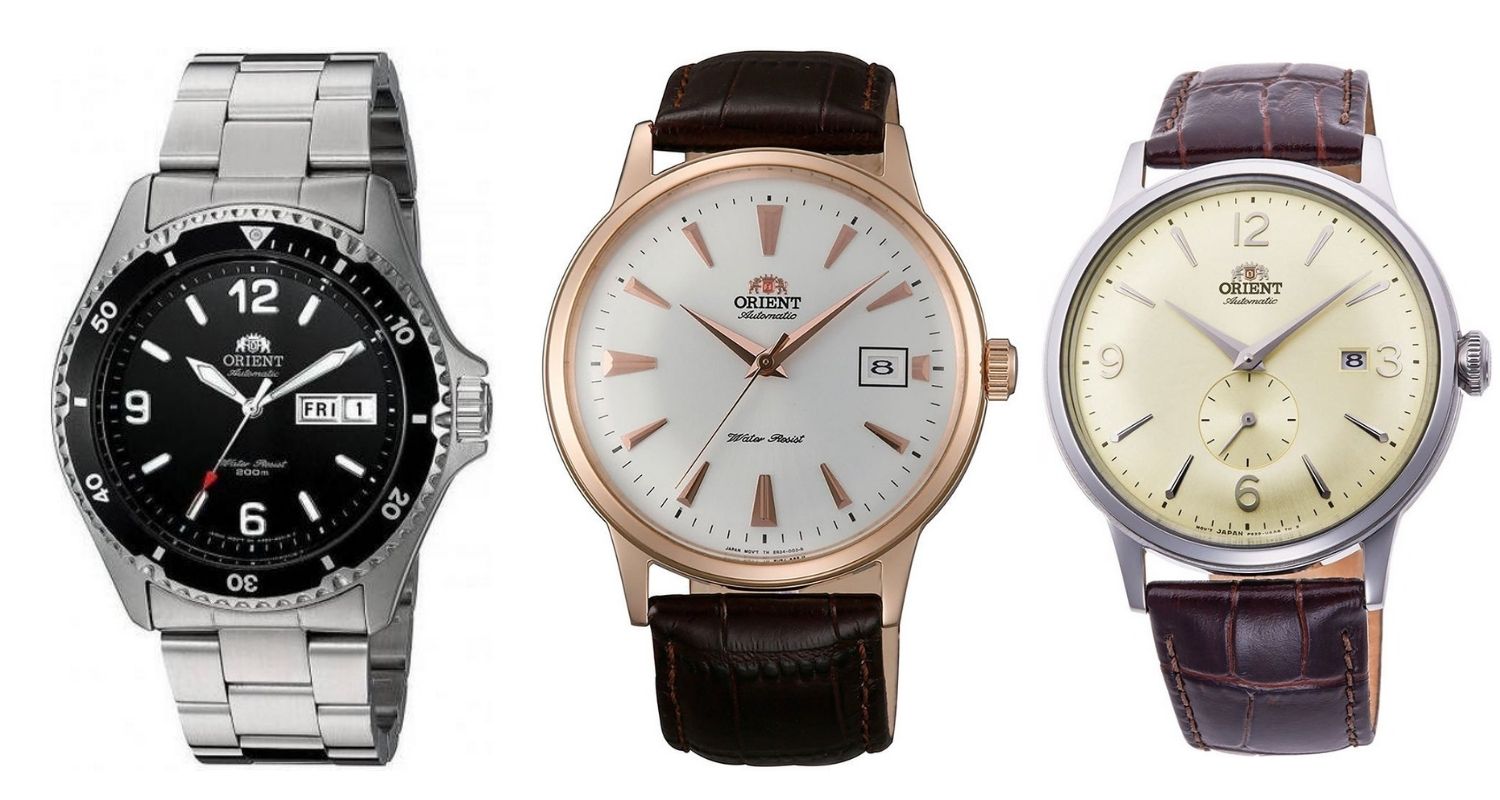 Orient is another watch company from Japan that is highly popular and appreciated for its affordable mechanical watches. Orient established itself as an independent company in 1950 but its history goes much further back than that. In 2009, Orient became a subsidiary of Epson in 2009 and was fully integrated into the company in 2017.
Unlike most other Japanese watch brands, Orient is a company that has especially focused on mechanical watches with little focus on quartz and digital watches. This is great news because the result is that Orient has gotten exceptional know-how and is now able to make high-quality, beautiful mechanical watches at prices that make the watches superb value for money. Although the company focuses on mechanical watches, you are able to find quartz and digital watches as well.
What makes Orient stand out, at least for watch enthusiasts, is that the company focuses and invests a lot in making in-house mechanical movements. Whilst many watch brands buy complete movements, Orient makes them in-house.
Overall, Orient is known for making watches with a bit of a classic and traditional style. Orient's watches are oftentimes vintage-inspired and focus on elegance and tradition. 
---
Citizen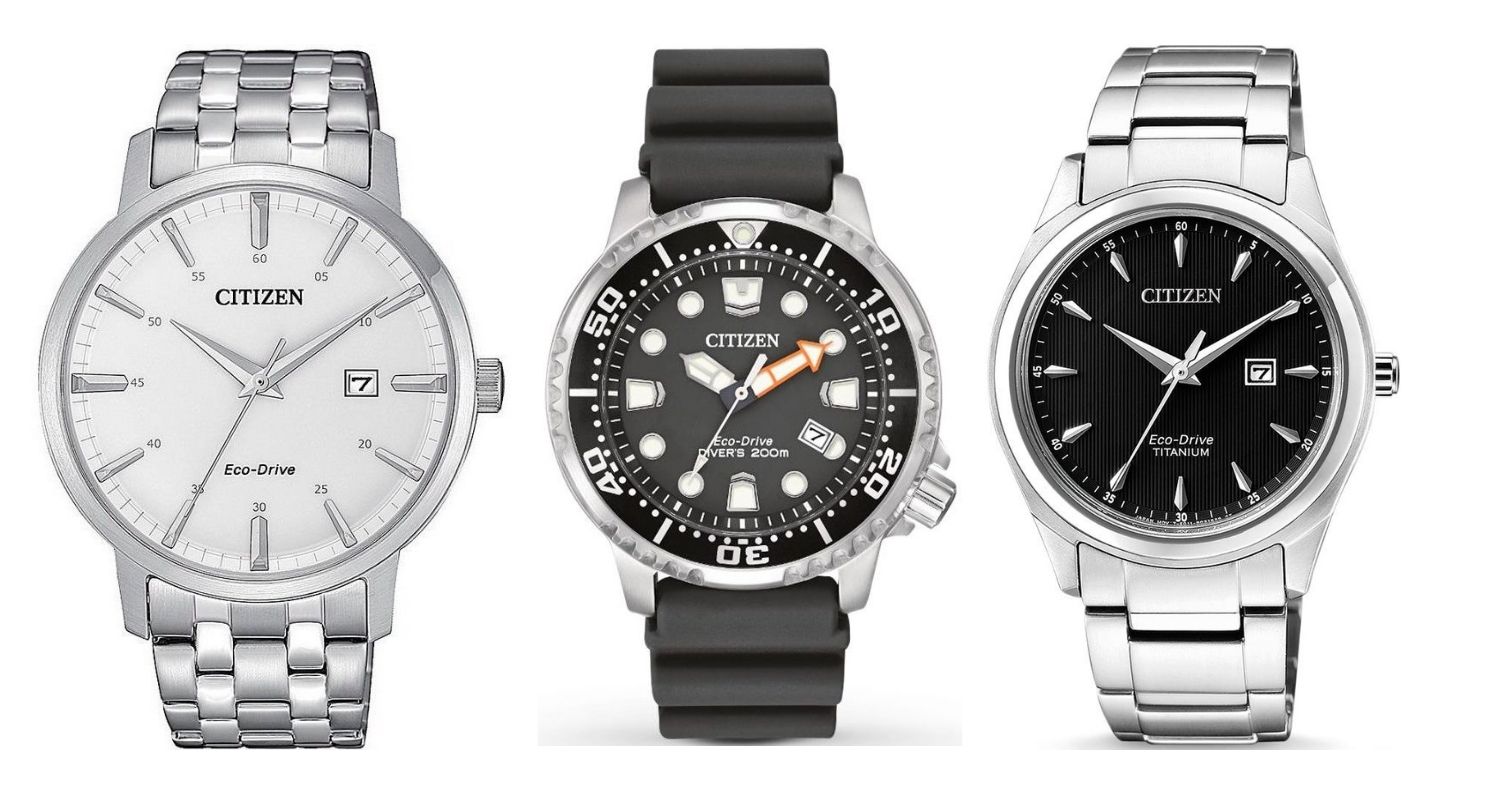 Yet another well-known and popular affordable watch brand from Japan is Citizen. Citizen Watch Co. Ltd. is an electronics company but is most known for its watches. In addition to watches, Citizen makes things like calculators as well.
The history of Citizen goes back to 1930 when the company was founded by Japanese and Swiss investors. It was formed after taking over Shokosha Watch Research Institute. Whilst Citizen is a Japanese brand, what a lot of people don't know is that Citizen was actually first registered in Switzerland in 1918 by a man named Schmid, who sold watches in Japan.
Citizen is responsible for a number of technological innovations, including having launched the world's first multi-band atomic timekeeping watch in 1993 as well as having pushed the technology when it comes to solar-powered quartz movements.
Citizen is most known for making digital and quartz watches but also has some mechanical watches for those who prefer. In general, Citizen's watches are focused on functionality and performance, but there is a Citizen watch for everyone. The best part is that they are really affordably priced, but are still able to maintain high quality.
---
Hamilton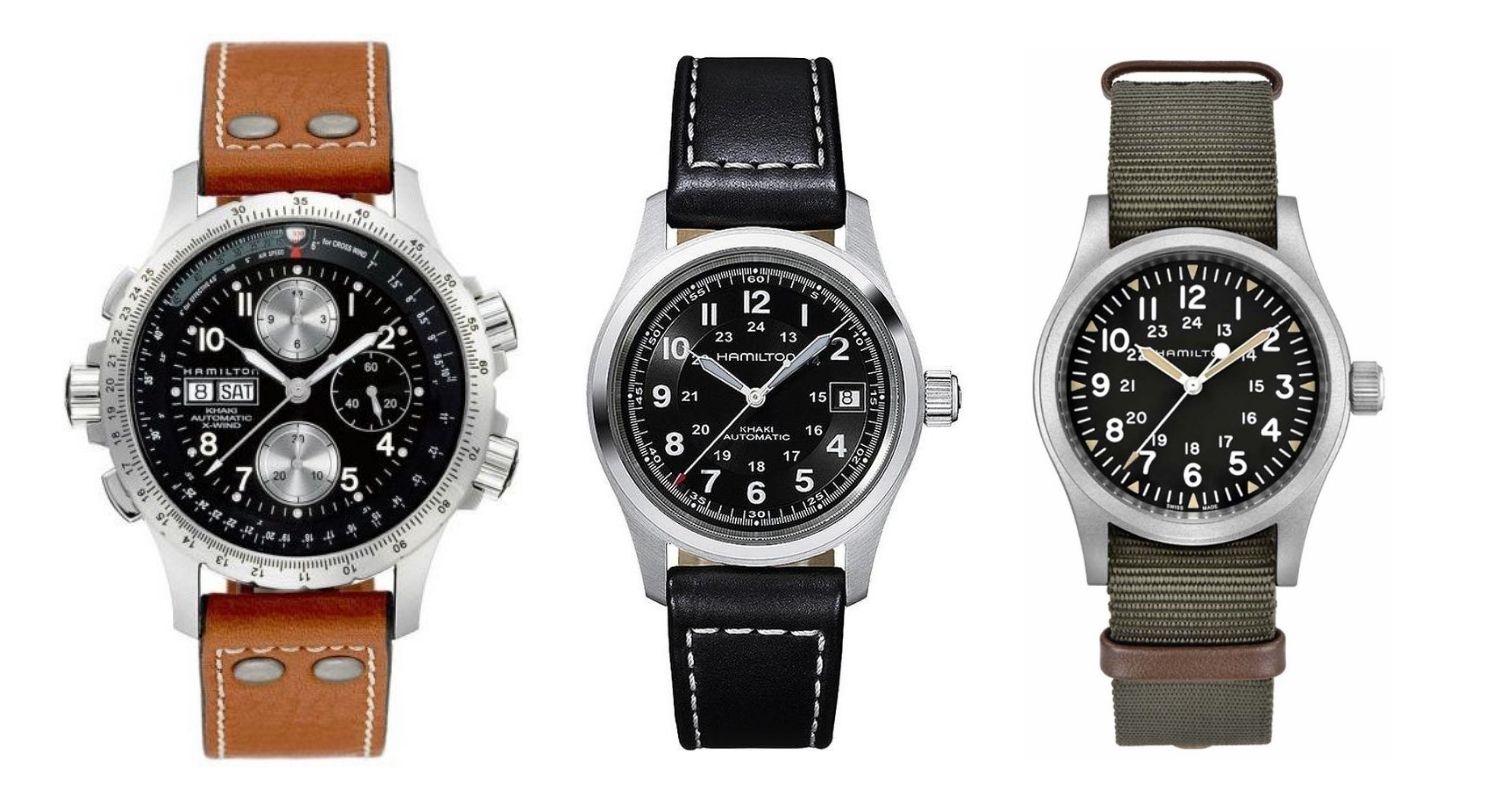 Hamilton is a watch brand that has a long and rich history. Today, Hamilton focuses primarily on mechanical watches and is known for its vintage-inspired timepieces. As a matter of fact, Hamilton takes a lot of inspiration for its watches from its older designs, particularly during World War II, where the company put full focus on making watches for the military. And as you can imagine, this influences a lot of Hamilton's design language today.
Hamilton is today a Swiss watch company based in Bienne, Switzerland, but this has not always been the case. Hamilton Watch co was actually founded in 1892 as an American company but stopped its production in 1969 following several restructures of the company, eventually leading to Hamilton becoming a part of the Swatch Group. In my view, becoming a part of the Swatch Group was a greatly important event for Hamilton as it meant being able to take advantage of the Swatch Group's know-how and expertise in fine and qualitative watchmaking. We've also seen that Hamilton has gotten great benefits from this, for example by using modified ETA movements for some of the watches (since ETA is also owned by Swatch Group).
With this said, Hamilton could be described as a Swiss company with an American heritage that focuses on making high-quality affordable mechanical watches at prices that make them great value for money. Hamilton's watches are naturally more expensive than its Japanese competitors, but if you want Swiss quality and reputation, it is definitely one of the best alternatives on the market.
---
Tissot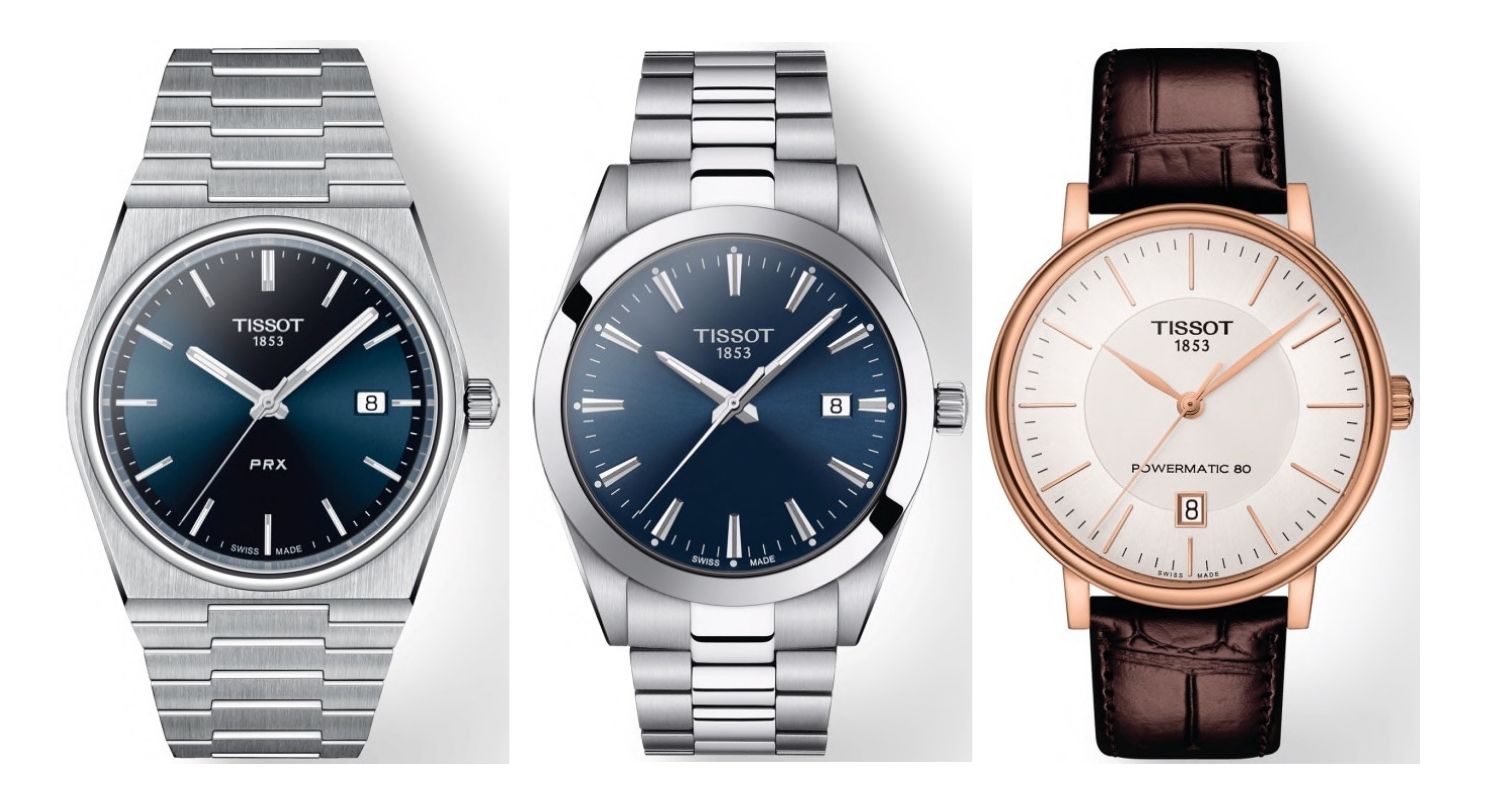 Tissot is one of the most well-known affordable Swiss watch brands in the world. Tissot is known for making watches of Swiss quality at reasonable prices.
Tissot is a watch brand that has a long history, founded in Le Locle, Switzerland in 1853. It was founded by Charles-Félicien Tissot and his son, Charles-Émile Tissot, and was therefore first named "Tissot et Fils". Some would perhaps see Tissot as a luxury watch brand, but it is more of a watch brand that can be described as making accessible luxurious Swiss watches. There is no doubt about the quality of Tissot's watches, but they are priced considerably lower than their luxury Swiss counterparts.
The brand's slogan is "Innovators by Tradition" and Tissot is indeed known for a number of innovations and for having a long history of pushing the watchmaking industry. For example, Tissot is responsible for the first mass-produced pocket watch with two time zones in 1853 as well as the first anti-magnetic watch in 1929 to name two.
What's interesting about Tissot is that it is known for making watches with relatively classic and traditional designs, whilst always paying attention to innovation and movements. But whichever type of watch you prefer, Tissot probably has one for your taste. The brand is well-respected, has a strong reputation, and is closely associated with Swiss quality. If you prefer Swiss watches and want something qualitative without breaking the bank, Tissot is one of the best choices.
---
Timex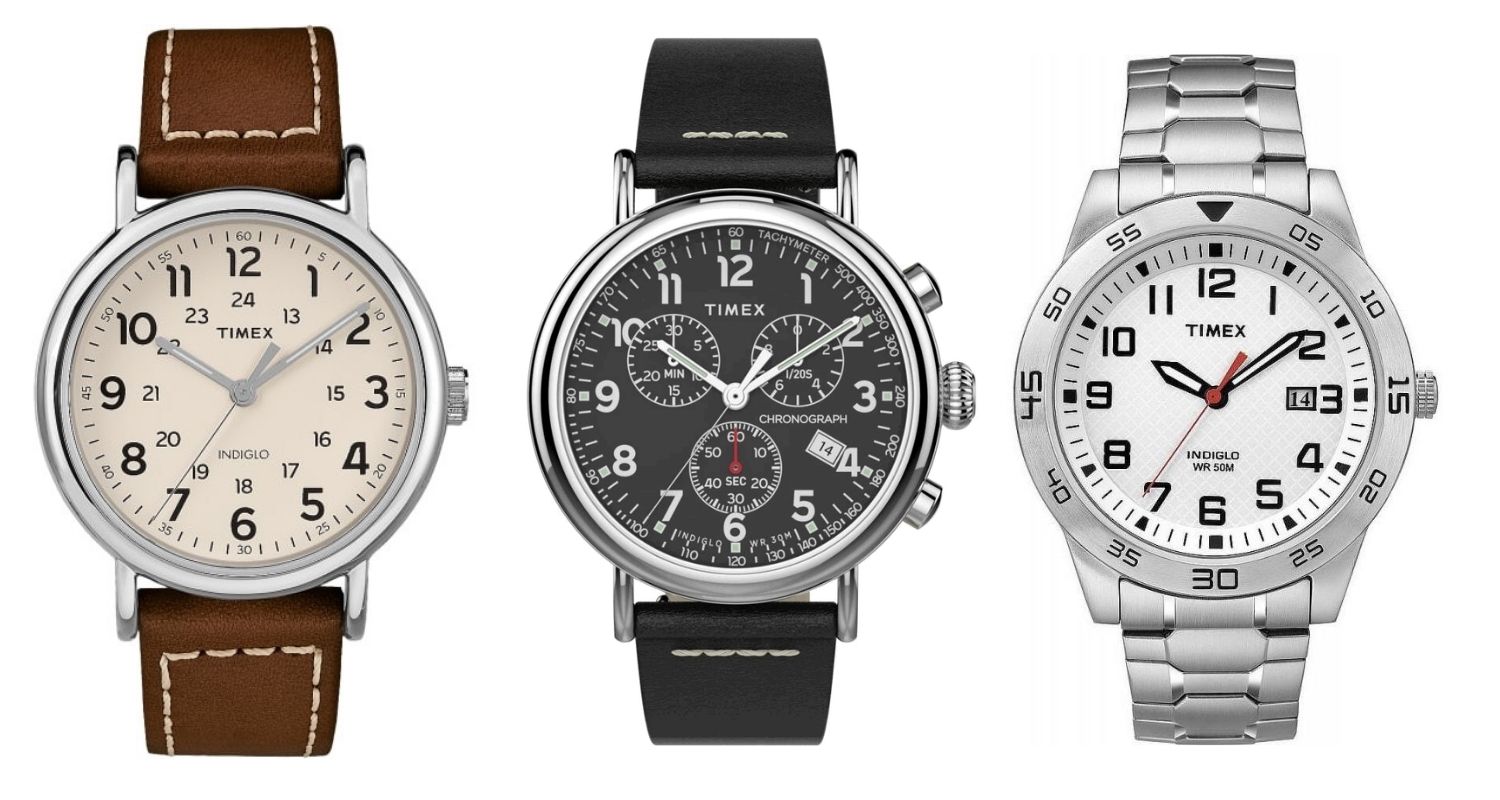 Timex is an American watch company founded in 1854 as the Waterbury Clock Company. It was later reformed into Timex Corporation in 2008 and then acquired by Timex Group B.V., at which point it was renamed Timex Group USA.
Timex is really well-known in the US, for obvious reasons, but is also starting to gain some traction in the European markers as well. Timex's watches are in general known for being extremely affordable, but at the same time qualitative and stylish with classic and tied-down designs. If you want a really affordable watch yet one with nice quality and a classic design, Timex is a brand worth looking at.
---
Victorinox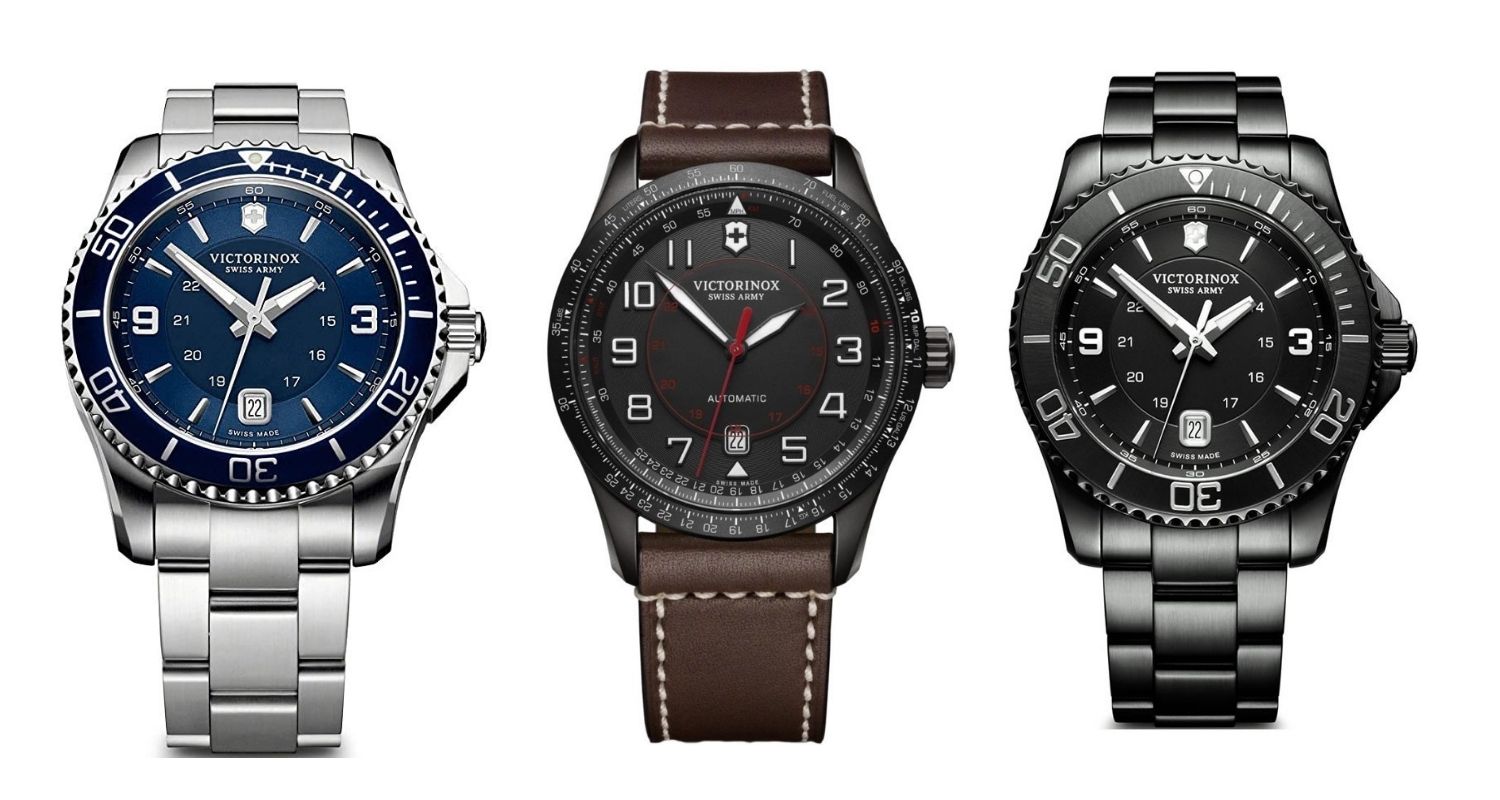 Victorinox is most known for its Swiss Army knives, but the brand also makes watches. The company is based in the town of Ibach, in the Canton of Schwyz, Switzerland.
Its Swiss Army Knives are popular and iconic all around the world, and if you want rugged and functional timepieces that have a similar theme and feeling to Victorinox's knives, you should definitely have a look at their collection of watches. With that said, they are mostly tough, robust outdoor watches built for performance and functionality. The great thing is that whilst they are tough and robust, they hold impressive quality and finish.
Victorinox focused fully on Army knives in its early years and acquired its competitor Wenger in 2005. As a result, it became the sole supplier of multi-purpose knives to the Swiss army.
Victorinox decided to enter the watch industry in the United States in 1989 under the brand name "Swiss Army.
---
Alpina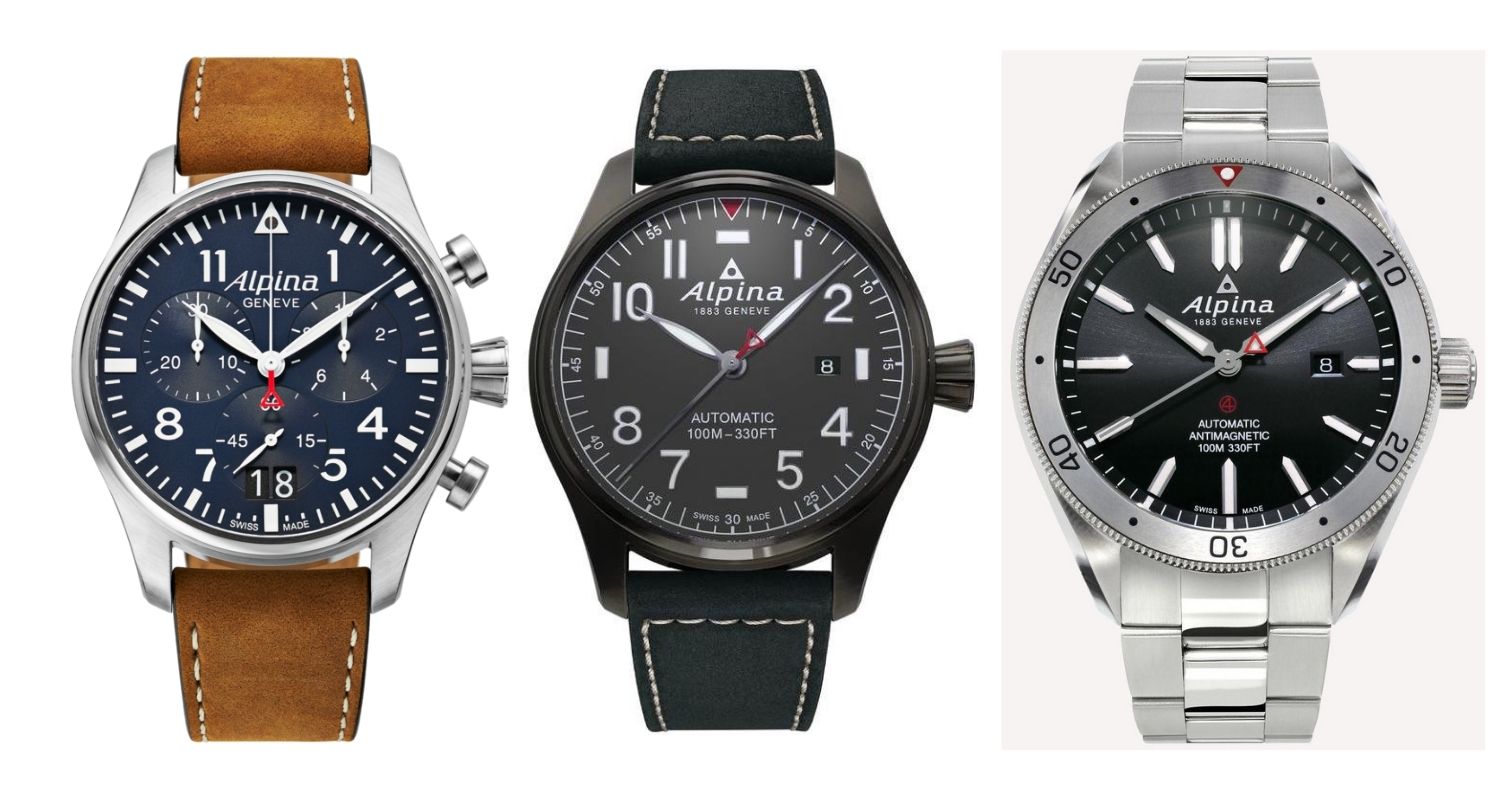 When it comes to affordable Swiss watch brands, Alpina definitely deserves a spot. But when we are talking about affordable watch brands as a whole, Alpina is positioned slightly higher than most other watches in this list with prices of around 1000 dollars or more.
The good news is that Alpina watches are well-made and offer impressive finish and attention to detail. They certainly give a much more premium impression than, for example, Casio, but at the same time, you'll have to pay for it.
Alpina is an independent watch brand based in Plan-les-Ouates in Geneva Switzerland. Whilst it is not the most well-known Swiss watch brand, it has a long and rich history.
The history of Alpina starts in 1883 when the watchmaker Gottlieb Hauser founded what would eventually become Alpina, under the name Corporation d'Horlogers Suisses" with the purpose of buying watch components and organize manufacturing.
 Hauser eventually started developing its own calibers, and soon thereafter, in 1901, the name "Alpina" was registered.
You could view Alpina as a micro, small-scale brand with utmost attention to detail and respect for Swiss watchmaking. If you opt for a watch from Alpina, you're not only getting a means of telling the time, but you're also getting quality, attention to detail, and striking design. 
---
G-Shock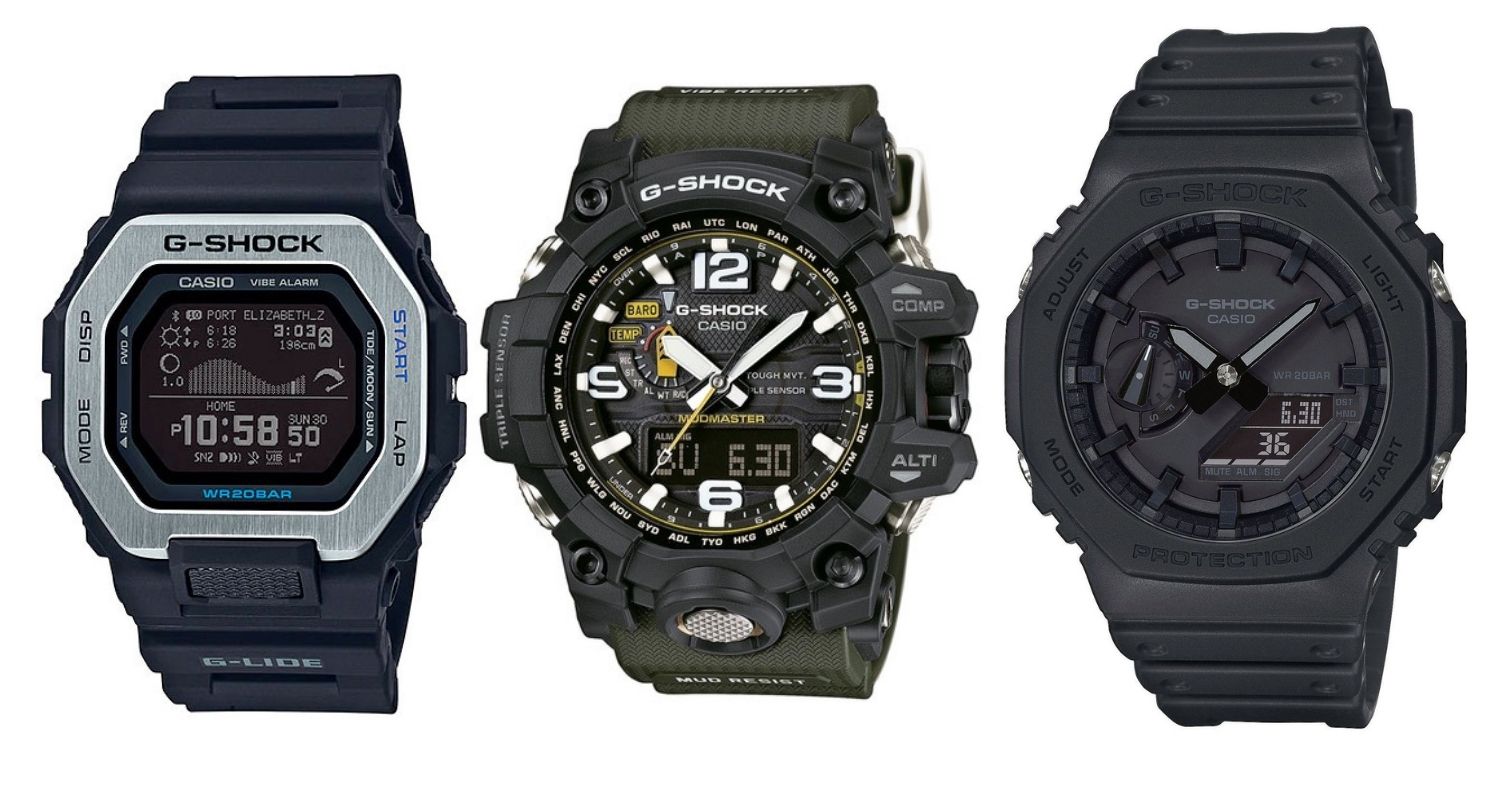 G-Shock is essentially just a sub-brand of Casio, and the story behind the G-Shock is quite interesting. Especially considering the fact that the Casio G-Shock Its one of the most-sold timepieces ever made.
G-Shock watches are manufactured by Casio and the name stands for Gravitational Shock. These watches are known and intended for handling extreme shocks and bangs, harsh environments, and extreme temperatures. In other words, G-shock watches are known to last. If that is what you are looking for, no need to look further than one of the most well-known and popular brands in the world. They are intended for outdoor use, sports activities, and much more. Whilst there are endless different G-Shock models, they often include various useful functions such as chronographs, alarms, world clock, backlight, great water resistance, and much more.
To give you some contact, the first G-Shock watch came about in 1981 by the Casio engineer Kikuo Ibe. This man accidentally dropped and broke a pocket watch and therefore came to the idea to create a watch that would be able to withstand this.  When developing this watch, it was developed to have the so-called "triple 10″ resistance a battery life of 10 years, water-resistance of 10 bar and the ability to survive a fall of 10 meters. To make G-Shock watches so tough, they are actually built with  10 layers that all protect the movement and watch in one way or another. These include a urethane rubber bumper, stainless steel case, hardened mineral glass, stainless steel case back, "floating module" that allows the quartz mechanism to float free, as well as outer buttons and LCD module being attached with flexible cables. The strap is also made to help protect the watch in case of a fall.
---
Movado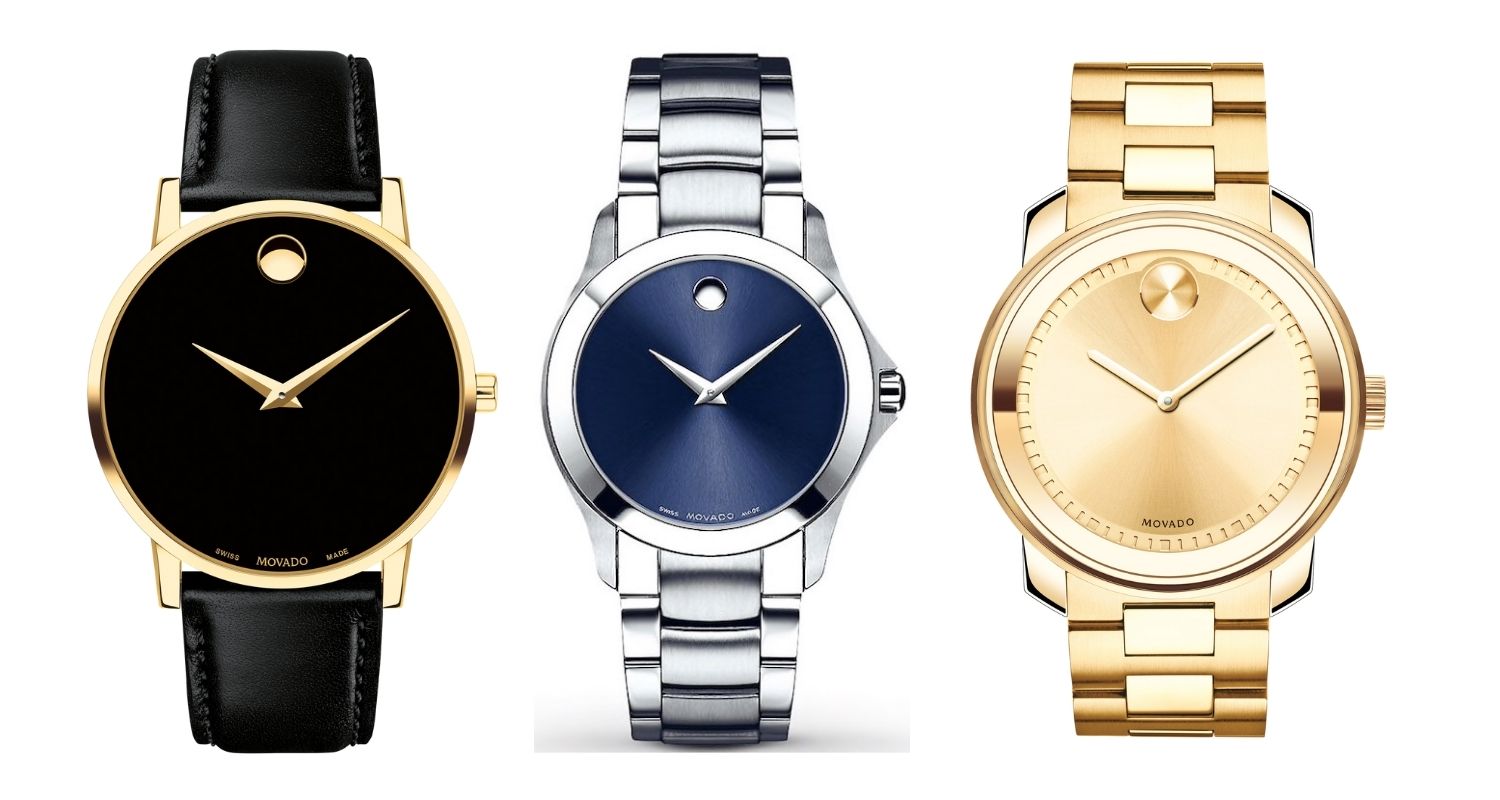 Movado is another watch brand that is quite well-known around the world. Movado is an American watch company and is known for having a focus on making elegant and slightly luxurious watches.
The company was founded in 1881 in La Chaux-de-Fonds, Switzerland, by Léopold Achille Isidore Ditesheim. But it was not founded as Movado, but instead as LAI Ditescheim & Freres SA. The company changed its name in 1905 to Movado, which means always in motion" in Esperanto.
Movado was acquired in 1983 by North American Watch Corp. Since then, the company has remained a US company, but with the timepieces manufactured in Switzerland.
Movado's watches are instantly recognized due to their signature metallic dot at 12. Furthermore, Movado's watches are known to be minimalistic, clean, and elegant. With that said, if you are looking for minimalistic elegance and luxury at a relatively affordable price, Movado is a brand worth discovering.
In a market where a lot of watches look similar, it can always be refreshing to explore watches that don't do like everyone else and instead creates new and distinct designs.
---
Mondaine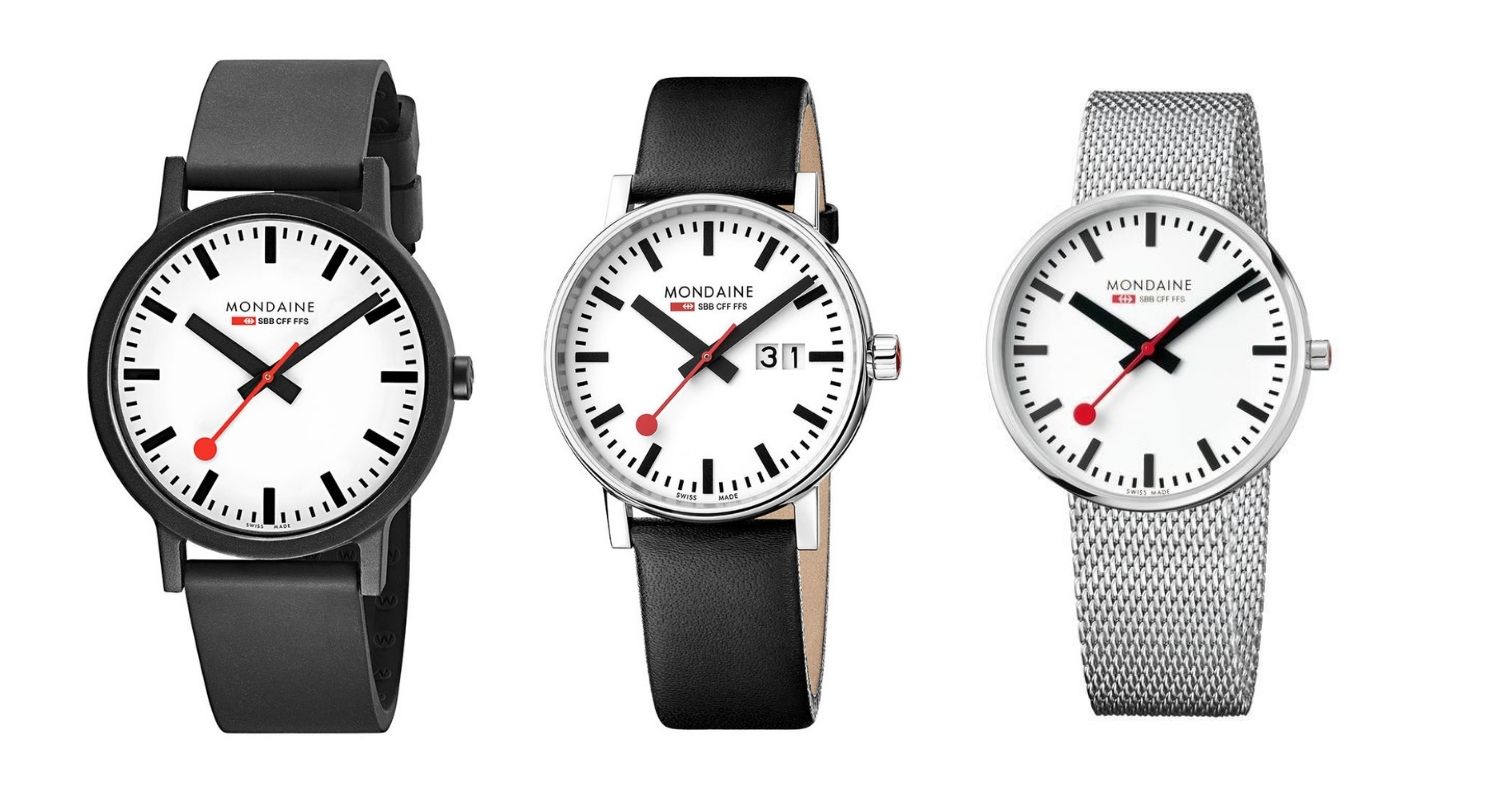 Mondaine is owned by Mondaine Watch Ltd which owned a few additional watch brands. Mondaine was founded in Switzerland by  Erwin Bernheim and it is also in Switzerland that the watches are being manufactured.
Mondaine's watches are in general very minimalistic and simple, with clean and timeless designs. In fact, many of Mondaine's watches are inspired by classic Swiss railway clocks, and this design trait is something that has stuck with the company to this day.
If you want a minimalistic and timeless wristwatch with a contemporary style and Swiss quality, Mondaine could be a new brand for you to explore.
---
Junghans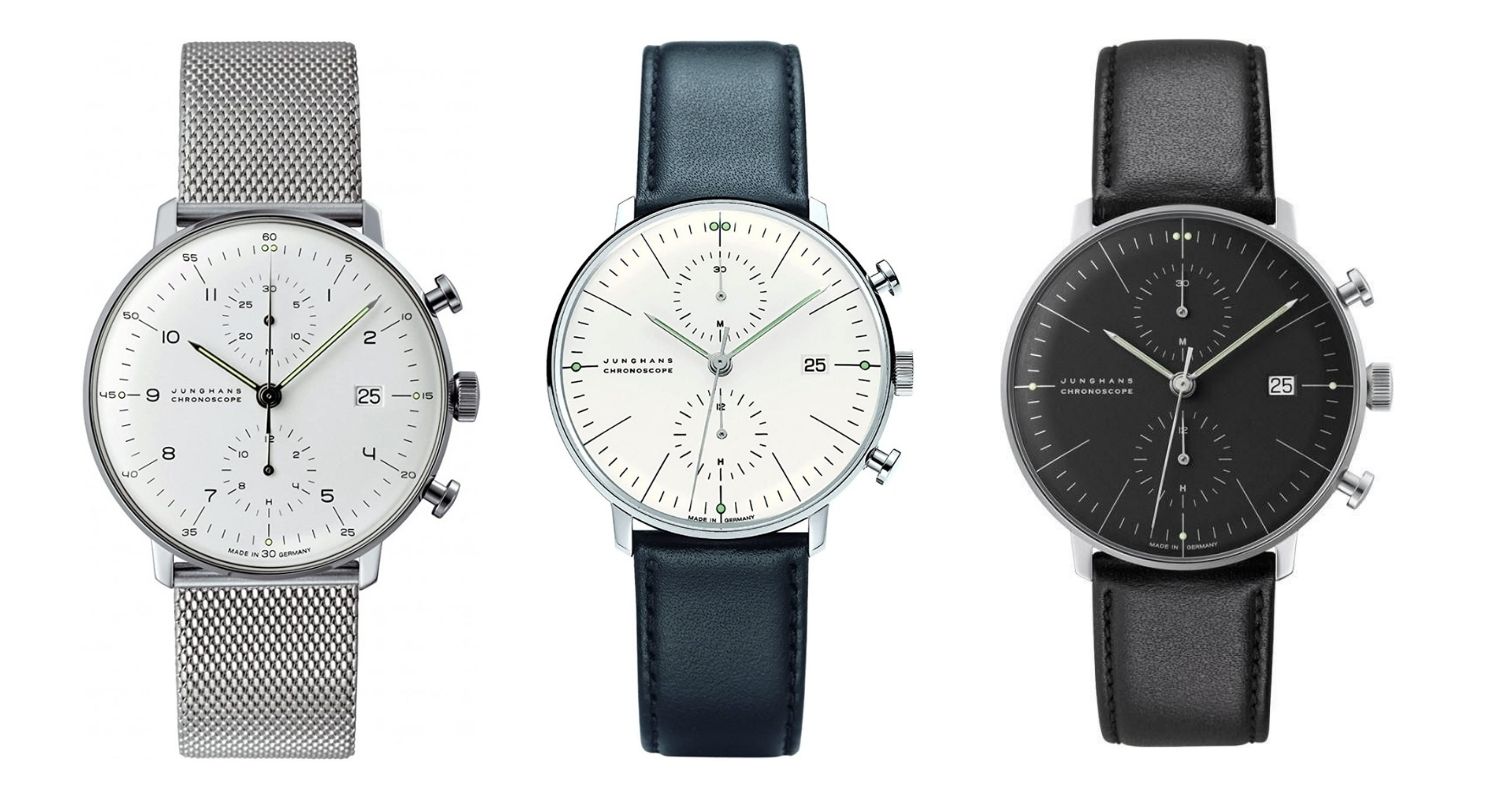 Junghans is a rather popular affordable watch brand that has been around for quite some time. This brand also has its distinct design language which I think has helped Junghans establish and distinguish itself.
Junghans is a German watch company that is based in Schramberg, Baden-Württemberg, Germany. In addition to wristwatches, Junghans is also known for making clocks in various shapes and forms.
This brand actually has a long and rich history, and in 1903, it had the world's largest watch and clock factory with over 3000 employees. In 1927, the company started to produce wristwatches. As a watch company, Junghans is perhaps most known for its Bauhaus-inspired and minimalistic design language – something that has helped the company stand out.
As a matter of fact, the Bauhaus designer Max Bill started designing clocks and watches for Junghans in the 1950s, and it became a partnership that lasted many years. Max Bill has had great importance for the designs of not only Junghans watches, but also for setting the standard for what people associate with German Bauhaus design.
If you are a fan of German Bauhaus style and enjoy minimalism, Junghansis a brand that makes both qualitative and affordable watches. 
---
Swatch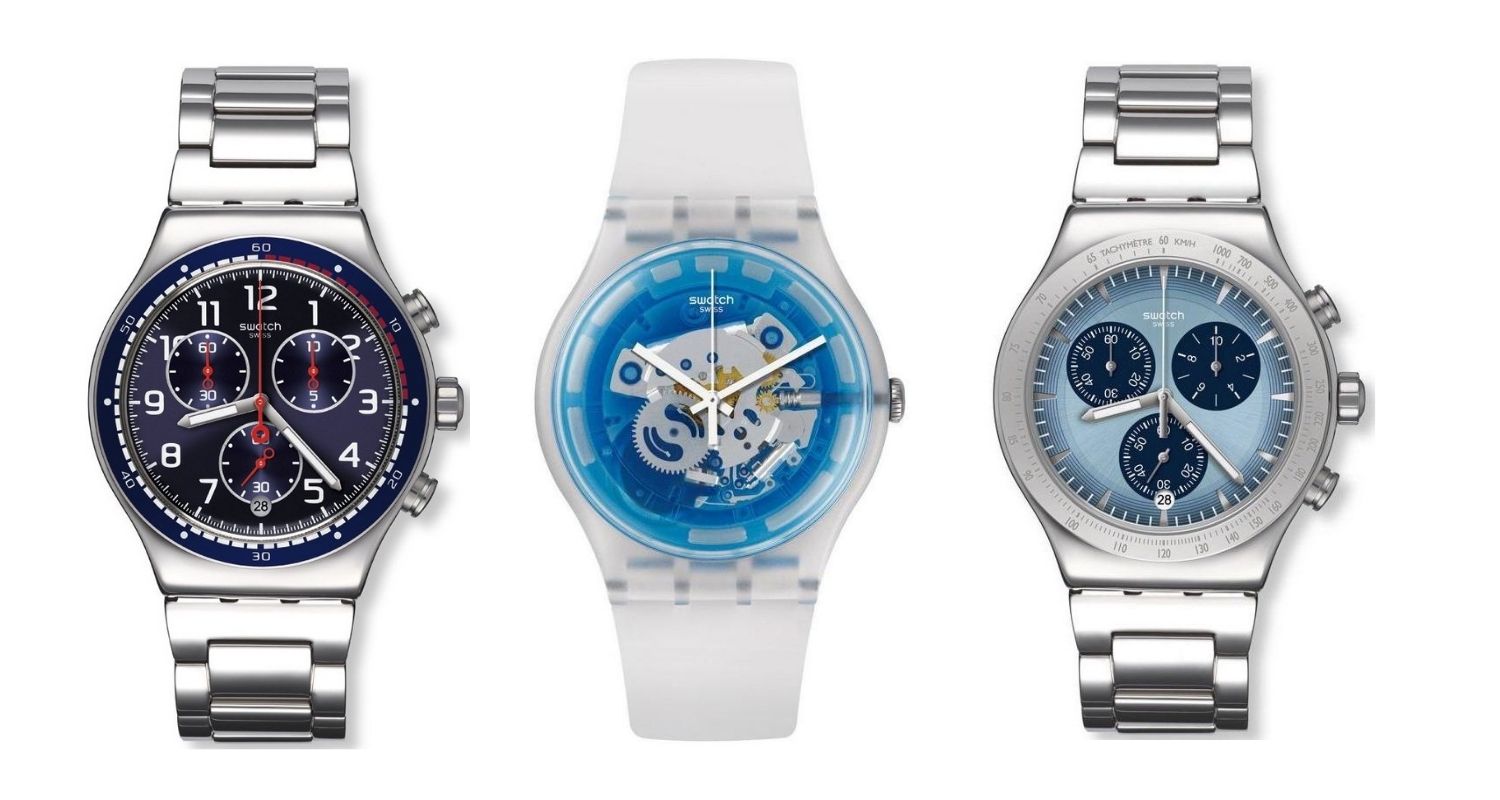 Swatch is a watch brand that doesn't need much introduction. It is known all around the world and is one of the largest watch brands in Switzerland, seen by the number of watches produced. 
Swatch was founded in 1983 by Ernst Thomke, Elmar Mock, and Jacques Müller in Switzerland. Today, Swatch is a subsidiary of the Swatch Group which includes a large number of Swiss watch brands.
Swatch as a brand came about during the quartz crisis and as a response to the great competition of Japanese quartz watches. The quartz cries meant that cheap Japanese quartz watches were competing with Swiss mechanical watches which, today, is like comparing apples and pears.
Swatch is a contraction of "second watch" and comes from the fact that Swatch's watches were meant as casual, disposable accessories in order to be able to compete with the lower price of the Japanese watches. The result was affordable watches in plastic wot fashionable designs. The core purpose of Swatch's watches was to get back people's interest in mechanical watches and to make analog watches more popular in a world where the Japanese digital watches had become extremely popular due to their new and interesting technology-
Today, Swatch makes a large number of different watches and not only in plastic, although that central part of the company still remains. Whether you want quartz or mechanical, Swatch has something to offer. Or perhaps most importantly, if you want to get into the world of Swiss mechanical watches without having to break the bank. Swatch is the perfect answer.
For example, in 2013, Swatch introduced the Sistem51. This was the world's first mechanical movement with an entirely automated assembly, featuring a movement that consists of 51 components, a rotor, and a 90-hour power reserve. In addition, the watch is also 100% Swiss-made. Swatch is widely popular because they make Swiss watches affordable, fun, and accessible.
---
Fossil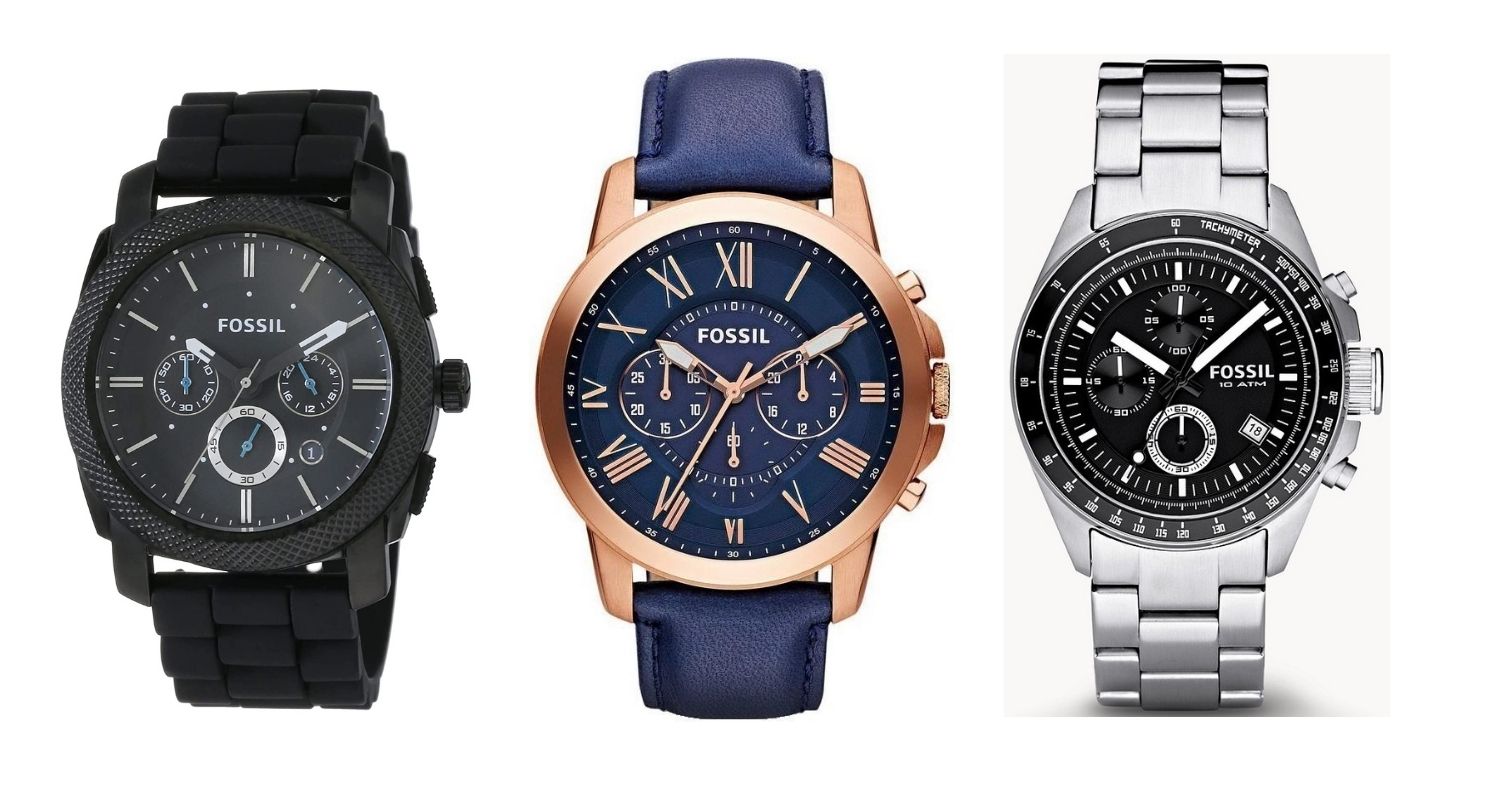 Fossil is an affordable and well-known brand that is primarily focused on making affordable and stylish timepieces. Although Fossil's watches are qualitative for the price, they are primarily focused on style and not always so much about movements and horology. Originally, the main focus of their watches was fashion watches with a retro look, and this is something that the brand has stayed quite true to, to this very day.
The company is based in the US and was founded in 1984 by Tom Kartsotis. Today, Fossil Group has grown to include a number of different brands.
In 2013, Fossil introduced its "Fossil Swiss" line with the purpose of establishing it as more luxurious as the line included only watches made in Switzerland. With that said, Fossil may work to improve their timepieces for the future and focus more on movements.
---
Nixon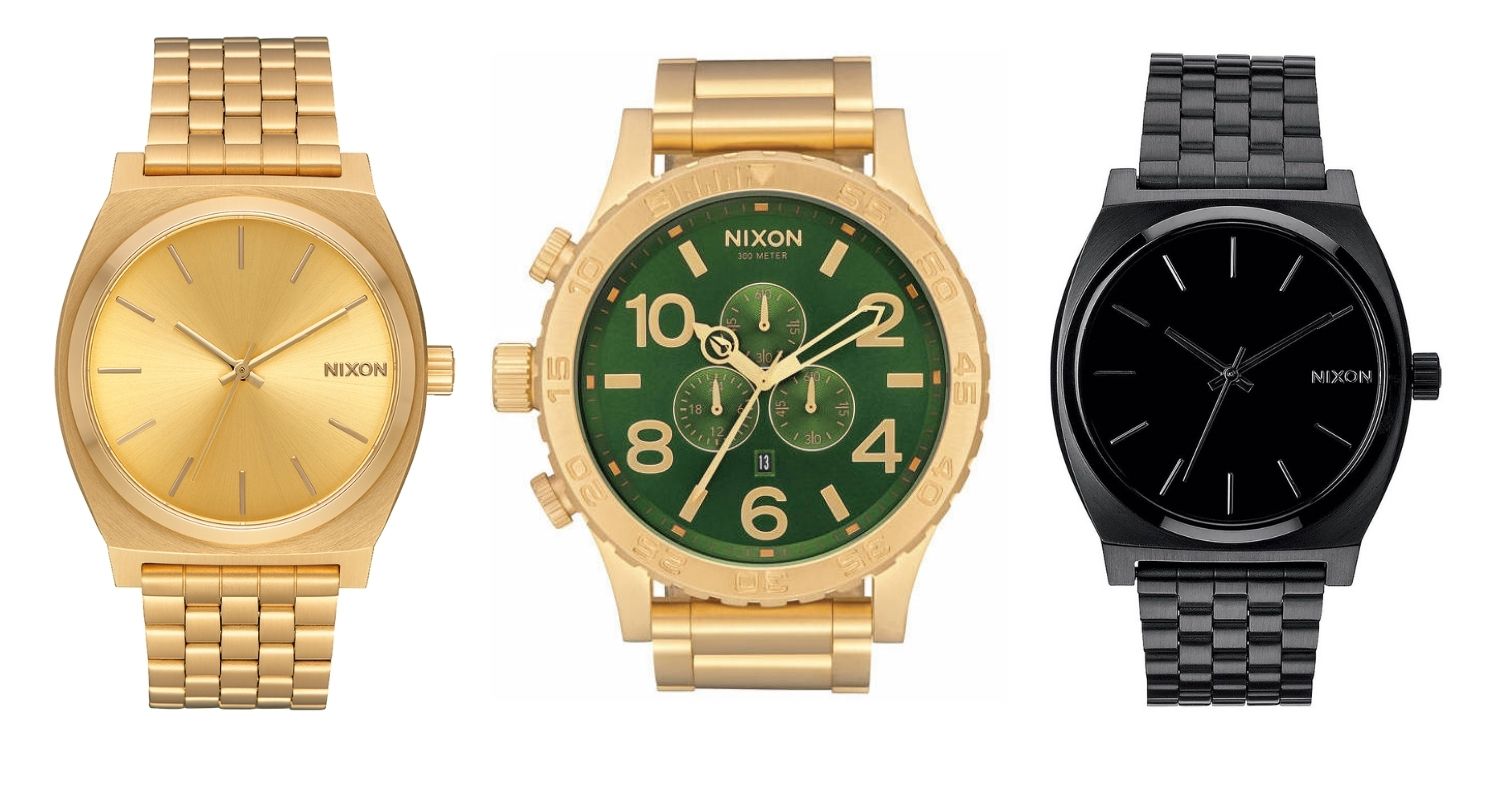 Nixon is an American watch brand founded in 1997 in California. The brand is primarily focused on the younger generation and has established itself more as a lifestyle brand. With that said, Nixon is a watch brand that focuses more on design and lifestyle rather than watch movements and fine watchmaking. At the same time, Nixon's watches are affordable and hold a relatively high quality for the price.
Nixon makes both digital and analog watches, and uses movements both from Japan and Switzerland. Whilst, overall, the brand is known for bold and distinct watches, they do have something for everyone, whether you want something discreet and toned-down or something bulky and sporty.
---
MVMT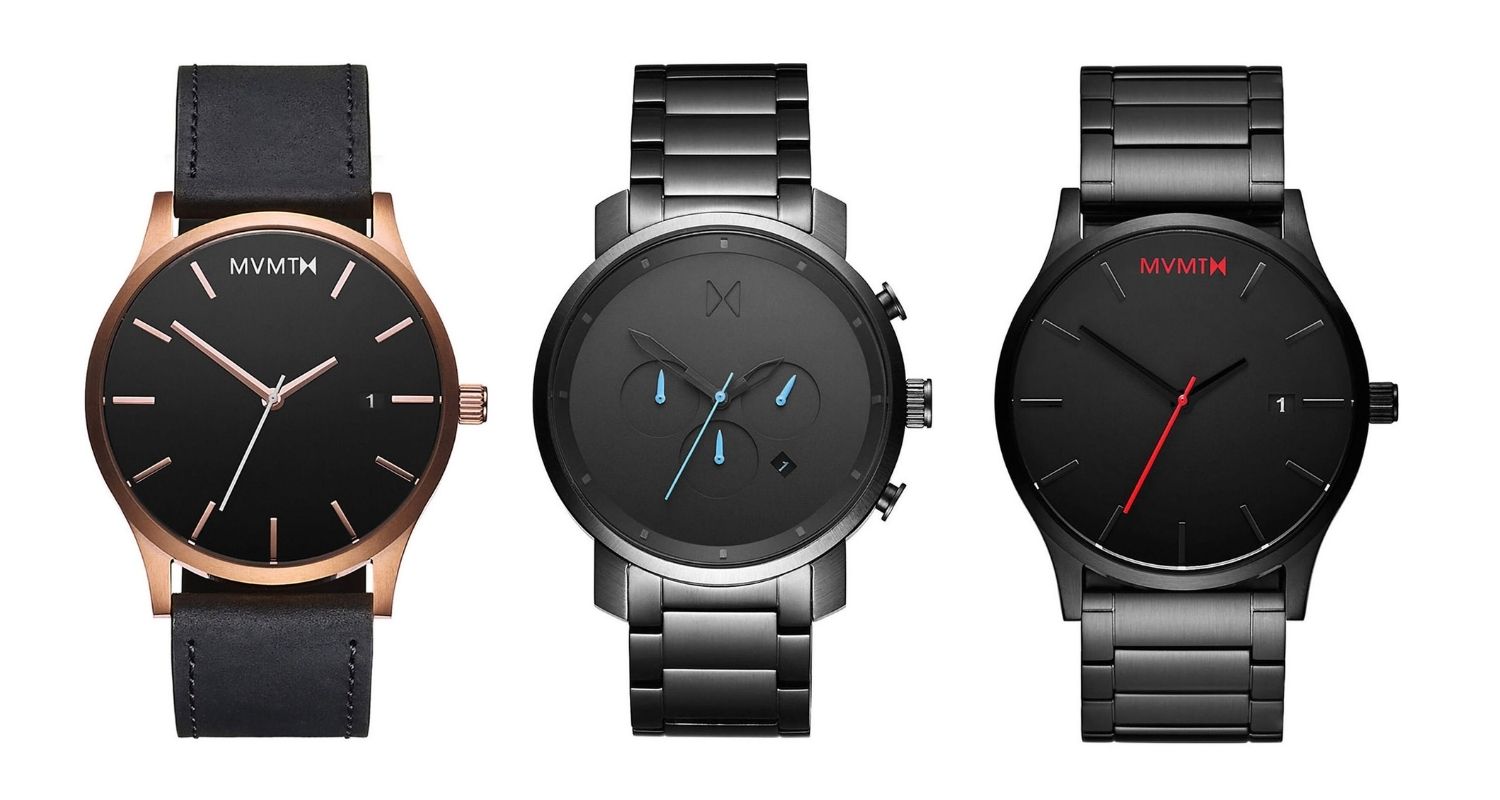 MVMT is one of the youngest watch brands on this list, and it is also one of the fastest-growing companies on this list as well. MVMT was founded in 2013 and was acquired by Movado in August 2018. The company was founded by Jake Kassan and Kramer LaPlante who successfully raised more than $290,000 for MVMT via two crowdfunding campaigns on Indiegogo.
MVMT is a brand that primarily targets the millennial and younger generation, with a focus on a minimalistic and clean style. Whilst MVMT is known for their minimalist style, their watches look very contemporary, which is an important reason why they became so immensely successful amongst the younger generation. The watches are affordably priced and a good alternative for those who want a simple everyday timepiece.
---
Luminox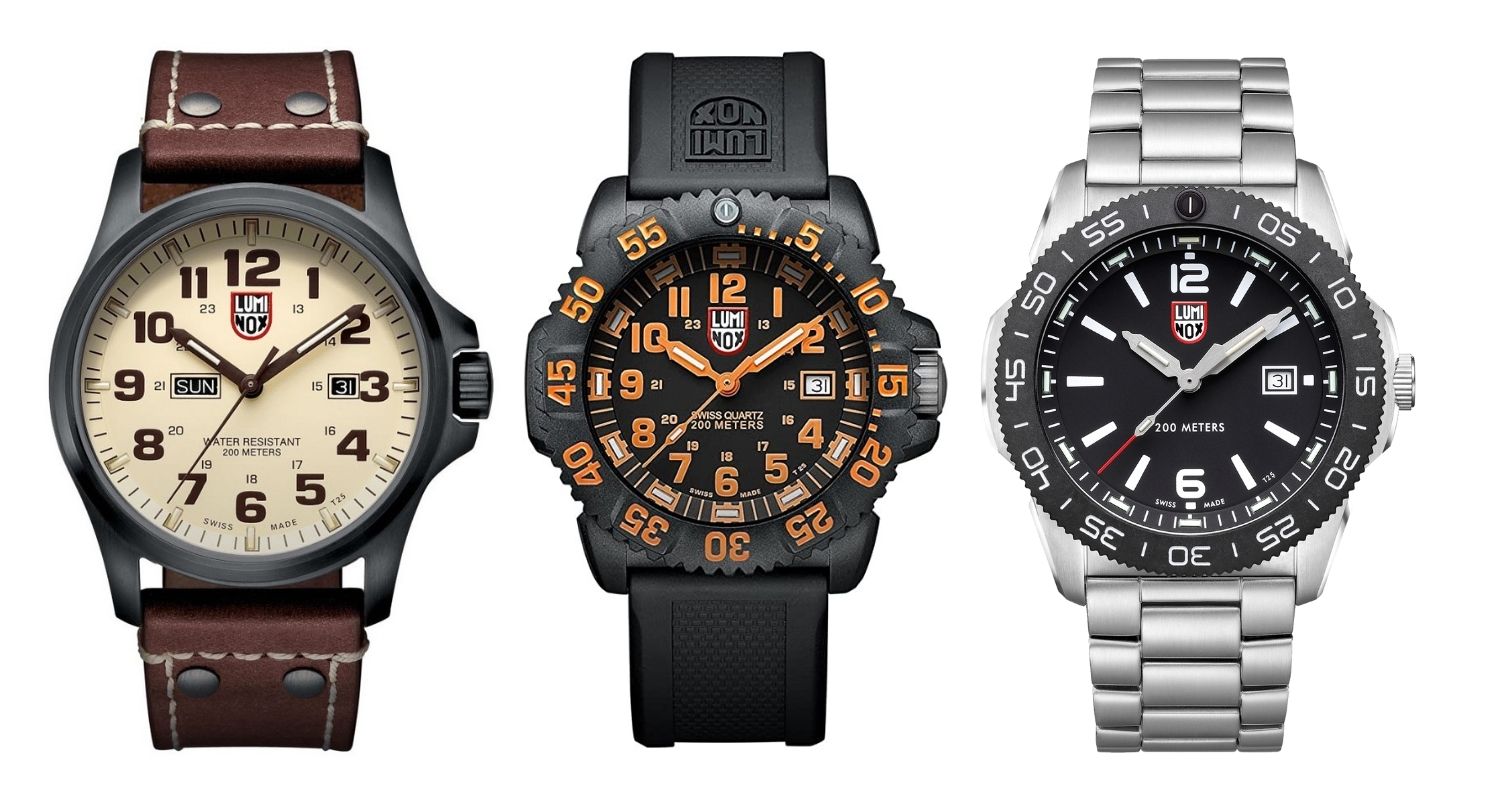 Luminox is a well-known watch brand that has been around for a long time and is known for its tough military outdoor watches.
Luminox is based in San Rafael, California but make their watches in Switzerland. The company was founded in the US in 1989. This brand is all about performance and ruggedness. Luminox is known for using tritium inserts on its watches rather than applying them directly on the hands and dial. Thanks to the lime tubes, the watches get a strong glow and ensure perfect legibility in all environments. This is just one example of Luminox's focus on performance and functionality.
The brand makes watches for several different military groups, which is a perfect testimony of their toughness. This includes, amongst others, the Heliswiss team, US Coast Guard, US Air Force, and many more special forces.
If you want a high-quality timepiece that is built to handle harsh conditions and to offer excellent performance, Luminox is one of the best options out there. Their watches are priced quite reasonably and affordably, whilst they offer unique and impressive performance and functionality.
---
Skagen
Skagen is a watch brand founded by two Danes and named after Skagen, a Jutland peninsula and Denmark's northernmost town. Skagen focuses on minimalistic and elegant designs for fashion-conscious individuals. In 2012, Skagen was purchased by Fossil for approximately US$237 million.
If you want sleek, minimalistic watches at an affordable price, Skagen is a popular choice.
---
Invicta
Invicta is a watch brand that is perhaps most known for its bulky, distinct, and eye-catching designs. Invicta makes many different types of watches, but it is particularly the bold and large men's watches that Invicta has become known for 
Invicta is actually a brand with a long and interesting history as well. The company was founded in 1837 by Raphael Picard in La Chaux-de-Fonds, Switzerland. Invicta went bankrupt in the 198s and was sold in 1983 to Ondix S.A. Later on, the Invicta name was resold and then re-established in 1991 by an American company. Today, you could say that the Swiss heritage of Invicta has been long lost, and the modern interpretation of Invicta has gone in a completely different direction. Whilst many watch brands with a long history stay true to their heritage by making heritage models inspired by their historic watches, Invicta has looked ahead and differentiated itself by primarily focusing on masculine and bulky timepieces.
It is now headquartered in Hollywood, Florida. If you want an affordable watch that has a design that is sure to stand out, or if you have particularly large wrists, you may find Invicta interesting.
---
Oris
Oris is a watch brand with a long and rich heritage and a brand that has focused on establishing itself as an entry-level Swiss luxury watch brand in more recent times. Oris watches are more expensive than many of the other watches on this list, with prices starting at a bit under 1000 dollars. But from Oris, you get a high-quality Swiss-made watch with great quality, attention to detail, and a focus on mechanical movements.
Oris was founded in 1904 and is based in Hölstein in Switzerland. Oris was close to bankruptcy during the quartz crisis in the 1980s and decided to abandon quartz and focus solely on mechanical timepieces in the mid-price segment. Today, Oris only makes mechanical timepieces and produced its last quartz watch in the early 1990s.
Oris is a brand the focuses a lot on its heritage and making traditional, often vintage-inspired timepieces. In recent years, Oris has focused specifically on making Diving, classic, Aviation and Motor Sports watches. One of the signature design elements of Oris watches is their red rotor which has been used since 2002.
If you want a high-quality entry-level luxury Swiss watch with great quality, Oris is considered to be one of the best brands on the market today.
---
Braun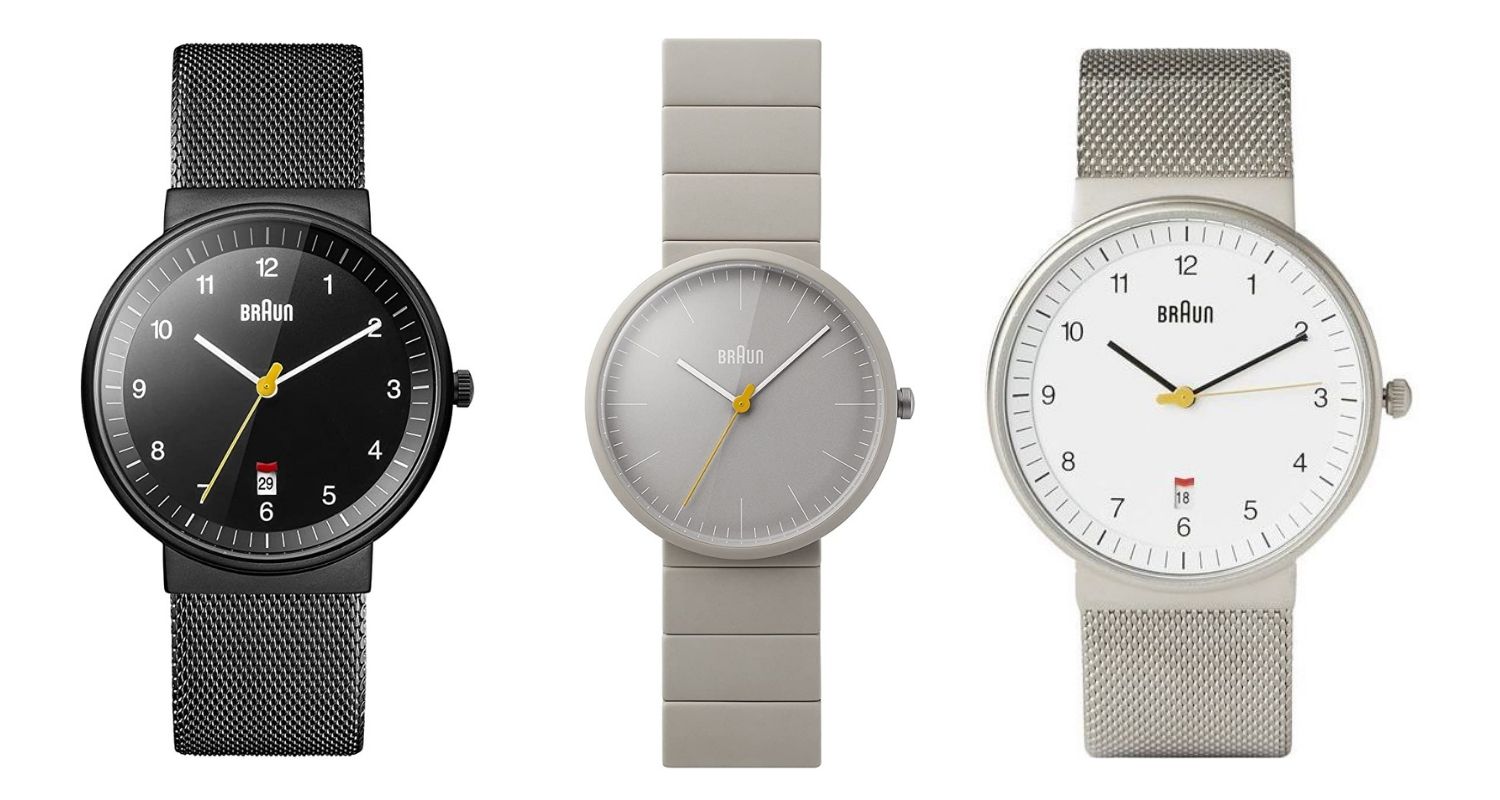 Braun is a German company founded in 1921 and is based in Kronberg im Taunus.  It is perhaps most known for its consumer electric products like razors, but they also make watches. Like many other German brands, Braun's watches are minimalistic and have a Bauhaus style to them. They are also affordable and reasonably priced. If you are looking for minimalistic, classic timepieces at affordable prices and with Bauhaus style, Braun's watches are worth discovering.
Braun is today a subsidiary of Procter & Gamble, which acquired Gillette in 2005, which previously owned Brown after having acquired the whole company in 1967.
---
Frederique Constant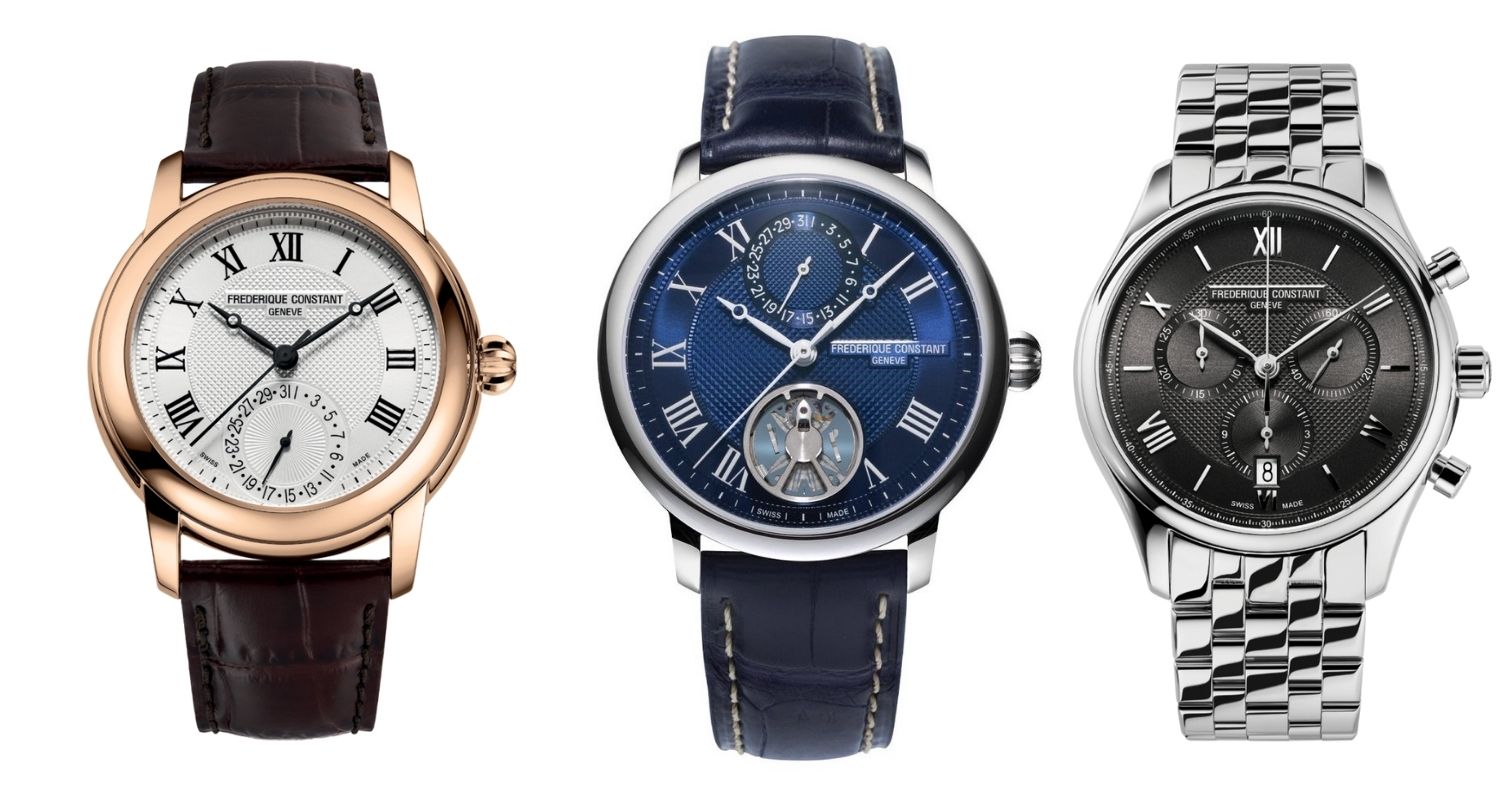 Frederique Constant is a Swiss watch brand based in Plan-les-Ouates, Geneva, founded in 1988 by Peter Stas and Aletta Stas-Bax. In 2016, Frederique Constant was acquired by Citizen Holdings.
Frederique Constant focuses on making primarily elegant dress watches, often with complications and with a focus on fine watchmaking and details. They make Swiss-made timepieces in the entry-level luxury segment. If you're a fan of elegant dress watches and timepieces with classic designs, Frederique Constant is one of the best choices for the entry-level Swiss luxury segment.
---
Raymond Weil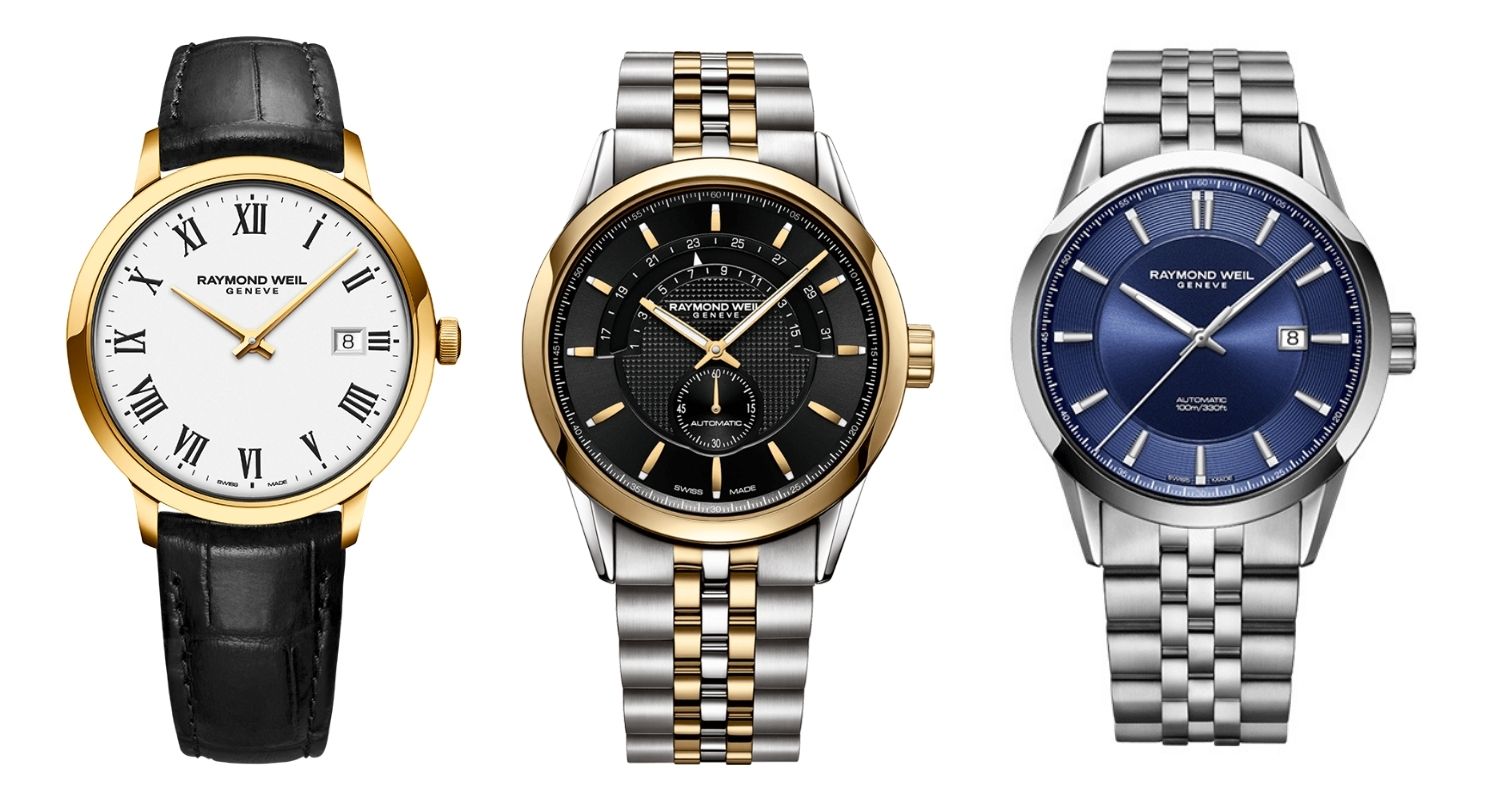 Raymon Weil is relatively similar to Frederique Constant in many ways, in particular when it comes to their often dressy designs. Raymond Weil is also in a similar segment, focusing on the entry-level Swiss luxury segment. Raymond Weil was founded in 1976 in Geneva and is a family company founded by Raymond Weil and Simone Bédat. 
Weil died in 2014 and since then, the company has been managed by his grandson Elie Bernheim. Raymond Weil comes from humble starts, as he began selling his watches from a stall in Geneva. 
Most of Raymond Weil's watch collections today include classic and traditional watches with a focus on mechanical and quartz watches. The watches are being promoted in the lower-end luxury watch segment.
If you're dipping your toes into the entry-level Swiss luxury watch segment and enjoy traditional and classic watch designs, Raymond Weil is a good option.
---
Rotary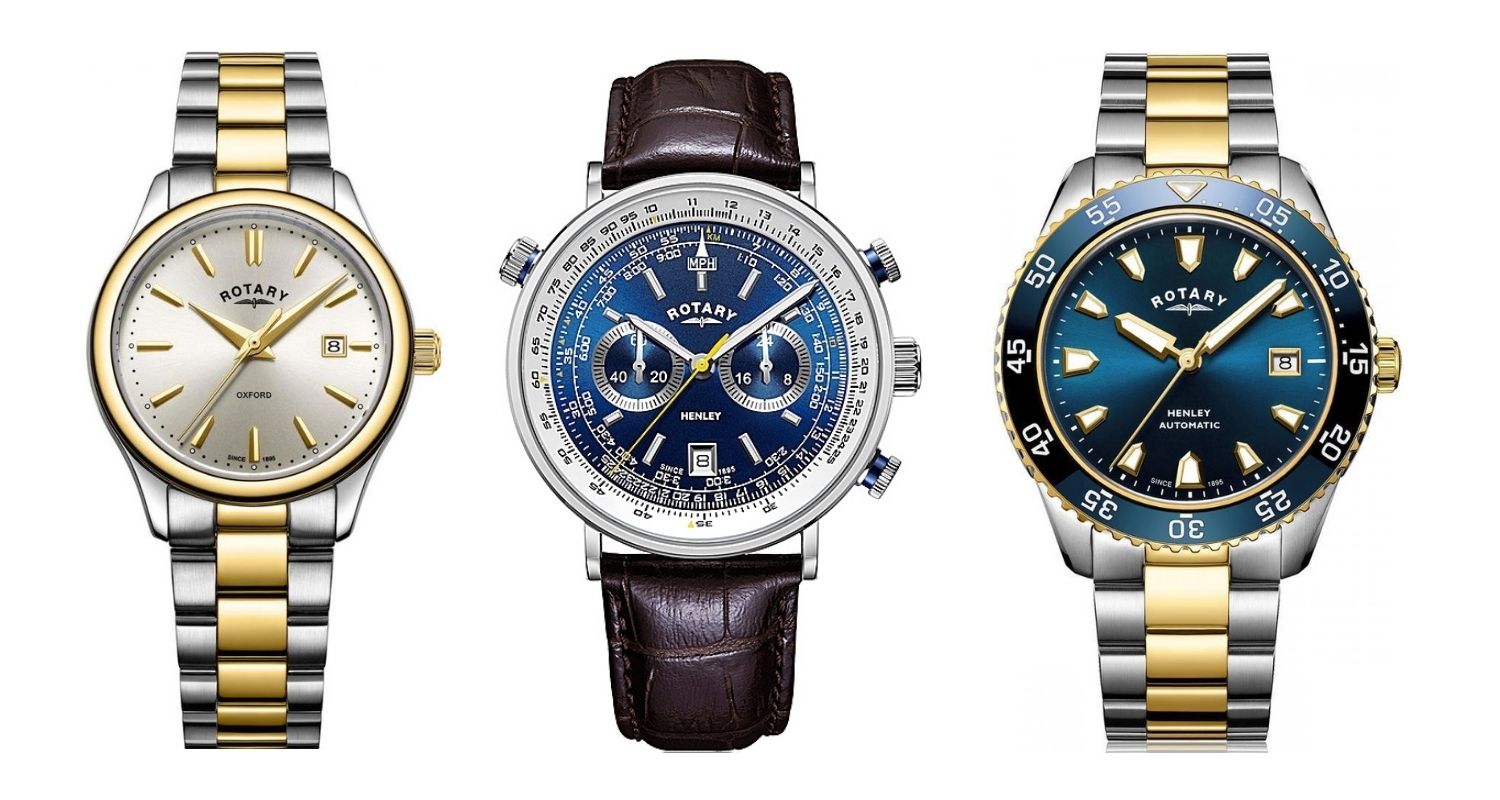 Rotary is another affordable Swiss watch brand, founded in La Chaux-de-Fonds, Switzerland by Moise Dreyfuss in 1895.  The company started out by importing Rotary watches to Britain, which was the company's most successful market. The company is today owned by Citychamp Watch & Jewellery Group Limited which is an investment holding company.
Today, Rotary makes elegant watches with quartz of mechanical movements. A lot of their watches are built according to the so-called "Dolphin Standard", meaning they are rated to ISO 2281 and water-resistant for swimming.
Rotary's watches are generally lower-priced than both Raymond Weil and Frederique Constant but still focuses a lot on classic and traditional designs.
---
Bulova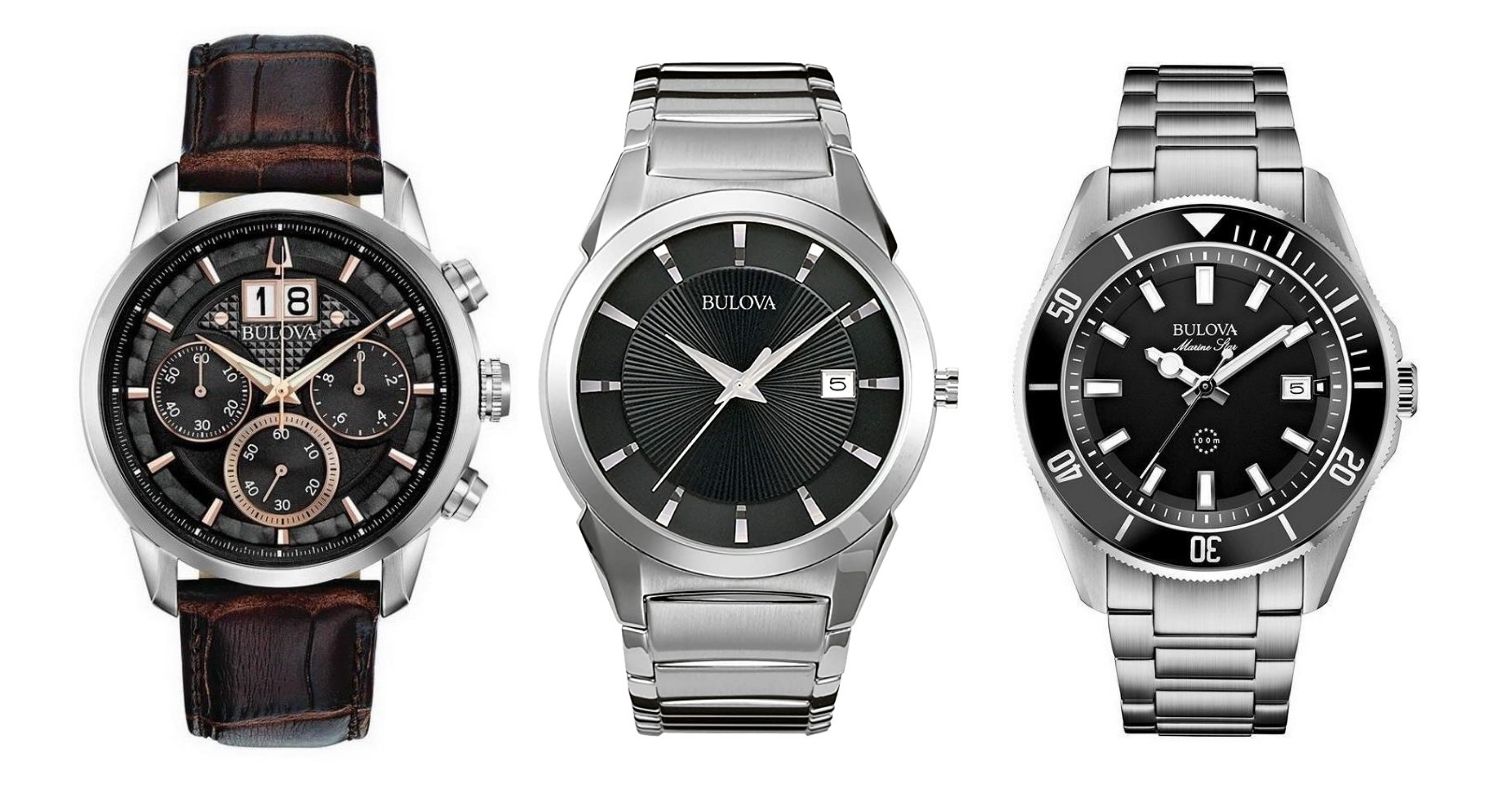 Last but not least, we have Bulova which is a relatively large and well-known watch brand.
Bulova is an American watch company that was founded in 1875 and has been owned by Citizen Watch Co. since 2008. Today, the company makes watches, clocks, and accessories, and it is based in New York City. It was founded by the Bohemian immigrant Joseph Bulova and changes its name to Bulova Watch Company in 1923.
Bulova is known for making high-quality affordable timepieces in all kinds of different designs, from sporty and dressy. With its long and rich heritage, it has established great know-how in watchmaking and makes both modern timepieces as well as some timepieces that with more classic, vintage-inspired designs. 
---
Affordable watch brands – buyer's guide
As mentioned, the term "affordable watch brands" can be very broad. Different people have different definitions of what "affordable is". In addition, there really are endless of different watch brands that fall under the category of being affordable, all with tons and tons of different watches and models. This can make it quite difficult to choose and define the perfect watch for you.
But just like when buying any watch, there are a number of things you can take into consideration to make it easier to choose.
Define your budget
Naturally, this is one of the most important aspects. Of course, all of the watch brands above are considered affordable, but they can still vary in price a lot. For example, whilst you can get a Casio for less than 100 dollars, you won't find an Oris watch for less than 500. Some watches can even be priced at more than 1000 USD and still, at least in the grand scheme of things, be defined as affordable.
With this said, it is good to decide on a budget for your watch purchase which is the maximum you're willing to pay and you'll be able to narrow down your choices a lot.
Define your size
The size is always an important factor when choosing a watch. Just like with clothes, it is important that your watch fits well on your wrist. If you have a too-small watch, it may look awkward, and if you have a too-large watch, it will be clumsy and uncomfortable. With this said, decide which watch sizes work best for your wrist. Usually, people have a span of sizes that works for them, for example, 36mm to 42mm, but it can also depend on the type of watch and the purpose. For example, a dress watch is meant to be smaller and more elegant than a sports watch.
In addition, it's not just the diameter that affects the size of a watch and how it wears. Depending on the case shape, different watches can wear a lot different even if their diameters are the same on paper. This brings us to the next point.
Define the purpose
By this, we mean how you intend to wear the watch and on what occasions. This will ultimately allow you to decide on the style of watch. For example, if you are looking for a watch that you can wear at the office and on formal occasions, you should probably look for a dress watch. This also means that it is a good idea to opt for a smaller, more classic size. However, if you're looking for a tool watch that you can wear everyday, when sporting, or just swimming, you'll need something more robust and durable. In this case, a sports watch will be more appropriate.
Therefore, defining the type of watch you need will help you narrow down your alternatives a lot. Because as you can see, affordable watch brands make watches in all kinds of different designs and for all kinds of different purposes.
Automatic or quartz?
Another good consideration is whether you should choose an automatic or quartz watch. This ultimately comes down to preference and there is no right or wrong here. In general, quartz watchers tend to be more affordable, more accurate, and cheaper to maintain. Automatic watches, on the other hand, have a sense of craftsmanship and are built with fine watchmaking, which is something watch enthusiasts in particular enjoy.
---