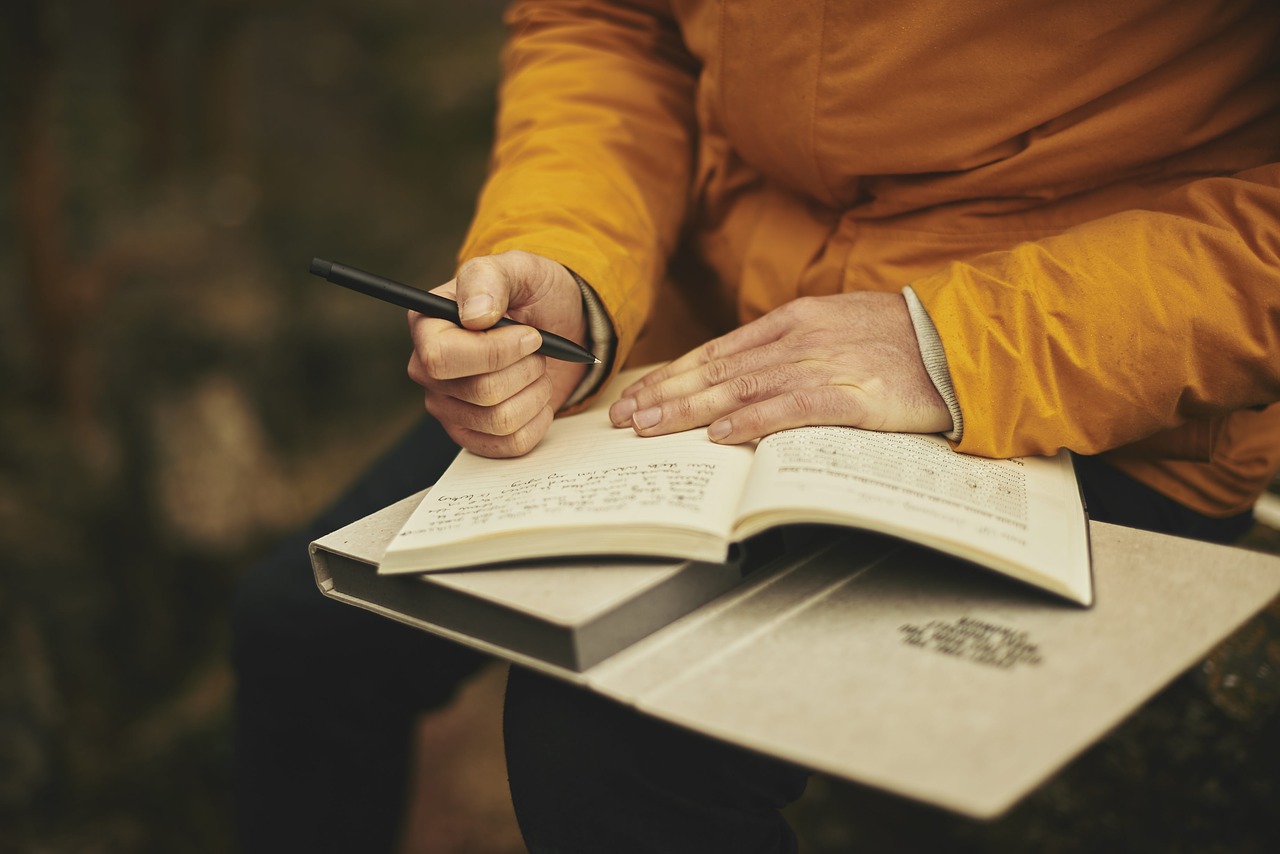 Top 10 Best Luxury Notebooks [List & Guide]
Whilst we do more and more writing digitally, there's still a place for handwriting. Some people simply prefer to write by hand rather than to be consistently connected, others simply prefer to write by hand. Other times, it's simply not appropriate to sit with a computer and write. One such example is during meetings. Writing by hand in a notebook can, in many cases, be seen as more respectable to the speaker instead of hiding behind a computer screen and not paying full attention.
Traditional handwriting still has an important place in many areas, whether in business, during a presentation, or during a lecture.
With a traditional notebook, you get full creative freedom and can write notes, ideas, draw, or sketch. The opportunities are endless. For a lot of people, a notebook is a must-have in their daily setup of accessories. But if you're looking to do things with a bit of style and class, a luxury notebook is the way to go.
Notebooks come in all kinds of different shapes and forms, but a luxury notebook makes each writing occasion into a special occasion. Whether you're studying, going to meetings, or constantly thinking of new ideas, a notebook is a must-have in your setup of everyday accessories.
And if you're going to do something, why not do it with some style and some style and class?
In this article, we are looking closer at some of the best luxury notebooks.
Top 10 Best Best luxury notebooks
As an Amazon Associate, we may earn from qualifying purchases, at no extra cost to you.
---
Genuine Leather Composition Notebook Cover with Insert, Hokusai Wave

First up, we have the Hokusai Wave navy blue notebook which is a notebook that is appreciated for its great quality. It is bench crafted in the USA which makes it much more special and premium than your ordinary, cheap, and mass-produced paper notebook.
It has a very sturdy feel to it which contributes to a luxurious, premium impression that makes each time you're writing a special occasion.
What stands out about this luxury notebook is obviously its beautiful leather exterior with an intricate wave pattern. Best of all, the exterior just looks better and better as it ages. This notebook is truly meant to last a lifetime, which is a nice contrast to all of the other use-and-throw items we are flooded with in our everyday life. In their own words "the more you'll notice an increasingly deep, natural patina and supple feel.".
It is crafted from domestically raised leather and finished off with an Asian-inspired design.
Unlike most other cheap notebooks where you use it and then throw it away, this one has a notebook insert that can easily be replaced with any available 9.25 x 7.5-inch filler.
The fact that you have replaceable inserts is important because if you consider the fact that you'll have this notebook for a very long time, it becomes very affordable all of a sudden. Add this to the equation and you'll soon realize that investing in a luxury, quality notebook that you'll also get enjoyment out of is a great thing.
---
Ancicraft Leather Journal A5 Notebook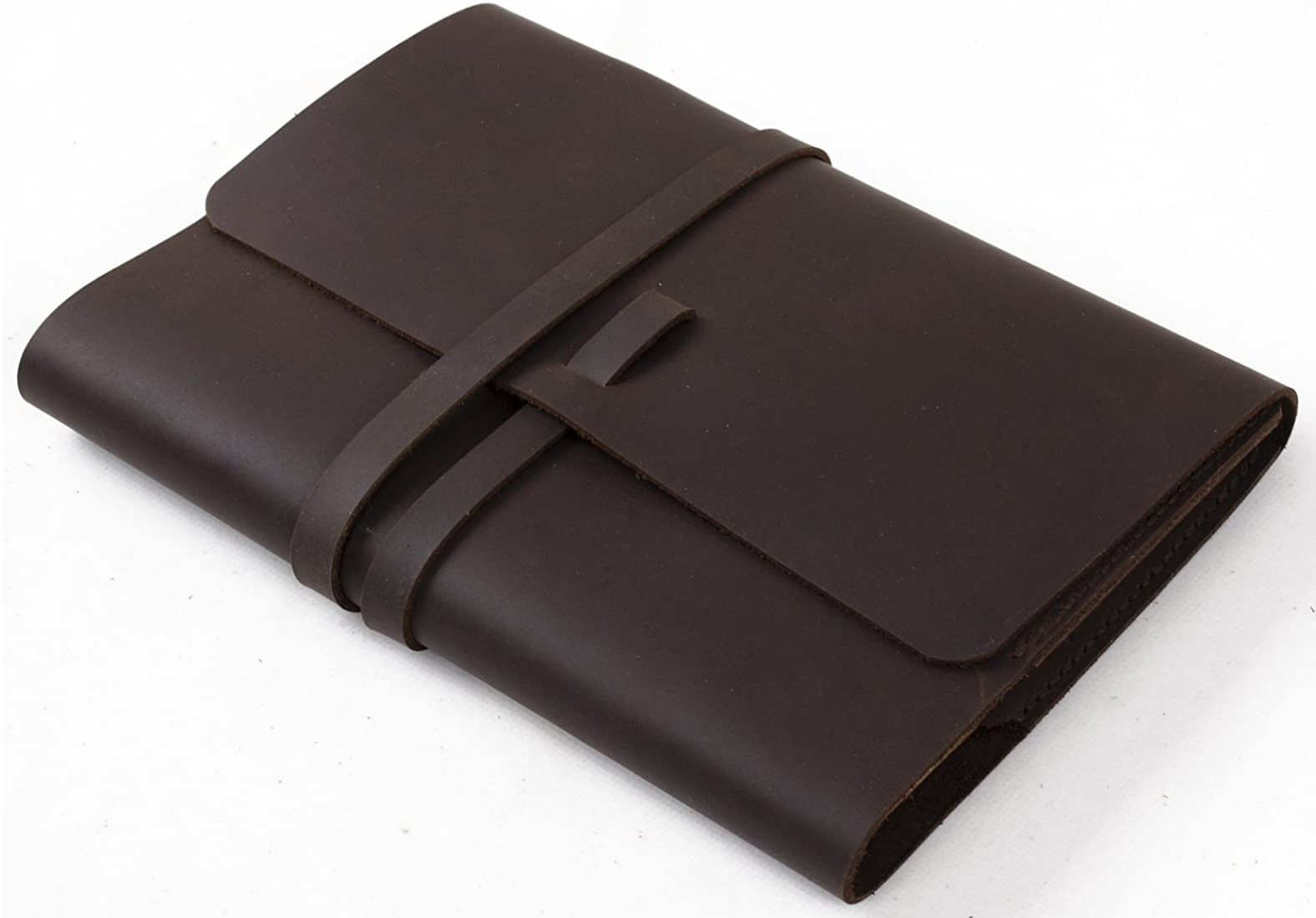 The Ancicraft is a beautiful, elegant, and luxurious notebook with a classic and distinct design. It is also much more than just an ordinary notebook. It's crafted into a beautiful leather journal with pockets that make room for not only the notebook itself but also other accessories like your pen, business cards, and other small items.
It is crafted from top-grade genuine leather which will last for a very long time and only continue to look better and better as it ages. With its great thickness, it reminds a bit of saddle leather. The leather is also really durable and comfortable to hold.
Furthermore, it's not just the leather that is high quality. The overall design and finish are also impeccably well-made- The notebook is even 100% hand stitches. The design feature two pockets that are refillable.
The notebook comes with high-quality thick 100gsm paper that won't bleed through, even when you are using a fountain pen.
The notebook comes with lined pages (A5(5.9×8.3inch/14.5x21cm) which is convenient for writing. The notebook consists of 120 sheets/240 pages, perfect for daily use.
All in all, this one is more about the exclusive journal than the actual notebook, but regardless, it's a great way to store and carry your notebook with you in a stylish and elegant way. Last but not least, it has a convenient pen loop.
---
Ruled Notebook – British A5 Journal by Beechmore Books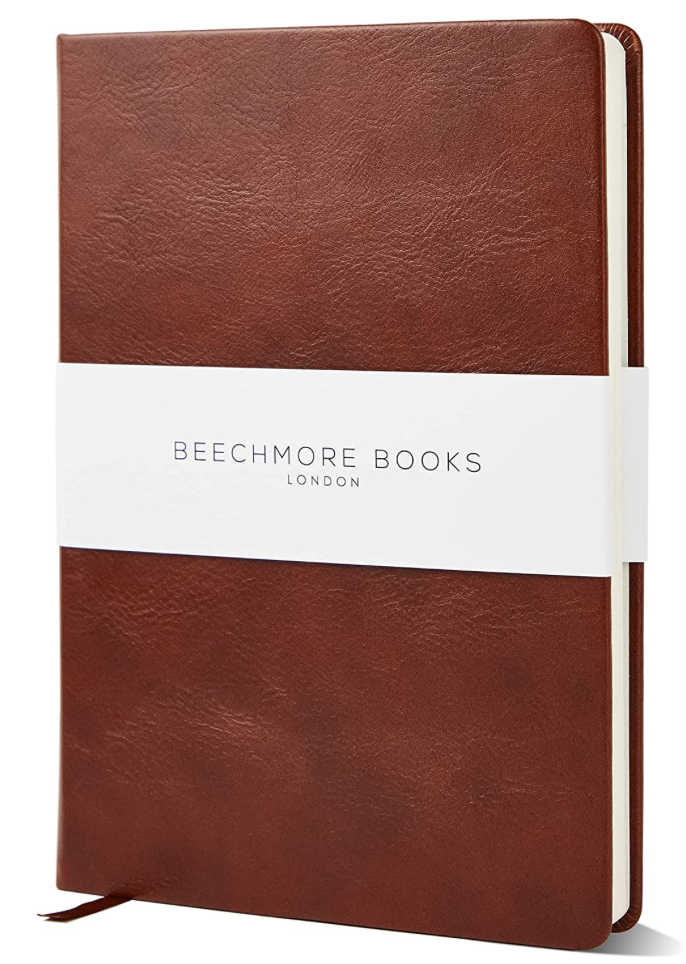 This stylish and elegant notebook is more on the affordable side when it comes to luxury notebooks but it's still stylish and convenient for everyday use. It is available in a number of different colors with a classic, refined, and elegant design. Regardless, the cover of the book has a lovely tactile vegan leather texture exterior which looks really exclusive.
The notebook is equipped with 160 pages/80 sheets with ivory cream pages and 8mm line spacing. To achieve a more luxurious impression and feel, it has been designed with 120gsm paper thickness which enhances the experience. This of course also ensures that the pages do not bleed. The measurements are A5 Large (5.75″ x 8.25″).
The notebook is bound in-house to ensure long-lasting durability. It is designed with a secure elastic closure and a discreet bookmark ribbon. Something that many users appreciate is that it has a 180° lay-flat binding which ensures that it lies completely flat and also makes it easier to make notes with just one hand.
The back of the notebook has a deep pocket that allows you to store necessary documents like business cards, receipts, and more.
---
Refillable Leather Journal Premium Lined A5 Writing Notebook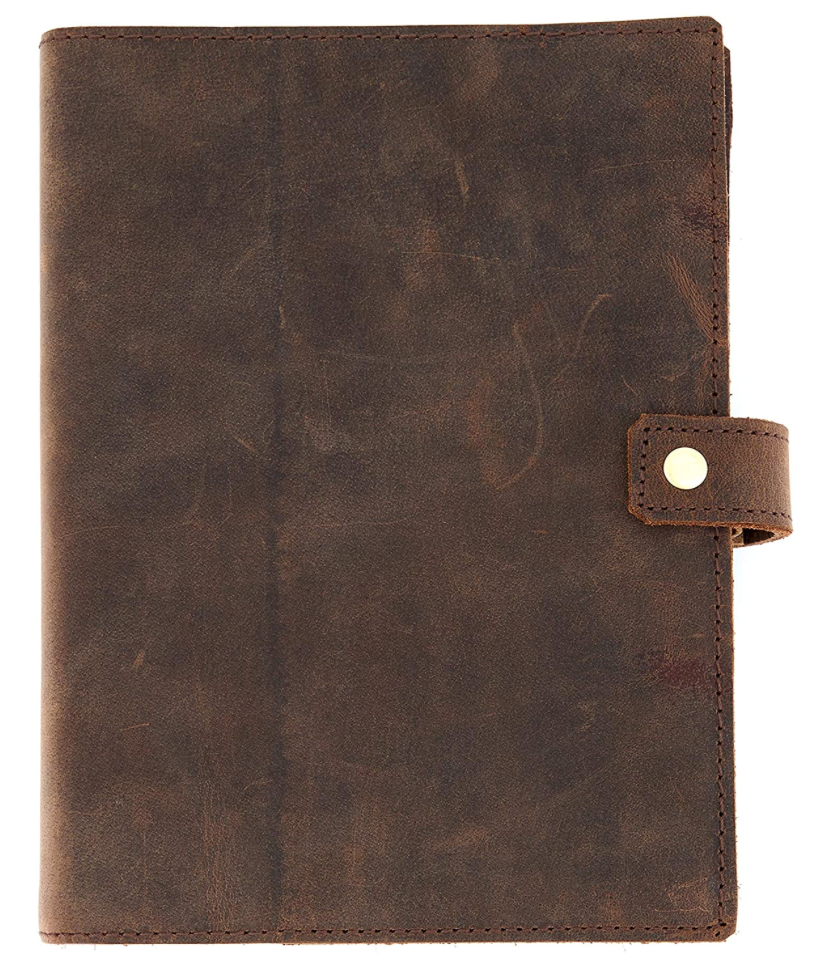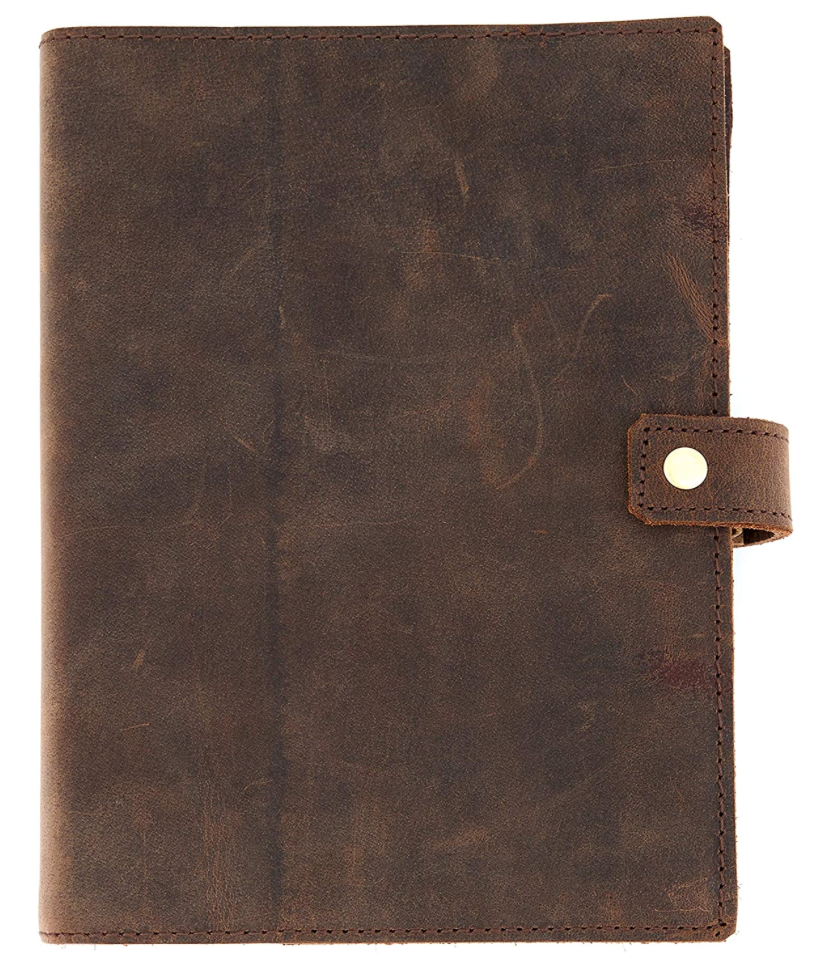 If you're more into heavy, robust, and exclusive leather notebook journals, this is another luxurious choice. Still, priced at less than 50 USD, it's really affordable too. With that said, the notebook definitely punches well above its own weight.
The leather journal is handcrafted from genuine later and feels soft and supple. The qualitative leather also ensures long-lasting durability.
The journal can easily be refilled with most a5 notebooks. On the left side of the interior, it has a pen holder and cardholder slots where you can store additional documents like business cards as well as your pen.
The journal is delivered with a notebook featuring 100 sheets with a 110gsm weight. It uses a 2-sided ruled paper that does not bleed through.
Last but not least, the notebook has a closure which keeps it locked when traveling or keeping it in a bag.
All in all, this is a great choice for a luxury notebook if you're looking for something refined, qualitative, and elegant, but at a reasonable price.
---
LeStallion Nice Leather Journal Notebook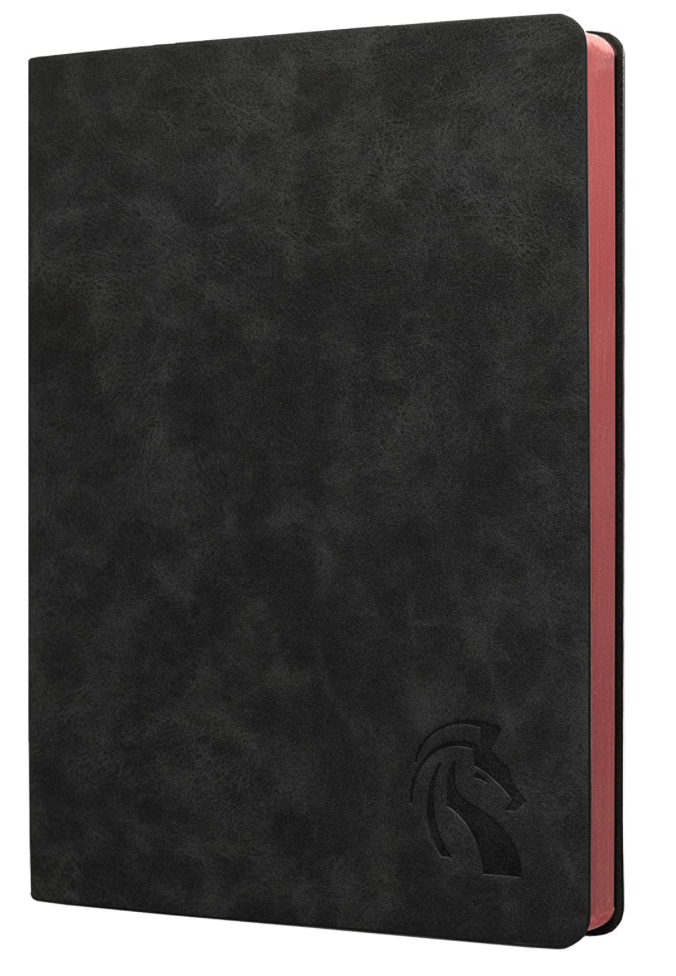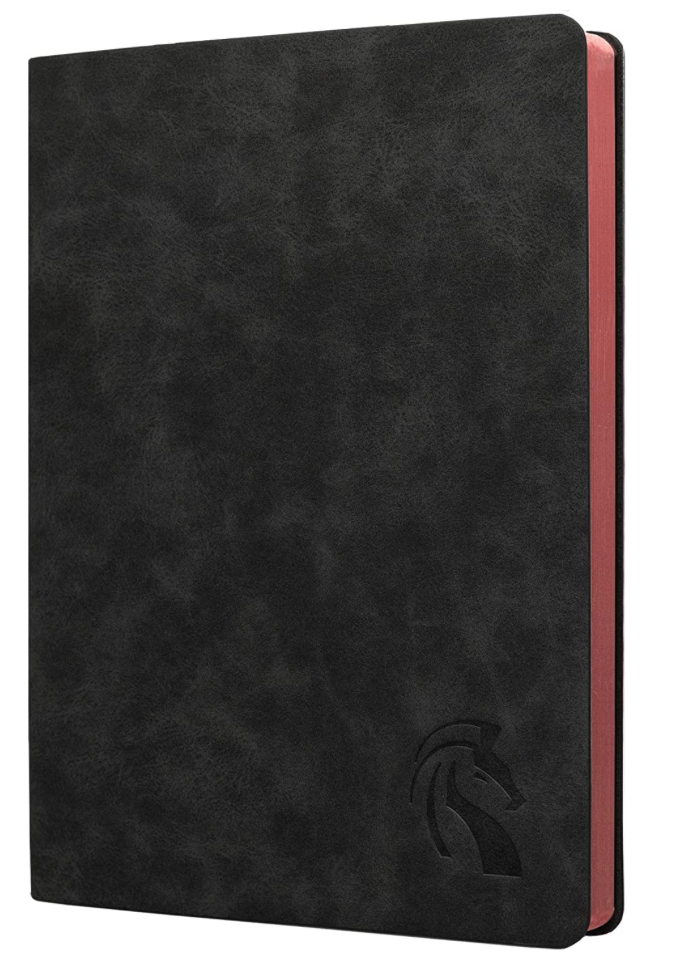 If you're looking for simple, minimalistic elegance and luxury, this LeStallion leather journal is a good choice. It is relatively affordably priced but still has a beautiful finish and quality.
The notebook is designed with a dual-tone faux leather soft cover which both looks beautiful and feels good. It is constructed with extra leather thickness and tight string binding with improved gluing to ensure long-lasting durability.
The notebook features 120gsm paper which is a qualitative, thick, and sturdy paper that will not bleed
In their own words, this notebook lets you "Experience the value of a high-end notebook, one that can inspire you to perform better every day."
The notebook has several useful features like a table of contents, numbered pages, a bookmark, and also a back cover pocket where you can store smaller items.
The notebook is also made to be used for a long time, able to store a great amount of content.
---
Montblanc Notebook Black Lined #145 Fine Stationery 113295 – Pocket-Size Journal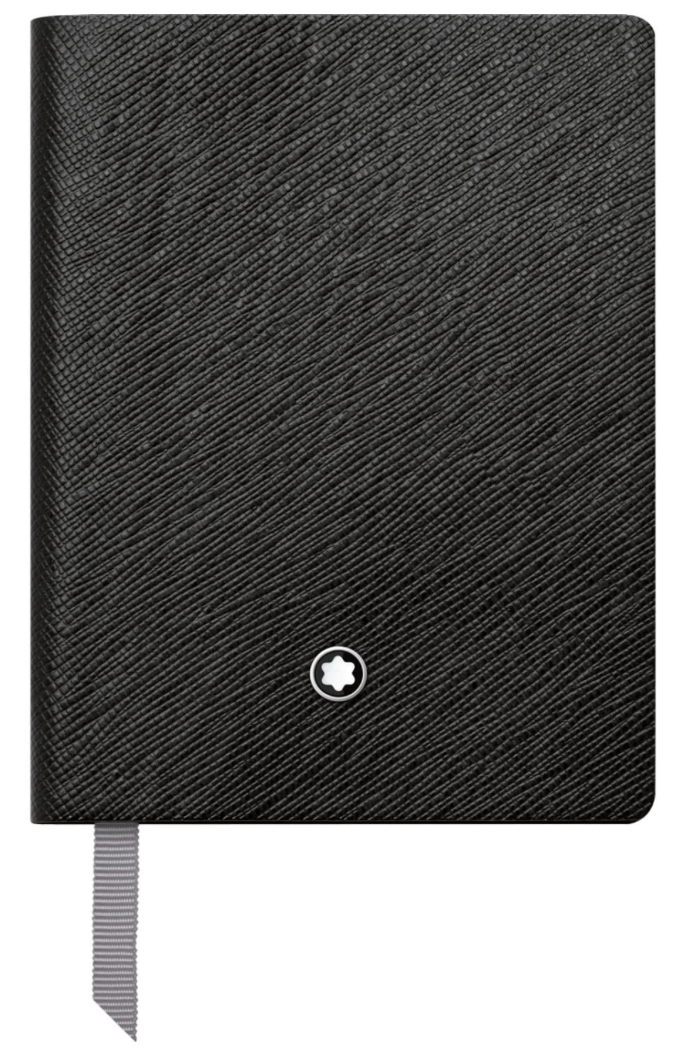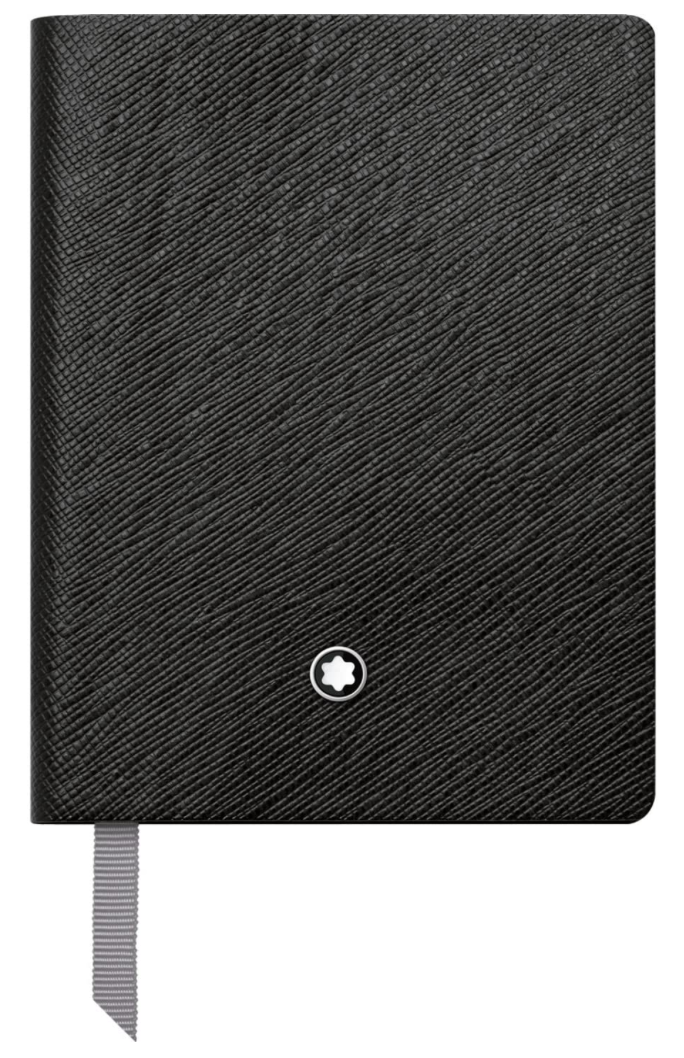 If you're looking for a luxury notebook from a well-known brand, what better choice than Montblanc? Known and appreciated for their luxurious and prestigious writing instruments and accessories, there are few brands that can compete with Montblanc.
This elegant notebook from Montblanc offers exactly what you would expect from a notebook. A sense of elegance, quality, and timeless style.
The notebook is on the smaller side, with dimensions measuring 3.1 x 4.3 inches, which makes it a practical, pocket-size alternative for traveling. It can fit into any bag, drawer, or compartment, making it easy to bring with you at all times.
The notebook is made with qualitative, high-grade paper that does not bleed. Since Montblanc is a luxury brand, they always pay attention to the details, and one such example is the fact that the paper is extremely smooth to write on, making each time writing an enjoyable occasion. For easier writing, the pages have faint gray lines. The paper is also watermarked with the Montblanc logo.
Montblanc's notebook is not some cheap alternative that is mass-produced in China, as to be expected from a luxury product. Instead, the notebook is made in Italy.
The exterior of this notebook is certainly the highlight of this notebook and is a perfect example of Montblanc's impeccable elegance and style. The notebook has a beautiful black textured leather cover which is topped off with a discreet Montblanc emblem. It is crafted from premium Saffiano leather. The notebook has, in total, 128 ruled pages and 70g/m² paper.
All in all, this is a great versatile all-around notebook that has a convenient travel size, making it easy to take notes on the go, and carry it with you at all times. It is finished off with just the level of elegance and luxury you would expect from any Montblanc product.
---
Montblanc Fine Stationery 118037 Notebook Leather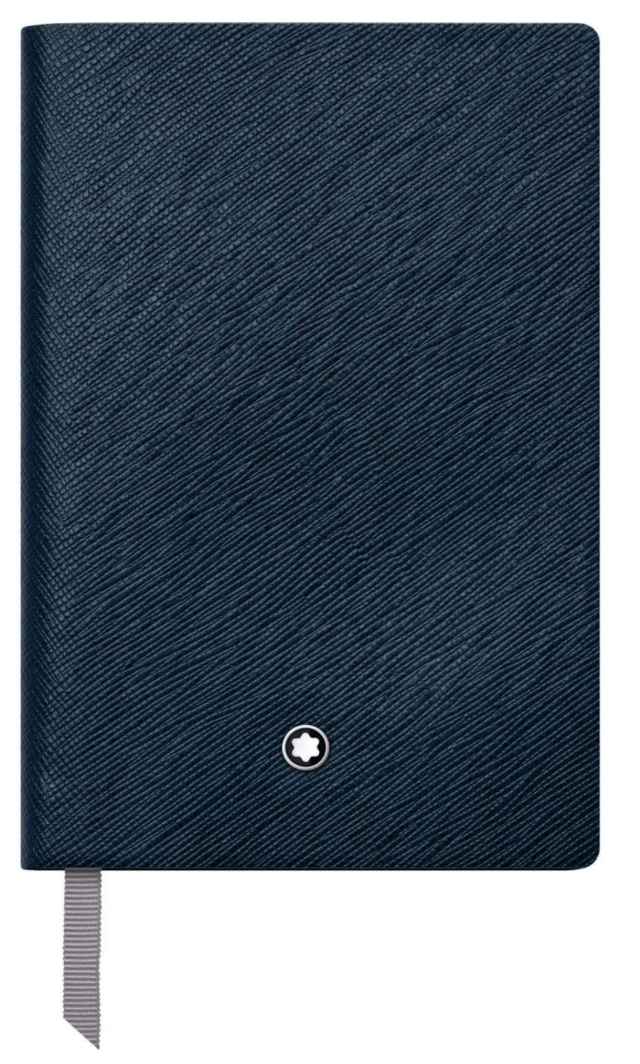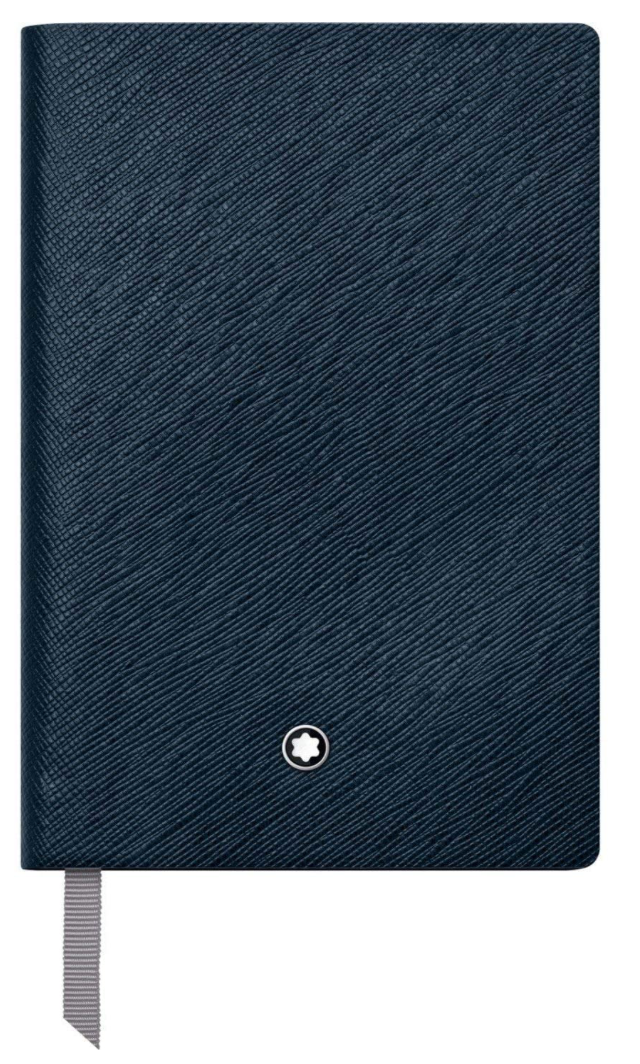 Here we have another Montblanc notebook, similar to the one above but with slightly different dimensions. It is still on the smaller side, making it a convenient pocket-sized travel companion. The notebook measures 14 x 9 cm and is slightly longer than the notebook above. If you prefer longer rather than wider notebooks, this is a better option.
The notebook has a luxurious and sophisticated look with an indigo-colored leather exterior, finished with Italian calf leather with saffiano embossing. The leather has a beautiful texture for added attention to detail and a sense of luxury.
The notebook of course features high-quality 70 g/m² paper, each adorned with a watermark of the Montblanc emblem. As proof of Montblanc's attention to detail, each paper has silver edges, which are complemented by a matching silver bookmark. When it comes to luxury items, it is truly small details like these that make the difference, without forgetting about the premium materials and quality of course.
---
Montblanc Sketch Book Indigo Blank #149 Fine Stationery 116930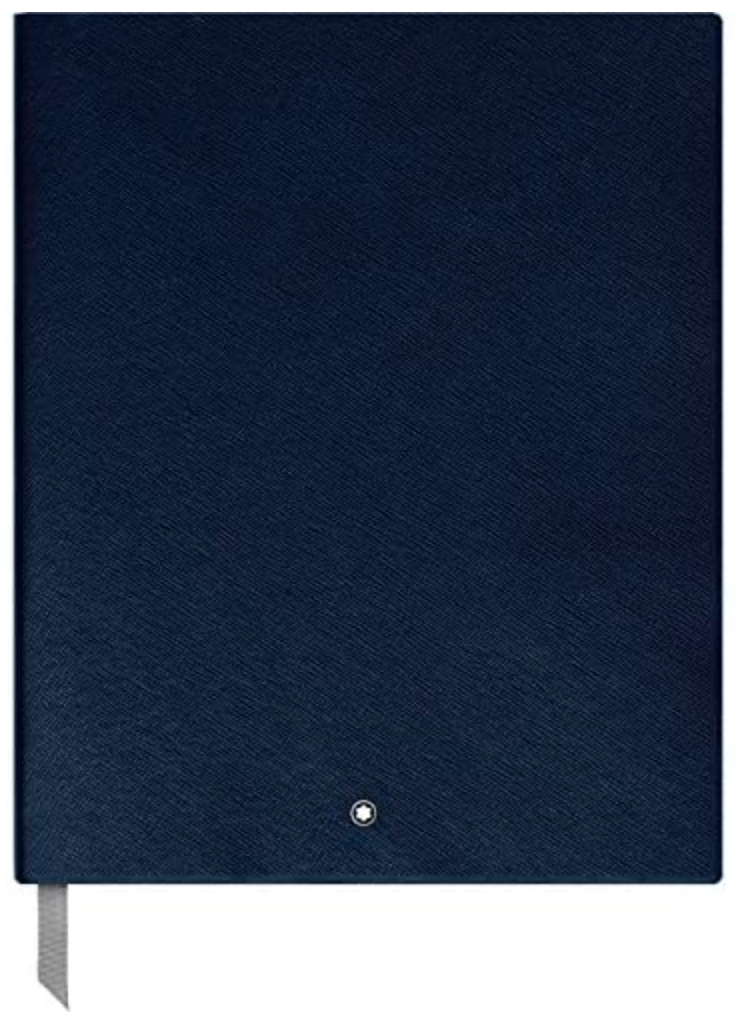 If you prefer a notebook without lines that you can use as a sketchbook and get more creative freedom, Montblanc has just the answer.
This Montblanc sketchbook can be used as both a notebook and a sketchbook where you can paint, sketch, and jot down all your ideas and information.
It retains Montblanc's signature elegant design with a refined look and qualitative materials. The notebook features high-grade paper that does not bleed and has Montblanc's signature smooth writing feel that makes sketching, writing, and jotting a great joy.
The notebook is finished with a beautifully textured leather exterior in navy blue made from the finest Saffiano leather with a discreet Montblanc emblem. Thanks to the beautiful leather exterior, it becomes so much more than just a notebook. It also becomes a stylish accessory that you can proudly carry with you to show impeccable taste and style.
---
3x Maruman A5 notebook Nimoshine 7mm ruled N195A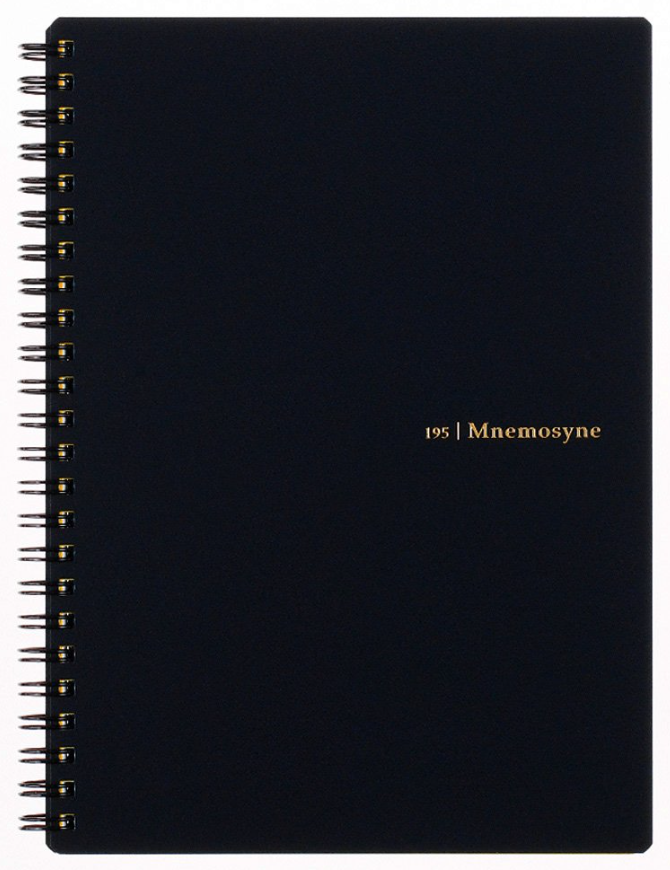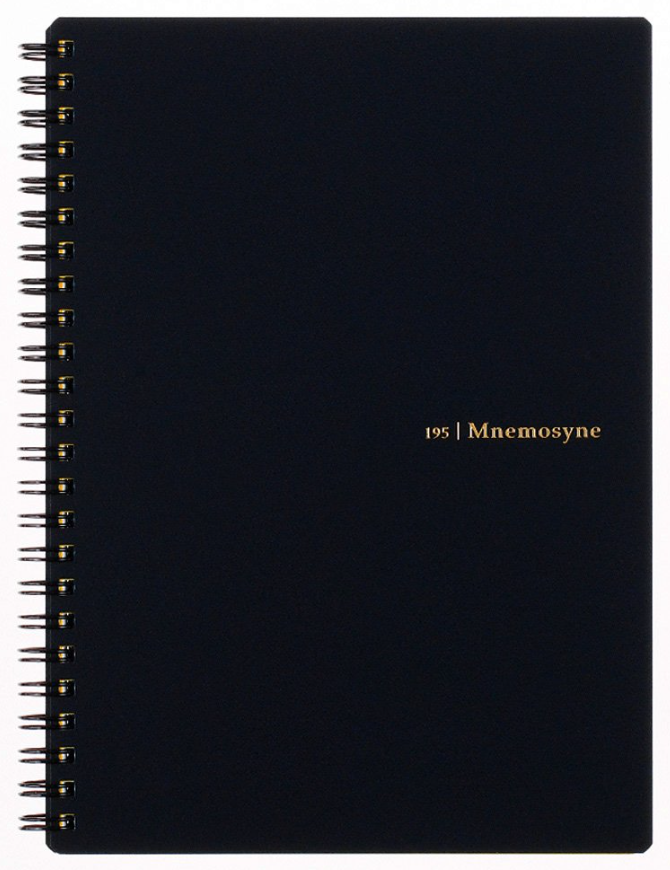 This is a clean, simple, and elegant luxury notebook. But don't let its simple design fool you. This is not your ordinary basic, cheap notebook.
This luxury notebook puts an emphasis on writing comfort and functionality. Made in Japan, this notebook offers both functionality and high quality.
Each sheet is divided into three blocks, made with excellent paper quality that makes writing a real pleasure. Something that a lot of people appreciate is that each page has a title section at the top which makes it easier to navigate among your notes.
If you're looking for a qualitative notebook without all the fuss, this is a suitable option.
---
Montblanc Notebook Black Lined #146 Fine Stationery 113294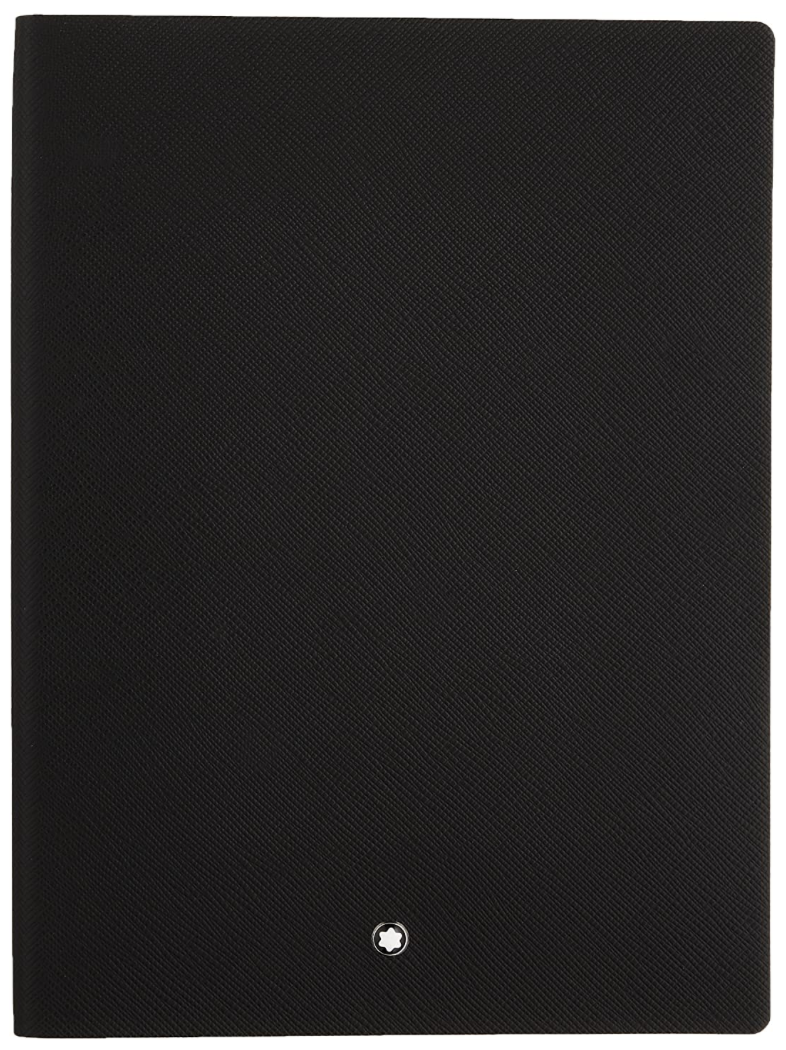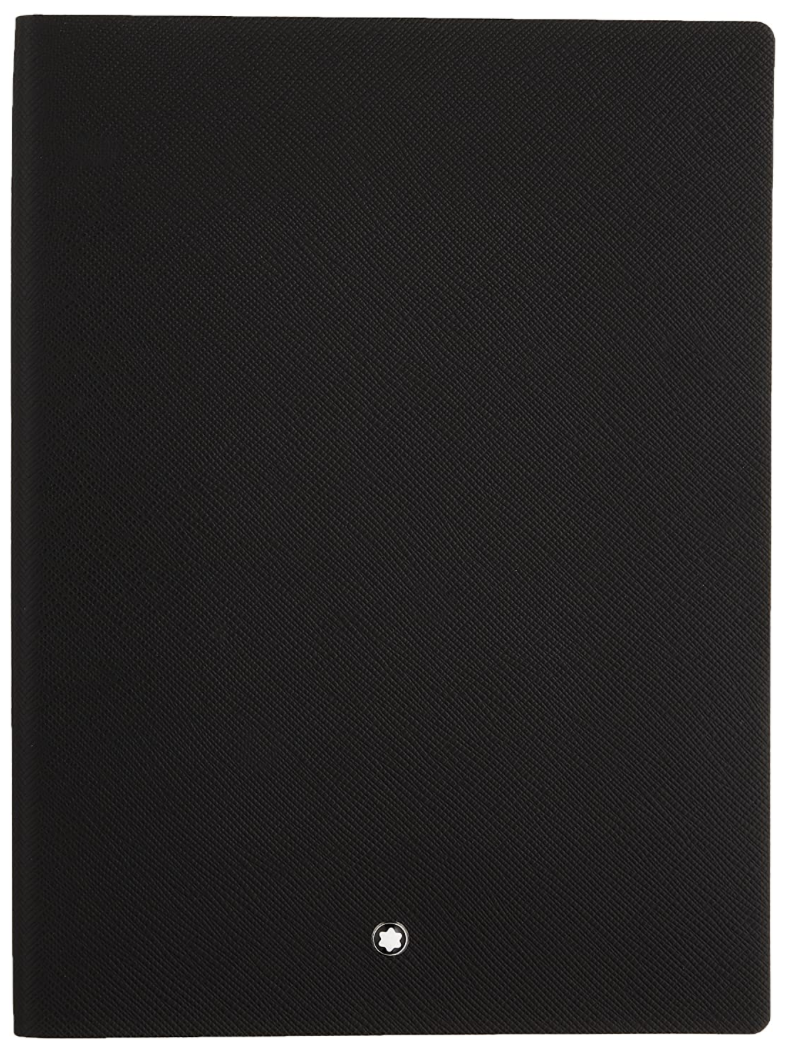 The Montblanc 113294 notebook is the last luxury notebook on our list, but it certainly doesn't disappoint.
First and foremost, it is crafted with Montblanc's signature textured leather exterior which gives a very exclusive impression and feel. The exterior is crafted in fine Saffiano leather with a discreet Montblanc logo on the outside.
The notebook uses Montblanc's signature high-quality paper, watermarked with the Montblanc emblem that makes writing a real pleasure due to the smooth writing feel they give.
The notebook measures 150 x 210 mm and comes with lined paper that doesn't bleed. It has 96 sheets/192 pages with 85 g/m² paper.
With its size, it is a versatile notebook that is easy to travel with and use at any time, anywhere. It also has a fabric bookmark which makes it easy to mark an important page.
The notebook is available in 6 different colors so you can choose whichever suits your taste the best.
For ultimate sophistication, you really cannot go wrong with Montblanc's notebooks.
---
Notebook buyer's guide – what to think about when choosing a notebook
As you have probably noticed when looking for your next notebook, there is a whole lot to choose from.
There are endless different notebooks to choose from, cheap, expensive, small, large, with lines, without, and so on. If you're here, you have already defined one criterion that you are looking for – a luxury notebook, so this is a good start.
A luxury notebook distinguishes itself from regular, cheap affordable notebooks that most people use in a number of different ways. Buying a luxury notebook is not just about trying to look flashy. In fact, to most people, it's not about that at all. In addition, if you want to flash and brag, there are better ways to do so than with a notebook.
Buying a luxury notebook is about appreciation for quality and wanting an object that doesn't just "does the job" but also gives you enjoyment whilst doing something. It's about buying something that you can be proud of, or at the very least, get enjoyment out of due to its sophisticated, elegant design.
Everything we wear and use is a way of communicating to the world who we are and what we are about. A notebook is therefore a way for you to show that you appreciate quality, style, and sophistication. Plus, if you're going to do something, why not do it in style?
But most importantly, buying a luxury object is usually the best way to ensure that you're getting a quality object. Many of the notebooks in our list are designed with replaceable paper which means that you'll be able to use them for many years to come. Whilst some people cannot justify buying a luxury notebook for 50 dollars when they can buy a notebook for just a few bucks that does the same thing. This can be said about basically anything, but those who say that are missing the point. If you consider the enjoyment you're getting out of a qualitative, stylish notebook, paired with the fact that you'll likely be able to use it for several years, all of a sudden, it becomes a very affordable investment. Compare this with a cheap notebook that you'll throw away after just a few weeks or months.
Now, there are a few things you should consider when buying a notebook to ensure that you find the one that suits your needs, taste, and preferences the best.
Type of paper
When it comes to the paper of a notebook, there are a few things that can differ. First and foremost, we have the thickness of the paper. Luxury notebooks tend to have thicker paper. Partly for the quality and longevity, but most importantly, for the feeling, it gives you when writing.
Writing in a notebook with thick, qualitative paper just gives you that special sense of occasion and enjoyment that a regular notebook, with thin paper, doesn't give.
Still, luxury notebooks have a different paper thickness, so this is something you want to consider.
Something that differs from different notebooks is the way their pages are designed. Some notebooks are blank which gives you full creative freedom when sketching and jotting down notes.
Some notebooks have lines that make it easier to write, and some have titles, calendars, and so on.
With that said, it's important that you decide what type of notebook you want. Do you want a notebook that gives you more creative freedom or do you want a classic notebook that allows you to write regular notes?
Exterior
Next, we have the exterior.
As you can see above, luxury notebooks are available in many different designs and styles. Many of them have leather exteriors because this is the most exclusive and practical exterior material to have in a premium notebook. It looks good, it's stylish, and it gives a very elegant impression.
Think about which color on the exterior you want. Do you prefer classic brown leather or do you want something sleeker like navy blue or black?
Replaceable paper or not?
Many luxury notebooks have replaceable paper which allows you to change the note papers inside once you have used up all the paper in the notebook.
And there's of course a good reason for this. With a regular, cheap notebook, you simply toss it away once it is done, or save it. But when you have bought a nice, leather notebook, it doesn't make sense to throw it away when you have finished it. This is why many of them offer the possibility of replacing the paper when you have finished it, so you can continue to use it year after year, get your money's worth, and get great enjoyment from it for many years to come.
In general, luxury notebooks that offer the possibility of replacing paper tend to be more expensive than those that do not have them. This is because there's really only really a point in having replaceable paper for notebooks that are meant to be used for years and years.
Compartments
Last but not least, some notebooks are designed as journals to have more compartments and slots for the storage of additional items like business cards, papers, and pens. Not all notebooks have these compartments which are why you want to consider whether you need or want them.