Casio Diver 200M MDV-106G-1AVCF Review & Complete Guide
Is it possible to get a cheap dive watch that has high quality and finish, but at the same time is elegant and stylish? Yes, turns out you can. It is called the Casio Diver 200M MDV-106G-1AVCF.
Considering its extremely affordable price tag of only bout 50 USD, it becomes very evident when you look at the specifications that there are few watches that offer as great value for money as the MDV-106G-1AVCF.
Casio Diver 200M MDV-106G-1AVCF Review
The Casio MDV-106G-1AVCF is arguably one of the best dive watches in this price range. After having owned this watch, the first impression that comes to mind is that this watch cannot possibly cost 50 USD. Now, don't mistake this for giving the impression that it is a luxury watch, because naturally, there are still indications that it is an affordable watch we are dealing with, but not a 50 dollar affordable!
The design of this watch is simple, clean, and sporty. Its looks are exactly what comes to mind when you think of a dive watch. But unlike many other dive watches in this price range, this watch actually has a water-resistance to reflect its purpose. Different from most affordable dive watches in this price range, the MDV-106G-1AVCF can actually be used for diving. This alone is rather impressive.
The original of this watch has all black, but for this version, Casio decided to add gold accents to give it a more elegant and luxurious look.
In this article, we are reviewing and looking closer at the Casio MDV-106G-1AVCF and what it has to offer.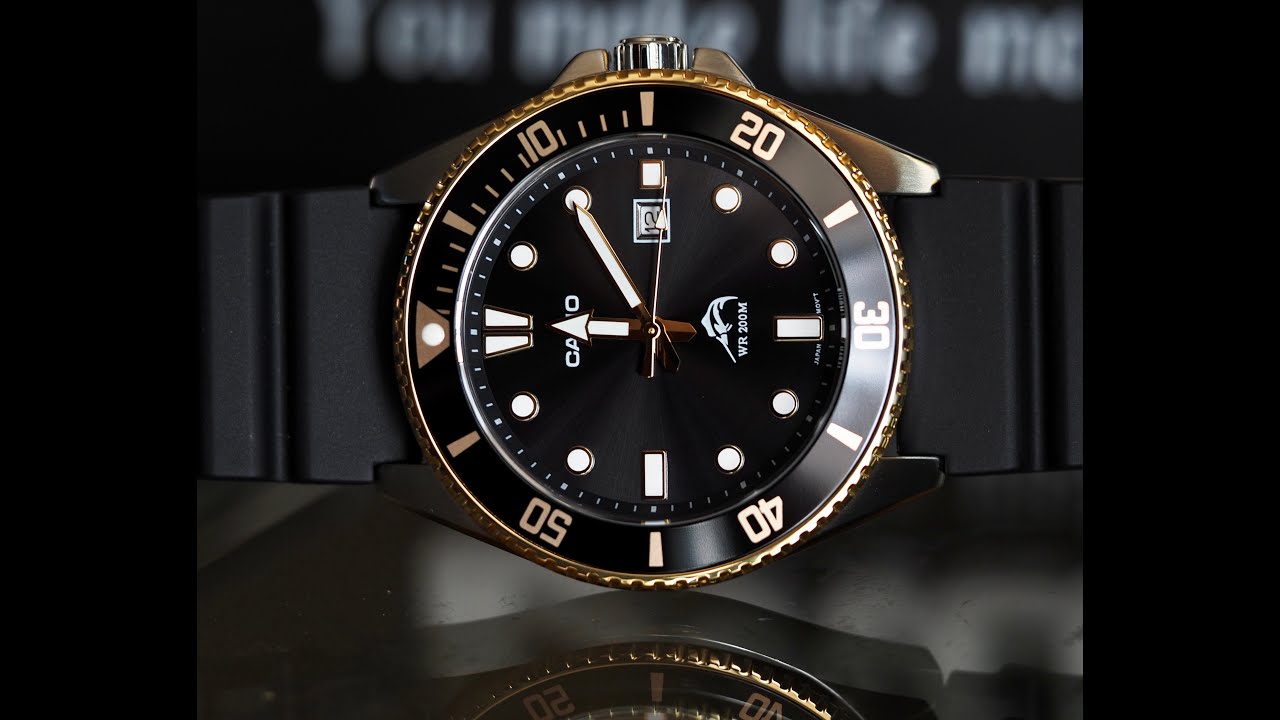 Casio Diver 200M MDV-106G-1AVCF Case
The Casio Diver 200M MDV-106G-1AVCF features a sporty stainless steel case with a diameter of 44mm. The case has a lug width of 22mm and a lug-to-lug measurement of 48mm.
To add to its tool-like look, it has satin-brush lugs and polished sides. A nice detail that enhances the feeling of quality is that this watch has beveled edges that are polished. This creates a nice contrast against the brushed finish and also shows that Casio, despite the price of this watch, has really paid attention to the details.
To keep the crown protected, the watch has pointed crown guards. As this is a dive watch, it has a screw-down crown.
Crucial for a dive watch, this watch has a unidirectional rotating bezel with a black aluminum insert. For this particular watch, the markings on the bezel insert are printed in gold. The bezel of the watch is colored in gold and has a coin edge. At 12 o'clock on the bezel, it has a luminous pip so you can also read the bezel in the dark.
The watch offers a water-resistance of 200m which is the least we expect from a dive watch – but again – uncommon for watches in this price range. This means that you can go swimming and diving with this watch without having to worry.
Sitting flat on top of the case is mineral glass.
The watch weighs in at 92 g which can be attributed to the quartz movement and the use of a resin strap instead of a steel bracelet. The watch has a screw-down solid metal case back.
Casio Diver 200M MDV-106G-1AVCF Dial
The Casio MDV-106G-1AVCF has a lovely symmetrical and easily-legible black dial with warmth from gold indices and hands.
The dial is just as you would expect a dial of a dive watch to be. Black, large markers, rich amount of luminous material, and broad hands, which enable easy legibility, even in low lit conditions (such as when diving).
On the outer edge of the dial, you find a chapter ring with the second markers printed in white. The dial is black, but not flat black. Instead, it has a lovely sunburst brushed finish which reflects the light beautifully. The sunburst finish is really what makes it pop together with the gold.
As mentioned, this watch has applied markers. To match the two-tone (gold and steel) theme, these are gold-colored and have a rich amount of luminescence on them. The markers are circular, with the exception of the 12, 3, 6, and 9. On the dial, you'll also find a date window placed at 3 o'clock. In my opinion, the date window with its white background and black printing does not disturb that much as it is balanced via the rectangular hour marker at 9 o'clock. Plus, a date indicator is always a helpful feature.
Moving on to the hands, you will see that these are also gold painted.  The minute hand has a sword shape with lots of lime applied. The hour hand has an arrow tip, and the second's hand looks like an arrow.
The dial printing is kept at a minimum, with only the Casio logo, "WR 200M" and a swordfish symbol, which is quite appropriate to go with the theme of this watch.
Overall, the dial is really clean and stunning. Most importantly, it has great legibility, and the gold accents allow it to really pop.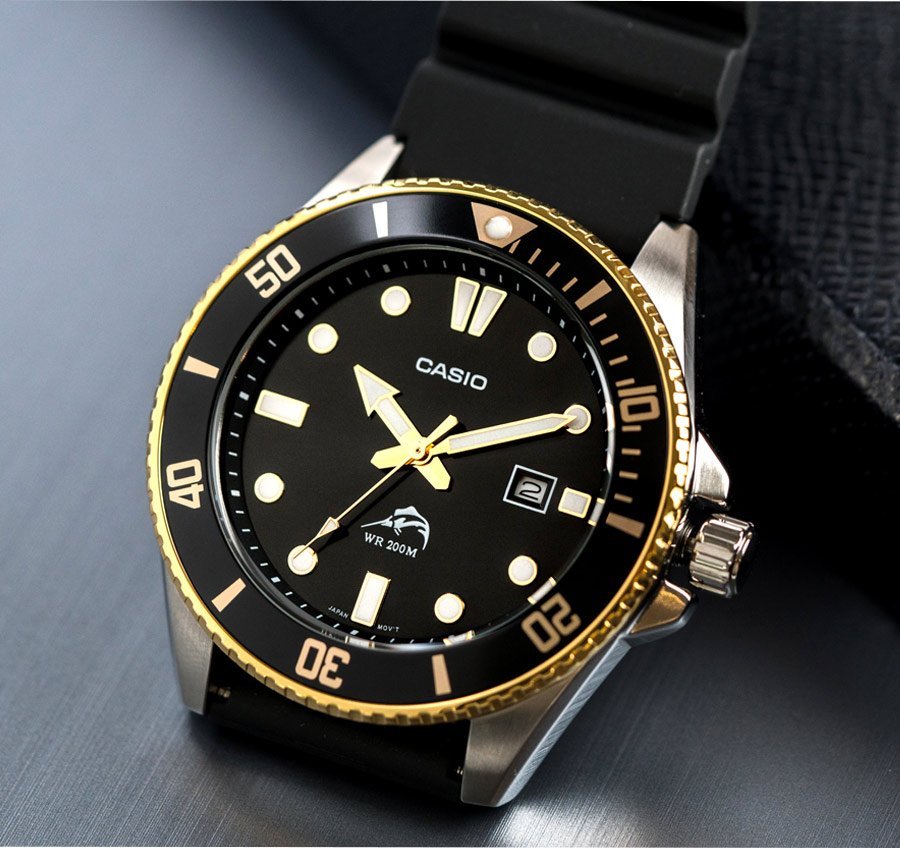 Casio Diver 200M MDV-106G-1AVCF Movement
The Casio Diver 200M MDV-106G-1AVCF is powered by a quartz movement. Many watch enthusiasts and nerds will shy away from this, but whilst I also favor mechanical watches for their charm and craftsmanship, the MDV-106G-1AVCF is just a fun and stylish beater for the times when you want to wear a watch without worries. Again, bear in mind its price.
Because of the quartz movement, the watch becomes very light. Despite its size, it will, therefore, sit very comfortably on the wrist.
Casio Diver 200M MDV-106G-1AVCF Strap
The watch is presented on a matching black resin strap. I find this strap rather comfortable actually. The resin strap is soft yet somewhat sticky.
A rubber strap, of course, goes well with the design of a dive watch, but the primary benefit, I think is the following:
When it comes to affordable watches, the bracelet is usually what is compromised with the most. With that said, if this watch would have had a metal bracelet, it would likely be rattly, hollow, and feel low-quality, which would have a substantial impact on the overall feeling of quality of this watch.
Conclusion
At its core, the Casio Diver 200M MDV-106G-1AVCF is a classic and stylish dive watch. Its design is very simple, timeless, and clean, but has been refreshed with a lovely twist of yellow gold. Best of all is that this watch is extremely durable. It can take a beating and handle harsh conditions, without you having to worry. It will continue ticking for years to come.
The dial is easy to read and considering the build quality of this watch, it is hard to believe it costs less than 100 USD. Whenever I get the question of the best dive watch for under 100 USD, this and the all-black version of this is always my answer. 
The Casio AE1200WHD-1A is available to order on Amazon.