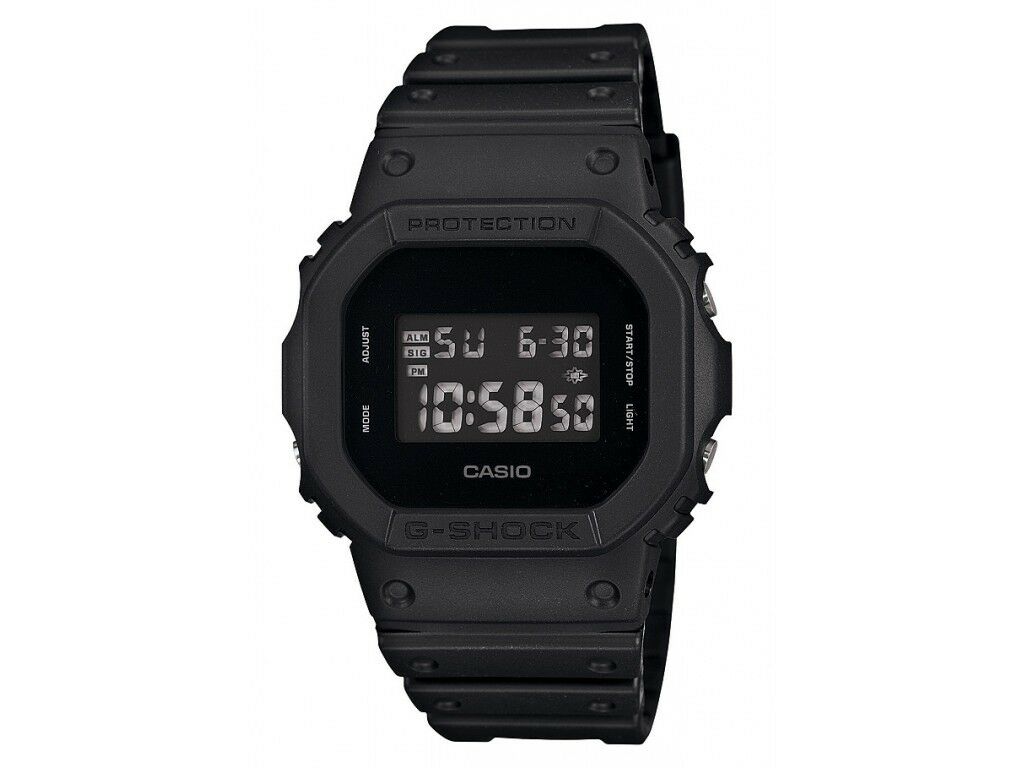 Casio G-Shock DW5600BB Review & Complete Guide
The Casio G-Shock has been made in more iterations than we can count. But that's also the charm of the G-shock collection. Appreciated for its robust build quality and exceptional durability, the G-shock watches are built to last and have a sporty and cool appearance.
There is a good reason why the Casio G-Shock has amassed such a huge following of fans and wearers. There just something special about the G-Shock watches and what they offer. Packed with functions, built more solid than no other, this collection is praised and appreciated all around the world. Because of its huge popularity, Casio has released countless different iterations to serve and appeal to its audience. With that said, you can be sure to find a G-Shock that you like.
The Casio G-Shock DW5600BB is one of them. But this is a Casio watch that is not your classic round and bulky timepiece. Instead, this watch has a rectangular design and is slimmer and neater on the wrist than many other G-shocks. And with its sporty all-black look, it also has a cool and bold design. With that said, if you are looking for a watch that stands out from most other classic G-Shocks and wants something that is a little more versatile for everyday wear, the Casio G-Shock DW5600BB may be a watch for you.
Without further ado, let's review this timepiece and see what it is all about.

Casio G-Shock DW5600BB case
As already pointed out, the design of this watch is a bit different from what most people would think about when they think about the G-Shock. But that isn't a negative thing.
Instead, thanks to its design, it not only stands out from the crowd but it also becomes more versatile thanks to its sleek profile. But at the same time, it still offers the same robustness and durability as we have come to expect from the G-Shock range. We'd certainly call this the best of both worlds.
This watch has been designed with an "all-black" look which a lot of people will appreciate. It adds to its sporty appearance and gives it a "cool factor".
On top of the case is a mineral crystal. This is not as tough as a sapphire crystal, but at this price point, it is what we can expect.
In traditional G-Shock style, the case is made in resin plastic. This makes the watch more durable, shock-resistant, and anti-magnetic, whilst also ensuring that it will continue to look good for many years to come by not acquiring scratches or looking worn the same way a steel watch will.
A sporty watch of course needs a good water resistance, and this watch has a water-resistance of 200m/660 feet, which makes it suitable for essentially any water activity that you may subject it to.
As mentioned, the case has a rectangular/square design, and this allows the watch to wear slightly different from traditional watches. This is why this watch actually wears smaller than what its dimensions may suggest. To protect the case and the screen, the bezel protrudes so that it sits above the screen. The case also has "bumpers" on the sides of the case to protect it further, including its buttons.
Flipping the watch around will reveal a stamped metal plate.
Casio G-Shock DW5600BB dial & functions
As a G-shock should, it has lots of different functions.
Unlike some G-Shocks, this watch does not have an analog display, but instead, it features a digital screen that displays all the information. 
The watch has a negative display in order to go with the all-black look. This may affect the legibility somewhat but despite this, the legibility is relatively good. For improved legibility, it has an EL backlight.
The watch is powered by the 3229 module which uses a CR2016 battery. It has a battery life of about 2 years. It offers all of the functions you would expect from a G-Shock including a 1/100 second stopwatch, alarm function, an auto-calendar till the year 2099, and a countdown timer.
This movement has an accuracy of +/- 15 seconds per month. Missing is what would've been a very useful second timezone.
This watch features 4 pushers which are adjusted, mode, start/stop, and the light button. Since this watch doesn't have as many functions as the more serious G-Shock watches which makes it slightly easier to keep track of all the different functions.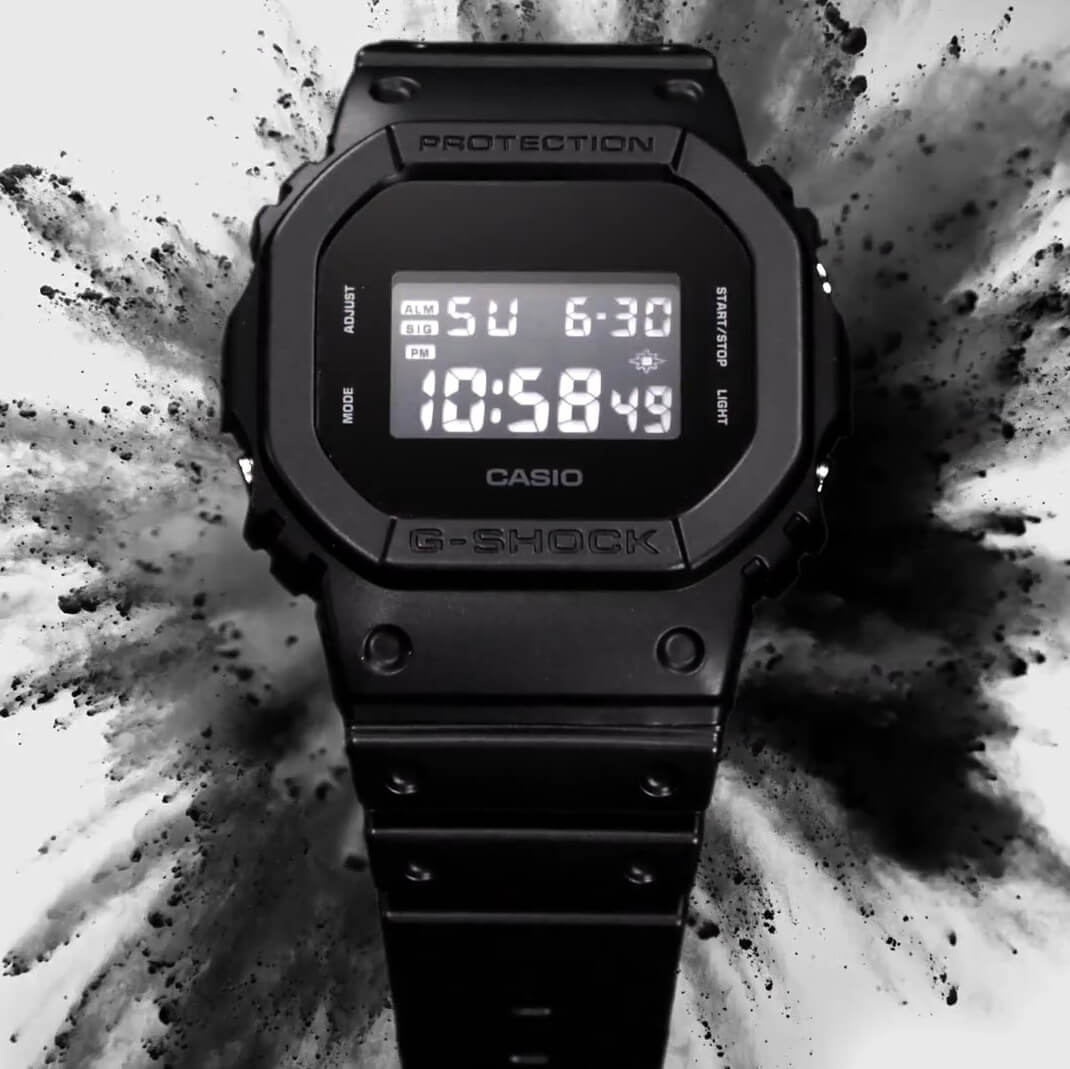 Strap
The watch is presented on a black resin strap which matches the case perfectly and integrates into it very well. The strap is held in place with spring bars, but the integrated design is very well integrated and looks seamless, creating a nice and sleek look.
The strap is rather comfortable on the wrist and also very durable. It doesn't really acquire scratches, and it is also very easy to clean.
Not much more to say about the strap other than that it is a good match to this model.
Specifications
Case: resin
Strap: resin
Diameter: 42.8mm
Lug to lug: 48.9mm
Thickness: 13.4mm
Movement: Quartz Module 3229
Battery life: approx 2 years
Crystal: Mineral
Water Resistance: 200m/660 feet
Conclusion
The DW5600BB is a modern and refreshing take on the Casio G-Shock. This watch has been made to be more elegant and versatile for everyday wear with a slightly smaller and more sleek presence on the wrist. Thanks to its rectangular shape, it will also sit very well on the wrist.
The all-black design gives it a sporty and appealing appearance that a lot of people will enjoy, whilst at the same time not compromising on robustness and durability.
Whilst it is different in many ways, it still offers much of what we expect from a G-Shock. It is robust, durable, and will hold up well against any harsh conditions you may subject it to. There is a reason why the DW5600BB is one of Casio's most popular G-Shock watches.