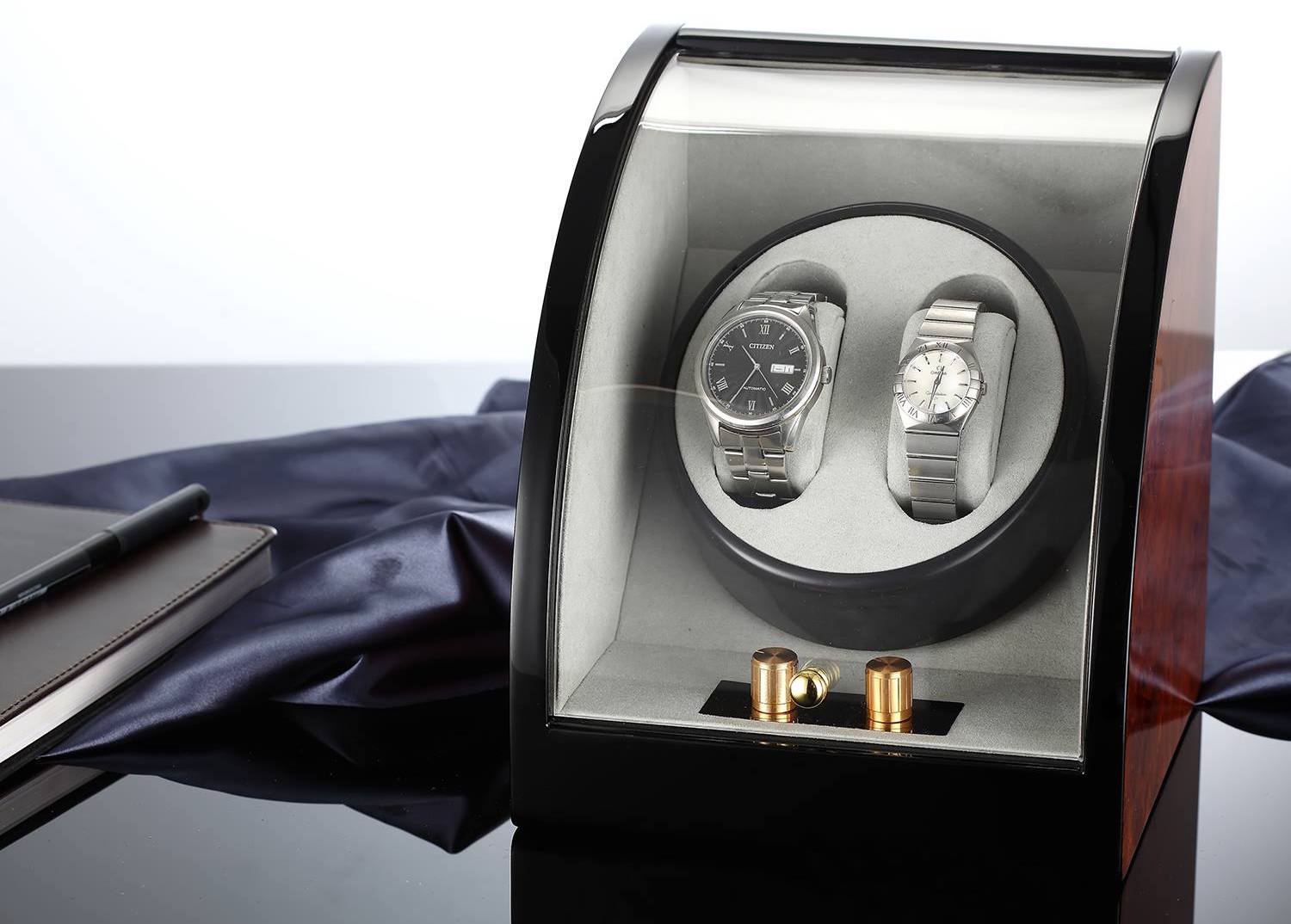 Chiyoda Watch Winder Review [Best Winders]
Chiyoda is one of the go-to brands for many people when it comes to high-quality watch winders that offer great value for money. In this article, we are reviewing Chiyoda watch winders and looking closer at some of their most popular products.
First off, Chiyoda watch winders are known for offering great value for money. They are reasonably priced, but at the same time also offer high-quality, beautiful designs, and qualitative materials.
We have said it many times before, but the single most important factor when it comes to watch winders is the motor. There is a general discussion of whether or not watch winders damage your watch, and the real answer to that question is that they may. But only if you opt for a cheap, low-quality watch winder. This has to do with the fact that cheap watch winders usually use cheap, low-quality motors to wind the watches. As a result, they tend to rotate at turns per day and at speeds that are not ideal for watches. As a result, they may overwind your watches and cause unnecessary wear to your movement. In addition, some affordable watch winders are also magnetic, which can also have a negative effect on your watch.
With that said, there are some things you can compromise with but watch winders shouldn't be one of those things. You will save money in the short term, but in the long term, it may mean that you need to service or repair your watches, which can mean a service bill that is far higher than the money you "saved" on buying a cheap watch winder.
High-quality watches winders have high-quality motors which are optimized for watches and to minimize unnecessary wear on your watch. Usually, they have adjustable turns per day, rest modes, and are non-magnetic. If you invest in a quality watch winder, you won't have to worry about it damaging your watch.
Chiyoda Watch winder review
Chiyoda watch winders use Mabuchi motors which are relatively quiet. Since these watch winders are not the most premium on the market, they are not dead-silent, but if you keep them across the room, you won't hear them when you are sleeping.
Furthermore, Chiyoda watch winders offer the ability to set different turns per day settings which is a great thing as it means you can adjust the settings depending on your watch's needs. Remember the different watches have different needs when it comes to turns per day. The usual turns per day settings are 650/900/1350/180, but it varies depending on the model you opt for. Like most quality watch winders, they can also rotate bi-directional, clockwise, and counter-clockwise.
Also, these watch winders have rest modes which is a key feature that you should be looking for in a watch winder. This minimizes the risk of overwinding and unnecessary wear to your winder. The winders also offer lots of different selections when it comes to winding modes so you can set them according to your needs and wants.
Chiyoda watch winders are handmade and often use stylish and qualitative materials such as glass, wood, soft fabrics, and leather. The interiors are designed to protect your watch and avoid damaging or scratching them.
Something that is worth pointing out is that some people experience that the motors become a little louder over time with Chiyoda's watch winders. This doesn't come as a surprise since it is very common with most watch winders, except for the most expensive variants. It doesn't happen to all of them, but the question is if this is something you can overlook, or if you want to invest in more expensive alternatives.
What we can conclude, however, is that the Chiyoda watch winders still offer great value for money and offer lots of functions that you may want in a watch winder.
Let's look closer at some of the best and most popular Chiyoda watch winders that the brand has to offer.
Best Chiyoda watch winders
As an Amazon Associate, we may earn from qualifying purchases, at no extra cost to you.
---
Chiyoda 2 Watch Winder case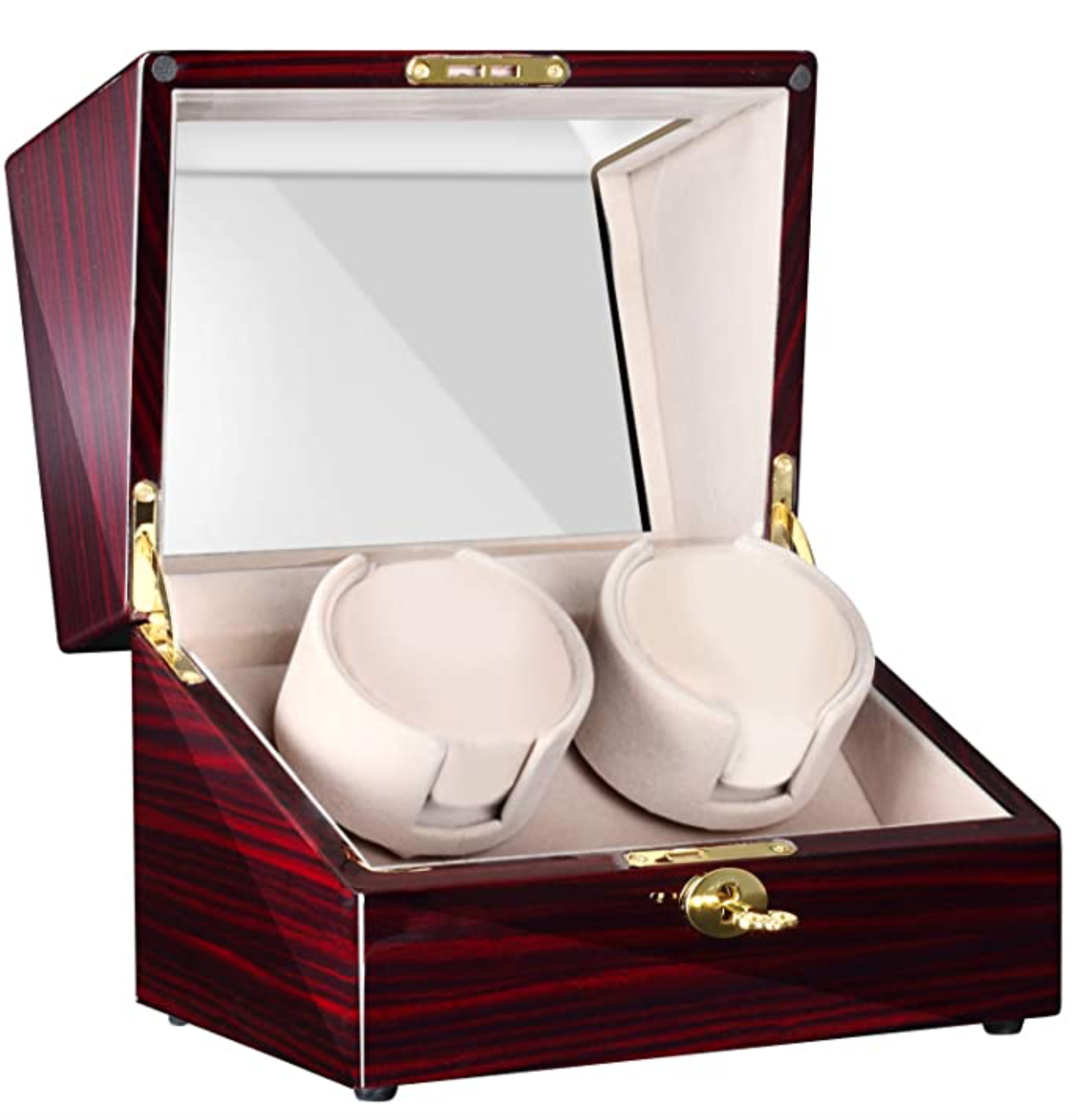 This is an elegant and classic watch winder from Chiyoda with room for two watches. It is made with a high-glossy piano baking varnish and a large window which provides a good display of the watches inside. The winder has a lid that protects the watches from dust.
The watch winder is powered by 2 Mabuchi motors and is operated via an LCD screen. The motors operate independently from each other which is great since it allows you to adjust each winder for each respect watch. They can rotate clockwise, counterclockwise, and bi-directional. They also offer 4 turns per day settings (2000-1300-990-650) in order to prevent overwinding.
All in all, this is a great watch winder with a good amount of settings that makes it suitable for all watches. Its classic and luxurious design ensures that it blends into your home nicely.
---
Chiyoda Watch Winder for 4 Watches + Storage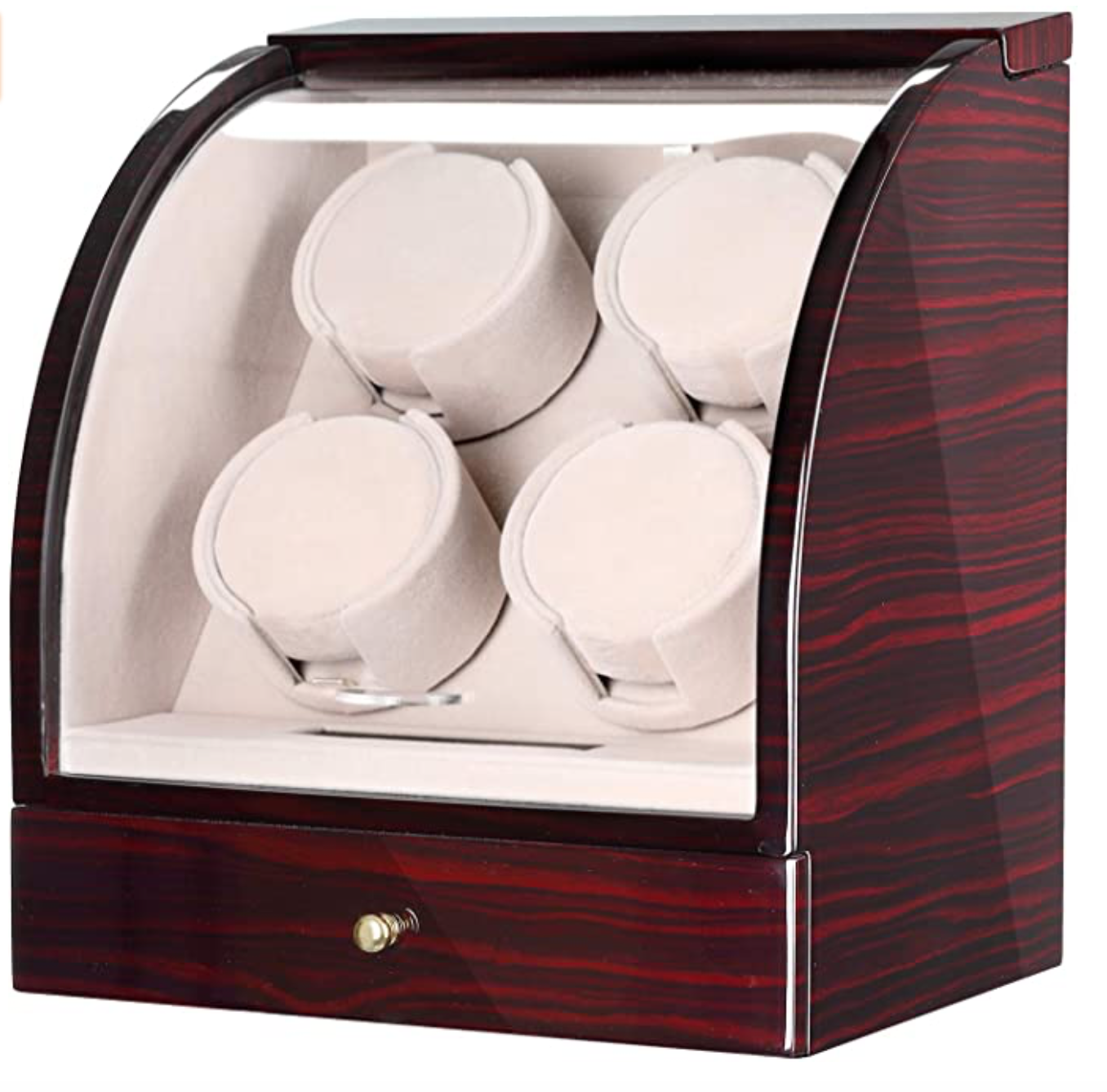 If you have a larger collection of watches, up to 4 timepieces, this stylish watch winder from Chiyoda may be a great alternative. It has a sleek curved design with a large window that allows you to see the watches inside. The winder is handmade and finished in wood with a high-gloss lacquered finish. The watch winder has a soft interior that protects the watches and keeps them protected.
The watch winder has four independent motors which allow you to set them all independently depending on your watch's needs. It also has 3 additional storage slots where you can store additional accessories such as straps. The motors are operated via a clear backlit LCD touch panel and have 4 turns per day settings (650-990-1300-2000). They can rotate clockwise, counterclockwise, or both. The motors have been optimized to minimize sound, and the Japanese Mabuchi motor has proven to be robust and long-lasting. The design of the watch winder has also been designed to isolate the sounds from the motors.
With its elegant and luxurious design, this one is sure to blend into any home perfectly.
---
Chiyoda Quad Watch Winder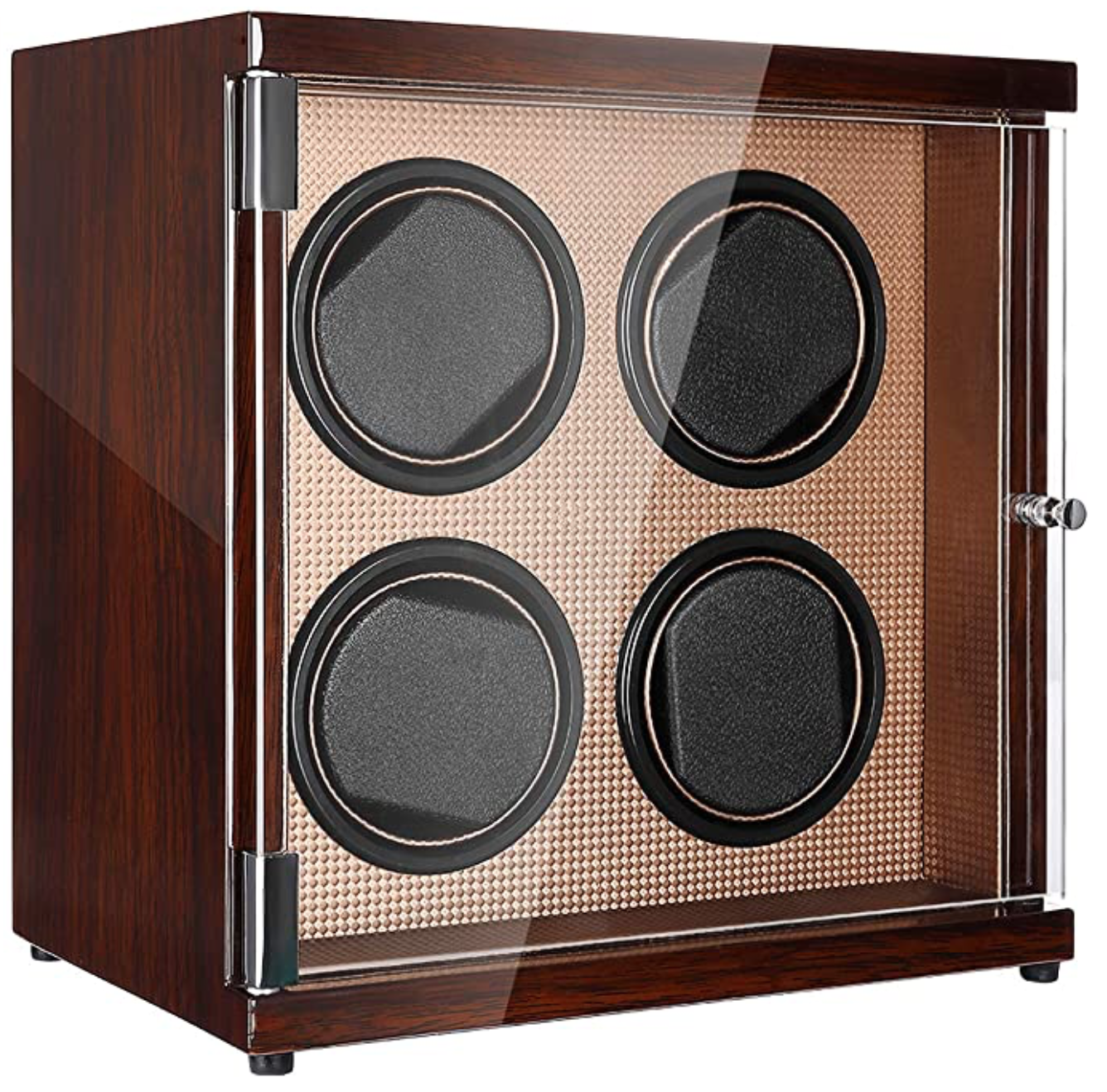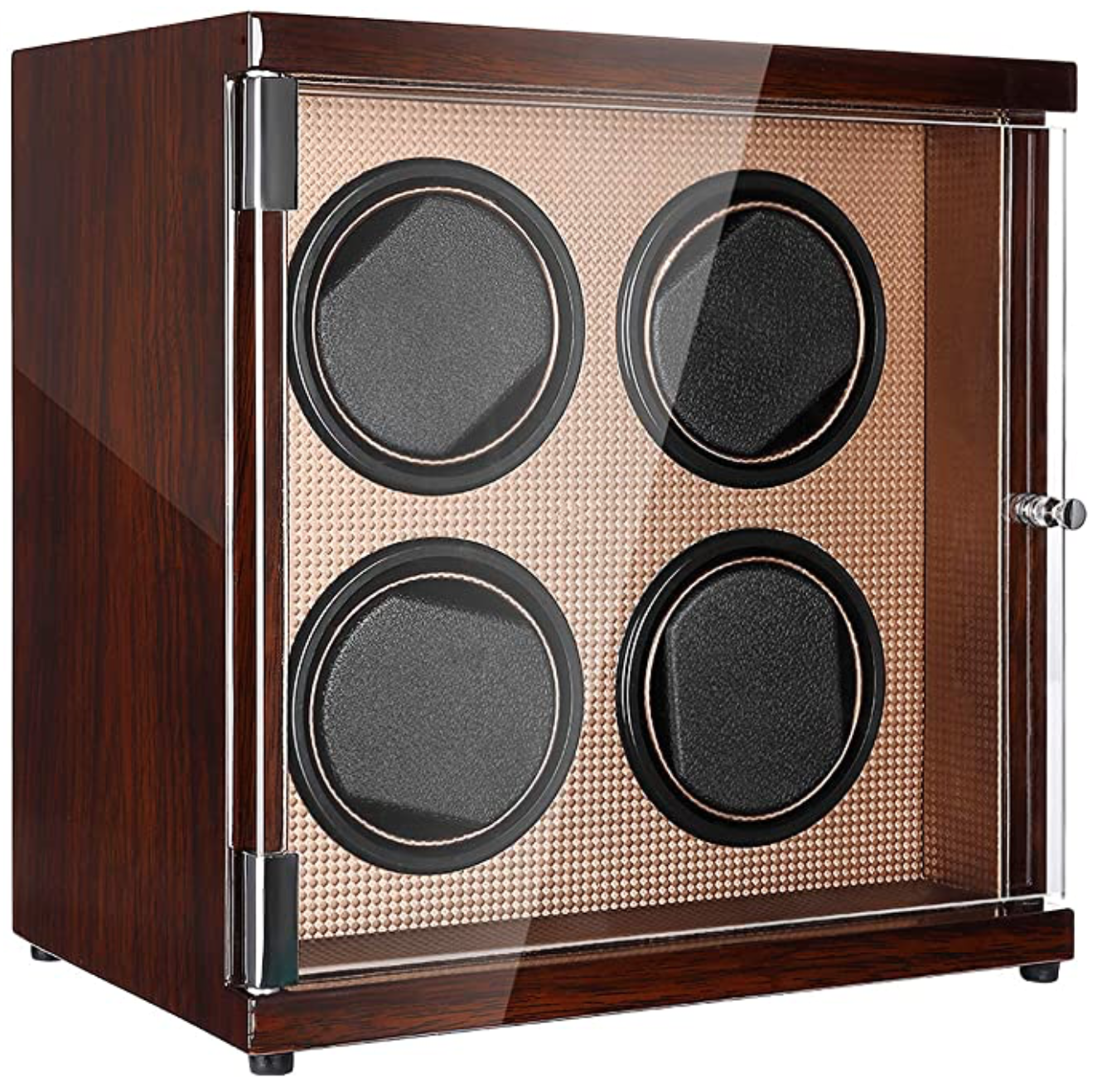 The CHIYODA Quad watch winder is a luxurious and robust watch winder with room for 4 watches. Chiyoda has done a great job with the design of this winder to give it a great look that is beautiful to look at.
It is constructed in wood and has a high-glossy piano baking varnish and is built with a see-through window at the front which highlights the watches inside. The door keeps the watches protected from dust and dirt.
Like all of Chiyoda's watch winders, each winder is powered by independent motors, in this case, four. They can rotate clockwise, counterclockwise, or bi-directional and are operated via a convenient backlit LCD touchscreen. The Japanese Mabuchi motor is quiet and operates extremely efficiently with low power consumption. It can be set to 4 different turns per day ( 2000, 1300, 990, 650), so you can optimize the settings according to the needs of the watches you store inside.
The winders rotate at the same speed regardless of the turns per day, but with different interval times.
---
Chiyoda Watch Winder for 8 Automatic Watches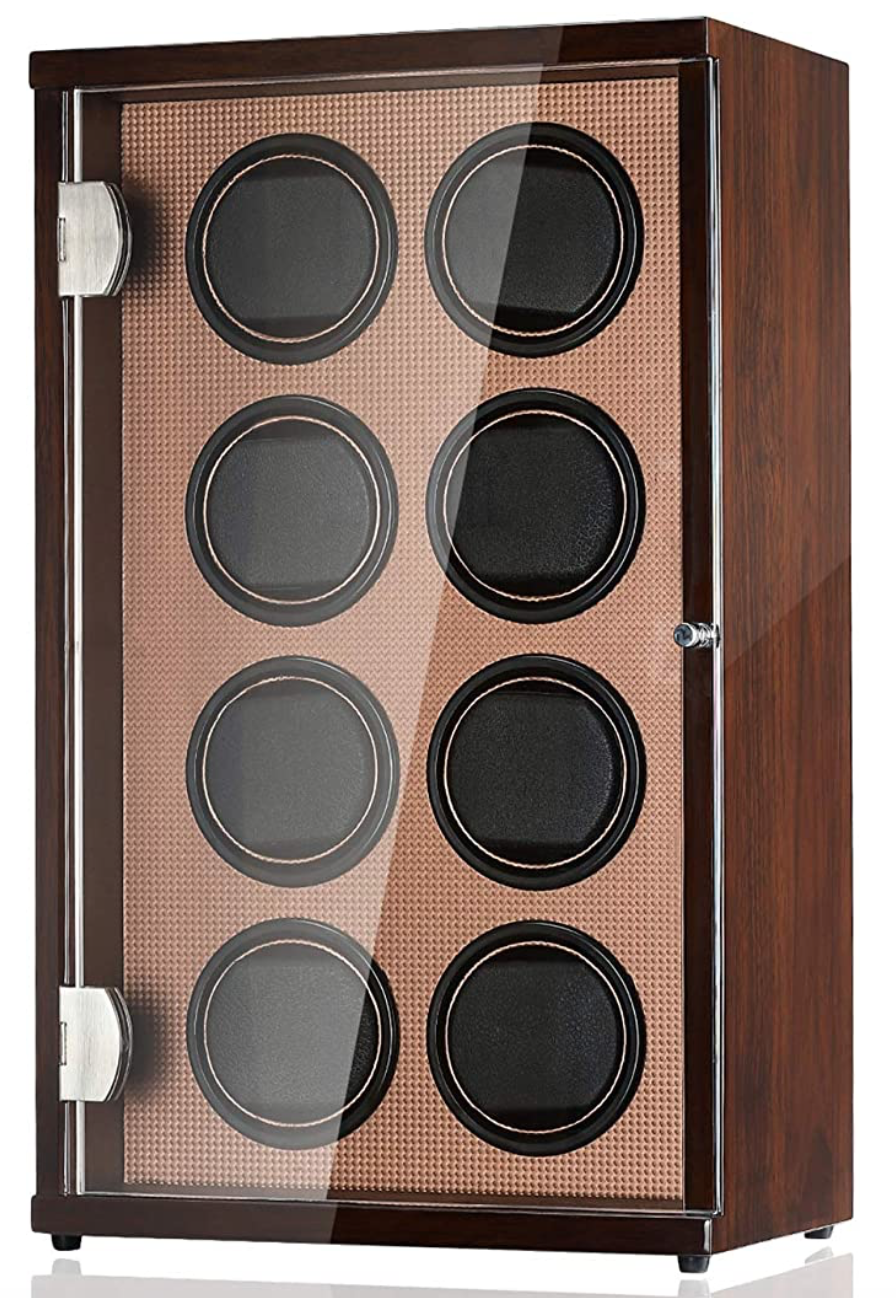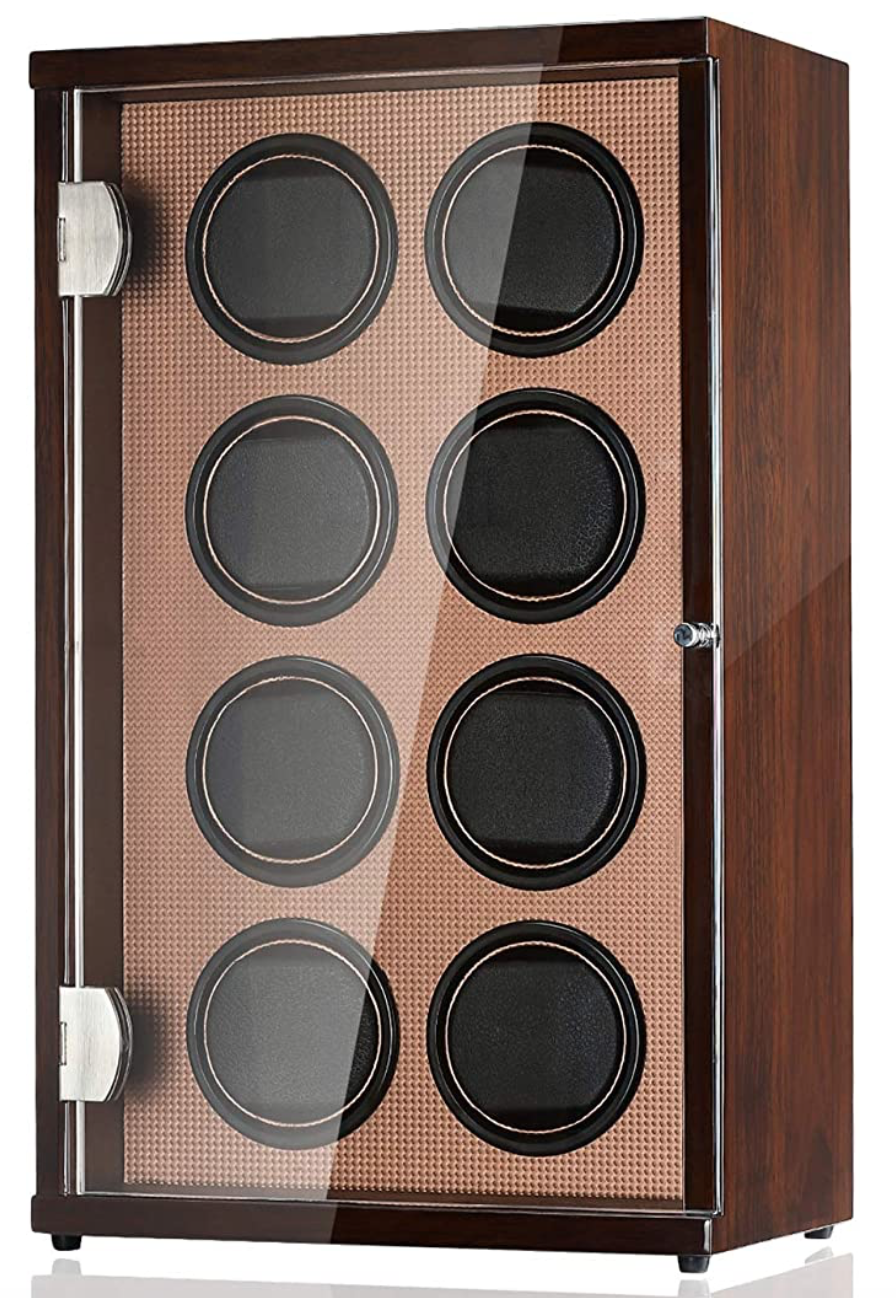 Last but not least, we have the Chiyoda watch winder which is the go-to choice for the serious watch collector with up to 8 watches. This winder is designed as a larger version of the one above, with the same elegant design, made in wood with a high-glossy piano baking varnish as well as a large window at the front. The window can be closed to prevent dust and dirt from collecting on your watches. The interior also has a nice decoration which enhances its elegant and luxurious look.
The watch winder has room for 8 watches and is run by 8 independent Japanese motors which operate at a low sound and with high efficiency. They can rotate clockwise, counterclockwise, and bi-directional. They have four turns per day settings (2000-1300-990-650), allowing you to set the modes of the winders according to each watch's specific needs.
This is the ultimate luxurious watch winder addition for any serious watch collector.
---