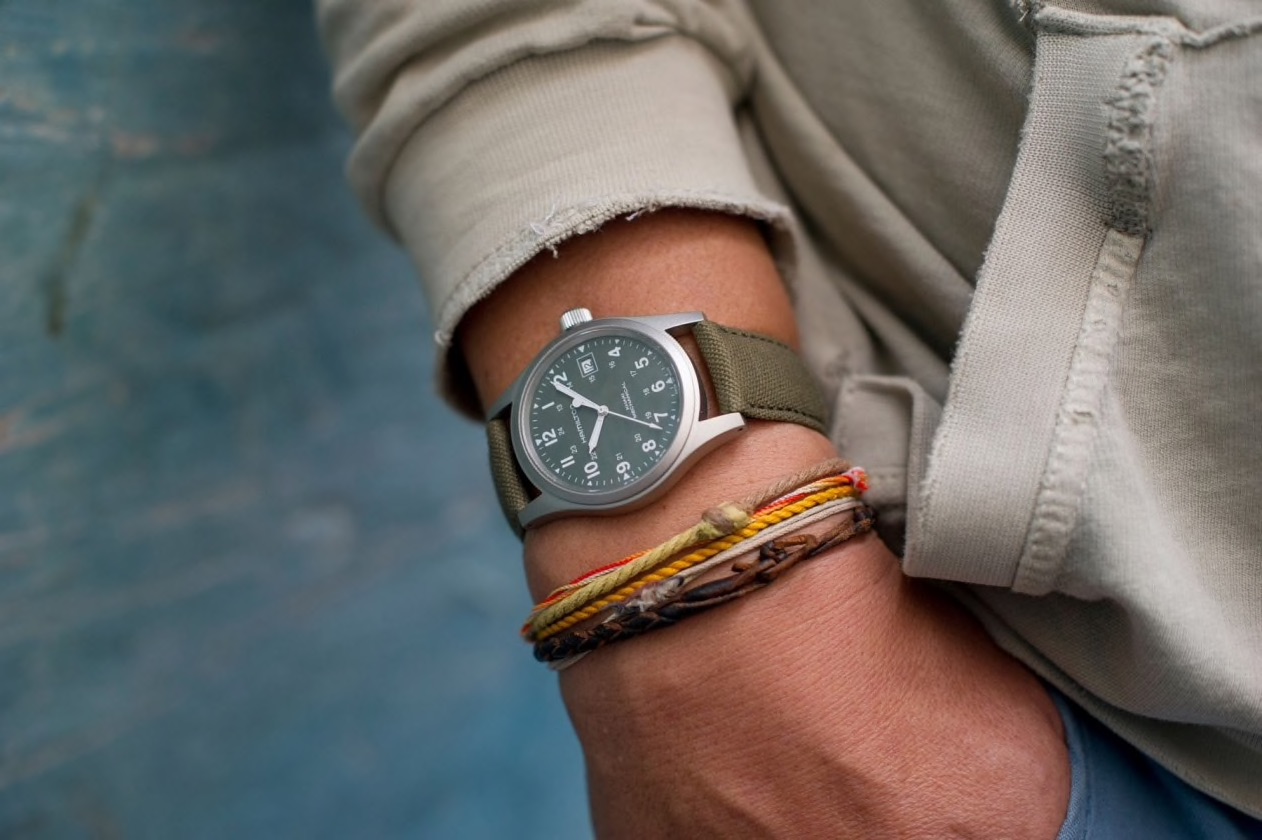 Hamilton Khaki Field H69419363 Review & Complete Guide
Hamilton has become more and more appreciated in recent years for its combination of craftsmanship, finish, quality, and its prices which makes their watches actually rather great value for money.
Hamilton is a brand that has a "unique combination of American spirit and Swiss precision". This is due to the fact that the brand was originally founded in the US but then relocated to Switzerland. Today, it is owned by the Swatch Group.
Having said that, perhaps one of the most important historical events, if looking back, is that Hamilton manufactured and delivered watches for the US military during the second world war. This is something that a lot of people know Hamilton for, and therefore, they have very cleverly continued to build on this by putting great focus on military-inspired field watches that, oftentimes, seek inspiration from Hamilton's vintage military watches.
Today, one of Hamilton's most popular collections is the Khaki Field. Why is that so? Because this collection consists of field watches that to a greater or lesser extent, are inspired by Hamilton's military heritage and vintage timepieces. As you can expect, the brand's rich and interesting history together with modern technology and build quality is a rather attractive combination.
Hamilton Khaki Field H69419363 Review
As an Amazon Associate, we may earn from qualifying purchases, at no extra cost to you.
The H69419363 is one of many timepieces in the Khaki Field collection. In this collection, there are a large number of timepieces to suit all tastes, preferences, and styles.
The H69419363 is already at first glance evidently revealed as a sporty tool watch. The watch appears very sporty as Hamilton has removed all the design features and details that that otherwise contribute to making a watch more elegant. This includes polished parts, dial color, strap option, finish, and so on. This watch is all the way through extremely tool-like. And if this is a style that you enjoy, and you are looking for a timepiece for everyday use that can be worn casually and at the same time handle shocks, dents, and harsh conditions, the H69419363 may just be the watch for you.
In this article, we are reviewing and looking closer at the Hamilton Khaki Field H69419363.
Hamilton Khaki Field H69419363 case
The H69419363 is presented with a stainless steel bead blasted case with a diameter of 38mm. The case is very simple in design and very evidently also inspired by vintage military watches, which look more or less identical. Due to its matte blasted case finish, it looks extremely rugged. The benefit of a blasted case is that it doesn't reveal scratches and dings as much as polished parts do. This of course is the perfect choice for a beater watch, as it can take beatings without instantly looking completely beat up.
The watch offers a water-resistance of 50m. This is not a lot but enough to handle splashes of water and be submerged for short periods of time. Parts of the reason for its relatively low water-resistance is due to the fact that it does not have a screw-down crown. In relation to the case size, the crown is actually quite big, which gives it that vintage look but most importantly allows for easy operation.
The watch also has quite long lugs, and this watch has a lug-to-lug length of 48mm. So whilst this watch is relatively small, it wears slightly bigger than what you would think. But having said that, the H69419363 is still a watch that is on the smaller side of the spectrum. Therefore it is most suitable for people with either small wrists or those who have a preference for smaller watches. The case has a thickness of about 10mm, which allows it to sit rather slim on the wrist.
The lugs have holes in them which makes bracelet changes very easy and convenient. In terms of design, the lugs are almost squared off which gives the case a sporty appearance.
With this type of watch, it's, in our opinion, also important to stay true to the size ideals, and this is what the H69419363 does.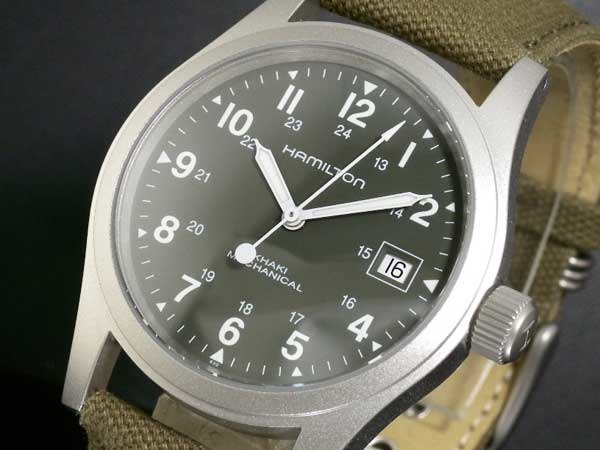 Hamilton Khaki Field H69419363 movement
The watch is equipped with a manual wind mechanical movement. Of course, in terms of practicality, an automatic movement has its benefits, but that is not the purpose of this watch. Remember that this is essentially a vintage-inspired watch that seeks inspiration from Hamilton's vintage military watches. And with that said, it needs to stay true to the original. Not only in terms of case size and look, but also in terms of the movement.
As such, the manual winding movement allows you to appreciate the mechanical piece of craftsmanship that powers it, get a connection with your watch, and think about past times when the soldiers wound their watches by hand. There's just something special about it.
Plus, the fact that the movement doesn't have a rotor allows it to be thinner.
Speaking of the movement, the Hamilton Khaki Field H69419363 is equipped with the ETA 2804-2 movement. This movement beats with a frequency of 28800 and is built as a durable workhorse. This is of curse exactly what this type of sporty military watch needs. It needs a durable and long-lasting movement.
With that said, this movement incorporates an Incablock shock protection system which makes it more resistant against shocks. A nice feature of this movement is that it has a hacking seconds function which allows for more accurate time-setting. In addition, since it is an ETA movement, it is quite easy and affordable to maintain.
That Hamilton opted for an ETA caliber for this watch doesn't really come as a surprise seeing that the Swatch group which owns ETA also owns Hamilton.
On top of the case, the watch has a slightly domed sapphire crystal, which is a nice feature of a watch in this price range. A downside is that the crystal does not have an anti-reflective coating which can result in some glare and reflections.
Hamilton Khaki Field H69419363 dial
The dial of the Hamilton Khaki Field H69419363 is something different and unique. To match the military theme, Hamilton has appropriately made it in a military green color. The dial color really adds to the sportiness and gives it an even more rugged look. The dial is not completely green but also has grey-ish hues. The dial has a slightly matte finish which matches the matte case perfectly and adds to the vintage look.
If you are not a fan of the green dial, don't worry. This watch is also available with a black dial.
The dial layout also stays true to original military watches. It has no applied markers which is otherwise common for watches in this price range. This could be seen as a downside, but in this case, it is really not. Everything on the dial is painted in white which means it has exceptional legibility (obviously, legibility is key for a military watch).
The dial layout is very clean and simple. It does have some Arabic numerals which, at first glance may look overwhelming, but let's put it this way – the dial is busy but not cluttered.
Around the outer edge of the dial, the seconds markers are printed in white, and each 5-second is printed in the shape of a triangle. Despite the fact that the dial has quite a bit going on, it's very well executed and well balanced.
The dial has large Arabic markers which indicate 1 to 12 and are printed in white. Just inside of these markers, 24-hour numerals are printed in traditional military-watch fashion.
The hands have a classic military design and are long and sword-shaped with pointy tips. The metal frames around them have been painted white to create a better contrast against the dial. The hands have super luminova on them. One complaint people have had about this watch, however, is that the luminosity of the hands and markers isn't the best. Good thing that the 
Positioned at 3 o'clock on the dial, we find a date window with a white background and black printing. As a date window does, it has a slightly negative effect on the symmetry of the watch, but since most people will wear it as a practical everyday watch, it is obviously quite convenient.
To still keep the dial relatively clean, Hamilton has kept the dial printing at a minimum. At the 12 o'clock position, the watch the Hamilton logo printed, and beneath the center of the hands, the text "Khaki mechanical" is printed.
Hamilton Khaki Field H69419363 strap
The watch is presented on a military-green canvas strap with leather lining. Naturally, the strap matches the dial perfectly, and since the strap looks a bit worn, it additionally adds to the vintage look.
The strap uses the industry-standard lug width of 20mm which means you have a large number of straps to choose from. And as mentioned, the lug holes make it easy to change the strap.
Specifications
Diameter: 38mm
Water-resistance: 50 meters
Lug-to-lug: 48mm
Movement: ETA 2804-2 caliber
Thickness: 10mm
Lug width: 20mm
Conclusion
All in all the Hamilton Khaki Field H69419363 is a timepiece that is inspired by Hamilton's vintage military field watches, and made with modern technology and build quality. This watch does not only look robust and rugged. It is.
The watch is equipped with a long-lasting workhorse ETA caliber that can handle all kinds of shocks and bangs, which obviously goes very well together with the ethos of this timepiece. And as a fun and additional feature, the watch is also manual-winding, which allows you to get a connection with the watch and appreciate its mechanical piece of craftsmanship as you wind it.
For the price, the watch is exceptionally finished and high quality. Its clean and timeless design makes it a perfect everyday watch that will last for many decades to come.
The Hamilton Khaki Field H69419363 is available to order on Amazon.