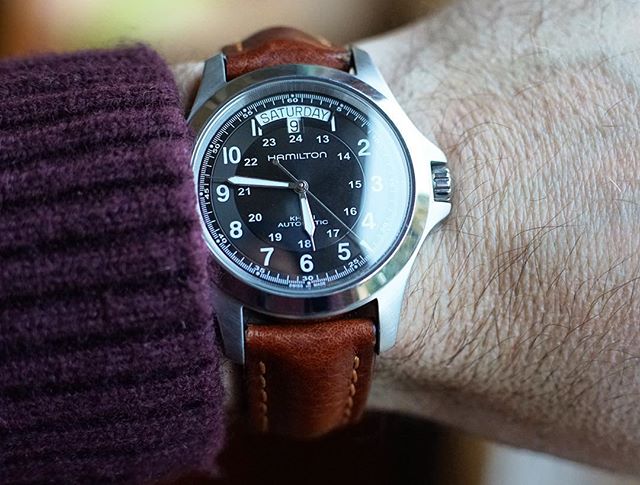 Photo: Hamilton Watch
Hamilton H64455533 Khaki King Review & Complete Guide
Hamilton is an appreciated mid-tier watch brand among collectors and watch enthusiasts. With a long and rich American heritage, it adds the well-respected prestige of Swiss quality and movements.
Hamilton watches are frequently praised for their great designs and exceptional value for money.
If you are looking for a stylish and timeless field watch that is built to high quality, is well-finished, and is powered by a reliable Swiss automatic movement – all at a reasonable price, the Hamilton H64455533 Khaki King may just be the watch for you. And that is exactly the watch we are going to review and look closer at in this article.
Hamilton H64455533 Khaki King Review
As an Amazon Associate, we may earn from qualifying purchases, at no extra cost to you.
Hamilton has a large number of watches in its Khaki King collection. All of these watches have a classic, sporty, and tool-like design. They are primarily built as robust everyday timepieces with a vintage, field-watch appeal, and of course most importantly, to be robust and durable.
What makes the H64455533 particularly attractive? Let's find out.
Hamilton H64455533 Case
The Hamilton Khaki King reference H64455533 has a 40mm brushed steel case contrasted by a polished bezel. The first impression about the case is that it feels solid and heavy – just what you want in a military/field watch. To add to the tool-watch look, the whole case is satin-finished, where it is otherwise common that the sides are polished as a contrast. The case leans more towards the small side, so it's one that a lot of people will find comfortable on the wrist thanks to its classic size. Another feature of the lugs is that they are slightly curved which enables them to "hug" the wrist, allowing for a better fit. The thickness of 11mm also helps make the watch sit better and wear smaller.
The crown sits well protected between the crown guards. The crown guards point out quite a bit from the case, but this is an important part of the case's design.  The crown is polished and has a raised "H" logo". The lugs are very classic in their design and are proportional to the case with a  48mm lug-to-lug measurement.
Fitted on top of the case is an anti-reflective sapphire crystal. This is a really nice feature for a tool watch like this where many of these pieces are actually worn as tools which thus have to withstand a lot. 
Hamilton H64455533 Movement
The Hamilton Khaki King H64455533 is equipped with a sturdy and reliable automatic ETA movement. Bear in mind that Swatch Group owns Hamilton (which also owns ETA), so equipping this watch with an ETA movement was a natural choice.
The movement used is the Hamilton-modified ETA 2834-2 automatic movement. But because the movement has been so heavily modified by Hamilton, the brand calls it the caliber H-40. And unlike many other watch brands that simply add their own branded rotor, Hamilton has done a number of key modifications to this movement.
The most important is that the frequency (beat rate) has been reduced from 28,800 bph to 21,600 bph. What does this mean? It means that because the movement beats fewer beats per minute, it requires less energy, and this results in bumping the power reserve from 38 hours to 80 hours which is a HUGE improvement. This means you can take off your watch on Friday and pick it up on Monday again ready to rock.
However, with that said, the reduced beat rate means the seconds hand does not flow as smoothly. The seconds hand hacks more as it ticks. Whilst watch enthusiasts enjoy the seamlessly floating seconds hand on automatic watches, I think this is a fair compromise for the improved power reserve. Another benefit of the reduced frequency of the movement is the reduction of wear and tear due to less friction and moving parts. This means longer service intervals.
The movement has 25 jewels. Another modification includes a rotor that has the Hamilton logo. It's a nice touch to have the see-through case back. This allows you to appreciate the reliable and durable movement beating inside. But at the same time, for a watch of this type, a see-through case back is not crucial in my opinion. Although since this is a watch that many novice collectors looking to dive into the world of automatic watches often buy, it's overall an appreciated detail.
Hamilton H64455533 Dial
Moving on to the dial, we have something that is very evidently military, field-watch inspired. Overall, the dial is very well finished with sharp printing and nice details.
Around the dial, it features white painted numerals from 1 to 11 as the 12 is cut out in favor of the day window which is placed there. The day window has a white background with thin black printing. Right beneath the day window, in the same cutout, is a square window for the date. Inside the first set of numerous is another ring with 24-hour markers.
The watch is equipped with swords hands as well as a metal seconds hand featuring an arrow tip. The hands provide great legibility against the black dial. With that said, the black dial isn't just completely flat and boring. Towards the outer edge, it actually has a "textured circle". This is a really nice detail that prevents the dial from being only plain and boring.
The hands and dial have luminous mass, but it isn't the sharpest lume around which can make it difficult to read the time in the dark.
The Arabic numerals not only look great but work as an interesting tribute to Hamilton's past history. As a matter of fact, Hamilton produced watches for World War II, and Arabic numerals played a crucial role in these watches as legibility was one of the most important features.
Hamilton H64455533 strap
The Hamilton H64455533 comes fitted on a really nice brown leather strap with a steel buckle.
But if a brown strap is not your cup of tea, don't worry. This watch looks great with a lot of different leather straps, including NATO straps, considering its military heritage and design.
Conclusion
The Hamilton H64455533 Khaki King is a watch that offers great value for money.
As we have come to expect from Hamilton, it is built to an extremely high quality and has an impressive finish for the price.
With a price of about 370-550, it is difficult to find automatic watches with a movement, finish, and build quality as good as the Khaki king.
It has a classic military field-watch that makes it perfect for everyday casual wear. Most importantly, it is powered by a highly durable and reliable ETA, which additionally has been modified by Hamilton for even better performance.
The Hamilton H64455533 Khaki King is available to order on Amazon.