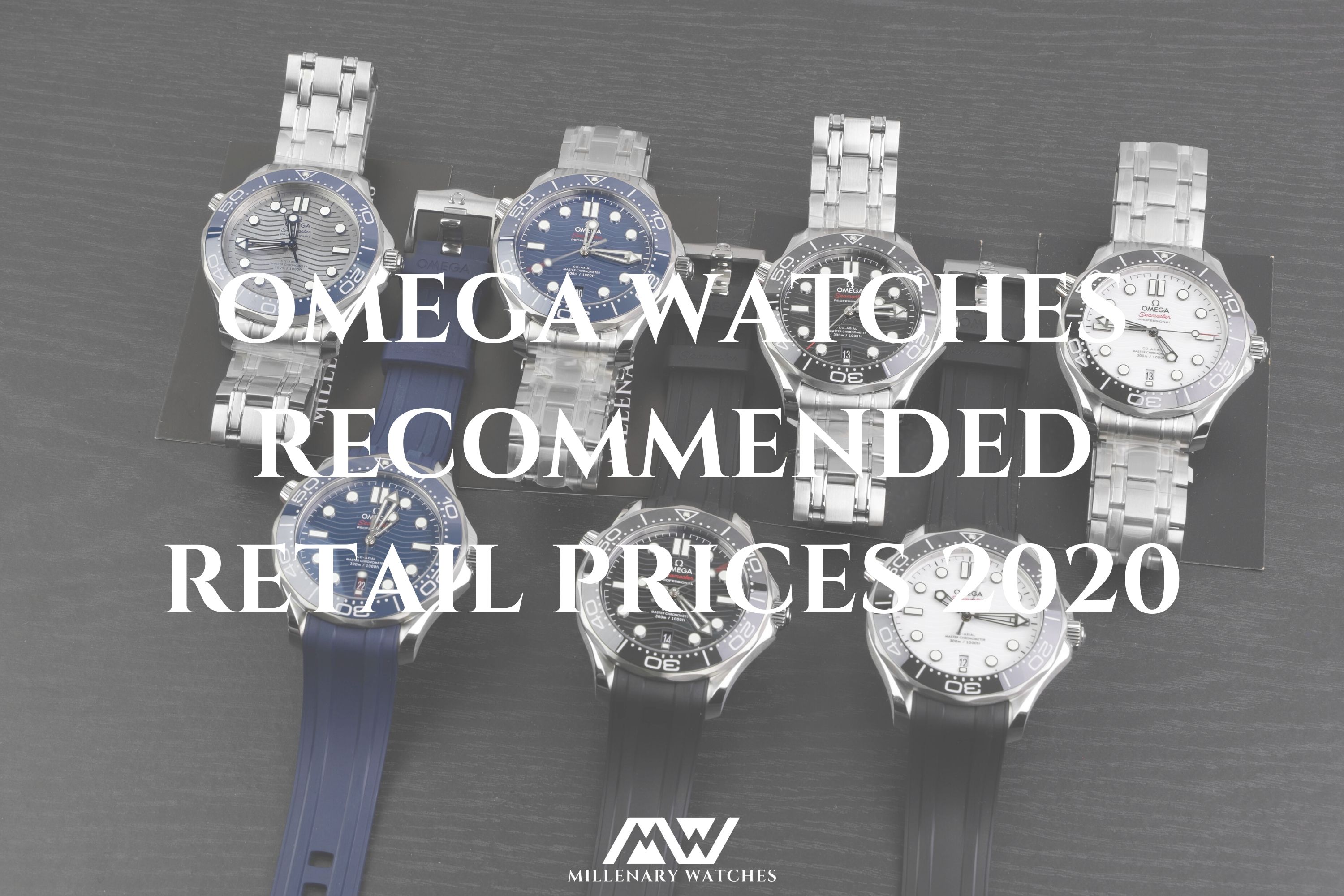 Omega Watches Retail Price list 2020
In this article, we list the recommended retail prices of all Omega timepieces currently in production. The retail prices are presented in EUR and include VAT. Note that the retail prices can vary depending on where in the world you are, even if your country also uses EUR as the currency.
Do also note that the Omega retail prices are subject to change. The list is valid from April 2020, and as no price increase has been revealed will take place in the near future, it will be up-to-date for some time to come.
To find the retail price of an Omega model, simply search this list by typing in the reference number without the dots between the numbers.
Omega retail price list 2020
12310246002001

CONSTELLATION

€ 2 100

12310246002002

CONSTELLATION

€ 2 100

12310246005001

CONSTELLATION

€ 2 300

12310246005002

CONSTELLATION

€ 2 300

12310246051001

CONSTELLATION

€ 2 800

12310246051002

CONSTELLATION

€ 2 800

12310246055001

CONSTELLATION

€ 2 900

12310246055002

CONSTELLATION

€ 2 900

12310246055003

CONSTELLATION

€ 3 200

12310246055004

CONSTELLATION

€ 3 200

12310246057001

CONSTELLATION

€ 3 200

12310246057002

CONSTELLATION

€ 3 200

12310246057003

CONSTELLATION

€ 2 900

12310272051001

CONSTELLATION

€ 5 400

12310272055001

CONSTELLATION

€ 5 900

12310272055002

CONSTELLATION

€ 5 800

12310272057001

CONSTELLATION

€ 5 800

12310276002001

CONSTELLATION

€ 2 200

12310276002002

CONSTELLATION

€ 2 200

12310276002004

CONSTELLATION

€ 2 300

12310276005001

CONSTELLATION

€ 2 400

12310276005002

CONSTELLATION

€ 2 400

12310276051001

CONSTELLATION

€ 2 900

12310276051002

CONSTELLATION

€ 2 900

12310276052001

CONSTELLATION

€ 2 900

12310276053001

CONSTELLATION

€ 2 900

12310276055001

CONSTELLATION

€ 3 000

12310276055002

CONSTELLATION

€ 3 000

12310276055003

CONSTELLATION

€ 3 300

12310276055004

CONSTELLATION

€ 3 300

12310276056001

CONSTELLATION

€ 2 900

12310276057001

CONSTELLATION

€ 3 300

12310276057002

CONSTELLATION

€ 3 300

12310276057003

CONSTELLATION

€ 3 000

12310312001001

CONSTELLATION

€ 4 900

12310312005001

CONSTELLATION

€ 5 100

12310312055001

CONSTELLATION

€ 5 700

12310352001001

CONSTELLATION

€ 3 700

12310352001002

CONSTELLATION

€ 3 700

12310352002001

CONSTELLATION

€ 3 700

12310352002002

CONSTELLATION

€ 3 700

12310352003002

CONSTELLATION

€ 3 700

12310352006001

CONSTELLATION

€ 3 700

12310352010001

CONSTELLATION

€ 3 700

12310352052001

CONSTELLATION

€ 4 900

12310352052002

CONSTELLATION

€ 4 310

12310356001001

CONSTELLATION

€ 2 300

12310356002001

CONSTELLATION

€ 2 300

12310382101001

CONSTELLATION

€ 5 100

12310382101002

CONSTELLATION

€ 4 450

12310382102001

CONSTELLATION

€ 5 100

12310382102002

CONSTELLATION

€ 5 100

12310382102003

CONSTELLATION

€ 5 100

12310382102004

CONSTELLATION

€ 5 100

12310382103001

CONSTELLATION

€ 5 100

12310382106001

CONSTELLATION

€ 5 100

12310382106002

CONSTELLATION

€ 5 100

12310382110001

CONSTELLATION

€ 5 100

12310382151001

CONSTELLATION

€ 6 600

12310382152001

CONSTELLATION

€ 6 600

12310382201001

CONSTELLATION

€ 6 900

12312356052001

CONSTELLATION

€ 3 700

12313352055001

CONSTELLATION

€ 4 180

12313356052001

CONSTELLATION

€ 3 900

12313356060001

CONSTELLATION

€ 3 900

12315246001001

CONSTELLATION

€ 4 300

12315246003001

CONSTELLATION

€ 4 300

12315246005001

CONSTELLATION

€ 4 500

12315246005002

CONSTELLATION

€ 4 400

12315246005003

CONSTELLATION

€ 4 800

12315246051001

CONSTELLATION

€ 4 900

12315246051002

CONSTELLATION

€ 4 900

12315246052001

CONSTELLATION

€ 4 220

12315246055001

CONSTELLATION

€ 5 000

12315246055002

CONSTELLATION

€ 5 400

12315246055003

CONSTELLATION

€ 5 000

12315246055004

CONSTELLATION

€ 5 400

12315246055005

CONSTELLATION

€ 5 000

12315246055006

CONSTELLATION

€ 5 300

12315246057001

CONSTELLATION

€ 5 300

12315272001001

CO CONSTELLATION

€ 7 300

12315272003001

CO CONSTELLATION

€ 7 300

12315272005001

CO CONSTELLATION

€ 7 800

12315272051001

CO CONSTELLATION

€ 7 900

12315272053001

CO CONSTELLATION

€ 7 900

12315272055001

CO CONSTELLATION

€ 8 400

12315272055002

CO CONSTELLATION

€ 8 300

12315272055003

CO CONSTELLATION

€ 8 300

12315272056001

CO CONSTELLATION

€ 7 900

12315272057001

CO CONSTELLATION

€ 8 300

12315272057002

CO CONSTELLATION

€ 8 300

12315272057003

CO CONSTELLATION

€ 8 000

12315276005001

CO CONSTELLATION

€ 5 000

12315276005002

CO CONSTELLATION

€ 5 000

12315276051001

CO CONSTELLATION

€ 5 500

12315276051002

CO CONSTELLATION

€ 5 400

12315276052001

CO CONSTELLATION

€ 5 300

12315276055001

CO CONSTELLATION

€ 5 600

12315276055002

CO CONSTELLATION

€ 6 000

12315276055003

CO CONSTELLATION

€ 5 500

12315276055004

CO CONSTELLATION

€ 5 900

12315276055005

CO CONSTELLATION

€ 5 500

12315352002001

CO CONSTELLATION

€ 8 600

12315352052001

CO CONSTELLATION

€ 9 800

12318352055001

CO CONSTELLATION

€ 9 700

12318352056001

CO CONSTELLATION

€ 9 200

12318356052001

CO CONSTELLATION

€ 7 640

12318356056001

CO CONSTELLATION

€ 8 600

12318356060001

CO CONSTELLATION

€ 7 640

12320246002001

CO CONSTELLATION

€ 3 400

12320246002002

CO CONSTELLATION

€ 3 600

12320246002003

CO CONSTELLATION

€ 3 400

12320246002004

CO CONSTELLATION

€ 3 600

12320246005001

CO CONSTELLATION

€ 3 600

12320246005002

CO CONSTELLATION

€ 3 800

12320246005003

CO CONSTELLATION

€ 3 600

12320246005004

CO CONSTELLATION

€ 3 800

12320246008001

CO CONSTELLATION

€ 3 400

12320246008002

CO CONSTELLATION

€ 3 600

12320246053001

CO CONSTELLATION

€ 4 300

12320246053002

CO CONSTELLATION

€ 3 200

12320246055001

CO CONSTELLATION

€ 4 400

12320246055002

CO CONSTELLATION

€ 4 400

12320246055003

CO CONSTELLATION

€ 4 400

12320246055004

CO CONSTELLATION

€ 4 400

12320246055005

CO CONSTELLATION

€ 3 300

12320246055006

CO CONSTELLATION

€ 3 300

12320246055007

CO CONSTELLATION

€ 4 700

12320246055008

CO CONSTELLATION

€ 4 700

12320246057001

CO CONSTELLATION

€ 4 400

12320246057002

CO CONSTELLATION

€ 3 600

12320246057003

CO CONSTELLATION

€ 4 700

12320246057004

CO CONSTELLATION

€ 4 700

12320246057005

CO CONSTELLATION

€ 4 400

12320246057006

CO CONSTELLATION

€ 4 400

12320246058001

CO CONSTELLATION

€ 4 300

12320246058002

CO CONSTELLATION

€ 4 300

12320246063001

CO CONSTELLATION

€ 4 100

12320246063002

CO CONSTELLATION

€ 4 300

12320272053001

CO CONSTELLATION

€ 7 200

12320272053002

CO CONSTELLATION

€ 5 900

12320272053003

CO CONSTELLATION

€ 9 100

12320272055001

CO CONSTELLATION

€ 7 700

12320272055002

CO CONSTELLATION

€ 7 300

12320272055003

CO CONSTELLATION

€ 7 300

12320272055004

CO CONSTELLATION

€ 6 000

12320272055005

CO CONSTELLATION

€ 6 400

12320272057001

CO CONSTELLATION

€ 7 900

12320272057002

CO CONSTELLATION

€ 7 300

12320272057003

CO CONSTELLATION

€ 6 400

12320272058001

CO CONSTELLATION

€ 7 200

12320276002001

CO CONSTELLATION

€ 3 900

12320276002002

CO CONSTELLATION

€ 3 900

12320276002003

CO CONSTELLATION

€ 3 900

12320276002004

CO CONSTELLATION

€ 3 900

12320276005001

CO CONSTELLATION

€ 4 100

12320276005002

CO CONSTELLATION

€ 4 100

12320276005003

CO CONSTELLATION

€ 4 100

12320276005004

CO CONSTELLATION

€ 4 100

12320276008001

CO CONSTELLATION

€ 3 900

12320276008002

CO CONSTELLATION

€ 3 900

12320276052001

CO CONSTELLATION

€ 4 300

12320276052002

CO CONSTELLATION

€ 4 300

12320276055001

CO CONSTELLATION

€ 4 500

12320276055002

CO CONSTELLATION

€ 4 500

12320276055003

CO CONSTELLATION

€ 4 700

12320276055004

CO CONSTELLATION

€ 4 700

12320276055005

CO CONSTELLATION

€ 5 000

12320276055006

CO CONSTELLATION

€ 5 000

12320276055007

CO CONSTELLATION

€ 5 000

12320276055008

CO CONSTELLATION

€ 4 800

12320276057001

CO CONSTELLATION

€ 5 100

12320276057002

CO CONSTELLATION

€ 5 100

12320276057004

CO CONSTELLATION

€ 5 000

12320276057005

CO CONSTELLATION

€ 5 000

12320276057006

CO CONSTELLATION

€ 4 500

12320276057007

CO CONSTELLATION

€ 4 500

12320276058001

CO CONSTELLATION

€ 4 600

12320276058002

CO CONSTELLATION

€ 4 600

12320276058003

CO CONSTELLATION

€ 4 600

12320276063001

CO CONSTELLATION

€ 4 300

12320276063002

CO CONSTELLATION

€ 4 600

12320276063003

CO CONSTELLATION

€ 4 600

12320312005001

CO CONSTELLATION

€ 7 200

12320312005002

CO CONSTELLATION

€ 7 700

12320312008001

CO CONSTELLATION

€ 7 000

12320312013001

CO CONSTELLATION

€ 7 000

12320312055001

CO CONSTELLATION

€ 6 930

12320312055002

CO CONSTELLATION

€ 6 930

12320312055003

CO CONSTELLATION

€ 6 700

12320312055004

CO CONSTELLATION

€ 6 700

12320352001001

CO CONSTELLATION

€ 6 200

12320352001002

CO CONSTELLATION

€ 6 200

12320352002001

CO CONSTELLATION

€ 6 200

12320352002002

CO CONSTELLATION

€ 6 200

12320352002003

CO CONSTELLATION

€ 5 000

12320352002004

CO CONSTELLATION

€ 5 000

12320352002005

CO CONSTELLATION

€ 6 200

12320352002006

CO CONSTELLATION

€ 6 200

12320352006001

CO CONSTELLATION

€ 6 200

12320352006002

CO CONSTELLATION

€ 6 200

12320352008001

CO CONSTELLATION

€ 6 200

12320352052001

CO CONSTELLATION

€ 7 600

12320352052002

CO CONSTELLATION

€ 7 600

12320352052003

CO CONSTELLATION

€ 7 600

12320352052004

CO CONSTELLATION

€ 7 600

12320352058001

CO CONSTELLATION

€ 7 600

12320352063001

CO CONSTELLATION

€ 7 600

12320356002001

CO CONSTELLATION

€ 4 800

12320356002002

CO CONSTELLATION

€ 4 800

12320356008001

CO CONSTELLATION

€ 4 800

12320382101001

CO CONSTELLATION

€ 7 400

12320382101002

CO CONSTELLATION

€ 7 400

12320382102001

CO CONSTELLATION

€ 7 900

12320382102002

CO CONSTELLATION

€ 7 900

12320382102004

CO CONSTELLATION

€ 6 700

12320382102005

CO CONSTELLATION

€ 6 700

12320382102006

CO CONSTELLATION

€ 7 900

12320382102007

CO CONSTELLATION

€ 7 900

12320382102008

CO CONSTELLATION

€ 7 900

12320382102009

CO CONSTELLATION

€ 7 900

12320382103001

CO CONSTELLATION

€ 7 900

12320382106001

CO CONSTELLATION

€ 7 900

O12320382106002

CO CONSTELLATION

€ 7 900

O12320382108001

CO CONSTELLATION

€ 7 900

O12320382108002

CO CONSTELLATION

€ 7 900

O12320382113001

CO CONSTELLATION

€ 7 900

O12320382152001

CO CONSTELLATION

€ 9 600

O12320382152002

CO CONSTELLATION

€ 9 600

O12320382158001

CO CONSTELLATION

€ 9 600

O12320382163001

CO CONSTELLATION

€ 9 600

O12320382202001

CO CONSTELLATION

€ 10 900

O12320382202002

CO CONSTELLATION

€ 10 900

O12325246005001

CO CONSTELLATION

€ 6 300

O12325246005002

CO CONSTELLATION

€ 6 300

O12325246052001

CO CONSTELLATION

€ 6 500

O12325246052002

CO CONSTELLATION

€ 6 500

O12325246053001

CO CONSTELLATION

€ 7 900

O12325246055001

CO CONSTELLATION

€ 6 400

O12325246055002

CO CONSTELLATION

€ 7 200

O12325246055003

CO CONSTELLATION

€ 6 400

O12325246055004

CO CONSTELLATION

€ 7 200

O12325246055005

CO CONSTELLATION

€ 6 800

O12325246055006

CO CONSTELLATION

€ 6 800

O12325246055007

CO CONSTELLATION

€ 6 800

O12325246055008

CO CONSTELLATION

€ 7 200

O12325246055009

CO CONSTELLATION

€ 6 300

O12325246055010

CO CONSTELLATION

€ 6 800

O12325246055011

CO CONSTELLATION

€ 7 100

O12325246055012

CO CONSTELLATION

€ 7 100

O12325246057001

CO CONSTELLATION

€ 7 200

O12325246057002

CO CONSTELLATION

€ 7 200

O12325246058001

CO CONSTELLATION

€ 6 300

O12325246058002

CO CONSTELLATION

€ 6 600

O12325246063001

CO CONSTELLATION

€ 6 300

O12325246063002

CO CONSTELLATION

€ 6 600

O12325272005001

CO CONSTELLATION

€ 9 500

O12325272005002

CO CONSTELLATION

€ 9 500

O12325272053001

CO CONSTELLATION

€ 10 700

O12325272055001

CO CONSTELLATION

€ 10 500

O12325272055002

CO CONSTELLATION

€ 10 000

O12325272055003

CO CONSTELLATION

€ 10 000

O12325272055004

CO CONSTELLATION

€ 9 900

O12325272055005

CO CONSTELLATION

€ 10 400

O12325272055006

CO CONSTELLATION

€ 10 400

O12325272055007

CO CONSTELLATION

€ 10 400

O12325272057001

CO CONSTELLATION

€ 10 600

O12325272057002

CO CONSTELLATION

€ 10 500

O12325272057003

CO CONSTELLATION

€ 10 500

O12325272057004

CO CONSTELLATION

€ 10 400

O12325272057005

CO CONSTELLATION

€ 10 400

O12325272057006

CO CONSTELLATION

€ 10 000

O12325272057007

CO CONSTELLATION

€ 9 500

O12325272058001

CO CONSTELLATION

€ 9 400

O12325272058002

CO CONSTELLATION

€ 9 900

O12325272063001

CO CONSTELLATION

€ 9 900

O12325276052001

CO CONSTELLATION

€ 6 800

O12325276052002

CO CONSTELLATION

€ 7 300

O12325276053001

CO CONSTELLATION

€ 8 900

O12325276055001

CO CONSTELLATION

€ 7 500

O12325276055002

CO CONSTELLATION

€ 7 900

O12325276055003

CO CONSTELLATION

€ 7 100

O12325276055004

CO CONSTELLATION

€ 7 500

O12325276055005

CO CONSTELLATION

€ 7 500

O12325276055006

CO CONSTELLATION

€ 7 900

O12325276055007

CO CONSTELLATION

€ 7 500

O12325276055008

CO CONSTELLATION

€ 7 900

O12325276055009

CO CONSTELLATION

€ 7 000

O12325276055010

CO CONSTELLATION

€ 7 000

O12325276058001

CO CONSTELLATION

€ 7 000

O12325276058002

CO CONSTELLATION

€ 7 400

O12325276063001

CO CONSTELLATION

€ 7 400

O12325276063002

CO CONSTELLATION

€ 7 400

O12325312053001

CO CONSTELLATION

€ 14 000

O12325312055001

CO CONSTELLATION

€ 10 400

O12325312055002

CO CONSTELLATION

€ 12 500

O12325312055003

CO CONSTELLATION

€ 10 000

O12325312058001

CO CONSTELLATION

€ 11 900

O12325312063001

CO CONSTELLATION

€ 9 910

O12325352052001

CO CONSTELLATION

€ 12 800

O12325352052002

CO CONSTELLATION

€ 12 800

O12325352052003

CO CONSTELLATION

€ 11 500

O12325352058001

CO CONSTELLATION

€ 12 800

O12325352058002

CO CONSTELLATION

€ 9 560

O12325352063001

CO CONSTELLATION

€ 12 800

O12325382152001

CO CONSTELLATION

€ 16 200

O12325382152002

CO CONSTELLATION

€ 16 200

O12325382152003

CO CONSTELLATION

€ 12 000

O12325382158001

CO CONSTELLATION

€ 16 200

O12325382158002

CO CONSTELLATION

€ 12 000

O12325382163001

CO CONSTELLATION

€ 16 200

O12325382202001

CO CONSTELLATION

€ 17 500

O12325382202002

CO CONSTELLATION

€ 17 500

O12350246002001

CO CONSTELLATION

€ 8 980

O12350246002002

CO CONSTELLATION

€ 8 980

O12350246002003

CO CONSTELLATION

€ 8 980

O12350246002004

CO CONSTELLATION

€ 8 980

O12350246005001

CO CONSTELLATION

€ 11 300

O12350246005002

CO CONSTELLATION

€ 9 420

O12350246005003

CO CONSTELLATION

€ 11 300

O12350246005004

CO CONSTELLATION

€ 11 300

O12350246008001

CO CONSTELLATION

€ 10 600

O12350246008002

CO CONSTELLATION

€ 9 240

O12350246053001

CO CONSTELLATION

€ 11 800

O12350246057001

CO CONSTELLATION

€ 11 900

O12350246058001

CO CONSTELLATION

€ 11 800

O12350246058002

CO CONSTELLATION

€ 9 820

O12350246063001

CO CONSTELLATION

€ 11 800

O12350246063002

CO CONSTELLATION

€ 11 800

O12350272053001

CO CONSTELLATION

€ 20 500

O12350272055001

CO CONSTELLATION

€ 21 000

O12350272055002

CO CONSTELLATION

€ 21 000

O12350272057001

CO CONSTELLATION

€ 21 200

O12350272057002

CO CONSTELLATION

€ 20 600

O12350272058001

CO CONSTELLATION

€ 20 500

O12350276002001

CO CONSTELLATION

€ 10 580

O12350276002002

CO CONSTELLATION

€ 10 580

O12350276002003

CO CONSTELLATION

€ 10 580

O12350276002004

CO CONSTELLATION

€ 10 580

O12350276005001

CO CONSTELLATION

€ 13 300

O12350276005002

CO CONSTELLATION

€ 13 300

O12350276005003

CO CONSTELLATION

€ 12 500

O12350276005004

CO CONSTELLATION

€ 13 300

O12350276008001

CO CONSTELLATION

€ 12 500

O12350276008002

CO CONSTELLATION

€ 10 890

O12350276058001

CO CONSTELLATION

€ 13 800

O12350276058002

CO CONSTELLATION

€ 13 800

O12350276063001

CO CONSTELLATION

€ 13 800

O12350276063002

CO CONSTELLATION

€ 11 510

O12350312005001

CO CONSTELLATION

€ 21 000

O12350312005002

CO CONSTELLATION

€ 17 470

O12350312008001

CO CONSTELLATION

€ 20 800

O12350312013001

CO CONSTELLATION

€ 20 800

O12350312055001

CO CONSTELLATION

€ 21 700

O12350312055002

CO CONSTELLATION

€ 21 700

O12350352002001

CO CONSTELLATION

€ 20 600

O12350352002002

CO CONSTELLATION

€ 20 600

O12350352008001

CO CONSTELLATION

€ 20 600

O12350352013001

CO CONSTELLATION

€ 20 600

O12350352052001

CO CONSTELLATION

€ 22 000

O12350352052002

CO CONSTELLATION

€ 22 000

O12350352052003

CO CONSTELLATION

€ 22 000

O12350352052004

CO CONSTELLATION

€ 22 000

O12350352058001

CO CONSTELLATION

€ 22 000

O12350352063001

CO CONSTELLATION

€ 22 000

O12350382102001

CO CONSTELLATION

€ 28 100

O12350382102002

CO CONSTELLATION

€ 28 100

O12350382108001

CO CONSTELLATION

€ 28 100

O12350382113001

CO CONSTELLATION

€ 28 100

O12350382152001

CO CONSTELLATION

€ 29 700

O12350382152002

CO CONSTELLATION

€ 29 700

O12350382158001

CO CONSTELLATION

€ 29 700

O12350382163001

CO CONSTELLATION

€ 29 700

O12350382202001

CO CONSTELLATION

€ 32 900

O12350382202002

CO CONSTELLATION

€ 32 900

O12353356052001

CO CONSTELLATION

€ 13 200

O12353356063001

CO CONSTELLATION

€ 13 200

O12353382102001

CO CONSTELLATION

€ 19 000

O12355246005001

CO CONSTELLATION

€ 13 600

O12355246005002

CO CONSTELLATION

€ 20 000

O12355246005003

CO CONSTELLATION

€ 13 600

O12355246005004

CO CONSTELLATION

€ 20 000

O12355246052001

CO CONSTELLATION

€ 14 100

O12355246052002

CO CONSTELLATION

€ 11 690

O12355246055001

CO CONSTELLATION

€ 14 700

O12355246055002

CO CONSTELLATION

€ 11 640

O12355246055003

CO CONSTELLATION

€ 14 700

O12355246055004

CO CONSTELLATION

€ 14 000

O12355246055005

CO CONSTELLATION

€ 12 220

O12355246055006

CO CONSTELLATION

€ 11 640

O12355246055007

CO CONSTELLATION

€ 14 700

O12355246055008

CO CONSTELLATION

€ 11 640

O12355246055009

CO CONSTELLATION

€ 94 600

O12355246055010

CO CONSTELLATION

€ 97 900

O12355246055011

CO CONSTELLATION

€ 45 100

O12355246055012

CO CONSTELLATION

€ 48 400

O12355246055013

CO CONSTELLATION

€ 28 600

O12355246055014

CO CONSTELLATION

€ 31 900

O12355246055015

CO CONSTELLATION

€ 14 300

O12355246055016

CO CONSTELLATION

€ 14 300

O12355246055017

CO CONSTELLATION

€ 16 600

O12355246057001

CO CONSTELLATION

€ 14 300

O12355246058001

CO CONSTELLATION

€ 14 200

O12355246058002

CO CONSTELLATION

€ 14 200

O12355246063001

CO CONSTELLATION

€ 14 200

O12355246063002

CO CONSTELLATION

€ 14 200

O12355272005001

CO CONSTELLATION

€ 22 400

O12355272005002

CO CONSTELLATION

€ 30 200

O12355272005003

CO CONSTELLATION

€ 22 400

O12355272005004

CO CONSTELLATION

€ 30 200

O12355272055001

CO CONSTELLATION

€ 22 600

O12355272055002

CO CONSTELLATION

€ 23 800

O12355272055003

CO CONSTELLATION

€ 64 400

O12355272055004

CO CONSTELLATION

€ 66 500

O12355272055005

CO CONSTELLATION

€ 35 200

O12355272055006

CO CONSTELLATION

€ 52 300

O12355272057001

CO CONSTELLATION

€ 23 900

O12355272057002

CO CONSTELLATION

€ 23 300

O12355272058001

CO CONSTELLATION

€ 23 200

O12355276052001

CO CONSTELLATION

€ 16 500

O12355276052002

CO CONSTELLATION

€ 13 730

O12355276055001

CO CONSTELLATION

€ 16 100

O12355276055002

CO CONSTELLATION

€ 13 640

O12355276055003

CO CONSTELLATION

€ 17 200

O12355276055004

CO CONSTELLATION

€ 16 400

O12355276055005

CO CONSTELLATION

€ 17 200

O12355276055006

CO CONSTELLATION

€ 13 640

O12355276055007

CO CONSTELLATION

€ 17 200

O12355276055008

CO CONSTELLATION

€ 13 640

O12355276055009

CO CONSTELLATION

€ 108 900

O12355276055010

CO CONSTELLATION

€ 112 200

O12355276055011

CO CONSTELLATION

€ 53 900

O12355276055012

CO CONSTELLATION

€ 57 200

O12355276055013

CO CONSTELLATION

€ 34 100

O12355276055014

CO CONSTELLATION

€ 37 400

O12355276055015

CO CONSTELLATION

€ 16 700

O12355276055016

CO CONSTELLATION

€ 16 700

O12355276058001

CO CONSTELLATION

€ 16 600

O12355276058002

CO CONSTELLATION

€ 13 820

O12355276063001

CO CONSTELLATION

€ 16 600

O12355276063002

CO CONSTELLATION

€ 16 600

O12355276099001

CO CONSTELLATION

€ 36 600

O12355276099004

CO CONSTELLATION

€ 33 300

O12355312051001

CO CONSTELLATION

€ 28 900

O12355312055001

CO CONSTELLATION

€ 25 800

O12355312055002

CO CONSTELLATION

€ 21 470

O12355312055003

CO CONSTELLATION

€ 29 400

O12355312055006

CO CONSTELLATION

€ 127 800

O12355312055007

CO CONSTELLATION

€ 131 100

O12355312055008

CO CONSTELLATION

€ 63 100

O12355312055009

CO CONSTELLATION

€ 66 100

O12355312055010

CO CONSTELLATION

€ 44 200

O12355312055011

CO CONSTELLATION

€ 47 500

O12355312058001

CO CONSTELLATION

€ 25 300

O12355312063001

CO CONSTELLATION

€ 25 300

O12355312099001

CO CONSTELLATION

€ 622 220

O12355352052001

CO CONSTELLATION

€ 27 300

O12355352052002

CO CONSTELLATION

€ 27 300

O12355352052003

CO CONSTELLATION

€ 25 500

O12355352052004

CO CONSTELLATION

€ 25 500

O12355352055001

CO CONSTELLATION

€ 45 100

O12355352055002

CO CONSTELLATION

€ 45 100

O12355352058001

CO CONSTELLATION

€ 27 300

O12355352063001

CO CONSTELLATION

€ 27 300

O12355382099001

CO CONSTELLATION

€ 58 300

O12355382099004

CO CONSTELLATION

€ 53 900

O12355382151001

CO CONSTELLATION

€ 33 870

O12355382152001

CO CONSTELLATION

€ 36 300

O12355382152002

CO CONSTELLATION

€ 36 300

O12355382152003

CO CONSTELLATION

€ 40 700

O12355382152005

CO CONSTELLATION

€ 81 900

O12355382152007

CO CONSTELLATION

€ 34 000

O12355382152008

CO CONSTELLATION

€ 34 000

O12355382158001

CO CONSTELLATION

€ 36 300

O12355382163001

CO CONSTELLATION

€ 36 300

O12355382202001

CO CONSTELLATION

€ 39 500

O12355382202002

CO CONSTELLATION

€ 39 500

O12357352055001

CO CONSTELLATION

€ 19 900

O12357352055003

CO CONSTELLATION

€ 19 900

O12357352055005

CO CONSTELLATION

€ 22 100

O12358352055001

CO CONSTELLATION

€ 23 100

O12358352055002

CO CONSTELLATION

€ 55 000

O12358352055003

CO CONSTELLATION

€ 20 100

O12358352060001

CO CONSTELLATION

€ 19 020

O12358352063001

CO CONSTELLATION

€ 22 600

O12358352063002

CO CONSTELLATION

€ 14 400

O12358352099001

CO CONSTELLATION

€ 44 300

O12710272002001

CO CONSTELLATION MASTER CHRONO

€ 5 500

O12710272052001

CO CONSTELLATION MASTER CHRONO

€ 6 200

O12710272055001

CO CONSTELLATION MASTER CHRONO

€ 6 500

O12715272055001

CO CONSTELLATION MASTER CHRONO

€ 9 000

O12720272052001

CO CONSTELLATION MASTER CHRONO

€ 7 500

O12720272052002

CO CONSTELLATION MASTER CHRONO

€ 7 600

O12720272055001

CO CONSTELLATION MASTER CHRONO

€ 7 900

O12720272055002

CO CONSTELLATION MASTER CHRONO

€ 8 300

O12725272055001

CO CONSTELLATION MASTER CHRONO

€ 10 500

O12725272055002

CO CONSTELLATION MASTER CHRONO

€ 10 400

O12755272055001

CO CONSTELLATION MASTER CHRONO

€ 24 400

O12755272055002

CO CONSTELLATION MASTER CHRONO

€ 24 400

O13020392102001

GLOBEMASTER

€ 10 700

O13020392103001

GLOBEMASTER

€ 10 700

O13023392102001

GLOBEMASTER

€ 8 300

O13023392103001

GLOBEMASTER

€ 8 300

O13023412201001

GLOBEMASTER

€ 10 000

O13023412206001

GLOBEMASTER

€ 10 500

O13030392102001

GLOBEMASTER

€ 6 700

O13030392103001

GLOBEMASTER

€ 6 700

O13033392102001

GLOBEMASTER

€ 6 400

O13033392103001

GLOBEMASTER

€ 6 400

O13033412201001

GLOBEMASTER

€ 7 900

O13033412202001

GLOBEMASTER

€ 7 900

O13033412206001

GLOBEMASTER

€ 7 900

O13053392102001

GLOBEMASTER

€ 19 200

O13053392102002

GLOBEMASTER

€ 19 200

O13053412201001

GLOBEMASTER

€ 21 900

O13053412203001

GLOBEMASTER

€ 23 000

O13093392199001

GLOBEMASTER

€ 37 600

O13093412299001

GLOBEMASTER

€ 44 200

O13093412299002

GLOBEMASTER

€ 44 200

O13110256002001

CO Manhattan

€ 2 500

O13110256005001

CO Manhattan

€ 2 800

O13110256006001

CO Manhattan

€ 2 500

O13110256052001

CO Manhattan

€ 3 200

O13110256053001

CO Manhattan

€ 4 500

O13110256055001

CO Manhattan

€ 3 500

O13110256056001

CO Manhattan

€ 3 200

O13110286002001

CO Manhattan

€ 2 600

O13110286005001

CO Manhattan

€ 2 900

O13110286006001

CO Manhattan

€ 2 600

O13110286052001

CO Manhattan

€ 3 400

O13110286055001

CO Manhattan

€ 3 700

O13110286056001

CO Manhattan

€ 3 400

O13110292002001

CO Manhattan

€ 5 600

O13110292005001

CO Manhattan

€ 5 900

O13110292006001

CO Manhattan

€ 5 600

O13110292052001

CO Manhattan

€ 6 400

O13110292053001

CO Manhattan

€ 7 900

O13110292055001

CO Manhattan

€ 6 700

O13110292056001

CO Manhattan

€ 6 400

O13110362001001

CO Manhattan

€ 5 700

O13110362002001

CO Manhattan

€ 5 700

O13110362006001

CO Manhattan

€ 5 700

O13110366001001

CO Manhattan

€ 2 500

O13110392001001

CO Manhattan

€ 5 700

O13110392002001

CO Manhattan

€ 5 700

O13110392006001

CO Manhattan

€ 5 700

O13112412106001

CO Manhattan

€ 5 500

O13113392001001

CO Manhattan

€ 5 500

O13113392006001

CO Manhattan

€ 5 500

O13113392006002

CO Manhattan

€ 5 500

O13115256052001

CO Manhattan

€ 5 400

O13115256053001

CO Manhattan

€ 6 700

O13115256055001

CO Manhattan

€ 5 700

O13115256056001

CO Manhattan

€ 5 400

O13115286052001

CO Manhattan

€ 5 900

O13115286055001

CO Manhattan

€ 6 200

O13115286056001

CO Manhattan

€ 5 900

O13115292052001

CO Manhattan

€ 9 200

O13115292053001

CO Manhattan

€ 10 700

O13115292055001

CO Manhattan

€ 9 500

O13115292056001

CO Manhattan

€ 9 200

O13120256002001

CO Manhattan

€ 4 100

O13120256002002

CO Manhattan

€ 4 100

O13120256005001

CO Manhattan

€ 4 400

O13120256005002

CO Manhattan

€ 4 400

O13120256008001

CO Manhattan

€ 4 100

O13120256013001

CO Manhattan

€ 4 100

O13120256052001

CO Manhattan

€ 4 700

O13120256052002

CO Manhattan

€ 4 700

O13120256053001

CO Manhattan

€ 6 100

O13120256053002

CO Manhattan

€ 6 100

O13120256055001

CO Manhattan

€ 5 000

O13120256055002

CO Manhattan

€ 5 000

O13120256058001

CO Manhattan

€ 4 700

O13120256063001

CO Manhattan

€ 4 700

O13120286002001

CO Manhattan

€ 4 300

O13120286002002

CO Manhattan

€ 4 300

O13120286005001

CO Manhattan

€ 4 600

O13120286005002

CO Manhattan

€ 4 600

O13120286008001

CO Manhattan

€ 4 300

O13120286013001

CO Manhattan

€ 4 300

O13120286052001

CO Manhattan

€ 5 000

O13120286052002

CO Manhattan

€ 5 000

O13120286055001

CO Manhattan

€ 5 300

O13120286055002

CO Manhattan

€ 5 300

O13120286058001

CO Manhattan

€ 5 000

O13120286063001

CO Manhattan

€ 5 000

O13120292002001

CO Manhattan

€ 7 700

O13120292002002

CO Manhattan

€ 7 700

O13120292005001

CO Manhattan

€ 8 000

O13120292005002

CO Manhattan

€ 8 000

O13120292008001

CO Manhattan

€ 7 700

O13120292013001

CO Manhattan

€ 7 700

O13120292052001

CO Manhattan

€ 8 500

O13120292052002

CO Manhattan

€ 8 500

O13120292053001

CO Manhattan

€ 10 200

O13120292053002

CO Manhattan

€ 10 200

O13120292055001

CO Manhattan

€ 8 900

O13120292055002

CO Manhattan

€ 8 900

O13120292058001

CO Manhattan

€ 8 500

O13120292063001

CO Manhattan

€ 8 500

O13120362002001

CO Manhattan

€ 8 400

O13120362002002

CO Manhattan

€ 8 400

O13120362008001

CO Manhattan

€ 8 400

O13120362013001

CO Manhattan

€ 8 400

O13120362052001

CO Manhattan

€ 9 900

O13120362058001

CO Manhattan

€ 9 900

O13120366002001

CO Manhattan

€ 5 000

O13120366002002

CO Manhattan

€ 5 000

O13120366008001

CO Manhattan

€ 5 000

O13120392002001

CO Manhattan

€ 8 900

O13120392002002

CO Manhattan

€ 8 900

O13120392008001

CO Manhattan

€ 8 900

O13120392013001

CO Manhattan

€ 8 900

O13120392052001

CO Manhattan

€ 10 500

O13120392058001

CO Manhattan

€ 10 500

O13121000

CO 95 ON METAL

€ 1 940

O13123000

CO 95 ON METAL

€ 1 940

O13123392002001

CO Manhattan

€ 7 400

O13123392002002

CO Manhattan

€ 7 400

O13123392008001

CO Manhattan

€ 7 400

O13123392013001

CO Manhattan

€ 7 400

O13123392052001

CO Manhattan

€ 9 000

O13123392058001

CO Manhattan

€ 9 000

O13123412103001

CO Manhattan

€ 8 100

O13123412106001

CO Manhattan

€ 8 100

O13123412106002

CO Manhattan

€ 8 100

O13123412110001

CO Manhattan

€ 8 100

O13125256052001

CO Manhattan

€ 7 100

O13125256052002

CO Manhattan

€ 7 100

O13125256053001

CO Manhattan

€ 8 400

O13125256053002

CO Manhattan

€ 8 400

O13125256055001

CO Manhattan

€ 7 400

O13125256055002

CO Manhattan

€ 7 400

O13125256058001

CO Manhattan

€ 7 100

O13125256063001

CO Manhattan

€ 7 100

O13125286052001

CO Manhattan

€ 7 700

O13125286052002

CO Manhattan

€ 7 700

O13125286055001

CO Manhattan

€ 8 000

O13125286055002

CO Manhattan

€ 8 000

O13125286058001

CO Manhattan

€ 7 700

O13125286063001

CO Manhattan

€ 7 700

O13125292052001

CO Manhattan

€ 11 400

O13125292052002

CO Manhattan

€ 11 400

O13125292053001

CO Manhattan

€ 13 100

O13125292053002

CO Manhattan

€ 13 100

O13125292055001

CO Manhattan

€ 11 700

O13125292055002

CO Manhattan

€ 11 700

O13125292058001

CO Manhattan

€ 11 400

O13125292063001

CO Manhattan

€ 11 400

O13133412101001

CO Manhattan

€ 6 100

O13133412103001

CO Manhattan

€ 6 100

O13133412106001

CO Manhattan

€ 6 100

O13150256053001

CO Manhattan

€ 16 800

O13150256053002

CO Manhattan

€ 16 800

O13150256055001

CO Manhattan

€ 15 700

O13150256055002

CO Manhattan

€ 15 700

O13150286055001

CO Manhattan

€ 17 100

O13150286055002

CO Manhattan

€ 17 100

O13150292052001

CO Manhattan

€ 21 400

O13150292052002

CO Manhattan

€ 21 400

O13150292053001

CO Manhattan

€ 21 400

O13150292053002

CO Manhattan

€ 23 000

O13150292053003

CO Manhattan

€ 23 000

O13150292055001

CO Manhattan

€ 21 700

O13150292055002

CO Manhattan

€ 21 700

O13150292058001

CO Manhattan

€ 21 400

O13150362002001

CO Manhattan

€ 26 900

O13150362002002

CO Manhattan

€ 26 900

O13150362003001

CO Manhattan

€ 26 900

O13150362008001

CO Manhattan

€ 26 900

O13150392002001

CO Manhattan

€ 31 300

O13150392002002

CO Manhattan

€ 31 300

O13150392003001

CO Manhattan

€ 31 300

O13150392008001

CO Manhattan

€ 31 300

O13153392002001

CO Manhattan

€ 18 400

O13153392002002

CO Manhattan

€ 18 400

O13153392003001

CO Manhattan

€ 18 400

O13153392008001

CO Manhattan

€ 18 400

O13155256053001

CO Manhattan

€ 19 100

O13155256053002

CO Manhattan

€ 19 100

O13155256055001

CO Manhattan

€ 18 100

O13155256055002

CO Manhattan

€ 18 100

O13155286055001

CO Manhattan

€ 19 800

O13155286055002

CO Manhattan

€ 19 800

O13155286055003

CO Manhattan

€ 26 700

O13155286055004

CO Manhattan

€ 26 700

O13155286055005

CO Manhattan

€ 32 000

O13155286055007

CO Manhattan

€ 26 700

O13155286099001

CO Manhattan

€ 44 800

O13155286099002

CO Manhattan

€ 44 800

O13155286099003

CO Manhattan

€ 44 800

O13155286099004

CO Manhattan

€ 50 200

O13155292052001

CO Manhattan

€ 24 300

O13155292052002

CO Manhattan

€ 24 300

O13155292053001

CO Manhattan

€ 24 300

O13155292053002

CO Manhattan

€ 25 900

O13155292053003

CO Manhattan

€ 25 900

O13155292055001

CO Manhattan

€ 24 600

O13155292055002

CO Manhattan

€ 24 600

O13155292058001

CO Manhattan

€ 24 300

O13163412101001

CO Manhattan

€ 19 200

O13163412103001

CO Manhattan

€ 19 200

O21020422001001

SE DIVER 300 MASTER CHRONO

€ 9 600

O21020422001002

SE DIVER 300 MASTER CHRONO

€ 9 600

O21020422003001

SE DIVER 300 MASTER CHRONO

€ 9 600

O21020422003002

SE DIVER 300 MASTER CHRONO

€ 9 600

O21020445101001

SE DIVER 300 MASTER CHRONO

€ 12 300

O21020445103001

SE DIVER 300 MASTER CHRONO

€ 12 300

O21022422001001

SE DIVER 300 MASTER CHRONO

€ 6 400

O21022422001002

SE DIVER 300 MASTER CHRONO

€ 6 400

O21022422001003

SE DIVER 300 MASTER CHRONO

€ 7 600

O21022422001004

SE DIVER 300 MASTER CHRONO

€ 6 100

O21022422003001

SE DIVER 300 MASTER CHRONO

€ 6 400

O21022422003002

SE DIVER 300 MASTER CHRONO

€ 6 400

O21022445101001

SE DIVER 300 MASTER CHRONO

€ 9 200

O21022445103001

SE DIVER 300 MASTER CHRONO

€ 9 200

O21030422001001

SE DIVER 300 MASTER CHRONO

€ 4 900

O21030422003001

SE DIVER 300 MASTER CHRONO

€ 4 900

O21030422004001

SE DIVER 300 MASTER CHRONO

€ 4 900

O21030422006001

SE DIVER 300 MASTER CHRONO

€ 4 900

O21030445101001

SE DIVER 300 MASTER CHRONO

€ 7 000

O21030445103001

SE DIVER 300 MASTER CHRONO

€ 7 000

O21030445106001

SE DIVER 300 MASTER CHRONO

€ 7 000

O21032422001001

SE DIVER 300 MASTER CHRONO

€ 4 600

O21032422003001

SE DIVER 300 MASTER CHRONO

€ 4 600

O21032422004001

SE DIVER 300 MASTER CHRONO

€ 4 600

O21032422006001

SE DIVER 300 MASTER CHRONO

€ 4 600

O21032445101001

SE DIVER 300 MASTER CHRONO

€ 6 700

O21060422099001

SE DIVER 300 MASTER CHRONO

€ 12 200

O21060445103001

SE DIVER 300 MASTER CHRONO

€ 18 200

O21062422001001

SE DIVER 300 MASTER CHRONO

€ 32 000

O21062422003001

SE DIVER 300 MASTER CHRONO

€ 20 800

O21062445101001

SE DIVER 300 MASTER CHRONO

€ 25 600

O21090422001001

SE DIVER 300 MASTER CHRONO

€ 8 600

O21092422001001

SE DIVER 300 MASTER CHRONO

€ 7 600

O21092442001001

SE DIVER 300 MASTER CHRONO

€ 7 600

O21092442001002

SE DIVER 300 MASTER CHRONO

€ 7 600

O21093422001001

SE DIVER 300 MASTER CHRONO

€ 48 800

O21215286151001

SE DIV 300 M

€ 5 020

O21230286101001

SE DIV 300 M

€ 2 000

O21230362001001

SE DIV 300 M

€ 2 890

O21230362001002

SE DIV 300 M

€ 3 700

O21230362003001

SE DIV 300 M

€ 3 600

O21230362004001

SE DIV 300 M

€ 3 200

O21230362051001

SE DIV 300 M

€ 3 820

O21230366101001

SE DIV 300 M

€ 1 780

O21230411001001

SE DIV 300 M

€ 2 040

O21230412001001

SE DIV 300 M

€ 2 860

O21230412001002

SE DIV 300 M

€ 2 890

O21230412001003

SE DIV 300 M

€ 3 600

O21230412001004

SE DIV 300 M

€ 3 020

O21230412001005

SE DIV 300 M

€ 3 690

O21230412003001

SE DIV 300 M

€ 3 600

O21230412004001

SE DIV 300 M

€ 3 200

O21230416101001

SE DIV 300 M

€ 1 780

O21230425001001

SE DIV 300 M

€ 5 100

O21230425003001

SE DIV 300 M

€ 5 100

O21230445001001

SE DIV 300 M

€ 5 100

O21230445001002

SE DIV 300 M

€ 5 100

O21230445003001

SE DIV 300 M

€ 5 100

O21230445201001

SE DIV 300 M

€ 6 000

O21230445203001

SE DIV 300 M

€ 6 000

O21232412004001

SE DIV 300 M

€ 4 700

O21232445001001

SE DIV 300 M

€ 4 890

O21292445099001

SE DIV 300 M

€ 6 600

O21330424001001

SE CHRONO DIV

€ 3 020

O21515402001001

SE PLANET OCEAN MASTER CHRONO

€ 14 800

O21518402001001

SE PLANET OCEAN MASTER CHRONO

€ 14 500

O21520465103001

SE PLANET OCEAN MASTER CHRONO

€ 15 500

O21523402004001

SE PLANET OCEAN MASTER CHRONO

€ 7 500

O21523465103001

SE PLANET OCEAN MASTER CHRONO

€ 11 700

O21530402001001

SE PLANET OCEAN MASTER CHRONO

€ 6 100

O21530402003001

SE PLANET OCEAN MASTER CHRONO

€ 6 100

O21530402004001

SE PLANET OCEAN MASTER CHRONO

€ 6 100

O21530442101001

SE PLANET OCEAN MASTER CHRONO

€ 6 100

O21530442101002

SE PLANET OCEAN MASTER CHRONO

€ 6 100

O21530442103001

SE PLANET OCEAN MASTER CHRONO

€ 6 100

O21530442104001

SE PLANET OCEAN MASTER CHRONO

€ 6 100

O21530442201001

SE PLANET OCEAN MASTER CHRONO

€ 7 400

O21530465101001

SE PLANET OCEAN MASTER CHRONO

€ 7 800

O21530465101002

SE PLANET OCEAN MASTER CHRONO

€ 7 800

O21530465103001

SE PLANET OCEAN MASTER CHRONO

€ 7 800

O21530465199001

SE PLANET OCEAN MASTER CHRONO

€ 7 800

O21532432104001

SE PLANET OCEAN MASTER CHRONO

€ 6 600

O21532442101001

SE PLANET OCEAN MASTER CHRONO

€ 5 800

O21532442104001

SE PLANET OCEAN MASTER CHRONO

€ 5 800

O21532465101001

SE PLANET OCEAN MASTER CHRONO

€ 7 500

O21532465104001

SE PLANET OCEAN MASTER CHRONO

€ 7 700

O21532465199001

SE PLANET OCEAN MASTER CHRONO

€ 7 500

O21533402001001

SE PLANET OCEAN MASTER CHRONO

€ 5 800

O21533402003001

SE PLANET OCEAN MASTER CHRONO

€ 5 800

O21533402004001

SE PLANET OCEAN MASTER CHRONO

€ 5 800

O21533442101001

SE PLANET OCEAN MASTER CHRONO

€ 5 800

O21533442103001

SE PLANET OCEAN MASTER CHRONO

€ 5 800

O21533442201001

SE PLANET OCEAN MASTER CHRONO

€ 7 100

O21533465101001

SE PLANET OCEAN MASTER CHRONO

€ 7 500

O21533465103001

SE PLANET OCEAN MASTER CHRONO

€ 7 500

O21558402005001

SE PLANET OCEAN MASTER CHRONO

€ 75 800

O21558402007001

SE PLANET OCEAN MASTER CHRONO

€ 71 000

O21558442107001

SE PLANET OCEAN MASTER CHRONO

€ 97 200

O21562402013001

SE PLANET OCEAN MASTER CHRONO

€ 11 100

O21563402013001

SE PLANET OCEAN MASTER CHRONO

€ 20 000

O21563442103001

SE PLANET OCEAN MASTER CHRONO

€ 22 900

O21563462201001

SE PLANET OCEAN MASTER CHRONO

€ 14 800

O21563465101001

SE PLANET OCEAN MASTER CHRONO

€ 26 700

O21590442199001

SE PLANET OCEAN MASTER CHRONO

€ 7 900

O21590465199001

SE PLANET OCEAN MASTER CHRONO

€ 9 700

O21592402001001

SE PLANET OCEAN MASTER CHRONO

€ 9 600

O21592442199001

SE PLANET OCEAN MASTER CHRONO

€ 7 300

O21592462201001

SE PLANET OCEAN MASTER CHRONO

€ 10 600

O21592462201002

SE PLANET OCEAN MASTER CHRONO

€ 10 600

O21592462201003

SE PLANET OCEAN MASTER CHRONO

€ 10 600

O21592462201004

SE PLANET OCEAN MASTER CHRONO

€ 10 600

O21592462203001

SE PLANET OCEAN MASTER CHRONO

€ 10 600

O21592465101001

SE PLANET OCEAN MASTER CHRONO

€ 11 000

O21592465101002

SE PLANET OCEAN MASTER CHRONO

€ 11 500

O21592465199001

SE PLANET OCEAN MASTER CHRONO

€ 9 100

O21598402001001

SE PLANET OCEAN MASTER CHRONO

€ 18 200

O21598462201002

SE PLANET OCEAN MASTER CHRONO

€ 183 100

O21598462201003

SE PLANET OCEAN MASTER CHRONO

€ 172 900

O21598462203001

SE PLANET OCEAN MASTER CHRONO

€ 162 700

O22010286051001

SE AQUA TERRA MASTER CHRONO

€ 2 800

O22010286053001

SE AQUA TERRA MASTER CHRONO

€ 2 800

O22010286054001

SE AQUA TERRA MASTER CHRONO

€ 2 800

O22010286055001

SE AQUA TERRA MASTER CHRONO

€ 3 700

O22010286060001

SE AQUA TERRA MASTER CHRONO

€ 2 800

O22010342002001

SE AQUA TERRA MASTER CHRONO

€ 5 400

O22010342002002

SE AQUA TERRA MASTER CHRONO

€ 5 400

O22010342003001

SE AQUA TERRA MASTER CHRONO

€ 5 400

O22010342053001

SE AQUA TERRA MASTER CHRONO

€ 6 200

O22010342055001

SE AQUA TERRA MASTER CHRONO

€ 6 500

O22010342057001

SE AQUA TERRA MASTER CHRONO

€ 6 500

O22010342060001

SE AQUA TERRA MASTER CHRONO

€ 6 200

O22010342063001

SE AQUA TERRA MASTER CHRONO

€ 6 200

O22010382001001

SE AQUA TERRA MASTER CHRONO

€ 5 400

O22010382001002

SE AQUA TERRA MASTER CHRONO

€ 6 400

O22010382001003

SE AQUA TERRA MASTER CHRONO

€ 6 400

O22010382002001

SE AQUA TERRA MASTER CHRONO

€ 5 400

O22010382002002

SE AQUA TERRA MASTER CHRONO

€ 5 400

O22010382002003

SE AQUA TERRA MASTER CHRONO

€ 5 400

O22010382003001

SE AQUA TERRA MASTER CHRONO

€ 5 400

O22010382003002

SE AQUA TERRA MASTER CHRONO

€ 5 400

O22010382052001

SE AQUA TERRA MASTER CHRONO

€ 6 300

O22010382053001

SE AQUA TERRA MASTER CHRONO

€ 6 300

O22010382055001

SE AQUA TERRA MASTER CHRONO

€ 6 700

O22010382056001

SE AQUA TERRA MASTER CHRONO

€ 6 300

O22010382057001

SE AQUA TERRA MASTER CHRONO

€ 6 700

O22010402001001

SE AQUA TERRA MASTER CHRONO

€ 4 900

O22010402003001

SE AQUA TERRA MASTER CHRONO

€ 4 900

O22010402006001

SE AQUA TERRA MASTER CHRONO

€ 4 900

O22010412101001

SE AQUA TERRA MASTER CHRONO

€ 5 400

O22010412102001

SE AQUA TERRA MASTER CHRONO

€ 5 400

O22010412103001

SE AQUA TERRA MASTER CHRONO

€ 5 400

O22010412103002

SE AQUA TERRA MASTER CHRONO

€ 5 400

O22010412103004

SE AQUA TERRA MASTER CHRONO

€ 5 400

O22010412106001

SE AQUA TERRA MASTER CHRONO

€ 5 400

O22010412110001

SE AQUA TERRA MASTER CHRONO

€ 5 400

O22010432203001

SE AQUA TERRA MASTER CHRONO

€ 8 500

O22012382001001

SE AQUA TERRA MASTER CHRONO

€ 5 200

O22012382002001

SE AQUA TERRA MASTER CHRONO

€ 5 200

O22012382003001

SE AQUA TERRA MASTER CHRONO

€ 5 200

O22012402001001

SE AQUA TERRA MASTER CHRONO

€ 4 600

O22012402003001

SE AQUA TERRA MASTER CHRONO

€ 4 600

O22012402006001

SE AQUA TERRA MASTER CHRONO

€ 4 600

O22012412101001

SE AQUA TERRA MASTER CHRONO

€ 5 200

O22012412101002

SE AQUA TERRA MASTER CHRONO

€ 5 100

O22012412102001

SE AQUA TERRA MASTER CHRONO

€ 5 100

O22012412102002

SE AQUA TERRA MASTER CHRONO

€ 5 200

O22012412102003

SE AQUA TERRA MASTER CHRONO

€ 5 100

O22012412102004

SE AQUA TERRA MASTER CHRONO

€ 5 500

O22012412103001

SE AQUA TERRA MASTER CHRONO

€ 5 200

O22012412103002

SE AQUA TERRA MASTER CHRONO

€ 5 200

O22012412106001

SE AQUA TERRA MASTER CHRONO

€ 5 200

O22012432203001

SE AQUA TERRA MASTER CHRONO

€ 8 300

O22013382001001

SE AQUA TERRA MASTER CHRONO

€ 5 100

O22013382002001

SE AQUA TERRA MASTER CHRONO

€ 5 100

O22013382003001

SE AQUA TERRA MASTER CHRONO

€ 5 100

O22013412101001

SE AQUA TERRA MASTER CHRONO

€ 5 100

O22013412103001

SE AQUA TERRA MASTER CHRONO

€ 5 100

O22013412103002

SE AQUA TERRA MASTER CHRONO

€ 5 100

O22013412103003

SE AQUA TERRA MASTER CHRONO

€ 5 100

O22013412106001

SE AQUA TERRA MASTER CHRONO

€ 5 100

O22013412110001

SE AQUA TERRA MASTER CHRONO

€ 5 100

O22015342055001

SE AQUA TERRA MASTER CHRONO

€ 12 200

O22015342057001

SE AQUA TERRA MASTER CHRONO

€ 12 200

O22015382055001

SE AQUA TERRA MASTER CHRONO

€ 13 100

O22015382057001

SE AQUA TERRA MASTER CHRONO

€ 13 100

O22020342003001

SE AQUA TERRA MASTER CHRONO

€ 8 900

O22020342006001

SE AQUA TERRA MASTER CHRONO

€ 8 900

O22020342052001

SE AQUA TERRA MASTER CHRONO

€ 10 900

O22020342053001

SE AQUA TERRA MASTER CHRONO

€ 10 900

O22020342055001

SE AQUA TERRA MASTER CHRONO

€ 11 100

O22020382002001

SE AQUA TERRA MASTER CHRONO

€ 9 600

O22020382003001

SE AQUA TERRA MASTER CHRONO

€ 9 600

O22020382006001

SE AQUA TERRA MASTER CHRONO

€ 9 600

O22020382055001

SE AQUA TERRA MASTER CHRONO

€ 11 900

O22020382056001

SE AQUA TERRA MASTER CHRONO

€ 11 500

O22020382056002

SE AQUA TERRA MASTER CHRONO

€ 11 500

O22020412106001

SE AQUA TERRA MASTER CHRONO

€ 10 200

O22022382002001

SE AQUA TERRA MASTER CHRONO

€ 7 300

O22022412102001

SE AQUA TERRA MASTER CHRONO

€ 7 900

O22023342006001

SE AQUA TERRA MASTER CHRONO

€ 6 700

O22023382003001

SE AQUA TERRA MASTER CHRONO

€ 7 000

O22023382006001

SE AQUA TERRA MASTER CHRONO

€ 7 000

O22023412102001

SE AQUA TERRA MASTER CHRONO

€ 7 500

O22025342055001

SE AQUA TERRA MASTER CHRONO

€ 17 100

O22025382055001

SE AQUA TERRA MASTER CHRONO

€ 18 600

O22050412102001

SE AQUA TERRA MASTER CHRONO

€ 28 800

O22050432202001

SE AQUA TERRA MASTER CHRONO

€ 35 800

O22052412103001

SE AQUA TERRA MASTER CHRONO

€ 16 500

O22053412113001

SE AQUA TERRA MASTER CHRONO

€ 16 000

O22053432202001

SE AQUA TERRA MASTER CHRONO

€ 22 400

O22055342055001

SE AQUA TERRA MASTER CHRONO

€ 32 700

O22055342099001

SE AQUA TERRA MASTER CHRONO

€ 46 600

O22055342099002

SE AQUA TERRA MASTER CHRONO

€ 46 600

O22055342099003

SE AQUA TERRA MASTER CHRONO

€ 46 600

O22055342099004

SE AQUA TERRA MASTER CHRONO

€ 38 000

O22055342099005

SE AQUA TERRA MASTER CHRONO

€ 38 000

O22055342099006

SE AQUA TERRA MASTER CHRONO

€ 38 000

O22058342055001

SE AQUA TERRA MASTER CHRONO

€ 21 100

O22058342099001

SE AQUA TERRA MASTER CHRONO

€ 34 900

O22058342099002

SE AQUA TERRA MASTER CHRONO

€ 34 900

O22058342099003

SE AQUA TERRA MASTER CHRONO

€ 34 900

O22058342099004

SE AQUA TERRA MASTER CHRONO

€ 26 400

O22058342099005

SE AQUA TERRA MASTER CHRONO

€ 26 400

O22058342099006

SE AQUA TERRA MASTER CHRONO

€ 26 400

O22058382055001

SE AQUA TERRA MASTER CHRONO

€ 23 400

O22058382099001

SE AQUA TERRA MASTER CHRONO

€ 42 600

O22058382099002

SE AQUA TERRA MASTER CHRONO

€ 42 600

O22058382099003

SE AQUA TERRA MASTER CHRONO

€ 42 600

O22058382099004

SE AQUA TERRA MASTER CHRONO

€ 31 900

O22058382099005

SE AQUA TERRA MASTER CHRONO

€ 31 900

O22058382099006

SE AQUA TERRA MASTER CHRONO

€ 31 900

O22092412106001

SE AQUA TERRA MASTER CHRONO

O22092412106002

SE AQUA TERRA MASTER CHRONO

O22092412106003

SE AQUA TERRA MASTER CHRONO

O22093432299001

SE AQUA TERRA MASTER CHRONO

€ 45 800

O22110424001001

SE AQUA TERRA

€ 4 440

O22110424001002

SE AQUA TERRA

€ 4 090

O22120424001001

SE AQUA TERRA

€ 6 130

O22120424001002

SE AQUA TERRA

O22153491001001

SE AQUA TERRA

€ 11 140

O22153491001002

SE AQUA TERRA

€ 17 600

O22218385001001

SE PLANET OCEAN

€ 12 620

O22218422001001

SE PLANET OCEAN

€ 12 600

O22218422005001

SE PLANET OCEAN

€ 9 370

O22218462001001

SE PLANET OCEAN

€ 12 930

O22218465001001

SE PLANET OCEAN

€ 15 730

O22228385004001

SE PLANET OCEAN

€ 18 500

O22228422004001

SE PLANET OCEAN

€ 14 220

O22228425004001

SE PLANET OCEAN

€ 11 130

O22228465057001

SE PLANET OCEAN

€ 66 620

O22228465057002

SE PLANET OCEAN

€ 73 730

O22228465057003

SE PLANET OCEAN

€ 104 830

O22228465057004

SE PLANET OCEAN

€ 59 510

O22228465057005

SE PLANET OCEAN

€ 44 440

O22230385001001

SE PLANET OCEAN

€ 5 330

O22230385001002

SE PLANET OCEAN

€ 5 330

O22230385001003

SE PLANET OCEAN

€ 5 800

O22230422001001

SE PLANET OCEAN

€ 4 270

O22230462001001

SE PLANET OCEAN

€ 3 100

O22232385001001

SE PLANET OCEAN

€ 5 240

O22232385001003

SE PLANET OCEAN

€ 5 240

O22232465001001

SE PLANET OCEAN

€ 5 420

O22260422001001

SE PLANET OCEAN

€ 26 620

O22260462001001

SE PLANET OCEAN

€ 32 090

O22260465001001

SE PLANET OCEAN

€ 44 600

O22262422001001

SE PLANET OCEAN

€ 11 830

O22262462001001

SE PLANET OCEAN

€ 13 350

O22262465001001

SE PLANET OCEAN

€ 16 020

O22263422001001

SE PLANET OCEAN

€ 16 130

O22263462001001

SE PLANET OCEAN

€ 22 000

O22263465001001

SE PLANET OCEAN

€ 21 960

O22430552101001

SE PLOPROF

€ 8 100

O22430552104001

SE PLOPROF

€ 8 100

O22432552101001

SE PLOPROF

€ 7 900

O22432552101002

SE PLOPROF

€ 7 900

O22432552104001

SE PLOPROF

€ 7 900

O22512435001001

SE BULL HEAD

€ 8 100

O22512435002001

SE BULL HEAD

€ 8 100

O22512435004001

SE BULL HEAD

€ 8 000

O22760552103001

SE PLOPROF MASTER CHRONO

€ 16 000

O22790552101001

SE PLOPROF MASTER CHRONO

€ 10 700

O22790552104001

SE PLOPROF MASTER CHRONO

€ 10 700

O22790552199001

SE PLOPROF MASTER CHRONO

€ 11 700

O22790552199002

SE PLOPROF MASTER CHRONO

€ 11 700

O23110302002001

SE NEW AQUA TERRA

€ 4 500

O23110302006001

SE NEW AQUA TERRA

€ 4 500

O23110306002001

SE NEW AQUA TERRA

€ 2 300

O23110306006001

SE NEW AQUA TERRA

€ 2 300

O23110306055001

SE NEW AQUA TERRA

€ 3 500

O23110306056001

SE NEW AQUA TERRA

€ 3 300

O23110306102001

SE NEW AQUA TERRA

€ 2 040

O23110306106001

SE NEW AQUA TERRA

€ 2 040

O23110306155001

SE NEW AQUA TERRA

€ 3 110

O23110306156001

SE NEW AQUA TERRA

€ 2 930

O23110342001001

SE NEW AQUA TERRA

€ 4 500

O23110342004001

SE NEW AQUA TERRA

€ 4 500

O23110342055001

SE NEW AQUA TERRA

€ 5 900

O23110342055002

SE NEW AQUA TERRA

€ 6 300

O23110342055003

SE NEW AQUA TERRA

€ 7 500

O23110342057001

SE NEW AQUA TERRA

€ 6 300

O23110342057002

SE NEW AQUA TERRA

€ 6 300

O23110342057003

SE NEW AQUA TERRA

€ 6 300

O23110392101001

SE NEW AQUA TERRA

€ 4 600

O23110392101002

SE NEW AQUA TERRA

€ 5 000

O23110392102001

SE NEW AQUA TERRA

€ 4 600

O23110392102002

SE NEW AQUA TERRA

€ 5 000

O23110392103001

SE NEW AQUA TERRA

€ 4 600

O23110392103002

SE NEW AQUA TERRA

€ 5 000

O23110392106001

SE NEW AQUA TERRA

€ 4 600

O23110392154001

SE NEW AQUA TERRA

€ 5 400

O23110392155001

SE NEW AQUA TERRA

€ 5 600

O23110392155002

SE NEW AQUA TERRA

€ 6 400

O23110392157001

SE NEW AQUA TERRA

€ 6 400

O23110392157002

SE NEW AQUA TERRA

€ 6 400

O23110392157003

SE NEW AQUA TERRA

€ 6 400

O23110392201001

SE NEW AQUA TERRA

€ 7 000

O23110392202001

SE NEW AQUA TERRA

€ 7 200

O23110392203001

SE NEW AQUA TERRA

€ 7 000

O23110396002001

SE NEW AQUA TERRA

€ 2 300

O23110396006001

SE NEW AQUA TERRA

€ 2 300

O23110396102001

SE NEW AQUA TERRA

€ 2 040

O23110396106001

SE NEW AQUA TERRA

€ 2 040

O23110422101001

SE NEW AQUA TERRA

€ 4 600

O23110422101002

SE NEW AQUA TERRA

€ 5 600

O23110422101003

SE NEW AQUA TERRA

€ 5 000

O23110422101004

SE NEW AQUA TERRA

€ 5 000

O23110422101006

SE NEW AQUA TERRA

€ 5 150

O23110422102001

SE NEW AQUA TERRA

€ 4 600

O23110422102002

SE NEW AQUA TERRA

€ 4 090

O23110422102003

SE NEW AQUA TERRA

€ 5 000

O23110422102004

SE NEW AQUA TERRA

€ 5 000

O23110422102005

SE NEW AQUA TERRA

€ 6 100

O23110422102006

SE NEW AQUA TERRA

€ 5 000

O23110422103001

SE NEW AQUA TERRA

€ 4 090

O23110422103003

SE NEW AQUA TERRA

€ 5 000

O23110422103004

SE NEW AQUA TERRA

€ 6 200

O23110422103006

SE NEW AQUA TERRA

€ 5 150

O23110422106001

SE NEW AQUA TERRA

€ 4 300

O23110422201001

SE NEW AQUA TERRA

€ 6 500

O23110422202001

SE NEW AQUA TERRA

€ 6 700

O23110422203001

SE NEW AQUA TERRA

€ 6 500

O23110432201001

SE NEW AQUA TERRA

€ 6 600

O23110432201002

SE NEW AQUA TERRA

€ 7 000

O23110432202001

SE NEW AQUA TERRA

€ 7 110

O23110432202003

SE NEW AQUA TERRA

€ 7 200

O23110432203001

SE NEW AQUA TERRA

€ 6 600

O23110432203002

SE NEW AQUA TERRA

€ 7 000

O23110432206001

SE NEW AQUA TERRA

€ 7 110

O23110435202001

SE NEW AQUA TERRA

€ 7 900

O23110435203001

SE NEW AQUA TERRA

€ 7 700

O23110435206001

SE NEW AQUA TERRA

€ 7 700

O23110445001001

SE NEW AQUA TERRA

€ 6 100

O23110445002001

SE NEW AQUA TERRA

€ 5 510

O23110445004001

SE NEW AQUA TERRA

€ 5 420

O23110445006001

SE NEW AQUA TERRA

€ 6 100

O23110445009001

SE NEW AQUA TERRA

€ 5 420

O23110445204001

SE NEW AQUA TERRA

€ 7 700

O23110445206001

SE NEW AQUA TERRA

€ 6 840

O23112422101001

SE NEW AQUA TERRA

€ 5 500

O23112422101002

SE NEW AQUA TERRA

€ 4 900

O23112422101003

SE NEW AQUA TERRA

€ 4 900

O23113342001001

SE NEW AQUA TERRA

€ 4 400

O23113342004001

SE NEW AQUA TERRA

€ 4 400

O23113342055001

SE NEW AQUA TERRA

€ 5 800

O23113392101001

SE NEW AQUA TERRA

€ 4 500

O23113392102001

SE NEW AQUA TERRA

€ 4 000

O23113392102002

SE NEW AQUA TERRA

€ 4 500

O23113392102003

SE NEW AQUA TERRA

€ 5 100

O23113392103001

SE NEW AQUA TERRA

€ 4 900

O23113392106001

SE NEW AQUA TERRA

€ 4 000

O23113392154001

SE NEW AQUA TERRA

€ 4 710

O23113392155001

SE NEW AQUA TERRA

€ 4 890

O23113392155002

SE NEW AQUA TERRA

€ 6 300

O23113392157001

SE NEW AQUA TERRA

€ 6 300

O23113392157002

SE NEW AQUA TERRA

€ 6 300

O23113392157003

SE NEW AQUA TERRA

€ 6 300

O23113392201001

SE NEW AQUA TERRA

€ 6 900

O23113392202001

SE NEW AQUA TERRA

€ 7 100

O23113392203001

SE NEW AQUA TERRA

€ 6 900

O23113422102001

SE NEW AQUA TERRA

€ 4 000

O23113422102002

SE NEW AQUA TERRA

€ 4 000

O23113422102003

SE NEW AQUA TERRA

€ 5 100

O23113422103001

SE NEW AQUA TERRA

€ 4 900

O23113422106001

SE NEW AQUA TERRA

€ 4 500

O23113422201001

SE NEW AQUA TERRA

€ 6 400

O23113422202001

SE NEW AQUA TERRA

€ 6 600

O23113422203001

SE NEW AQUA TERRA

€ 6 400

O23113432201001

SE NEW AQUA TERRA

€ 6 500

O23113432201002

SE NEW AQUA TERRA

€ 6 900

O23113432202001

SE NEW AQUA TERRA

€ 7 020

O23113432202002

SE NEW AQUA TERRA

€ 7 020

O23113432202003

SE NEW AQUA TERRA

€ 7 100

O23113432202004

SE NEW AQUA TERRA

€ 6 500

O23113432203001

SE NEW AQUA TERRA

€ 6 500

O23113432203002

SE NEW AQUA TERRA

€ 6 900

O23113432206001

SE NEW AQUA TERRA

€ 7 020

O23113435202001

SE NEW AQUA TERRA

€ 7 800

O23113435203001

SE NEW AQUA TERRA

€ 7 600

O23113435206001

SE NEW AQUA TERRA

€ 7 600

O23113445001001

SE NEW AQUA TERRA

€ 5 330

O23113445002001

SE NEW AQUA TERRA

€ 5 330

O23113445004001

SE NEW AQUA TERRA

€ 6 000

O23113445006001

SE NEW AQUA TERRA

€ 5 330

O23113445009001

SE NEW AQUA TERRA

€ 5 330

O23113445204001

SE NEW AQUA TERRA

€ 6 760

O23113445206001

SE NEW AQUA TERRA

€ 7 600

O23113491006001

SE NEW AQUA TERRA

€ 4 000

O23115302055001

SE NEW AQUA TERRA

€ 9 700

O23115306155001

SE NEW AQUA TERRA

€ 6 670

O23115306156001

SE NEW AQUA TERRA

€ 6 490

O23115342055001

SE NEW AQUA TERRA

€ 11 100

O23115342055002

SE NEW AQUA TERRA

€ 11 500

O23115342057001

SE NEW AQUA TERRA

€ 11 500

O23115342057002

SE NEW AQUA TERRA

€ 11 500

O23115342057003

SE NEW AQUA TERRA

€ 11 500

O23115392151001

SE NEW AQUA TERRA

€ 12 600

O23115392155001

SE NEW AQUA TERRA

€ 12 600

O23118302055001

SE NEW AQUA TERRA

€ 9 600

O23118342055001

SE NEW AQUA TERRA

€ 11 000

O23118392151001

SE NEW AQUA TERRA

€ 11 110

O23118392155001

SE NEW AQUA TERRA

€ 12 500

O23120302006001

SE NEW AQUA TERRA

€ 5 640

O23120302006002

SE NEW AQUA TERRA

€ 5 640

O23120302006003

SE NEW AQUA TERRA

€ 6 100

O23120302006004

SE NEW AQUA TERRA

€ 6 100

O23120302055001

SE NEW AQUA TERRA

€ 6 670

O23120302055002

SE NEW AQUA TERRA

€ 6 670

O23120302055003

SE NEW AQUA TERRA

€ 7 400

O23120302055004

SE NEW AQUA TERRA

€ 7 400

O23120342001001

SE NEW AQUA TERRA

€ 6 220

O23120342001002

SE NEW AQUA TERRA

€ 6 220

O23120342001003

SE NEW AQUA TERRA

€ 5 800

O23120342001004

SE NEW AQUA TERRA

€ 5 800

O23120342055001

SE NEW AQUA TERRA

€ 11 000

O23120342055002

SE NEW AQUA TERRA

€ 11 000

O23120392102001

SE NEW AQUA TERRA

€ 10 200

O23120392102002

SE NEW AQUA TERRA

€ 10 200

O23120392106001

SE NEW AQUA TERRA

€ 6 670

O23120392106002

SE NEW AQUA TERRA

€ 6 670

O23120392106003

SE NEW AQUA TERRA

€ 6 200

O23120392106004

SE NEW AQUA TERRA

€ 6 600

O23120392108001

SE NEW AQUA TERRA

€ 10 200

O23120392151001

SE NEW AQUA TERRA

€ 7 460

O23120392151002

SE NEW AQUA TERRA

€ 7 870

O23120392151003

SE NEW AQUA TERRA

€ 7 700

O23120392152001

SE NEW AQUA TERRA

€ 7 460

O23120392152002

SE NEW AQUA TERRA

€ 7 870

O23120392152003

SE NEW AQUA TERRA

€ 8 200

O23120392155001

SE NEW AQUA TERRA

€ 7 470

O23120392155002

SE NEW AQUA TERRA

€ 7 470

O23120392155003

SE NEW AQUA TERRA

€ 11 600

O23120392155004

SE NEW AQUA TERRA

€ 11 600

O23120392206001

SE NEW AQUA TERRA

€ 12 300

O23120422102001

SE NEW AQUA TERRA

€ 10 000

O23120422106001

SE NEW AQUA TERRA

€ 7 240

O23120422106002

SE NEW AQUA TERRA

€ 5 960

O23120422106003

SE NEW AQUA TERRA

€ 10 700

O23120422108001

SE NEW AQUA TERRA

€ 10 700

O23120422206001

SE NEW AQUA TERRA

€ 12 300

O23120432206001

SE NEW AQUA TERRA

€ 10 440

O23120432206002

SE NEW AQUA TERRA

€ 12 800

O23120432206003

SE NEW AQUA TERRA

€ 11 900

O23120435206001

SE NEW AQUA TERRA

€ 13 600

O23120445006001

SE NEW AQUA TERRA

€ 13 900

O23120445006002

SE NEW AQUA TERRA

€ 8 130

O23123302006001

SE NEW AQUA TERRA

€ 5 900

O23123302006002

SE NEW AQUA TERRA

€ 5 900

O23123302055001

SE NEW AQUA TERRA

€ 7 300

O23123302055002

SE NEW AQUA TERRA

€ 7 300

O23123342001001

SE NEW AQUA TERRA

€ 6 100

O23123342001002

SE NEW AQUA TERRA

€ 5 700

O23123342055001

SE NEW AQUA TERRA

€ 8 200

O23123342055002

SE NEW AQUA TERRA

€ 8 200

O23123392102001

SE NEW AQUA TERRA

€ 6 900

O23123392102002

SE NEW AQUA TERRA

€ 6 900

O23123392106001

SE NEW AQUA TERRA

€ 6 500

O23123392106002

SE NEW AQUA TERRA

€ 6 500

O23123392151001

SE NEW AQUA TERRA

€ 8 100

O23123392152001

SE NEW AQUA TERRA

€ 8 100

O23123392155001

SE NEW AQUA TERRA

€ 6 000

O23123392155002

SE NEW AQUA TERRA

€ 7 200

O23123392206001

SE NEW AQUA TERRA

€ 10 300

O23123422102001

SE NEW AQUA TERRA

€ 7 000

O23123422106001

SE NEW AQUA TERRA

€ 7 100

O23123422106003

SE NEW AQUA TERRA

€ 7 500

O23123422206001

SE NEW AQUA TERRA

€ 10 000

O23123432206001

SE NEW AQUA TERRA

€ 9 400

O23123432206002

SE NEW AQUA TERRA

€ 11 000

O23123432206003

SE NEW AQUA TERRA

€ 9 600

O23123435206001

SE NEW AQUA TERRA

€ 11 800

O23123445006001

SE NEW AQUA TERRA

€ 9 100

O23123445006002

SE NEW AQUA TERRA

€ 9 900

O23125302055001

SE NEW AQUA TERRA

€ 10 180

O23125302055002

SE NEW AQUA TERRA

€ 10 180

O23125302055003

SE NEW AQUA TERRA

€ 12 100

O23125302055004

SE NEW AQUA TERRA

€ 12 100

O23125342055001

SE NEW AQUA TERRA

€ 11 640

O23125342055002

SE NEW AQUA TERRA

€ 11 640

O23125342055003

SE NEW AQUA TERRA

€ 12 600

O23125342055004

SE NEW AQUA TERRA

€ 12 600

O23125342055005

SE NEW AQUA TERRA

€ 16 600

O23125342055006

SE NEW AQUA TERRA

€ 16 600

O23125392151001

SE NEW AQUA TERRA

€ 13 560

O23125392151002

SE NEW AQUA TERRA

€ 13 560

O23125392155001

SE NEW AQUA TERRA

€ 19 400

O23125392155002

SE NEW AQUA TERRA

€ 19 400

O23128302055001

SE NEW AQUA TERRA

€ 11 900

O23128302055002

SE NEW AQUA TERRA

€ 11 900

O23128342055001

SE NEW AQUA TERRA

€ 12 500

O23128342055002

SE NEW AQUA TERRA

€ 12 500

O23128342055003

SE NEW AQUA TERRA

€ 13 800

O23128342055004

SE NEW AQUA TERRA

€ 13 800

O23150302006001

SE NEW AQUA TERRA

€ 21 300

O23150302006002

SE NEW AQUA TERRA

€ 21 300

O23150302055001

SE NEW AQUA TERRA

€ 22 600

O23150302055002

SE NEW AQUA TERRA

€ 22 600

O23150342001001

SE NEW AQUA TERRA

€ 24 800

O23150342001002

SE NEW AQUA TERRA

€ 24 800

O23150342055001

SE NEW AQUA TERRA

€ 26 900

O23150392106001

SE NEW AQUA TERRA

€ 28 300

O23150392106002

SE NEW AQUA TERRA

€ 23 560

O23150392106003

SE NEW AQUA TERRA

€ 28 700

O23150392108001

SE NEW AQUA TERRA

€ 28 700

O23150392202001

SE NEW AQUA TERRA

€ 31 900

O23150392206001

SE NEW AQUA TERRA

€ 31 900

O23150422106001

SE NEW AQUA TERRA

€ 29 500

O23150422106002

SE NEW AQUA TERRA

€ 29 900

O23150422108001

SE NEW AQUA TERRA

€ 29 900

O23150422202001

SE NEW AQUA TERRA

€ 31 500

O23150422206001

SE NEW AQUA TERRA

€ 31 500

O23150432201001

SE NEW AQUA TERRA

€ 37 400

O23150432202001

SE NEW AQUA TERRA

€ 32 000

O23150432202002

SE NEW AQUA TERRA

€ 33 600

O23150432206001

SE NEW AQUA TERRA

€ 33 600

O23150432206002

SE NEW AQUA TERRA

€ 32 000

O23150432206003

SE NEW AQUA TERRA

€ 33 600

O23150435202001

SE NEW AQUA TERRA

€ 37 400

O23150435206001

SE NEW AQUA TERRA

€ 37 400

O23150445001001

SE NEW AQUA TERRA

€ 40 900

O23150445006001

SE NEW AQUA TERRA

€ 39 500

O23150445206001

SE NEW AQUA TERRA

€ 41 400

O23153342001001

SE NEW AQUA TERRA

€ 13 200

O23153342001002

SE NEW AQUA TERRA

€ 13 200

O23153342055001

SE NEW AQUA TERRA

€ 15 300

O23153392106001

SE NEW AQUA TERRA

€ 16 300

O23153392106002

SE NEW AQUA TERRA

€ 15 200

O23153392106003

SE NEW AQUA TERRA

€ 16 700

O23153392108001

SE NEW AQUA TERRA

€ 16 700

O23153392202001

SE NEW AQUA TERRA

€ 19 900

O23153392206001

SE NEW AQUA TERRA

€ 19 900

O23153422106001

SE NEW AQUA TERRA

€ 16 800

O23153422106002

SE NEW AQUA TERRA

€ 17 300

O23153422108001

SE NEW AQUA TERRA

€ 17 300

O23153422202001

SE NEW AQUA TERRA

€ 18 900

O23153422206001

SE NEW AQUA TERRA

€ 18 900

O23153432201001

SE NEW AQUA TERRA

€ 22 000

O23153432202001

SE NEW AQUA TERRA

€ 19 300

O23153432202002

SE NEW AQUA TERRA

€ 20 800

O23153432206001

SE NEW AQUA TERRA

€ 20 800

O23153432206002

SE NEW AQUA TERRA

€ 19 300

O23153432206003

SE NEW AQUA TERRA

€ 20 800

O23153435202001

SE NEW AQUA TERRA

€ 24 600

O23153435206001

SE NEW AQUA TERRA

€ 24 600

O23153445001001

SE NEW AQUA TERRA

€ 21 640

O23153445006001

SE NEW AQUA TERRA

€ 24 200

O23153445206001

SE NEW AQUA TERRA

€ 26 000

O23153491004001

SE NEW AQUA TERRA

€ 19 240

O23153491004002

SE NEW AQUA TERRA

€ 19 200

O23153491006001

SE NEW AQUA TERRA

€ 17 200

O23155302055001

SE NEW AQUA TERRA

€ 27 300

O23155302055002

SE NEW AQUA TERRA

€ 27 300

O23155302055003

SE NEW AQUA TERRA

€ 59 490

O23155302099001

SE NEW AQUA TERRA

€ 322 460

O23155302099002

SE NEW AQUA TERRA

€ 99 690

O23155302099003

SE NEW AQUA TERRA

€ 222 180

O23155342055001

SE NEW AQUA TERRA

€ 32 000

O23155342055002

SE NEW AQUA TERRA

€ 32 000

O23155342055003

SE NEW AQUA TERRA

€ 32 500

O23155392151001

SE NEW AQUA TERRA

€ 25 720

O23155392151002

SE NEW AQUA TERRA

€ 29 780

O23155392152001

SE NEW AQUA TERRA

€ 31 160

O23155392155001

SE NEW AQUA TERRA

€ 37 900

O23155392155002

SE NEW AQUA TERRA

€ 37 900

O23155432202001

SE NEW AQUA TERRA

€ 34 550

O23158302055001

SE NEW AQUA TERRA

€ 16 200

O23158302055002

SE NEW AQUA TERRA

€ 16 200

O23158342055001

SE NEW AQUA TERRA

€ 20 400

O23158342055002

SE NEW AQUA TERRA

€ 20 400

O23158342055003

SE NEW AQUA TERRA

€ 20 800

O23158392151001

SE NEW AQUA TERRA

€ 17 180

O23158392151002

SE NEW AQUA TERRA

€ 20 000

O23158392152001

SE NEW AQUA TERRA

€ 21 730

O23158392155001

SE NEW AQUA TERRA

€ 25 900

O23158392155002

SE NEW AQUA TERRA

€ 25 900

O23158392199001

SE NEW AQUA TERRA

€ 29 710

O23190392104001

SE NEW AQUA TERRA

€ 7 000

O23190432204001

SE NEW AQUA TERRA

€ 9 000

O23192392104001

SE NEW AQUA TERRA

€ 6 400

O23192432204001

SE NEW AQUA TERRA

€ 8 400

O23193432201001

SE NEW AQUA TERRA

€ 31 010

O23215382001001

SE PLANET OCEAN 2011

€ 13 400

O23215382004001

SE PLANET OCEAN 2011

€ 13 400

O23215422101001

SE PLANET OCEAN 2011

€ 14 000

O23215422104001

SE PLANET OCEAN 2011

€ 14 000

O23215462101001

SE PLANET OCEAN 2011

€ 16 000

O23215465101001

SE PLANET OCEAN 2011

€ 18 500

O23218382001001

SE PLANET OCEAN 2011

€ 13 300

O23218382004001

SE PLANET OCEAN 2011

€ 13 300

O23218422101001

SE PLANET OCEAN 2011

€ 14 000

O23218422104001

SE PLANET OCEAN 2011

€ 14 000

O23218462101001

SE PLANET OCEAN 2011

€ 15 900

O23218465101001

SE PLANET OCEAN 2011

€ 18 400

O23230382001001

SE PLANET OCEAN 2011

€ 5 000

O23230382001002

SE PLANET OCEAN 2011

€ 5 000

O23230382004001

SE PLANET OCEAN 2011

€ 5 000

O23230422101001

SE PLANET OCEAN 2011

€ 5 100

O23230422101002

SE PLANET OCEAN 2011

€ 4 900

O23230422101003

SE PLANET OCEAN 2011

€ 5 100

O23230422101004

SE PLANET OCEAN 2011

€ 4 800

O23230422104001

SE PLANET OCEAN 2011

€ 5 100

O23230442201001

SE PLANET OCEAN 2011

€ 6 300

O23230442201002

SE PLANET OCEAN 2011

€ 6 300

O23230442201003

SE PLANET OCEAN 2011

€ 5 600

O23230442203001

SE PLANET OCEAN 2011

€ 6 600

O23230462101001

SE PLANET OCEAN 2011

€ 5 100

O23230462101002

SE PLANET OCEAN 2011

€ 4 900

O23230462101003

SE PLANET OCEAN 2011

€ 5 100

O23230465101001

SE PLANET OCEAN 2011

€ 6 700

O23230465101002

SE PLANET OCEAN 2011

€ 6 500

O23230465101003

SE PLANET OCEAN 2011

€ 6 700

O23232382001001

SE PLANET OCEAN 2011

€ 4 290

O23232382001003

SE PLANET OCEAN 2011

€ 4 290

O23232382004001

SE PLANET OCEAN 2011

€ 4 290

O23232422101001

SE PLANET OCEAN 2011

€ 4 800

O23232422101003

SE PLANET OCEAN 2011

€ 5 000

O23232422101005

SE PLANET OCEAN 2011

€ 5 000

O23232422104001

SE PLANET OCEAN 2011

€ 5 000

O23232442201001

SE PLANET OCEAN 2011

€ 6 200

O23232442201002

SE PLANET OCEAN 2011

€ 6 200

O23232442201003

SE PLANET OCEAN 2011

€ 5 510

O23232442203001

SE PLANET OCEAN 2011

€ 6 500

O23232442203002

SE PLANET OCEAN 2011

€ 5 960

O23232462101001

SE PLANET OCEAN 2011

€ 4 800

O23232462101003

SE PLANET OCEAN 2011

€ 5 000

O23232462101005

SE PLANET OCEAN 2011

€ 5 000

O23232465101001

SE PLANET OCEAN 2011

€ 6 400

O23232465101003

SE PLANET OCEAN 2011

€ 6 600

O23232465101005

SE PLANET OCEAN 2011

€ 6 600

O23233382001001

SE PLANET OCEAN 2011

€ 4 900

O23233382001002

SE PLANET OCEAN 2011

€ 4 900

O23233382004001

SE PLANET OCEAN 2011

€ 4 900

O23258382001001

SE PLANET OCEAN 2011

€ 29 400

O23258382004001

SE PLANET OCEAN 2011

€ 29 400

O23258422101001

SE PLANET OCEAN 2011

€ 32 400

O23258422104001

SE PLANET OCEAN 2011

€ 32 400

O23263382001001

SE PLANET OCEAN 2011

€ 20 000

O23263382004001

SE PLANET OCEAN 2011

€ 20 000

O23263422101001

SE PLANET OCEAN 2011

€ 22 300

O23263422104001

SE PLANET OCEAN 2011

€ 22 300

O23263442201001

SE PLANET OCEAN 2011

€ 25 400

O23263462101001

SE PLANET OCEAN 2011

€ 25 000

O23263465101001

SE PLANET OCEAN 2011

€ 29 500

O23290382003001

SE PLANET OCEAN 2011

€ 6 900

O23290422103001

SE PLANET OCEAN 2011

€ 7 000

O23290442203001

SE PLANET OCEAN 2011

€ 8 300

O23290462103001

SE PLANET OCEAN 2011

€ 7 000

O23290465103001

SE PLANET OCEAN 2011

€ 8 700

O23292382003001

SE PLANET OCEAN 2011

€ 6 300

O23292422103001

SE PLANET OCEAN 2011

€ 6 400

O23292442203001

SE PLANET OCEAN 2011

€ 7 700

O23292462103001

SE PLANET OCEAN 2011

€ 6 400

O23292465103001

SE PLANET OCEAN 2011

€ 8 100

O23293442210001

SE PLANET OCEAN 2011

€ 52 440

O23293442299001

SE PLANET OCEAN 2011

€ 52 440

O23298442201001

SE PLANET OCEAN 2011

€ 80 300

O23320412101001

SE 300

€ 11 200

O23320412101002

SE 300

€ 11 200

O23322412101001

SE 300

€ 7 600

O23322412101002

SE 300

€ 7 600

O23330412101001

SE 300

€ 5 800

O23332412101001

SE 300

€ 6 400

O23332412101002

SE 300

€ 5 500

O23360412101001

SE 300

€ 30 500

O23360412101002

SE 300

€ 30 500

O23360412103001

SE 300

€ 13 400

O23362412101001

SE 300

€ 17 800

O23362412101002

SE 300

€ 17 800

O23362412103001

SE 300

€ 9 800

O23390412101001

SE 300

€ 46 220

O23390412103001

SE 300

€ 7 600

O23390412103002

SE 300

€ 55 900

O23392412103001

SE 300

€ 7 000

O23393412103001

SE 300

€ 35 600

O23410392001001

SE 300 MASTER CHRONO

€ 6 600

O23410392001002

SE 300 MASTER CHRONO

€ 7 100

O23460412199001

SE 300 MASTER CHRONO

€ 32 500

O23460412199002

SE 300 MASTER CHRONO

€ 37 500

O23463412199001

SE 300 MASTER CHRONO

€ 26 200

O23463412199002

SE 300 MASTER CHRONO

€ 31 500

O23490412199001

SE 300 MASTER CHRONO

€ 59 000

O23490412199002

SE 300 MASTER CHRONO

€ 64 000

O23493412199001

SE 300 MASTER CHRONO

€ 39 700

O23493412199002

SE 300 MASTER CHRONO

€ 44 700

O30423445206001

SP MOON MASTER CHRONO

€ 12 700

O30423445208001

SP MOON MASTER CHRONO

€ 11 900

O30423445213001

SP MOON MASTER CHRONO

€ 12 700

O30430445201001

SP MOON MASTER CHRONO

€ 9 900

O30433445201001

SP MOON MASTER CHRONO

€ 9 600

O30433445203001

SP MOON MASTER CHRONO

€ 9 600

O30463445201001

SP MOON MASTER CHRONO

€ 26 200

O30463445202001

SP MOON MASTER CHRONO

€ 26 200

O30490445299001

SP MOON MASTER CHRONO

€ 70 000

O30490445299002

SP MOON MASTER CHRONO

€ 77 000

O30490445299003

SP MOON MASTER CHRONO

€ 70 000

O30493445203001

SP MOON MASTER CHRONO

€ 11 900

O30493445203002

SP MOON MASTER CHRONO

€ 12 900

O30493445299001

SP MOON MASTER CHRONO

€ 45 800

O30493445299002

SP MOON MASTER CHRONO

€ 50 800

O30493445299003

SP MOON MASTER CHRONO

€ 58 000

O30493445299004

SP MOON MASTER CHRONO

€ 50 800

O31020425001001

SP MOON CALIBRE 3861

€ 9 100

O31060425099001

SP MOON CALIBRE 3861

€ 32 500

O31110393001001

SP MOON ORIGINAL PROF

€ 6 800

O31110393001002

SP MOON ORIGINAL PROF

€ 6 800

O31112423001001

SP MOON ORIGINAL PROF

€ 6 020

O31130403001001

SP MOON ORIGINAL PROF

€ 13 200

O31130423001001

SP MOON ORIGINAL PROF

€ 3 130

O31130423001002

SP MOON ORIGINAL PROF

€ 3 980

O31130423001003

SP MOON ORIGINAL PROF

€ 4 440

O31130423001004

SP MOON ORIGINAL PROF

€ 3 470

O31130423001005

SP MOON ORIGINAL PROF

€ 4 700

O31130423001006

SP MOON ORIGINAL PROF

€ 5 500

O31130423003001

SP MOON ORIGINAL PROF

€ 6 100

O31130423013001

SP MOON ORIGINAL PROF

€ 4 270

O31130423099001

SP MOON ORIGINAL PROF

€ 6 930

O31130423099002

SP MOON ORIGINAL PROF

€ 6 100

O31130443201001

SP MOON ORIGINAL PROF

€ 9 500

O31130445001001

SP MOON ORIGINAL PROF

€ 7 470

O31130445001002

SP MOON ORIGINAL PROF

€ 5 160

O31130445101001

SP MOON ORIGINAL PROF

€ 13 800

O31130445101002

SP MOON ORIGINAL PROF

€ 7 100

O31130445104001

SP MOON ORIGINAL PROF

€ 6 760

O31132403001001

SP MOON ORIGINAL PROF

€ 4 500

O31132403002001

SP MOON ORIGINAL PROF

€ 5 500

O31132403006001

SP MOON ORIGINAL PROF

€ 5 800

O31132423001001

SP MOON ORIGINAL PROF

€ 5 500

O31132423004001

SP MOON ORIGINAL PROF

€ 4 230

O31132423004003

SP MOON ORIGINAL PROF

€ 6 200

O31132423013001

SP MOON ORIGINAL PROF

€ 4 180

O31133403002001

SP MOON ORIGINAL PROF

€ 5 500

O31133423001001

SP MOON ORIGINAL PROF

€ 4 600

O31133423001002

SP MOON ORIGINAL PROF

€ 5 400

O31133425001001

SP MOON ORIGINAL PROF

€ 10 200

O31133443201001

SP MOON ORIGINAL PROF

€ 9 400

O31133445101001

SP MOON ORIGINAL PROF

€ 7 000

O31133445104001

SP MOON ORIGINAL PROF

€ 6 670

O31133445104002

SP MOON ORIGINAL PROF

€ 6 670

O31162423006001

SP MOON ORIGINAL PROF

€ 6 200

O31163403002001

SP MOON ORIGINAL PROF

€ 16 000

O31163423003001

SP MOON ORIGINAL PROF

€ 19 800

O31163425001001

SP MOON ORIGINAL PROF

€ 21 500

O31163425001002

SP MOON ORIGINAL PROF

€ 21 500

O31163425001003

SP MOON ORIGINAL PROF

€ 26 110

O31163445101001

SP MOON ORIGINAL PROF

€ 23 700

O31163445104001

SP MOON ORIGINAL PROF

€ 19 120

O31163445104002

SP MOON ORIGINAL PROF

€ 19 120

O31163445106001

SP MOON ORIGINAL PROF

€ 13 400

O31163445199001

SP MOON ORIGINAL PROF

€ 13 900

O31163445199002

SP MOON ORIGINAL PROF

€ 13 100

O31190423001001

SP MOON ORIGINAL PROF

€ 80 580

O31190445103001

SP MOON ORIGINAL PROF

€ 9 700

O31192443001001

SP MOON ORIGINAL PROF

€ 9 200

O31192445101003

SP MOON ORIGINAL PROF

€ 10 200

O31192445101004

SP MOON ORIGINAL PROF

€ 11 000

O31192445101005

SP MOON ORIGINAL PROF

€ 11 000

O31192445101006

SP MOON ORIGINAL PROF

€ 11 000

O31192445101007

SP MOON ORIGINAL PROF

€ 11 000

O31192445103001

SP MOON ORIGINAL PROF

€ 7 910

O31193423099001

SP MOON ORIGINAL PROF

€ 55 900

O31193445101001

SP MOON ORIGINAL PROF

€ 31 110

O31193445101002

SP MOON ORIGINAL PROF

€ 27 020

O31193445103001

SP MOON ORIGINAL PROF

€ 9 100

O31193445104002

SP MOON ORIGINAL PROF

€ 11 000

O31193445199001

SP MOON ORIGINAL PROF

€ 10 700

O31193445199002

SP MOON ORIGINAL PROF

€ 11 500

O31198445151001

SP MOON ORIGINAL PROF

€ 21 400

O31198445155001

SP MOON ORIGINAL PROF

€ 21 900

O31890427901001

SP X-33

€ 3 200

O31890457901001

SP X-33

€ 5 000

O31892427901001

SP X-33

€ 3 430

O31892427901002

SP X-33

€ 3 430

O31892427901003

SP X-33

€ 3 430

O31892457901001

SP X-33

€ 5 000

O31892457903001

SP X-33

€ 5 000

O32110425001001

SP BROAD ARROW

€ 5 700

O32110425002001

SP BROAD ARROW

€ 5 700

O32110425004001

SP BROAD ARROW

€ 5 240

O32110445001001

SP BROAD ARROW

€ 5 420

O32110445002001

SP BROAD ARROW

€ 5 420

O32112425001001

SP BROAD ARROW

€ 4 980

O32112425002001

SP BROAD ARROW

€ 4 980

O32113445001001

SP BROAD ARROW

€ 5 330

O32113445002001

SP BROAD ARROW

€ 5 330

O32130445001001

SP BROAD ARROW

€ 4 450

O32130445201001

SP BROAD ARROW

€ 6 130

O32130445201002

SP BROAD ARROW

€ 6 220

O32132445001001

SP BROAD ARROW

€ 4 370

O32133445201001

SP BROAD ARROW

€ 6 040

O32150425001001

SP BROAD ARROW

€ 26 400

O32150425002001

SP BROAD ARROW

€ 22 000

O32153425001001

SP BROAD ARROW

€ 16 300

O32153425002001

SP BROAD ARROW

€ 16 300

O32153445201001

SP BROAD ARROW

€ 21 700

O32153445201002

SP BROAD ARROW

€ 21 700

O32158445251001

SP BROAD ARROW

€ 43 290

O32158445255001

SP BROAD ARROW

€ 48 700

O32190425013001

SP BROAD ARROW

€ 10 900

O32190425013002

SP BROAD ARROW

€ 8 800

O32190445201001

SP BROAD ARROW

€ 8 200

O32192445201001

SP BROAD ARROW

€ 7 600

O32192445201003

SP BROAD ARROW

€ 7 600

O32193425013001

SP BROAD ARROW

€ 8 700

O32310404002001

SP DATE-DAY/DATE

€ 3 020

O32310404004001

SP DATE-DAY/DATE

€ 2 670

O32321404001001

SP DATE-DAY/DATE

€ 4 760

O32321404002001

SP DATE-DAY/DATE

€ 4 760

O32321404401001

SP DATE-DAY/DATE

€ 5 240

O32321404402001

SP DATE-DAY/DATE

€ 5 240

O32330404001001

SP DATE-DAY/DATE

€ 3 110

O32330404001002

SP DATE-DAY/DATE

€ 2 770

O32330404002001

SP DATE-DAY/DATE

€ 2 780

O32330404004001

SP DATE-DAY/DATE

€ 3 020

O32330404004002

SP DATE-DAY/DATE

€ 2 770

O32330404006001

SP DATE-DAY/DATE

€ 3 020

O32332404004001

SP DATE-DAY/DATE

€ 2 930

O32332404006001

SP DATE-DAY/DATE

€ 2 930

O32350404001001

SP DATE-DAY/DATE

€ 15 110

O32350404002001

SP DATE-DAY/DATE

€ 15 110

O32350404401001

SP DATE-DAY/DATE

€ 15 510

O32350404402001

SP DATE-DAY/DATE

€ 15 510

O32353404001001

SP DATE-DAY/DATE

€ 10 490

O32353404002001

SP DATE-DAY/DATE

€ 10 490

O32353404401001

SP DATE-DAY/DATE

€ 11 070

O32353404402001

SP DATE-DAY/DATE

€ 11 070

O32415384005001

SP LADIES COSC

€ 9 800

O32415384010001

SP LADIES COSC

€ 8 180

O32418384005001

SP LADIES COSC

€ 9 700

O32418384010001

SP LADIES COSC

€ 8 090

O32423385002001

SP LADIES COSC

€ 6 100

O32423385002002

SP LADIES COSC

€ 6 100

O32428384006001

SP LADIES COSC

€ 11 500

O32428385002001

SP LADIES COSC

€ 9 200

O32428385002002

SP LADIES COSC

€ 9 200

O32430384004001

SP LADIES COSC

€ 4 300

O32430384006001

SP LADIES COSC

€ 4 300

O32430385001001

SP LADIES COSC

€ 4 800

O32430385002001

SP LADIES COSC

€ 4 800

O32430385003001

SP LADIES COSC

€ 4 800

O32430385003002

SP LADIES COSC

€ 4 800

O32430385006001

SP LADIES COSC

€ 4 800

O32430385055001

SP LADIES COSC

€ 5 800

O32432385002001

SP LADIES COSC

€ 4 500

O32432385006001

SP LADIES COSC

€ 4 500

O32433384004001

SP LADIES COSC

€ 4 200

O32433384006001

SP LADIES COSC

€ 4 200

O32438385002001

SP LADIES COSC

€ 7 500

O32438385003001

SP LADIES COSC

€ 7 500

O32438385006001

SP LADIES COSC

€ 7 500

O32438385055001

SP LADIES COSC

€ 8 500

O32463385002003

SP LADIES COSC

€ 14 600

O32463385002004

SP LADIES COSC

€ 14 600

O32468385002003

SP LADIES COSC

€ 17 700

O32468385002004

SP LADIES COSC

€ 17 700

O32590437901001

SP Z33

€ 5 600

O32592437901001

SP Z33

€ 5 000

O32592437901002

SP Z33

€ 5 000

O32630405001001

SPEEDMASTER RACING

€ 4 000

O32630405001002

SPEEDMASTER RACING

€ 4 000

O32630405002001

SPEEDMASTER RACING

€ 4 000

O32630405003001

SPEEDMASTER RACING

€ 4 000

O32630405004001

SPEEDMASTER RACING

€ 4 000

O32630405006001

SPEEDMASTER RACING

€ 4 000

O32630405011001

SPEEDMASTER RACING

€ 4 000

O32632405001001

SPEEDMASTER RACING

€ 3 900

O32632405001002

SPEEDMASTER RACING

€ 3 900

O32632405002001

SPEEDMASTER RACING

€ 3 900

O32632405003001

SPEEDMASTER RACING

€ 3 900

O32632405004001

SPEEDMASTER RACING

€ 3 900

O32632405006001

SPEEDMASTER RACING

€ 3 900

O32632405011001

SPEEDMASTER RACING

€ 3 900

O32710435001001

SPEEDMASTER MARK II

€ 5 300

O32710435002001

SPEEDMASTER MARK II

€ 4 620

O32710435003001

SPEEDMASTER MARK II

€ 4 620

O32710435006001

SPEEDMASTER MARK II

€ 5 300

O32720435001001

SPEEDMASTER MARK II

€ 10 200

O32923445106001

SP RACING 2017

€ 11 000

O32930445101001

SP RACING 2017

€ 8 200

O32930445101002

SP RACING 2017

€ 8 200

O32930445104001

SP RACING 2017

€ 8 200

O32930445106001

SP RACING 2017

€ 8 200

O32932445101001

SP RACING 2017

€ 7 900

O32932445106001

SP RACING 2017

€ 7 900

O32933445101001

SP RACING 2017

€ 7 900

O32933445104001

SP RACING 2017

€ 7 900

O32953445103001

SP RACING 2017

€ 24 300

O33110425101001

SPEEDMASTER 57

€ 7 800

O33110425101002

SPEEDMASTER 57

€ 7 800

O33110425102002

SPEEDMASTER 57

€ 8 000

O33110425103001

SPEEDMASTER 57

€ 7 800

O33112425101001

SPEEDMASTER 57

€ 7 500

O33112425101002

SPEEDMASTER 57

€ 7 500

O33112425102002

SPEEDMASTER 57

€ 7 700

O33112425103001

SPEEDMASTER 57

€ 7 500

O33120425101002

SPEEDMASTER 57

€ 13 400

O33120425102001

SPEEDMASTER 57

€ 13 400

O33122425101001

SPEEDMASTER 57

€ 9 800

O33150425101002

SPEEDMASTER 57

€ 26 670

O33150425102001

SPEEDMASTER 57

€ 32 000

O33150425102002

SPEEDMASTER 57

€ 32 000

O33150425108001

SPEEDMASTER 57

€ 32 600

O33153425101002

SPEEDMASTER 57

€ 19 870

O33153425102001

SPEEDMASTER 57

€ 23 900

O33153425102002

SPEEDMASTER 57

€ 23 900

O33190425104001

SPEEDMASTER 57

€ 9 700

O33192425104001

SPEEDMASTER 57

€ 9 100

O41315276005001

DV Prestige

€ 4 440

O41315276055001

DV Prestige

€ 5 070

O41320226008001

DV Prestige

€ 2 580

O41320226058001

DV Prestige

€ 3 070

O41320372008001

DV Prestige

€ 3 820

O41320372058001

DV Prestige

€ 4 710

O41325226008001

DV Prestige

€ 4 490

O41325226058001

DV Prestige

€ 5 160

O41325276005001

DV Prestige

€ 5 910

O41325276008001

DV Prestige

€ 5 820

O41325276055001

DV Prestige

€ 6 530

O41325276058001

DV Prestige

€ 6 440

O41325372058001

DV Prestige

€ 11 200

O41355276005001

DV Prestige

€ 14 040

O41355276005002

DV Prestige

€ 14 040

O41355276055001

DV Prestige

€ 14 670

O41355276055002

DV Prestige

€ 14 670

O41355372052001

DV Prestige

€ 21 820

O41355372058001

DV Prestige

€ 26 200

O41358372052001

DV Prestige

€ 12 710

O41358372058001

DV Prestige

€ 15 300

O42210415004001

DV Co-Axial Manuf.

€ 7 380

O42210415206001

DV Co-Axial Manuf.

€ 7 380

O42210445106001

DV Co-Axial Manuf.

€ 12 270

O42210445213001

DV Co-Axial Manuf.

€ 7 380

O42213415001001

DV Co-Axial Manuf.

€ 5 300

O42213415004001

DV Co-Axial Manuf.

€ 5 600

O42213415004002

DV Co-Axial Manuf.

€ 6 840

O42213415204001

DV Co-Axial Manuf.

€ 6 670

O42213415206001

DV Co-Axial Manuf.

€ 6 840

O42213445106001

DV Co-Axial Manuf.

€ 13 200

O42213445213001

DV Co-Axial Manuf.

€ 6 840

O42218355005001

DV Co-Axial Manuf.

€ 12 530

O42218355005002

DV Co-Axial Manuf.

€ 12 980

O42218355006001

DV Co-Axial Manuf.

€ 12 890

O42218355010001

DV Co-Axial Manuf.

€ 12 890

O42218355013001

DV Co-Axial Manuf.

€ 14 500

O42253415001001

DV Co-Axial Manuf.

€ 12 980

O42253415004001

DV Co-Axial Manuf.

€ 20 600

O42253415209001

DV Co-Axial Manuf.

€ 25 100

O42253415213001

DV Co-Axial Manuf.

€ 19 400

O42253445102001

DV Co-Axial Manuf.

€ 32 600

O42253445102002

DV Co-Axial Manuf.

€ 23 870

O42253445113001

DV Co-Axial Manuf.

€ 28 700

O42253445213001

DV Co-Axial Manuf.

€ 21 800

O42258355005001

DV Co-Axial Manuf.

€ 25 600

O42258355005002

DV Co-Axial Manuf.

€ 23 300

O42258355013001

DV Co-Axial Manuf.

€ 23 200

O42258355055001

DV Co-Axial Manuf.

€ 21 340

O42258355055002

DV Co-Axial Manuf.

€ 23 060

O42258355055003

DV Co-Axial Manuf.

€ 21 340

O42298415005001

DV Co-Axial Manuf.

€ 58 400

O42313375001001

DV Co-Axial Square

€ 6 130

O42313375002001

DV Co-Axial Square

€ 6 130

O42353375001001

DV Co-Axial Square

€ 19 400

O42410246001001

DV NEW PRESTIGE

€ 2 100

O42410246005001

DV NEW PRESTIGE

€ 2 300

O42410246055001

DV NEW PRESTIGE

€ 2 600

O42410276001001

DV NEW PRESTIGE

€ 2 100

O42410276004001

DV NEW PRESTIGE

€ 2 100

O42410276005001

DV NEW PRESTIGE

€ 2 300

O42410276052001

DV NEW PRESTIGE

€ 2 800

O42410276052002

DV NEW PRESTIGE

€ 2 600

O42410276053001

DV NEW PRESTIGE

€ 2 600

O42410276053003

DV NEW PRESTIGE

€ 2 600

O42410276055001

DV NEW PRESTIGE

€ 2 600

O42410276056002

DV NEW PRESTIGE

€ 2 600

O42410276057001

DV NEW PRESTIGE

€ 2 600

O42410332001001

DV NEW PRESTIGE

€ 3 300

O42410332005001

DV NEW PRESTIGE

€ 3 600

O42410332006001

DV NEW PRESTIGE

€ 3 300

O42410332052001

DV NEW PRESTIGE

€ 3 600

O42410332052002

DV NEW PRESTIGE

€ 3 600

O42410332053001

DV NEW PRESTIGE

€ 3 600

O42410332055001

DV NEW PRESTIGE

€ 4 500

O42410332055002

DV NEW PRESTIGE

€ 4 000

O42410332055004

DV NEW PRESTIGE

€ 4 500

O42410332056002

DV NEW PRESTIGE

€ 3 600

O42410332057001

DV NEW PRESTIGE

€ 4 000

O42410336052001

DV NEW PRESTIGE

€ 2 900

O42410372001001

DV NEW PRESTIGE

€ 3 300

O42410372002001

DV NEW PRESTIGE

€ 3 300

O42410372002002

DV NEW PRESTIGE

€ 3 300

O42410372003001

DV NEW PRESTIGE

€ 3 300

O42410372003002

DV NEW PRESTIGE

€ 3 300

O42410372004001

DV NEW PRESTIGE

€ 3 300

O42410402001001

DV NEW PRESTIGE

€ 3 300

O42410402001002

DV NEW PRESTIGE

€ 3 300

O42410402002001

DV NEW PRESTIGE

€ 3 300

O42410402002002

DV NEW PRESTIGE

€ 3 300

O42410402002003

DV NEW PRESTIGE

€ 3 300

O42410402002004

DV NEW PRESTIGE

€ 3 300

O42410402002005

DV NEW PRESTIGE

€ 3 300

O42410402002006

DV NEW PRESTIGE

€ 3 300

O42410402003001

DV NEW PRESTIGE

€ 3 300

O42410402003002

DV NEW PRESTIGE

€ 3 300

O42410402003003

DV NEW PRESTIGE

€ 3 300

O42410402006001

DV NEW PRESTIGE

€ 3 300

O42410402006002

DV NEW PRESTIGE

€ 3 300

O42412276051001

DV NEW PRESTIGE

€ 2 500

O42412276052001

DV NEW PRESTIGE

€ 2 500

O42412276055001

DV NEW PRESTIGE

€ 2 600

O42412332055001

DV NEW PRESTIGE

€ 4 400

O42412336052001

DV NEW PRESTIGE

€ 2 800

O42413276051001

DV NEW PRESTIGE

€ 2 700

O42413276052001

DV NEW PRESTIGE

€ 2 700

O42413276052002

DV NEW PRESTIGE

€ 2 500

O42413276055001

DV NEW PRESTIGE

€ 2 900

O42413276056001

DV NEW PRESTIGE

€ 2 500

O42413332052001

DV NEW PRESTIGE

€ 3 500

O42413332052002

DV NEW PRESTIGE

€ 3 500

O42413332053001

DV NEW PRESTIGE

€ 3 500

O42413332056002

DV NEW PRESTIGE

€ 3 500

O42413402001001

DV NEW PRESTIGE

€ 3 200

O42413402002001

DV NEW PRESTIGE

€ 3 200

O42413402002002

DV NEW PRESTIGE

€ 3 200

O42413402002003

DV NEW PRESTIGE

€ 3 200

O42413402002005

DV NEW PRESTIGE

€ 3 200

O42413402002006

DV NEW PRESTIGE

€ 3 200

O42413402003001

DV NEW PRESTIGE

€ 3 200

O42413402003002

DV NEW PRESTIGE

€ 3 200

O42413402003003

DV NEW PRESTIGE

€ 3 200

O42413402006001

DV NEW PRESTIGE

€ 3 200

O42413402006002

DV NEW PRESTIGE

€ 3 200

O42413402101001

DV NEW PRESTIGE

€ 4 200

O42413402102001

DV NEW PRESTIGE

€ 4 200

O42413402102002

DV NEW PRESTIGE

€ 4 200

O42413402102003

DV NEW PRESTIGE

€ 4 200

O42413402102004

DV NEW PRESTIGE

€ 4 200

O42413402103001

DV NEW PRESTIGE

€ 4 200

O42413402103002

DV NEW PRESTIGE

€ 4 200

O42413402106001

DV NEW PRESTIGE

€ 4 200

O42413402106002

DV NEW PRESTIGE

€ 4 200

O42415246052001

DV NEW PRESTIGE

€ 6 200

O42415246055001

DV NEW PRESTIGE

€ 6 400

O42415276052001

DV NEW PRESTIGE

€ 7 200

O42415276055001

DV NEW PRESTIGE

€ 7 400

O42415332052001

DV NEW PRESTIGE

€ 10 100

O42415332055001

DV NEW PRESTIGE

€ 10 400

O42417276051001

DV NEW PRESTIGE

€ 6 600

O42417276052001

DV NEW PRESTIGE

€ 6 600

O42417276055001

DV NEW PRESTIGE

€ 6 800

O42418276051001

DV NEW PRESTIGE

€ 7 200

O42418276052001

DV NEW PRESTIGE

€ 7 200

O42418276055001

DV NEW PRESTIGE

€ 7 400

O42420246005001

DV NEW PRESTIGE

€ 4 200

O42420246005002

DV NEW PRESTIGE

€ 4 200

O42420246008001

DV NEW PRESTIGE

€ 4 000

O42420246052001

DV NEW PRESTIGE

€ 3 470

O42420246055001

DV NEW PRESTIGE

€ 4 600

O42420246058001

DV NEW PRESTIGE

€ 4 400

O42420276005001

DV NEW PRESTIGE

€ 4 800

O42420276005002

DV NEW PRESTIGE

€ 4 800

O42420276008001

DV NEW PRESTIGE

€ 4 600

O42420276013001

DV NEW PRESTIGE

€ 4 600

O42420276052001

DV NEW PRESTIGE

€ 4 050

O42420276052002

DV NEW PRESTIGE

€ 5 200

O42420276052003

DV NEW PRESTIGE

€ 5 000

O42420276053001

DV NEW PRESTIGE

€ 5 000

O42420276053002

DV NEW PRESTIGE

€ 5 000

O42420276055001

DV NEW PRESTIGE

€ 5 200

O42420276058001

DV NEW PRESTIGE

€ 5 000

O42420276058002

DV NEW PRESTIGE

€ 5 200

O42420276058003

DV NEW PRESTIGE

€ 4 900

O42420276058004

DV NEW PRESTIGE

€ 5 000

O42420332005001

DV NEW PRESTIGE

€ 6 300

O42420332005002

DV NEW PRESTIGE

€ 6 300

O42420332008001

DV NEW PRESTIGE

€ 6 000

O42420332013001

DV NEW PRESTIGE

€ 6 000

O42420332052001

DV NEW PRESTIGE

€ 6 600

O42420332052002

DV NEW PRESTIGE

€ 6 600

O42420332052003

DV NEW PRESTIGE

€ 6 600

O42420332053001

DV NEW PRESTIGE

€ 6 600

O42420332053002

DV NEW PRESTIGE

€ 6 600

O42420332055001

DV NEW PRESTIGE

€ 7 300

O42420332055002

DV NEW PRESTIGE

€ 7 300

O42420332058001

DV NEW PRESTIGE

€ 6 600

O42420332058002

DV NEW PRESTIGE

€ 6 400

O42420332058003

DV NEW PRESTIGE

€ 6 600

O42420336052001

DV NEW PRESTIGE

€ 5 600

O42420336058001

DV NEW PRESTIGE

€ 5 600

O42420372002001

DV NEW PRESTIGE

€ 6 200

O42420372002002

DV NEW PRESTIGE

€ 6 200

O42420372003001

DV NEW PRESTIGE

€ 6 200

O42420372003002

DV NEW PRESTIGE

€ 6 200

O42420372008001

DV NEW PRESTIGE

€ 6 200

O42420372013001

DV NEW PRESTIGE

€ 6 200

O42420372058001

DV NEW PRESTIGE

€ 7 300

O42420372058002

DV NEW PRESTIGE

€ 6 800

O42420402002001

DV NEW PRESTIGE

€ 6 600

O42420402002002

DV NEW PRESTIGE

€ 6 600

O42420402002003

DV NEW PRESTIGE

€ 6 600

O42420402002004

DV NEW PRESTIGE

€ 6 600

O42420402002005

DV NEW PRESTIGE

€ 6 600

O42420402008001

DV NEW PRESTIGE

€ 6 600

O42420402013001

DV NEW PRESTIGE

€ 6 600

O42420402058001

DV NEW PRESTIGE

€ 7 200

O42422332055001

DV NEW PRESTIGE

€ 5 800

O42422332055002

DV NEW PRESTIGE

€ 5 800

O42422336052001

DV NEW PRESTIGE

€ 4 200

O42422336058001

DV NEW PRESTIGE

€ 4 200

O42423276009001

DV NEW PRESTIGE

€ 3 400

O42423276052001

DV NEW PRESTIGE

€ 3 800

O42423276058001

DV NEW PRESTIGE

€ 3 800

O42423332009001

DV NEW PRESTIGE

€ 4 600

O42423332052001

DV NEW PRESTIGE

€ 5 100

O42423332052002

DV NEW PRESTIGE

€ 5 100

O42423332052003

DV NEW PRESTIGE

€ 5 100

O42423332058001

DV NEW PRESTIGE

€ 5 100

O42423372009001

DV NEW PRESTIGE

€ 4 700

O42423402002001

DV NEW PRESTIGE

€ 5 000

O42423402002002

DV NEW PRESTIGE

€ 5 000

O42423402002003

DV NEW PRESTIGE

€ 5 000

O42423402008001

DV NEW PRESTIGE

€ 5 000

O42423402013001

DV NEW PRESTIGE

€ 5 000

O42423402058001

DV NEW PRESTIGE

€ 5 600

O42423402102001

DV NEW PRESTIGE

€ 6 100

O42423402108001

DV NEW PRESTIGE

€ 6 100

O42423402113001

DV NEW PRESTIGE

€ 6 100

O42423402158001

DV NEW PRESTIGE

€ 6 700

O42425246055001

DV NEW PRESTIGE

€ 8 600

O42425246055002

DV NEW PRESTIGE

€ 8 600

O42425246058001

DV NEW PRESTIGE

€ 8 400

O42425276052001

DV NEW PRESTIGE

€ 10 300

O42425276055001

DV NEW PRESTIGE

€ 10 300

O42425276055002

DV NEW PRESTIGE

€ 10 300

O42425276058001

DV NEW PRESTIGE

€ 10 100

O42425276058002

DV NEW PRESTIGE

€ 10 300

O42425332055001

DV NEW PRESTIGE

€ 13 700

O42425332055002

DV NEW PRESTIGE

€ 13 700

O42425332055003

DV NEW PRESTIGE

€ 14 100

O42425332055004

DV NEW PRESTIGE

€ 14 100

O42425332058001

DV NEW PRESTIGE

€ 13 400

O42425336052001

DV NEW PRESTIGE

€ 12 500

O42425336058001

DV NEW PRESTIGE

€ 12 500

O42425372052001

DV NEW PRESTIGE

€ 15 100

O42425372058001

DV NEW PRESTIGE

€ 15 100

O42427332055001

DV NEW PRESTIGE

€ 12 700

O42427332055002

DV NEW PRESTIGE

€ 12 700

O42427336052001

DV NEW PRESTIGE

€ 11 000

O42427336058001

DV NEW PRESTIGE

€ 11 000

O42450246005001

DV NEW PRESTIGE

€ 14 000

O42450246005002

DV NEW PRESTIGE

€ 14 000

O42450246008001

DV NEW PRESTIGE

€ 13 700

O42450276005001

DV NEW PRESTIGE

€ 16 800

O42450276005002

DV NEW PRESTIGE

€ 15 600

O42450276008001

DV NEW PRESTIGE

€ 15 400

O42450332005001

DV NEW PRESTIGE

€ 19 500

O42450332005002

DV NEW PRESTIGE

€ 19 500

O42450332008001

DV NEW PRESTIGE

€ 19 100

O42450372002001

DV NEW PRESTIGE

€ 21 600

O42450372002002

DV NEW PRESTIGE

€ 21 600

O42450372003001

DV NEW PRESTIGE

€ 21 600

O42450372003002

DV NEW PRESTIGE

€ 21 600

O42450372008001

DV NEW PRESTIGE

€ 21 600

O42452276055001

DV NEW PRESTIGE

€ 7 500

O42452276055002

DV NEW PRESTIGE

€ 7 500

O42453276055001

DV NEW PRESTIGE

€ 8 600

O42453276055002

DV NEW PRESTIGE

€ 8 600

O42453332005001

DV NEW PRESTIGE

€ 7 900

O42453332005002

DV NEW PRESTIGE

€ 7 900

O42453332053001

DV NEW PRESTIGE

€ 8 100

O42453332053002

DV NEW PRESTIGE

€ 8 100

O42453402002001

DV NEW PRESTIGE

€ 9 000

O42453402002002

DV NEW PRESTIGE

€ 9 000

O42453402003001

DV NEW PRESTIGE

€ 9 000

O42453402003002

DV NEW PRESTIGE

€ 9 000

O42453402004001

DV NEW PRESTIGE

€ 10 600

O42453402004002

DV NEW PRESTIGE

€ 12 800

O42453402004004

DV NEW PRESTIGE

€ 11 100

O42453402004005

DV NEW PRESTIGE

€ 11 100

O42453402052001

DV NEW PRESTIGE

€ 10 800

O42453402099001

DV NEW PRESTIGE

€ 11 500

O42453402102001

DV NEW PRESTIGE

€ 10 100

O42453402102002

DV NEW PRESTIGE

€ 10 100

O42453402103001

DV NEW PRESTIGE

€ 10 100

O42453402103002

DV NEW PRESTIGE

€ 10 100

O42453402104001

DV NEW PRESTIGE

€ 11 900

O42453402152001

DV NEW PRESTIGE

€ 11 800

O42455246055001

DV NEW PRESTIGE

€ 18 400

O42455246055002

DV NEW PRESTIGE

€ 18 400

O42455246055003

DV NEW PRESTIGE

€ 20 100

O42455246058001

DV NEW PRESTIGE

€ 18 100

O42455276055001

DV NEW PRESTIGE

€ 21 200

O42455276055002

DV NEW PRESTIGE

€ 21 200

O42455276055003

DV NEW PRESTIGE

€ 25 700

O42455276055004

DV NEW PRESTIGE

€ 22 500

O42455276055005

DV NEW PRESTIGE

€ 25 700

O42455276055006

DV NEW PRESTIGE

€ 22 500

O42455276058001

DV NEW PRESTIGE

€ 20 900

O42455332055001

DV NEW PRESTIGE

€ 26 800

O42455332055002

DV NEW PRESTIGE

€ 26 800

O42455332055003

DV NEW PRESTIGE

€ 33 200

O42455332055004

DV NEW PRESTIGE

€ 30 000

O42455332055005

DV NEW PRESTIGE

€ 30 000

O42455332055006

DV NEW PRESTIGE

€ 31 100

O42455332055007

DV NEW PRESTIGE

€ 27 900

O42455332055008

DV NEW PRESTIGE

€ 31 100

O42455332055009

DV NEW PRESTIGE

€ 27 900

O42455332058001

DV NEW PRESTIGE

€ 26 400

O42455372052001

DV NEW PRESTIGE

€ 30 300

O42455372052002

DV NEW PRESTIGE

€ 30 300

O42455372058001

DV NEW PRESTIGE

€ 30 300

O42457276055001

DV NEW PRESTIGE

€ 11 300

O42457276055002

DV NEW PRESTIGE

€ 11 300

O42457332055001

DV NEW PRESTIGE

€ 20 400

O42457332055002

DV NEW PRESTIGE

€ 18 300

O42457332055003

DV NEW PRESTIGE

€ 18 300

O42457372055001

DV NEW PRESTIGE

€ 20 400

O42457372055002

DV NEW PRESTIGE

€ 22 500

O42457372055003

DV NEW PRESTIGE

€ 20 400

O42458276055001

DV NEW PRESTIGE

€ 13 000

O42458276055002

DV NEW PRESTIGE

€ 13 000

O42458332055001

DV NEW PRESTIGE

€ 15 300

O42458332055002

DV NEW PRESTIGE

€ 15 300

O42458402052001

DV NEW PRESTIGE

€ 18 600

O42458402052002

DV NEW PRESTIGE

€ 18 600

O42458402152001

DV NEW PRESTIGE

€ 19 700

O42458402152002

DV NEW PRESTIGE

€ 19 700

O42520342055001

LADYMATIC

€ 12 900

O42520342055002

LADYMATIC

€ 14 200

O42520342055003

LADYMATIC

€ 14 200

O42520342055004

LADYMATIC

€ 14 200

O42520342063001

LADYMATIC

€ 12 500

O42522342055001

LADYMATIC

€ 10 300

O42522342055002

LADYMATIC

€ 10 300

O42522342055003

LADYMATIC

€ 10 300

O42522342055004

LADYMATIC

€ 10 300

O42522342063001

LADYMATIC

€ 9 000

O42525342055001

LADYMATIC

€ 22 000

O42525342055002

LADYMATIC

€ 22 000

O42525342055003

LADYMATIC

€ 22 000

O42525342055004

LADYMATIC

€ 22 000

O42525342063001

LADYMATIC

€ 21 600

O42527342055001

LADYMATIC

€ 18 100

O42527342055002

LADYMATIC

€ 18 100

O42527342055003

LADYMATIC

€ 18 100

O42527342055004

LADYMATIC

€ 18 100

O42527342063001

LADYMATIC

€ 16 100

O42530342001001

LADYMATIC

€ 5 400

O42530342005001

LADYMATIC

€ 5 800

O42530342051001

LADYMATIC

€ 6 500

O42530342055001

LADYMATIC

€ 6 900

O42530342055002

LADYMATIC

€ 7 400

O42530342056001

LADYMATIC

€ 6 500

O42530342057001

LADYMATIC

€ 6 900

O42530342057002

LADYMATIC

€ 6 900

O42530342057003

LADYMATIC

€ 7 400

O42530342057004

LADYMATIC

€ 7 400

O42530342060001

LADYMATIC

€ 6 500

O42532342055002

LADYMATIC

€ 7 100

O42532342056001

LADYMATIC

€ 6 400

O42532342057001

LADYMATIC

€ 6 800

O42532342057002

LADYMATIC

€ 6 800

O42532342057003

LADYMATIC

€ 7 100

O42532342057004

LADYMATIC

€ 7 100

O42532342060001

LADYMATIC

€ 6 400

O42533342001001

LADYMATIC

€ 5 300

O42533342005001

LADYMATIC

€ 5 700

O42533342051001

LADYMATIC

€ 6 400

O42533342055001

LADYMATIC

€ 6 800

O42535342051001

LADYMATIC

€ 13 700

O42535342055001

LADYMATIC

€ 14 000

O42535342055002

LADYMATIC

€ 14 800

O42535342056001

LADYMATIC

€ 13 700

O42535342057001

LADYMATIC

€ 14 000

O42535342057002

LADYMATIC

€ 14 000

O42535342057003

LADYMATIC

€ 14 800

O42535342057004

LADYMATIC

€ 14 800

O42535342060001

LADYMATIC

€ 13 700

O42537342055002

LADYMATIC

€ 14 500

O42537342056001

LADYMATIC

€ 13 600

O42537342057001

LADYMATIC

€ 14 000

O42537342057002

LADYMATIC

€ 14 000

O42537342057003

LADYMATIC

€ 14 500

O42537342057004

LADYMATIC

€ 14 500

O42537342060001

LADYMATIC

€ 13 600

O42538342051001

LADYMATIC

€ 13 600

O42538342055001

LADYMATIC

€ 14 000

O42560342051001

LADYMATIC

€ 26 000

O42560342051002

LADYMATIC

€ 26 000

O42560342055001

LADYMATIC

€ 26 400

O42560342055002

LADYMATIC

€ 26 400

O42560342055003

LADYMATIC

€ 26 400

O42560342055004

LADYMATIC

€ 26 400

O42560342063001

LADYMATIC

€ 26 000

O42562342055003

LADYMATIC

€ 16 500

O42562342055004

LADYMATIC

€ 16 500

O42563342051001

LADYMATIC

€ 16 100

O42563342051002

LADYMATIC

€ 16 100

O42563342055001

LADYMATIC

€ 16 500

O42563342055002

LADYMATIC

€ 16 500

O42563342063001

LADYMATIC

€ 16 100

O42565342051001

LADYMATIC

€ 34 000

O42565342051002

LADYMATIC

€ 34 000

O42565342055001

LADYMATIC

€ 34 400

O42565342055002

LADYMATIC

€ 34 400

O42565342055003

LADYMATIC

€ 39 900

O42565342055004

LADYMATIC

€ 39 900

O42565342055005

LADYMATIC

€ 73 700

O42565342055006

LADYMATIC

€ 73 700

O42565342055007

LADYMATIC

€ 63 000

O42565342055008

LADYMATIC

€ 144 200

O42565342055009

LADYMATIC

€ 34 400

O42565342055010

LADYMATIC

€ 34 400

O42565342055013

LADYMATIC

€ 165 500

O42565342063001

LADYMATIC

€ 34 000

O42565342063002

LADYMATIC

€ 39 500

O42565342063003

LADYMATIC

€ 73 300

O42567342055005

LADYMATIC

€ 41 600

O42567342055006

LADYMATIC

€ 41 600

O42567342055007

LADYMATIC

€ 24 500

O42567342055008

LADYMATIC

€ 24 500

O42567342055009

LADYMATIC

€ 41 600

O42568342051001

LADYMATIC

€ 24 100

O42568342051002

LADYMATIC

€ 24 100

O42568342055001

LADYMATIC

€ 24 500

O42568342055002

LADYMATIC

€ 24 500

O42568342055003

LADYMATIC

€ 30 100

O42568342055004

LADYMATIC

€ 30 100

O42568342063001

LADYMATIC

€ 24 100

O42568342063002

LADYMATIC

€ 29 600

O42817366004001

DV Cocktail Flower Quartz

€ 4 200

O42817366005001

DV Cocktail Flower Quartz

€ 4 700

O42817396001001

DV Cocktail Flower Quartz

€ 4 800

O42817396002001

DV Cocktail Flower Quartz

€ 5 300

O42818366003001

DV Cocktail Flower Quartz

€ 4 200

O42818366004002

DV Cocktail Flower Quartz

€ 4 200

O42818366005002

DV Cocktail Flower Quartz

€ 4 700

O42818366007001

DV Cocktail Flower Quartz

€ 4 700

O42818366011001

DV Cocktail Flower Quartz

€ 4 200

O42818396003001

DV Cocktail Flower Quartz

€ 4 800

O42818396004001

DV Cocktail Flower Quartz

€ 4 800

O42818396005001

DV Cocktail Flower Quartz

€ 5 300

O42818396007001

DV Cocktail Flower Quartz

€ 5 300

O42818396013001

DV Cocktail Flower Quartz

€ 4 800

O42858366002001

DV Cocktail Flower Quartz

€ 8 500

O42858366011001

DV Cocktail Flower Quartz

€ 8 500

O42858366013001

DV Cocktail Flower Quartz

€ 8 500

O42858366053001

DV Cocktail Flower Quartz

€ 24 600

O42858366055001

DV Cocktail Flower Quartz

€ 23 500

O42858396002001

DV Cocktail Flower Quartz

€ 10 700

O43110412101001

DV Hour Vision

€ 5 800

O43110412102001

DV Hour Vision

€ 5 800

O43110412103001

DV Hour Vision

€ 5 800

O43110412201001

DV Hour Vision

€ 8 700

O43110412202001

DV Hour Vision

€ 8 700

O43110425101001

DV Hour Vision

€ 7 600

O43110425102001

DV Hour Vision

€ 7 600

O43110425103001

DV Hour Vision

€ 7 600

O43113412101001

DV Hour Vision

€ 5 200

O43113412102001

DV Hour Vision

€ 5 200

O43113412103001

DV Hour Vision

€ 5 200

O43113412201001

DV Hour Vision

€ 8 100

O43113412202001

DV Hour Vision

€ 8 100

O43113425101001

DV Hour Vision

€ 7 000

O43113425102001

DV Hour Vision

€ 7 000

O43113425103001

DV Hour Vision

€ 7 000

O43130412101001

DV Hour Vision

€ 6 600

O43130412102001

DV Hour Vision

€ 6 600

O43130412202001

DV Hour Vision

€ 9 500

O43130412206001

DV Hour Vision

€ 9 500

O43133412101001

DV Hour Vision

€ 6 000

O43133412102001

DV Hour Vision

€ 6 000

O43133412103001

DV Hour Vision

€ 6 000

O43133412202001

DV Hour Vision

€ 8 900

O43133412203001

DV Hour Vision

€ 8 900

O43133412206001

DV Hour Vision

€ 8 900

O43150412102001

DV Hour Vision

€ 29 700

O43150412113001

DV Hour Vision

€ 29 700

O43150412152001

DV Hour Vision

€ 35 500

O43150412202001

DV Hour Vision

€ 33 600

O43150412213001

DV Hour Vision

€ 33 600

O43153412102001

DV Hour Vision

€ 16 300

O43153412113001

DV Hour Vision

€ 16 300

O43153412152001

DV Hour Vision

€ 22 100

O43153412164001

DV Hour Vision

€ 38 500

O43153412202001

DV Hour Vision

€ 20 000

O43153412213001

DV Hour Vision

€ 20 000

O43153425102001

DV Hour Vision

€ 25 900

O43153425103001

DV Hour Vision

€ 25 900

O43160412102001

DV Hour Vision

€ 30 300

O43160412113001

DV Hour Vision

€ 30 300

O43160412202001

DV Hour Vision

€ 34 400

O43160412213001

DV Hour Vision

€ 32 200

O43163412102001

DV Hour Vision

€ 17 400

O43163412113001

DV Hour Vision

€ 17 400

O43163412201001

DV Hour Vision

€ 26 200

O43163412202001

DV Hour Vision

€ 21 400

O43163412213001

DV Hour Vision

€ 21 400

O43193412164001

DV Hour Vision

€ 39 380

O43193412204001

DV Hour Vision

€ 34 800

O43253402102001

DV TRESOR

€ 12 300

O43253402102002

DV TRESOR

€ 12 300

O43253402102004

DV TRESOR

€ 13 400

O43253402103001

DV TRESOR

€ 17 000

O43253402104001

DV TRESOR

€ 14 900

O43253402107001

DV TRESOR

€ 14 000

O43253402109001

DV TRESOR

€ 14 900

O43253402152001

DV TRESOR

€ 15 800

O43253402152002

DV TRESOR

€ 15 500

O43253402152003

DV TRESOR

€ 15 500

O43258402105001

DV TRESOR

€ 17 800

O43258402105002

DV TRESOR

€ 17 800

O43258402105003

DV TRESOR

€ 17 800

O43258402105004

DV TRESOR

€ 17 800

O43310412102001

DV HV Master Chrono

€ 6 300

O43310412103001

DV HV Master Chrono

€ 6 300

O43310412110001

DV HV Master Chrono

€ 6 300

O43310412202001

DV HV Master Chrono

€ 9 300

O43310412203001

DV HV Master Chrono

€ 9 300

O43310412210001

DV HV Master Chrono

€ 9 300

O43313412102001

DV HV Master Chrono

€ 5 700

O43313412103001

DV HV Master Chrono

€ 5 700

O43313412110001

DV HV Master Chrono

€ 5 700

O43313412202001

DV HV Master Chrono

€ 8 600

O43313412203001

DV HV Master Chrono

€ 8 600

O43313412210001

DV HV Master Chrono

€ 8 600

O43333412103001

DV HV Master Chrono

€ 6 500

O43333412203001

DV HV Master Chrono

€ 9 500

O43350412102001

DV HV Master Chrono

€ 30 200

O43350412113001

DV HV Master Chrono

€ 30 200

O43350412203001

DV HV Master Chrono

€ 34 000

O43353412102001

DV HV Master Chrono

€ 16 700

O43353412113001

DV HV Master Chrono

€ 16 700

O43353412203001

DV HV Master Chrono

€ 20 400

O43513402102001

DV Tresor Master Chrono

€ 6 100

O43513402103001

DV Tresor Master Chrono

€ 6 100

O43518402102001

DV Tresor Master Chrono

€ 11 100

O43518402103001

DV Tresor Master Chrono

€ 11 100

O43553402106001

DV Tresor Master Chrono

€ 14 800

O43553402109001

DV Tresor Master Chrono

€ 14 800

O43553402111001

DV Tresor Master Chrono

€ 17 600

O52210342003001

Olympic collection

€ 4 270

O52210422103001

Olympic collection

€ 5 400

O52210435001001

Olympic collection

€ 5 500

O52210445003001

Olympic collection

€ 5 690

O52212412103001

Olympic collection

€ 5 900

O52212435004001

Olympic collection

€ 8 100

O52220423001001

Olympic collection

€ 7 300

O52220423006001

Olympic collection

€ 7 300

O52223342003001

Olympic collection

€ 5 380

O52223392002001

Olympic collection

€ 4 580

O52223445003001

Olympic collection

€ 8 040

O52230412001001

Olympic collection

€ 4 100

O52230462101001

Olympic collection

€ 4 890

O52232402001001

Olympic collection

€ 5 100

O52232402001002

Olympic collection

€ 5 100

O52232402001003

Olympic collection

€ 5 100

O52232402001004

Olympic collection

€ 5 100

O52232402001005

Olympic collection

€ 5 100

O52232402004001

Olympic collection

€ 5 600

O52232402004002

Olympic collection

€ 5 600

O52232402004003

Olympic collection

€ 5 600

O52232402004004

Olympic collection

€ 5 600

O52232402004005

Olympic collection

€ 5 600

O52232442103001

Olympic collection

€ 6 500

O52233382004001

Olympic collection

€ 4 710

O52233402004001

Olympic collection

€ 7 000

O52253332002001

Olympic collection

€ 16 600

O52253385004001

Olympic collection

€ 16 000

O52253395004001

Olympic collection

€ 14 900

O52253395004002

Olympic collection

€ 14 900

O52253402004001

Olympic collection

€ 17 100

O52253402004002

Olympic collection

€ 18 700

O52253402004003

Olympic collection

€ 17 100

O52293402001001