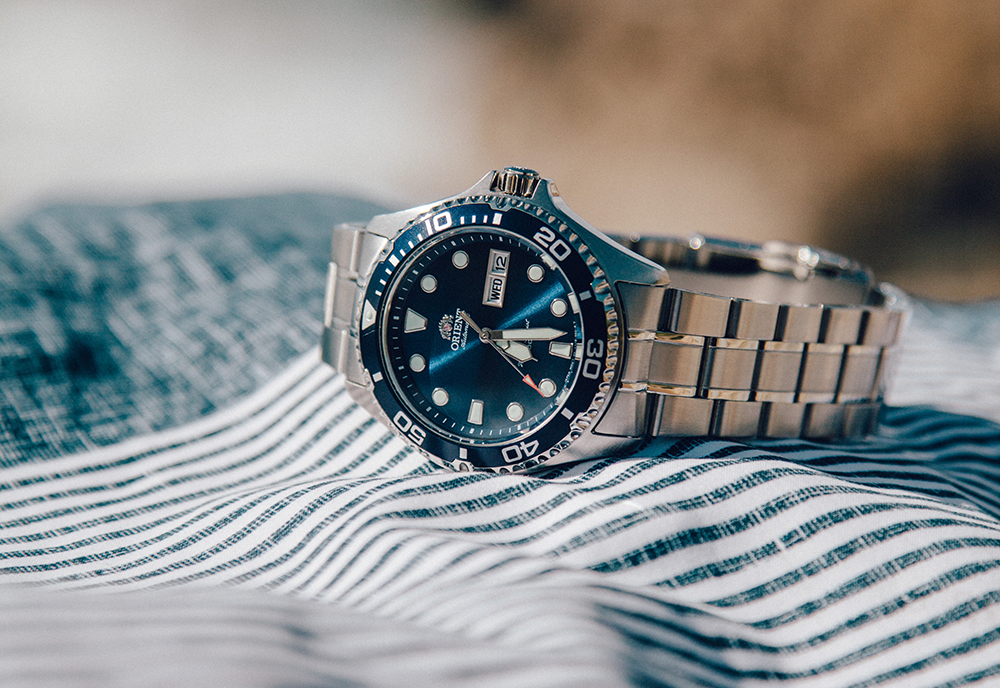 Photo: Automaticwatchesformen
Orient Mako II B01AK5TQRM Review & Complete Guide
Orient is a watch company that makes more or less affordable yet qualitative watches that punch well above their weight. If you are looking for a sporty, durable, and automatic dive watch (with an actual dive watch depth-rating) for less than 150 USD, the Orient Mako II B01AK5TQRM may just be the best option you can choose.
The Orient Mako II B01AK5TQRM is a sporty dive watch that has a design that now has become closely associated with dive watches. It has a rotating bezel, a stainless steel case with crown guards, large markers, and good legibility.
Orient Mako II B01AK5TQRM review
The dive watch design has become iconic and loved in today's watch industry. With the Mako II, Orient takes the iconic dive watch elements and gives it its own twist. Most importantly, it makes it highly available thanks to its price. But with that said, does the Orient Mako II B01AK5TQRM compromise too much on quality or is it worth owning? In this article, we are reviewing this watch and looking closer at what this watch has to offer.
Orient Mako II B01AK5TQRM case
The case of the B01AK5TQRM is very much distinct for a dive watch. It has a diameter of 41.5mm and a lug-to-lug measurement of 47mm. It has a thickness of 13mm. These measurements do not stand out in any way for a dive watch, so this watch is actually rather wearable.
The top of the lugs are polished and then beautifully contrasted by polished sides, which enhance the feel of quality. The watch has crown guards to protect the crown which are rather pointy. Positioned between the crown guards is a screw-down crown. A complaint some people have about this watch is that getting a grip and operating the crown can be rather difficult at times due to the way the crown guards are positioned but also the small crown with poor teething.
If we turn the watch around, we find a solid screw-down case back. This is great rather than a see-through case back seeing it minimizes potential leaking points.
Sitting on top of the case is a mineral crystal. It is not as hard as sapphire crystal, but at this price point, we cannot expect sapphire crystal. If we would require a sapphire crystal, it would most likely be reflected in an increased price.
Moving on to the bezel, this watch has a unidirectional rotating bezel with 120 clicks. The bezel has notches around it for easier grip, but the fact is that this bezel can be difficult to operate since the case sticks out more than the bezel, and the bezel doesn't sit very tall. This is an area where Orient can improve for the future.
The bezel has a navy blue aluminum insert with the first 10 minutes indicated, followed by every five minutes.
Perhaps the most important and impressive spec about this watch is the fact that it has a water resistance of 200 meters. To have a watch priced under 150 USD offer a water resistance of 200 meters is actually quite impressive as it means this watch can be worn when diving, rather than just looking like one that can.
Orient Mako II B01AK5TQRM dial
The first thing you will notice about the B01AK5TQRM is its striking and eye-catching navy blue dial with a sunburst brushed effect and finish.
The dial of the B01AK5TQRM catches the light beautifully and truly changes personality depending on how the light hits it. This makes this dial extremely alive, and one that you will likely not get bored of. The blue creates a great contrast and enables good legibility.
The dial has lots of details and design features. Firstly, we have the applied hour markers at 12, 6, and 9 indicated in digits. The rest of the markers are rectangles with a pointed end pointing toward the middle of the dial. The markers are made of metal and highly polished. Applied to the markers is luminova for improved legibility in the dark.
Positioned at 3 o'clock, we have a day and date window. These have a metal frame around them, and a section between them, which both enhances the feeling of quality and finish but also makes it easier to distinguish them.
Moving on to the hands, this watch features a seconds, minute, and hour hand. They are all made in metal and have luminova applied to them. The seconds hand has a spear tip that has been painted red. This creates a nice contrast against the blue. It is also the only other color featured in this watch. Both the minute and hour hand are sword-shaped.
As a nice additional detail, there is a chapter ring around the dial on which the seconds are printed in white. This creates a nice depth to the dial. At 12 o'clock, we have the Orient logo and the depth rating at 6 o'clock right beneath the center of the dial.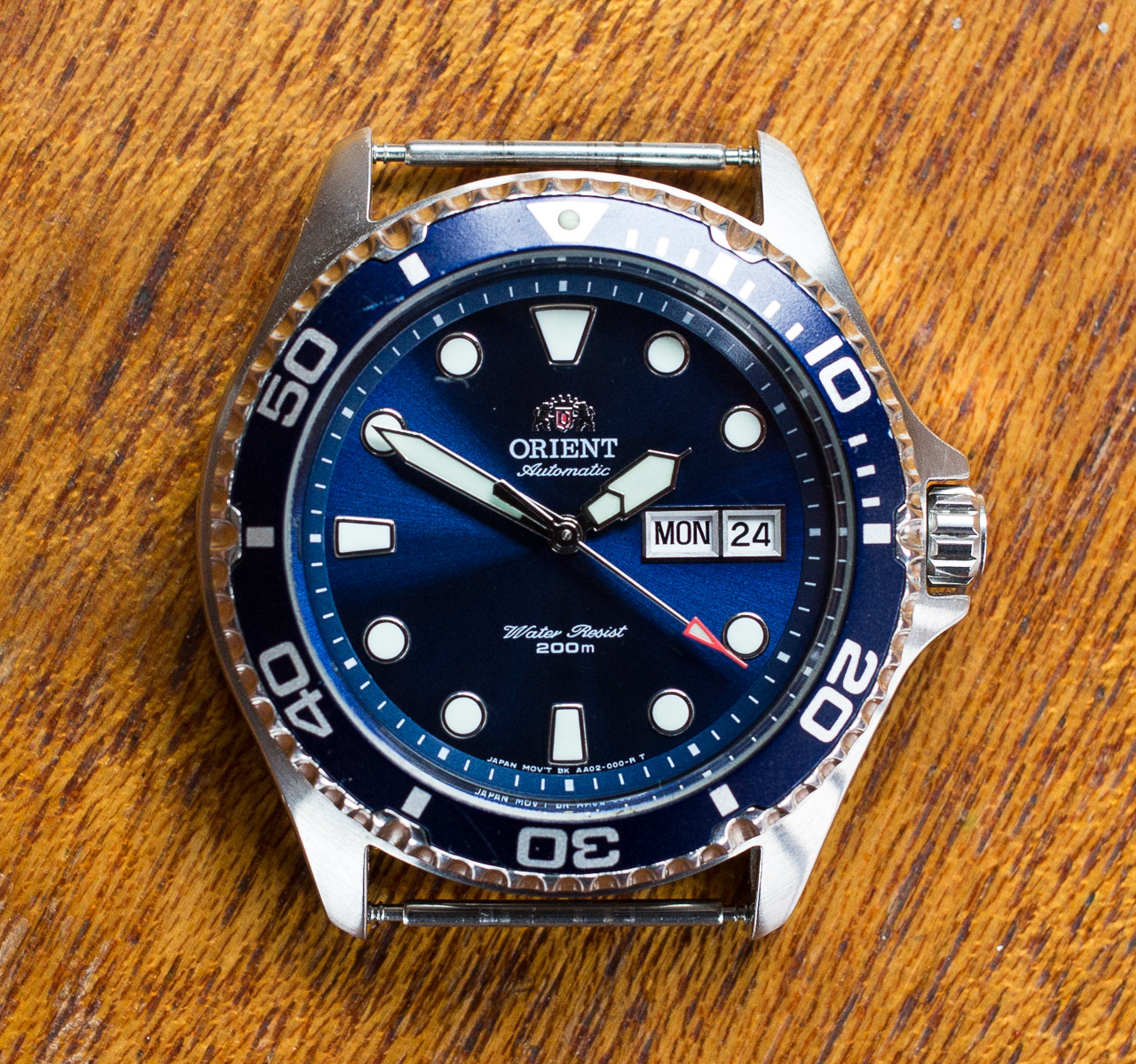 Photo: Divewatchesblog
Orient Mako II B01AK5TQRM bracelet
The watch is presented on a sporty stainless steel bracelet.
As you may be aware, the bracelet is the part of a watch that is generally compromised with themes when it comes to affordable watches. Overall, the bracelet of the Orient Mako II B01AK5TQRM is ok, but don't expect Rolex finishing.
The bracelet tapers somewhat, from 22 to 20mm, but it would have been nice if it tapered more for an even more comfortable fit.
A downside of the bracelet is that it has hollow end links which reduce its robustness and the quality feel. The three-link bracelet goes very well with the design of the case and the rest of the watch. The bracelet has a double-locking clasp with a push-button and micro-adjustment. On the clasp, we find the Orient logo. Just like the top of the lugs, the bracelet and the clasp are satin-brushed.
Orient Mako II B01AK5TQRM movement
The Orient Mako II B01AK5TQRM is equipped with the Orient Caliber F6922 which is an automatic movement featuring hacking seconds, manual winding function, and an upgrade in accuracy compared to the predecessor.
The movement has 22 jewels, a power reserve of 40 hours, and displays day and date. According to specifications, it has an accuracy of -15/+15 sec. The movement beats with a frequency of 21,600 bph.
The movement is built to be robust and reliable – appropriate for a dive watch, and just what you need.
Specifications
Movement: Orient F6922
Accuracy: -15/+15 sec
Jewels: 22 jewels
Frequency: 21,600 bph
Functions: Hacking seconds, manual winding, day, date.
Diameter: 41.5mm
Lug-to-lug: 47mm
Thickness: 13mm
Conclusion
The Orient Mako II B01AK5TQRM is a sporty dive watch that offers great value for money. Look around on the market and try to find an automatic dive watch with a 200m depth rating, a high quality and finish, featuring hacking seconds and manual winding function, at a price of less than 150 USD. Quite quickly, you will realize that the options are very few, to say the least.
Yes, there are areas that have been compromised, but that is what we can expect. All in all, and taking into consideration the price, it certainly is a watch that offers great value for money. Plus, it can take a beating and handle harsh conditions, too.
Plus, the striking blue dial together with the blue bezel truly makes this a perfect summer watch.