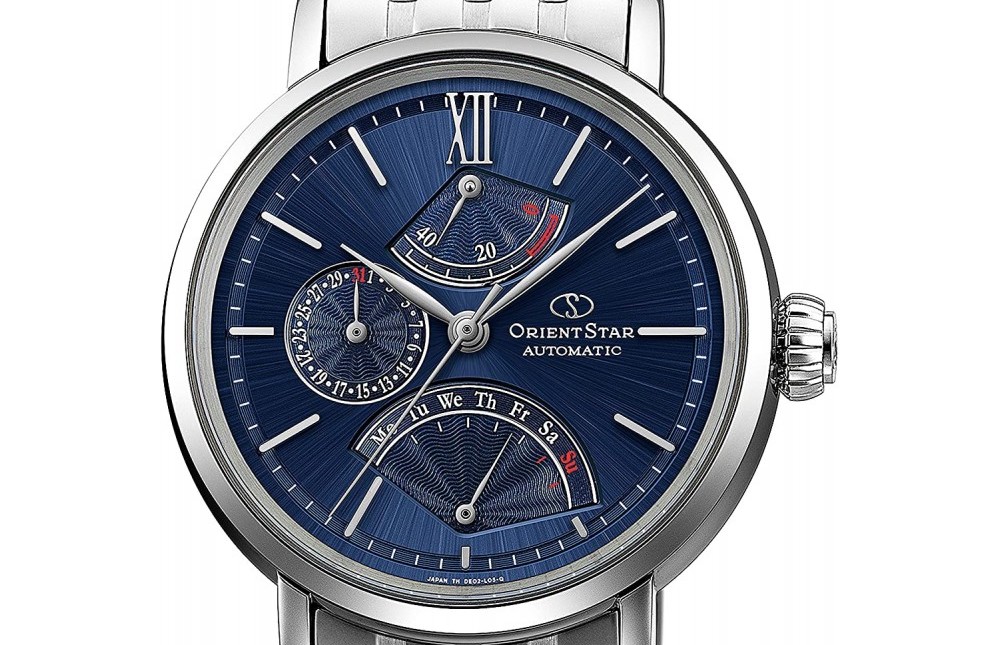 Orient Star Retrograde Watch Review & Complete Guide
Orient is one of the most popular and appreciated watch brands when it comes to high-quality and affordable timepieces. In fact, Orient is considered one of the best alternatives when it comes to affordable watches. Orient has time and time over proven why it is so great with high-quality watches, great attention to detail, and oftentimes, robust and durable mechanical movements.
It is a brand that is especially popular amongst watch enthusiasts due to the fact that a large part of Orient's collection of watches are powered by automatic movements, and finding in-house, qualitative mechanical movements in watches at this price range is actually not very common.
Furthermore, Orient has also been able to build a large audience of dance due to the large collection of timepieces that the brand has to offer. There really is an Orient for everyone.
In this article, we are looking closer at a popular and stylish model line from Orient, namely the Orient Star Retrograde.
Orient Star Retrograde review
As an Amazon Associate, we may earn from qualifying purchases, at no extra cost to you.
If you're looking for a versatile yet stylish timepiece with a classic design and at an affordable price, the Orient Star Retrograde may be your best choice. Orient is especially known for making stylish, dressy, and versatile automatic timepieces, and that is exactly what this watch offers.
In terms of price, the Orient Star collection is priced higher than most other Orient watches. In fact, some Orient Star watches are priced at more than 1000 dollars, which is not what most people associate Orient with. But looking at this watch in detail will reveal why it is priced higher than most other Orient watches because the improvements in quality and finishing are really evident.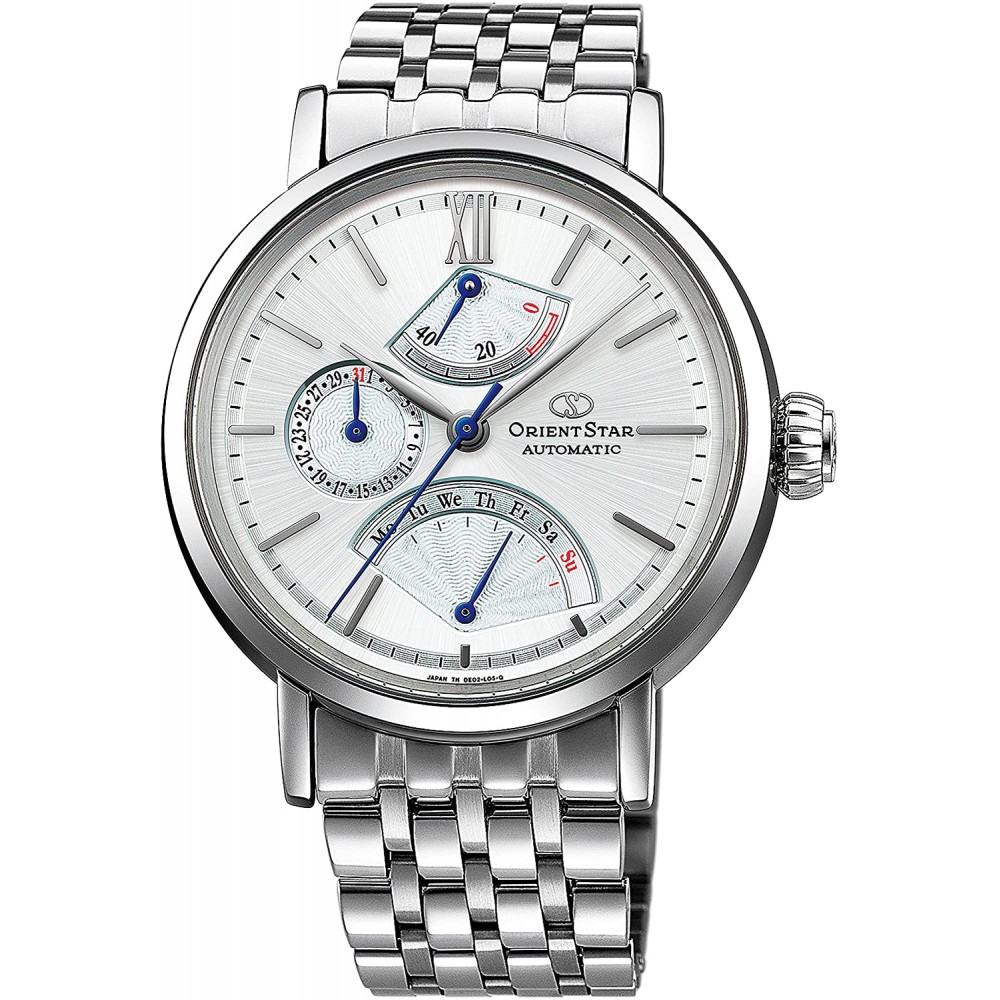 Before we dig in, this model, like many others from Orient, is available in a few different iterations and versions, namely where the dial color and metal used are the key differences. This means that you can pick and choose from a number of alternatives that suit your tastes and preferences.
If you are curious to know what the name retrograde means, it means to move backward or go back in time. This name is given to the watch due to the fact that the day indicator is not designed as a full circle, but rather a half-circle, which means that the hand for the day indicator needs to go back in order to start from Monday again rather than going a full circle.
Without further ado, in this article, we are reviewing the Orient Star Retrograde.
Orient Star Retrograde case
Starting off, this watch is presented with a stainless steel case with a diameter of 39.5mm and a thickness of 14.25mm. This is a relatively classic and reasonable size that should fit many different men's wrists. At the same time, we wouldn't say that this watch a dress watch size, as these are usually smaller and slimmer. But the case still has a sleek and classic design which gives it a classic and elegant look, contributing to its versatility. The concept and thought behind it is perhaps not to make it a full-on dress watch, but rather a dressy watch. The lug-to-lug of 46mm means that it wears relatively small. If there's one thing we can complain about, it is that it is relatively thick. But this is done in order to house the automatic movement, which we will look closer at further on.
This isn't exactly a dress watch, but it can work exceptionally well on formal occasions. It is also sporty and large enough to be worn for everyday wear. In our opinion, this is a great balance and combination that makes this watch even more appealing.
The case features a round shape where the lugs protrude and extend straight and directly from the case. They have a rectangular shape with a polished finish, but the fact that they are not curved like most other watches gives them a more traditional and dressy appearance. To go with the elegant theme, the case has a mostly polished finish, including the bezel, and lugs, but for a greater impression of attention to detail, the sides provide a nice contrast by being brushed. The slim lugs and thin bezel also put most of the focus on the dial, which, after all, is supposed to be the highlight of this watch.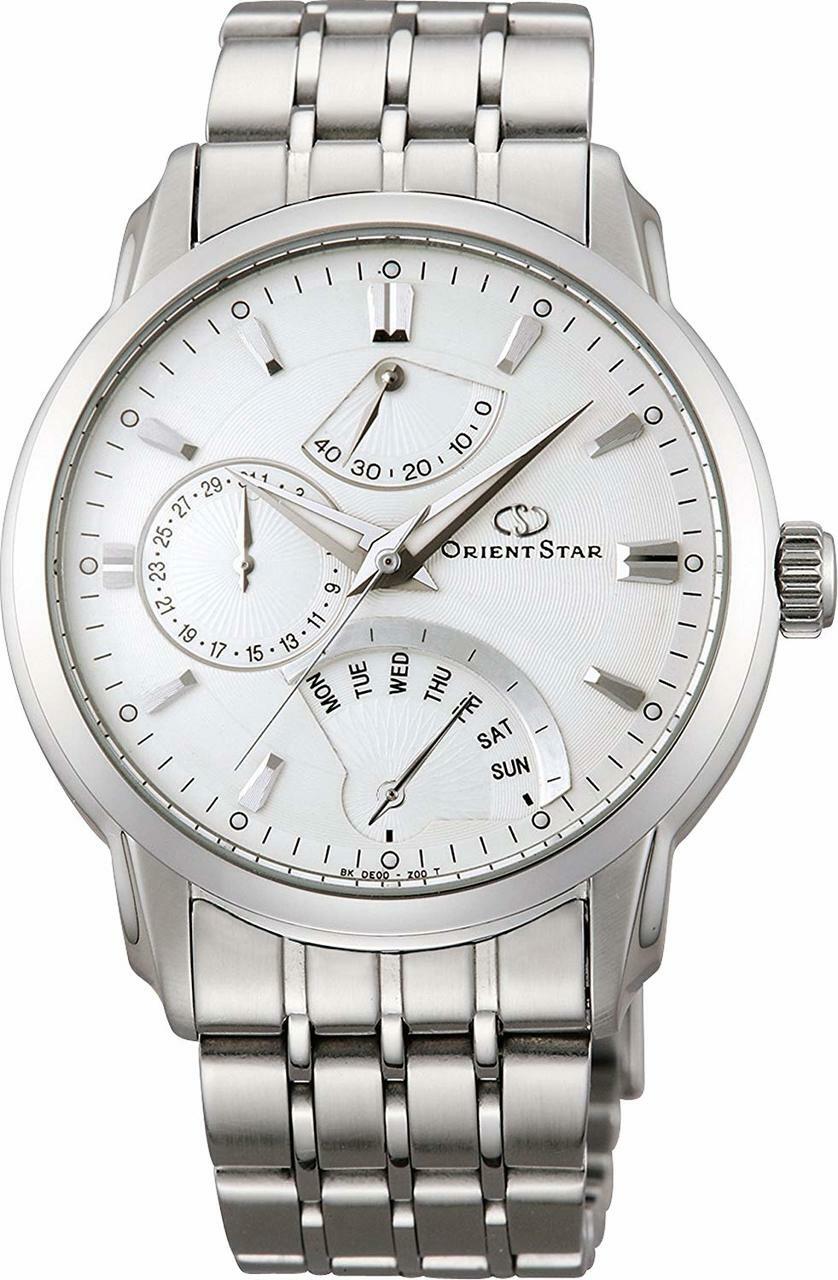 Positioned at 3 o'clock, we have the crown, and the crown blends in perfectly with the overall look and design of the watch as it has a pocket-watch-inspired design. It's slightly oversized which gives it a distinct look but also makes it easier to operate.
On top of the case sits a sapphire crystal which has an anti-reflective coating on the inside to prevent glare and help give better legibility in bright conditions.
Overall, the case has a nice design and gives a good impression of quality. There's nothing to complain about when it comes to the finishing and use of crystal either.
The case has a water resistance of 100m/330 feet which is essentially what we can expect from this type of watch.
Dial
The dial is certainly the highlight of this watch, which Orient proves with its case design. The attention is immediately drawn towards the dial, and it certainly makes it worth your while. As mentioned, there are a few dial colors to choose from, but regardless of which you choose, the dial layout remains the same.
To some, the dial may be perceived as a bit busy, but the three additional functions which are added to the dial are well-thought-out and actually contribute to its overall appearance. But if you want a completely minimalistic watch, Orient has other alternatives to choose from.
The dial has beautiful, applied metal hour markers with a polished finish with a rounded rectangular design. The hands have a beautiful dauphine shape and a polished finish which gives a classic and traditional appearance. This perfectly aligns with the classic purpose of this timepiece. At the same time, the hands are made to be relatively big in order to allow for good legibility. But with that said, this watch, like so many other dressy watches, does not have any luminescence applied to it. As a result, the legibility in low-lit conditions is compromised, but this is actually what we would expect from this type of watch.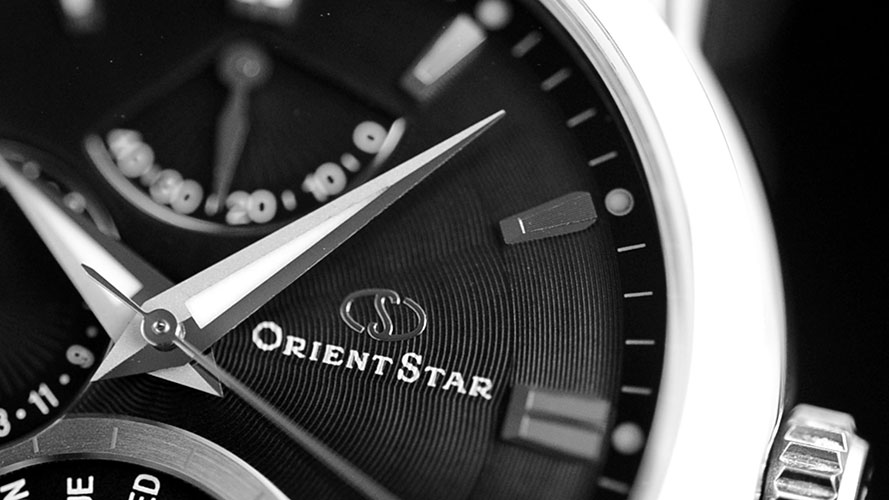 But please note that there have been several different versions of the Orient Star Retrograde, and some have had luminescence as well as slight tweaks in the dial design, for example, sword-shaped hands, so this execution has varied.
The dial features three key functions, which are a power reserve, a date indicator, and a day indicator. At 12 o'clock, we find the power-reserve, at 9 o'clock, we find the date indicator, and at 6 o'clock, we find the day indicator. A nice detail is that all of these are recessed, which provides depth to the dial and gives a greater impression of attention to detail. They do not have symmetry, but in some way, Orient has just made it work, resulting in a dial that actually looks well-balanced.
In addition, all of these functions are such that actually can come in handy for everyday wear and that you will likely find yourself using on a regular basis.
And looking at the dial certainly reveals that Orient has paid great attention to the details, which we expect in a watch at this price point. It has beautiful brushings, polishings, applied markers, sharp and crisp edges, and different patterns which add to the appeal.
Movement
As we can expect, this watch is powered by an in-house automatic Orient caliber, namely the Orient caliber 40A50. This movement has a power reserve of 40 hours.
This isn't some ordinary time-only movement, but instead, it actually has a lot to offer in terms of functions. A gold mine for watch nerds and watch enthusiasts who appreciate complicated mechanical craftsmanship.
In terms of functions, it has a three-hand timekeeping mechanism, a 7-day register with retrograde movement, a calendar register, as well as a power reserve indicator. Naturally, the increased complications of the movement are part of the explanation to why the Orient Star Retrograde is priced higher than most other Orient watches, but that's only part of the reason. Another important reason is that Orient has stepped up a notch when it comes to finishing and attention to detail.
A great value proposition in this watch is the fact that it is powered by an in-house movement, because not a lot of watches in this price range have that, making it stand out.
The movement is equipped with 22 jewels and has both hacking and manual-winding functions. The accuracy is specified to +-15 seconds per day.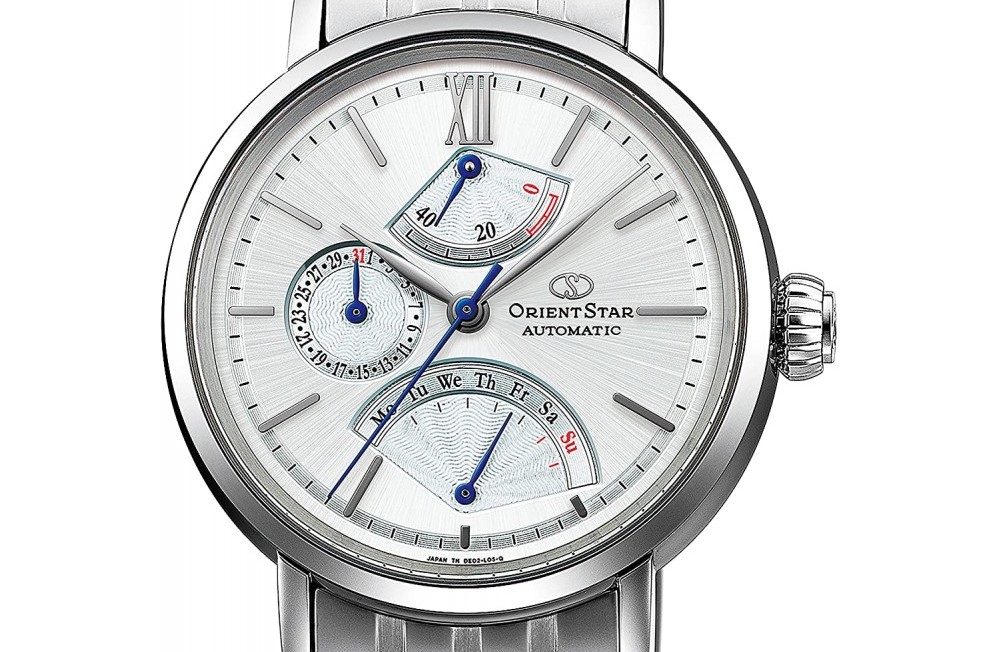 Bracelet
The Orient Star Retrograde is available either on a stainless steel bracelet or a leather strap. Which you choose ultimately depends on which version you have. The good news is that you can easily change the strap or bracelet to something else to meet your preferences.
The steel bracelet is of course the natural choice and the choice that is available on most versions. The bracelet does however stand out and surprises us. As is the case for most affordable watches (we've said it many times before), the bracelet is usually the part of the watch that is compromised with the most. This usually means folded links, a hollow feel, stamped clasp, and an overall poor impression and feel of quality.
But we can happily report that for the increase in cost, we get a bracelet that is none of that. The 7-link bracelet actually gives a great impression of quality and a lovely feel. First and foremost, the bracelet goes very well together with the overall style of the watch. It is a perfect match that adds elegance, but also versatility. Orient has definitely found a perfect balance between the two. This is also achieved by the fact that Orient combines brushed and polished links.
The bracelet gives a good impression of quality and doesn't feel hollow or cheap. It has very little play, especially on the end links. The bracelet is also equipped with a practical and good-looking two-button deployment.
A downside to this bracelet, however, is that it does not have any micro-adjustments, which may make it more difficult for some people to find a perfect fit. It would also be nice to have screwed links, but Orient opted for pins instead. The good news is that the bracelet is still very comfortable to wear on the wrist.
Available models
Orient Star Retrograde SDE00003B0 – gold case, leather strap, black dial
Orient Star Retrograde DE00004D – steel and gold case, steel and gold bracelet, black dial
Orient Star Retrograde DE00002W – steel case, steel bracelet, white dial
Orient Star Retrograde SDE00002B0 – steel case, steel bracelet, black dial
Orient Star Retrograde SDE00001W – steel and gold case, steel and gold bracelet, white dial
Specifications
Diameter: 39.5 mm
Thickness: 14.25 mm
Case: Stainless steel
Lug To Lug: 46 mm
Lug Width: 20 mm
Crystal: Anti-reflective Sapphire crystal
Accuracy: +-15 seconds per day
Water Resistance: 100m/330 feet
Power Reserve: 40 hours
Movement: Orient Automatic in-house caliber 40A50 Automatic-self-wind movement with 22 Jewels, hacking, and manual winding features
Jewels: 22
Conclusion
All in all, the Orient Star Retrograde is a watch that offers great value for money. Yes, this watch is much more expensive than most other Orient watches, and higher-priced than you expect an Orient to be. But it's great to see that this increase in price is well-reflected in the quality and the finishing of this timepiece.
First and foremost, it is powered by a complicated in-house automatic movement which, for affordable prices, are often executed in quartz.
The watch has a sleek and stylish design with a great balance between versatility and elegance. It does not, according to us, meet the criteria to be classified as a full-on dress watch, but it still works excellent as one. At the same time, it can also work really great as an everyday timepiece as well for all kinds of different occasions. This is also reflected by its water resistance of 100m/330 feet. The fact that the watch incorporates several different functions via its mechanical movement is also interesting and something that should be greatly appreciated by watch enthusiasts. In addition, all of the functions incorporated into this watch as such that can actually be truly useful.
To conclude this review, this is a great choice if you enjoy Orient watches and versatile dress watches, but also value fine mechanical craftsmanship and a greater sense of quality.