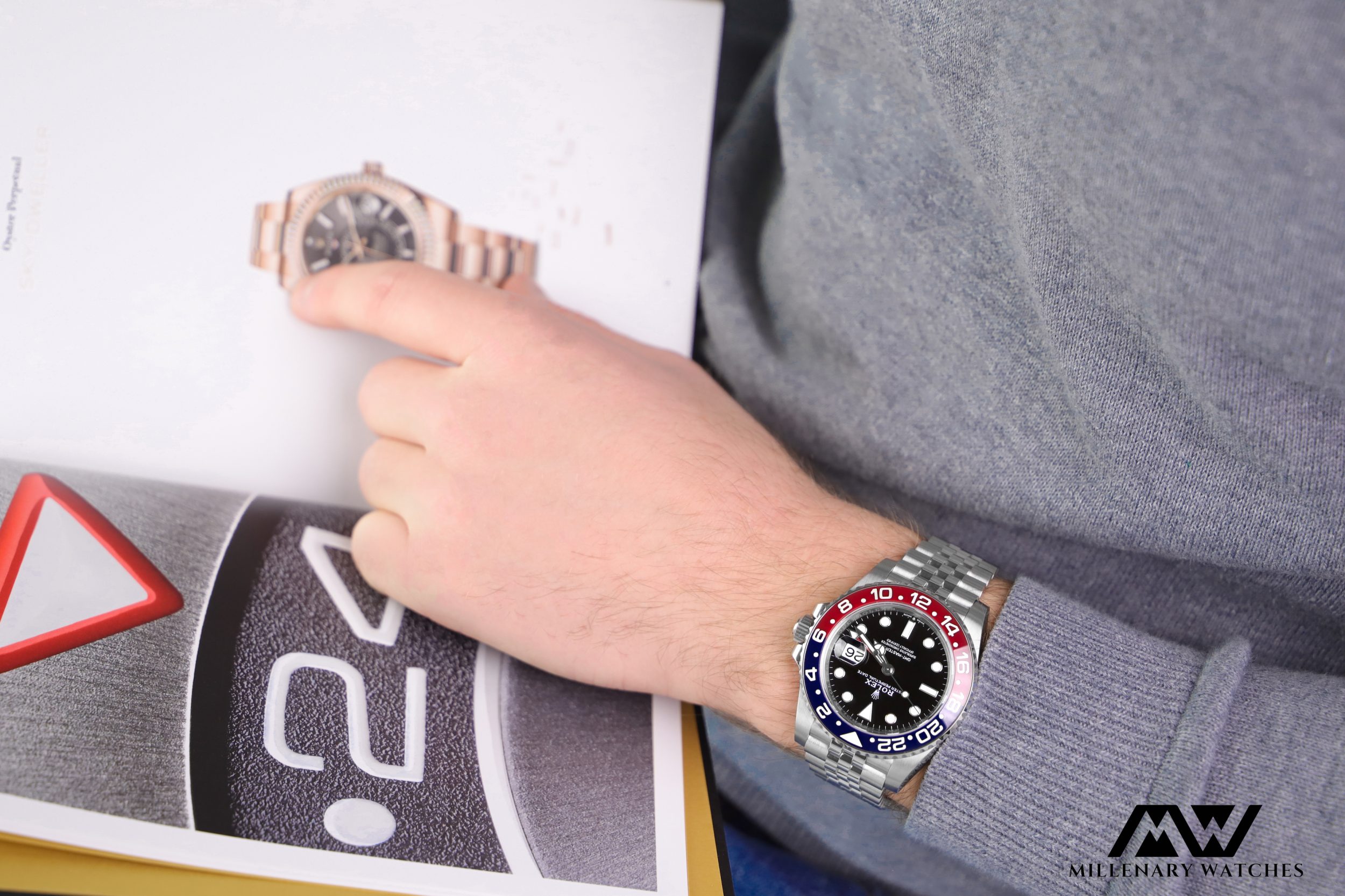 Rolex GMT-Master Weight – Complete Guide & List
The Rolex GMT-Master is one of the most iconic models ever made. And it is also one of the most iconic Rolex watches ever made. First launched in 1954, it became the first wristwatch ever to display two timezones simultaneously. Over the years, the GMT-Master collection has been revised and improved numerous times in traditional fashion. With each iteration, Rolex has looked at how it can improve their performance, accuracy, longevity, and durability.
The GMT-Master collection consists of a large number of different models and naturally, they all vary in weight. Rolex has made the GMT-Master in stainless steel, gold and steel, and solid gold. The solid gold versions will naturally be the heaviest of them all.
Rolex does not specify the weights of its watches unlike what many other product manufacturers do. So if you are curious to know the weight of Rolex GMT-Master watches, the information online is very limited. To help with this, we have compiled an extensive list of Rolex GMT-Master models and their weights.
List of Rolex GMT-Master weights
---
Weight of GMT-Master 1675 full links: 106 grams

Weight of GMT-Master 16750 full links: 111 grams

Weight of GMT-Master II 16710 full links: 127 grams

Weight of GMT-Master 16760 "Fat Lady" full links: 124.6 grams

Weight of GMT-Master II 16713 full links: 138 grams

Weight of GMT-Master II 16718 full links: 164 grams

Weight of GMT-Master II 116710LN full links: 152 grams

Weight of GMT-Master II 116718LN with 2 links removed: 209 grams

Weight of GMT-Master II 116719BLRO with 1 extra link: 225 grams

Weight of GMT-Master II 116713LN full links: 160 grams

Weight of GMT-Master II 126711CHNR full links: 168 grams

Weight of Rolex GMT-Master II 126710BLNR/BLRO Jubilee full links: 140.04 grams.
Note:
Have in mind that there may be certain levels of differences in the weight of the different Rolex watches, for example when different owners weigh theirs and compare with others, or when weighing and comparing to this list.
This may be due to a number of reasons. Firstly, different scales have different tolerances and levels of accuracy. This can leave a few grams of deviation depending on the scale that is used.
Furthermore, things like polish or not polish, clean or dirty, may add or remove a few grams to the weight. With that said, view a tolerance within a few grams as acceptable if you are weighing your own watch. The number of links that are attached to the bracelet will also naturally play a big role in the weight of a watch.