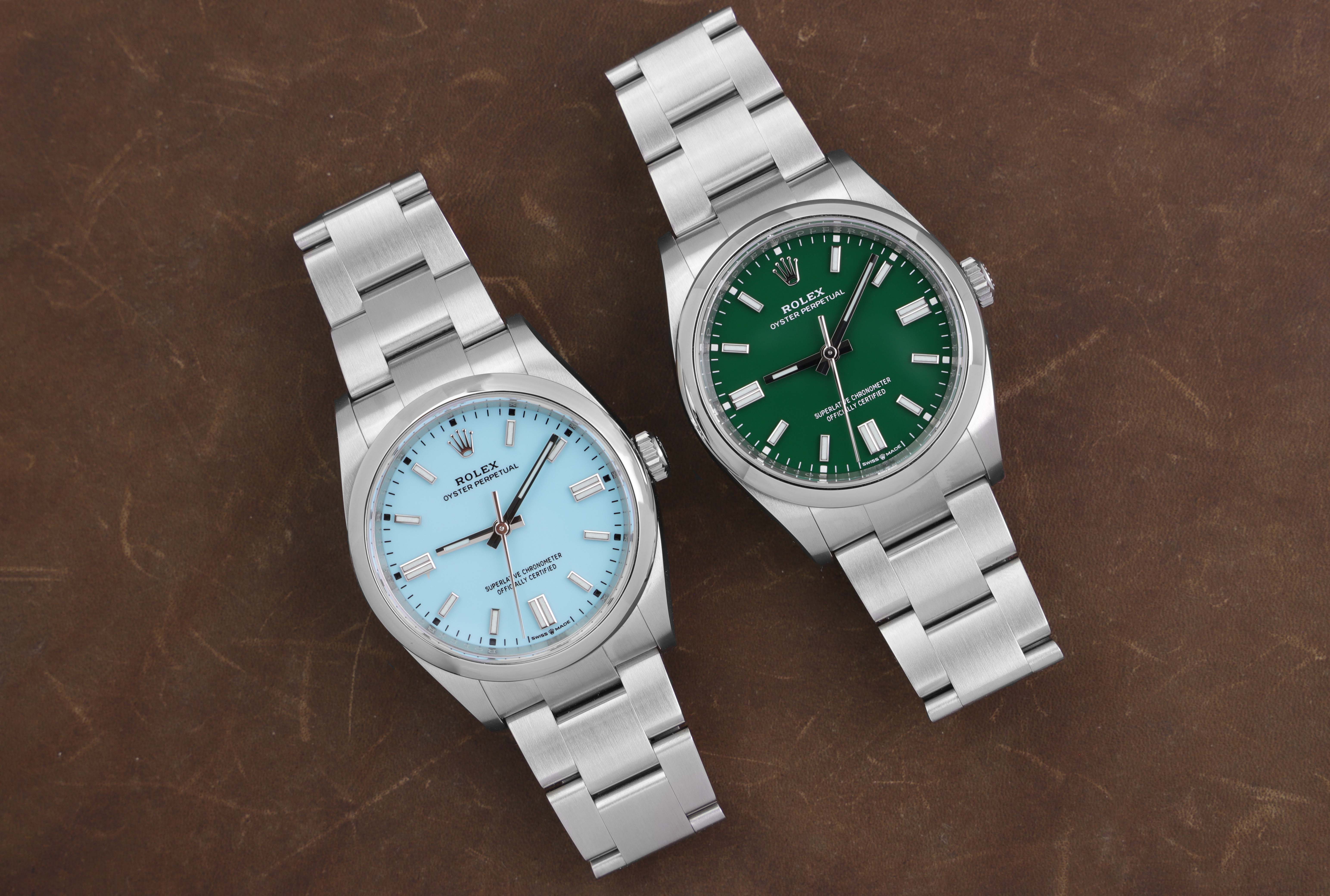 Rolex Oyster Perpetual – Which Dials Can You Order?
The new generation Oyster Perpetual is available in eight different dial configurations for the 36mm model, and seven different dial configurations for the 41mm model. The dials are different from each other, and there are three conservative dial colors, along with five or four (depending on which reference) bold dial colors to choose from.
Although these watches have the same recommended list price in an Authorized Rolex Store, the prices for the same watch, with different dials, can differ quite a lot on the second-hand market. We do know from Rolex that it is possible to order a spare dial to swap out your old if you wish, but with certain models, it can vary. In this article, we'll cover which dials you can order for the Oyster Perpetual 36mm reference 126000, and the 41mm version reference 124300.
The Different Configurations
There are seven color configurations for the 36mm and 41mm Oyster Perpetual.
Silver
Bright Blue
Bright Black
Coral Red
Turquoise Blue
Green
Yellow
Candy Pink (Only available on the 36mm and 31mm Oyster Perpetual)
Exchange Your Dial
Rolex offers the possibility to change your dial, in case you wish to go for another configuration that already exists for the model, or if your current dial gets damaged and needs to be replaced with a new, identical dial. This can be requested from any Authorized Dealer or Service Center, and typically they will assist you with ordering the dial and replace in their store (if they have a qualified watchmaker approved by Rolex), or else they will have the watch shipped to Rolex themselves, and let them to the dial swap/replacement.
The price for any Oyster Perpetual dial, no matter which color configuration, is around €600 EUR, which can differ a bit depending on your location. In the €600 EUR cost, the work to change the dial is also included. Depending on which store performs the dial exchange, you might receive your old dial back for "free", some stores have you pay 40% if you wish to keep your old dial, and some stores do not let you keep the old dial at all in order to prevent spare parts circulating on the second-hand market.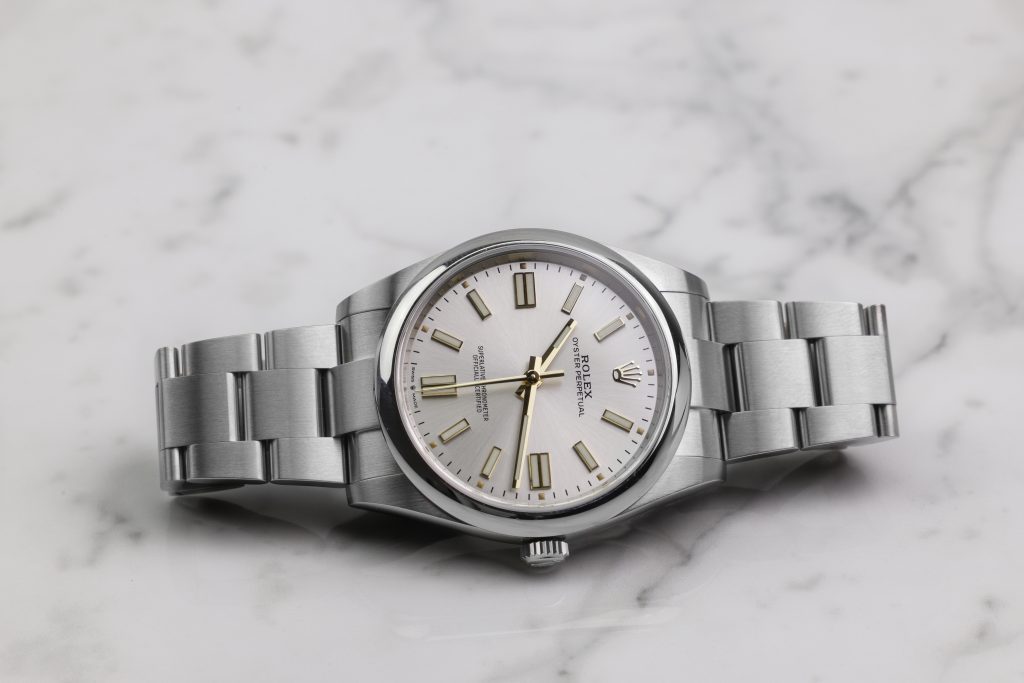 Which Dials For The Oyster Perpetual Can you Order?
You might think that you are able to order any dial type for your Oyster Perpetual, but the answer might come as a surprise.
In theory, you are able to order any dial type from Rolex. This is made through a Rolex spare parts portal, which every AD has access to, but only the stores' watchmakers are allowed to confirm the order. A store can also request an order directly from Rolex and have them exchange the dial if the store's watchmakers are not certified to perform the dial exchange by Rolex themselves. A dial can have a designation by Rolex, which let the store know which dials are possible to order, and which are not. The following dials can be ordered in the Rolex portal, but some have a designation next to them.
Silver
Bright Blue
Bright Black
Coral Red (Exchange HQ)
Turquoise Blue (Exchange HQ)
Green (Exchange HQ)
Yellow (Exchange HQ)
Candy Pink (Exchange HQ)
The first three more conservative dials, which also happen to be the cheapest out of all the different dial configurations on the second-hand market, can be ordered without any hesitations. However, for the rest of the bold dials, the text "Exchange HQ" can be found.
Exchange HQ stands for Exchange Headquarters, which means that the watch needs to be sent to Rolex themselves in order to have the dial exchanged. It also means, that in order to order a dial that is marked with Exchange HQ, you must have a watch with a dial configuration that is marked as Exchange HQ. In other words, it is impossible for any Oyster Perpetual owners with a Silver, Bright Blue, or Bright Black dial to order a Turquoise dial. But for an Oyster Perpetual owner with a Turquoise dial, it is possible to order a Black dial.
It might be a coincidence, but it is interesting that the more popular dial colors which are in bold colors, are not possible to order with an Oyster Perpetual that is in a more conservative dial.
This also means, that if you are in the possession of a Green dialed Oyster Perpetual, which is marked Exchange HQ, you are in theory able to order a Turquoise, as both dials are marked as Exchange HQ. Despite this, it has been tested unsuccessfully (Specifically ordering the Turquoise dial for a dial exchange).
The coincidence can be seen on many models, which have a certain dial type that is more popular on the second-hand market than others, such as the Daytona 116508, which also is marked as "Exchange HQ", whilst a champagne or black dial color is not. The same goes for the Sky-Dweller in steel reference 326934 which is available in Black, White or Blue, with the "Exchange HQ" designation only found on the blue dial, which again happens to be the more popular dial configuration on the second-hand market.
Conclusion
Based on this, we can draw the conclusion that Rolex without a doubt knows which dials are more popular than others, but also that they actively try to prevent these dials to be ordered in order to create more models with the configuration on the market. Perhaps this is a very clever move from Rolex, as you in theory can exchange an "Exchange HQ" dial for a non-designated deal, thereby making it one less on the market.