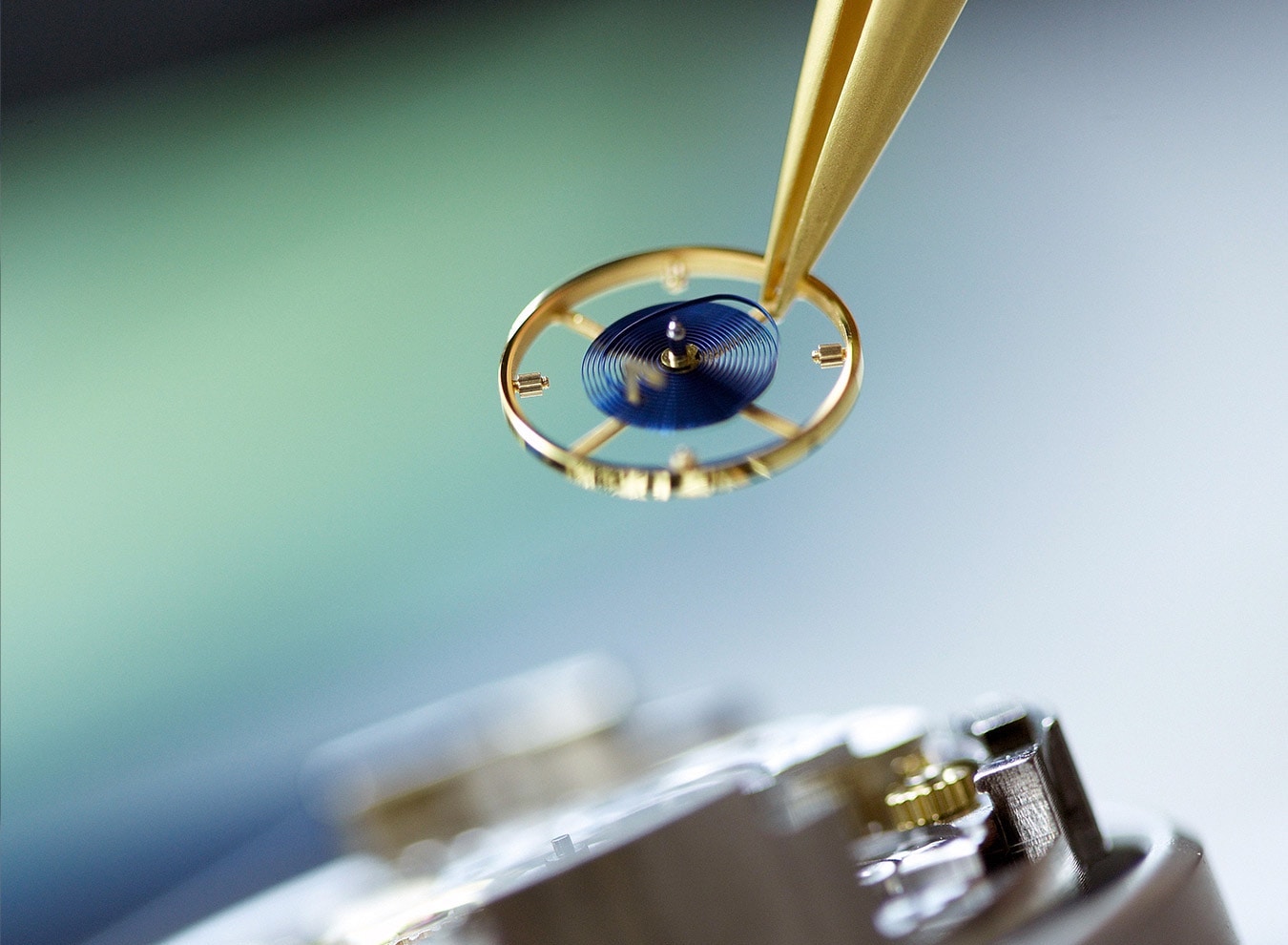 Rolex Parachrom Blue Hairspring Complete Guide
Over the years, Rolex has released countless innovations. The company has endless patents under its name, and every year, Rolex invests heavily in research and development.
Some innovations are small, but make all the difference in the world in terms of improving the durability, reliability, and accuracy of its timepieces.
One such innovation is Rolex's blue Parachrom Hairspring.
The blue Parachrom hairspring, invented and developed by Rolex is a small yet important feature of Rolex's movements, that most people will never see, but which plays an important role in the reliability and functionality of its movements.
Let's look closer at this Rolex invention and how it came about.
Rolex Blue Parachrom Hairspring
The development of the Blue Parachrom Hairspring took five years. First announced in 2000, this part has now found its way into all of Rolex's calibers.
A balance spring, or hairspring, is a spring attached to the balance wheel in mechanical timepieces. Its purpose is to cause the balance wheel to oscillate with a resonant frequency when the timepiece is running, which controls the speed at which the wheels of the timepiece turn, thus controlling the rate of movement of the hands. The hairspring is the most important part of a watch as it regulates how fast or how slow the hands move (and thus how accurate the watch is). But it also needs to do this, and at the same time resist outside forces, including temperature variations, magnetism, and shocks. The hairsprings are made in Rolex's own foundry at their Plan-Les-Ouates laboratory.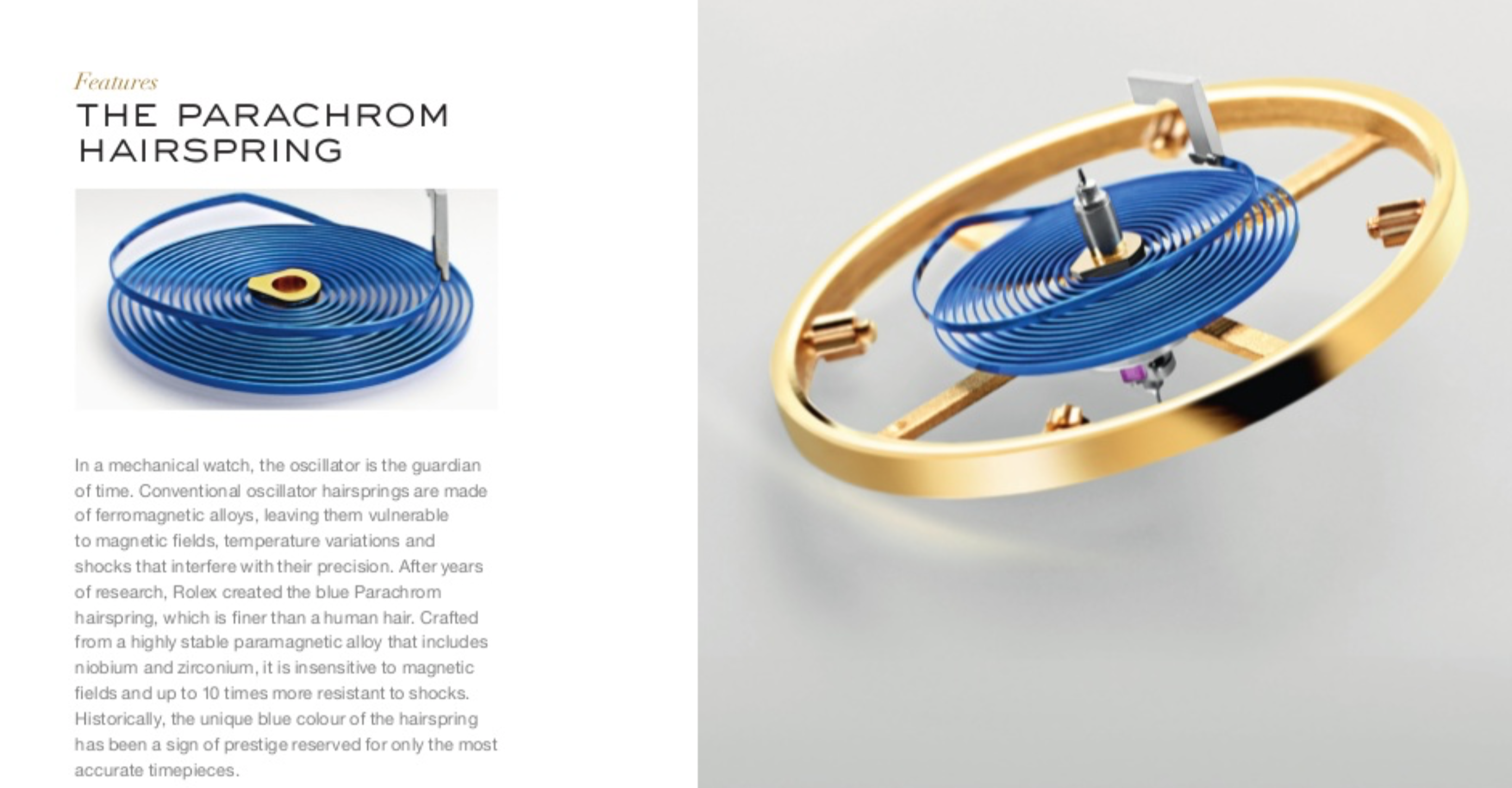 As the name suggests, the Parachrom hairspring is a hairspring, but in true Rolex fashion, it's not just any hairspring.
The Blue Parachrom is made from a paramagnetic alloy which makes it unaffected by magnetic fields. It is made from niobium and zirconium. Niobium makes up about 85% of the hairspring, and the benefit of this material is that it has a very high resistance to heat and wear. Furthermore, this hairspring is also 10 times more resistant to shocks than the standard hairspring Rolex used prior. According to Rolex, it is insensitive to magnetic fields, and can handle large temperature variations and shocks better.
The Parachrom hairspring measure 1/10th of a millimeter in diameter.
Rolex says this about its innovation:
---
"After five years of research, Rolex created the blue Parachrom hairspring. Crafted from a paramagnetic alloy, it is unaffected by magnetic fields and up to 10 times more resistant to shocks. Historically, the unique blue colour of the hairspring has been a sign of prestige reserved for only the most accurate timepieces."
---
Before the Parachrom blue Hairspring
Rolex introduced the Parachrom blue hairspring in 2000, but prior to this, Rolex sources its hairsprings externally. More specifically from Nivarox, a company owned by Swatch Group.
But in Rolex's efforts of moving all of its production in-house, and getting full control over the manufacturing and development process, Rolex now makes its hairsprings in-house.
Nivarox made hairsprings for more or less all Swiss watch manufacturers. The hairspring from Nivarox is a Non-Variable Non-Oxidizing hairspring that has a stainless steel base including cobalt, nickel and chromium, titanium, and beryllium. Whilst the Nivarox hairspring has a high-performance and reliability, Rolex still saw room for improvement.
The new innovation was first introduced in Rolex's first-ever in house Daytona caliber from Rolex – the Caliber 4130.
After five years of production, in 2005, Rolex decided to improve and refine the Parachrom hairspring further. They did so by thickening the oxide layer to between 50-100nm. Its instantly-recognizable blue surface comes from this oxide layer when it comes in contact with the air.
Main photo by Rolex.