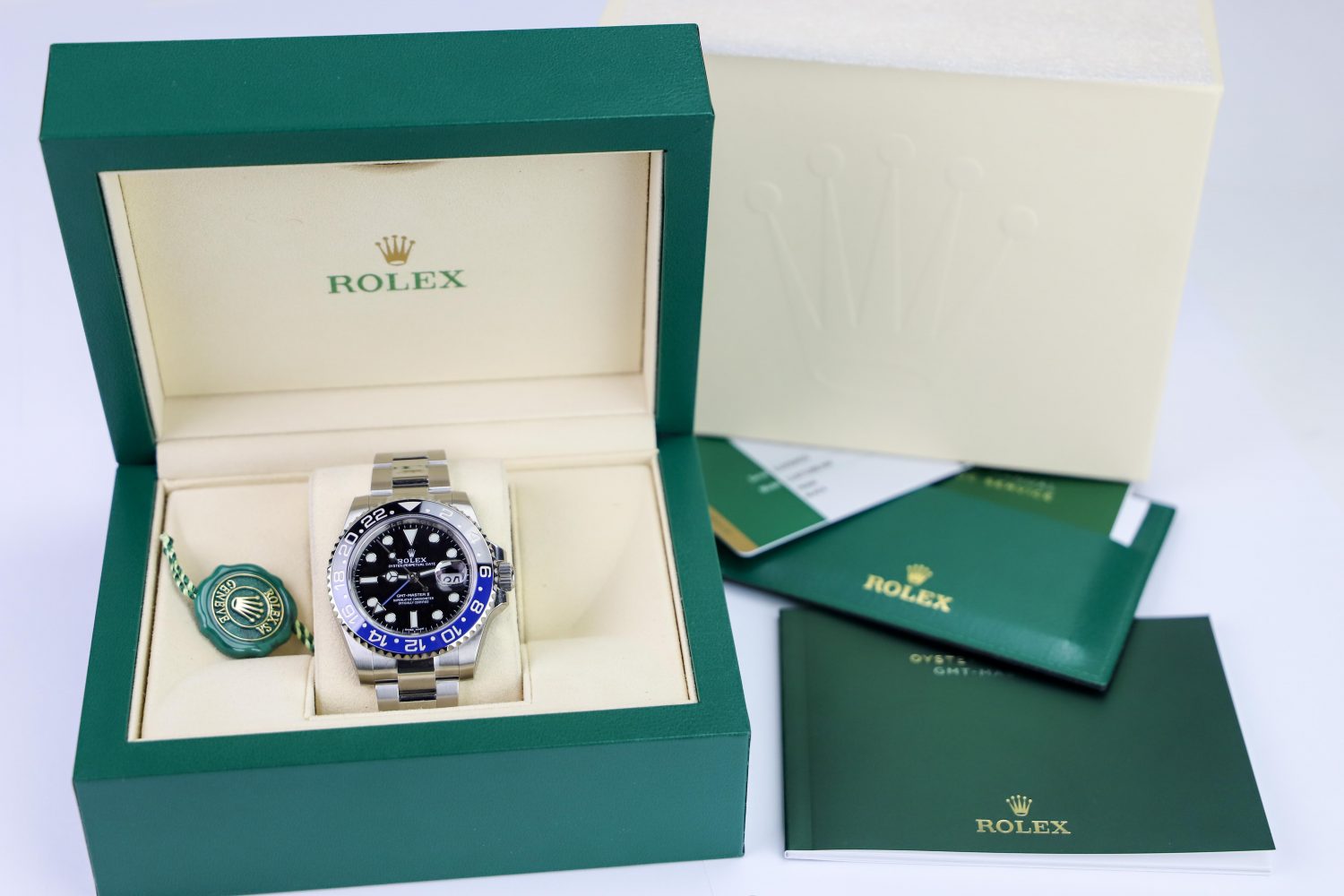 Rolex Serial Numbers: A Complete Resource Guide
All Rolex watches have serial numbers. With the help of the Rolex serial numbers, you can find out the approximate age of your Rolex watch. Furthermore, the serial number is also a great way to find out the estimated value of your Rolex. In this article, you'll find a complete guide to Rolex serial numbers as well as a complete list of Rolex serial numbers with which you can find out the approximate age of your Rolex watch.
How to find your Rolex serial number
First thing first, how do you find the Rolex serial number on your watch? Depending on the age of your Rolex, you may be able to find your Rolex serial number in different places. Older Rolex watches have the serial number engraved between the 6:00 lugs, and for these older models, in order to identify the serial number of your Rolex watch, you would have to remove the bracelet. This process can obviously be quite tedious, and without the right tools or expertise, you risk scratching the watch's lugs or bracelet.
Fortunately, for modern Rolex watches, in order to identify the serial number, you do not need to remove the bracelet. Instead, you can find the serial number engraved at the 6 o'clock position on the inner bezel of the watch under the crystal. It is engraved on what is called the rehaut.
All Rolex watches that have the serial number engraved on the rehaut also have Rolex Rolex Rolex Rolex… text engraved around the whole rehaut. In 2008, Rolex stopped engraving the serial number at case 6 o'clock location, using only the serial engraving on the rehaut. By 2010, this had come to become the case for all Rolex models.
The serial number of modern Rolex watches doesn't have the serial number between the 6 o clock side between the lugs, but only on the inner rehaut. The main reason why Rolex introduced this change in serial numbers is to make it more difficult for fake manufacturers since it is difficult to laser engrave with the same perfection that Rolex has.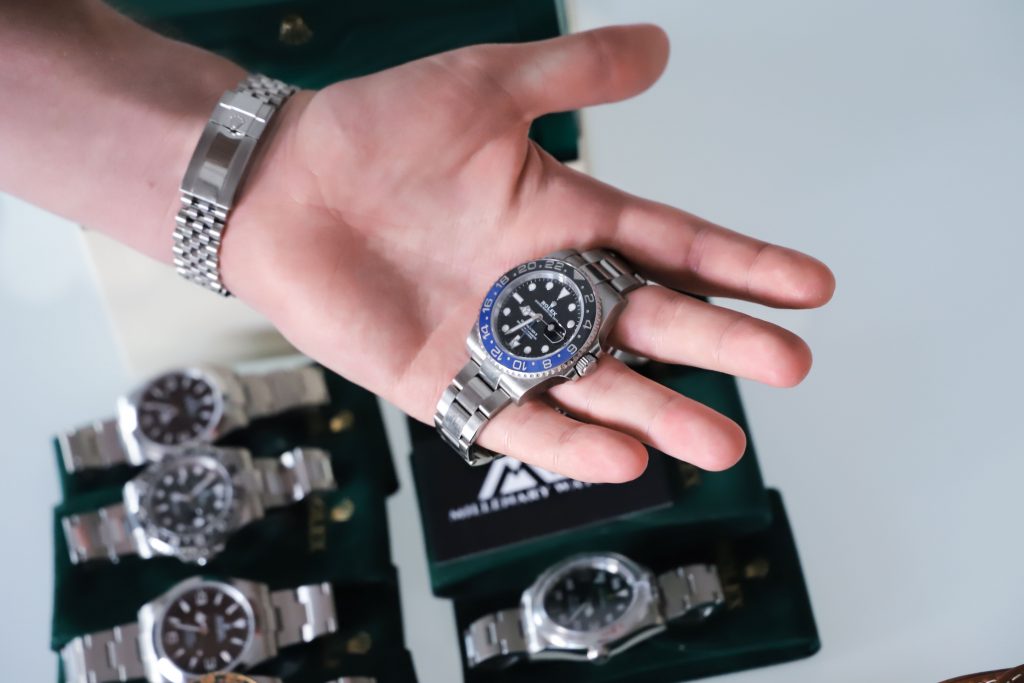 What year is your Rolex watch?
As mentioned, with the help of your Rolex serial number, you can find the approximate year of your Rolex watch. The best way to find the date and year on which your Rolex watch was sold, however, is to look at the warranty card that came with the watch since it is signed with the date and year. If your Rolex watch doesn't have a warranty card for some reason, the serial number is a good way to go about it, though.
In the list that we've presented below, you'll be able to find each Rolex serial number together with a year. To simply find your serial number, look at the list to find the serial number that your watch has, and then look at the year that is connected to it. When buying a Rolex pre-owned watch, you want to verify your watch's serial numbers with the original Rolex certificate or the Authenticity card that comes with the watch. Have in mind, however, that not all pre-owned Rolex watches come with a certificate of Authenticity card for various reasons.
It's important to know that it doesn't necessarily have to mean that your watch was assembled the exact year that your serial number says since rumors have it that Rolex continues to use its different case series until they are finished.
Important notice
It's important to note that the information regarding Rolex serial numbers is not provided officially by Rolex. Instead, the Rolex serial numbers are crowdsourced by the watch community, creating a complete list. As such, there might be slight variations of the Rolex serial numbers. In other words, the list of Rolex serial numbers may not provide 100% accurate info for dating your Rolex.
Additionally, with the modern random serial numbers, it's impossible to ensure which production year the watch is from, thus it's especially important to have the warranty card, not only because of the warranty that Rolex gives your watch, but only to guarantee which year the watch is from.
Random Rolex serial numbers
From the middle of 2010, Rolex started using so-called random serial numbers, which means Rolex started to "scramble" the serial numbers that they use for the watch. The reason Rolex started to use random serial numbers is, according to them, that it made it harder for counterfeiters to pull off their watch as the real deal. Other people, however, mean that the reason why Rolex introduced these random serial numbers was to give less power to secondhand Rolex dealers as having the watch alone would make it impossible to determine the production year of the watch.
Additionally, the random serial numbers would allow authorized dealers to have watches in stock for a longer time since watches that previously showed the production year through their serial numbers and proved that the watch had been in inventory for a long time could be used by the buyer to use as leverage to ask for a lower price.
Remember that watches that therefore are dated from 2010 and forward cannot be dateable through their unique Rolex serial number.
Looking up your Rolex serial number
Now that you know a little bit of background to Rolex serial numbers and know where you find your watch's serial number, you can use the complete list that we've compiled below and compare them to your watch's serial number. It is especially important to double-check the serial number when buying a Rolex watch to ensure that the watch you are buying is correct to the year and model being sold.
If you buy a Rolex watch with a certificate or Authenticity card and it has a different serial number than on your watch, it will affect the resell value of your watch, and mistakes like this can happen.
Rolex year and serial numbers
1925 25,000
1926 28,000
1927 30,430
1928 32,960
1929 35,390
1930 37,820
1931 40,250
1932 42,680
1933 49,000
1934 45,000
1935 63,000
1936 81,000
1937 99,000
1938 117,000
1939 135,000
1940 164,600
1941 194,000
1942 224,000
1943 253,000
1944 283,000
1945 348,000
1946 413,200
1947 478,300
1948 543,400
1949 608,500
1950 673,600
1951 738,700
1952 804,000
1953 869,000
1954 935,000
1955 1,010,000
1956 1,095,000
1957 1,167,000
1958 1,245,000
1959 1,323,000
1960 1,401,000
1961 1,485,000
1962 1,557,000
1963 1,635,000
1964 1,713,000
1965 1,791,000
1966 1,870,000
1967 2,164,000
1968 2,426,000
1969 2,689,000
1970 2,952,000
1971 3,215,000
1972 3,478,000
1973 3,741,000
1974 4,000,000
1975 4,265,000
1976 4,535,000
1977 5,005,000
1978 5,481,000
1979 5,959,000
1980 6,430,000
1981 6,910,000
1982 7,366,000
1983 7,860,000
1984 8,388,000
1985 8,814,000
1986 9,300,000
1987 9,760,000
1987 1/2 9,999,999
1987 1/2 R 000,000
1988 R 999,999
1989 L 000,001
1990 L 999,999
1990 1/2 E 000,001
1991 1/4 E 999,999
1991 3/4 N 000,001
1991 1/2 X 000,001
1992 1/4 C 000,001
1993 3/4 S 000,001
1995-1998 W 000,001
1996-1998 T 000,001
1997 1998 U 000,001
1998 A 000,001
1999 A 000,001
Rolex serial number prefix
The letter prefix can be used to tell the year:
G 2010
| | |
| --- | --- |
| V | 2009 |
| Z,M,V | 2008 |
| Z,M | 2007 |
| F,D,Z | 2006 |
| D,F | 2005 |
| F,Y | 2004 |
| Y | 2003 |
| K,Y | 2002 |
| P,K | 2001 |
| A,P | 2000 |
| A | 1999 |
| A | 1998 |
| U | 1997 |
| T | 1996 |
| W | 1995 |
| S | 1994 |
| S | 1993 |
| C,X | 1992 |
| N,E,X | 1991 |
| E,L | 1990 |
| L | 1989 |
| R | 1988 |
Have in mind that from 2010, Rolex changed its serial numbers. From now on, and with all modern Rolex watches, the serial number is made up of 8 digits which consist of randomly generated numbers and letters. As such, with watches from this time and onwards, it's impossible to use the Rolex serial numbers to date a Rolex watch.
Rolex bracelet clasp codes
While Rolex serial numbers are used most commonly to date watches which are manufactured before 2010, another way that you can date your Rolex watch is by looking at the clasp code. On the hinge of the clasp, you'll find a number and letters. If the bracelet of your watch isn't original, at the very least, you can date the bracelet of your watch. Have in mind, though, that it's only possible to date Rolex watches through the clasp codes which were manufactured before 1976.
Take a look at your watch's clasp code and then compare them with the list of Rolex clasp codes below to determine the age of your watch (or bracelet)
A: 1976
B: 1977
C: 1978
D: 1979
E: 1980
F: 1981
G: 1982
H: 1983
I: 1984
J: 1985
K: 1986
L: 1987
M: 1988
N: 1989
O: 1990
P: 1991
Q: 1992
R: 1993
S: 1994
W or T: 1995
V or U: 1996
Z or U: 1997
Z or W= 1998
X: 1999
AB: 2000
DE: 2001
DT: 2002
AD: 2003
CL: 2004
MA: 2005
OP: 2006
EO: 2007
PJ: 2008
LT: 2009
RS: 2010
CP: 2011
Note
We've mentioned it once, but have in mind that while these serial numbers are very accurate and curated by experts, they may not be 100% correct since they haven't been released officially by Rolex.
Also note:
It is not possible to check whether a Rolex watch is fake or not with the serial number. Rolex does not have an official database of all serial numbers which they disclose to the public. Authorized Rolex retailers do not have access to a Rolex serial database either.