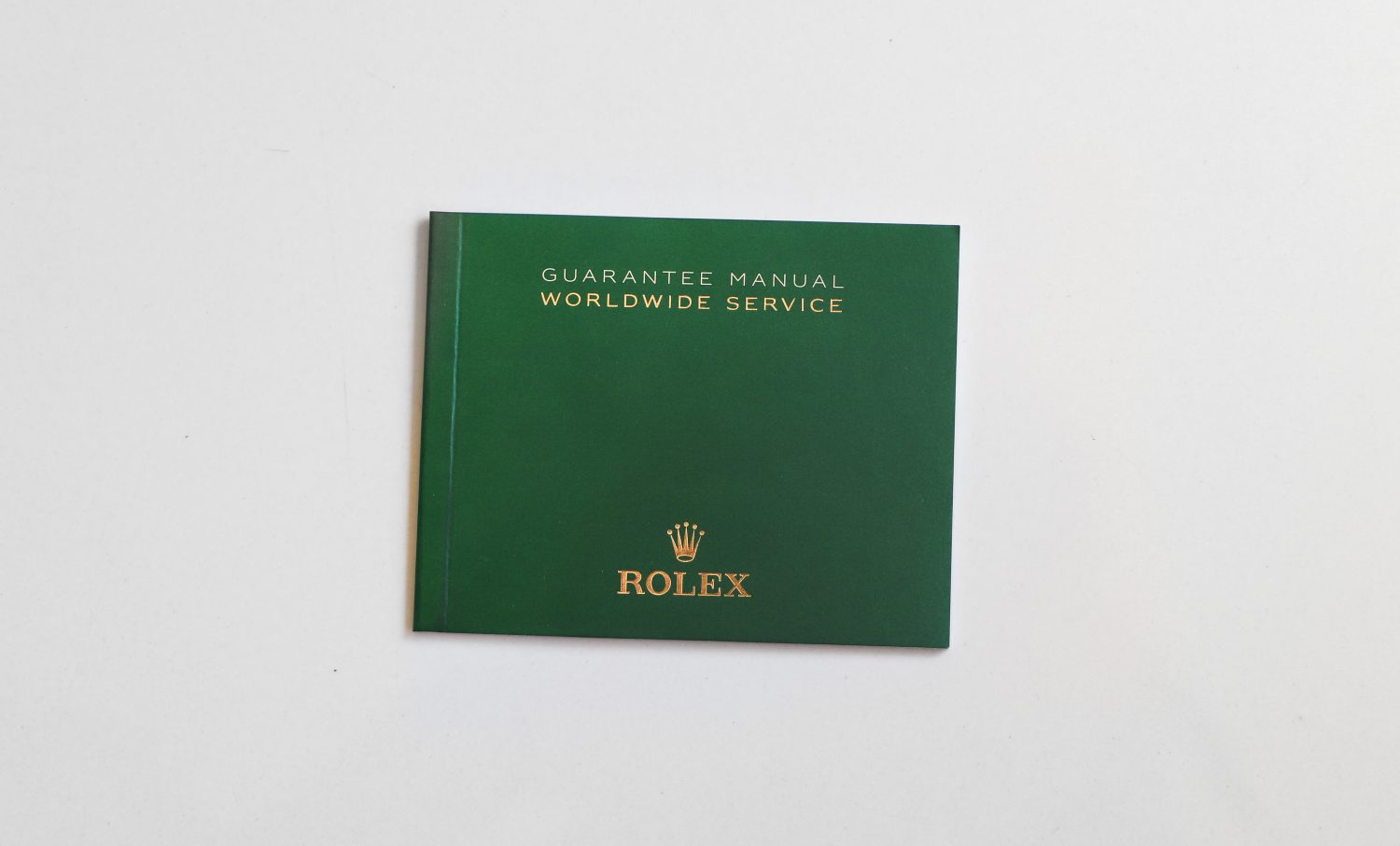 Rolex Warranty & Guarantee: A Complete Guide
Buying a luxury watch can be a big decision. And when you decide to spend a lot of money on an object, it feels good to have some kind of security that brings you peace of mind.
Most luxury watch brands offer some kind of warranty for their watches, but what these warranties cover and how long they are valid for can vary greatly.
In this article, we are focusing on the Rolex warranty and will talk about what it covers, how it works, and how long it is valid.
Rolex warranty
With its warranty, Rolex "guarantees the proper functioning of its watches for a period of five years from the date of purchase. The Rolex guarantee excludes normal wear-and-tear (notably the wear-and-tear of non-metal bracelets and straps), loss, theft, or damage due to misuse. The substitution of components with, or the addition of, components or accessories not manufactured by Rolex will invalidate the guarantee. The guarantee is valid only if (1) the watch has been sold by an Official Rolex Retailer; (2) the guarantee card has been completed in full by the Official Rolex Retailer at the time of purchase; and (3) the guarantee card is presented with the watch, either to an Official Rolex Retailer or to an Official Rolex Service Centre. Any work carried out by third parties will render the guarantee null and void."
This sounds like any other warranty of an object that gives you details about what it covers, but also what it does not cover.
The Rolex warranty comes in the form of a guarantee card that is included when the Rolex watch is sold for the first time by the official retailer.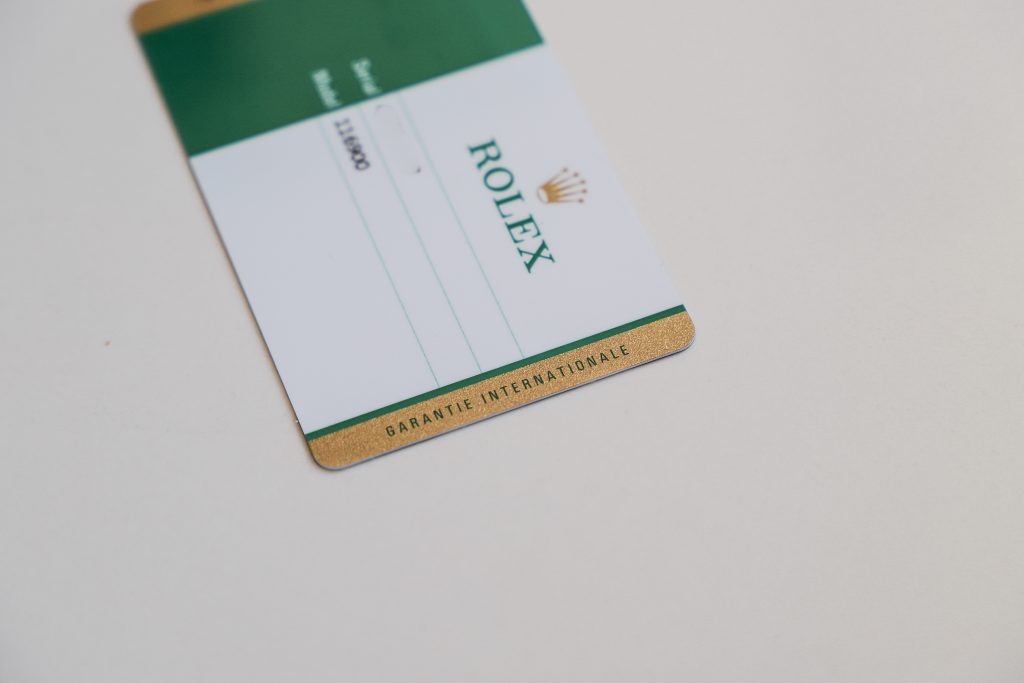 How does the Rolex warranty work?
Now, as you could see in the text from Rolex above, there are three criteria that Rolex has in order for the warranty to be valid. The first is:
"the watch has been sold by an Official Rolex Retailer". Now, this really only means at its first point of sale, because the truth is that only authorized Rolex retailers will get watches directly from the Rolex factory, and thus all-new Rolex watches will be originally sold by an authorized Rolex retailer.
The second criteria for the Rolex warranty is: "the guarantee card has been completed in full by the Official Rolex Retailer at the time of purchase".
All new Rolex watches come with a guarantee card, also known as a certificate or "papers", which today is electronically activated at the first point of sale from the authorized Rolex retailer.
Originally, the guarantee/certificate came in the form of a piece of paper, but a plastic card is far more effective as it doesn't tarnish in the same way as a piece of paper.
Plus, with the new electronic guarantee card, Rolex can see exactly when the card was activated and who activated them. This gives them better control, and it is also a great way to get prevent counterfeit Rolex watches.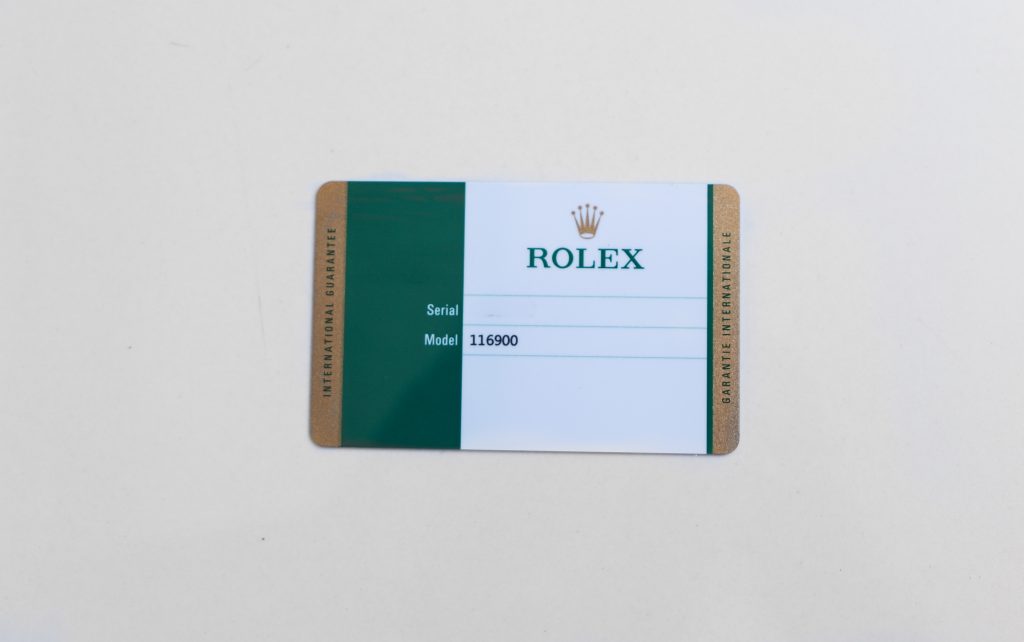 What the citation means is that the guarantee card needs to include:
The retailer's name.
The date of purchase
The name of the buyer.
The most important part is that the retailer's name is filled out on the certificate. The name of the buyer should be filled out, but if the buyer refuses the give up their name when buying the watch, the official retailers have permission to put "XXXX".
This is why the name does not necessarily have to be on the certificate. It is only something that Rolex writes in their warranty terms in order to try to prevent sales of Rolex watches outside of their official network of retailers.
(3) the guarantee card is presented with the watch, either to an Official Rolex Retailer or to an Official Rolex Service Centre. Any work carried out by third parties will render the guarantee null and void."
Lastly, in order for the guarantee to be valid, you need to have a guarantee card. This is if something happens to your Rolex watch and you expect it to be fixed under the Rolex warranty, which means "free of charge". If you do not have your Rolex certificate card, you can still get your watch serviced and repaired by either an official Rolex retailer, Rolex service center, or an independent watchmaker.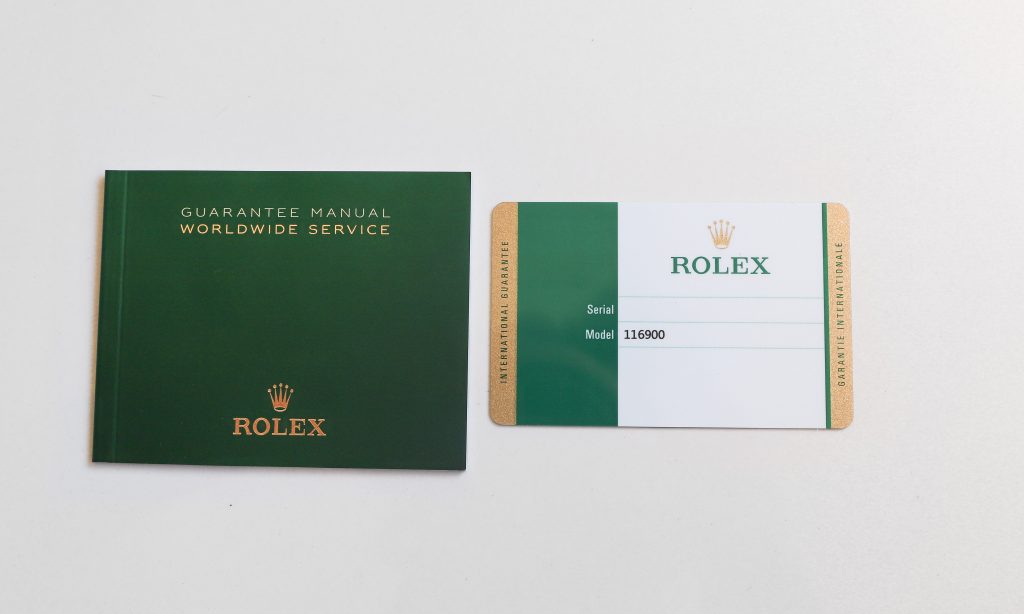 In order to take advantage of the warranty, you need to go to either an official Rolex retailer or a Rolex service center. These are the only ones that can help you with your Rolex warranty.
Now, have in mind that as the quote states "Any work carried out by third parties will render the guarantee null and void.". This means that if a private watchmaker or somebody else tampers with the movement, services it, or tampers with the watch in any other way, and Rolex notices this upon inspection, the warranty will not be valid.
They will, of course, help you with your watch, but it will not be under warranty.
What does the Rolex guarantee cover?
We've already discussed this briefly, but the Rolex guarantee consists of the service and comfort in knowing that shall your watch perform not operate the way it should, Rolex will take care of it.
The most common problems that people use their Rolex guarantee for are:
The Rolex does not keep time as well as it is supposed to (the accuracy is not good enough). Rolex uses the "Superlative Chronometer Certification" to its entire production, meaning that all Rolex Oyster and Cellini watches are tested by Rolex to meet its stringent -2/+2 seconds accuracy ratings. If you feel that your Rolex is losing time or going too fast, you can have the movement checked and adjusted free of charge in accordance with the warranty.
Factory flaws and issues. If you notice that your watch has a flaw from the factory, be it dust on the dial or misaligned indices, you can hand over your watch and have them fix it.
The watch does not operate the way it should. Maybe you are not able to change the date, mate the date wheel does not shift the way it is supposed to, or maybe it feels strange when you change the crown. Rolex will solve these issues under the warranty as well.

Is the Rolex guarantee international?
Yes, the Rolex guarantee is fully international. If you have a problem with your Rolex watch, you can go to any official Rolex retailer in the world with your watch and your certificate and they will help you.
How long is the guarantee on a Rolex?
There are many people who wonder if Rolex watches are guaranteed for life, however, this is not the case. Beginning 1 July 2015, the Rolex International Warranty was more than doubled from its current 2-year warranty to a 5-year warranty from the date of purchase.
So previously, the Rolex warranty was two years, today, it is five years on all watches.
This means that Rolex guarantees that the watch is perfectly functioning in all aspects for at least five years, but the reality is that in most cases, a Rolex watch will last a lifetime. In fact, Rolex recommends having your Rolex watch serviced every 10 years, and this alone just proves how reliable and sturdy their movements are.
Rolex watches can truly last several lifetimes, but the guarantee is valid for five years.
What is interesting about this warranty period increase is that no manufacturing changes were made to the "two years warranty watches" and "five years warranty watches", and this just proves Rolex's confidence in their products.
As mentioned, today, Rolex bumped the recommended service interval – from three years to ten a few years back, and that is a significant increase. It has been proven that Rolex makes some very highly reliable movements, and we have heard from clients who have been wearing their Rolex watch for 10, 15, or 20 years without a single service, and their watches have held good time. Now that is some impressive craftsmanship.
Of course, if you are a person who likes to look over your Rolex watch, it doesn't hurt to have your watch serviced regularly, but as per Rolex's own recommendations, a regularity of 10 years is enough.
How do Rolex guarantees compare to its competitors?
This is a really interesting one.
When Rolex introduced its five-year warranty in 2015, Rolex received a lot of praise. Not only does a five-year warranty showcase that Rolex is proud of its products and that they are of high quality, but it can also help show that you are superior to your competitors.
At the time of the introduction, very few watch brands offered a five-year warranty. And still today, few brands actually offer a five-year warranty.
In 2018, however, Omega introduced a five-year warranty to its watches. As Omega strives to take Rolex's place in terms of reputation, quality, prestige, and demand, Omega's extension of its warranty was definitely major industry news. This meant that Rolex is not the only "industry giant" which offers its clients five years of peace of mind.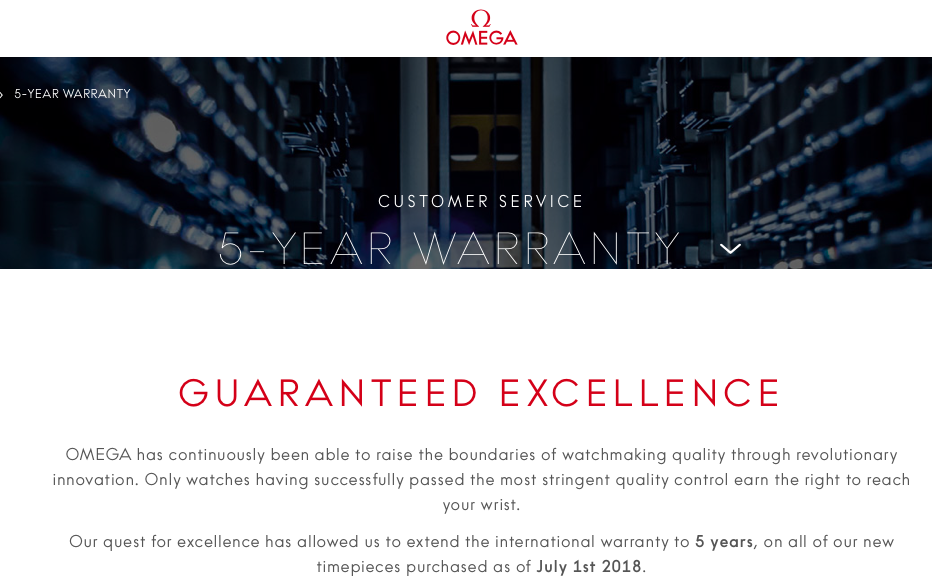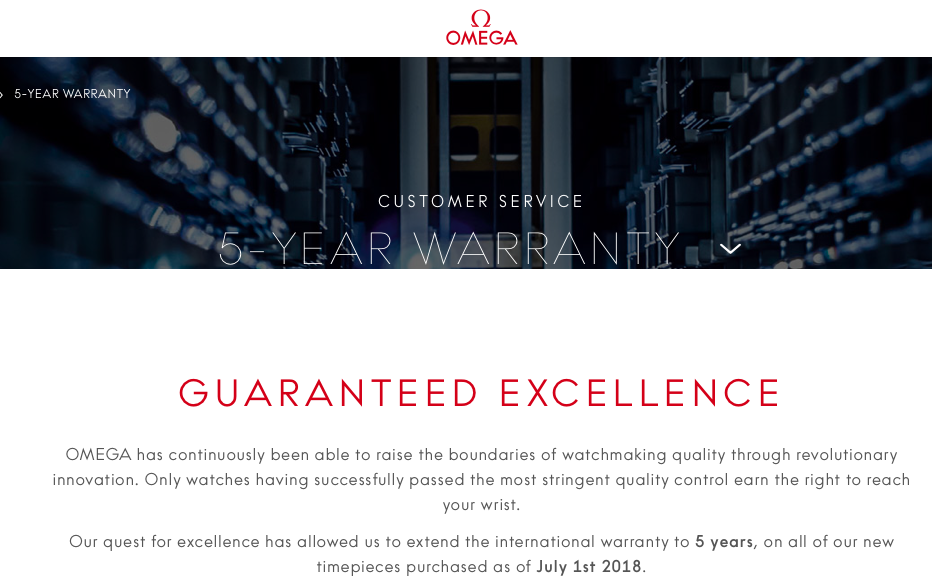 Prior to this, Omega offered a two-year guarantee on quartz movements, three years on ETA-based calibers, and four years on the in-house co-axial movement.
Then, of course, you have the impressive fact that Rolex was the first quality watch brand to offer a five-year guarantee.
Breitling also offers a five-year guarantee on its in-house movements. This exclusive guarantee has been in place since 2012.
Rolex extended warranty after service
What most people don't know is the Rolex warranty after a service. A so-called "service guarantee".
So if you are a person who likes to have peace of mind with a warranty, and your warranty time has run out, having your Rolex watch service can be a good idea.
The fact of the matter is that Rolex also offers an extended two-year guarantee on watches where it has performed a complete and official service maintenance.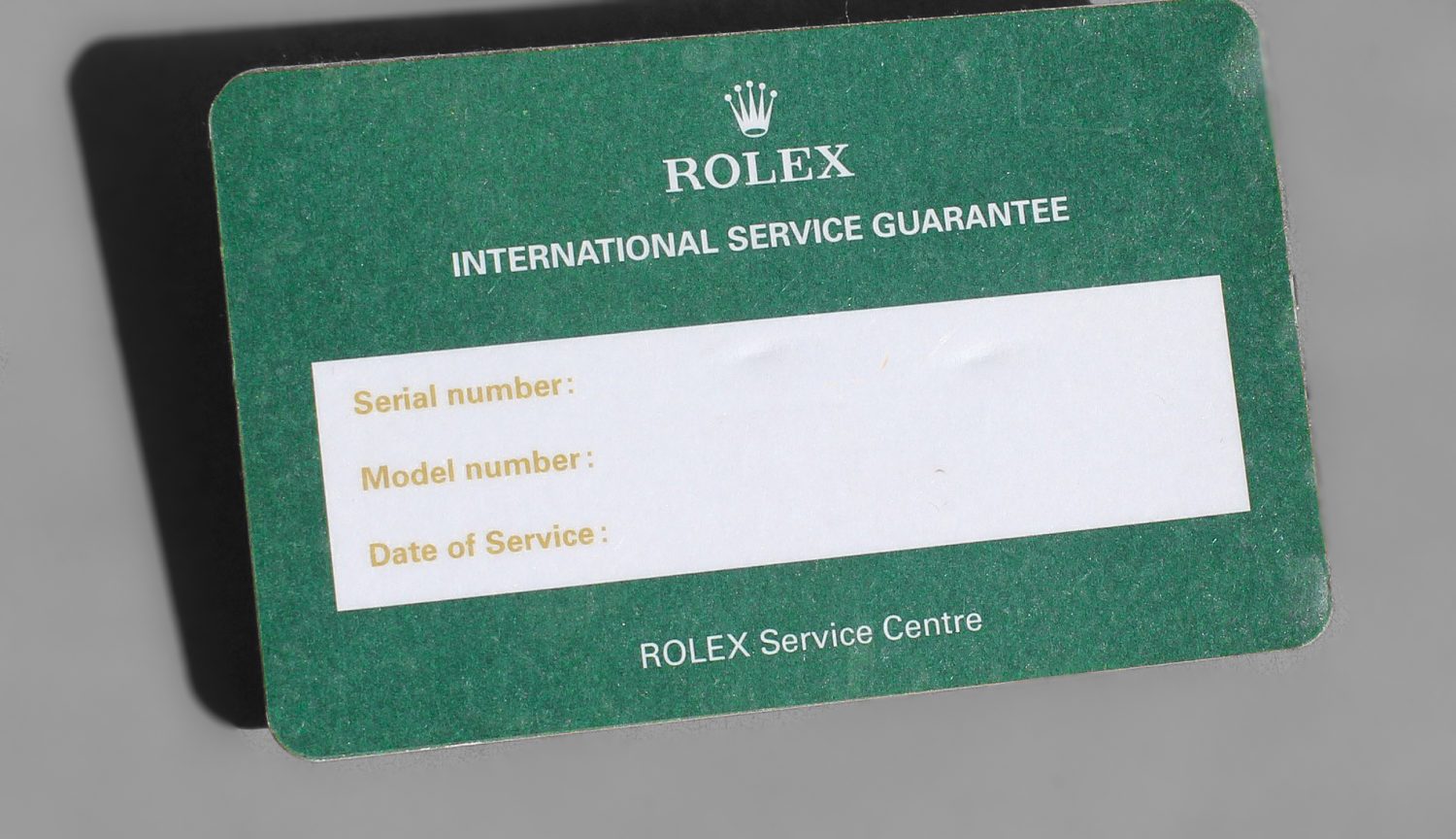 Again, this guarantee is voided if a third, non-Rolex-authorized party has tampered with the parts or accessories.
Are Rolex warranties transferrable?
A common question is if Rolex warranties are transferrable.
The answer is yes.
There has been a lot of debate and discussion about whether it is possible to hand in a Rolex watch for a guarantee errand together with the certificate, and then have a different name than your own written on the certificate.
There is absolutely no problem with this, as long as the certificate is stamped by an official Rolex retailer and dated.
Can you replace your Rolex warranty card?
No, you can not replace your Rolex warranty card in any way. This is what Rolex says:
"The Rolex guarantee card cannot be re-issued under any circumstances. Please contact the Official Rolex Retailer from which you purchased your Rolex watch for assistance."
There are no possibility to get a new warranty card if you have lost it, however, if you have your watch serviced, you will get a new "warranty card" that gives you a two-year warranty. Now, a service card is much better than having nothing at all, as it also proves your watch's authenticity.
At the same token, the service guarantee card can work the same way as a certificate, even though it is not original to the watch, so if you service your watch, you get something that is almost like a warranty card.
Old Rolex warranty/guarantee
Throughout its history, Rolex has used three types of waranty/guarantee cards.
In the beginning, up until late 2006, Rolex's guarantee came in the form of a paper such as the one below: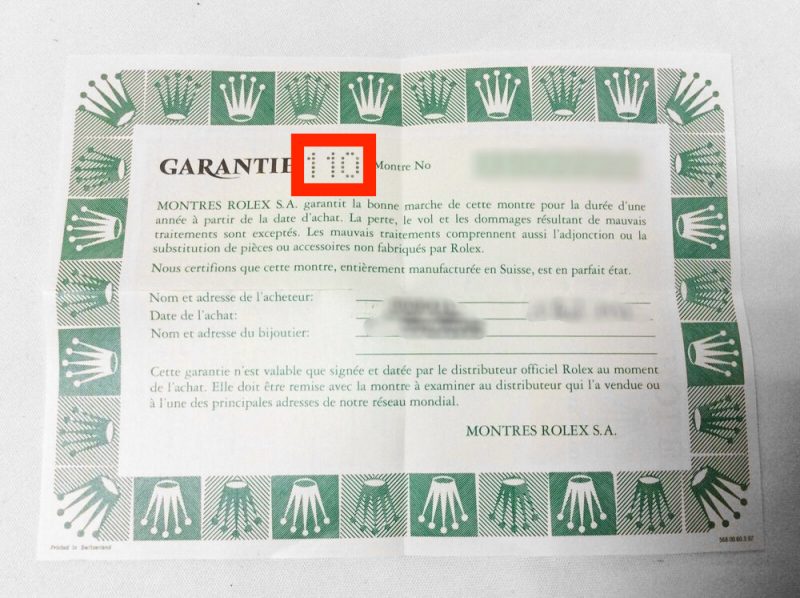 The guarantee papers can look slightly different depending on where the watch was purchased and when. In 2006, Rolex came to abandon the paper-form guarantee. One reason could be that the papers could easily tarnish and break. Another reason is that they were all manual. Today, as you now know, all Rolex warranty cards are electronically activated, which makes it much easier to keep track of each individual watch and when it is sold.
The credit card style warranty card that was released looks a bit different from the ones that are used today, but their function still remains the same.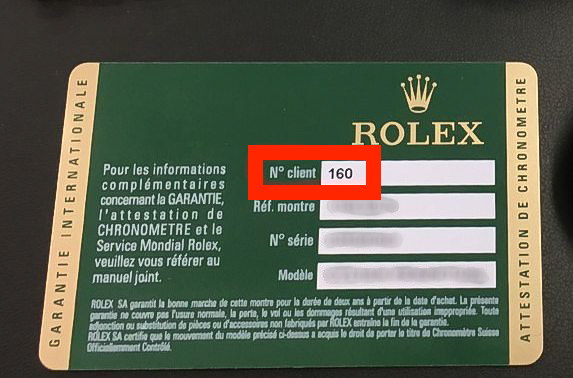 Eventually, these warranty cards came to be replaced by the new ones that we have discussed in this article. Somewhere around the period when Role introduced the five year warranty.
New Rolex warranty card 2020
In 2020, Rolex updated its warranty card with a new design. The new warranty card is an NFC card that is activated by the official retailer using an iPhone that has been provided by Rolex. Each official Rolex retailer was sent an iPhone that serves one single purpose of activating the warranties, of course with a dedicated app for this purpose.
On the new warranty cards, Rolex removed the name of the buyer and the name of the retailer. The only information left is the serial number and the reference number. The card also got a design upgrade: