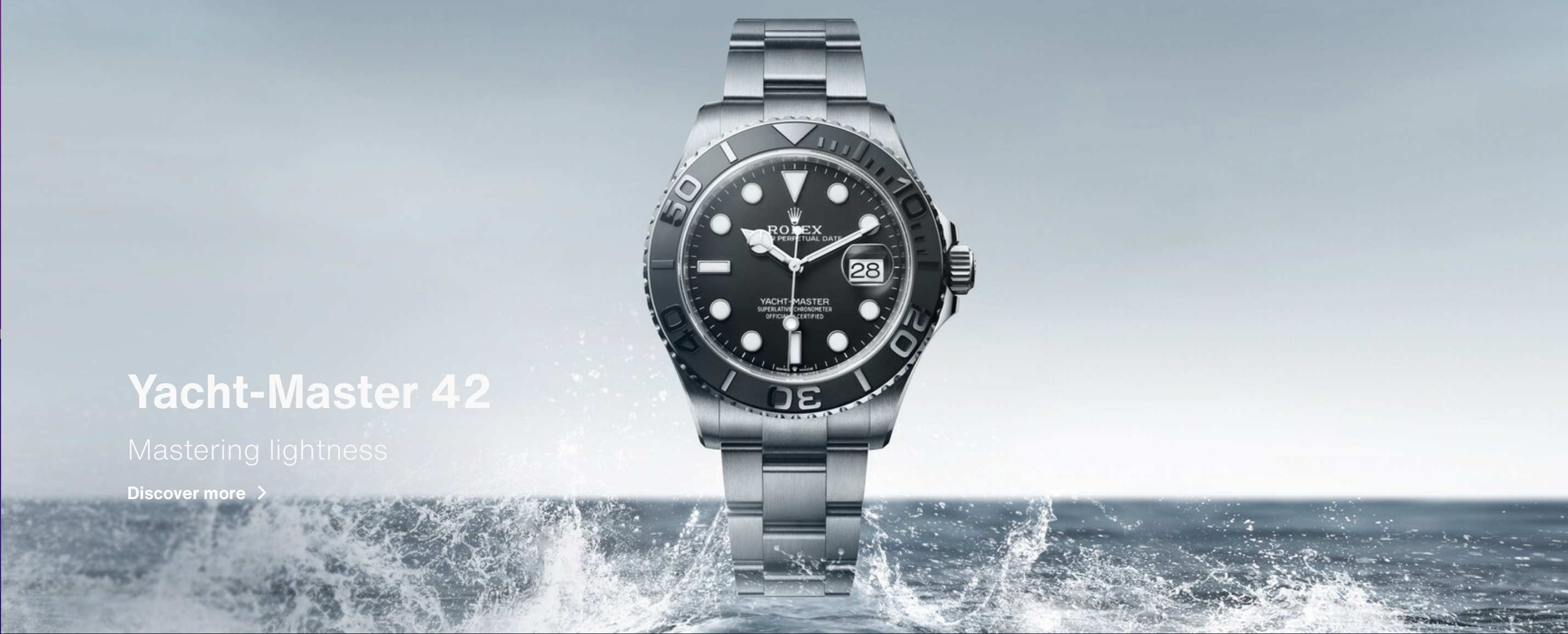 News! Rolex Releases Yacht-Master 42 226627 in Titanium
Once a year, Rolex presents new models and announces which models are discontinued. It's safe to say that the day of Rolex's release is one of the most anticipated in the watch industry. Furthermore, Rolex is the single most hyped and anticipated brand when it comes to presenting new releases.
Finally, the time has come for Rolex to present its new watches for 2023 and one of the watches that Rolex has released is the Yacht-Master in titanium.
Rolex is a company that is known for evolution, not revolution. This is why many of Rolex's "new" watches that are released have only received minimal tweaks, adjustments, and improvements. And although the Yacht-Master is an existing model, this new titanium Yacht-Master is certainly one of the highlights of 2023 considering the fact that it is so different from the other Yacht-Master models in Rolex's collection.
In this article, we are digging deeper into this unique and important release from Rolex – the brand's very first standard-production Yacht-Master in titanium.

Background and history to Yacht-Master
We have talked about Rolex and titanium in-depth in the article "What is RLX titanium" which you can read if you are curious about the background in detail.
What we can say about the new Yacht-Master titanium is the fact that it has been years in the making which has led to this.
Titanium in watches is nothing new. Rolex's competitors have been making watches in titanium for decades. So from that perspective, it's not something special. But considering the fact that Rolex is just now starting to release watches in titanium, it's quite a big deal.
As you may or may not be familiar with, the professional sailor Ben Ainslie was spotted in a photo back in 2021 wearing a 42mm Yacht-Master titanium without a date. The watch was presented on a fabric strap.
As a matter of fact, the watch that Mr. Ainslie wore was a prototype created by Rolex in late 2020. He was interviewed about the watch in October 2020 and said the following:
"The team at Rolex has been incredibly thoughtful by giving me a titanium Yacht-Master 42," he says. "I'm extremely honoured to have it, plus, from a performance perspective, every little bit of weight that we can save, helps us to go faster with the boat."
Already at this point, we understood that Rolex was researching and developing the use of titanium for its watches. With its prototype, Rolex would be able to better understand the characteristics of the material and how it performed out in the wild.
Of course, this proved to be a perfectly accurate prediction as Rolex released its first commercial watch made in titanium, the Deepsea Challenge RLX titanium reference 126067. The watch was launched on November 1st, 2022.
Since the research and development of a new material requires a ton of research, it was only a matter of time that Rolex would present more watches made of titanium. It doesn't make sense to only make one watch. For that reason, it was only a matter of time. And now that has finally all been revealed with the first officially produced Yacht-Master in titanium.
Let's have a closer look at this watch in detail.
Presenting the new Rolex Yacht-Master titanium 226627
When we first saw the prototype Yacht-Master worn by Ben Ainslie, we were fairly sure that it was only a matter of time before Rolex would launch a commercial Yacht-Master in titanium. After all, it makes complete sense. Professional Yachters and sailors need a light and durable watch. And in many other areas, lightness is a rather great characteristic to have.
The Yacht-Master is made of so-called "RLX titanium" which is a grade 5 titanium alloy that Rolex uses due to its resistance to deformation and corrosion, and weightlessness. The great thing about RLX titanium is that it is about 40% lighter, and has more mechanical resistance than stainless steel. Its lightness obviously has tremendous benefits in certain areas and yachting and water sports are definitely just that.
It's March 27th and the first-ever commercial Rolex Yacht-Master in titanium reference 226627 has been released. So, what is this watch all about?
Well, first off, despite the fact that the watch is made of a new material, the watch will feel rather familiar overall. It has the same design and characteristics as all the other Yacht-Master models. However, due to the use of titanium, it will both look and wear quite differently.
The new Yacht-Master 42 reference 226627 has a 42mm case made in RLX titanium and is presented on a titanium Oyster bracelet.
Case
The case of the new titanium Yacht-Master is different for several reasons. Firstly, the case is made of titanium. Secondly, and this is a first for the Yacht-Master – the case has bevels on the lugs as well as brushed sides. The case is brushed all throughout which, together with the use of titanium, gives it a more rugged and sporty look. Normally, we're used to to the Yacht-Master being essentially all-polished but this goes the opposite direction which is an interesting step from Rolex in making it much more tool-like.
Moving on to the bezel, the watch has the traditional bidirectional rotating bezel that the Yacht-Master is known for. What is new, however, is the fact that Rolex has opted for a black Cerachrom bezel insert with raised numerals. Previously, Rolex has only used platinum bezel inserts for watches in other materials than gold. The black Cerachrom bezel provides a nice contrast against the matte titanium finish and adds a touch of sportiness.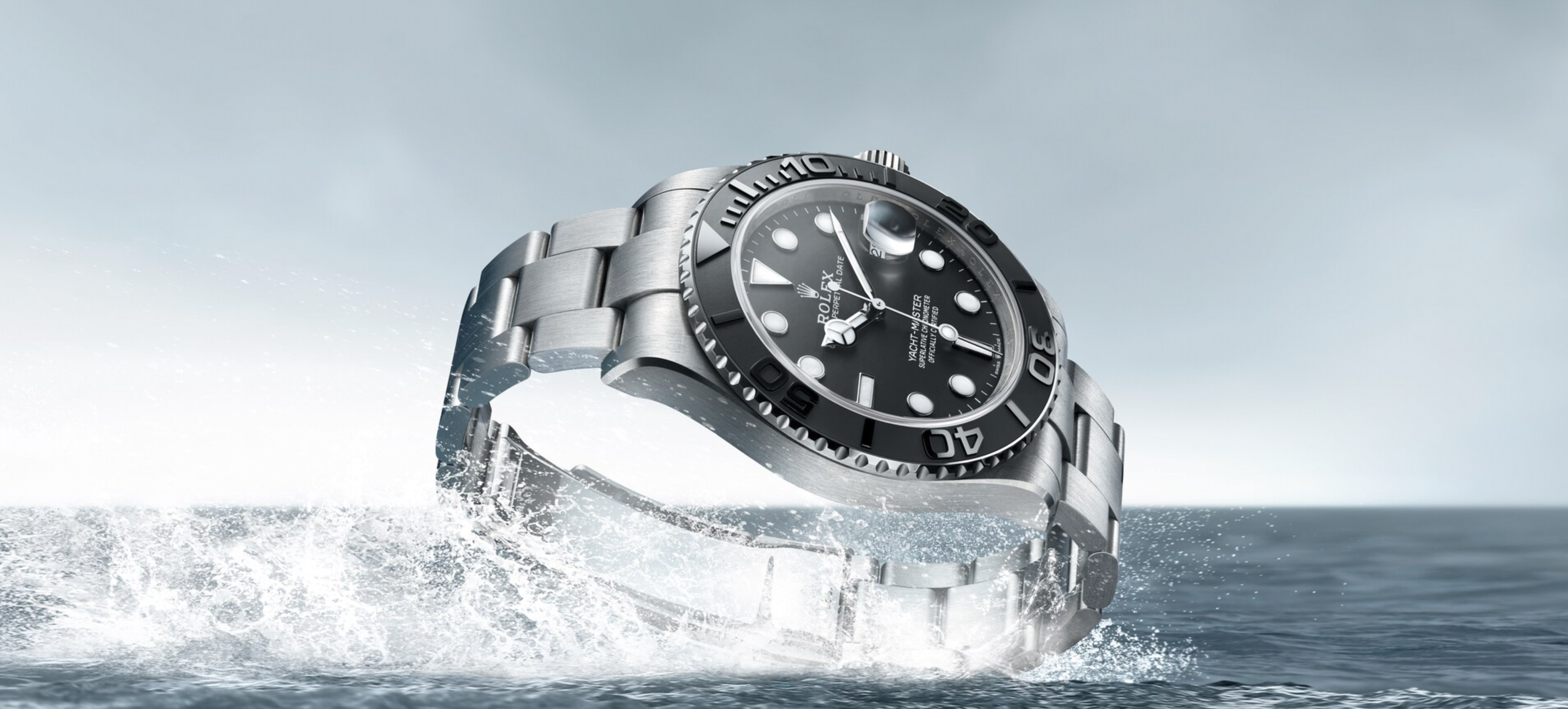 Bracelet
Those who were familiar with the Yacht-Master prototype worn by Ben Ainslie may have gotten surprised by the fact that the new Yacht-Master was presented with an Oyster bracelet in titanium and not a fabric strap.
Being titanium, the bracelet is satin-finished all throughout and is equipped with an Oysterlock safety clasp – also satin-finished. It features the Easylink comfort extension system allowing the user to adjust the length of the bracelet by 5mm. The links feature ceramic inserts which increases the durability and longevity of the bracelet.
Movement
When it comes to the movement, there are no surprises here. The 226627 is powered by the tried and true caliber 3235 date movement which we are all familiar with. It has been around for some time and prevent that it is a robust and capable workhorse that can perform really well.
Yacht-Master 226627 Specifications
Diameter: 42mm
Case: RLX titanium
Movement: caliber 3235
Power reserve: 70 hours
Accuracy: -2/+2 sec/day
Water resistance: 100m/330 feet