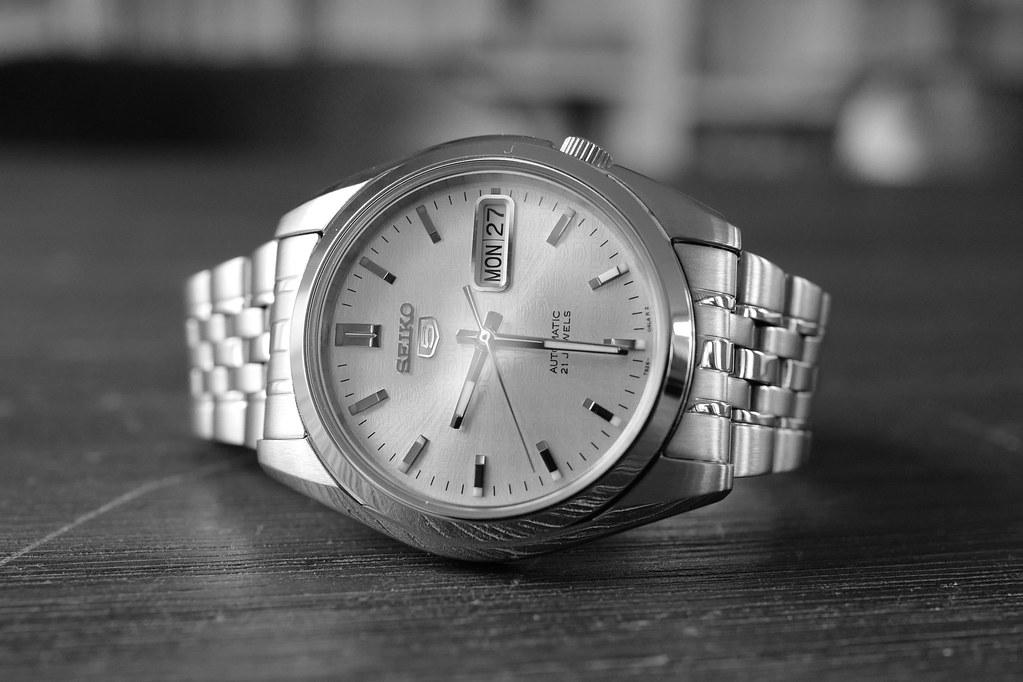 Seiko 5 SNK355 Review & Complete Guide
Different people need watches to do different things. Some people may need a sporty watch that has good water resistance because it fits into their lifestyle, but others may value accuracy and legibility above all else.
Seiko's watches are loved and appreciated all around the world because of the exceptional value for money they offer. One of the most popular collections from the brand is the Seiko 5 range. This collection consists of sporty and durable watches that are equipped with automatic movements and are affordably priced. This is what makes the Seiko 5 collection so popular.
In fact, we would even go so far as to say that the watches in the Seiko 5 collection include some of the best affordable mechanical watches in their price range. There are simply few competitors on the market that can compete with the Seiko 5s in terms of price, reliability, and build quality. These watches are known to be powered by durable automatic movements that need little to no maintenance, are sporty and can take a beating, and have clean and classic designs.
But with so many different Seiko 5 models to choose from, which should you choose?
One of those watches is the Seiko 5 SNK355.
Seiko 5 SNK355 Review
As an Amazon Associate, we may earn from qualifying purchases, at no extra cost to you.
The Seiko 5 SNK355 is a small, clean, and refined timepiece. It shows a touch of sportiness, but still mostly an elegant and classy
With its silver dial, its a very discreet watch that doesn't stand out too much, but at the same time, it is sporty enough to be used as an everyday timepiece.
And frankly, that is what this timepiece is made for. This is a type of watch that is made to never let you down. It's a trusted wrist partner that will stand by your side no matter what and continue to tick for years. At the same time, its discreet yet refined look makes it exceptionally versatile. Just what the Seiko 5s are known to be.
In this price range, you will struggle to find watches that offer as great value for money as the Seiko 5 SNK355. This becomes especially evident when you look at its details and specifications up close.
As you have guessed by now, in this article, we will review the Seiko 5 SNK355.
Seiko 5 SNK355 case
What perhaps stands out the most about this watch is its case size. The stainless steel case is presented with a diameter of only 37mm. Seeing this is built as a sporty everyday timepiece, the fact that its size is quite small is very interesting. With that said, it's essentially a sporty everyday watch but with a small and neat size. The benefit of this is of course that it appeals to a large audience – not just those with large wrists. In addition, it also becomes more versatile. Not too large for formal occasions, but at the same time, sorry enough to work for casual occasions too.
The case has a lug width of 18mm as well as a lug-to-lug of 40mm and a thickness of 11mm. The watch sits very sleek and slim on the wrist and will slide under a cuff without issues. For its price, the case is actually surprisingly well-finished. The top of the lugs has a satin-brush finish and quite large bevelings which are polished. The sides are polished too. The bezel is polished.
This combination of brushed and polished elements enhances the watch's impression of quality and gives it a great balance between elegance and sportiness. Again, which helps with the versatile look of this watch. Its finish makes it appear much more expensive than it actually is. Well done, Seiko.
This watch offers a water resistance of 30 meters. To be frank, this is.. nothing. A water resistance of 30 meters doesn't mean you can take it 30 meters below the surface in practice. This is more like washing your hands and handling water splashes, or a few drops of rain. With that said, this watch should ideally be kept away from the water completely.
Is this a downside of the SNK355? Well, not really. This is an elegant watch made for everyday wear, not swimming. Yes, it would have been nice with a water resistance of 100m so you can go swimming with, but it's not a big deal at this price point. Plus, Seiko has a ton of robust and durable diver watches that are made for just that.
In regular Seiko 5 fashion, the crown is positioned at 4 o'clock on the side of the case. The case doesn't have crown guards, but it sits slightly recessed into the case which therefore works as crown guards. The crown is small and can be slightly different to grip and operate. It is a push-pull and not a screw-down (which was revealed by its low water resistance. The benefit of the positioning of the crown is that it doesn't dig into the wrist, which thus improves comfort.
Seiko 5 SNK355 dial
Moving on to the dial of the SNK355, which actually is a rather unique one. At first glance, it may appear like any other silver dial with a sunburst effect. But upon closer inspection, you'll find that it is not.
Firstly, the dial has a beautiful sunburst effect which reflects the light beautifully and shimmers a lot. Looking closely, you will see that the dial has small and discreet Seiko 5 logos engraved onto the dial. From a distance, you barely notice the Seiko 5 logos, but they do create a nice and subtle pattern to the dial. The logos are for the most part not directly distinguishable, and so they become just shiny parts that make the dial more vibrant due to the way they reflect light.
I know a lot of people are scared away by the logos on the dial, but really, they are very discreet and not very distinguishable.
The watch has applied rectangular hour markers which have been polished. On their outer edge, they have Lumibrite applied to them which helps with legibility even in low-lit conditions.
At the 3 o'clock position, we have the iconic day and date window which has a metal frame around it. This comes as standard for the Seiko 5 watches, but foremost, it can actually be quite handy. After all, most people will wear this as an everyday watch, and for this, both the day and date displays can be convenient.
The hands are simple, are made in polished metal, and have Lumibrite applied to them. The hour and minutes hands are beveled which makes them reflect the light beautifully.
Apart from the day/date window, the dial is clean and symmetric. Yes, I'm sure some people would prefer to see this watch without the date/day window, but on a Seiko 5 watch, it is not negotiable. It's nowadays a standard feature that we have come to expect.
The silver dial that reflects the light beautifully is very elegant and classic. Just as good it would look with a suit, it will look with a t-shirt and jeans.
Seiko 5 SNK355 bracelet
The SNK355 is presented on a stainless steel bracelet that has a combination of both satin and polished parts and has a Jubilee-inspired design. The bracelet tapers which is a good thing as it adds to the comfort.
The issue with affordable watches, however, is that the bracelet is usually the part that is compromised with the most. Unfortunately, this is the case with the bracelet on the SNK355 too.
The bracelet uses folded links and has hollow end links. The clasp is far from robust and sturdy. It does the job and wears comfortably, but it does not give a positive impression of quality and robustness. The bracelet feels cheap which is quite as it can damage the first and overall impression of the watch.
The good part about the bracelet is that it looks quite good and goes well with the watch design, but speaking of quality, it's quite bad.
The good news is that you can change the straps on this watch. The SNK355 looks great with all kinds of different straps, and this will really enhance its premium look of it. If you want to make the watch more formal, it will look great on a leather strap. If you want it to be more casual, it will look amazing on a NATO strap too. Its 18mm lug width can make it a bit harder to find appropriate straps, but since the strap market has grown so much in recent years, it shouldn't be an issue.
My recommendation is to change the strap as soon as you can.
Seiko 5 SNK355 Movement
The Seiko 5 SNK355 is equipped with the Seiko in-house caliber 7S26. This is Seiko's standard and most basic automatic movement for its affordable watches. This means it doesn't have a bunch of fancy features and functions. But what this movement has become known as is that it is a robust and durable workhorse movement that will continue to tick for years without requiring much or any maintenance. This is a very durable movement that is built to last. So for an everyday timepiece, it's a good one to have.
What this movement lacks are hacking seconds and manual winding functions. But still, for the price, the movement performs well and is great for an everyday timepiece.
The 7S26 movement has 21 jewels and beats with a frequency of 21600 BPH.
Specifications
Diameter: 37mm
Lug width: 18mm
Lug to lug: 40mm
Thickness: 11mm
Movement: Seiko caliber 7S26
Frequency: 21600 BPH
Jewels: 21
Conclusion
There are few automatic watches at the same price point as the Seiko 5 SNK355. In addition to this, there are even fewer that can compete with the SNK355 in terms of quality, finish, and reliability.
Due to Seiko's century-long watchmaking expertise, and big-scale mass production, Seiko is able to produce watches at exceptional prices whilst still maintaining good quality, which means great value for money.
In this price range, there really are few automatics that offer as great value for money as the SNK355. It's classic, clean, elegant, and of course very qualitative for the price. Yes, there are many areas for improvement when it comes to this watch, not to mention the clasp, but at the same time, it's important to keep in mind its price. And overall, it's still a great watch for the money.
If you are looking for a classic automatic everyday timepiece that works for just about any occasion, and which will continue to tick for years without needing a service, the SNK355 is definitely the watch for you. It works just as well with a suit as with jeans and a t-shirt.