Seiko 5 SNZG11K1 Review & Complete Guide
Seiko is one of the most well-respected and well-known manufacturer of qualitative and affordable mechanical timepieces. One of the most popular Seiko collections is the "5" collection. The watches must meet five criteria, as follows:
Self-winding automatic movement
Water resistance
A day-date in a single window
Recessed crown
Durable case (Diaflex mainspring)
These are all highly appreciated attributes of the Seiko 5 watches as they ensure a durable, robust, and long-lasting automatic timepiece.
One of the watches in the Seiko 5 Collection is the Seiko 5 Automatic watch reference SNZG11K1 and that is exactly the watch we are going to review and look closer at in this article.
Seiko 5 SNZG11K1 review
As an Amazon Associate, we may earn from qualifying purchases, at no extra cost to you.
The Seiko is a sporty and durable military-inspired field watch. It is one of the most popular watches in the Seiko 5 range due to its affordable price tag of just slightly more than 100 USD. At the same time, this watch offers exceptional value for money. It is a great everyday watch that can also be born during sporting activities and more demanding occasions.
In this article, we will review the Seiko Seiko 5 SNZG11K1 up close in detail to see what it is that makes it so immensely popular.
Seiko 5 SNZG11K1 case
The Seiko SNZG11K1 has a stainless steel satin/sandblasted case with a diameter of 40.5mm. Including the crown, it has a diameter of 43mm.
The case is very clean and straightforward for a field watch. Thanks to its relatively slim profile, it is sized somewhere in the middle of not too small and not too large either.
The lugs are relatively short so having them stick out from your wrist will likely not be an issue. Short lugs also help the watch to wear smaller and more comfortably. Positioned at the standard 3 o'clock, you can find the crown.
The satin finish of the case contributes to the tool-like look. If we turn the watch around, you will be able to see the automatic movement through the see-through case back. (More on that later). It's a nice touch that Seiko chose to include a see-through case back for this watch. Despite its affordable price, it is always nice to be reminded of the complicated mechanical piece of craftsmanship ticking inside.
Sitting on top of the case is Seiko's proprietary Hardlex crystal. At this price point, we cannot expect a sapphire crystal. Plus, Hardlex has proven to be much more durable and scratch-resistant than regular mineral glass.
The watch offers a water resistance of 100 meters. Remember this watch is not made for diving but will handle swimming and water splashes.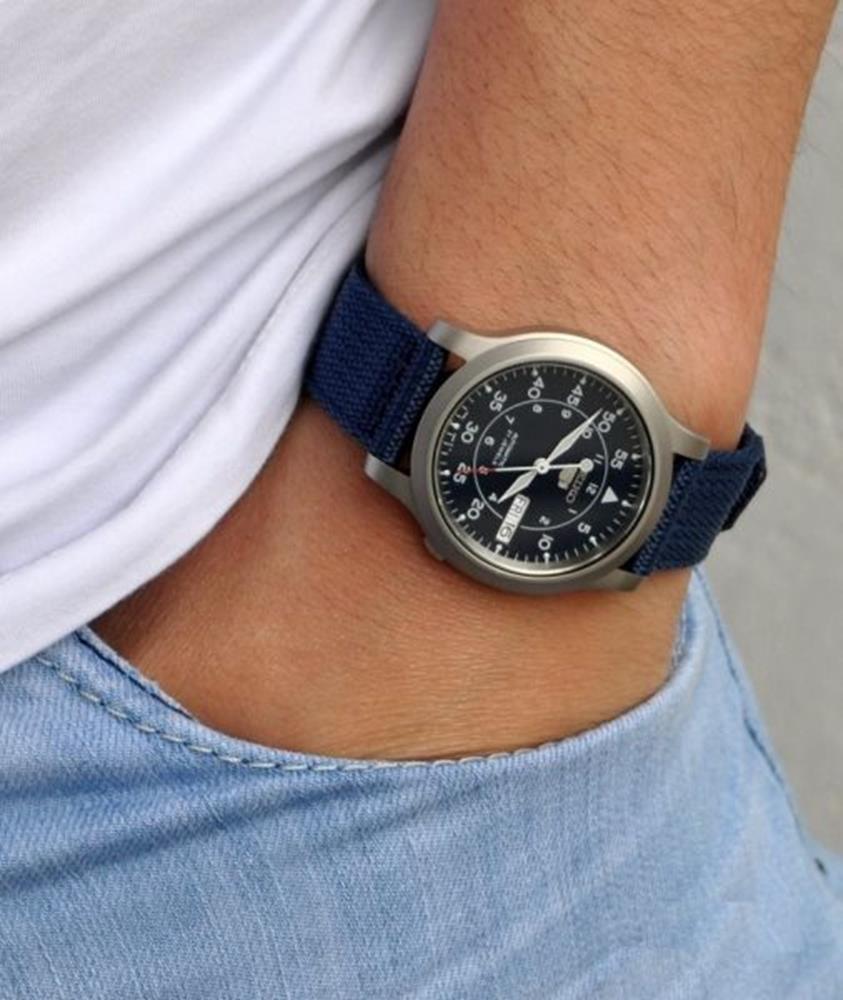 Seiko 5 SNZG11K1 dial
The Seiko 5 SNZG11K1 has a matte navy blue dial and is characterized by large white markers and Arabic numerals which allow for very easy legibility. Furthermore, it has a large chapter ring that takes up more or less one-third of the dial, on which the five-minute and minute markings are printed in white.
The chapter ring makes it easier to read the time and creates a more interesting dial with great depth.
Positioned at 3 o'clock, we have the day and date window which is distinct for the Seiko 5 model. The minute and hour hands are shaped like swords and coated white. They also have applied luminova for legibility in the dark.
The watch has a spear-shaped seconds hand with a red tip which creates a nice contrast and adds a splash of color.
Printed on the dial is a 12-hour numerical scale. Inside this circle is a 24-hour scale.
Seiko 5 SNZG11K1 movement
The SNZG11K1 is equipped with the automatic mechanical Seiko caliber Seiko 7S36. The downside of this movement is that it doesn't have hacking seconds function or manual winding. But at this price, although it would be nice, it's something most people can overlook.
The movement beats at 21,600 bph. It offers a power reserve of 41 hours. As we can expect from Seiko, it is a robust, durable, and proven workhorse. Through the case back, you can see the movement inside, but at this price, we can't expect much decoration, in fact, none. But the see-through case back is still nice as it allows us to appreciate the mechanical piece of craftsmanship your watch really is.
Seiko 5 SNZG11K1 strap
The Seiko 5 SNZG11K1 is presented on a blue nylon strap but is also available with a stainless steel bracelet.
The nylon strap is ok in terms of quality but there are certainly better alternatives out there both in terms of comfort and looks. The good news is that this watch looks great with a large number of different straps and strap colors so you can swap it whenever you like.
What we can say is that the nylon strap goes very well with the design and look of the watch.
Specifications
Movement:

Seiko 7S26C
Crystal: Hardlex
Water resistance: 100m
Diameter excluding crown:

40.5mm
Diameter including crown: 43mm
Thickness:

12mm
Lug width:

22mm
Made in: Japan
Strap: Blue nylon Strap
Jewels: 23
Conclusion
If you are looking for a timeless sporty, robust, and well-made automatic timepiece, there are not many better alternatives than the Seiko. At a price of less than 150 USD, it's really a bargain that you can't go wrong with. The military-inspired Seiko 5 watches have become well-respected and praised affordable vintage watches and that is really because they truly punch well above their weight.