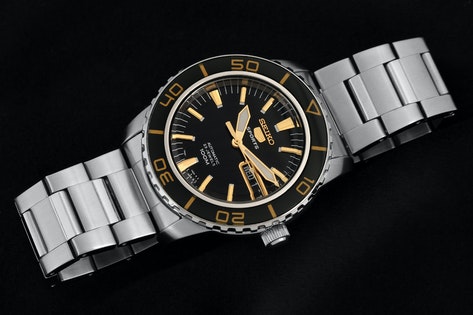 Seiko 5 SNZH57 Review & Complete Guide
 If you are looking for an affordable, automatic, and durable timepiece from a well-respected brand, you may not need to look further than this. Seiko is known and appreciated for making some of the best affordable watches in the world.
Seiko 5 Sports SNZH57 automatic watch review
As an Amazon Associate, we may earn from qualifying purchases, at no extra cost to you.
The Seiko 5 Sports SNZH57 is often also nicknamed "Fifty Fathoms", or "Fifty five fathoms", due to its similarities with the Blancpain Fifty-Fathoms. With that said, the watch is sporty, robust, and durable. It is made to last and has a sporty profile. This watch is a popular affordable watch priced at around 200 USD. The general consensus is that it offers great value for money, but what is it that makes the Seiko 5 SNZH57 so popular and great?
In this article, we are reviewing and looking closer at the Seiko 5 SNZH57.
Seiko 5 SNZH57 case
The Seiko 5 SNZH57 has a case shape that is very reminiscent of the Fifty-Fathoms. This means relatively short, angled lugs, and a satin finish.
The SNZH57 measures 42mm in diameter and has a thickness of 14mm. The lug width is 22mm.
With that said, the case is quite large and bulky, but that is exactly what we expect and are looking for in a watch with a sporty presence. 
Sitting on top of the case is a domed Hardlex crystal. Hardlex is Seiko's proprietary crystal similar to mineral glass, however, Hardlex has proven to be much more durable and resistant too scratches than regular mineral glass. And at this price point, we cannot expect sapphire crystal.
If we turn the watch around, we can see the see-through case back and the movement ticking inside. This is a nice feature which reminds us of the mechanical piece of craftsmanship that is sitting inside.
In the most sporty and robust dive watches, the see-through case back is usually ignored in order to minimize potential leaking points and make it more safe and secure. But not the SNZH57, and this brings us to the next point – its water resistance.
The watch has a water resistance of 100 meters, which is not enough for a dive watch. A water resistance of 100 meters means you can swim with it carefully and it can handle water splashes, but it's not meant for diving. Positioned at 3 o'clock we have a relatively large crown which is not screw-down. For a sports watch, this is not ideal seeing the watch does not offer the same guarantees for water-resistance as a screw-down crown. This is why it is good to be careful with water when wearing this timepiece.
With that said, the Seiko 5 SNZH57 is more of an everyday timepiece with a sporty look and design rather than a professional dive watch. The looks can certainly be deceiving.
The watch is equipped with a unidirectional rotating bezel. The insert of this bezel stands out due to its shape and form, which is very clearly inspired by Blancpain, with its raised, slightly curved acrylic bezel insert. The numerals and markings on the bezel are almost glitter gold. The bezel rotates with 120 clicks and its edge has notches which allow for better grip.
In terms of design, this watch is available in several colors.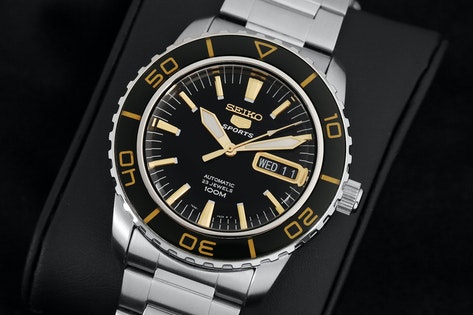 Dial
It's not only the case that is reminiscent of the Fifty-Fathoms. The dial also very obviously seeks inspiration from Blancpain.
What stands out about this dial is its combination of black and gold which creates a very nice contrast. For the dial layout, the Seiko has clearly taken inspiration for the dial from the 1953 Blancpain Fifty Fathoms (reference 2462) Aqualung 1000FT. This makes for a beautiful modern timepiece with a vintage-inspired twist.
Contrasted against the black dial are raised gold-colored rectangular hour markers. These markers sit applied on top of an even larger painted gold rectangle with a white painted tip. Around the dial, we have seconds markers printed in white. Positioned at 3 o'clock, we have a day and a date window with a large gold-colored metal frame around it. This is very distinct yet still go very well together with the rest of the applied metal markers.
What is particularly interesting about this watch is the fact that it doesn't have any lume. But this just goes to show that Seiko never intended this to be a dive watch, and this is important to have in mind, because if we would look at it from a dive watch perspective, it certainly wouldn't tick all the boxes.
The hands are gold-colored as well and are sword-shaped – actually quite similar to Blancpain's Fifty-Fathoms hands. They have been painted with white to provide better contrast and legibility. The seconds hand has an arrow tip.
Seiko 5 SNZH57 bracelet
It's no secret that then it comes to affordable watches, the bracelet is often the part that is compromised with the most. And this is also the case here (as we would expect).
It's bulky and sporty and goes very well with the design of the watch, but in terms of quality, there is certainly room for improvement. The bracelet rattles and has folded end links which makes it less robust. At this price point, this is what we would expect, but the good news is that you can easily change to a different strap for improved comfort, quality, and a new look.
Seiko 5 SNZH57 Movement
The Seiko 5 SNZH57 is equipped with a Seiko Automatic 7S36 automatic mechanical movement. This movement has proven to be a reliable workhorse despite its low cost.
The movement has a power reserve of 41 hours and 21 jewels. It beats at a frequency of 21,600 bph. A downside of this movement which other, more premium Seiko watches have, is a manual winding function and a hacking seconds function, but the most important thing after all, is its durability.
Conclusion
The Seiko 5 SNZH57 is a watch that offers exceptional value for money. Yes, there are certainly room for improvements with this watch, but if you factor in its price, it's really difficult to complain. An automatic stylish timepiece that is built to a high quality and long-lasting durability with a water resistance of 100 meters at a price of about 200 USD. There are not a ton of alternatives out there.
It has a classic and timeless design, inspired by one of the most legendary dive watches in the world. If you ask us, this is definitely a watch worth adding to your collection if you want something sporty and tool-like, but don't plan to go deep diving.
The Seiko 5 SNZH57 is available to order on Amazon.