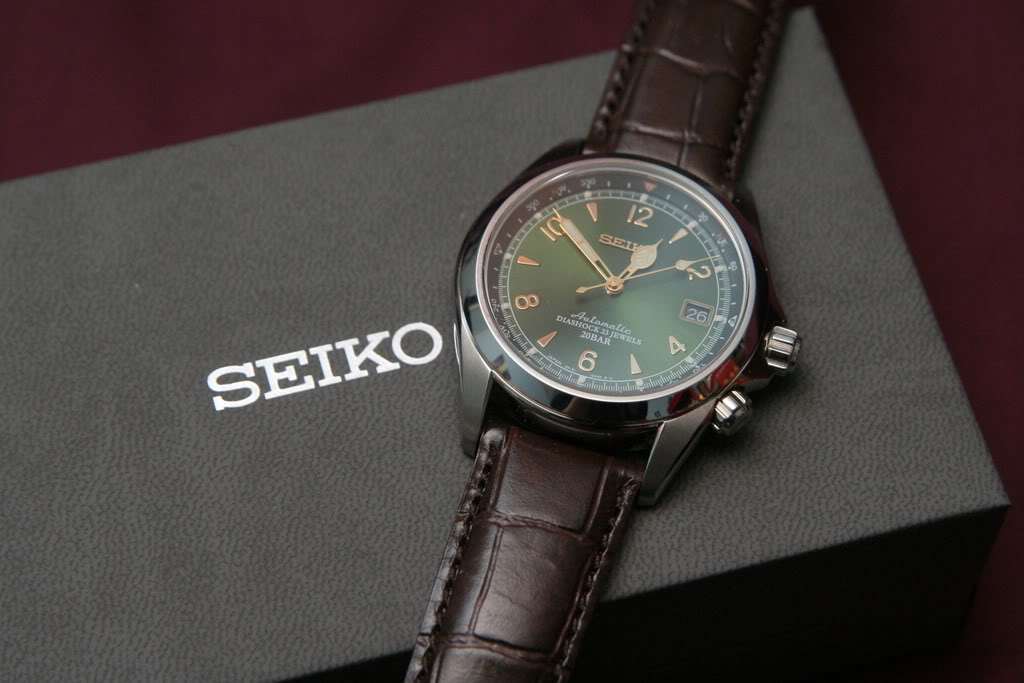 Photo: Watchreviewblog
Seiko Alpinist SARB017 Review & Complete Guide
How much value for money can you get for around 400-500 USD when it comes to watches? Quite a lot, it turns out.
Seiko is appreciated all over the world for its affordable yet qualitative watches that punch well above their weight. But the Seiko Alpinist SARB017 is different and not like your ordinary Seiko watch. Most notably, the Seiko Alpinist SARB017 is extremely popular and frequently discussed amongst watch enthusiasts. In fact, there are not many Seiko watches within this price range that have received as much praise as the Alpinist.
But what is it that makes the Alpinist so special?
To begin with, the SARB017 Alpinist is, at its core, not a brand-new watch. In fact, the Alpinist has existed and been made in several different iterations prior. This also means that right from the start with this new release, it gained instant importance, prestige, and history.
In 2018, the SARB017 was discontinued, but it is still available to purchase from some sellers, including Amazon, still.
In this article, we are going to review and look closer at the Seiko Alpinist SARB017 and what makes it so immensely popular.
Seiko Alpinist SARB017 review
As an Amazon Associate, we may earn from qualifying purchases, at no extra cost to you.
The Alpinist SARB017 is a classic yet sporty timepiece that incorporates an interesting and appealing green dial with unique and quirky design features.
It is a unique and interesting dress watch with a sporty appeal, if you may. At the same time, it is a timepiece with many personalities which can be worn on many different occasions with many different outfits.
Seiko Alpinist SARB017 case
The Seiko Alpinist SARB017 has a stainless steel case with a 38 millimeter. This is in many people's opinion the perfect sweet spot of not too large and not too small, which will fit a wide array of wrist sizes. Its modest size also makes it a great dress watch for more dressed-up occasions. It has a thickness of 12 millimeters which allows it to slide under a cuff.
The watch has a water resistance of 20 atm/200m/656 ft which is enough for swimming and diving with. The watch's water resistance is ensured partly thanks to the screw-down crowns. For a watch of this caliber, the water resistance is actually rather impressive.
Sitting on top of the case is a sapphire crystal. The crystal is flat and sits almost slim against the bezel.
The case combines polished and brushed elements which enhances the feeling and perception of quality. The top of the lugs has a satin-brushed finish whereas the bezel and sides of the case are polished. Worth mentioning is that some people report the polished bezel is a scratch magnet, but the good news is that it can easily be polished if you want to see it fresh and mint. It's nice to see Seiko combining both polished and satin-finished elements. Firstly, a fully polished watch can make it "too much", whereas a full satin-finish watch can make it too tool-like. But the SARB017 combines the best of both worlds.
When you hold the case, it gives an instant impression of quality and durability. There is no doubt about the quality of this case, nor the finishing. The screw-down crown at the standard 3 o'clock position is protected by crown guards and has a large "S" engraved on it. What stands out about this timepiece is the crown positioned at 4 o'clock. What is this for, you may ask?
The purpose of the 4 o'clock crown is actually to rotate the internal chapter ring positioned on the outer edge of the dial. This function is perhaps what makes this watch stand out the most and makes it instantly recognizable.
If we turn the watch around, we'll be able to see that this watch does not have a see-through case back. Instead, the back is solid and engraved. It's always nice to be reminded of the beautiful piece of mechanical craftsmanship inside, but considering its specifications and sporty nature, it was probably wise to omit it for this watch, especially considering its depth rating.
Seiko Alpinist SARB017 movement
The Seiko Alpinist SARB017 is equipped with Seiko's 6R15 automatic mechanical movement. This movement uses 23 jewels and incorporates Diashock protection and the Diaflex unbreakable mainspring. The movement beats with a frequency of 21,600 bph.
The movement offers a power reserve of approximately 50 hours. It was presented in 2006 and has proven to be a reliable and durable workhorse. It's simple, but it does the job very well.
Something that is often missing in the more affordable Seiko watches is a hand-winding function and hacking seconds, but this is something that is incorporated in this movement.
Seiko Alpinist SARB017 dial
Moving on to the dial – the star of the show.
It's difficult to miss the emerald green sunburst dial which shines away in the sunlight. Like all sunburst dials, it changes personality depending on how the light hits it, going from a dark green to a bright emerald green color.
The dial is beautifully finished with lots of intricate details. The hands and applied markers are all made in a gold color, which actually works surprisingly well against the green. Every other hour applied marker is a number, and the other is a triangle pointing towards the center of the dial.
The Seiko logo is applied at 12 o'clock in gold and the printing on the dial is made in white. The dial only contains "Automatic", "Diashock 23 jewels" and "20BAR".
The hands are very distinct and are filled with luminova for legibility in the dark. Around the dial, we also have luminous dots on each five-minute marking. The luminescence of this watch is great. It glows strongly and makes reading the time very easy.
The dial really needs to be seen in person to be fully appreciated. The way it shifts look and sheen when the light hits it (and doesn't) is absolutely stunning and makes it the star of the show for this watch.
As mentioned, the chapter ring on the outer ring of the dial can be operated via the 4 o'clock crown. The purpose of this chapter ring is used to calibrate the compass.
Strap
The Seiko Alpinist SARB017 is presented on a leather band with a fake crocodile pattern. The strap is brown, and it's not that the strap doesn't look good with the watch, but it's just that there are better alternatives out there.
The strap or bracelet is often a part that is compromised with when it comes to affordable watches, and the same goes for the Alpinist SARB017. The strap comes with a stainless steel buckle. The strap is ok but it is not the highest quality.
With a standard lug width of 20mm, it's easy to find and change straps, which is what a lot of owners do.
Seiko Alpinist SARB017 specifications
Movement: Seiko caliber 6R15
Jewels: 23
Depth rating: 20 bar, 200 meters, 656 feet
Power reserve: 50 hours
Frequency: 21,600 bph.
Diameter: 38mm
Functions: Hacking seconds, manual winding
Lug width: 20mm
Conclusion
The Seiko Alpinist SARB017 is probably one of the most popular affordable Seiko watches amongst collectors and enthusiasts. The Alpinist has dared to go its own route both in terms of function and also in terms of looks. It's unique and surprisingly versatile. Whilst it will look amazing together with a suit and slip under the cuff without issues, you can later go swimming or diving with it and it won't break a sweat.
Its finishing and build quality is exceptional and its automatic movement is long-lasting and durable. There just aren't many watches out there that check as many boxes as the Seiko Alpinist SARB017. If you ask us, and the opinions of the crowds, it's definitely a watch worth adding to your collection.