Seiko Brightz SAGZ081 Review & Complete Guide
If you are looking for a modern and stylish timepiece with a classic design with a touch of sportiness for everyday wear, the Seiko Brightz SAGZ081 is a popular option.
This is a watch that is built to be versatile and work exceptionally well on both formal and casual occasions – in other words, perfect for everyday wear.
The SAGZ081 is a simple watch in terms of the overall design, but it is also a watch for which Seiko has paid great attention to the details. Not only does this enhance its overall look, but it also makes it look more exclusive and expensive than it actually is.
This Seiko is more expensive than many other Seiko watches in the market with a price of roughly 700 USD, but we can still say it offers great value for money. How come? Well, it's all in the details.
Without further ado, let's review and look closer at the Seiko Brightz SAGZ081.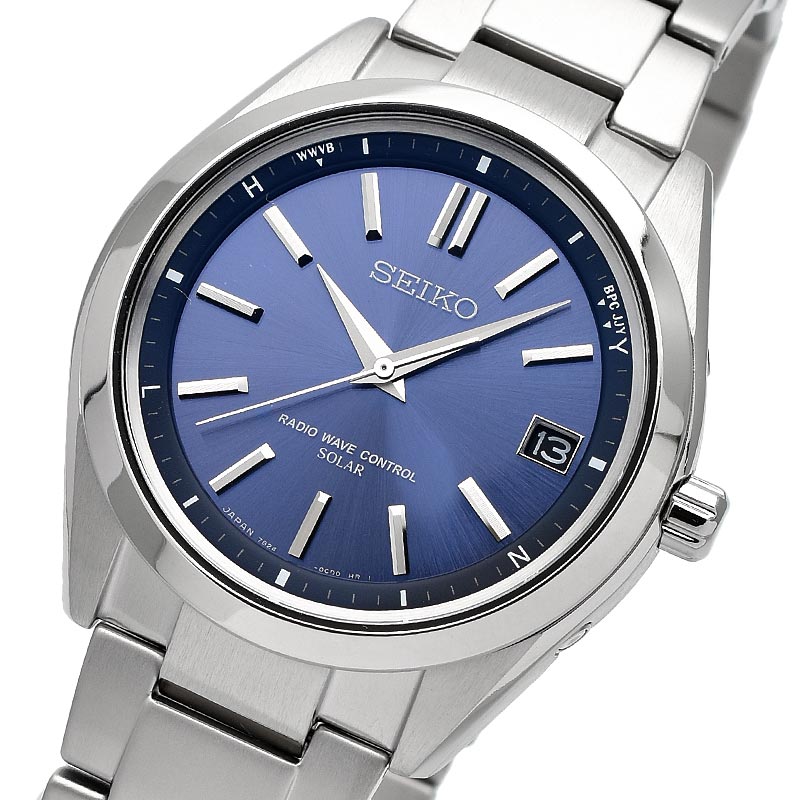 As an Amazon Associate, we may earn from qualifying purchases, at no extra cost to you.
Case
The Seiko Brightz SAGZ081 is presented with a titanium case with a diameter of 39mm and a thickness of 8.8mm. With this said, it is a reasonable size that will fit a lot of wrist sizes, but also work on many different occasions. For extra robustness and durability, Seiko uses a hard coating on the case which helps make it more durable and resistant.
Thanks to the titanium construction, it is also very light, making it comfortable to wear.
Seiko has done a great job with the finishing of the case whilst still achieving a classic and refined style. The top of the lugs is brushed and has beveled edges. The sides are brushed too. For contrast, the fixed bezel has a polished finish. It uses a sapphire crystal with a super-clear coating on top. This is a nice improvement from the usual Hardlex crystals that Seiko normally uses.
At 3 o'clock, it has a medium-sized crown that blends in nicely. The crown is screw-down so that it doesn't accidentally open. The water resistance is 100m/330 feet. This means you can take it swimming but that it is not suitable for diving. Since this isn't a full-on sports watch, it is a reasonable water resistance.
It is presented on a hard-coated titanium bracelet with brushed links. The bracelet has, like many affordable watches, some room for improvement, but in terms of design, it pairs with the watch perfectly. The bracelet has a perfect balance between sportiness and elegance, but it could be slightly more robust for a more reassuring feel, it is by no means terrible.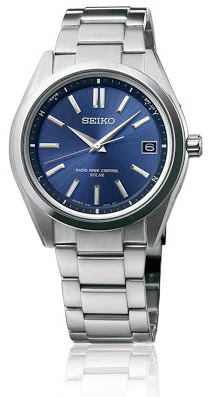 Dial
Whilst the watch is, overall, classic and simple, Seiko has paid great attention to the details and the finishing of the dial. The watch is presented with a dark blue dial with a beautiful sunburst finish that reflects the light beautifully. Around the dial, it has a back chapter ring made in black. The dial has applied polished metal hour markers with beveled edges. This gives a great premium impression and also makes the markers reflect the light in a beautiful way.
Positioned at 3 o'clock, it has a date window which is convenient for everyday wear. The date window has a black background and a white frame around it. The hands have a diamond shape and are also polished and beveled which really adds a touch of elegance and a sense of luxury to the watch.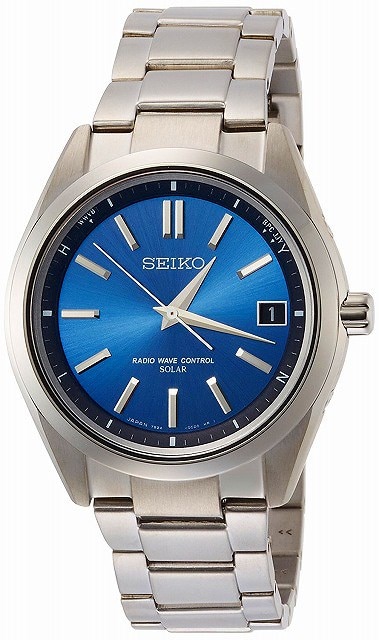 Movement
The watch is powered by the in-house Seiko caliber 7B24. The is a Japanese solar quartz movement which, via the dial, is powered via solar and ambient light. This is a great thing for both the environment and your convenience.
Naturally, the quartz movement is more accurate than Seiko's automatic movements, and whilst the most devoted watch enthusiasts always prefer mechanical movements, the quartz movement will ensure that you are always on time.
Apart from solar function, the watch also incorporates radio wave control. It also works as a perpetual calendar. The watch receives a calibration radio signal which informs the watch about the exact time, giving it perfect accuracy.
The watch has a power reserve of a few months when in complete darkness.
Specifications
Movement: Solar Quartz caliber 7B24
Case: Titanium with hard Coating
Diameter: 39mm
Case thickness: 8.8mm
Water Resistance: 100m/330 feet
Crystal: sapphire with super clear coating
Crown: screw-down
Functions: date, radio controlled, perpetual calendar month and leap years until 2100)
Conclusion
The Seiko Brightz SAGZ081 is the perfect watch if you just want something elegant and classy for everyday wear. It has a perfect balance between class and sportiness which helps make it extremely versatile. It has a relatively sporty and robust case with a beautiful finish which is complemented by a mesmerizing blue dial with amazing attention to detail. The blue sunburst dial is one that you will never get bored of, and it is one that will enhance your overall style perfectly.
As an everyday watch that can work on both formal and casual occasions, the Seiko Brightz SAGZ081 is certainly a great choice. And the level of detail and finish that Seiko has put into it greatly contributes to the value that it offers.
The Seiko Brightz SAGZ081 is available to order on Amazon.