Seiko Prospex MarineMaster "Tuna" SBBN033 Review & Complete Guide
Seiko has managed to establish itself as an expert in the manufacturing of solid, high-quality dive watches that offer great value for money. Over the course of its long history, Seiko has released countless dive watches across the price spectrum and in different designs. Over time, some of these designs have become iconic and synonymous with Seiko and robust dive watches.
One of those dive watch designs is the "Tuna". The Tuna name derives from a particular case design that Seiko designed, and which both looks and is extremely sporty. The Tuna case design is very distinct and stands out from most other dive watches on the market. This is part of the reason why it has a special place in collectors' and enthusiasts' hearts.
Because of the popularity of the Tuna, Seiko has released many different iterations and versions. One of those is the Seiko Prospex MarineMaster "Tuna" SBBN033.
Seiko Prospex MarineMaster SBBN033 Review
As an Amazon Associate, we may earn from qualifying purchases, at no extra cost to you.
The Seiko Prospex MarineMaster "Tuna" SBBN033 is a sporty and robust dive watch. Already at first glance, you can see that this one doesn't mess around. It can take a serious beating and is built for the most demanding dive operations.
On the dial, you can find the printing "Marinemaster". The Marinemaster range consists of timepieces designed for professionals. It the top-tier of Seiko dive watches made to be relied on. The "Professional" printing on the dial further reveals what this watch is all about.
If you are looking for a unique and distinct dive watch that can take a beating, and which has proper water-resistance and presence on the wrist, the Seiko Prospex MarineMaster "Tuna" SBBN033 may just be the watch for you.
In this article, we are therefore reviewing and looking closer at this watch in detail.
Seiko MarineMaster "Tuna" SBBN033 case
The first impression of this watch is that it is huge and bulky. Which of course is what you would expect from a serious dive watch. However, you will be surprised at how well this watch wears despite what it may give the impression of at first.
Looking at the specifications, the SBBN033 is presented in a robust stainless steel case with a diameter of 48mm. What is interesting is that the lug-to-lug is the same – 48mm – as the lugs are tiny and don't extend further than the case. To keep the case protected and looking good, it is protected by Seiko's Diashield coating. This protects it from light scratches, but won't protect against deep scratches and dings.
The case has a thickness of 14.7mm. Because of the extremely short lugs, the watch wears surprisingly well on the wrist. This is mainly because the lugs are generally what makes a watch wear big when they stick out from the sides of the wrist.
Obviously, the case design probably reminds nothing like anything you've seen before. And this is of course what makes it so special and unique. The case is designed to have "shrouds" to protect the bezel, internals, and just overall make it tougher and more durable.
What is interesting about this watch is that technically, the case itself isn't too big, but it is actually the shrouds that make up a lot of its size.
A dive watch also needs a unidirectional bezel, which the SBBN033 has. The bezel is mostly protected by the shroud, apart from openings at the left bottom and right top which allow you to operate it. The bezel is made in stainless steel and has a satin-brushed finish. The Arabic numerals are painted in black, and at 12 o'clock, it has a triangle with Lumibrite applied to it. The bezel has large teeth around it for a better grip.
A serious dive watch needs a proper water-resistance, and with its 300m/660 feet, the SBBN033 definitely lives up to that. This means you can take it deep diving, swimming, or use it for any type of water sport and it will hold up perfectly.
Positioned at 4 o'clock, we have a large screw-down crown. The crown sits somewhat protected by the shrouds, but due to the case design, it doesn't have crown guards. If you didn't know, the Tuna watches are now all presented as "Prospex" watches, and as a reference to this, the side of the crown has the Prospex logo on it. Most Prospex watches, however, have the logo printed on the dial.
Sitting on top of the case is a double-domed Hardlex crystal. To provide even greater resistance to scratches, it would have been nice to see a sapphire crystal, but it is not a huge deal.
Seiko "Tuna" SBBN033 dial
Because of the large case, shrouds, and bezel, the dial isn't huge. This is a good thing because when you have a big dial on the wrist, it makes the whole watch look bigger. But since this watch already is big, it doesn't need a design feature that makes it look even bigger than it is.
Legibility is a critical feature of a dive watch, and whilst there may be some things you can complain about when it comes to this watch, legibility isn't one of them. The watch is presented with a black dial which puts legibility in focus.
The dial has a slightly matte texture to it and is recessed in the middle. Around the outer edge of the dial, there is a beveled chapter ring on which seconds markers are printed. On the dial, you find large painted hour markers that have a slightly yellow hue. The hour markers have generous amounts of Lumibrite applied to them which ensures a long and bright glow.
The hands are large too and provide good contrast against the black dial. The minutes hand is sword-shaped and the hour hand is designed as a broad arrow. The metal frames around the hands are made with a satin-brushed finish to prevent glare.
Positioned at 3 o'clock, the watch has a day and date window with a black background and the printing made in white. Whilst these functions certainly aren't crucial when you're diving deep down below the surface, most people know that for the most part, the SBBN033 will not be worn when diving.
Seiko MarineMaster SBBN033 movement
The SBBN033 is powered by the Seiko caliber 7C46 which is a high-torque quartz movement. This movement has 7 jewels. 
The movement is built to be robust and durable. In fact, it is developed specifically for this watch.
Seiko has made it able to resist shocks and bangs, but they have also ensured that it is easy to maintain shall anything happen. The movement offers a "power reserve" of about 5 years until you need to replace the battery. You'll know when it is time as this watch has an end-of-life indicator
The movement does the job and it does it well, but there are certainly those who would like to see a mechanical movement inside it. But at the same time, a quartz movement brings the benefit of being extremely accurate. And timing is everything in a serious dive watch.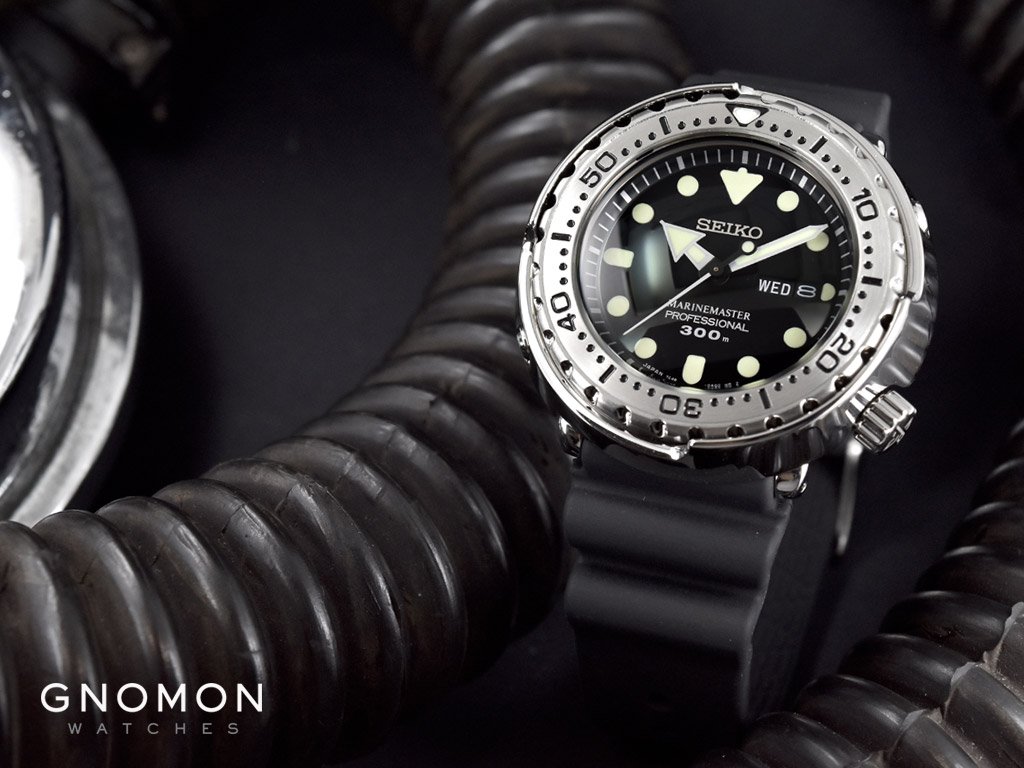 Photo: Gnomon Watches
Seiko Prospex "Tuna" SBBN033 strap
The watch is presented on a black silicone strap which of course is suitable for a diver's watch. Both n terms of design but also in practicality. The strap has a lug width of 22m and tapers slightly.
The silicone strap allows you to find the perfect size for your wrist and adjust it either to everyday wear or to be worn on top of a diving suit.
Specifications
Case: Diashield coating
Movement: Seiko caliber 7C46
Water-resistance: 300m
Diameter: 48mm
Lug-to-lug: 48mm
Thickness: 14.7mm
Jewels: 7
Battery life: 5 years
Lug width: 22mm
Conclusion
To conclude this review, all we can say is that the Seiko Prospex MarineMaster SBBN033 is a serious dive watch that keeps its promises of what its sporty design reveals.
This is a serious dive watch made for professionals to be worn as a tool. It's big in design, but thanks to its essentially non-existent lugs, it wears much smaller than what its dimensions indicate on paper.
The iconic Tuna case design is also a fun and unique design that is so different from the traditional dive watch designs we are used to. If you want a reliable and durable dive watch that has a unique design, the Tuna Marinemaster SBBN033 is definitely a watch to consider.
The price of this watch can be seen as quite expensive for a quartz Seiko, but if you factor in everything discussed above, it's evident that this watch still offers great value for money.
The Seiko Prospex MarineMaster "Tuna" SBBN033 is available to order on Amazon.