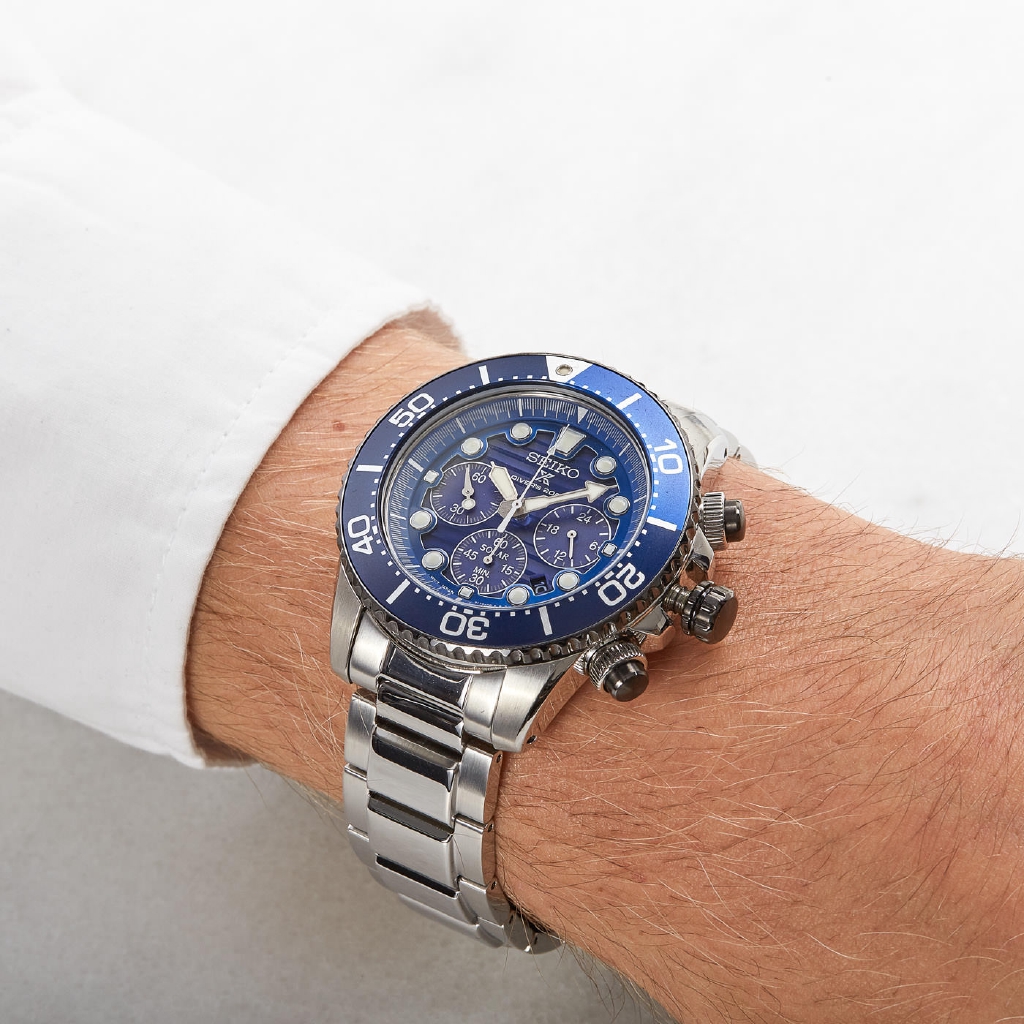 Seiko Prospex Chronograph SSC675P1 Review & Complete Guide
Seiko has established itself as an expert in making dive watches. And whilst Seiko watches cater to a large audience of both die-hard watch collectors but also people who are simply looking for a wristwatch for keeping track of time, its dive watches are particularly popular amongst watch enthusiasts.
A contributing factor is Seiko's long and rich history of making professional dive watches. This has lead to many of Seiko's dive watches designs becoming iconic, as well as helping the brand to become an expert in making reliable, durable, and well-performing timepieces.
With that said, there are today many different dive watches to choose from when looking at the Seiko collection. One of those is the Seiko Prospex Chronograph SSC675P1.
Seiko Prospex Chronograph SSC675P1 "Save the Ocean" Review
As an Amazon Associate, we may earn from qualifying purchases, at no extra cost to you.
There is a lot to say about the SSC675P1. Its full name is Seiko Prospex Solar Chronograph SSC675P1 "Save the Ocean" Special Edition, and whilst that is a mouthful, all of those things stand for something and are what makes this timepiece special.
Firstly, this watch is a "Prospex" timepiece. This simply means that it is built according to professional specifications – in other words, the wants and needs of professionals, in this case, divers, seeing that this is a dive watch.
Furthermore, it is also a chronograph, which is not uncommon, but also not super common in the world of dive watches. Most importantly, however, it is a "Save the Ocean" special edition timepiece. Seiko has released a number of different Save the Ocean special editions over the years, and they are made in collaboration with marine conservationist Fabien Cousteau. As such, a portion of the sales of these watches is donated to ocean conservation efforts around the globe. A distinct feature of all of these special editions is that they use a blue color, which of course is appropriate as a reference to the ocean.
Lastly, this watch is also a solar watch. This means that it uses solar technology for charging the movement, and we'll go into detail about this further on.
Without further ado, in this article, we are reviewing the Seiko Prospex Chronograph SSC675P1 "Save the Ocean".
Seiko Chronograph SSC675P1 "Save the Ocean" case
The watch is presented with a stainless steel case with a diameter of 43.5mm. This is relatively big, but what makes it appear even bigger is that it is also a chronograph with large pushers on the right side of the case. The case has a thickness of 13.8mm.
The watch has a crown at the classic 3 o'clock position which sits protected between two crown guards. The good thing is that the crown guards are not huge, as the watch is already big as it is, but they still keep the crown somewhat protected. Since this is a dive watch, it is of course a screw-down crown. As a nice touch, it is also PVD-coated. In addition, the chronograph pushers are screw-down too in order to provide optimal safety against water.
The top of the case is satin-brushed, and the sides are polished which creates a nice contrast and enhance its impression of quality and finish. The lugs are slightly beveled too.
Because of its size and additional elements, including the crown guards, pushers, and crown, it does have a bit of presence on the wrist and is a rather hefty piece. With that said, it is mostly suitable for men with large or medium-sized wrists.
Sitting on top of the case, we have a Hardlex crystal. It's not as hard as sapphire crystal, but at this price range, sapphire crystals are not something we can take for granted.
Since this is a dive watch, it of course has a unidirectional rotating bezel. The bezel has a coin edge for better grip and a blue aluminum insert on which the first 15-minutes are made in a lighter color than the rest. The minutes markers are printed in silver and at 12 o'clock, it has a luminous pip for legibility in the dark.
A dive watch also needs good water resistance, and the SSC675P1 offers a water resistance of 200m/660 feet. This means it is suitable for essentially any water activity. Just make sure to screw down the crown and pushers first.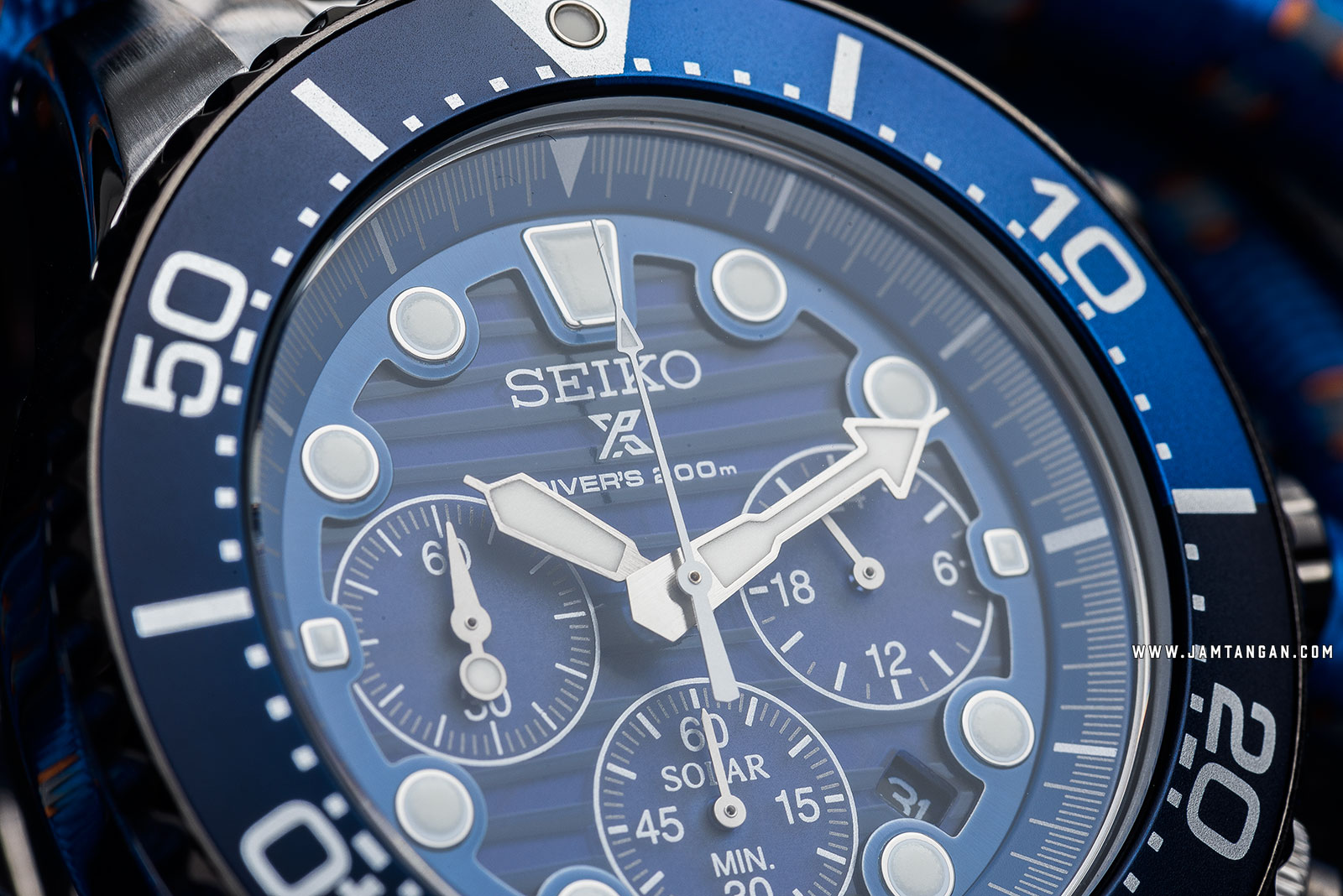 Seiko SSC675P1 dial
The dial is certainly the part of the watch that stands out the most. As a background. It has a striped blue dial with stripes combined with dark blue and a lighter blue color. As mentioned earlier, this is a solar watch, and it is behind this that the solar technology (panels) are found, through which the ambient and solar light is directed to generate power.
Around the edge of the dial, we have a blue chapter ring which is angled. Printed on the chapter ring are seconds and split seconds. An interesting detail is that that chapter ring continues out to the hour markers, which means this whole part sits raised above the rest of the dial. Speaking of the hour markers, these are of course large which provides exceptional legibility. They have a polished metal frame around them and have Lumibrite applied to them for a strong glow in the dark.
The different elements of the dial add depth and make it so much more interesting.
Remember that this is also a chronograph, and this is why we have three sub-dials on the dial. The chronograph sub-dials display 60 seconds, 60 minute, and 24 hours.
Discreetly integrated between 4 and 5 o'clock, we also have a date window. The date window has a black background and the date is printed in white which makes it blend in really well. In fact, at first, you may not notice it, but it's still a convenient function.
The different blue colors of the dial are really vibrant and can shift from light blue to a darker blue or even hues of purple. It's really special to look at.
Seiko SSC675P1 movement
Since this is a solar watch, it means it is powered by a quartz movement. Specifically, it is powered by the quartz V175 Seiko caliber.
The solar movement is powered by solar and ambient light which removes the need for replacing the battery. This is great both for your convenience but also for the environment.
The most devoted watch nerds may be scared away by the fact that it is a quartz movement, but it does have the benefit of being more accurate, cheaper to maintain, and overall more practical. Especially when it is a solar movement.
Seiko SSC675P1 bracelet
The watch is presented on a robust three-link stainless steel bracelet with a three-fold clasp with a secure lock, push release, and diver's extension. It's a really sporty and durable bracelet that goes very well with the overall design of this watch. The bracelet has polished middle links for contrast and brushed side links.
A common issue with watches that are more affordable is that they can feel cheap and rattly. While there certainly is some room for improvement for this bracelet, it's still quite nice and has a relatively high build quality.
The good news is that if you don't like the steel bracelet, you can easily change it for something else thanks to the drilled lugs which make strap changes super easy.
Specifications
Diameter: 43.5mm
Movement: Seiko Caliber V175, quartz movement
Water resistance: 200m / 660ft
Accuracy: ±15 seconds per month
Thickness: 13.8mm
Crystal: Hardlex
Power reserve: approx 6 months
Conclusion
All in all, the Seiko Prospex Chronograph SSC675P1 "Save the Ocean" is a robust and sporty dive watch that is built to last. But at the same time, it is certainly not your ordinary dive watch, both in terms of design but also in technology.
The SSC675P1 features clever and practical solar technology and has a great sense of sportiness. Its sporty size, look, and dive watch design make it perfect for those who enjoy these types of timepieces, whether they actually need the performance it offers or not. Its solar technology is both practical and cool, but what stands out most about this timepiece is its Save the Ocean edition design with appealing blue elements.
At this price point, it's still safe to say that it offers exceptional value for money and that you can't go wrong with it.