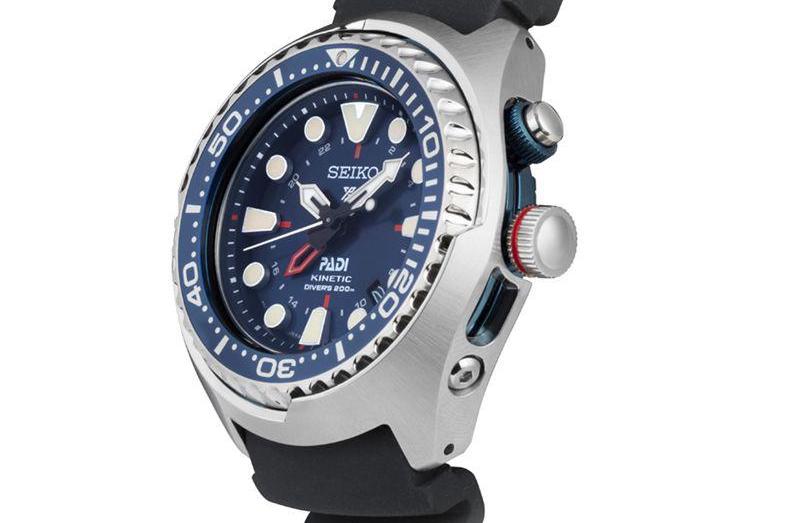 Seiko Prospex Padi Kinetic SUN065 Review & Guide
Seiko makes watches for all kinds of needs and occasions. Seiko has elegant dress watches but they also have extremely tough sports watches that are built to last.
The Prospex Padi Kinetic SUN065 is one of these watches.
Its design gives it away instantly as being tough, durable, and extremely robust. This is a dive watch that is built to handle the harshest conditions, but it is also presented with a unique and cool design that makes it stand out from most other dive watches out there, many of which, to a certain degree, look very similar.
With the SUN065, Seiko has dared to go its own route of giving it a completely new look and design and giving it a performance that reflects its tough appearance. This is a purpose-built watch first, and an accessory second. But interestingly enough, it also has a GMT complication. This is very interesting due to the fact that whilst it is built as a true diver, it has a function that is essentially made for traveling. With this in mind, it is a very versatile timepiece that, at least in theory, is built for traveling and diving around the world.
If you are looking for a watch that offers all of that and much more, the Seiko Prospex Padi Kinetic SUN065 may just be for you. With its solid build quality, nice finish, unique design, and great performance, you are sure to stand out, whilst at the same time enjoying a watch that will never let you down.
Without further ado, let's review and look closer at what the Seiko Prospex Padi Kinetic SUN065 has to offer
As an Amazon Associate, we may earn from qualifying purchases, at no extra cost to you.
Case
What first greets you when looking at this watch is its big and robust case which looks nothing like any case out there essentially.
The watch has a stainless steel case with a diameter of 47.5mm and a thickness of 14mm, so naturally, it is quite big, dare we say huge. In addition to this, it has a unique case shape, meaning it will not quite wear like other watches with the same diameter. The lugs are essentially cut out, like from a single piece of steel, which also means that the watch has some weight to it.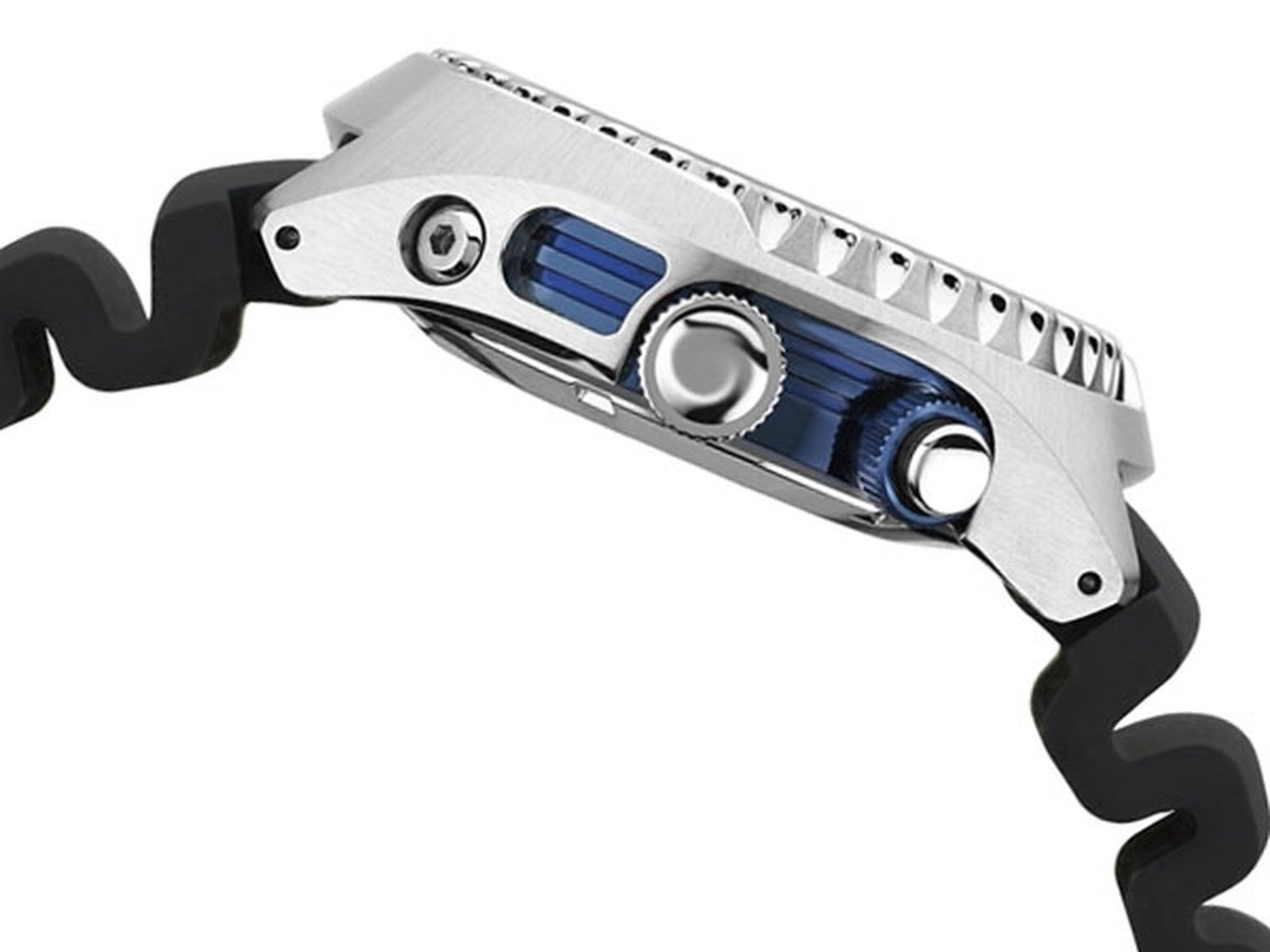 The cutout lug design does, however, help give the watch a more seamless appearance. In a way the steel case works as shrouds around the watch, protecting it from shocks and bangs. And in addition to its lug cutout, parts of the metal around the bezel are cut out to enable you to operate the bezel. This serves a practical purpose, which is to keep the bezel protected from knocks and bangs.
Seiko has also made cutouts on the sides of the case which allows you to see through the steel and into the inner case.
To stay true to its sporty purpose, the case is of course completely brushed.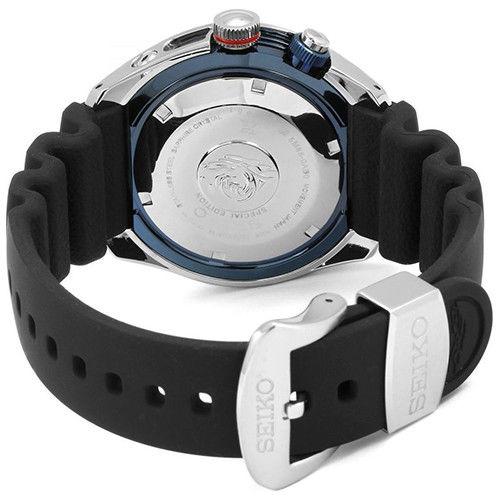 As a true dive watch, it has a unidirectional rotating bezel with a 60-minute graduation scale. The bezel has teeth edges to make it easier to operate and the bezel has a blue aluminum insert with a luminous pip at 12 o'clock.
At 3 o'clock, it has a screw-down crown, and just above it, at 2 o'clock, it has a push-button. Pushing this button will indicate the power reserve of the watch.
There is no denying that this is a huge watch, and therefore, it requires a large wrist to be able to enjoy it, or, of course, a diver. It all depends on your purpose and needs, but if you are actually looking for a watch that you can wear when you go diving, this could be it. However, if you are just looking for a cool and unique diver, then you need to enjoy wearing large watches in order to get full enjoyment out of this.
If not, there are other Seiko watches that are smaller and neater on the wrist that may suit you better. But for the purpose for which the Seiko Prospex Padi Kinetic SUN065 is built, it does the job very well.
The water resistance of this watch is 200m/660 feet and is ISO certified for scuba diving. This watch is able to handle and withstand all kinds of diving challenges such as diving and swimming. No surprise here, of course.
Dial
The dial of this watch certainly has a lot going on and stays true to what you expect from a dive watch, meaning emphasis on legibility. The dial is beautifully executed with a lovely combination of blue and red to go with the PADI theme. And whilst we are on the theme of PADI, this is an abbreviation for Professional Association of Diving Instructors and is an organization that Seiko has collaborated with for a long time. And what better proof of concept for a dive watch than to have professional divers use it?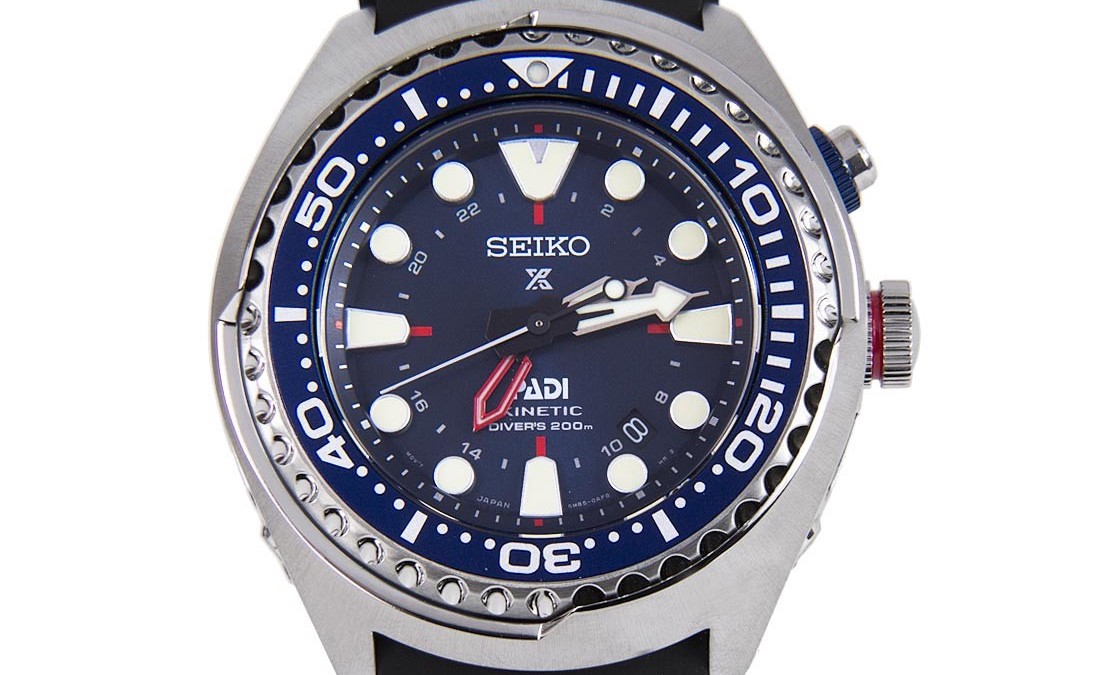 The dial is blue and has a beautiful sunburst finish to it. The dial has a large rehaut on which the seconds markers are printed. The dial has large round hour markers applied and a generous amount of Lumibrite applied to them for a strong glow in the dark.
The hands are large too, with the minutes hand being slightly longer and with an arrow tip, and the hour marker being short. In addition to this, it has a skeletonize GMT hand for the GMT function which is painted red. The subtle red details really add character to the watch and blend in very well with the blue.
Between 4 and 5, you'll find a date window discreetly integrated into the dial, which can be practical to have.
All in all, the dial has been made quite small in comparison to the rest of the watch, which also helps it appear smaller visually than it actually is.
Movement & functions
You may think that this watch has an automatic movement, but actually, the Seiko Kinetic caliber 5M85 is a Kinetic caliber that is powered by movement. With that said, it is not automatic, but it does incorporate automatic technology.
The kinetic movement is actually quartz (battery-powered), but at the same time, it incorporates a rotor, just like that you find in automatic watches, but instead of generating energy for the mainspring, the rotor generates power for the battery.
Strap
The watch is presented on a black silicone strap which goes very well together with the purpose and concept of this watch. It is tough, durable, and of course water-resistant. The strap has a metal keeper to keep the tongue in place.
Specifications
Movement: Seiko Kinetic caliber 5M85, powered by the movements of the wrist
Power reserve: 6 months
Diameter: 47.5mm
Strap: silicone
Crown: screw-down
Crystal: Anti-reflective sapphire crystal
Water resistance: 200m/660 feet, ISO-certified scuba dive watch
Thickness: 14mm
Conclusion
All in all, the Seiko Prospex Padi Kinetic SUN065 is a seriously tough and robust watch that is built to last. This is a serious dive watch with great performance. It has a large and bulky design which goes very well with its purpose and what it is built for, but its size also means that it is not for everyone.
The watch has a nice design with a beautiful dial with a combination of red and blue which is based on the signature colors of PADI. Its date, GMT function, water resistance, and Kinetic movement make it both practical and useful.
The bottom line is – if you want great performance, sportiness, and true functionality, you won't be disappointed with the SUN065, as long as you don't mind big watches.
The Seiko Prospex Padi Kinetic SUN065 is available to order on Amazon.