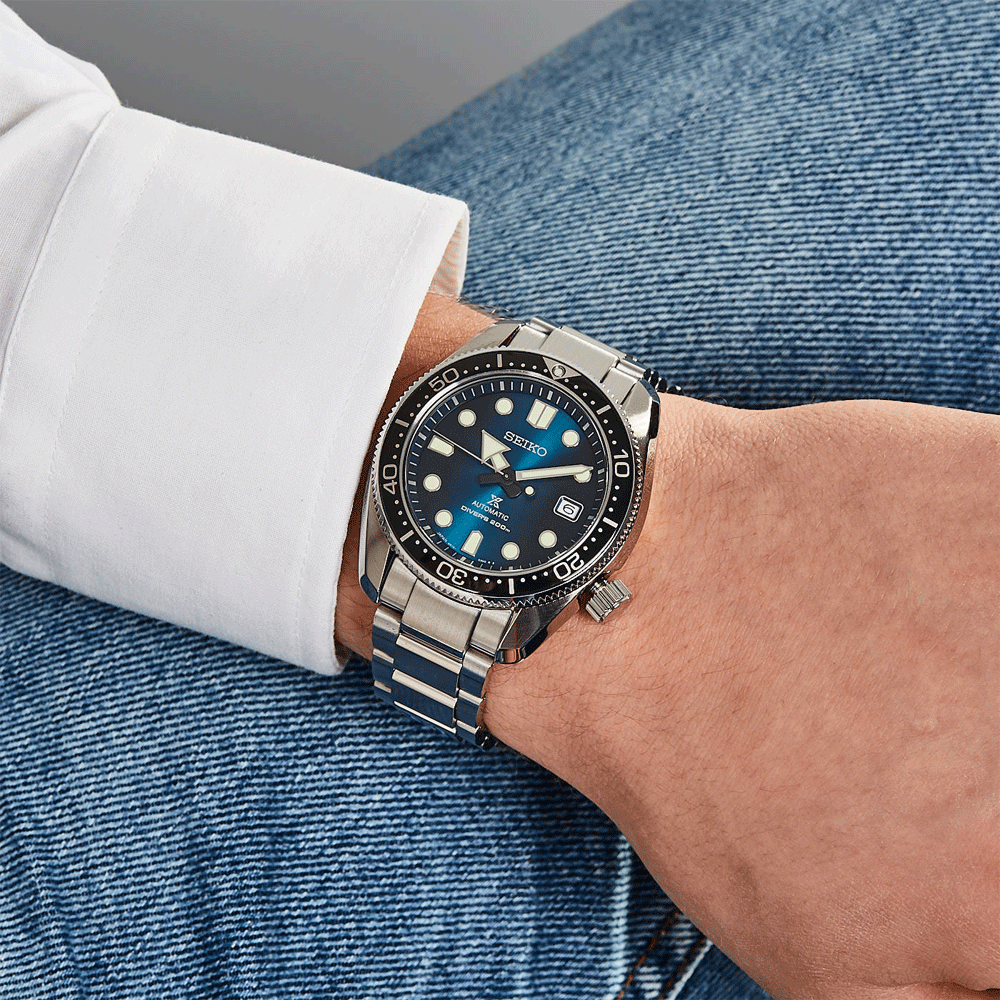 Seiko Prospex SPB083j1 "Great Blue Hole" Review
Seiko is a brand that is known to make high-quality and long-lasting automatic watches at affordable prices. Seiko's watches tend to offer exceptional value in terms of build quality, reliability, and finish, in relation to their price.
One of Seiko's most appreciated and popular watches is its dive watches. In terms of specifications, these dive watches often offer the same or better performance than far more expensive alternatives.
But with so many different dive watches from Seiko to choose from, which should you pick?
Seiko Prospex spb083j1 "Great Blue Hole" Review
As an Amazon Associate, we may earn from qualifying purchases, at no extra cost to you.
The Seiko Prospex spb083j1, also known as "Great Blue Hole" is, as the name reveals a "Prospex" watch. What does this mean?
It simply means that the watch is built according to "Professional specifications". In other words, it is built according to the needs and wants of professional divers. And if it is good enough for professionals, it sure should be good enough for you. It's a testament to the watch's performance, durability, and reliability.
Already at a first glance, this watch stands out as a sporty and robust dive watch. With that said, it is not for everyone, but it does have a stunning appeal to it. And when you look at the specifications in detail about this watch, the value for money that this watch offers becomes very evident.
If you are looking for a sporty and robust timepiece that has great performance and will be able to handle any hardships that you may throw at it, the spb083j1 is definitely a great candidate. It has a great build quality, and a timeless and elegant dive watch design and its blue color makes it mesmerizing and unique from the all-black dive watches which have become the norm today.
In terms of design, the spb083j1 is inspired by the original dive watch from Seiko made in 1968. However, for this "reissue", Seiko has combined vintage design elements with modern build quality. This is a special edition timepiece, but not limited or numbered.
To learn more about the Seiko Prospex spb083j1 "Great Blue Hole" and what makes it so great, we are therefore going to review and look closer at this timepiece.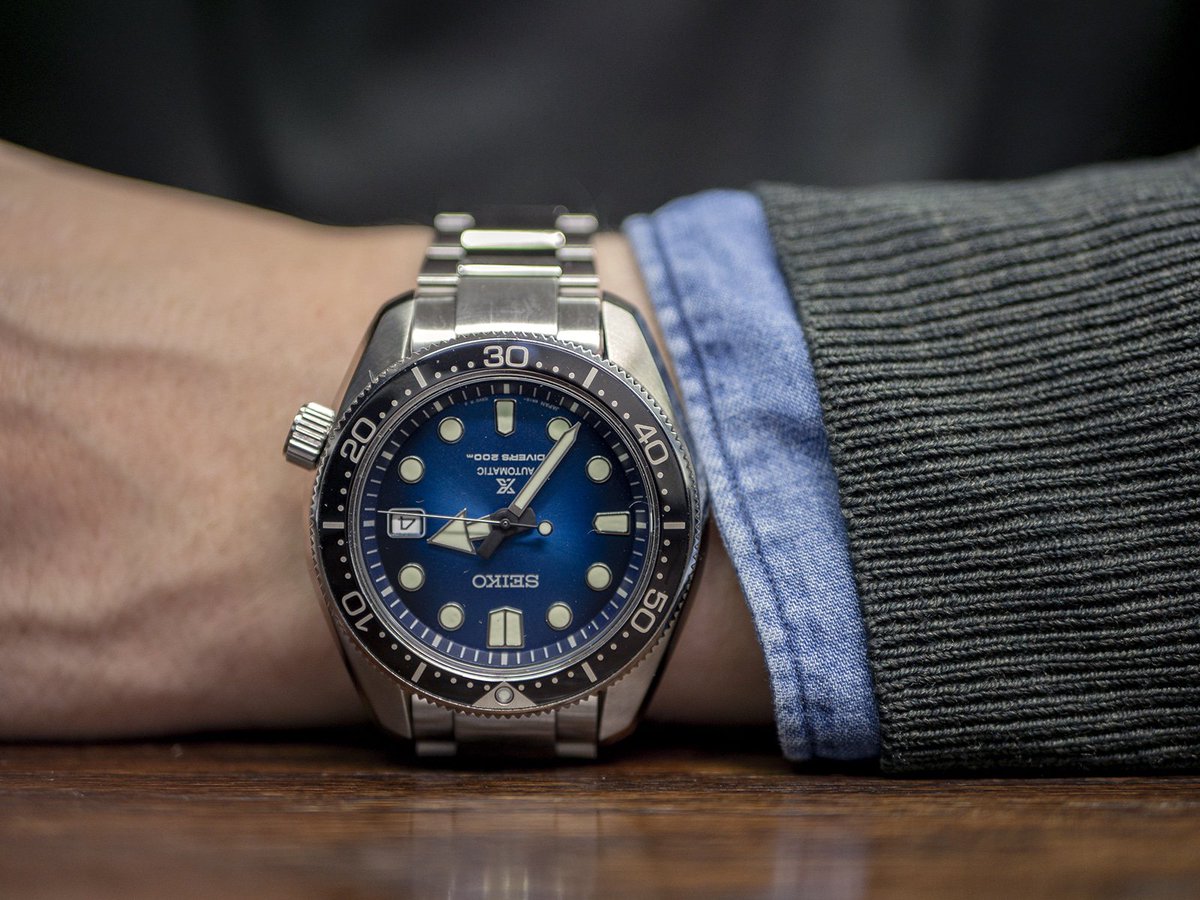 Seiko Prospex spb083j1 case
The watch is presented with a stainless steel case that has a diameter of 44mm, a lug width of 20mm, a lug-to-lug measurement of 51mm, and a thickness of about 13.1mm. With that said, it is a relatively big watch. And that is exactly the way it should be for a sporty dive watch. The watch is built as a robust tool watch, and it has the size, design, and wrist presence to back it up and give the impression that it will never let you down.
In addition, Seiko has treated the case with its Diashield coating. This gives the case better resistance against scratches and corrosion which keeps it looking great and pristine for a longer period of time.
On top of the case, Seiko has opted for a sapphire crystal with an anti-reflective coating. This is a great thing seeing that for the most part, Seiko uses its Hardlex crystal for its affordable watches. But since this is priced slightly higher, it's great to see actual improvements in terms of the build quality and materials used so you actually feel you are getting your money's worth.
A watch needs to have a water resistance of at least 200m to be called a dive watch, and so that is exactly what it has. The SPB083J1 has a water resistance of 200m/660 feet/ 20 ATM which makes it suitable for swimming, diving, and practically any type of water activity.
In terms of finish and quality, the watch really gives a great impression, and this is generally where Seiko tends to separate itself from competitors. This also relates to the finishing of the case, since very evidently, Seiko has paid a lot of attention to the details here. The case has broad lugs with a clearly pronounced beveling, with the top of the lugs being satin-brushed. At the same time, the wide bevels have a polished finish, which in turn transitions to polished sides.
In traditional Seiko fashion, the crown is positioned at 4 o'clock. This watch does not have crown guards (the case would likely become too bulky), but the crown is slightly recessed. Of course, the crown is quite big and allows for a good grip and easy operation.
The positioning of the crown is not only aesthetic but also practical. The positioning of the crown allows the watch to sit more comfortably on the wrist since you don't have a crown that digs into the wrist.
As a dive watch should, this watch of course also has a unidirectional rotating bezel with a 60-minute graduation scale. The bezel has notches to improve the grip and make it easier to operate it. The bezel is black and has a polished finish to it which looks great.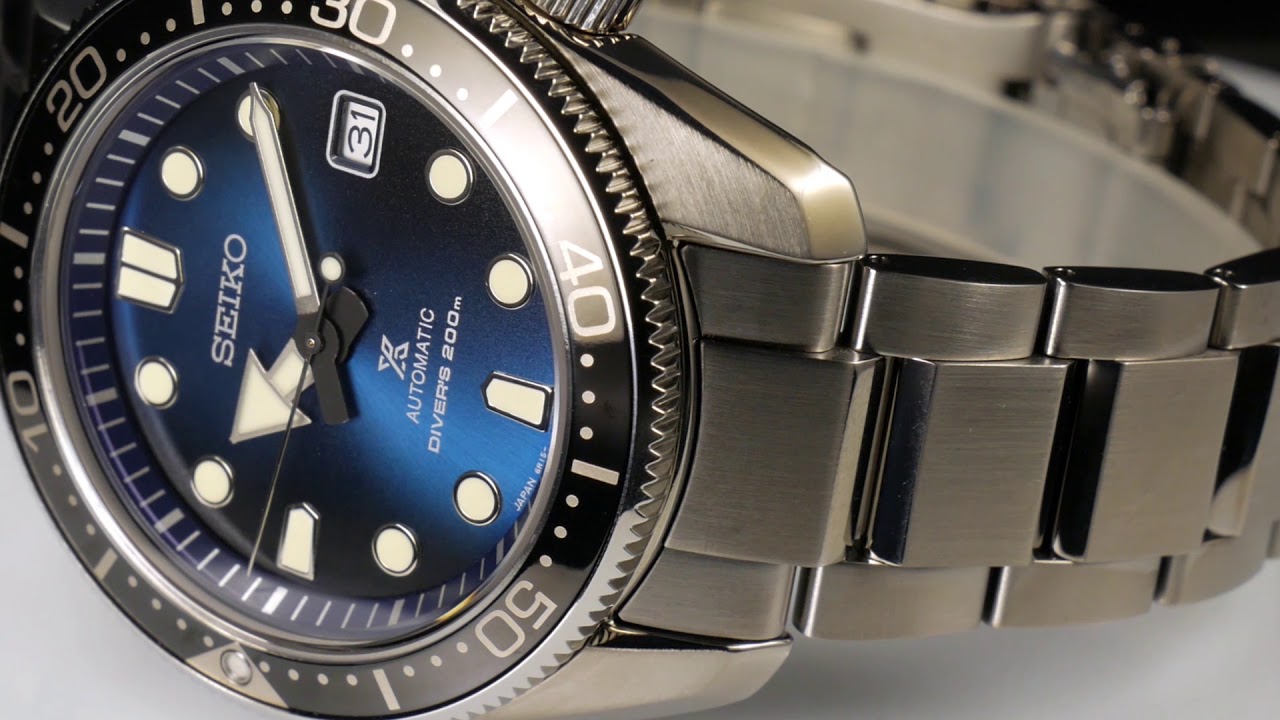 Seiko Prospex spb083j1 dial
The blue sunburst dial is certainly the star of this watch and what makes it stand out from most other Seiko dive watches on the market. As mentioned, it has a blue dial, but it is far from flat blue. The sunburst brushed finish allows it to reflect the light and give it different looks and personalities depending on how the light hits it. In addition, the dial is graduated in color and goes from a bright blue color in the center to a black color at the edges. Around the outer edge of the dial, it has a chapter ring that is angled towards the dial.
On the chapter ring, the seconds markers are printed in silver.
As a dive watch should, it offers great legibility thanks to its large hands and hour markers. Speaking of which, it has applied hour markers with polished metal frames around them. The minutes hand is sword-shaped, whereas the hour hand is short but has a large arrow at its tip.
The watch has plenty of Lumibrite applied to the hands and hour markers which means it has an exceptionally bright glow that lasts for a long time, which is a huge bonus.
The dial really is something else, and as it changes its personality depending on the light, it truly stands out from the crowd and is stunning to look at.
The dial is just simple, clean, and beautiful to look at. But it is never boring due to the finishing and the color of the dial.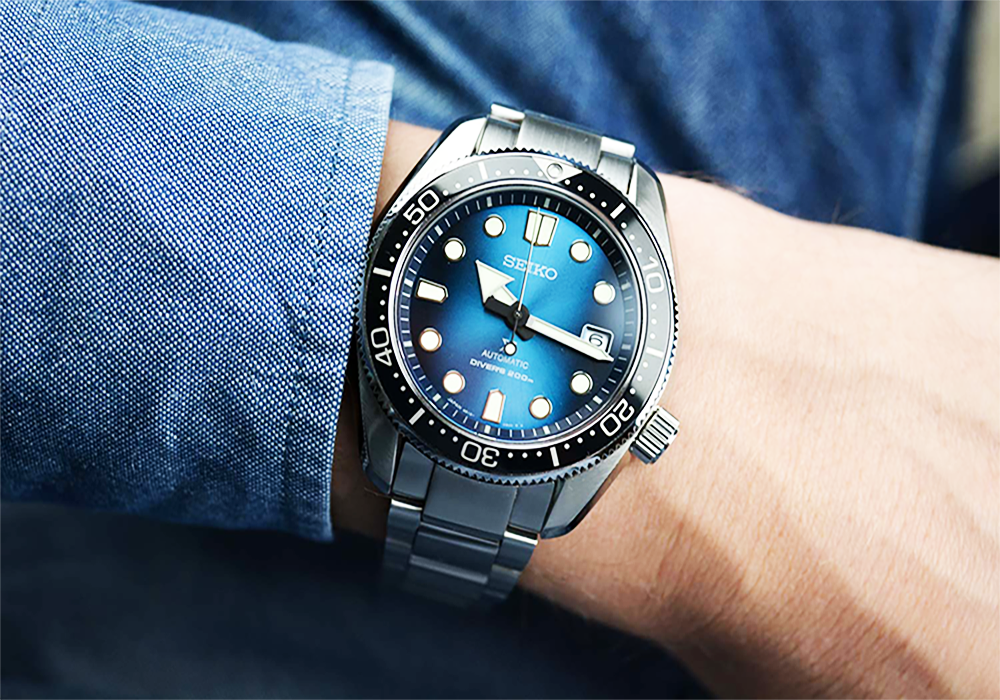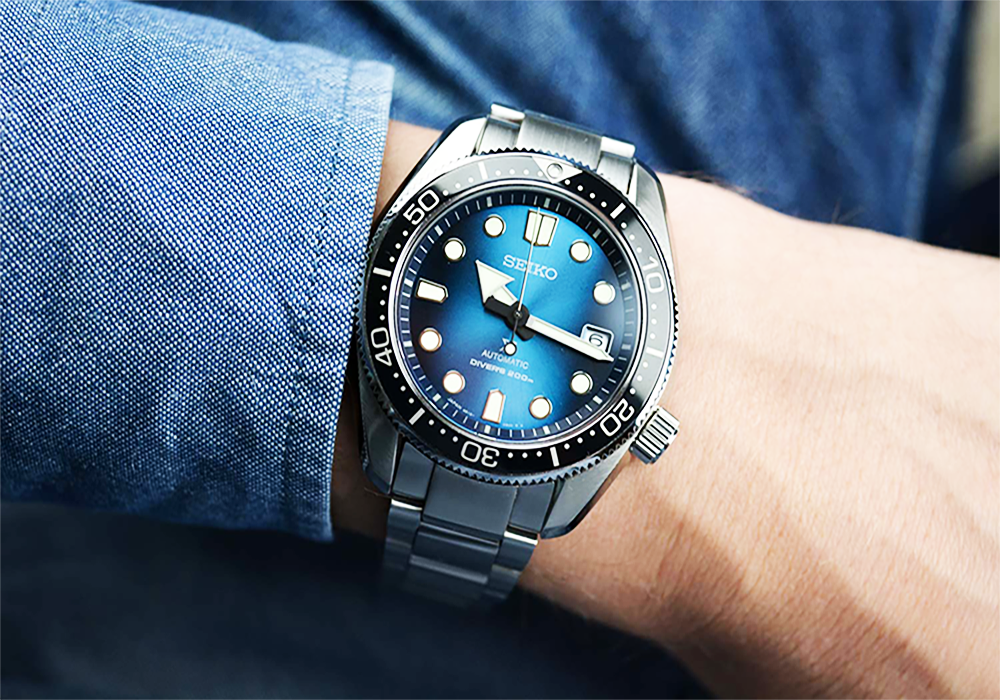 Seiko Prospex spb083j1 movement
The spb083j1 is equipped with the in-house Seiko caliber 6R15 which is mechanical and automatic. This movement is an improvement from its most affordable automatic movement since it has both manual winding and hacking seconds functions.
The movement offers a power reserve of about 50 hours and beats with a frequency of 21600 BPH.
This movement has proven to be durable, robust, and able to continue to tick for years to come. This is of course great news for this type of watch seeing that a sporty tool watch also needs robust movement.
Seiko Prospex spb083j1 bracelet
The "Great Blue Hole" comes with 2 straps. It is presented on a stainless steel bracelet and includes 1 dive silicone strap.
The stainless steel bracelet looks and feels solid and robust, as it should for a watch like this. It also has a dive extension and fold-over safety clasp. The stainless steel bracelet goes very well with the design of this watch and adds to the sporty appeal. Its all-satin finish looks sporty and robust and matches its build quality well.
The bracelet is not just flat and boring either but has a lovely finish with angled links.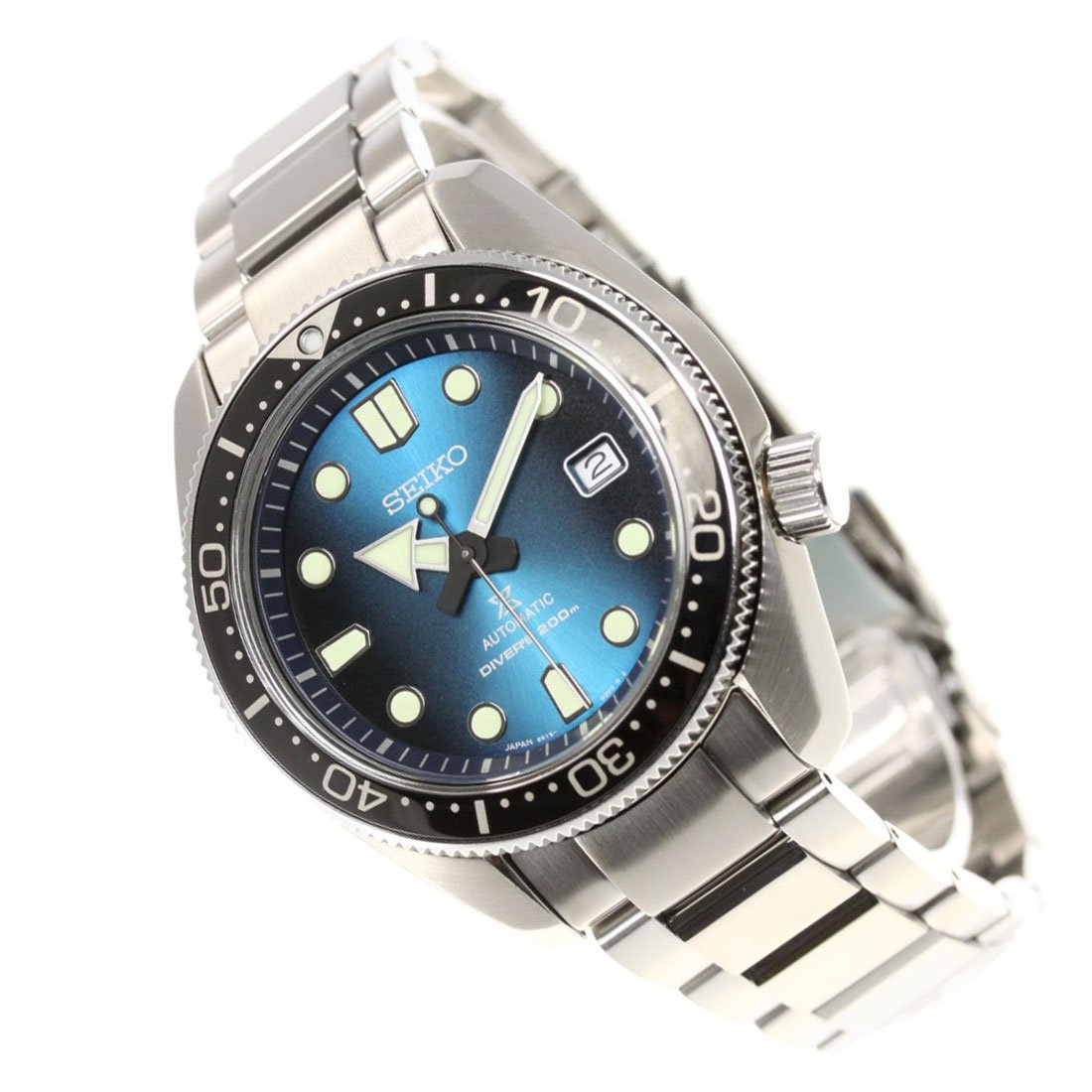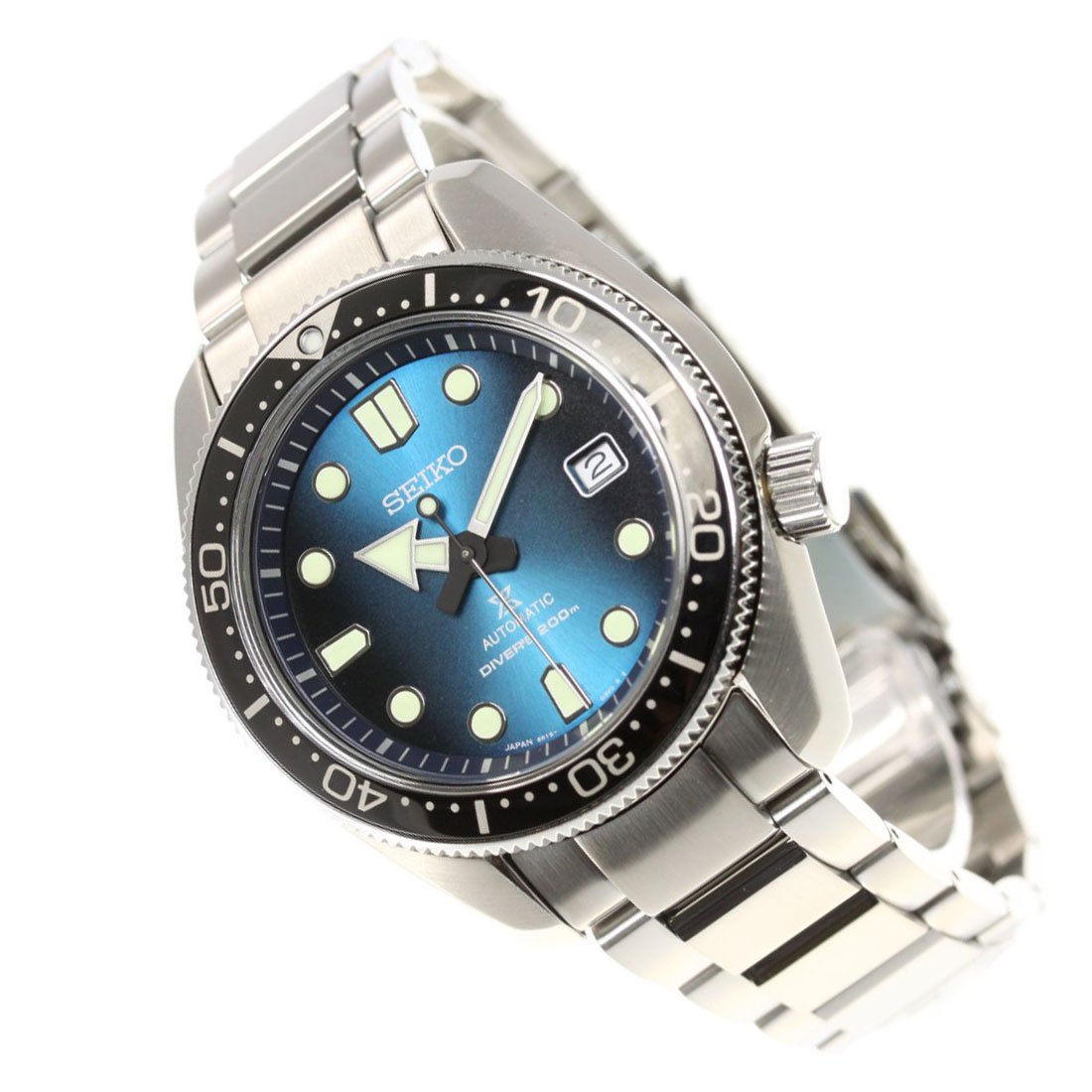 Specifications
Diameter: 44mm
Movement: In-house automatic Seiko caliber 6R15
Height/thickness: 12.1mm
Frequency: 21600 BPH
Lug width: 20mm
Power reserve: 50 hours
Lug-to-lug: 51mm
Conclusion
All in all, the Seiko Prospex spb083j1 "Great Blue Hole" is an exceptional watch in terms of build quality, durability, and finish. In particular, if you factor in the price.
The watch is nice as it is, but the blue sunburst dial really takes it to a new level and makes it something out of the ordinary. You will really never get bored of this one.
If you are looking for a durable and sporty dive watch with a great presence on the wrist, and with great performance, the spb083j1 really is a great choice that you can't go wrong with.